smARTbeats returns Saturday, December 2 during the weekly children's music program Young At Heart on WTMD. On this month's smARTbeats segment, Young At Heart host Lisa Mathews sits down with YA roster artists and Latin Grammy winners Andrés Salguero and Christina Sanabria, better known as 123 Andrés.
The two have brought many multicultural performances and bilingual musical experiences in Spanish and English to children across the United States and Latin America. Their second album, Arriba Abajo, even won the Parents' Choice Gold Award for children's music!
Andrés' career began at a very young age in his home country of Bogota, Colombia, performing and even recording an album at only eight years old. His love of children's music and the opportunity to teach and inspire through music, however, came to the artist as an adult. And we are so happy it did! His talent, energy, and charisma make it easy to see why Billboard Magazine called him "a rockstar for little language learners!"
Families could spend hours surfing just their youtube channel filled with the songs, videos, and cartoons that have kids and adults alike hooked and learning. But these catchy, uplifting beats will make you want to enjoy 123 Andrés in person.
"My aim is for children to emerge more accepting, tolerant and curious when they meet others who are different from them," says Andrés. Likewise, he says, "For Latino children, it's especially important to have opportunities to see a positive role model who looks like them and to experience programming that celebrates their language and background."
123 Andres' audiences are treated to a tour of Latin America, learning new vocabulary, history, culture, and geography through songs in both Spanish and English, and dances like salsa, bachata, plena, mariachi, vallenato, bolero, champeta, and more.
What 123 Andrés brings into schools is fun, plain and simple. And fun is something everyone understands no matter what language you're speaking! 123 Andres will make the whole family salta, salta (jump, jump)!
Young At Heart airs weekly from 7 to 8 am on Saturdays, featuring music that appeals to parents and children alike. Previous shows have featured music by Wilco, David Bowie, Andrew & Polly, Weezer, and others.
Hear YA teaching artist and musician 123 Andrés online now!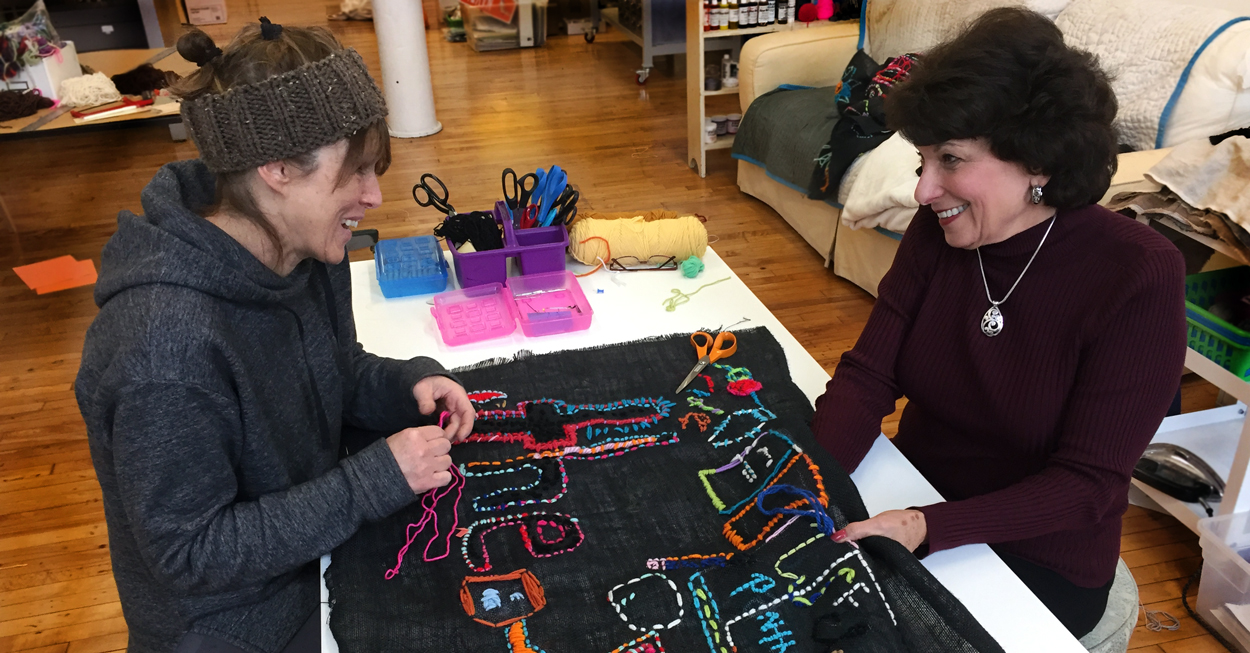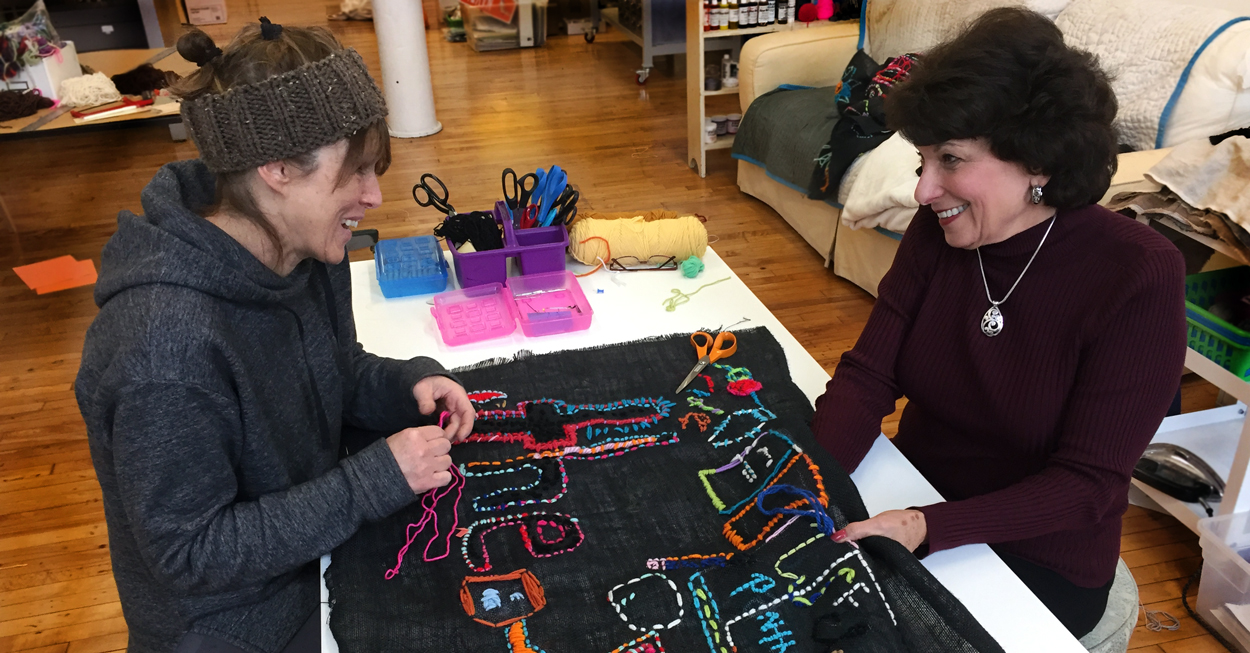 Co-written by Barbara Kesler, an active Young Audiences board member, volunteer, and retired Baltimore County Public Schools teacher and YA Visual Artist Pam Negrin. During Barbara's 39-year teaching career, she instructed third through sixth-grade students and spent the last 23 years at Franklin Elementary where she taught fifth graders in all subjects.
After attending a Young Audiences informational "Impact Breakfast," six of my friends and I were intrigued by visual artist Pam Negrin's embroidery and weaving with students. Pam's residencies transform classrooms into collaborative handwork studios, with countless ways to connect textile art with core subjects.
We learned that Pam's hours of preparation, finishing work, and providing one-on-one attention in a classroom of 25-30 students was challenging. With just one teacher and one teaching artist, the need for more hands, heads, and hearts presented a natural opportunity for volunteering with Pam.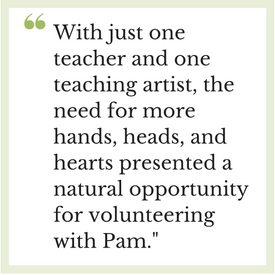 Our volunteering experience happened both in the classrooms and at Pam's studio. Throughout the experience, new friendships have developed and inspirations shared. Meeting at Pam's studio, we help while learning; rolling yarn, threading needles, and helping finish collaborative projects. In the classroom, our presence helps individual children feel successful in their completed works—sometimes by giving extra help with a new skill, sometimes by organizing materials, and other times just by listening while they work!
During a Spring residency at Commodore John Rodgers Elementary in Baltimore City, two English Language Arts third-grade classes were exploring character traits of a recently read Judy Blume novel. Expanding this textual element to their own character traits, the children designed self-portraits. The designs started on paper and were then embroidered onto fabric. Pam instructed them to explore color values, textures, and shapes.
Three volunteers accompanied Pam to the school to assist the very enthusiastic children in creating their self-portraits. The results were amazing.
One particularly shy boy proudly presented his self-portrait and said, "I did it!" Another told us how he was teaching his poorly behaved six-year-old cousin to 'draw with yarn.' "It calms him down, and we all need that!" he proclaimed. Another student told us that he had taken over the household chore of mending torn clothing for his brothers and sister. "No one else in my house knows how to use a needle like me."
Children were working together at sewing tables, chatting amicably about the novel that they were reading in class, their sports activities, and their weekend plans. All were engaged in a very peaceful and friendly manner, helping each other when necessary. No doubt presenting their finished projects to their families on Mother's Day was a beautiful culmination of this artistic endeavor. And it left three very happy volunteers with a feeling of purpose in assisting these youngsters in a meaningful project that will surely be an unforgettable experience.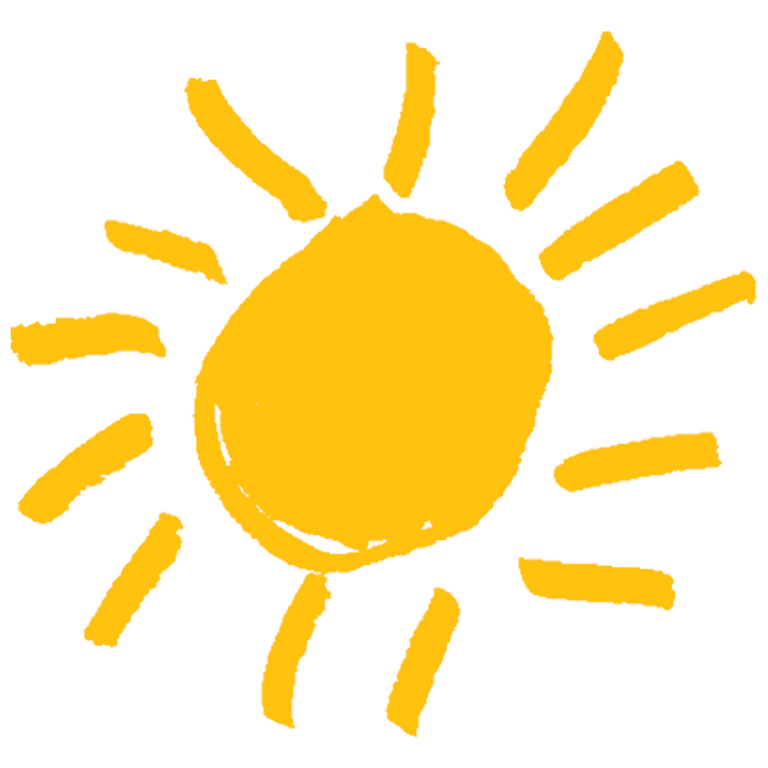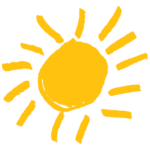 You can get involved, too!
At Young Audiences, we constantly see the arts inspire, engage and change lives. We are reminded of this power every day through our work providing more than 7,000 arts learning experiences a year to children in Maryland classrooms. And the benefit extends beyond the children, impacting the providers, observers, supporters and, yes, volunteers.  Learn more about how you can get involved with Young Audiences through volunteering.