Did you catch Arts & Learning Kids! on Channel 77 this weekend? Young Audiences created this cool educational TV show in partnership with City Schools to reinforce what our students are learning remotely through interactive arts-integrated lessons!
Each episode is geared toward one of three grade bands (PreK/K, 1/2, and 3rd-5th Grades), and features a teacher and professional artist co-teaching an arts-integrated math or literacy lesson in-line with the math and literacy work students are currently doing either virtually or via packets. After each episode airs, it is accessible anytime online at yamd.org/kids.
This is not a passive viewing experience! During each episode, students are challenged to explore learning through a variety of art forms. They'll learn key math concepts using their whole bodies and voices; write and animate their own myths by creating a flip book; learn basic tap steps to help review fractions; engage in storytelling using an actor's tools; or even solve math problems with shadow puppets!
In the episode "Character Traits Choreography," students have the opportunity to identify their own character traits and those of important Civil Rights leaders like Dr. Martin Luther King Jr. and Ruby Bridges. Students will be able to unlock their creativity and communicate those character traits through dance! Learning several elements of dance like frozen poses, levels, shapes and energy, students will not only get to perform the Ruby Bridges choreography, but will be inspired to look for the leaders—particularly those who respond to injustice—in their communities and in themselves, identify character traits of those individuals, and create their own choreography. (This episode is recommended for students in 1st and 2nd Grade) 
As a fun bonus, within each episode are two special segments. The "Sweet Stuff Showcase" highlights an engaging and educational digital experience from outside of our own organization. The "Artsplosions" segment features YA artists presenting a cool and quick experience in their art form that often encourages kids to get up and get moving. We are so excited to share Arts & Learning Kids! with you. It really is an AWESOME program and we think that even parents and caregivers will find that it's super fun to watch. Check it out!
 Written by Jaime Clough
The 2nd grade Baltimore City Public Schools teacher spoke about how the tools she learned at Summer Arts & Learning Academy have informed her teaching and transformed her classroom at Young Audiences' annual Impact Breakfast earlier this month.
"Buffalo Woman, go," Mr. Briggs nudged me. I stepped onto the stage, took a deep breath, and began my lines. I was eight and dressed in a leather Native American dress with beads and fringe. I was shy, but I had done the work. By the morning of the production, I had read primary texts, written a research paper, and created my own costume. So, when I stepped onto that stage, I was not timid or nervous, but passionate and proud. This was my first experience with arts integration.
Fourteen years after my role as the Buffalo Woman, I was accepted into Teach for America Baltimore and began teaching at Margaret Brent Elementary/Middle School in Charles Village. My students are diverse. One walked with her family from Mexico to America. One, who cannot yet read, learns in the same space as another, who is reading Harry Potter. Some of my students come to school without having eaten since the night before. Others rarely have clean uniforms.
I knew what I wanted to do in my classroom, but I didn't have the tools to execute my ideas.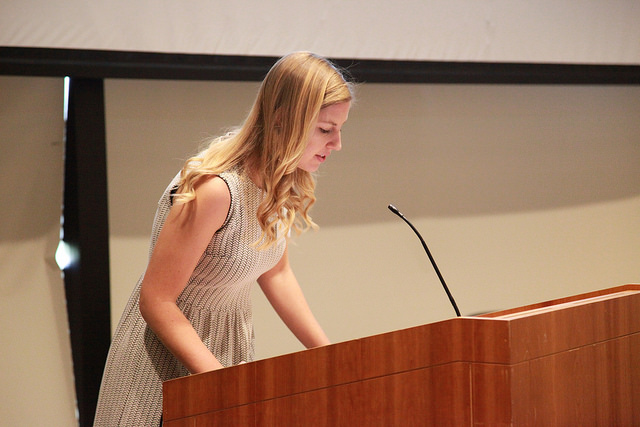 It was last March that I found Young Audiences. They matched me with fiber artist and Young Audiences teaching artist Katherine Dilworth, and together we went through a one-week professional development class. I learned how to use song and rap to teach students multiplication, and theatre to understand points of view in a story. During Summer Arts & Learning Academy, for the first time, I taught the way I had always wanted to teach.
As part of our literacy unit, students read City Green. To help kids understand the message of the book, "what makes a community?" and connect with the characters, Katherine and I planned a lesson around creating a community garden out of woven flowers. We'd use our art standards to create ABAB patterns and connect math standards for adding and subtracting the strings.  
We had one student in the class with lots of sensory difficulties. He had challenges with personal space, with expressing his emotions, and would often just put his head on his desk. As he began to wind thread through his loom to make his flower, I was ready for him to say, "It's too hard," and stomp away. After 15 minutes of weaving blues and purples, a pattern emerged. His flower was taking shape beautifully. He was adding and subtracting, counting his strings, and weaving the pattern. Absorbed in his work, he sat without prompting for the longest amount of time since I had known him. "Ms. Clough, look! Ms. Clough, I did it," he said. "I made my flower and it's so cool!" That was the spark.
From that moment on, my student was different. He raised his hand. He worked with partners. He asked questions about how to make his work better. Without that moment at the beginning of summer, we would not have seen a change in him. The arts gave both him and me the tools we needed to help him succeed.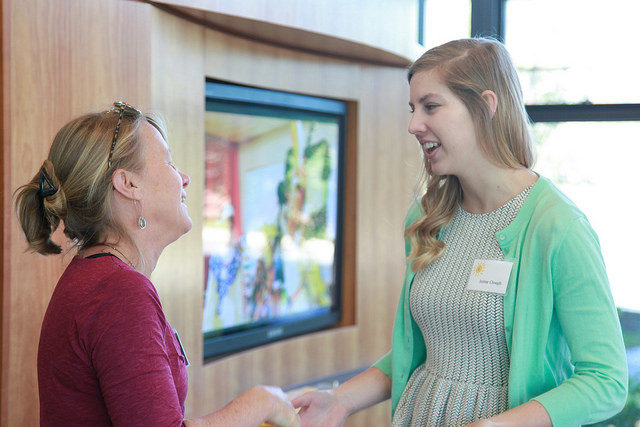 My classroom after SALA is a different world. Teaching through the arts doesn't just work for some students, it works for everyone. I have the highest engagement I have ever had, we are on track to grow two years in one school year as a class, and there is a spark in every single eye in the room when I write the lyrics to a "Ms. Clough Original" on the board. iReady, ANET, and DIBELS tests do not make us anxious anymore. When we walk into the computer lab, my students cheer because now they know they can do it. They are confident because they know their math and reading strategies from the songs, skits, and choreography we use every day. The successes and swagger among students in my classroom are because of the skills I gained while teaching with Young Audiences. Now, my dream is to be a principal so that I don't just have a classroom of sparks, but a whole school of them.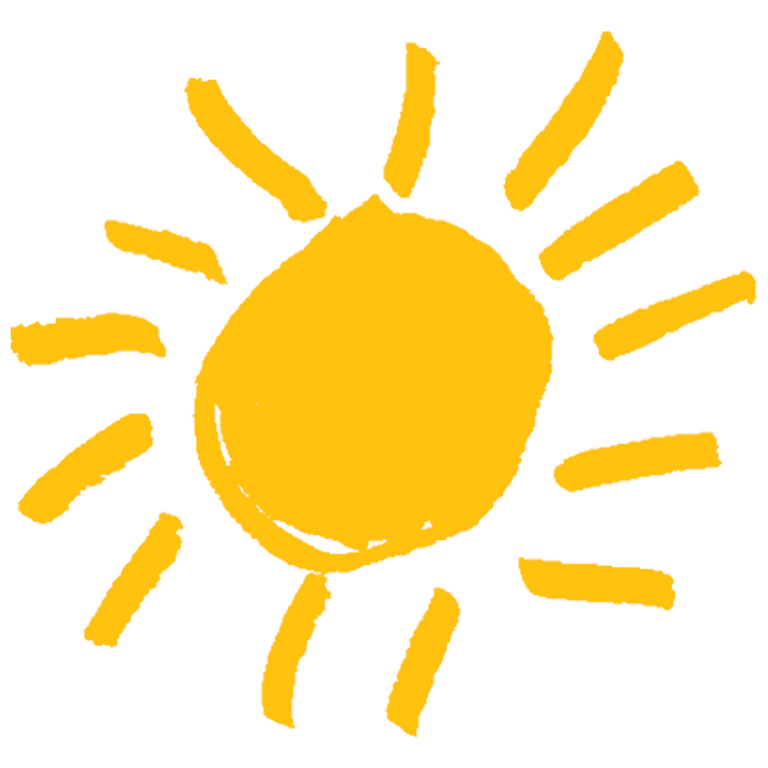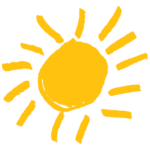 Jaime Clough is a 2nd Grade Teacher at Margaret Brent Elementary/Middle School and Summer Arts & Learning Academy Classroom Teacher. Her first-hand experience is a testament to the power of arts integration in the classroom and is an example of the incredible strides a class can take both emotionally and academically when children learn through the arts.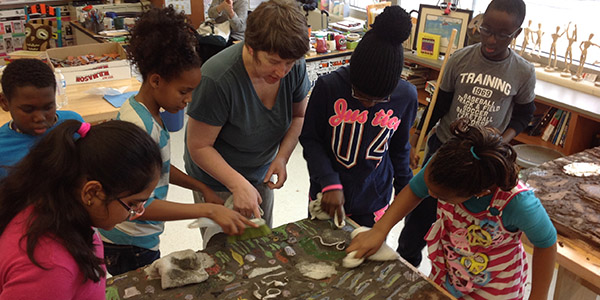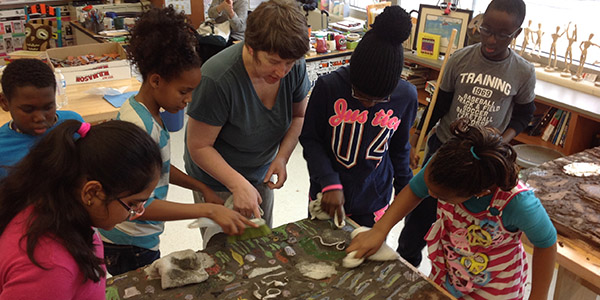 By Lori Mellendick, fifth-grade art teacher at Ducketts Lane Elementary
This December, my fifth-grade students gathered around a table functioning as young archaeologists, researchers, and artists. Their collaborative clay mural sat before them covered in grout waiting to be exposed. As my students began to buff the dried grout away, the ceramic animals they sculpted and arranged in the mural earlier in the fall began to pop through. My class had been working toward this moment since Young Audiences visual artist Amanda Pellerin first arrived as our artist-in-residence in October.
The massive four-by-eight-foot panels of the mural took up the entire floor. I didn't realize how busy my classroom could be as we built something so large. Slowly, a vast food web stretched across the mural revealing the entire habitat network of the Chesapeake Bay.
On this final culminating day, my students experienced what we like to call their "Aha!" moment. They took a step back and discovered harmony behind their mural as a collaboration. The looks on their faces expressed the "now we get it" type of feeling. They ended by celebrating each other by giving and receiving compliments of their work. The positive energy in the room was out of control!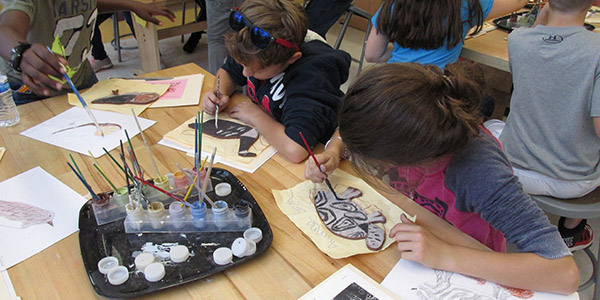 In October, my students had spent five days conducting research of Maryland animals surrounding the Chesapeake Bay as a theme. They built an understanding of how these animals survive depending on their diets. The students also investigated the Chesapeake's surrounding habitat by studying the water cycles, plants, and local natural resources. In order to display these facts on a visual web, the students had to be imaginative. This is where Amanda's expertise came in. Amanda guided students through the necessary steps to creatively assemble this piece of work.
There were times when kids pondered whether or not they should take an artistic risk by making verbal decisions in front of a group. When energy subsided, some surprising moments occurred when a few particularly shy students stepped up to the plate and made executive decisions for the group. It was a wonderful chance for students to express creativity in ways that they didn't expect to, especially within the subject of science.
I wanted to find a meaningful residency that would integrate the arts into the subject of science. I knew that this was the perfect opportunity to find a project that could cover environmental research in a creative way. Knowing Amanda's experience as a Young Audiences roster artist, I knew that the kids would get a lot out of the program.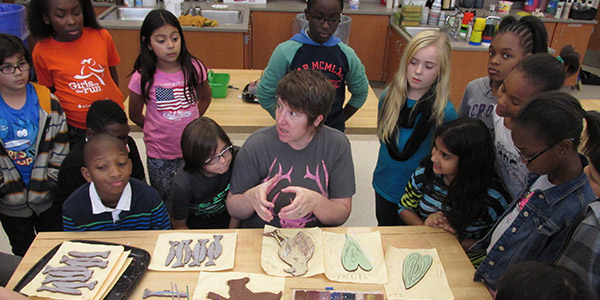 It was important to bring in an outside artist because it gave some of our teachers an understanding of how the artistic process works. Teaching children artistic behaviors is important because it demonstrates tasks such as researching, modifying, and executing that energy into a product. It doesn't work like a magic trick where *poof*, a beautiful piece of artwork suddenly appears. It takes work. It's similar to the scientific process. You formulate a hypothesis, test your theories, and then provide a conclusion statement in the end. In this case, our conclusion was a mural that demonstrated a deeper understanding of the Chesapeake Bay.
Using a tactile form such as clay, gave students a substantial gift in the end. Since these fifth graders will be going onto middle school very soon, I wanted to give them an opportunity to leave their mark upon the school. In April, there will be an unveiling of the mural in a reserved space across from a beautiful fountain. Strong light filters into this area which will give the mural the perfect spotlight that it deserves. We can't wait to put it up!
When you are studying something across the board of a curriculum, it resonates with children. It hits on so many different content levels. These experiences give so much more meaning to the students than you would expect. I immediately go back to my own experiences and remember the impact that resident artists had upon me in school. I wanted to give my students that same opportunity.
Learn more about Amanda and her programs for schools at yamd.org.