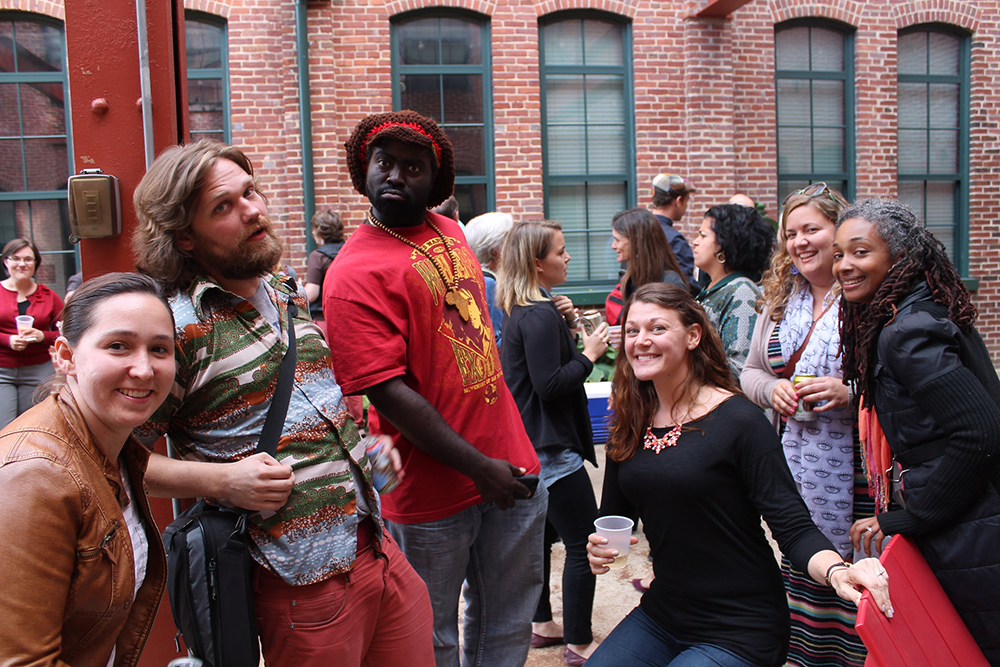 Our staff at Young Audiences do not just come to work. We come to support a mission: to transform the lives and education of our youth through the arts by connecting educators, professional artists, and communities. And we come with our hearts and minds and bodies ready to go above and beyond to realize this mission.
Micaela wrote, "When I started at Young Audiences six years ago, I thought we needed the arts to help students be more engaged in school and make learning more accessible. I had just been a teacher, and I saw changes in my students when they worked in the arts—new leaders emerged when we did a class talent show, and huge smiles appeared on kids' faces when they got "their own" recorders to take home from music class.
We need young people who not only have the skills needed to build a better world, but can imagine what that might look like. Artists in schools seems like one of our best shots at giving kids the space and community to become the wild, imaginative thinkers and doers that we all need.
These things are still true—the arts are awesome at engaging kids in school, providing an opportunity for students to do hands on work that is meaningful, visible, and matters. And, they spark joy in kids!
Today, though, I think there is more that I didn't realize a few years ago. I think we need imagination in volume and degrees beyond what I understand. We need young people who not only have the skills needed to build a better world, but can imagine what that might look like. Artists in schools seems like one of our best shots at giving kids the space and community to become the wild, imaginative thinkers and doers that we all need."
Our artists know how to use their art form to draw kids into the work, to get students to challenge and surprise themselves and proudly show off their achievements. They see how arts integration engages and motivates even the most reluctant students.
Spoken Word Artist Femi the Drifish told us, "I was working with 7th graders at Commodore John Rodgers Elementary/Middle doing an arts integration math program using rhythm, rhyme, and poetry. Going through what is common in a classroom, I challenged the students to use their algebra vocabulary to describe the city of Baltimore using the terms in creative ways—metaphorically, but in correct context.
There was one student, clearly the "too cool for school" type, who just wasn't participating in any activity that led up to the final writing exercise. Once the scaffolding was completed and students were set to complete their assigned writing prompt, I witnessed that one kid scribbling on paper in the corner by his lonesome, away from tables where students where gathered.
Upon completion, students shared their work trying to impress each other with the cleverness of their vocabulary usage in the Baltimore City descriptive poems, when he asked if he could share his poem.
I was surprised—just like his teacher and his class peers—and quickly encouraged him to step up to the front of the class to present before he decided to retreat into the disinterested facade he used during all the warmups. As he delivered the poem I realized that he didn't stick to the theme given, but instead described his love for the game of football using the math terms.
The class roared on cheers upon his completion and the teacher grabbed the poem from him to share with other teachers who wandered into the class to congratulate him."
Alice's year at Summer Arts & Learning Academy (SALA) meant so much to her. The program helped bring clarity to math concepts my daughter was struggling with through an art form she loves, she felt confident, and she felt like she was part of something larger than herself. It made her feel proud of herself and proud of her community.
She wrote, "A lot of people think of Baltimore as how the news shows and talks about it. The news tends to only show the little bad things about us. I wish people could just see what SALA is like. It's a perfect representation of Baltimore's youth! It shows that we are creative, compassionate, caring, and loyal." Now Rosario, my youngest daughter, looks forward to SALA every summer. And even though Alice is too old to attend, she volunteers in the program. "I can help and watch other children get the same great experience that I did."
As I've seen with my own children, arts integration is not just fun in the moment. These are experiences that shape students' mindsets, their education, their goals—experiences that students carry with them and inform their decisions for years to come. Please give today.
I have been a volunteer for Young Audiences for seven years now, ever since discovering them when Colette was in 10th grade, and was asked to speak at their Impact Breakfast. I learned then how much YA had already impacted her, as Colette was part of the PVA (Performing and Visual Arts) magnet at school. Teaching artists from YA were very active, and still are, with the PVA in Anne Arundel County.
But what really impressed me was YA's involvement at all grade levels and in so many schools across Maryland. By integrating the arts into core curriculum, kids learn in a way that helps them retain the information. Whether it's rapping their multiplication tables, dancing to showcase literature themes or creating mosaics to depict basic biology, the kids are learning because they're HAVING FUN!
As for Colette, she's finishing her senior year at East Carolina University, as an electrical engineer.  And she still benefits from the arts-integrated education she has received.  For example, although I may not comprehend the mathematical formulas in the papers I proofread for her, her PowerPoint presentations are so visually pleasing that I don't mind reading what I don't understand!  Seriously, I hope you'll consider donating today so that other kids can have the great experiences and training that she received as part of YA's arts-integrated education techniques.
Young Audiences has played a pivotal role in Alex's life, both past and present. As a child, he discovered his love of writing during a YA artist residency in his public elementary school. Nearly two decades later he works as a staff member with Young Audiences of Maryland.
He wrote "As an adult who was diagnosed with a learning disorder later in life, I can look back and say that my experience with YA was a turning point in my journey to know and love myself. When I had the chance to demonstrate my understanding by creating, rather than just consuming information, I found myself not only participating in class but thriving! I want to stress how much even a single experience can expand a young person's horizons of possibility, both for their education and their future."
Now, Alex coordinates YA's programming with schools in Prince George's, St. Mary's and Calvert County and writes fiction and poetry as well. "It brings me great joy to step into a school and know that a student will find a lifelong sense of meaning and passion because of our work."
Alex is an example of the power of arts integration in the life of our students, especially those who struggle to learn through traditional means. He is proud to "pay it forward" as a staff member and encourages you to support our work across the state of Maryland. Please give today.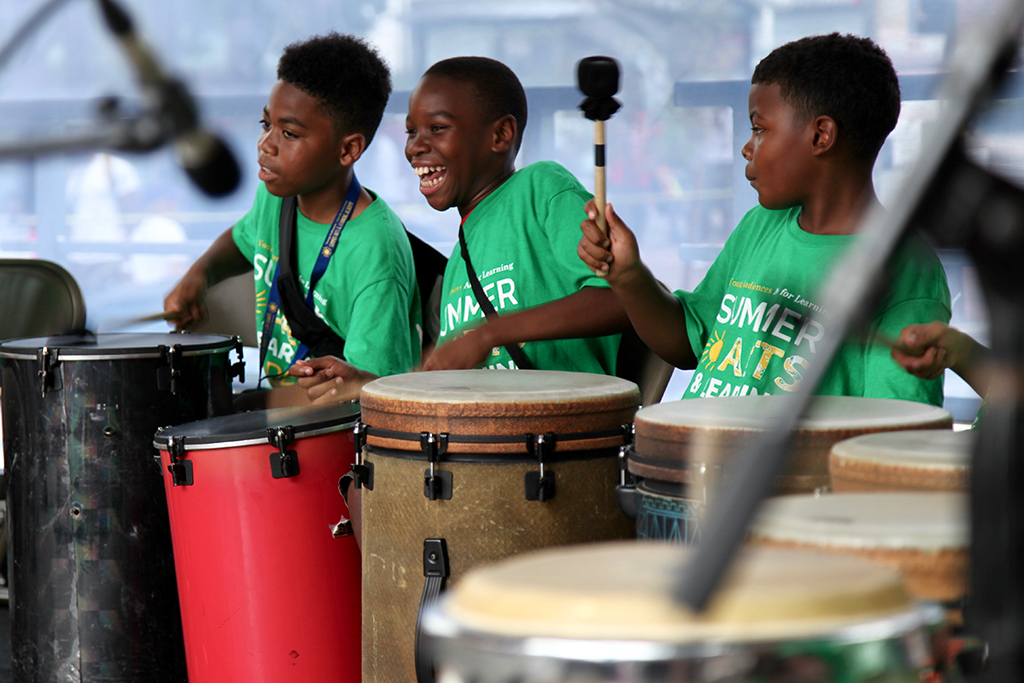 For 58 years, Young Audiences of Maryland (YA) has been combining arts and education to create inventive and exciting learning experiences for children across the state. We believe that these experiences shouldn't stop when the school year does, so we created the Summer Arts & Learning Academy – a five-week summer program that provides an opportunity for Baltimore City students who are behind in math or literacy to improve their skills through an arts-integrated curriculum. Through high-quality, engaging lessons, the Academy not only decreases summer learning loss in reading, but also eliminates summer learning loss in math, helping our students to return to school ahead of their peers.
With the help of M&T Bank Corporation, YA is working to expand this transformative summer program. Founded in 1856, M&T Bank is a regional financial services company that provides banking, insurance, investments, mortgage and commercial financial services in New York, Maryland, New Jersey, Pennsylvania, Delaware, Connecticut, Virginia, West Virginia and Washington, DC. It has been recognized for its financial strength and sound management, and is proud to continue its tradition of reliability in the way it serves customers and supports the communities where they live and work.
M&T Bank is supporting students in the Baltimore community by partnering with Young Audiences as a sponsor of our 2018 Impact Breakfast. This year's event will raise funds for the Bridging the Inspiration Gap Campaign, which will double the number of students served by the Summer Arts & Learning Academy.
YA knows that there is a space between the best conditions for learning and what our students in Baltimore City receive in school. We are grateful to M&T Bank for helping us to close this gap and give students the opportunity thrive in the summer and achieve year-round.
Learn about how Young Audiences is transforming summer experiences for Baltimore students through our Summer Arts & Learning Academy!
For more information about M&T Bank's charitable giving, please visit their website.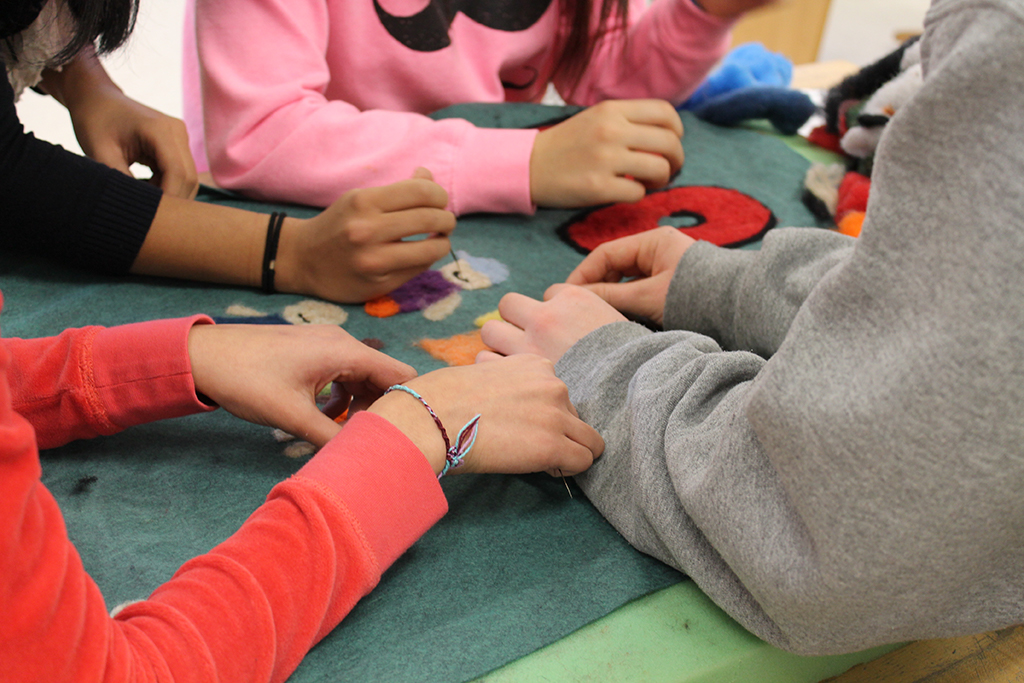 Young Audiences programs teach students about teamwork, tap into their creativity and imagination, and increase their understanding of other cultures through performances and artist-in-residence programs. We believe it is critical to share these opportunities with all students in Maryland.
In 2012-2013, Young Audiences reserved $102,847 of contributed funds to provide deeply-discounted programs for special needs and Title I schools in Baltimore City and rural Maryland counties through the Access for All Initiative.
To expand access in the city, public and private funds were matched with funds from the Baltimore City school district and the Maryland State Arts Council, which allowed us to serve more than 14,500 youth in 53 high-need schools, where on average 87.5 percent of the student body is eligible for free and reduced-price meals.
Blaustein Philanthropic Group, one of the contributors to this initiative, has significantly increased its support of Young Audiences to help lower the financial barrier to the arts.
Lara Hall, Blaustein Philanthropic Group program officer, said that supporting Young Audiences and Access for All allows the group to meet their goals of increasing their support of educational arts experiences in Baltimore City.
"The Blaustein family has a long history as patrons of the arts," Lara said. "As the younger generation has come into leadership roles at the foundation, they have posed the question: How do we use the arts as a spark to make sure kids have the best educational experience in Baltimore?"
Blaustein chose Young Audiences as the strongest nonprofit candidate to accomplish this work.
"Supporting Young Audiences' Access for All Initiative is the most efficient way for Blaustein Philanthropic Group to support more arts education in the city," Lara said.
Learn more about the Access for All Initiative.
Read about the work Young Audiences supporters have helped make possible in our 2013 Annual Report.
As a former preschool and kindergarten teacher, Jen Sachs often used music and theatre to engage her students. Although Jen lacked formal training in the arts or arts integration, she sang and used costumes and characters to encourage her students to participate in lessons. These small changes made a big impact.
"The benefits for my students were amazing," Jen said. "They learned and obtained concepts quicker. They were able to express themselves better. They loved coming to school and appreciated new experiences."
Seeing the impact of the arts on students is one of the reasons Jen was drawn to Young Audiences and became a Sunburst Society member in 2010.
Jen is particularly excited that Young Audiences has expanded into early learning classrooms as the Maryland sponsor of the Wolf Trap Institute's Early Learning Through the Arts.
"The arts programs that include music, visual arts, and theatre are extremely important for developing minds," Jen said. "Children are learning as they are doing. Whether they are building vocabulary through music and theatre or demonstrating the acquisition of knowledge through dance and movement—they are gaining vital skills for life and learning."
Using Wolf Trap's respected residency model, Young Audiences is bringing programs to Baltimore City preschool and kindergarten classrooms by off-setting the cost with community support.
"Low-income students often have limited opportunities to experience the arts in school," Jen said. "Young Audiences' programs fill this void and do more than teach students how to sing, act, dance, or play an instrument—they teach them to believe in themselves."
Read about the work Young Audiences supporters have helped make possible in our 2013 Annual Report.
"Wow, this is the first time I have ever felt artistic!"
Young Audiences ceramic artist Amanda Pellerin overheard this proclamation from a student during an artist-in-residence program. The student made this statement to no one in particular, but Amanda asked him to explain.
"He said he never thought he could do art, so he had never opted to take an arts class before," Amanda said.
Instances like these, when the arts change how a student thinks of him or herself, are the reason why Amanda is committed to sharing her art and skills with students. "I work for those moments when kids exclaim to the world: I get it. I'm special. This is making me see myself in a different way," Amanda said.
Amanda partners with Young Audiences to bring arts experiences to Maryland students—regardless of the school's budget limitations. Young Audiences' Access for All Initiative was created to lower the financial barrier for Title I Baltimore City Public Schools interested in bringing a Young Audiences program to their students.
"I live in Baltimore and personally feel really good when I'm working on a residency that is funded by Access for All," Amanda said. "I'm directly affecting my community—I feel a special pride."
This pride has propelled Amanda to donate to Young Audiences and join the many community members who invest in our work.
"I believe in the mission," Amanda said. "As I've watched Young Audiences grow, my work has grown exponentially. I've realized that it's very satisfying for me to share my skills and my knowledge with someone—to see the light go on inside of someone's head as they turn an idea into a clay project."
Learn more about Amanda and her artist-in-residence and teacher professional development workshop offerings.
Read about the work Young Audiences supporters have helped make possible in our 2013 Annual Report.