A reflection from Valerie Branch, professional dancer, master teaching artist, and YA roster artist, on the triumphs (and challenges) of teaching Summer Arts and Learning Academy kindergarteners math and literature through dance with her teacher partner, Sara Myers.
"If we stay true to our art form, and what we know about our art form, then the students have an active and engaging educational experience where they are learning, processing, and applying information.
At this year's Summer Arts and Learning Academy, I was partnered with elementary school teacher, Sara Myers, at William Pinderhughes Elementary/Middle School in West Baltimore. Together, we taught kindergarteners math and literacy through dance and movement. I love working with this age group because it reminds me that we are all multi-sensory learners, it doesn't just take one mode of teaching/instruction to help students learn.
In our arts-integrated math lessons, we created Number Bonds in motion to help the students gain a higher understanding of addition and subtraction. Students were able to break the number apart to figure out what two numbers it would take to create / get to that number; they were also able to put two numbers together and process the final product.
It's a fun and magical thing to watch the brain work and watch the students process and apply information learned. I saw students raise their hands for an answer – give the wrong answer – and not be afraid to use their brains to ultimately find the correct answer. I saw students learn about and apply their knowledge of contrasting words in their physical bodies, and they created dances that were a representation of these words.
Working with Ms. Myers was an awesome experience for me as a Teaching Artist. I loved that she always had new fresh ideas, and wasn't afraid to try new things with our students. It's so important to trust your teacher partner and build a strong collaborative relationship. If the students sense that you are not able to work together and respect one another, they will continually challenge that relationship. Be open, but also don't be afraid to give your ideas and to take risks.
"When we're fully engaging with the students, moving throughout the room, using all of our resources and allowing the students to take ownership of their learning — that is when we are having the best time together, and when the students are learning the most.
When we're fully engaging with the students, moving throughout the room, using all of our resources and allowing the students to take ownership of their learning — that is when we are having the best time together, and when the students are learning the most. I appreciated that Ms. Myers was open and willing to have those experiences with us! However, it was important for us to be in tune with the needs of our students, to challenge them to push beyond their comfort zone, but also to know when they simply needed a break.
In the afternoon, Academy teaching artists have the opportunity to share their art form with students during artist-led Arts Explorations classes. These daily classes gave students the chance to delve deeper into dance and movement.
Zoe, a student from my last Arts Exploration class, came to me very shy and almost afraid to shine. I challenged her to push past her comfort zone and be proud of her individuality. There were times during class when she would simply shut down. However, I continued to work with and encourage her, and it was amazing to see her classmates also supporting her.
Our ultimate goal in this Arts Exploration class was to create a dance about friendship, a dance we would later perform during a culminating event on the last day of the Academy. Through perseverance and her ability to trust herself, she was able to obtain a starring role in the dance, working together with another student to create a duet that began the whole dance.
As with any live performance, even though you make a plan, you simply do not know what is going to happen on the day of the show. On the day of our culminating performance —and in front of dozens of other students, parents, teachers, and artists — Zoe truly rose to the occasion and was a star performer. I was so proud of what she was able to accomplish and to see all our young students working together to create dances. They collaborated, engaged in meaningful discussion with one another, and were able to activate their short-term and long-term memory skills to process information and produce work.
"As with anything we do in life, in our careers as artists, etc., we face challenges. It's how we deal with those challenges that define the person we are and are striving to be."
Every day there was a challenge at the Academy, whether it was too hot in the building, students having a difficult time adjusting, creating an effective lesson structure that engages all students, or making sure that I remained as neutral and open as possible. I think what was remarkable about this whole experience is that we — myself, my teacher partner, and our students — always started each day with a fresh, clean slate. We continually found ways to improve the course of our day and the success of each child.
We encouraged our students to continue to rise above the challenges and try their best in all things. It was simply an awesome experience walking into or leaving the building and have students call out to say "Good Morning" or "Goodbye," and run up to you to give a hug. You know you've positively impacted a child simply by the way they engage with you — even if the events of the day brought some challenges.
Learn more about Valerie Branch or schedule a program
——–
The mission of  Young Audiences' Summer Arts and Learning Academy is to provide Baltimore City Public School students with an opportunity to spend a summer learning from the best teachers and teaching artists in Maryland. Through a dynamic and supportive environment, students developed an understanding of the creative process and 21st Century Skills with an exploration into arts integration that focused on math and literacy. Students had a fabulous culminating event, showcasing their skills in visual art, songwriting, spoken word poetry, dance, piano, drumming, playwriting, fiber art, and filmmaking.
The Academy is funded by Baltimore City Public Schools, The Abell Foundation, The Family League of Baltimore with the support of the Mayor and the City Council of Baltimore, The Alvin and Fanny B. Thalheimer Foundation and individual contributions to Young Audiences. All participants are students at a Title I Baltimore City Public School.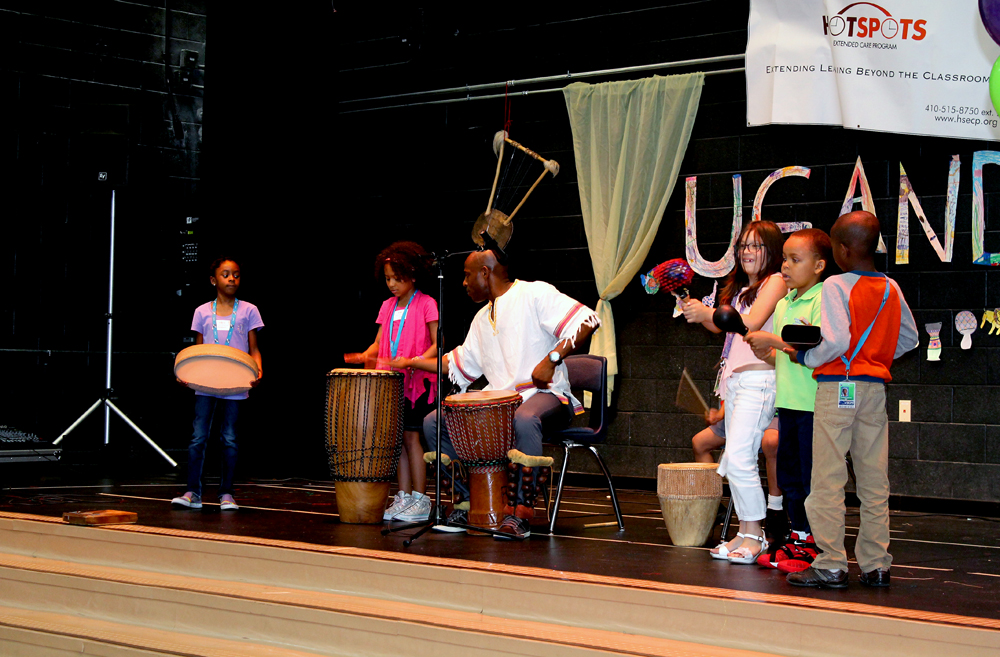 At Young Audiences, we're always building partnerships with great organizations to help enrich our children's lives through arts and culture. Hot Spots, a before and after school extended care cultural enrichment program, was a perfect match to do just that. This past spring, Young Audiences partnered with Hot Spots to bring Ugandan culture into the hands and hearts of the entire student body at Lyons Mills Elementary for a special performance dubbed "culminating".
Traditionally, Hot Spots offers artist residencies for students after school. For this partnership, an effort was led by Hot Spots Executive Director, Emily Gordon, to bring in-depth knowledge and meaningful craft-making to every student and teacher in the school for an entire day of culminating activities!
To facilitate this huge endeavor, Hot Spots chose Young Audiences Teaching Artist and Ugandan native, Ssuuna, a dancer, drummer, singer, and songwriter, to share significant cultural aspects of his home country with the entire school community. Hot Spots' ultimate goal with YA for the next year is to make these kinds of culminating performances an access point that will reach far beyond a school.
We spoke with Emily Gordon about this unique experience:
"We chose Ssuuna because he is an artist and performer who brings these experiences to life. He shares such enthusiasm and energy and encourages our students to be active learners, not passive. It's really important that we continue to work with artists who understand how to connect with children at their individual levels as opposed to simply teaching to the masses."
More from our interview with Emily:
"This partnership is different from how we've worked with Young Audiences in the past. The majority of our past work has been for students who participate in after-school programs and residencies. A culminating performance typically happens only with the students in the program. We are thrilled to be expanding that reach.
For this residency, we sent out lesson plans to every educator in the school with pre-assembly activities to support the experience with Ssuuna. Students memorized Ugandan vocabulary, researched facts about Ugandan every-day life, and learned about the musical instruments they would build in tandem with the performance later that day.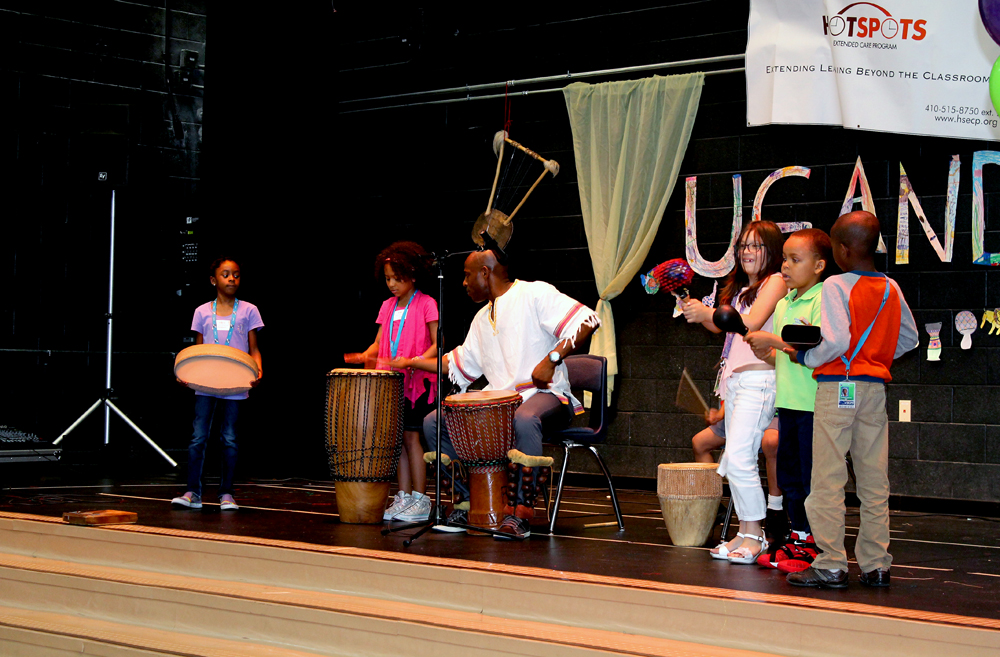 "This wasn't a 'come drop off your students at an assembly' type of day."
Teachers made sure they understood what the assembly was about and prepared questions for Ssuuna to answer. We didn't only focus on Ugandan music and dance; while grades third through fifth began the assembly watching a solo dance performance by Ssuuna and preparing questions, students K-2 sat down in small groups with Hot Spots teachers to create an Ensaasi, a Ugandan shaker. Rather than having them simply color in a pattern, Ssuuna identified forms of tribal art with cultural significance for design inspiration. From there, third through fifth-grade classes went back to the classroom and created Ugandan jewelry from different types of tribal wooden and plastic beads.
The success of this culminating day of activities reflects a desire to engage students differently with Teaching Artists. With assemblies, students are not able to stop and ask questions during a performance, and later they get forgotten. After Ssuuna had performed for 30 minutes, there was a fantastic Q & A session! Kids could ask Ssuuna anything based on what they had seen or read earlier in the day. We wanted to give them that forum, letting them express what they didn't understand. Ssuuna is such an amazing artist who can explain and relate to students not only his experience in America but his roots in Uganda. That unique connection helps reveal why his story is so relevant and compelling for students.
Another big part of this new model is encouraging not only our students, but the parents, families, and neighborhood to get involved. How do we make sure this experience can be expanded into the home? To extend our outreach, we shared photos and videos of the performance and activities in a short newsletter blast to every parent in the school. Included in the newsletter were extension activities and follow-up questions like this social media challenge:
Teach your family how to make Ugandan jewelry and take a picture of you and your family wearing it! Then, take a video of you and your family playing your shakers!
We really appreciate this unique opportunity to partner with Young Audiences. YA is a critical component of our efforts and we are excited to replicate and improve this program next year!"
This morning, we kicked off our expanded Summer Arts and Learning Academy – a free, five week program immersing 900 City students in a variety of art forms taught by 36 locally-based professional artists. The full-day program welcomes students grades K-5, encouraging imagination, creation and expression through the arts, such as painting, songwriting, spoken word poetry, dance, piano, singing, visual art, sound production, playwriting, fiber art, and filmmaking.
Our kickoff this morning was a blast – welcoming students and their parents to the Academy's four sites with high-energy performances, live music, and vibrant interactive art demonstrations – giving them a preview of the truly unique and empowering experiences to come throughout the next five weeks.
Due to last year's success; with academic gains by students drawing from 93 different city schools—the district asked us to expand the Academy to four sites: Thomas Jefferson Elementary, William Pinderhughes Elementary, Gardenville Elementary and Fort Worthington Elementary.
Working with kids as they discover passions, refine creative processes and integrate arts in their everyday learning is an inspirational experience we and our Teaching Artists look forward to every year. We spoke with a few participating Teaching Artists about their plans and why the Summer Arts Academy is such a great opportunity for students and artists:
Scott Paynter, reggae singer:
I wanted to teach at this year's Summer Arts and Learning Academy to gain more experience working with Baltimore's greatest resource…it's children. My art form helps students express themselves through lyrics, it introduces them to cultures and people they've never encountered before, and it brings life to a classroom environment. Music is like a force of nature. It's everywhere you are if you pay attention."
Bridget Cavaiola, Baltimore Improv Group:
This is such a unique experience to provide our students with collaborative and engaging arts experiences that they may not get to during the school year. The mood and energy are contagious as you get to watch the students engage themselves in something in which they have passion."
Alden Phelps, musician:
My focus has always been on playing with words and the joy of language. Language is the foundation of how we communicate and function as human beings. Students who practice manipulating language, expanding their vocabulary, using rhymes, and counting syllables will better succeed in their regular academic work. Creative thinking opens up new pathways in our brains. There's also a wonderful freedom when a student can express an idea creatively. They synthesize their academic knowledge with skill in the arts, such as using color or figurative language, and the result is far more engaging to them."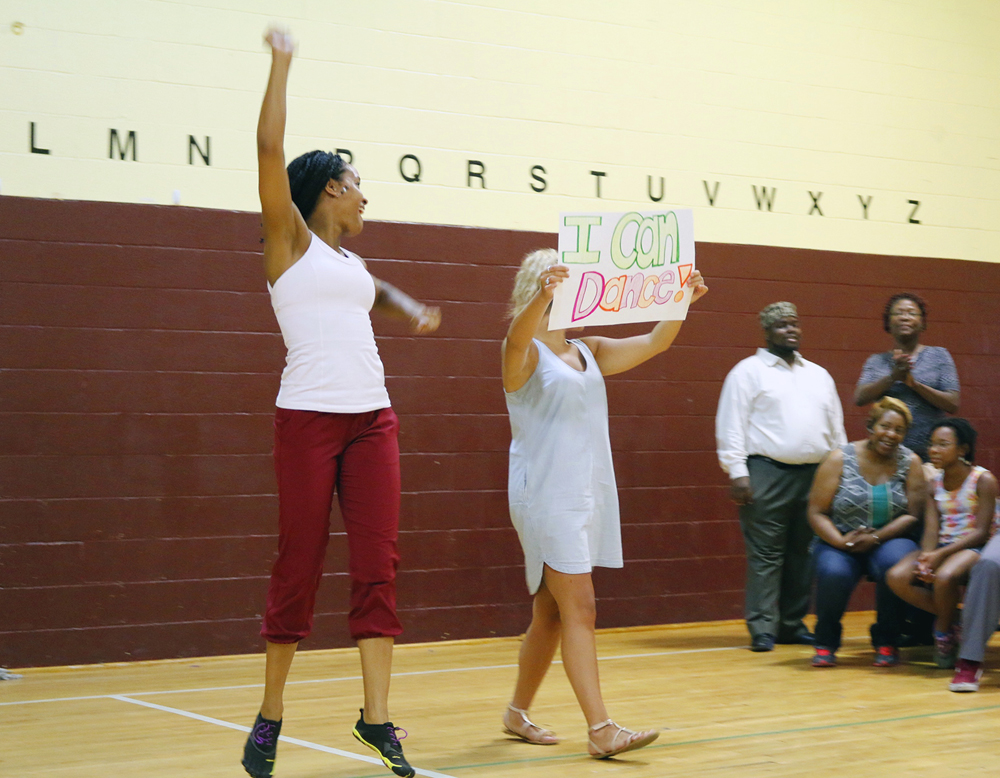 Students will imagine, create and express themselves through the arts, with a chance to concentrate on two art forms. The students even show-off their talents at Artscape, at pop-up performances in mobile art galleries around the city and at the August 5 final culminating event. We can't wait to see the students perform!
After this morning's successful kick-off event, led by teaching artists Valerie Branch and Sean Roberts, at William Pinderhughes Elementary, one parent said:
"I am just so excited to get to see my child perform soon. Seeing what the [teachers and artists] did just now, I know they are in trusted hands. It made me look at my daughter and think yes! This is going to be different, we are so excited! She LOVES art! I can't wait for the workshops too!"
Kicking off YA's Summer Arts Academy at #TJEMS with Femi the Drifish @BaltCitySchools #yamdsummer #SummerLearning pic.twitter.com/C8HwIkJ6MS

— Young Audiences MD (@arts4learning) July 5, 2016
Young Audiences' Summer Arts and Learning Academy is funded by Baltimore City Public Schools, The Abell Foundation, The Family League of Baltimore with the support of the Mayor and the City Council of Baltimore, The Alvin and Fanny B. Thalheimer Foundation and individual contributions to Young Audiences. All participants are students at a Title I Baltimore City Public School.
Categorized:

News

Tagged:

Alden Phelps, arts integration, Baltimore City, Baltimore City Public Schools, Baltimore Improv Group, ceramic art, creative learning, dance, Femi the Drifish, fiber art, filmmaking, Hip Hop, movement, Music, painting, percussion, Piano, playwriting, poetry, singing, songwriting, sound production, spoken word poetry, STEAM, Summer Arts Academy, Summer Arts and Learning Academy, summer learning, summer learning loss, summer learning slide, teaching artists, theatre, Valerie Branch, visual art
Taste the Arts X:
An evening of performance and culinary art!
Friday, May 6 at the Hippodrome Theatre in Baltimore
The lineup for our 10th annual Taste the Arts Fundraising Gala is set! We've put together another fantastic evening featuring award-winning artists and top culinary talent in Baltimore.
The best part? When you buy your ticket, you support Young Audiences' programs and mission to bring high quality, low-cost arts experiences to Maryland schoolchildren! Last year we delivered arts experiences to 183,153 students in Maryland. With your ticket purchase, we can keep it up – and do even more.
At Taste the Arts, we'll transform all three levels of The Hippodrome Theatre into a celebration of the arts through live performances and interactive arts experiences, with food and drink served on all three floors. Here's a taste of what to expect:
Taste delicacies from 25 restaurants:
Absolutely Perfect Catering
Alma Cocina Latina
Argosy Café
Baltimore Waffle Company
Blackwater Distilling
Blue Pit BBQ
Brio Tuscan Grille
Charm City Cakes
Charmington's
Chiapparelli's
Clavel
Gertrude's
Golden West Café
Heavy Seas Alehouse
La Cuchara
Maggie's Farm
Mother's
Teavolve
The Charmery
The Food Market
The Hipp Cafe
The Local Oyster
The Oceanaire
The Scratch Mill Kitchen
Tio Pepe
Wine from Noble Vintners
Beer from Union Craft Brewing
On the menu from Clavel is Cochinita Pibil, a traditional Mexican slow-roasted pork dish, with a side of Hex Ferments special slaw. The tapas-inspired menu from La Cuchara features Charred Broccoli Pintxo and Pickled Mushroom Pintxo. The Local Oyster will be shucking out sustainably farm-raised raw oysters. Maggie's Farm is serving chicken liver pate with fig jam on baguette and Heavy Seas Alehouse brings it home with Smoked Brisket Mac & Cheese. On the sweet side, Baltimore Waffle Co. will serve up Belgian Liege Waffles and Gertrude's presents a twist on a Baltimore classic with its Berger Cookie Cheesecake. Local winery, Noble Vintners, has graciously donated wine, and Union Craft will be on hand, offering their award-winning brews!
Don't miss 9 live performances and interactive art demonstrations, including:
A collaborative music production composed and directed by Wendel Patrick, YA Artist and 2015 Baker Artist Award Winner, and performed by Peabody Institute musicians Jahi Alexander, Blair Skinner, Louna Dekker-Vargas, and Yoshi Horiguchi and YA artists Max Bent, Wendel Patrick, and Jamaal Collier—2016 Artist of the Year.
I don't want to give away TOO much. But at Taste the Arts, I'll be working with an arrangement from one of my favorite hip hop producers." —Wendel Patrick, 2015 Baker Artist Award Winner

Interactive "light painting" with maker-educators FutureMakers (fresh from Light City!)
Get ready for light painting with LED brushes at Taste the Arts! You'll even be able to email your creation home!" —Matt Barinholtz, FutureMakers

Indian classical dance performance by NRITYA
I have had the opportunity to be a performer at several Taste the Arts over the years, and I am excited to be a part of the 10th Taste the Arts gala," she said. "When my students perform with me at the gala, it is a wonderful experience for them as they get to showcase their talent and culture through their performance to the guests. It is almost as if they are cultural ambassadors." —Lakshmi Swaminathan, NRITYA, as quoted in the article "Tasty fundraiser hits the Hippodrome" on Avenue News.com

Pantomime theatre from DC's award-winning Synetic Theater
The Magic Balloon is a series of hilarious sketches synthesizing music, ballet, clowning, and audience participation. At Taste the Arts, you'll discover the art of acting without words and open the door to your imagination. 'Balloon' tells a wonderful story of a traveling actor and his magical trunk of tricks and toys." —Tori Bertocci, Synetic Theater
Plus:
Acoustic roots and blues music by Curtis Blues
Screen painting with John Iampieri
Performances by Thomas Jefferson Elementary/Middle School's String Ensemble and Kindergarten ballet dancers
Kevin Martin of Rockcreek Steel Drums performing with students from the Holistic Life Afterschool Program at Robert W. Coleman Elementary School
Taste the Arts also includes a live and silent auction with one-of-a-kind items and experiences and an awards ceremony honoring Maryland's arts-in-education leaders, including 2016 Artist of the Year Jamaal Collier, who has more than a decade of professional experience facilitating Hip Hop workshops and live performances across the state.
"I'm thankful to have an effect on kids' lives and for the effect they have on me. Every human has talent. YA helped me to build skill within that talent. I have become a better artist because of YA." —Jamaal Collier, 2016 Artist of the Year
Tickets are only $100 and ensure high-quality art experiences for Maryland schoolchildren. We're expecting hundreds of artists, educators, and arts supporters in attendance and hope to raise $150,000. Get your tickets now!
—
Can't make it to Taste the Arts?
You can still be part of our fundraising efforts by bidding on some fantastic items in our online auction—happening now through Thursday, May 5. There are still a bunch of great items available with low or no bids, and several new items were just added this week!
Categorized:

News

Tagged:

Baltimore City, Curtis Blues, dance, FutureMakers, Hip Hop, Jamaal Collier, John Iampieri, Kevin Gift, Kevin Martin, Max Bent, Music, NRITYA, Peabody Institute, percussion, Rockcreek Steel Drums, steel drum, Synetic Theater, Taste the Arts, theatre, Thomas Jefferson Elementary Middle, visual art, Wendel Patrick

By Valerie Branch, Young Audiences and Maryland Wolf Trap teaching artist
Empowering youth through my art form is something that I'm very passionate about. As a dance teaching artist, my role in the classroom is to enhance students' development in decision-making, communication, and self-confidence through individual and shared movement explorations and experiences. Students learn how to control their impulses and self-manage when it is time to be silly and when it is time to stop and focus.
I recently completed a year-long Maryland Wolf Trap residency at Holabird Academy with teacher partner Ms. Katie Fincke and her pre-kindergarten class of students ages three to six. Our residency specialized in Language Arts with a focus on narratives and storytelling, so Ms. Fincke and I found ways to integrate movement experiences into the curriculum.
We accomplished our major teaching goal by using the elements of dance to help children convey meaning. We did this through a series of six different books that Ms. Fincke read with her students throughout the year. Ms. Fincke and I guided the children through the process of generating imaginative ideas about how to portray and connect to moments in the story through movement. Ms. Fincke's class had many students whose first language was not English, so our goals uniquely overlapped with language development and vocabulary enhancement.
Ms. Fincke and I wanted the children to define and understand the meaning of creative movement. Our dancing activities did not follow the typical routine of me modeling a movement and students mimicking me. It was more about finding a way for me, Ms. Fincke, and the students, to have the experience together. Ms. Fincke and I didn't want to robotically lead the children by saying, "Arm up, arm up, down, turn, turn!" Instead, it was the children leading us. We would hear, "No, let's do our arms like this!" or "Let's move like this! Let's go here!" Students were given the chance to be creative and collaborate with their teachers and their peers. They were empowered to speak up and share their ideas because dance has no wrong answers. We encouraged our students to improvise without fear because we wanted them to know that their thoughts and ideas were valued. It's a scary thing to express yourself with your body in front of a crowd. We wanted them to find a comfort level that would allow them to express themselves without limitations.
When I first walked into Holabird Academy, many of the students struggled with understanding personal space, body impulses, and self-confidence in creating and sharing ideas. Ms. Fincke and I have seen so many students flourish during the course of our partnership, but one student who made tremendous strides in social development and leadership was Oscar. We have watched Oscar become a leader and set a great example for his peers. He was never afraid to demonstrate his ideas through dance. He encouraged his peers to make strong independent choices. His classmates have been able to take risks and explore their creativity because they saw Oscar doing just that. Oscar demonstrated his leadership through an activity called the "mirror game," which required students to slow down their energy and express themselves through dance in a calm and channeling way.
During the mirror game, one student at a time would face the class from the front of the room and then create slow movements with their body. The goal was to get the rest of the class to slowly repeat the leader's movements as if they were the reflection in a mirror. Oscar really took interest in this activity and whenever he was up at the front of the room, he made sure that his movements were clear for his classmates to follow. Because he took the activity so seriously, there were times when other students would poke fun at him, but he didn't let it bother him. A great leader is not somebody that forces their own ideas on people, but explores how people can share ideas together. Oscar led this activity with the intention to work with everyone as a team and that trait was very admirable.
What I loved most about working with this group was that I was not only able to teach them, but they were always teaching me. During the first few sessions, we would sing a greeting song in English, but by the third class, I had introduced the song in Spanish, a language I knew most of Ms. Fincke's class was familiar with. Suddenly, the looks on their faces changed and they realized they knew the words. The kids lit up with excitement when they felt that sense of home and comfort in the classroom. Ms. Fincke and I always took time for the Spanish language and that was important to her students. It was also crucial for Ms. Fincke to take time to do translations and have the kids work together through their language differences.
It was important that we did not tell them to always speak English. Yes, we were in an environment where English was the primary language, but we also wanted them to hold strong to their heritage. Seeing them take ownership of their language was inspiring. We often let them sing and dance in Spanish and those were truly their moments to shine and demonstrate how far they were excelling in the knowledge and understanding of the skills we were sharing with them.
It's been amazing to watch these students grow, interact with one another, and also feel better about themselves. It's important to get them thinking about these things at an earlier age because I think that we often forget that children can have problems and stresses, too. We think that they don't have any issues because they're young, but our youth go through so much. They are witnesses to everything. They may be young, but they are just as much a part of our world as we are. Using dance and movement to build our youth into better citizens is something that empowers me as an artist.
Learn more about Valerie Branch and her dance programs for schools.

By Christa Huber, Arts Integration Coach, Patterson Park Public Charter School
I have been with Patterson Park Public Charter School for six years in various teaching positions in Title I, third grade, the English for Speakers of Other Languages (ESOL) program, and am now the school's arts integration coach. This year has been a learning process, but also such a positive experience working in partnership with Young Audiences and Arts Every Day.
It was a personal goal for me to transition Patterson Park Public Charter School into becoming an arts-integrated school. I wanted to maximize our artist-in-residence programs with outside artists as much as I possibly could this school year. We believe in the strength of the impression that residencies make upon students and teachers. All of the work that comes out of a residency versus a day-long field trip makes such a difference. Residency programs allow students more time to engage with and learn from the artists. This exposure to artists is also important for the teachers because it provides a longer period of professional development so that they can learn skills and strategies that they can carry out in the future.
We had a fantastic variety of Young Audiences artists out to our school this year. These artists included: spoken word poet Femi the Drifish, ceramic visual artist Amanda Pellerin, Baltimore Improv Group, Flamenco dancer Anna Menendez, and more. These programs were made possible through Access for All grant funding from Young Audiences and funding from Arts Every Day.
We spread the residency experiences across different grade levels of the school. It was very helpful having the Young Audiences artist and program information online because it allowed me to search for artists that matched and linked to the content areas that our teachers were looking for.
There were a variety of stand-out experiences from our residencies, but here are a few:
Femi the Drifish worked with our middle school students in Language Arts. A great thing about that residency was the response we received from students who typically are not comfortable with performing in front of people. By their culminating performance, those students in particular were the ones to stand up and share their poetry with strength.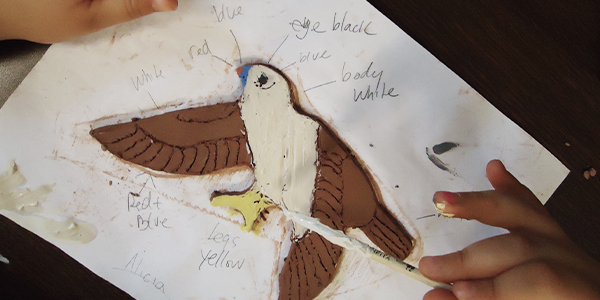 The third grade worked with Amanda Pellerin to create an Ancient Egyptian mosaic. This piece of work related to their study of the ancient civilization. Mr. O'Connell, our third grade science and social studies teacher, was blown away by how Amanda challenged the students to do their best work in a really positive way. We're very excited to have that piece of artwork as a permanent fixture in our school.
Anna Menendez brought some of the Spanish culture into our school. Some of our middle school students had just returned from a trip to Spain during spring break, so this residency was another way to connect with what they learned and saw on their travels. It also provided a relatable experience for the students who didn't have the chance to travel to Spain.
I have personally seen the impact that residencies have had upon teachers compared to other arts-related experiences. I believe that having artists at Patterson Park helped our teachers develop a great deal. Artists exposed teachers to new art forms that they may not have had any experience with, such as spoken word poetry or improvisation, and gave our teachers opportunities to learn how to tie these art forms to the curriculum.
One of our charter school philosophies is that children learn best through hands-on activities with interdisciplinary and semantic learning models. Arts integration is at the core of our values and it naturally makes sense for Patterson Park.
Young Audiences' roster of artists continues to grow to encompass new artists, ensembles, and art forms, from slam poets to improvisers to Capoeira masters.
We'll be regularly posting interviews with our artists, giving them a chance to share more about themselves and their experiences bringing their Young Audiences programs to schools. We recently sat down with Lakshmi Swaminathan of NRITYA.
How did you first hear about Young Audiences? What made you decide to become a roster artist?
During the 1990s, I lived in New York City where I was working as a dance teacher for Young Indian Culture Group. During that time, I connected with another New York City dance organization called Battery Dance Company when I was introduced to the executive director Jonathan Hollander. He invited me to his studio to attend a workshop where I met another classical Indian dancer, Janaki Patrik, who was a roster artist with the New York chapter of Young Audiences.
Janaki asked if I would be interested in becoming a Young Audiences artist and of course I said absolutely! So I joined her group, Caravan, an Indian dance ensemble. Later on in life, I moved to Maryland and took a few years to be a stay-at-home mom with my daughter. When I decided to get back into dance, I checked to see if the Maryland chapter of Young Audiences had showcased any Indian dancers or artists before. I shot an email to the former executive director asking if Young Audiences would be interested in having me as a new roster artist. Immediately following a positive response from the executive director, I completed a 45-minute assembly audition and that was it! I have been a member of Young Audiences/Arts for Learning Maryland since 2002.
What has been the most memorable part of the programs you have brought to students with Young Audiences? Do you have a favorite memory from a program?
So many! What NRITYA does is so different that I have seen evidence of it affecting children in so many positive ways. We have gone to many different parts of Maryland, including some very rural towns where experiences have stood out to me.
In these specific instances, I realized that some of the children seemed to be confused by the idea of what an "Indian" person is. I have received questions like: "Do you wear feathers in your hat?" or "Are you a queen?" It has been those types of questions that made me realize that these children have no clue what my heritage is. Upon first impression, they often identify me as a Native American rather than Indian. Through our programs, I have to first introduce them to the country of India and explain the difference. By allowing them to see an authentic Indian dance performance, we are giving them a glimpse into a different world and culture. They begin to experience something that is outside of their own comfort zone. It truly broadens their perspective.
How does your art form help connect students to what they are learning in school?
From the curriculum perspective, it helps students develop in social sciences. They spend time investigating the living history behind the cultures that they are learning about. Dance opens them up to the idea of freedom of expression. My dances tell stories. I usually do fables which have a very Western background. The fact that I am using the Indian dance form to tell a Western story forces children to realize that the medium of dance is not limiting. If you are able to successfully tell a Western English story through Indian dance moves, you can do almost anything! You can be creative and explore that creativity while having fun.
Through one of my dance residencies, "Indian Immersion," the children actually get to wear authentically-made Indian clothes and immerse themselves further into the Indian culture. The kids love it! After one residency a teacher came up to me to say: "There is a boy in my class who would usually never participate or want to be involved in classroom activities. I was amazed to walk in and see him there dancing with you!" To watch kids just get up, start moving, and enjoy it is touching.
How do the lessons and skills you teach students about or through your art form apply to their everyday life outside of the classroom?
I think it broadens their perspective to a greater world outside of their own. I tell the children that India is a place very much like America. I have had kids ask if my studio would allow dancers to come in who are not of Indian descent. I tell them that you don't have to be Indian to perform Indian dance!
After my program, children become culturally aware. They begin to notice differences between themselves and other people. They notice differences between the food we eat, our outfits, communication, and how we express stories and emotions through dance. Yet at the same time, they realize that dance is dance. It's a medium of expressing oneself. It is a medium of using your body to tell a story no matter what culture you come from.
When we bring Indian dance to students, we give them an opportunity to step outside of their schools, and see beyond their immediate neighborhoods. This is a way of letting them know that it is all right to be different. It's all right to be creative. It's all right to embrace art. There is a world outside of academics that allows children to grow.
Learn more about NRITYA's offerings through Young Audiences.
By Kwame Opare, High Point High School Dance Teacher and Young Audiences teaching artist
I have had the privilege to work with a diverse group of learners in the Prince George's County school system so far this school year. As ​a​ dance teacher for all grades at High Point High School, I have been faced with a challenge not yet experienced throughout my years of bringing my craft to the classroom as a teaching artist. High Point's population is largely immigrant and first-generation American young people and English is often not the first language (or even second language in some cases) for many of my students. This has compelled me to modify, and even synthesize new instructional methods, to ensure the transfer of knowledge.
What I've noticed in this short but meaningful time is that no matter where you are on Earth, young people want to learn, they crave information. They will test you as the adult to see if you really care whether or not they get it, or if they even show up. I care, and in this short time, I believe that I have convinced my students of this. Now that I "got 'em," the onus is on me to make sure they know that they have the right to learn and that they must take the process of learning into their own hands. Creating an environment where students feel confident and enabled to take ownership of their learning is essential to their growth as students and beyond. We as educators must only provide a framework of knowledge and wisdom that comes from study and experience in a safe environment so that the true capacity for brilliance can be nurtured in our young people.
What do the arts have to do with all of this? After all, it's just dance. Through dance, I have seen the strengths and weaknesses of my students and have used them both to fortify my instructional methods. The brilliance of all my students is evident, but is often locked away beneath external and internal distractions​, ​such as s​elf-doubt​, embarrassment, worries about​ what peers w​ill think, ​or ​problems at home. Through dance, we can successfully weed through these distractions. Some of my students at High Point tell me their stories and in response I just ask them to please keep coming to class because they are a part of something now. Their growth from the first day of class to today has been a joy to observe and I feel so fortunate to bear witness.
At first they came in scared, terrified, some not knowing the English language, and nearly none of them knowing the language of dance. Though the proficiency levels vary, the feelings of frustration from the challenge is shared. Yet, we are starting to build a community of support and understanding with confident souls that know they CAN! Some of those who stood in the back of the class at first are finding their way to the front and are becoming leaders, helping others and welcoming newcomers.
In dance, the process often begins with what I refer to as the ugly duckling syndrome. "Feeling 'stupid' and looking 'stupid' is OK," I tell my students. I remind them that we all looked "stupid" when we were learning to walk as babies but the alternative was to never run and we wouldn't have that! The process is what makes art making so fulfilling and ultimately what makes a teaching artist so effective. Artists know and respect the strength of the process because we are immersed in it daily. Effectively bringing the idea of process into the classroom has a positive and lasting impact on students.
It is through these processes that students are engaged where they may otherwise be distracted or lack interest. The process instills in young people the ability to effectively gather resources, question, problem-solve, and persevere to see something through to the end, whatever challenges they may face in academy and beyond.
During the last two years, our roster has grown in size to encompass new artists, ensembles, and art forms. From slam poets to improvisers to Capoeira masters, these new artists are undeniably unique.
To introduce audiences to our new artists, we'll be posting interviews with those who recently joined our roster, giving them a chance to share more about themselves and their experiences with Young Audiences so far.
What is your background as an artist?
I graduated from University of Maryland College Park (UMCP) with a Bachelor of Arts degree in Dance. Since graduation, I have been at the forefront and background of different dance organizations and have traveled around the world as a result of my passion for dance.
The first company I danced with was Lesole's Dance Project, a traditional South African dance company where I was able to hone in on my leadership, creativity, organizational skills, and learn and appreciate a new form of dance. I served as rehearsal director, administrative and fundraising support staff and learned how to make a dance company successful. The Director and I worked together to create and organize an edu-dance program for young students in South Africa, which we were successful in implementing two years in a row.
In 2011, I was invited to Copenhagen, Denmark as a visiting artist to explore the country's culture and art. As a result, REVISION dance collaborative (a company in which I co-directed its first season) had the opportunity to perform in and be part of the Kids Euro Festival where we performed in locations throughout Washington, DC.
How did you hear about Young Audiences?
I heard about Young Audiences through Laura Schandelmeir, who had partnered with Young Audiences through the Maryland Wolf Trap program as a teaching artist. Laura was one of my professors at UMCP and is a wonderful dance educator, and someone whom I have had the opportunity to be inspired by.
You recently completed the Teaching Artist Institute (TAI) Seminar this spring. What was your favorite part of the program? How has that experience changed your approach to a program or your teaching practices?
Saying that I loved the TAI program is an understatement. Though I have been working with students within and outside of the classroom for years, I felt that this program truly changed the way I think about and approach my lessons, teachers, and students. I really appreciated Karen Bernstein, the dance facilitator on staff. Karen truly guided and provided me with advice so I could grow. I felt that Karen was the true support that I needed. She gave me feedback when I needed it; let me struggle in order to figure out what I needed to do; and was there when I needed encouragement. So often in programs like this, artists just receive a generalization of arts education/arts integration and then have to figure out: "What should I do with my art form and where do I start?" It was helpful to receive a plethora of examples from different artists. I enjoyed that the staff was fun and made the experience fun.
What made you decide to become a YA roster artist?
I initially joined Young Audiences as a Maryland Wolf Trap Teaching Artist serving preschool classrooms. In my first year on the Young Audiences roster, my opportunities have grown tremendously to reach older students and I am appreciative of that. Being part of the Young Audiences organization, I truly feel like I am growing and developing as an artist–where I am right now in my career is exactly where I want to be. Taking this journey has allowed me to focus on my career, taking everything that I have learned and witnessed throughout the early stages in my career, and create something new.
Have you had any programs through YA yet? If yes, what was the most memorable part? If no, what are you most looking forward to?
I love teaching within the classroom and working with the teacher and the students to explore learning and understanding subject matter through movement. I am really looking forward to assemblies!
Why do you believe art is important for every student to have access to?
Children need to be allowed to think creatively and develop their own opinions. They need to develop their critical thinking skills at an early stage so that they have a clear understanding of why they think the way they do and why they feel a certain way about different situations. They have to develop their own understanding of how to accomplish tasks. The arts provide a creative outlet by allowing them to explore, imagine, and test new ideas. The arts target a different area of their brain, and once students have this experience it opens them to new possibilities. It allows them to take risks in the classroom that they may have been shy to before an arts experience. The arts help to develop self-confidence.
What does your art form in particular teach students?
Self-confidence, patience, respect for self and others, and focus. It also gives them an understanding of their own bodies–they find out new and exciting things that their limbs can explore, plus they learn their own limitations and to appreciate what others can do.
Learn more about Valerie Branch Dance Ensemble's offerings through Young Audiences.
Keep an eye out for more interviews featuring our newest roster artists! See past new artist interviews here.
See photos from the Young Audiences arts-integrated summer learning site!
The summer can be a time for fun in the sun with family and friends, but for many students across the country, it is a time of uncertainty. Without school, many at-risk students are left without adequate supervision, access to regular, healthy meals, and opportunities to participate in engaging and constructive activities. On average, all children can lose approximately two months of learning from the previous school year during the summer months without engaging education activities, and for low-income students, the loss is even greater. More than half of the achievement gap between low-income students and their more affluent peers can be attributed to the unequal access to summer learning opportunities.
For five weeks this summer, Young Audiences again partnered with Baltimore City Public Schools to combat summer learning loss through a free math- and science-focused summer camp opportunity for Baltimore City middle school students. Young Audiences artists provided arts enrichment activities at seven Baltimore City 22nd Century Pioneers Summer Camp sites. In addition, for the first time, Young Audiences managed an eighth completely arts-integrated camp site at Edmondson Westside High School.
At the Young Audiences camp, morning math and science classes were co-taught by Baltimore City teachers and Young Audiences artists, who explored STEM subjects through the arts. Students had a choice in the art form they focused on during afternoon enrichment classes, including dance, photography, illustration and mural painting, improvisational theatre, Hip Hop, steel drum, or VEX robotics. The camp also included field trips, giving students the chance to apply their knowledge outside of the classroom.
The program was a learning opportunity for participating teachers as well, some of whom were new to arts integration as a teaching practice. Co-teaching with Young Audiences artists gave teachers the opportunity to try out a different way to approach each lesson, growing their knowledge of the arts and the natural connections that exist between core subjects and the arts.
In a recent survey of 500 U.S. teachers, 66 percent said it takes at least three to four weeks to re-teach content from the previous school year to get their students up to speed at the start of each new school year. At Edmondson Westside, the arts made learning fun and students both stayed intellectually engaged so they would not fall behind in their classes this coming school year, and also discovered a new way of learning through the arts. Students had the opportunity to develop their knowledge in math and science in a hands-on way, learning how the length of sound waves relates to the pitch of each note on a steel drum, or how a photographer or illustrator uses mathematical ratios to compose a piece. Students learned about themselves as they tried new things; took risks during classroom activities; and showcased what they had learned for others.
Read more about the Young Audiences arts-integrated summer learning site and see photos from this summer here.

By Grace Galarpe, Baltimore City Public School teacher
When I got involved in the Young Audiences and Baltimore City Public Schools 22nd Century Pioneers Arts-Based Summer Camp, I wasn't sure if I was in the right place at first. Even though I've seen arts integration in the news, this summer was my first time really working with it. It was my first time working with Young Audiences, too, so when they told me that this program was all about arts integration, I was curious to learn more.
As a high school teacher, I've had the opportunity to collaborate with other core subject teachers before, but a collaboration with an artist? This was my first time and the idea interested me. In the past, I've used the arts in my classroom in the sense that we would sometimes draw or dance or sing. If I did incorporate the arts, it was separate. These activities would be after instruction or after school. The program this summer, where arts integration happened within the instruction, used a completely different method.
I was paired with Valerie Branch, a dancer. Before Valerie and I started teaching, we did lesson planning. Looking back, we consider this the biggest factor in our success because the planning helped us gain a greater understanding of how we would integrate the arts into our lessons.
I was very fortunate because both of us took the program very seriously. We would do thorough planning and would really talk about what was going to happen the next day and the next. Everything that Valerie and I accomplished this summer was possible because we had time to plan together. I wasn't just going into a classroom where I would do everything by myself; it was a partnership.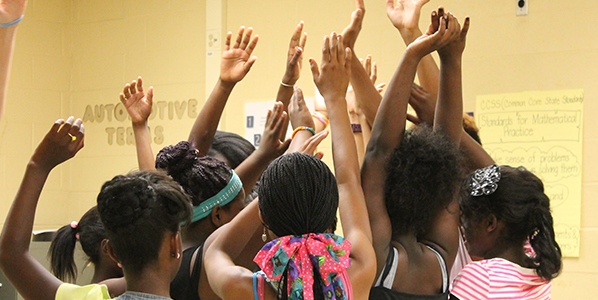 See more photos from the Young Audiences arts-integrated summer learning site!
Our lessons weren't always perfect, but since the teacher and the artist planned together, we could always reflect and revise–not just one of us, but both of us. We helped and respected each other, and as the summer went by, we became very comfortable with one another. When Valerie and I would sit down together, she made me feel confident about where the arts would come in and how we would make it possible. She made me feel more comfortable with her art form, too, and because of this, I could easily explain the elements of dance to students.
This summer, I realized that a dance activity can be incorporated with a science activity using the same concepts and vocabulary. That was amazing to me. At first, I wondered, "How will my students benefit from this collaboration and integration of the arts?" I now feel that arts integration gives students the chance to learn at a different level because we are able to touch multiple intelligences. I believe that our students achieved a deeper understanding of the science concepts and vocabulary that we taught them due to the integration of the arts into our teaching. They were able to apply what they had learned, not only through science but through dance, too.
Sometimes during the science instruction, students would ask: "Why do we need to learn this?" I would respond that they needed to know the terms and concepts so that we could apply them to our next dance choreography, and then they would get excited. When Valerie would talk about the elements of dance at the same time as the science, the students would be able to perform a dance choreography based on something related to science, such as pollution. That was a really wonderful outcome.
I can now see that if arts integration is a regular part of a classroom, it helps increase academic achievement and positive intervention regarding behavioral problems. I could tell that the arts were a huge help in attendance in our classroom, too, and I was so happy that the students looked forward to our class every day.
The arts also helped create responsibility. For example, Valerie and I decided that we needed to do something that would make the students understand that they had an obligation in the classroom. As a part of our teaching, we did an activity we called "Human Mirror," which incorporates dance movements that develop a sense of responsibility. It requires listening, following directions correctly, being observant, and an understanding of what it means to be a leader and a follower. This was a great success for our class. I could sense that the students also gained respect for both of us. They called both me and Valerie artists, which surprised me. I was like, "Oh wow, I'm an artist!"
[youtube http://youtu.be/7laf55H68VE]
If ever given the chance, I would tell teachers who haven't used arts integration not to be afraid of co-teaching with an artist. If there were an opportunity for me to be involved in another arts integration program, I would gladly do it. I've realized that in programs like this, the artist and teacher can become more than just teachers. I believe that they can do more than just share concepts or explain the academic side of things: they can inspire students' lives.
Read more about the Young Audiences 22nd Century Pioneers Arts-Based Summer Camp site and see photos here.
The school year may have ended, but for Young Audiences, that doesn't mean the fun, arts-integrated learning stops. Young Audiences has again partnered with Baltimore City Public Schools to bring arts enrichment activities to seven Baltimore City 22nd Century Pioneers Arts-Based Summer Camp sites. In addition, for the first time Young Audiences is also managing an eighth completely arts-integrated camp site at Edmondson Westside High School. The 22nd Century Pioneers Summer Camp is free to Baltimore City Public Schools middle school students.
At the Young Audiences camp, nearly 150 students will explore math and science concepts through the arts in classes and arts enrichment activities led by Baltimore City teachers and Young Audiences artists during the five-week program. Students can select the art form they will focus on during enrichment sessions, with choices including dance, photography, illustration and mural painting, theatre, Hip Hop, steel drum, or VEX robotics.
Because this is the first-ever Young Audiences arts-based summer learning site, we thought it deserved an equally spectacular kick-off event. As students arrived, what better way to greet them than with the arts?
On Monday, June 30, as students walked up to the school for the opening day of camp, the first thing that hit their ears was the sound of a steel drum being played by Young Audiences roster artist Kevin Martin of Rockcreek Steel Drums. Kevin has been building and playing steel drums for more than 20 years; this summer, he will show students how the instrument connects to math.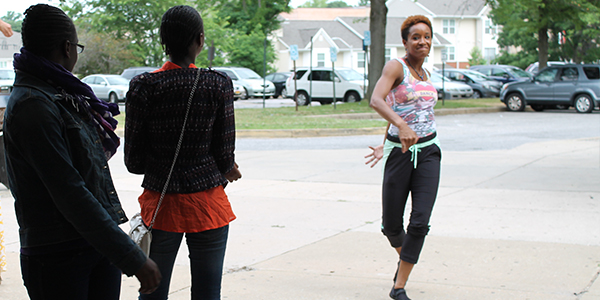 See more photos from the Young Audiences arts-integrated summer learning site!
On the way into the building, students passed the dancing Valerie Branch, a new Young Audiences artist whose energetic moves caused many to stop and watch. Valerie will get students moving while studying science this summer. Those walking in also got to witness the Hip Hop talents of musician Jamaal "Mr. Root" Collier, who will use his skills to bring math to life. Bridget Cavaiola of Baltimore Improv Group used improvisational theatre techniques to direct students inside the building. With her help, students will learn how theatre can make abstract science concepts concrete.
The excitement wasn't just at the front of the school. Once inside, students had the opportunity to take part in photographer Christina Delgado's photo booth, dressing themselves in hats and glasses before striking poses. Students will have the chance to go behind the lens with Christina to learn the art of photography and its connections to math. Visual artist Danyett Tucker will link illustration to science. As students looked on, she created a colorful mural with images of various art forms incorporated into the design, from music notes to microphones to Polaroid pictures. Students were invited to create murals of their own, as each table was decked with markers and a giant sheet of paper.
All children, regardless of their resources or where they live, lose some math skills during the summer. Studies show that economically-disadvantaged students also lose literacy skills during this "summer learning slide." Experts believe that the achievement gap between middle- and low-income students not only grows during the summer—it exists largely because of the summer.
Programs like 22nd Century Pioneers provide students with a safe place to go during the day, access to free healthy meals, adequate adult supervision, and positive, educational activities. This summer Young Audiences artists will connect students with new experiences through the arts as they learn about math and science in a new way and build their self-confidence as they gain knowledge and skills.
Check back in with the Young Audiences blog throughout July as we look at how these artist and teacher pairs are using arts integration in their classrooms.
Happy summer and happy learning!
Categorized:

News

Tagged:

22nd Century Pioneers Summer Camp, achievement gap, arts integration, Baltimore City Public Schools, Baltimore Improv Group, Christina Delgado, dance, Danyett Tucker, Edmondson Westside High School, Hip Hop, illustration and mural painting, Jamaal Collier, Kevin Martin, photography, Rockcreek Steel Drums, steel drum, summer learning, summer learning loss, summer learning slide, theatre, Valerie Branch