Arts integration is a valuable tool for reaching multiple learning styles across the curriculum and is linked to enhanced academic outcomes as well as positive social and emotional development for children. While this is true for all students, studies have found that the impact of the arts on language development and core subject learning is particularly beneficial for students with disabilities or those with special learning needs.
As an inclusive organization, Young Audiences' goal is to bring high-quality, arts-integrated instruction that is accessible, supportive, and welcoming to children of all backgrounds and abilities into the classroom.
Reality is a social definition. Disability is the social process that turns impairment into a negative by creating barriers to access. Difference should be accommodated and celebrated. You can create new ways to create together by taking into account universal access to creativity.
We are diligently laying the foundation for inclusive practice to be incorporated into arts-integrated curriculum, increasing the opportunities for youth of all abilities to participate in artistically-excellent programs. To help us achieve this goal, our staff received specialized inclusion training through the Inclusive Allies program in partnership with Disability Rights Maryland.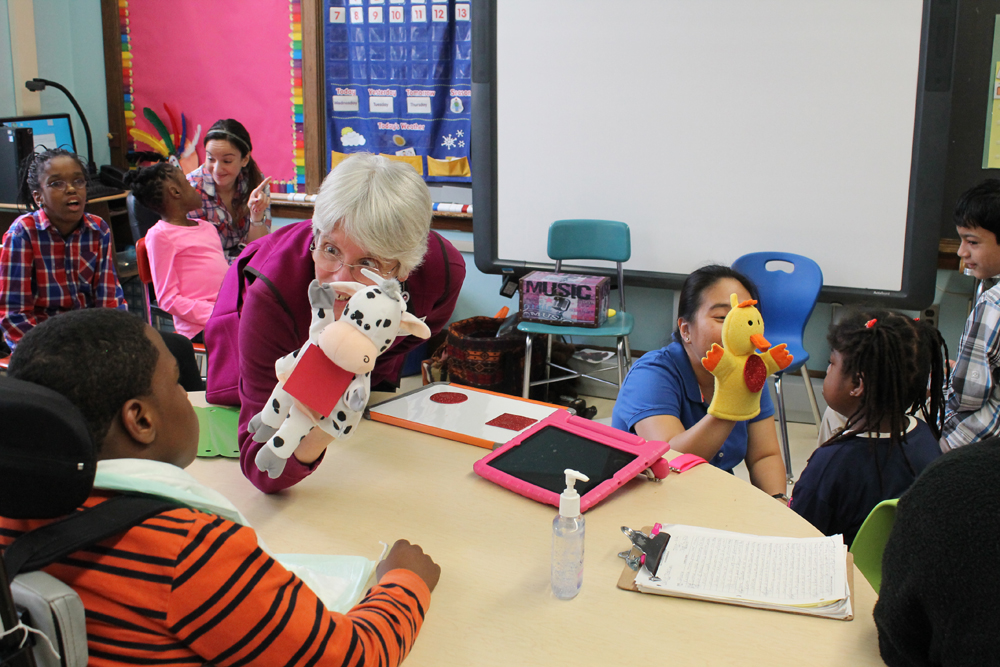 Nine selected roster artists also received training, participating in a comprehensive workshop covering a variety of inclusion tactics to utilize in the classroom. YA Roster Artist and FutureMakers founder Matt Barinholtz observed, "Reality is a social definition. Disability is the social process that turns impairment into a negative by creating barriers to access. Difference should be accommodated and celebrated. You can create new ways to create together by taking into account universal access to creativity."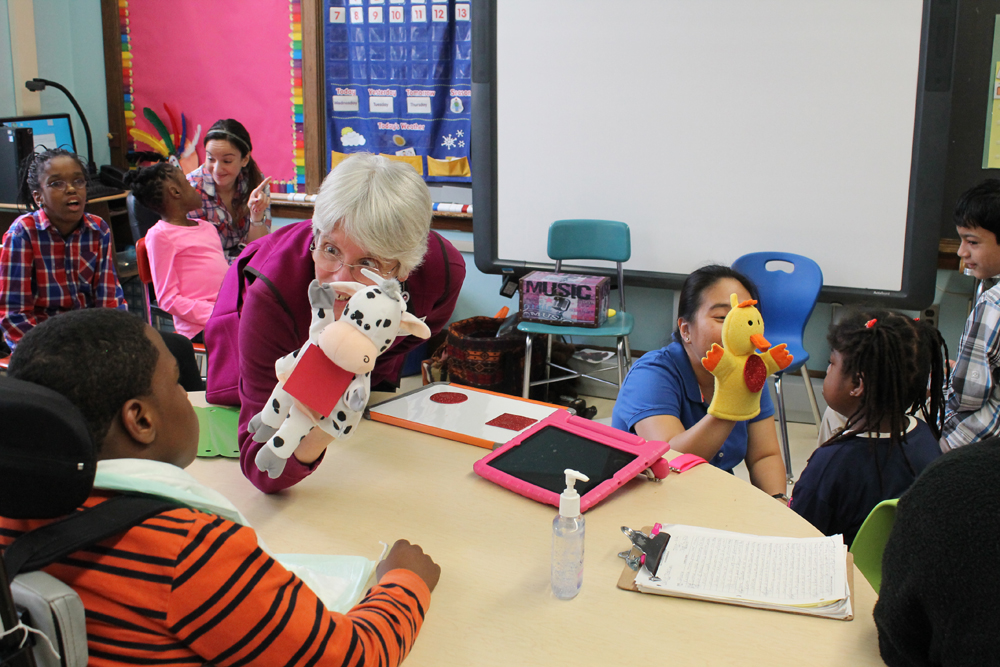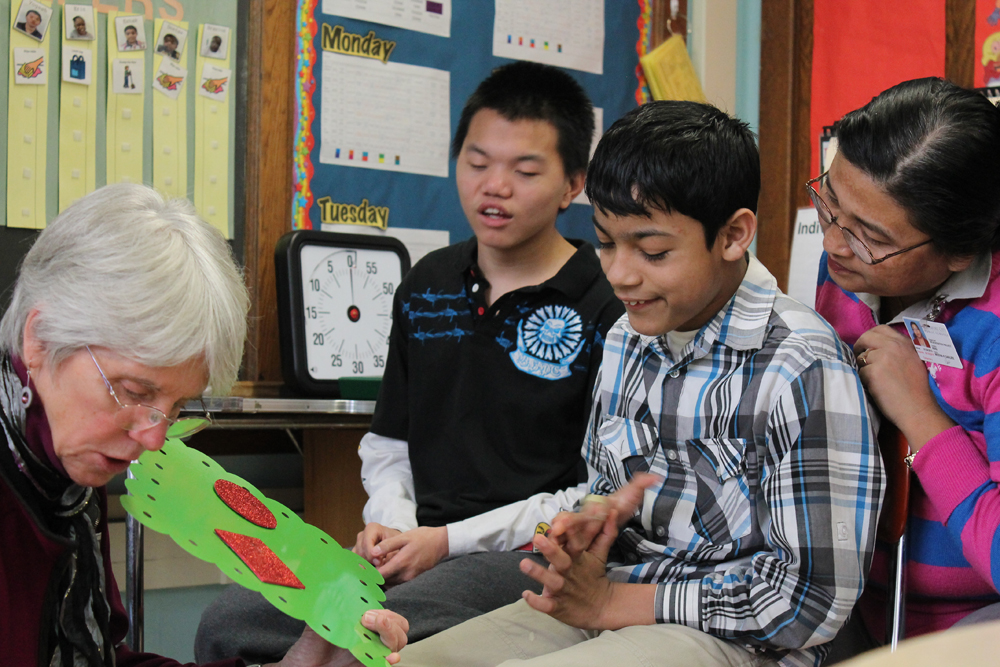 YA artists approach this "universal access to creativity" by rethinking the norms behind the ways we allow people to communicate, socialize and behave. We create a culture where all students receive the many benefits of engaging and inclusive arts-integrated classroom experiences, adapting lessons with audio/visual cues and different levels of kinesthetic movement, and applying inclusion tactics.
The following Young Audiences Roster Artists have completed the training as of 2016:
In the coming months, we will proudly share artists', teachers' and coordinators' stories about their roles in this important work.
Categorized:

News

Tagged:

Alden Phelps, Anna Menendez, arts integration, Curtis Blues, Disability awareness, Disability Rights Maryland, FutureMakers, inclusion, inclusive classroom, Jamaal Collier, Pam Negrin, Sharp-Leadenhall, Skher Brown, special needs, Sue Trainor, Synetic Theater, Valerie Branch, William S. Baer School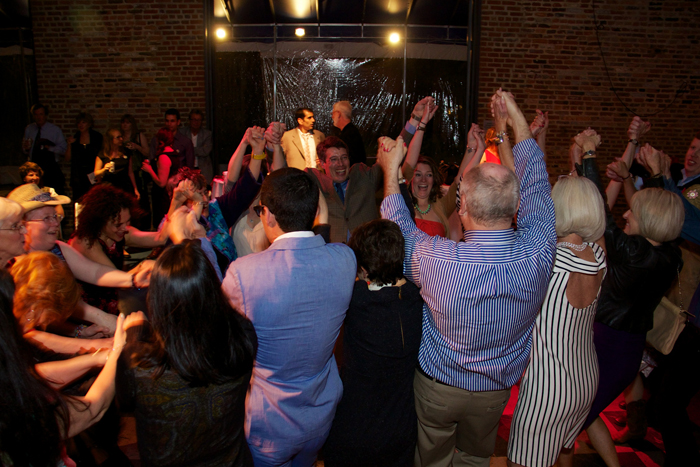 Taste the Arts X:
An evening of performance and culinary art!
Friday, May 6 at the Hippodrome Theatre in Baltimore
The lineup for our 10th annual Taste the Arts Fundraising Gala is set! We've put together another fantastic evening featuring award-winning artists and top culinary talent in Baltimore.
The best part? When you buy your ticket, you support Young Audiences' programs and mission to bring high quality, low-cost arts experiences to Maryland schoolchildren! Last year we delivered arts experiences to 183,153 students in Maryland. With your ticket purchase, we can keep it up – and do even more.
At Taste the Arts, we'll transform all three levels of The Hippodrome Theatre into a celebration of the arts through live performances and interactive arts experiences, with food and drink served on all three floors. Here's a taste of what to expect:
Taste delicacies from 25 restaurants:
Absolutely Perfect Catering
Alma Cocina Latina
Argosy Café
Baltimore Waffle Company
Blackwater Distilling
Blue Pit BBQ
Brio Tuscan Grille
Charm City Cakes
Charmington's
Chiapparelli's
Clavel
Gertrude's
Golden West Café
Heavy Seas Alehouse
La Cuchara
Maggie's Farm
Mother's
Teavolve
The Charmery
The Food Market
The Hipp Cafe
The Local Oyster
The Oceanaire
The Scratch Mill Kitchen
Tio Pepe
Wine from Noble Vintners
Beer from Union Craft Brewing
On the menu from Clavel is Cochinita Pibil, a traditional Mexican slow-roasted pork dish, with a side of Hex Ferments special slaw. The tapas-inspired menu from La Cuchara features Charred Broccoli Pintxo and Pickled Mushroom Pintxo. The Local Oyster will be shucking out sustainably farm-raised raw oysters. Maggie's Farm is serving chicken liver pate with fig jam on baguette and Heavy Seas Alehouse brings it home with Smoked Brisket Mac & Cheese. On the sweet side, Baltimore Waffle Co. will serve up Belgian Liege Waffles and Gertrude's presents a twist on a Baltimore classic with its Berger Cookie Cheesecake. Local winery, Noble Vintners, has graciously donated wine, and Union Craft will be on hand, offering their award-winning brews!
Don't miss 9 live performances and interactive art demonstrations, including: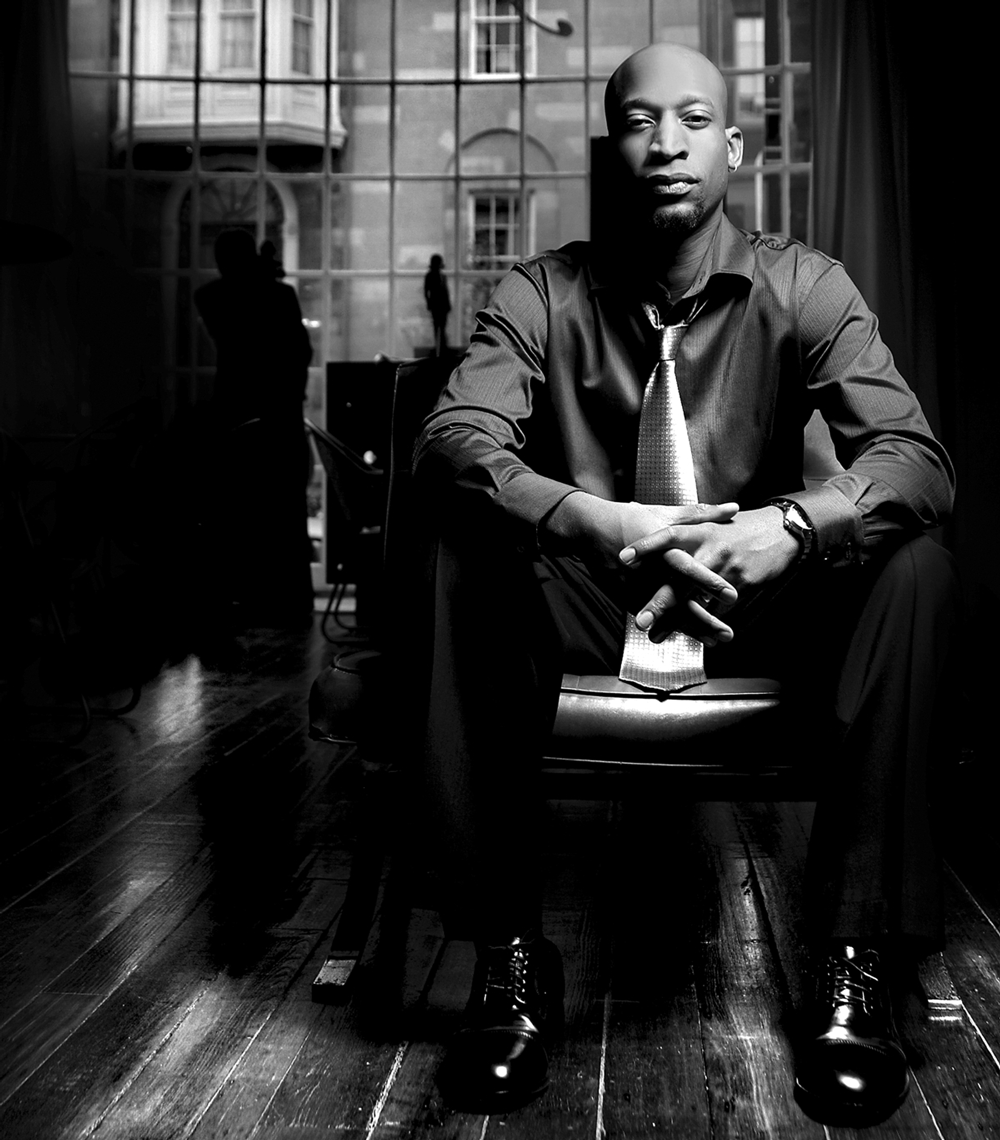 A collaborative music production composed and directed by Wendel Patrick, YA Artist and 2015 Baker Artist Award Winner, and performed by Peabody Institute musicians Jahi Alexander, Blair Skinner, Louna Dekker-Vargas, and Yoshi Horiguchi and YA artists Max Bent, Wendel Patrick, and Jamaal Collier—2016 Artist of the Year.
I don't want to give away TOO much. But at Taste the Arts, I'll be working with an arrangement from one of my favorite hip hop producers." —Wendel Patrick, 2015 Baker Artist Award Winner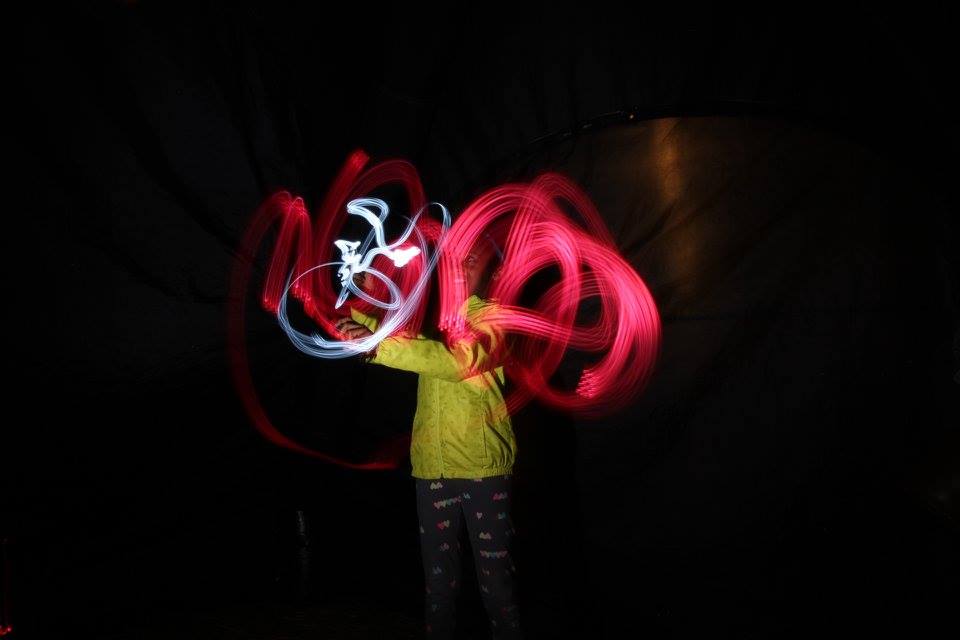 Interactive "light painting" with maker-educators FutureMakers (fresh from Light City!)
Get ready for light painting with LED brushes at Taste the Arts! You'll even be able to email your creation home!" —Matt Barinholtz, FutureMakers

Indian classical dance performance by NRITYA
I have had the opportunity to be a performer at several Taste the Arts over the years, and I am excited to be a part of the 10th Taste the Arts gala," she said. "When my students perform with me at the gala, it is a wonderful experience for them as they get to showcase their talent and culture through their performance to the guests. It is almost as if they are cultural ambassadors." —Lakshmi Swaminathan, NRITYA, as quoted in the article "Tasty fundraiser hits the Hippodrome" on Avenue News.com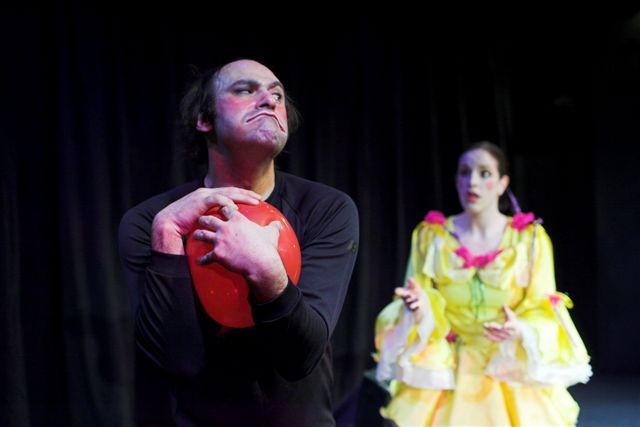 Pantomime theatre from DC's award-winning Synetic Theater
The Magic Balloon is a series of hilarious sketches synthesizing music, ballet, clowning, and audience participation. At Taste the Arts, you'll discover the art of acting without words and open the door to your imagination. 'Balloon' tells a wonderful story of a traveling actor and his magical trunk of tricks and toys." —Tori Bertocci, Synetic Theater
Plus:
Acoustic roots and blues music by Curtis Blues
Screen painting with John Iampieri
Performances by Thomas Jefferson Elementary/Middle School's String Ensemble and Kindergarten ballet dancers
Kevin Martin of Rockcreek Steel Drums performing with students from the Holistic Life Afterschool Program at Robert W. Coleman Elementary School
Taste the Arts also includes a live and silent auction with one-of-a-kind items and experiences and an awards ceremony honoring Maryland's arts-in-education leaders, including 2016 Artist of the Year Jamaal Collier, who has more than a decade of professional experience facilitating Hip Hop workshops and live performances across the state.
"I'm thankful to have an effect on kids' lives and for the effect they have on me. Every human has talent. YA helped me to build skill within that talent. I have become a better artist because of YA." —Jamaal Collier, 2016 Artist of the Year
Tickets are only $100 and ensure high-quality art experiences for Maryland schoolchildren. We're expecting hundreds of artists, educators, and arts supporters in attendance and hope to raise $150,000. Get your tickets now!
—
Can't make it to Taste the Arts?
You can still be part of our fundraising efforts by bidding on some fantastic items in our online auction—happening now through Thursday, May 5. There are still a bunch of great items available with low or no bids, and several new items were just added this week!
Categorized:

News

Tagged:

Baltimore City, Curtis Blues, dance, FutureMakers, Hip Hop, Jamaal Collier, John Iampieri, Kevin Gift, Kevin Martin, Max Bent, Music, NRITYA, Peabody Institute, percussion, Rockcreek Steel Drums, steel drum, Synetic Theater, Taste the Arts, theatre, Thomas Jefferson Elementary Middle, visual art, Wendel Patrick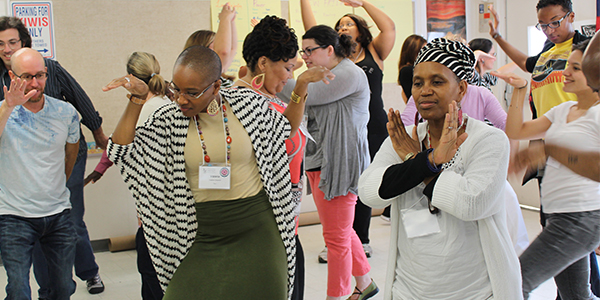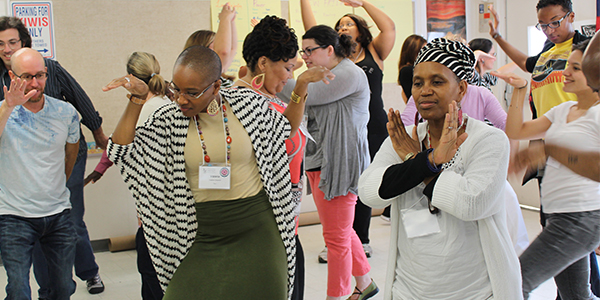 The 2014-2015 Teaching Artist Institute (TAI) Seminar is already underway, but we wanted to share some reflections from artists who have graduated from the program. Here's what they had to say about the experience:
As a full-time preservationist of acoustic Delta Blues from the 1920s and 1930s, I must make my history of Blues show academically relevant to the curriculums of Maryland and Virginia schools. I completed the TAI training program in 2009, and the course completely transformed my understanding of how I can support the current teaching standards in schools with my music programs.

As Young Audiences knows better than anyone, all the arts are under tremendous pressure to prove their relevance to school systems that are struggling to meet national testing standards in different disciplines. What I learned from my TAI training is that the arts serve a valuable role in preparing students with the 21st Century thinking skills they need for their future success in our rapidly changing world.

By creating a residency with a language arts teacher as my partner, I was able to use songwriting to teach students figurative writing skills. Without the TAI training, my school music programs would not be as academically relevant to the school's goals. This connection is critical for the arts to survive in our schools, not as a reward for difficult academic work, but as a means to help students meet their academic goals.

The TAI program is well-run by dedicated educators and artists. It is challenging, rigorous, and exposes artists, teaching artists, and professional educators to each other's thinking styles. This program deserves support, and I hope it continues to transform serious performing artists into skilled teaching artists.
– Curtis Blues, Blues Musician, Exploring Math and Music by Making a One String Guitar
I had never thought of myself as an educator, at least not in the traditional sense. Musically, there is always an underlying truth or teachable moment I try to impart. However, now I needed to do so in a structured, educational format. Although the curriculum was challenging, I am ever so grateful for having gone through the process. The fellowship with the teachers and other artists truly cannot be measured. As an artist, mentally you have to re-wire your brain to remember that it is not about you or a performance; it is about what the children learn and take away from the experience. A few months later I had the opportunity to return to the school for a musical performance for a general assembly. My class was so excited to see me and the feeling was more than mutual. For that reason alone, it was a journey worth taking.
– Uncle Devin, Musician and "Drumcussionist," Uncle Devin's World of Percussion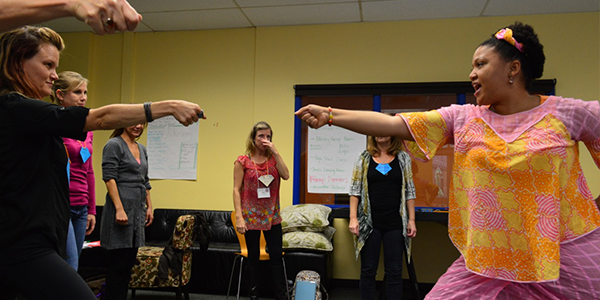 TAI gave me such an appreciation for the life of the classroom teacher. Not only did I learn how to plan and sequence a project into realistic, meaningful lesson plans, I learned a whole new vocabulary and some best practices of a strong teacher as well. Field testing my lessons with my teaching partner gave me real world practice in collaboration, classroom management, solid preparation and flexibility.

TAI is also a rare opportunity to work and learn side-by-side with artists from other disciplines. I met so many energetic, thoughtful, creative people who are not only committed to their art, but also to making a difference in the lives of children. It was incredibly valuable to me to be stretched and out of my comfort zone. As a visual artist, I found that experiences in music, dance and drama helped me move out of my head and in to my body. I learned that this whole body engagement is something that I want to bring to students when I lead them in the visual arts.

On the last day of TAI we were asked to say one word that summed up our experience. My word was "ALIVE." That pretty much says it all.
– Pam Negrin, Visual Artist, Transformative Textiles: Weaving Together Math, Literacy and History and
Collaborative Stitching: Connecting and Inventing with Needle and Thread
TAI is an amazing opportunity where artists, educators, and staff truly collaborate to help process, define, and designate the importance of art in the classroom. I loved the guided lessons, hands on experience, and being around such amazing, talented individuals. I feel like this experience helped to shine a new light on my own experiences as a classroom teacher and now a teaching artist.
– Bridget Cavaiola and Michael Harris, Baltimore Improv Group, Life is Improvised!
The staff and artists who coached us through TAI opened a whole new level of integrated content, planning, and instructional skills to us. The opportunity to develop new programming for excited young artists, alongside engaged education professionals in so many unique environments has grown our vision as an organization. This fall, three more team members will begin TAI. Best professional development around!
– Matt Barinholtz, FutureMakers, It's Alive: Kinetic Creature Lab!
I really felt like I was re-energized in my way of thinking and the facilitators brought a plethora of knowledge to the table. I appreciated their ability to listen, answer questions, and make the experience fun, interactive and simply enjoyable.
– Valerie Branch, Modern Dancer, Exploring, Creating, and Dancing with our Friends!
By Curtis Blues, Young Audiences artist and one-man Blues band
Her face was hidden under rows of tiny, tight braids with small colorful beads on the ends. "Would you like to join the class and learn to play guitar?" I asked. Keeping her head down, she gave me no eye contact and shook her head "No." "I'll leave it here next to your seat, and if you decide you want to try it, you can pick it up."
Leaving the guitar next to her, I went back to the front of the room and led the rest of the class in the guitar lesson. After about 10 minutes, when I looked over at her, the guitar was in her hands. She was playing the rhythm I was teaching, along with the rest of the class. "Nice job, that's it, keep it up, you've got it," I said. A tiny glimpse of white flashed from behind the braids for the briefest second. It was a start.
Every school has students who are having trouble keeping up with their school's classes for serious personal reasons. Sharp Lendenhall is a school that exclusively serves students with special educational needs. It offers unique challenges and rewards for a teaching artist.
Elaine Tucker, the music teacher, invited me to perform for the small school in Baltimore, Maryland, last year with my assembly program on the history of acoustic Blues. Based on the students' enthusiastic response, Ms. Tucker invited me back for a more ambitious project: teaching guitar to third through fifth graders in a four-day residency. Elaine is an inspiring teacher and tireless advocate for her students' welfare. She had secured the rare treasure of beautiful guitars for the school through her personal effort in getting grants to buy guitars for the school. These children really need someone like her in their court.
Four days to teach guitar! I was intrigued by the challenge.
The first step was to help the students feel the work-song rhythm of the Blues in their bodies before even picking up a guitar. We all tapped our feet and swayed our bodies to the natural rhythms that gave rise to the Blues. Despite the students being antsy about getting guitars in their hands, I asked them to sing a call and response Blues song with me first. When they were ready I brought out the guitars.
I tuned the guitars in a traditional Blues "open" tuning which means that when you strum the strings you get a perfect chord. I was convinced that these students needed to hear a pleasing, full sound right from the start. With the more common standard tuning, the students must first master the difficult task of forming chords with their fingers before the guitar sounds "right."
To my delight most of the teachers picked up guitars and learned along with the students. This modeling was a huge asset to my program's success. Their participation demonstrated that learning new things is fun, and they were not afraid to look silly as beginners in a new task. We started slowly by transferring the beat from our bodies to the guitars with a rhythmic strumming pattern. From time to time I let them go wild like little rock stars, strumming patterns of their own choice, and teaching the rest of the class, including me, the patterns they had discovered.
While they strummed the guitar in the Blues rhythm, we sang our Blues song, which is the story of getting up in the morning, feeling upset, and then turning our day around by addressing the Blues and taking the power of our emotions back. It was the perfect description of what I saw in the transformation of the faces in the classroom:
When I woke up this morning, there was Blues all around my bed,
Went to eat my breakfast, there was Blues in my bread,
I said "Good morning Blues, Blues how do you do?"
"I'm doing all right, how are you!"
At the end of the residency, every class performed for the whole school. It was moving to see their pride in performance. Before I left the school for the last time, I asked the students, "Who believes that you can become a guitarist if you continue to practice?" When their hands shot up, I knew that this experience had changed how they saw themselves. Each had become the kind of person who can succeed at learning challenging new things.
Learn more about Curtis Blues' assembly, residency, and professional development programs here!
By Curtis Blues, One-man Blues band
Young Audiences artists and teacher partners have written case studies documenting their work in schools and their exploration of one essential question. Each study provides a snapshot of how the artist or teacher works with students to integrate the arts into the curriculum and provide opportunities for students to imagine, create, and realize their full potential through the arts.
Project or Program Summary
My co-teacher and I met with Arts Integration Specialist Maria Barbosa to create a lesson plan that connected fractions to Blues music. We aimed to create a lesson that was aligned with the state math and fine arts curriculum as well as the Common Core Standards. Specifically, we wanted to address how music arises from a person's cultural context. I immediately thought that the first Blues instrument, the single-stringed diddly bow, might serve as a great physical model for a number line fractions lesson.
The diddly bow was created by Delta blues musicians in the South before they could afford six-string guitars. It was usually put on the side of a barn door and played with a bottle, but my classroom model is a single string on a board, using the resonance of metal jar tops to project the sound. It is a piece of musical history that shows students the ingenuity of the men and women who invented Blues music.
Maria went to work to figure out how to put versions of this instrument in the students' hands. She came up with a brilliant cardboard and rubber band version of the diddly bow that each student could play. Maria felt that the strength of the lesson was in having the students not only see and hear my instrument, but to play their own.
I started the class off with the art form, playing a Blues song on the diddly bow while the students clapped the work-song Blues rhythm with their hands. The students were fascinated with the instrument and understood how the Blues arose from the context of African Americans working on farms without access to instruments other than homemade ones like the diddly bow.
My co-teacher reviewed the material about fractions and number lines, and then it was time for the students to make their own instruments and apply their knowledge.
After attaching the rubber band to their cardboard, students marked the fractions along the number line below the string. This was their first experience of comprehending the relationship of fractions on a number line physically. Students were eager to get this right because they knew that only after filling in their number line correctly, would the real fun begin!
Purpose and Rational
My fine arts goal for the lesson was to show the students how Blues music was invented in the context of real people's lives. This is how art emerges within cultures all around the world. I believed the diddly bow instrument would be an appropriate metaphor for the number line fractions lesson, but was not sure how to get the students involved beyond a demonstration.
The challenge was to create a lesson to help students who were having trouble remembering the relationships between different fractions, as well as being able to accurately place them on a number line. This difficult cognitive jump was a perfect candidate for an arts-integrated lesson to help students really own these distinctions by looking at them in an original way.
Analysis & Outcomes
What are your overall conclusions regarding the documentation gathered for this case study?
I think the strongest part of this project was the description by my co-teacher of how students used the diddly bow model as a conceptual tool for their tests. I would like to be able to follow up with test scores in the future.
What conclusions have you drawn from the responses to the assessment tools you have developed?
It was obvious through our final assessment of the students that they had mastered the material through this project. Students who could not tell us which was bigger, one-quarter or one-third, at the beginning of the class could answer the question correctly at the end of it. They also answered questions on the music objectives correctly at the end of the lesson, demonstrating a deeper understanding of how humans invent music within their culture and daily lives.
Back to the initial inquiry question, can it be answered?
The initial inquiry was whether or not teachers can use building a simple, single-stringed Blues instrument in their classrooms to help students better understand the relationships of fractions on a number line. The answer is a definite "Yes."
Summary & Conclusions
What was learned?
There were many different examples of what was learned for each of the participants. The students learned how to build a simple instrument and then they learned the proper placement of fractions on a number line. Students overcame their natural cognitive challenges of conceptualizing abstract fractions in a concrete way. They learned the proper answer to questions like "Which is bigger: 1/4 or 1/3?
My co-teacher learned how to use an arts-integrated approach to help students master material. I learned how to manage a classroom during such a project from my teacher partner.
Combining my co-teacher's classroom management skills with Maria's innovative ideas made this lesson possible. Now because of their help, I can bring this powerful lesson to other classrooms. I have learned the skills I need to guide the students to get the most out of the lesson. My teacher partner can use this tool in her classes when I am not there, to help future students grasp abstract principles with something concrete and experiential.
How will this inform the work moving forward?
I am better prepared to deal with the specific logistics of classroom management during a craft building project. My co-teacher now has more tools for achieving the testing goals for the class. The students gained a conceptual tool for mastering abstract concepts that they can continue to use in their tests.
Curriculum Connections
American History
Music
Math
Common Core Standards
21st Century Skills
Learn more about Curtis and his assembly, residency, and professional development programs.
Read other case studies written by Young Audiences teaching artists and teacher partners.