Growing Up Green: Teaching Our Youngest Learners Environmental Citizenship Through the Arts
Part One: The Life Cycle of Plants
We think with our hands, and when students are immersed in a lesson together, they begin to make their own connections."
We are in the midst of pilot programming for Prince George's County Public School's new arts integration initiative—Growing Up Green, a Kindergarten-level, environmental literacy program. The initiative, part of an exciting new partnership between Young Audiences/Arts for Learning, the Chesapeake Bay Trust, and Prince George's County Public Schools, is funded in part by a BGE Green Grant and the Chesapeake Bay Trust.
The program engages kindergartners in meaningful and authentic outdoor experiences that connect them to their local ecosystems and inspire them to protect our environment. The arts provide the vehicle that the students use to demonstrate and communicate their learning to the greater learning community of their school.
Growing Up Green residencies are divided into four major themes—Habitats, Local Ecosystems, The Life Cycle of Animals, and The Life Cycle of Plants.
One of the first YA teaching artists to pilot this program was textile artist Pam Negrin. Pam chose "The Life Cycle of Plants" for her residency with the Kindergarten class at Rockledge Elementary School. "One of the tenants of this initiative is just getting kids outside!" With cuts to recess, these residencies provide purposeful outdoor experiences that directly engage students with their surroundings and sharpen their observation skills.
Along with being outside, one of Pam's favorite things about Growing Up Green is "giving students a chance to experience wonder." She and the students had several surprises while exploring the hidden parts of plants everyone gathers at the beginning of the residency. After reading about what constitutes a "fruit," students sort their treasures—dandelion, sweet gum fruit, crepe myrtle seed, milkweed—into the appropriate plant life phase: seed, seedling, mature plant, flower, or fruit. The students loved playing a game where they had to accurately categorize collected plant life alongside familiar food found in a grocery store by exclaiming "fruit!" or "not fruit!"
Early on in the pilot program, students gathered an assortment of "fruits" resembling spiky balls that fall from sweet gum trees. Even though most attempt to avoid these prickly pods, the students gave no hesitation in cracking them open to find hundreds of seeds! Once the plants were sorted, the students began to observe and draw each part. Using their original drawings as a visual guide, and after learning some basic embroidery stitches, they collectively stitched a large-scale embroidery depicting the life cycle of plants. "Kids are stitching around the table with each other, working in groups, exploring together. Really, collaboration is another strong aspect of Growing Up Green," says Pam. "We think with our hands, and when students are immersed in a lesson together, they begin to make their own connections."
Ultimately, Growing Up Green can naturally make children stewards of the environment, "not because we taught them preservation is important in a textbook, but because they were outside experiencing it for themselves." Pam adds, "this residency reminded me that the more immersed I can be in what the students are learning in their core curriculum, and the more I experience the wonder and excitement of that learning, the more I have to share with my students and the stronger the arts integration."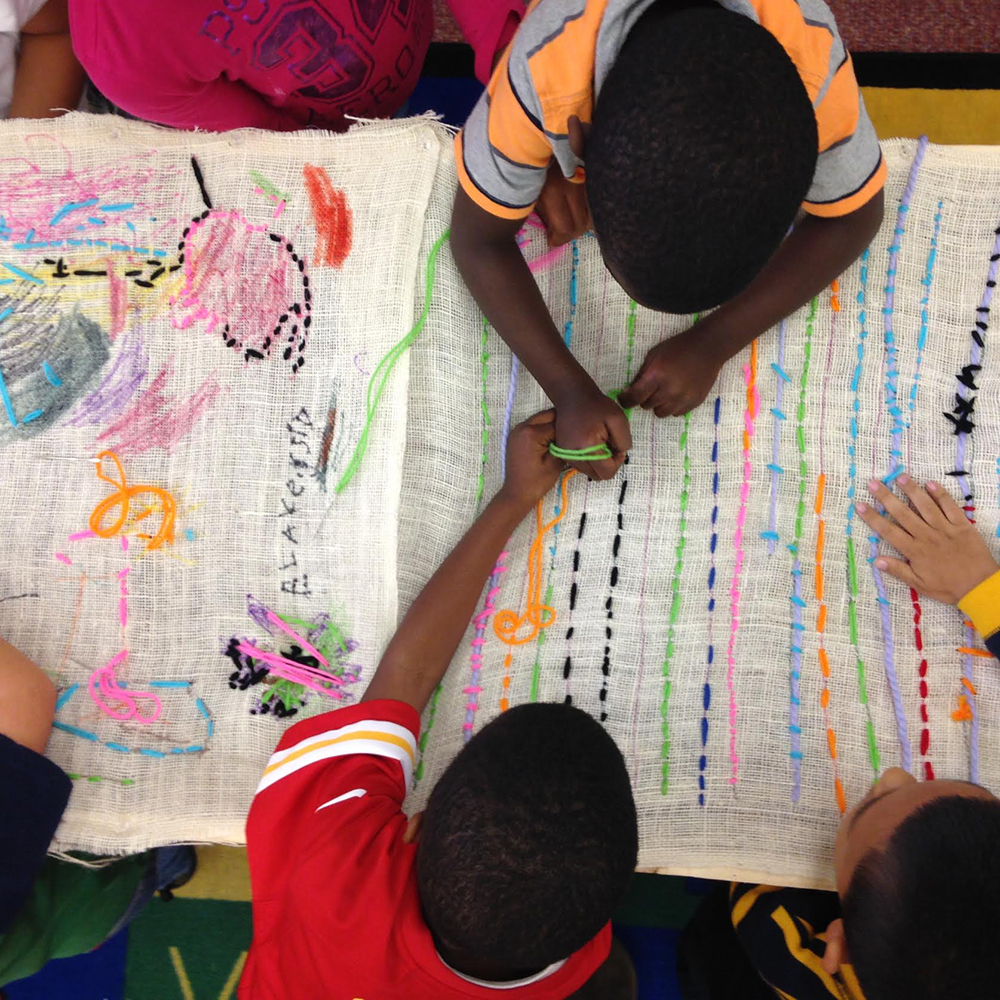 The program also provides teachers the tools to creatively engage students in curriculum-based learning through arts integration long after the residency has ended. In fact, one of Growing Up Green's primary missions is to ensure the program's long-term sustainability in the classroom. Once the residency ends, the arts integration techniques that were taught during the residency help teachers to more accurately and confidently employ environmentally based learning strategies into their current lesson plans. Ideally, once the piloting phase of the program is complete, Growing Up Green will become embedded into the core science and social studies curriculum of Prince George's County Public Schools.
By partnering with the Chesapeake Bay Trust to arm schools with relevant, local environmental data to meet district-level standards, and by doing our part to provide teaching artists and professional development in arts integration, this program could not be more equipped to succeed.
Video: Growing Up Green @ Rockledge Elementary
Growing Up Green aligns with Environmental Literacy Standards, Next Generation Science Standards, Common Core State Standards, and Visual Arts Standards.
Categorized:

News

Tagged:

21st Century Skills, artist-in-residence, arts ed, arts integration, BGE, Chesapeake Bay Foundation, Chesapeake Bay Trust, Common Core Standards, creative learning, early learning, environmental literacy, environmentalism, Growing Up Green, kindergarten, Meaningful Watershed Educational Experiences, Next Generation Science Standards, Pam Negrin, PGCPS
The following content first appeared in the December 2013 edition of Uncle Devin's Drum Beat Newsletter:
For four days in November, it was my pleasure to conduct an artist-in-residence program with a first grade class at Germantown Elementary School in Annapolis. The program was my field test that I am required to complete as a student of the Teaching Artist Institute (TAI), developed by Young Audiences, the Arts Education in Maryland Schools Alliance (AEMS), and the Maryland State Arts Council (MSAC).
TAI is a comprehensive professional development program for teaching artists that builds the artists' capacity to contribute to student learning in and through the arts. The program trains teaching artists in the use and understanding of the state curriculum and the Common Core Standards, as well as arts integration strategies to assist the artist in engaging teachers and students.
Through TAI, I was paired with Judith Pirela, a first grade teacher at Germantown Elementary School and, for four days (at least 45 minutes per class), I went into her class to test my residency plan entitled, "The World of Percussion!" After developing my residency plan, I then had to develop four separate lesson plans. My four days of lessons taught children how:
To classify classroom instruments by sight and sound, such as wood blocks, triangles, rhythm sticks, maracas, guiros, jingle bells, sand blocks, cymbals, tambourines, and hand drums;
To compare musical sounds (i.e. fast/slow, loud/quiet, long/short, high/low);
Different cultures created codes to communicate through beats and rhythms; and
To make their own percussion instruments.
It was great working with Ms. Pirela, her students, and all of the staff at Germantown Elementary School. I want to also thank TAI Music Specialist Sue Trainor, who guided me through the entire process and provided me with excellent feedback. The TAI program ends on February 1, 2014 with a Program Evaluation and Reflection event, at which time I hope to become one of the newest graduates of TAI.
Read the rest of Uncle Devin's December enewsletter here. You can learn more about Uncle Devin on Young Audiences' website and at www.theuncledevinshow.com.
By Curtis Blues, One-man Blues band
Young Audiences artists and teacher partners have written case studies documenting their work in schools and their exploration of one essential question. Each study provides a snapshot of how the artist or teacher works with students to integrate the arts into the curriculum and provide opportunities for students to imagine, create, and realize their full potential through the arts.
Project or Program Summary
My co-teacher and I met with Arts Integration Specialist Maria Barbosa to create a lesson plan that connected fractions to Blues music. We aimed to create a lesson that was aligned with the state math and fine arts curriculum as well as the Common Core Standards. Specifically, we wanted to address how music arises from a person's cultural context. I immediately thought that the first Blues instrument, the single-stringed diddly bow, might serve as a great physical model for a number line fractions lesson.
The diddly bow was created by Delta blues musicians in the South before they could afford six-string guitars. It was usually put on the side of a barn door and played with a bottle, but my classroom model is a single string on a board, using the resonance of metal jar tops to project the sound. It is a piece of musical history that shows students the ingenuity of the men and women who invented Blues music.
Maria went to work to figure out how to put versions of this instrument in the students' hands. She came up with a brilliant cardboard and rubber band version of the diddly bow that each student could play. Maria felt that the strength of the lesson was in having the students not only see and hear my instrument, but to play their own.
I started the class off with the art form, playing a Blues song on the diddly bow while the students clapped the work-song Blues rhythm with their hands. The students were fascinated with the instrument and understood how the Blues arose from the context of African Americans working on farms without access to instruments other than homemade ones like the diddly bow.
My co-teacher reviewed the material about fractions and number lines, and then it was time for the students to make their own instruments and apply their knowledge.
After attaching the rubber band to their cardboard, students marked the fractions along the number line below the string. This was their first experience of comprehending the relationship of fractions on a number line physically. Students were eager to get this right because they knew that only after filling in their number line correctly, would the real fun begin!
Purpose and Rational
My fine arts goal for the lesson was to show the students how Blues music was invented in the context of real people's lives. This is how art emerges within cultures all around the world. I believed the diddly bow instrument would be an appropriate metaphor for the number line fractions lesson, but was not sure how to get the students involved beyond a demonstration.
The challenge was to create a lesson to help students who were having trouble remembering the relationships between different fractions, as well as being able to accurately place them on a number line. This difficult cognitive jump was a perfect candidate for an arts-integrated lesson to help students really own these distinctions by looking at them in an original way.
Analysis & Outcomes
What are your overall conclusions regarding the documentation gathered for this case study?
I think the strongest part of this project was the description by my co-teacher of how students used the diddly bow model as a conceptual tool for their tests. I would like to be able to follow up with test scores in the future.
What conclusions have you drawn from the responses to the assessment tools you have developed?
It was obvious through our final assessment of the students that they had mastered the material through this project. Students who could not tell us which was bigger, one-quarter or one-third, at the beginning of the class could answer the question correctly at the end of it. They also answered questions on the music objectives correctly at the end of the lesson, demonstrating a deeper understanding of how humans invent music within their culture and daily lives.
Back to the initial inquiry question, can it be answered?
The initial inquiry was whether or not teachers can use building a simple, single-stringed Blues instrument in their classrooms to help students better understand the relationships of fractions on a number line. The answer is a definite "Yes."
Summary & Conclusions
What was learned?
There were many different examples of what was learned for each of the participants. The students learned how to build a simple instrument and then they learned the proper placement of fractions on a number line. Students overcame their natural cognitive challenges of conceptualizing abstract fractions in a concrete way. They learned the proper answer to questions like "Which is bigger: 1/4 or 1/3?
My co-teacher learned how to use an arts-integrated approach to help students master material. I learned how to manage a classroom during such a project from my teacher partner.
Combining my co-teacher's classroom management skills with Maria's innovative ideas made this lesson possible. Now because of their help, I can bring this powerful lesson to other classrooms. I have learned the skills I need to guide the students to get the most out of the lesson. My teacher partner can use this tool in her classes when I am not there, to help future students grasp abstract principles with something concrete and experiential.
How will this inform the work moving forward?
I am better prepared to deal with the specific logistics of classroom management during a craft building project. My co-teacher now has more tools for achieving the testing goals for the class. The students gained a conceptual tool for mastering abstract concepts that they can continue to use in their tests.
Curriculum Connections
American History
Music
Math
Common Core Standards
21st Century Skills
Learn more about Curtis and his assembly, residency, and professional development programs.
Read other case studies written by Young Audiences teaching artists and teacher partners.