An inaugural Arts Integration Conference held at the Chesapeake Arts Center (CAC) showcased the strength and excellence of the Arts Empowered Minds Initiative (AEMI)'s collective knowledge and resources. Over the course of the day, Anne Arundel County Public Schools (AACPS) educators and CAC artists participated together in classes, learning to integrate three different art forms into other academic areas.
"This was actually the first time we brought these two groups together and—WOW—what amazing things happened!"
"CAC is a fantastic arts hub next door to all 12 AEMI schools, but there isn't always time for teachers to experience all it has to offer," said Hana Morford, YA Education Director, Statewide Initiatives. "Our goal for the day was to create synergy between the amazing CAC artists and AACPS teachers—giving them space to work together and learn from one another through the arts. This was actually the first time we brought these two groups together and—WOW—what amazing things happened!"
The teachers and artists rotated in groups throughout the workshops, spending equal time weaving and stitching with Katherine Dilworth, a Young Audiences fiber artist; learning the elements of dance with Lacey Sheppard, Arts Integration Teacher Specialist; and forming clay vessels with CAC artist Cami Ascher. Then, in the afternoon, the teachers worked in their school teams to write an arts-integrated lesson plan that connected to one of the three art forms. During this time, CAC artists were able to get a taste of arts integration and develop ideas on how they might integrate their art form with some of the teachers' content areas.
As they engaged in the various art forms, ah-has and ideas filled the classrooms. Katherine Dilworth guided participants first in a weaving project using sturdy paper plates and colorful yarn, and later, in stitching. She shared finished samples with the teachers that focused on math and on literacy—incorporating felt and even beads into the designs. Her excitement was contagious. Working with burlap, needle, and thread, one history teacher imagined the possibility of students stitching constitutional amendments.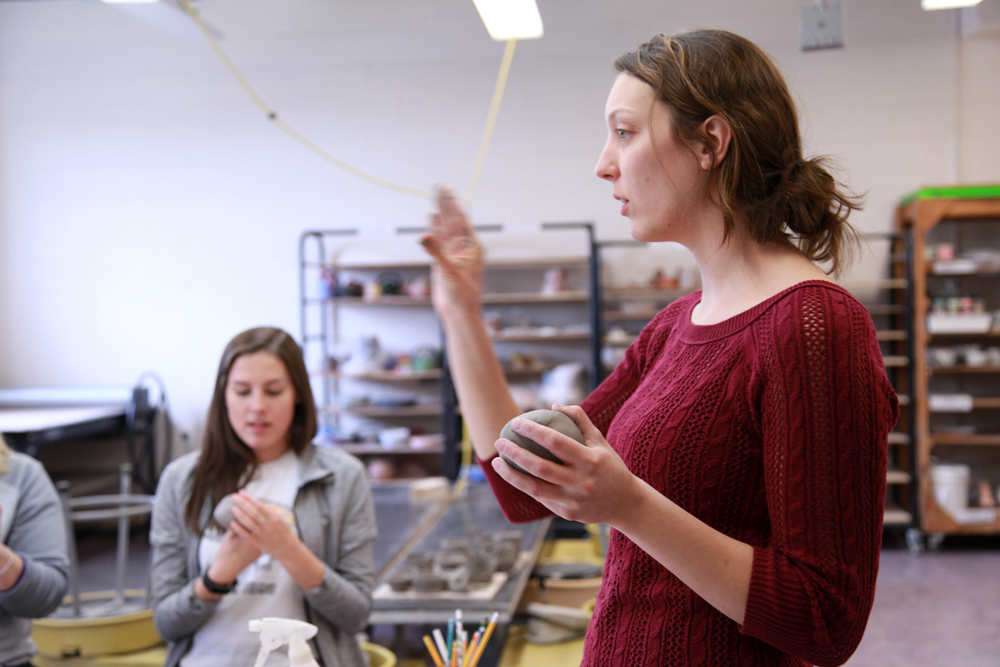 Teachers got their hands messy learning clay building techniques with Cami Ascher in the CAC's ceramics studio. They rolled long snakes and coiled them into different shapes. They transformed balls of clay into pots and funny characters with big eyeballs. And they learned how to "scratch and attach" to create a strong bond between formed pieces of the material. Cami had lots of advice for the group: which clays to use if they have/don't have access to a kiln, how to minimize mess, and how to preserve a project if more than a class period is needed to complete it.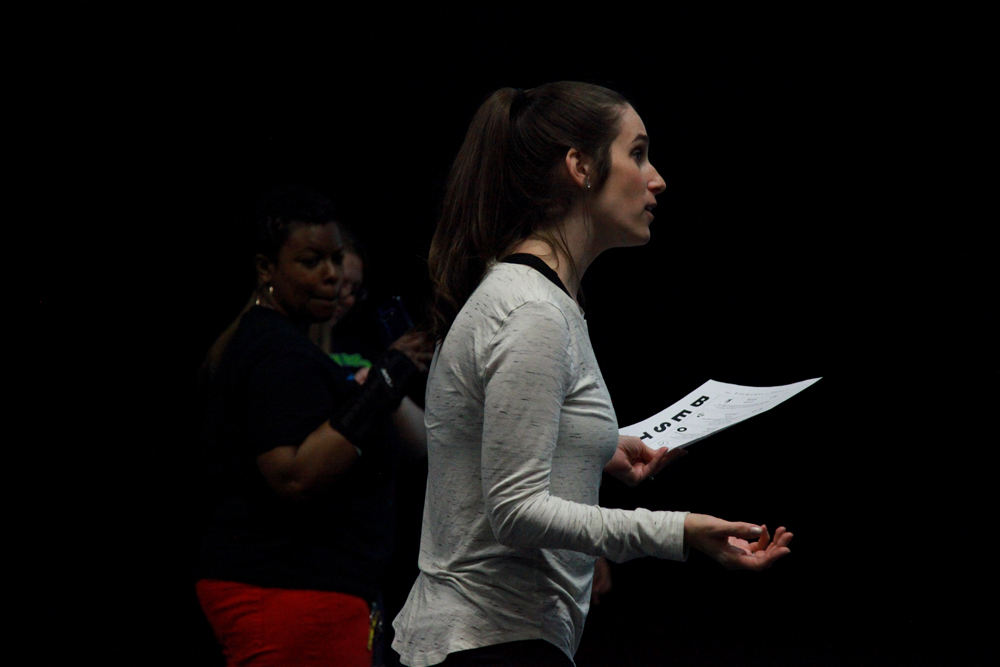 Lacey Sheppard divided participants into two groups for her workshop, each choreographing and performing an original dance for the other. They thought carefully about BEST: Body, Energy, Space, and Time—the elements of dance. Some stepped out of their comfort zones while others felt right at home in the limelight, but they all enjoyed the exercise in movement and the connections they could make through the art form to other classroom lessons.
One participant gained so much from the professional development workshops, she sent a note of appreciation the next day. "I just wanted to share that yesterday's PD was by far the best PD I have ever been to," she said. "I loved how you had us in groups that stayed together through the day. I am so excited to bring back new ideas to my school. Thank you so so much!"
Hana added, "It was so beautiful to see the AEMI community begin to take shape between teachers and artists!" And it is a community, we know, that will create so many opportunities in Northern Anne Arundel County. That is the power of the Arts Empowered Minds Initiative.
Learn more about the Arts Empowered Minds Initiative, its collective impact partners and the community it serves by visiting artsempoweredminds.org.
Categorized:

Arts Empowered Minds, News

Tagged:

AACPS, AEMI, Anne Arundel County, Anne Arundel County Public Schools, Arts Empowered Minds, Arts Empowered Minds Initiative, arts integration, CAC, Cami Ascher, ceramics, Chesapeake Arts Center, clay, community, dance, fiber, Katherine Dilworth, Lacey Sheppard, PD, professional development, visual arts
smARTbeats returns to WTMD on Saturday, June 9 during the weekly children's program Young At Heart!
On this month's segment, host Lisa Mathews sits down for a chat with pianist, conductor, musicologist, and founder of the Peacherine Ragtime Society Orchestra, Andrew Greene. A new addition to the Young Audiences roster, Andrew is excited to share his love and appreciation of Ragtime in Maryland schools and open ears and imaginations to the genre!
Be sure to tune in to hear the artist talk about bringing to life important, historic films by performing original silent film scores from the era! On his website, Andrew explains, "All of our silent film scores use the actual music that existed when the films were originally released – it's the closest thing to actually being back in the silent era!" The group accompanies short silent films featuring renowned actors like Charlie Chaplin, Buster Keaton, Harold Lloyd, or Laurel and Hardy.
As an ensemble that re-creates the sounds and sights of a century ago, the Peacherine Ragtime Orchestra is both entertaining and educational. The musicians teach their audiences to understand, appreciate, and make connections to modern-day examples of the music they present, how sound can impact emotions, and to think critically to understand the role sound plays in creating scenes, moods, feelings, and emotions. "With critical thinking, we can create a scene just using music and sound!"
This unique ensemble gives audiences a true appreciation for the role ragtime music played in the art and history of cinema and an understanding of how ragtime music relates to the music we hear today. "When film was in its beginning stage 100 years ago, there was no sound to accompany the movie — so we work with audiences to show how sounds can change how we think about a certain scene or action sequence." Their work has not gone unnoticed. "The premier American ragtime ensemble" as hailed by the Washington Post is rapidly becoming the leading professional ragtime orchestra in the United States- which is great news for Maryland students.
Young At Heart airs weekly on 89.7 WTMD from 7 to 8 am on Saturdays, featuring music that appeals to parents and children alike. Previous shows have featured music by Wilco, David Bowie, Andrew & Polly, Weezer, and others.
Listen online as YA teaching artist, conductor and musician Andrew Greene of Peacherine Ragtime Society Orchestra joins host Lisa Mathews in the studio!
Co-authored by Barbara Krebs, a Young Audiences volunteer and Sunburst Society member.
We grow up in the United States hearing that we get what we pay for. Such is the case with investments in the greater good. That's one of the many reasons we're so passionate about teaching in and through the arts. From our country's youngest students to our aging seniors, the entire population benefits in both the short- and long-term from the arts, whether it be emotionally, socially, or intellectually.
Non-profit arts organizations like us work hard to both generate sustainable programming and seek support from private and corporate funders so that we may fulfill our mission to positively impact the greatest number of Maryland children with the highest quality arts-integrated educational programming. Federal funding may only be a piece of our funding picture, but it is an important one.
We are excited and proud that the National Endowment for the Arts awarded Young Audiences of Maryland $90,000– one of only seven total Collective Impact Grants awarded nationwide– for the Arts Empowered Minds Initiative (AEMI) in Northern Anne Arundel County! The Arts Empowered Minds Initiative utilizes arts integration programming to boost achievement, parental involvement, student engagement, and empathy. Programming includes in-school arts integration, out-of-school arts programming, and professional development for teachers. In addition, the program will partner with community organizations to create family engagement opportunities, such as providing family passes to the new Maker Space at Chesapeake Arts Center.
The program is the culmination of the work of many groups and individuals seeking to build a movement for increased equity through the arts in their community. With funding from the NEA in 2016, we built partnerships with Anne Arundel County Public Schools (AACPS), Chesapeake Arts Center (CAC), Arts Education in Maryland Schools Alliance (AEMS), Arts Council of Anne Arundel County, and University of Maryland – Baltimore County (UMBC). Together, we have already provided professional development to over 100 teachers, and delivered high-quality arts-in-education programs to nearly 2,500 students at six schools.
"This second grant from the NEA will allow us to both deepen and expand our reach and maximize existing resources to ultimately bring the impact of arts integration to almost every student in Northern Anne Arundel County," Stacie Sanders Evans, Executive Director of Young Audiences explained. The Arts Empowered Minds Initiative will expand from six schools to all 12 public schools in Northern Anne Arundel County and impact more than 7,000 students in grades pre-k through 12.
To be clear, it's not the NEA's budget that is proposed to be cut; it's the NEA itself that is on the line. It's important to think about this as it impacts local communities and groups. And, should the NEA be eliminated, it will impact our community. When vital, far-reaching, and life-altering programs are at risk, we must speak up. And it's surprisingly simple and quick to let your voice be heard.  Identify your legislators. Email your senator. Call your representative. Write a letter.
Take 2 minutes now to contact your members of Congress and join the #SAVEtheNEA campaign. Involved citizens can and do make a difference.  Please, join us in the fight to keep the arts alive and accessible in our nation, state, and community. We get what we pay for. And, when we invest wisely, what we get is more than we could have ever even hoped for.