It was a summer filled with activity, singing, dancing, reading, creating, and sunshine. We witnessed the excitement of mastering new skills and discovering new talents. We felt the calm of classrooms illuminated with only the rays of light peeking in from behind drawn shades, students enveloped in peace, quietly drawing, ink and graphite on white paper.
When families initially enrolled their children in our Summer Arts and Learning Academy, we asked them why their child was interested in participating. Many stated that their children were creative and hoped that through the program, they'd be able to enhance their skills. Others emphasized the integrated academics or latent benefits of the arts. Some registrants celebrated the availability of the arts and educational summer program, as these opportunities are limited in Baltimore City.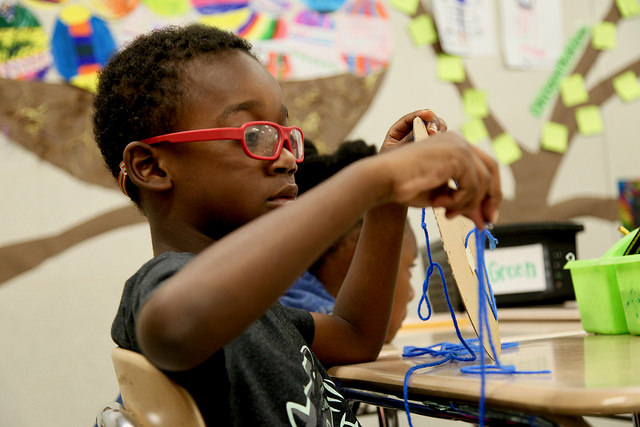 Did our Summer Arts and Learning Academy live up to families' expectations? Culmination ceremonies came to a close, classrooms were disassembled and packed up for next year, and students prepared for their next summer adventures. We asked parents and families if they'd give us feedback about their experience by filling out a survey. Their responses poured in- 413 of them to be exact. We discovered that in Summer Arts and Learning Academy, parents watched their children not only learn, but grow and thrive artistically, emotionally, and academically.
When asked about any positive changes they noticed in their kids, one parent replied, "An eagerness to attend school. IN THE SUMMER! Who knew?!"
87% of families who completed surveys told us that their child found something new that he or she has fun doing. "My son began to enjoy sewing and dancing," one parent told us. Another let us know that her grandson was very proud of the work he did in ceramics class. "He usually gives me all of his drawings and art projects, but he kept his claywork for himself."
Even when one particular art form grabbed a student's interest above all others, the children in Summer Arts and Learning Academy developed a deeper appreciation of and openness to all art. Students discovered that flexibility leads to new passions, discovery, and opportunity. "I learned that I am exceptionally good at ceramics. I knew I would like it but I didn't know I would actually be good at it," a rising sixth grader told us. "She was disappointed that the Coldstream Park site didn't offer theatre for older kids," her dad explained. "We're working on 'rolling with it,' though, and she ended up really loving African Dance and Ceramics. She would never have known, otherwise."
Parents told us that their kids were excited to get to the academy every morning, on time. When families reunited in the afternoons, kids would talk and talk about everything they did that day. When asked about any positive changes they noticed in their kids, one parent replied, "An eagerness to attend school. IN THE SUMMER! Who knew?!"
Upwards of 80% of parents who responded told us that they noticed an increase in their child's reading and math skills. With this strengthening of skills, their children became more confident. Of one student who enjoys writing poetry, we were told, "she will now actually share her writing with others." Many families reported their children not only enjoying reading but choosing to read books over watching television. Still others described students proudly reading on their own and teaching younger siblings what they had learned.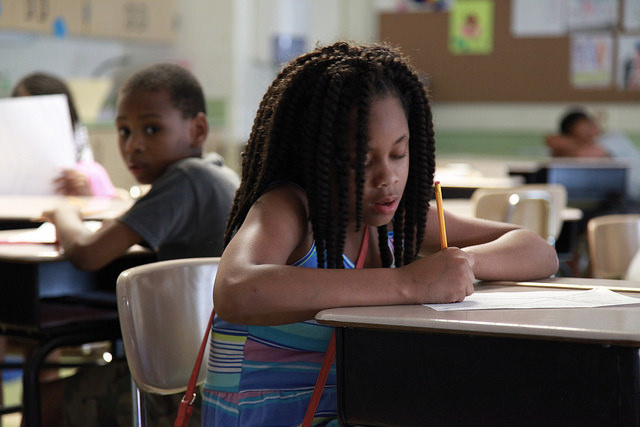 The positive changes parents noticed in their children exemplified 21st Century Skills, a set of higher order skills that have been identified by educators and business leaders as being critical to a person's success in careers, in college, and as a citizen. These are skills that typically cannot be measured through standardized testing and include critical thinking, collaboration, communication, and creativity.
Through Summer Arts and Learning Academy, students were introduced to many new ways of thinking, seeing, and expression. They learned to look at things from different perspectives through the eyes artists, characters in literature, and through new friends, which made their own experiences more joyful and meaningful. Children embraced their curiosity, asking questions, exploring, and researching independently. "My daughter is better able to integrate her love of arts (fun) with learning (not as much fun) and see ways to make learning something that's both fun and something she can accomplish," one mom told us.
Families described their students as being more social, friendly, outgoing, and connected. One student told her mom that she "enjoys being a loving and caring friend." Another student "wants to take care of the neighborhood." Students discovered that they liked working in groups and parents thought their children were now better able to deal with conflict. Through collaboration, the kids learned how to communicate, compromise, and achieve a common goal. They learned to 'roll with it', an enviable and necessary skill for 21st century children and adults alike.
Baltimore students in Young Audiences Summer & Learning Arts Academy Outperform Peers
Baltimore City Public Schools students who participated in a new arts-related summer academic program from Young Audiences avoided summer learning loss and, in many cases, gained ground on their national peers in standardized testing, according to evaluations released Tuesday. The new findings showed potentially groundbreaking progress in tackling summer learning loss, a chronic challenge facing public schools.
The results, confirmed in two separate studies involving nearly 800 students, are significant because summer learning loss – particularly among students at or below poverty level – is among the most difficult challenges facing the Baltimore school district and other high-poverty schools across the country. During summer, students typically fall below where they ended the previous grade, setting them back as they start a new school year. In fact, a 2013 National Summer Learning Association (NSLA) survey of 500 teachers found that 66 percent reported the need to spend three to four weeks re-teaching students course material at the beginning of the year. Another 24% reported the need to spend five to six weeks doing the same.
"City Schools has enjoyed a great partnership with Young Audiences, not only during the school year but also the past two summers," said Dr. Sonja Brookins Santelises, chief executive officer of Baltimore City Public Schools (City Schools). "During the summer, Young Audiences reinforces key math and reading concepts through the arts and creative activities – and we're pleased with the results we've seen. When students participate in summer learning programs that help them move ahead or reduce learning loss, they start the school year off stronger."
The Young Audiences Summer Arts & Learning Academy (SALA), run by the Baltimore-based arts-in-education nonprofit Young Audiences of Maryland in partnership with City Schools, was free for students and held at four sites across the city: Gardenville Elementary, Thomas Jefferson Elementary/Middle, William Pinderhughes Elementary, and Fort Worthington Elementary/Middle. Eighty-eight percent of the participating students were from high-poverty Title I schools.
"These results were a pleasant surprise given that we generally expect that students will lose ground over the summer," commented Dr. Marc L. Stein, Associate Professor at the Johns Hopkins University School of Education, who conducted a separate program evaluation for Young Audiences which looked at participating students' academic skill and social-emotional development. "The Young Audiences summer program combines many of the best practices of summer learning programs and appears to be a promising model. These findings deserve to be investigated more rigorously to find out how and for whom the program appears to be working."
"This is not your typical summer school program," said Stacie Evans, Executive Director of Young Audiences. "We taught literacy and math through the arts every day and instruction was collaboratively taught by teaching artists and teachers specifically trained in arts-integration methods. If you walked into one of our classrooms, you might have seen students using hip hop music to help solve word problems in math, or creating dances to summarize and sequence main events in a story."
The Baltimore City Public Schools evaluation found:
For math, statistically significant results showed that students in grades 3-5 who regularly attended (defined as attending at least 75% of the program) the SALA improved 1.8% percentile points in national student rankings on i-Ready standardized testing from the spring of 2016 to the fall of that year. That compares to a decrease of 2.8% percentile points for city schools students who did not attend any summer programming.
In reading, SALA students in grades 3-5 with regular attendance fell only .8% percentile points while students who did not attend any summer programming fell 2.1 percentile points upon returning to school in the fall.
Results for all grade 3-5 students regardless of attendance rate showed SALA attendees falling just .3% percentile points in math and .7% in reading. These were significantly smaller losses than students with no summer programming (down 2.8% in math, down 2.1% lost in reading).
In literacy, only 3% of the students in grades K-2 attending SALA did not meet their benchmark goal (the empirically derived target score that represents adequate reading progess1) on the standardized DIBELS assessment in the fall after returning to school compared to 8.1% of students not attending any summer programming not meeting the benchmark.
Young Audiences external program evaluation found:
79% of students who attended at least 75% of the program and who took pre- and post-tests had a positive change from the first to the last week of the program on a curriculum based measure of mathematics.
Approximately 60% of students who attended at least 75% of the program and who took pre- and post-test writing prompts showed positive change in their structure and content of their writing.
71% of students who attended 75% of the program and were administered pre- and post-assessments showed growth in at least one out of three social emotional competency areas over the course of the program. The social emotional competencies studied were relationship skills, self-awareness, and goal directed.
"The arts offer an extraordinary opportunity, particularly during the summer, to reignite the joy of learning and to set young people on the right course to start the school year strong. These impressive results from Young Audiences mirror findings of the landmark Wallace Foundation study showing that elementary school students with high levels of attendance in high-quality, voluntary summer learning programs can experience benefits in math and reading," commented Matthew Boulay PhD, National Summer Learning Association founder and interim CEO.
Eric Harrell, father of 9 year-old Academy participant, Aria Harrell, said "Before this academy, I could tell that my daughter was struggling in math. By using the arts she was able to learn math in a different way-a way that worked for her. She has so much more confidence in her math class."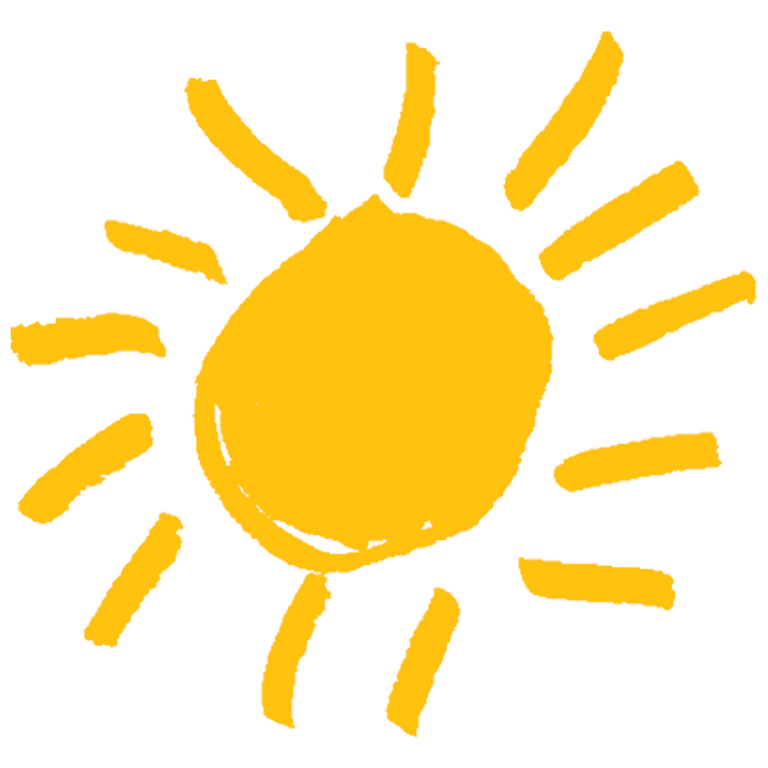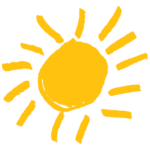 1 "Dibels Next Benchmark Goals and Composite Score, " Dynamic Measurement Group, Inc. (December 1, 2010). https://dibels.uoregon.edu/docs/DIBELSNextFormerBenchmarkGoals.pdf
Links to complete City Schools and Young Audiences Evaluations:

YAMD evaluation
Young Audiences' Summer Arts & Learning Academy is funded by Baltimore City Public Schools, The Abell Foundation, The Family League of Baltimore with the support of the Mayor and the City Council of Baltimore, The Alvin and Fanny B. Thalheimer Foundation and individual contributions to Young Audiences. All participants are students at a Title I Baltimore City Public School.
Categorized:

News, Press Releases, Summer Arts & Learning Academy, Summer Learning

Tagged:

arts integration, Baltimore City, Baltimore City Public Schools, ceramic art, creative learning, dance, fiber art, filmmaking, Hip Hop, movement, Music, National Summer Learning Association, painting, percussion, Piano, playwriting, poetry, singing, songwriting, sound production, spoken word poetry, STEAM, Summer Arts Academy, Summer Arts and Learning Academy, summer learning, summer learning loss, summer learning slide, summer slide, teaching artists, theatre, visual art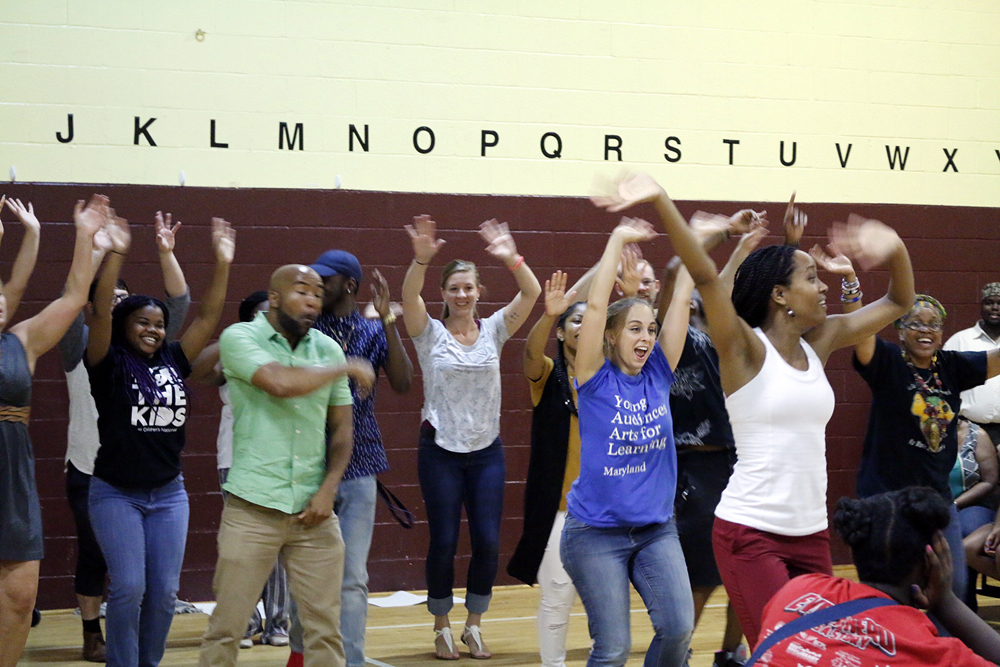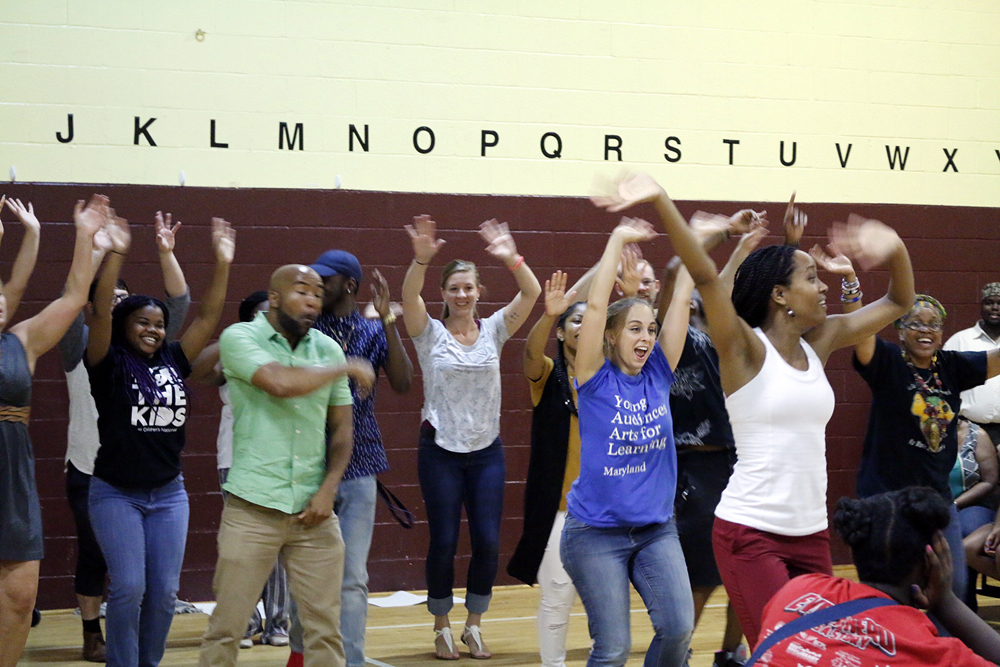 This morning, we kicked off our expanded Summer Arts and Learning Academy – a free, five week program immersing 900 City students in a variety of art forms taught by 36 locally-based professional artists. The full-day program welcomes students grades K-5, encouraging imagination, creation and expression through the arts, such as painting, songwriting, spoken word poetry, dance, piano, singing, visual art, sound production, playwriting, fiber art, and filmmaking.
Our kickoff this morning was a blast – welcoming students and their parents to the Academy's four sites with high-energy performances, live music, and vibrant interactive art demonstrations – giving them a preview of the truly unique and empowering experiences to come throughout the next five weeks.
Due to last year's success; with academic gains by students drawing from 93 different city schools—the district asked us to expand the Academy to four sites: Thomas Jefferson Elementary, William Pinderhughes Elementary, Gardenville Elementary and Fort Worthington Elementary.
Working with kids as they discover passions, refine creative processes and integrate arts in their everyday learning is an inspirational experience we and our Teaching Artists look forward to every year. We spoke with a few participating Teaching Artists about their plans and why the Summer Arts Academy is such a great opportunity for students and artists:
Scott Paynter, reggae singer:
I wanted to teach at this year's Summer Arts and Learning Academy to gain more experience working with Baltimore's greatest resource…it's children. My art form helps students express themselves through lyrics, it introduces them to cultures and people they've never encountered before, and it brings life to a classroom environment. Music is like a force of nature. It's everywhere you are if you pay attention."
Bridget Cavaiola, Baltimore Improv Group:
This is such a unique experience to provide our students with collaborative and engaging arts experiences that they may not get to during the school year. The mood and energy are contagious as you get to watch the students engage themselves in something in which they have passion."
Alden Phelps, musician:
My focus has always been on playing with words and the joy of language. Language is the foundation of how we communicate and function as human beings. Students who practice manipulating language, expanding their vocabulary, using rhymes, and counting syllables will better succeed in their regular academic work. Creative thinking opens up new pathways in our brains. There's also a wonderful freedom when a student can express an idea creatively. They synthesize their academic knowledge with skill in the arts, such as using color or figurative language, and the result is far more engaging to them."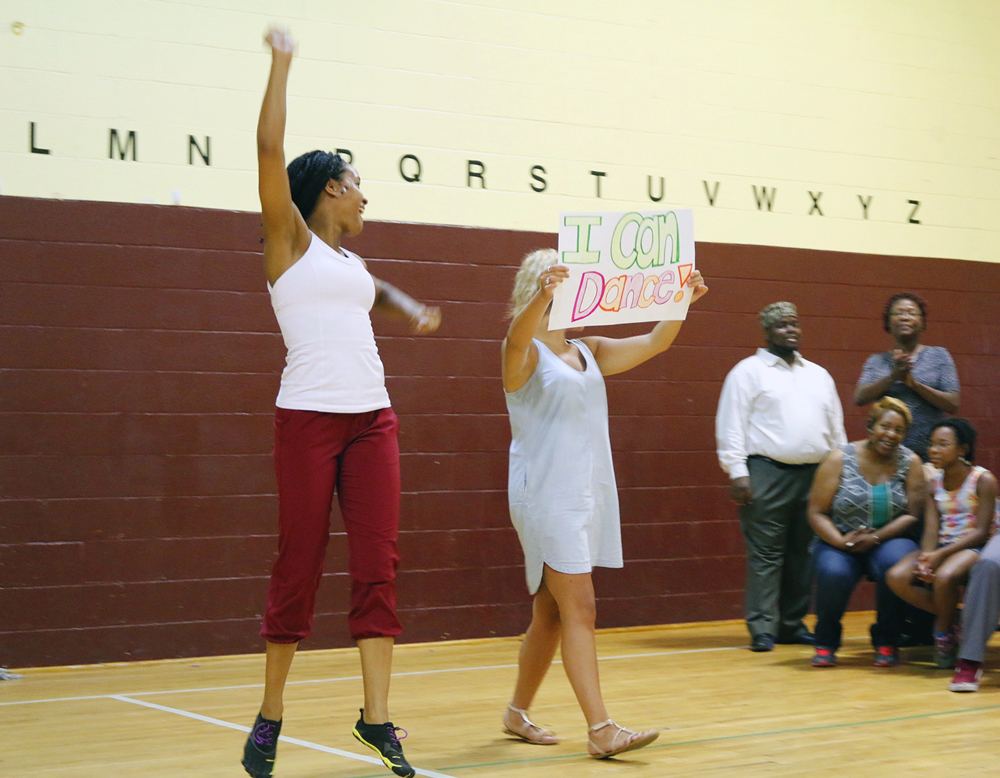 Students will imagine, create and express themselves through the arts, with a chance to concentrate on two art forms. The students even show-off their talents at Artscape, at pop-up performances in mobile art galleries around the city and at the August 5 final culminating event. We can't wait to see the students perform!
After this morning's successful kick-off event, led by teaching artists Valerie Branch and Sean Roberts, at William Pinderhughes Elementary, one parent said:
"I am just so excited to get to see my child perform soon. Seeing what the [teachers and artists] did just now, I know they are in trusted hands. It made me look at my daughter and think yes! This is going to be different, we are so excited! She LOVES art! I can't wait for the workshops too!"
Kicking off YA's Summer Arts Academy at #TJEMS with Femi the Drifish @BaltCitySchools #yamdsummer #SummerLearning pic.twitter.com/C8HwIkJ6MS

— Young Audiences MD (@arts4learning) July 5, 2016
Young Audiences' Summer Arts and Learning Academy is funded by Baltimore City Public Schools, The Abell Foundation, The Family League of Baltimore with the support of the Mayor and the City Council of Baltimore, The Alvin and Fanny B. Thalheimer Foundation and individual contributions to Young Audiences. All participants are students at a Title I Baltimore City Public School.
Categorized:

News

Tagged:

Alden Phelps, arts integration, Baltimore City, Baltimore City Public Schools, Baltimore Improv Group, ceramic art, creative learning, dance, Femi the Drifish, fiber art, filmmaking, Hip Hop, movement, Music, painting, percussion, Piano, playwriting, poetry, singing, songwriting, sound production, spoken word poetry, STEAM, Summer Arts Academy, Summer Arts and Learning Academy, summer learning, summer learning loss, summer learning slide, teaching artists, theatre, Valerie Branch, visual art

By Christa Huber, Arts Integration Coach, Patterson Park Public Charter School
I have been with Patterson Park Public Charter School for six years in various teaching positions in Title I, third grade, the English for Speakers of Other Languages (ESOL) program, and am now the school's arts integration coach. This year has been a learning process, but also such a positive experience working in partnership with Young Audiences and Arts Every Day.
It was a personal goal for me to transition Patterson Park Public Charter School into becoming an arts-integrated school. I wanted to maximize our artist-in-residence programs with outside artists as much as I possibly could this school year. We believe in the strength of the impression that residencies make upon students and teachers. All of the work that comes out of a residency versus a day-long field trip makes such a difference. Residency programs allow students more time to engage with and learn from the artists. This exposure to artists is also important for the teachers because it provides a longer period of professional development so that they can learn skills and strategies that they can carry out in the future.
We had a fantastic variety of Young Audiences artists out to our school this year. These artists included: spoken word poet Femi the Drifish, ceramic visual artist Amanda Pellerin, Baltimore Improv Group, Flamenco dancer Anna Menendez, and more. These programs were made possible through Access for All grant funding from Young Audiences and funding from Arts Every Day.
We spread the residency experiences across different grade levels of the school. It was very helpful having the Young Audiences artist and program information online because it allowed me to search for artists that matched and linked to the content areas that our teachers were looking for.
There were a variety of stand-out experiences from our residencies, but here are a few:
Femi the Drifish worked with our middle school students in Language Arts. A great thing about that residency was the response we received from students who typically are not comfortable with performing in front of people. By their culminating performance, those students in particular were the ones to stand up and share their poetry with strength.
The third grade worked with Amanda Pellerin to create an Ancient Egyptian mosaic. This piece of work related to their study of the ancient civilization. Mr. O'Connell, our third grade science and social studies teacher, was blown away by how Amanda challenged the students to do their best work in a really positive way. We're very excited to have that piece of artwork as a permanent fixture in our school.
Anna Menendez brought some of the Spanish culture into our school. Some of our middle school students had just returned from a trip to Spain during spring break, so this residency was another way to connect with what they learned and saw on their travels. It also provided a relatable experience for the students who didn't have the chance to travel to Spain.
I have personally seen the impact that residencies have had upon teachers compared to other arts-related experiences. I believe that having artists at Patterson Park helped our teachers develop a great deal. Artists exposed teachers to new art forms that they may not have had any experience with, such as spoken word poetry or improvisation, and gave our teachers opportunities to learn how to tie these art forms to the curriculum.
One of our charter school philosophies is that children learn best through hands-on activities with interdisciplinary and semantic learning models. Arts integration is at the core of our values and it naturally makes sense for Patterson Park.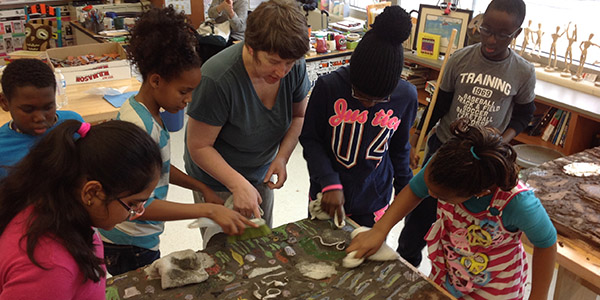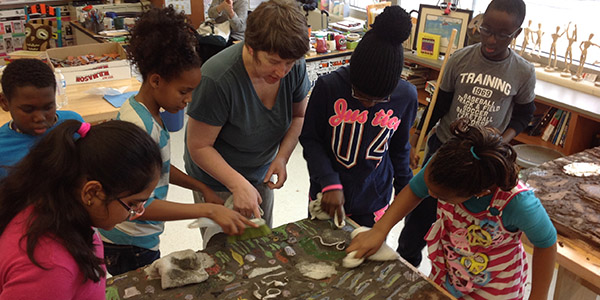 By Lori Mellendick, fifth-grade art teacher at Ducketts Lane Elementary
This December, my fifth-grade students gathered around a table functioning as young archaeologists, researchers, and artists. Their collaborative clay mural sat before them covered in grout waiting to be exposed. As my students began to buff the dried grout away, the ceramic animals they sculpted and arranged in the mural earlier in the fall began to pop through. My class had been working toward this moment since Young Audiences visual artist Amanda Pellerin first arrived as our artist-in-residence in October.
The massive four-by-eight-foot panels of the mural took up the entire floor. I didn't realize how busy my classroom could be as we built something so large. Slowly, a vast food web stretched across the mural revealing the entire habitat network of the Chesapeake Bay.
On this final culminating day, my students experienced what we like to call their "Aha!" moment. They took a step back and discovered harmony behind their mural as a collaboration. The looks on their faces expressed the "now we get it" type of feeling. They ended by celebrating each other by giving and receiving compliments of their work. The positive energy in the room was out of control!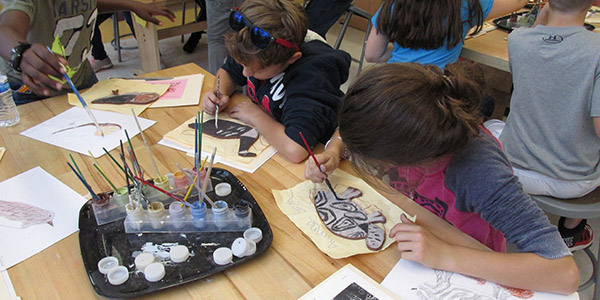 In October, my students had spent five days conducting research of Maryland animals surrounding the Chesapeake Bay as a theme. They built an understanding of how these animals survive depending on their diets. The students also investigated the Chesapeake's surrounding habitat by studying the water cycles, plants, and local natural resources. In order to display these facts on a visual web, the students had to be imaginative. This is where Amanda's expertise came in. Amanda guided students through the necessary steps to creatively assemble this piece of work.
There were times when kids pondered whether or not they should take an artistic risk by making verbal decisions in front of a group. When energy subsided, some surprising moments occurred when a few particularly shy students stepped up to the plate and made executive decisions for the group. It was a wonderful chance for students to express creativity in ways that they didn't expect to, especially within the subject of science.
I wanted to find a meaningful residency that would integrate the arts into the subject of science. I knew that this was the perfect opportunity to find a project that could cover environmental research in a creative way. Knowing Amanda's experience as a Young Audiences roster artist, I knew that the kids would get a lot out of the program.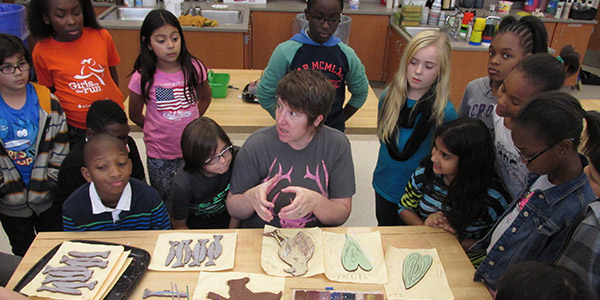 It was important to bring in an outside artist because it gave some of our teachers an understanding of how the artistic process works. Teaching children artistic behaviors is important because it demonstrates tasks such as researching, modifying, and executing that energy into a product. It doesn't work like a magic trick where *poof*, a beautiful piece of artwork suddenly appears. It takes work. It's similar to the scientific process. You formulate a hypothesis, test your theories, and then provide a conclusion statement in the end. In this case, our conclusion was a mural that demonstrated a deeper understanding of the Chesapeake Bay.
Using a tactile form such as clay, gave students a substantial gift in the end. Since these fifth graders will be going onto middle school very soon, I wanted to give them an opportunity to leave their mark upon the school. In April, there will be an unveiling of the mural in a reserved space across from a beautiful fountain. Strong light filters into this area which will give the mural the perfect spotlight that it deserves. We can't wait to put it up!
When you are studying something across the board of a curriculum, it resonates with children. It hits on so many different content levels. These experiences give so much more meaning to the students than you would expect. I immediately go back to my own experiences and remember the impact that resident artists had upon me in school. I wanted to give my students that same opportunity.
Learn more about Amanda and her programs for schools at yamd.org.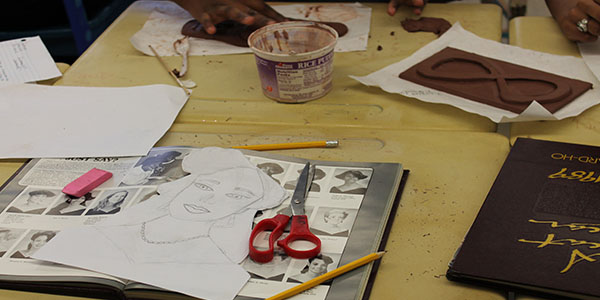 By Juernene Bass, Western High School alumna
I was very excited to take time away from work to be a part of a Young Audiences clay mural residency at my alma mater, Western High School, in October. Being a proud alumna from the Class of 1975, the program was a great example of our school motto, "Lucem Accepimus, Lucem Demus," meaning: "We have received light, let us give forth light." The mural project connected alumnae and current students with the rich history of our school. We had the chance to share our experiences and look back to historic articles, yearbooks, and artwork to create a piece that we could share with the whole Western community.
During the course of the project I was able to spend quality time interacting with my sister Westernites, grades nine through 12, as we learned from Young Audiences ceramic artist Amanda Pellerin how to create a clay mural depicting Western's 170-year-long history of rigorous studies in arts, sciences, literature, drama, and fashion.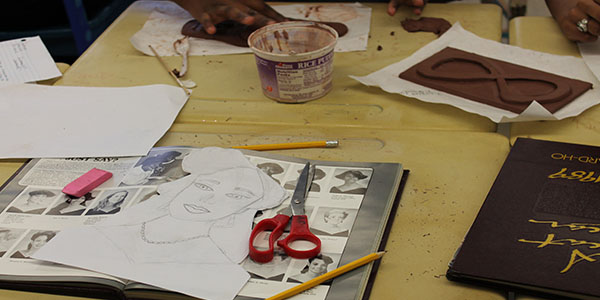 Amanda invited me to share my memories of Western during the 1970s with the current students. They found my reflections to be interesting, humorous, and sometimes unbelievable. I shared how Western taught me the academics that prepared me for college, the skills I needed to succeed in the workforce, and what studies I am using today to progress in my career.
As I mingled with the students and got to know them one-on-one, I learned that Western students are very creative and artistic. They were also knowledgeable about Western's history, and many expressed great pride in attending the school. They used their imaginations and pulled their ideas together with the decades of historical facts and traced, drew, carved, and painted the clay pieces to form a magnificent treasure. Clay tiles depicted the different school buildings to illustrate the school's various locations in Baltimore City over the years. Other clay pieces showed girls playing basketball, reading books, and graduating in cap and gown.
The clay mural project brought multiple classes of students and teachers together, giving them the opportunity to share their ideas and creativity while learning more about working with clay, Western, and each other. It allowed the students a chance to experience an art form which they may not have been exposed to before for lack of materials and time. I am sure the students enjoyed sharing this experience with one another.
Many sincere thanks to everyone who made this happen!
Read more about this project from a student participant, Nadine, who wrote a reflection of the project in January.
By Nadine Elsigal, senior at Western High School
As a senior at Western High School I had the privilege of being involved in a clay mural project with Young Audiences artist Amanda Pellerin in October. Working with Ms. Amanda during the residency was such a pleasure because clay is a medium I don't often get to use in my art classes at Western. This project was new territory for me since most of my school projects are created digitally and working with clay was an opportunity to get more hands-on. I feel that art is a crucial element to a person's development that is often overlooked, but projects like the mural we created with Ms. Amanda really gave back to the students and allowed us a chance to create. Art is a big part of my life and I plan to pursue it as my career. This residency was also a chance for me to learn about Young Audiences, an organization that shares my belief in the importance of the arts in learning.
Seniors from both my graphic design class and a history class worked with several Western alumnae and Ms. Amanda throughout the project. We decided to create a visual timeline of our school's history to celebrate Western's 170th anniversary this year. I knew little about our school's rich history at the start of the project. We worked as a team to delve into past yearbooks and brainstorm with alumnae to decide on the imagery we would include in the final piece.
I decided to recreate our senior class T-shirt design in my clay tile to represent current Western students. Including a symbol of our class in the mural was a chance to leave behind a piece of the Class of 2014 within an artwork that will hang at our school for years to come.
View all three pieces of the finished mural, as well as photos of its creation, online. 
As hard as it is to choose my favorite part of the residency, I think I enjoyed hanging the finished mural the most. There isn't a better feeling than seeing work you have created put on display. It made me realize that I had done it–I overcame the challenges of the project and created something that current and future students will enjoy. I feel proud to have been a part of this residency and to have successfully completed such a large project that can be shared by my school community.
At the start of the residency I was excited–I thought the project would be fun and a great opportunity to leave our mark on Western. Now that the mural is complete and installed I feel accomplished. As I finish my last year at Western, I will graduate knowing that I added to my school's long history.
Learn more about Amanda Pellerin and her residency and teacher professional development program offerings online!