"Arts Career Day! Every single art form's got something to say. If your art is your career, you deserve to be paid!"
Those lyrics to the Arts Career Day theme song, written by the amazing teaching artist and hip-hop artist Jamaal "Mr. Root" Collier, encapsulate the power of the arts and the importance of ensuring our young, creative students understand how to build careers in the field.
Last month, Young Audiences' first-ever Arts Career Day did just that through helpful tips and guidance directly from artists for K-12 students on building arts-based careers! Hundreds of students and educators tuned in to the free, fun, virtual event.
No matter your goals or your roles, the insights were inspiring. See for yourself! Check out some artist tips heard in Arts Career Day:
"Love all the things you do. There are no mistakes." – Christina Delgado
"Find your WHY." – Brother David, Wombwork Productions
"Dance to the music playing in movies. Try to understand what it makes you feel." – Emily Brennan
"Always believe in yourself. And believe in your gift: it is yours. … Don't compare your journey." – Zori Patrick
"My best advice is follow your passion. Be yourself. And practice, practice, practice." – Amanda Pellerin
"Always keep your mind open for opportunities. Be willing to go outside of your comfort zone. … I am a strong believer that, if you get started, the world will meet you halfway." – Ahmad Abdullah
"As artists, we all get ideas from each other. … It's ok to borrow (as long as you credit). And then make it your own!" – Lisa Mathews
To learn more, check out a full recording of the event here.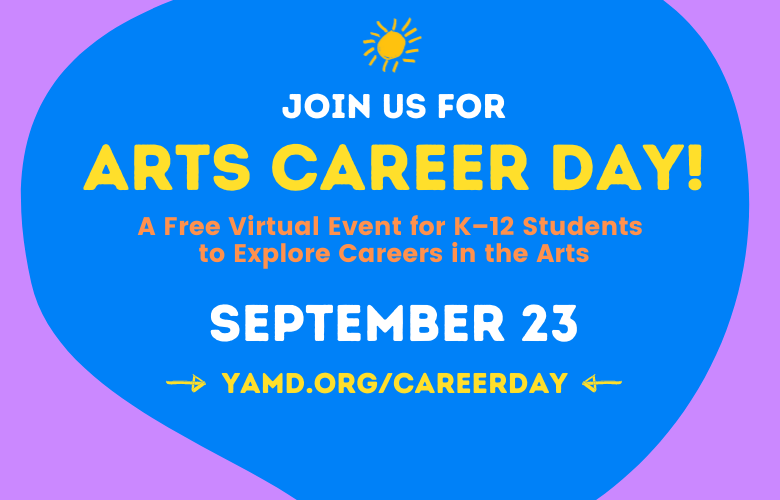 Next Thursday, 9/23, Young Audiences' first Arts Career Day will give K-12 students the opportunity to engage with and learn from professional artists who have successfully built a career in creative fields.
This free, virtual program is broken into four one-hour workshops with practical, child-friendly advice on creating a career in the arts; engaging and informative Q&As; and fun, arts-infused panel discussions. Students, educators, and caregivers can register for free here. The artists offering insight at Arts Career Day are seasoned, successful, and inspiring. See for yourself:
Dancers
– Ballet Theatre of Maryland: BTM is Maryland's only professional classical and contemporary ballet company!
– Footworks Percussive Dance Ensemble: Internationally renowned for their theatre and festival productions, Footworks has been committed to arts education for more than 35 years.
– Laura Schandelmeier: Laura is a choreographer, performer, teacher, and co-artistic director of Dance Box Theater … and a Wolf Trap master teaching artist!
– Tiffanie Horner: Tiffanie is a trained dancer and teaching artist at dance schools and in classrooms for the last 15 years.
Musicians

Ball in the House: This high-energy R&B/Soul/Pop a cappella group keeps audiences singing, dancing, and beatboxing along in hundreds of shows a year.
Baltimore Brass: This group of six world-class musicians specializes in the performance of classical and contemporary music that appeals to audiences both young and young at heart!
Drew Anderson: Entertainer and educator Drew Anderson has spent his entire adult life engaging audiences as a science teacher and performer of hip hop, spoken word, and comedy.
Lisa Mathews: Lisa is a Wolf-Trap trained teaching artist and fronts the amazing Milkshake, an award-winning Grammy-nominated rock band for kids!
Storytellers, Actors, & Literary Artists
Happy Theater: Founder Natasha Mirny is stage director, choreographer, and teaching artist with a background in pantomime, puppetry, and physical theater.
Schroeder Cherry: With a passion for puppets since childhood, Dr. Schroeder Cherry now performs original puppet shows in museums, libraries, and cultural centers for adults and children across the US.
Synetic Theater: Synetic Theater emerged from the creative vision of founders Paata and Irina Tsikurishvili, who use movement, music, technology, and visual arts to transcend the limits of language.
Wombwork Productions: Founded in 1997 by three visionary artists, Wombwork utilizes dance, music, and theatre as traditional sources of healing and empowerment for the community.
Visual and Digital Media Artists
Ahmad Abdullah: A Baltimore-born graphic designer and digital arts educator, Ahmad is an advocate for using art and design as vehicles for interpreting social issues and prompting restorative justice.
Amanda Pellerin: Amanda specializes in handmade tile murals and clay sculptures and has 20 years of experience in teaching, including at the Walters Art Gallery and Baltimore Clayworks.
Christina Delgado: First just a hobby, Christina's work as a photographer and artist grew into a profession later in life. She now has a decade of experience as an educator, photographer, and community advocate.
Find details and FREE registration for Arts Career Day, here!