Written by Stacie Sanders Evans,
Chair, Young Audiences' National Residency Teaching Artist Credential
President & CEO, Young Audiences of Maryland
One of the things I admire about many of the artists I encounter is their ability to envision and create without constraint. Most of the time, I feel my ability to dream is tethered to my day to day constraints. Fortunately, I have the rare board of directors at Young Audiences of Maryland (YAMD) that isn't asking me why our copying budget is over by 10%. Instead, they are encouraging me to dream bigger dreams and actually discouraging me from worrying about how to pay for it. They want to help shoulder the burden of these constraints so I have enough moments to live in the delicious "what if" space.
"What if" moments have gotten Young Audiences to where it is today both locally and nationally. One "what if" moment just recently led to a successful pilot of the Young Audiences National Residency Teaching Artist Credential for exceptional teaching artists. Up until this pilot, unlike almost all other professions within education, there has been no nationally recognized credential for the field of teaching artistry. 
Twelve artists (featured below) from seven different states have completed a very rigorous application process and earned the National Residency Teaching Artist Credential to date. Let's applaud these amazing artists who took a chance with us and contributed to the larger idea of "what if" in an effort to help us test and refine a credentialing system.
Young Audiences formed in 1950 in Baltimore because of our founder, Nina Collier's, "what if" moment. Nina's question, "What if we bring musicians into our schools to perform?" ultimately led to the movement that created 32 Young Audiences affiliates across the United States and now benefits five million students annually. She had no idea the impact that question would have on children and artists.
In the '90s, YAMD's first paid executive director, Patricia Thomas, had another important "what if" moment: "What if artists are no longer limited to the auditoriums of our schools? What if they go into classrooms to give kids a chance to create in an art form?" Today, artists in partnership with Young Audiences, impact 230,000 hours of classroom learning in the arts every year, creating powerful moments for Maryland's young people. Thank goodness there were Nina Colliers in communities across our country who were creating the same kind of opportunities for more children.
Once Young Audiences saw the transformative power of our artists in classroom settings to inspire kids and we saw how high stakes testing was narrowing the curriculum and negatively impacting student engagement in the classroom, we asked another "what if."
"What if Young Audiences played a larger role in education and in our communities to bridge the gap between what we know the best conditions are for learning and what children actually receive in school? I call this the inspiration gap.
This "what if" led us to invest heavily in artist training (far beyond even our own roster of artists) and to create many more opportunities for artists to partner with academic teachers to use their art form to draw kids into learning in literacy, math, social studies, and science classes. This is known as arts integration, which could be learning fractions through the steel drum or about figurative language through writing and performing their own poems, or about the scientific method by writing rap songs.
Using the arts helps students connect to the academic content in meaningful ways–so the learning "sticks." Young Audiences' arts integration approach also requires students to "show what they know" through the arts by either performing or exhibiting. Students become more visible in this kind of classroom and it nurtures the sense that they matter. When you make the learning matter and students know that they matter–that is the secret sauce to bridging the inspiration gap.
Now school districts and foundations see us in a broader light, as an organization that can help improve educational outcomes for kids. These groups are investing nearly three million dollars in YAMD this year so we can address stubborn problems in education: preventing summer learning loss, increasing school readiness, and improving teacher practice.
Across the country, we have artists who are ready to bridge the inspiration gap, and there are even more who, with the right training and support, will soon be ready to join them. We believe the National Residency Teaching Artist Credential, along with a network of coordinated, affordable professional development opportunities, could lead to kids in all communities having greater access to a quality education–one that includes arts education and opportunities to learn in, through, and about the arts from the best professional artists in their community (even where there is no local Young Audiences affiliate).
Imagine a society where teaching artists are recognized for the valuable role they play in breathing creativity and possibility into our schools. Work which, in turn, draws kids back into learning. Imagine how many more kids would benefit if artists were able to choose teaching artistry as a profession because it was treated like other professions.
Many, many things are needed to realize this vision, and I believe a credentialing system–one that is developed in partnership with artists and educators with students at the center–is one important component in a larger ecosystem that needs attention. And I'm not alone. A national survey revealed that 94% of teaching artists want a credential like the one we are designing for the field. One reason artists support this idea is that, currently, since our field lacks a credential, there is no unified way for that expertise to be recognized or validated.
For example, dance and teaching artist Valerie Branch has performed with over 10 dance companies, choreographed over 100 dance works, has a Bachelors degree in Dance (Magna Cum Laude), and has led artist-in-residence programs in 150 schools. But as a teaching artist, she had no signifier of her expertise, excellence, or the value she brings to the classroom. The National Residency Teaching Artist Credential solves this problem.
We are still early in this "What if we created a National Residency Teaching Artist Credential?" moment. And we hope one day, after thoughtful adjustment and many discussions with different stakeholders (that includes you!), and in partnership with the many other national and local organizations that care about education, this credential could be something that the broader field will welcome.
Was there ever a time an artist closed the "inspiration gap" for you or a young person you love?  Let's make more moments like that for our young people. Wanna "what if" with Young Audiences around this idea? Let me know because it will take all of us–you, me, our friends, and our friends' friends–to turn this new"what if" into a reality.
2018 Young Audiences' National Residency Teaching Artist Credential Recipients
Valerie Branch, Young Audiences of Maryland
Melli Hoppe, Arts for Learning, the Indiana Affiliate of Young Audiences
Molly Johnson, Young Audiences of New Jersey and Eastern Pennsylvania
Laura Marchese, Young Audiences of New Jersey and Eastern Pennsylvania
Ray McNiece, Center for Arts-Inspired Learning, the NE Ohio Affiliate of Young Audiences
Emma Parker, Center for Arts-Inspired Learning, the NE Ohio Affiliate of Young Audiences
Malke Rosenfeld, Arts for Learning, the Indiana Affiliate of Young Audiences
Chris Sheard, Young Audiences of Louisiana
2019 Young Audiences' National Residency Teaching Artist Credential Recipients:
Carrie Sue Ayvar, Arts for Learning / Miami
Harlan Brownlee, Kansas City Young Audiences
Quynn Johnson, Young Audiences of Maryland
Brittany Roger, Young Audiences of Maryland
Written by Barbara Krebs,
Young Audiences volunteer and Sunburst Society member
As a pair of dancers performed, a group of elementary school children sat, crisscross applesauce, watching their every move. Valerie Branch, a dancer and choreographer with Young Audiences had been working with the Belle Grove Elementary students in an artist residency made possible through the Arts Empowered Minds Initiative (AEMI). When the last notes faded away, Valerie asked the children what they had observed.
"They love each other," one child offered.
"They share," another chimed in.
Then she asked the kids to explain what dancing techniques they had witnessed. "Negative space," "weight sharing," and "weight bearing" were some of the answers shouted out.
Next, she gathered a group of her second-grade students to pair off with each other to demonstrate some of those concepts. Once the children had done so, half of the students were instructed to use a frozen pose in a high, medium, or low position. The rest were to react to whatever their partner had created. With the new poses in place, she asked the other children in the assembly to discuss what they saw and how the partners had related to one another.
And, in true arts integration form, this exercise was not just about learning dance terminology and positions, but was tied to lessons at the school. This particular one was used in conjunction with a poetry-writing assignment in which the children described themselves through the creation of "I am" poems. Later, choreography was added to illustrate their autobiographical poetry.
Such was the back-and-forth learning that observers witnessed at the Arts Empowered Minds Announcement Event and Celebration on Friday, March 8. The group of educators, politicians, state and local arts administrators, and volunteers gathered at the school was celebrating a $100,000 grant from the National Endowment for the Arts (NEA), which will be used to expand arts integration and teacher professional development in Northern Anne Arundel County.
This is the third time that the NEA has awarded Young Audiences, the program's managing partner, a grant for AEMI. This collaborative partnership between a wide array of arts and education organizations throughout Anne Arundel County seeks to "address the disparity in arts access–and associated gaps in student achievement–between students in Northern Anne Arundel County and the rest of the county."
Now in its third year, AEMI has already racked up an impressive set of statistics. But even better than the numbers are the inspiring stories that teachers and administrators had to share during the event. Brittany Roger, a teaching artist with a scientific illustration background, spoke of bringing exotic animals (Madagascar hissing cockroaches, iguanas, corn snakes) to the classroom and allowing children to explore the creatures through sight, sound, touch, and smell. Afterward, the students draw and sketch the animals based on their observations.
Amy Goodman, who heads the math department at North County High School, told of her department's initial skepticism about linking arts and math together. But as the teachers learned arts integration techniques and applied them in the classroom, they began to see students who had been turned off or struggling with math begin to make connections that helped them grasp the concepts they needed to learn.
And so, step by step, AEMI partners create opportunities for children to learn through the arts. Step by step, the Initiative changes minds about the importance of integrating the arts with reading, 'riting and 'rithmetic. And, step by step, it makes converts of those who witness how the arts engage young minds and help them stay, not only focused on their education, but truly inspired to learn.
Learn more about the Arts Empowered Minds Initiative, its collective impact partners and the community it serves by visiting artsempoweredminds.org.
Categorized:

Arts Empowered Minds

Tagged:

AACPS, AEMI, Anne Arundel County, Anne Arundel County Public Schools, arts ed, arts education, Arts Empowered Minds, Arts Empowered Minds Initiative, arts integration, Belle Grove Elementary, Brittany Roger, dance, FutureMakers, Matt Barinholtz, Modern Dance, National Endowment for the Arts, NEA, Northern Anne Arundel County, poetry, The Drawing Zoo, Valerie Branch, Valerie Branch Dance Ensemble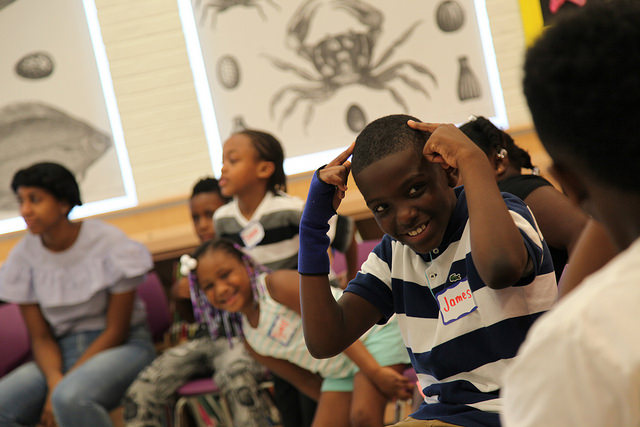 All summer long, kids and families made their way to one of seven city school libraries, each one beautifully renovated as part of The Weinberg Foundation's Library Project to take part in SummerREADS, a free literacy initiative that provides six weeks of drop-in programming for Baltimore City students, grades K through 8.
The host schools and libraries offered safe and welcoming spaces where students participated in literacy workshops and arts enrichment with teaching artists as well as enrichment activities with special guests including Art with a Heart, Maryland SPCA, The Maryland Zoo in Baltimore, and The National Aquarium.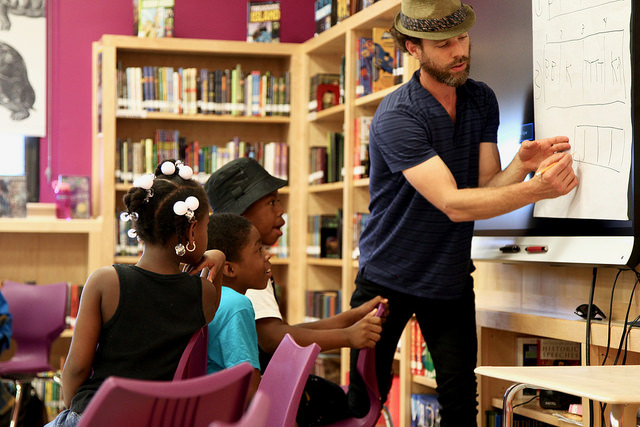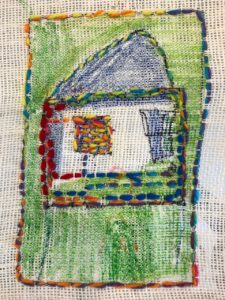 Every week, YA teaching artists introduced students to new experiences. Some learned to make music using their bodies with beatboxer Max Bent while others used lines, shapes, and shading to draw bunnies, snakes, and slugs with Brittany Roger of The Drawing Zoo. From jazz vocalist Renèe Georges, they learned about braille and how the late, great Ray Charles overcame adversity. They stitched colorful portraits of home with textile artist Pam Negrin and used what they learned about composition and digital photography from artist Christina Delgado to capture images of their library, teachers, and classmates. Actor Katherine Lyons gave students the tools, space, and permission to pretend, allowing even older children to travel wherever their imaginations would take them.
And through all of these art activities, young students strengthened their literacy skills, their vocabularies, and even their math skills. As they wrote songs, they considered the division of time when deciding how beats would fill their measures. Students explored new adjectives to best describe the textures and patterns they set out to draw, and they learned many many new ways of communicating- through art, through song, through dance, and through touch by learning the braille alphabet.
Perhaps most of all, students in SummerREADS learned that the library is a space for them. The library is open for them to use, to learn in, to explore, and to grow in. It's a place where magic happens, not only in books, but in minds and hearts. It's a place that challenges your ideas and is as good at surprising you with facts as it is at mesmerizing you with fiction. They learned that the library is a place where they want to be and even in summer, its doors are open.
Registration for SummerREADS 2018 is now open! This year, the program will expand to nine school library sites and operate Monday through Friday. SummerREADS programs are geared toward students in grades K-3 and their families, although the library is open to all Baltimore City School students in current Pre-K-8th grades. Learn more and register today at yamd.org/summerreads.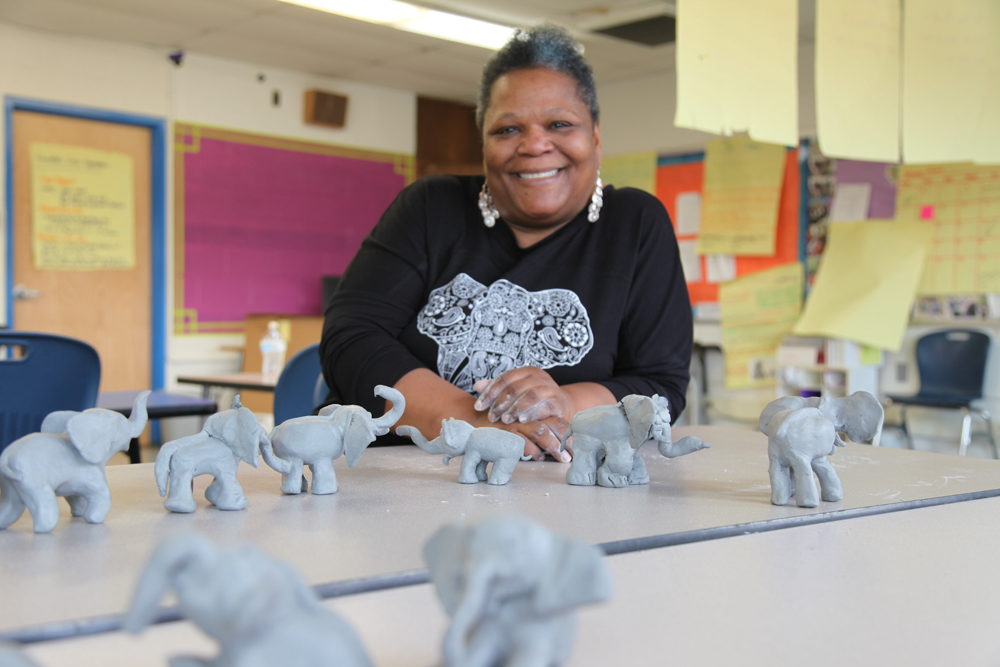 Teaching artists are expertly trained to deliver and coordinate unique, age-appropriate, and high-quality lessons alongside classroom teachers at the Teaching Artist Institute (TAI). The program is a partnership between Young Audiences, the Arts Education in Maryland Schools Alliance (AEMS), and the Maryland State Arts Council (MSAC) that turns professional artists into teaching artists and offers experienced teaching artists new strategies for everything from classroom management to designing artist-in-residence lessons.
"You might find yourself 'shocked' at how much electricity comes from the marriage of art and education!"
The positive effects of arts-integrated curricula in individual classrooms, and on teachers, students, and families are numerous and extraordinary. Teaching core subjects through the arts can increase student engagement and understanding. It can direct a classroom culture toward tolerance and empathy and it can even rejuvenate teachers and bring joy and anticipation to the faculty!

"Through its audacity, its abstractions, its "aliveness," art activates parts of the brain that any teacher or employer should want to turn on," notes Drew Anderson, a veteran school teacher and YA roster artist. "You might find yourself "shocked" at how much electricity comes from the marriage of art and education!"

Teachers, families, and artists of all ages got a small taste of several teaching artists' lessons during an afternoon at Southwest Baltimore Charter School. Participants spent their time exploring new skills and practicing old ones with: Performing artist and YA roster artist, Drew Anderson; Illustrator and new YA roster artist, Maura Dwyer; Illustrator, animal rescuer and new YA roster artist, Brittany Roger; Actor, Michael Hartwell; Actor, Tori Bertocci; Actor, Dave LaSalle; Actor, Cori Daniel; and Ceramicist and new YA roster artist, Mama Sallah.
They sculpted clay, interpreted music through movement and acting, sketched and learned about reptiles with a live chameleon, created collage utilizing different design elements, and learned awesome animal facts through improvisational theatre. One young participant was overheard telling her friend about Cori Daniel's acting workshop, "It was so cool! We told stories with Ms. Cori without actually saying any words!" We can't wait to hear about the wonderful classroom experiences and learning opportunities these teaching artists help to create!

TAI is proud to be helping build a community of artists, teachers, and leaders who are committed to transforming education through the arts. Artists interested in designing lesson plans or teaching artist-in-residence programs should apply to this rigorous and renowned program. There are many things about TAI that make this professional development course unlike any other including mentorship from a designated teacher partner and from a master teaching artist in your art form. Not to mention, graduates of TAI have the opportunity to be considered for both the Maryland State Arts Council Artist in Residence Roster, and the Young Audiences/Arts for Learning Teaching Artist Roster!
For more information about the Teaching Artist Institute including videos, pricing and how to apply, click here. Read what artists are saying about the program on our testimonials page.
Categorized:

News

Tagged:

Arts Education in Maryland Schools Alliance, Brittany Roger, Cori Daniel, Dave LaSalle, Drew Anderson, Mama Sallah, Maryland State Arts Council, Maura Dwyer, Michael Hartwell, professional development, professional development for artists, Southwest Baltimore Charter school, TAI, TAI Seminar, The Drawing Zoo, Tori Bertocci, workshops