Some big ideas are meant to be shared. It is through partnership and collaboration that the big ideas grow roots and become an integral part of something even bigger. In 2015, Pat Cruz, YA's then-chief innovation officer, and educator Mary Kate Bransford had a dream. What if every kindergarten classroom in Prince Georges County Public Schools (PGCPS) had an arts-integrated environmental literacy program?
Their big idea brought together twenty teachers and five teaching artists to write a five-day lesson plan that both met environmental literacy and visual art criteria and explored themes like habitat restoration, local ecosystems, the life cycle of plants, and the lifecycle of animals for a brand new program: Growing Up Green. The program, a partnership between Young Audiences and the Prince Georges County Office of Environmental Literacy, would be piloted in 17 schools in the district in the 2015-16 school year.
That first year resulted in the creation of five separate 5-day arts-integrated environmental literacy lessons. Teaching artists worked side by side with kindergarten teachers all five days of the program with the goal of handing off that role to each individual school's art teacher in future years. To prepare teachers, Kristina Berdan, Young Audiences Education Director, trained teacher ambassadors, kindergarten lead teachers, and art/music teachers to use the arts as a teaching tool in their classrooms. "I used to think art was a product of a lesson," said one kindergarten teacher in Prince George's County Public Schools after being trained in arts integration through Growing Up Green. "Now I think art is the process to achieve the objective."
The team constantly listened, assessed, reflected, and revised, resulting in a comprehensive catalog of resources for teachers and the refinement of, in the second year, four unique residencies instead of the initial five, and then in its third year, one: Fiber artist Pam Negrin's The Lifecycle of Plants. Kindergarteners and their teachers explored nature with their real-life senses—looking, smelling, touching—to not just learn about our natural world, but experience it. Classrooms across the district were outfitted with custom-made embroidery tables where students could gather and stitch their observations, building with and learning from one another. "We think with our hands and when students are immersed in a lesson together, they begin to make their own connections," said Pam. From sharing what they learned during the school day at home to internalizing and remembering more information, the effects on learning were so profound that once-resistant teachers embraced learning through arts integration and extended it into other content areas.
Growing Up Green combines the arts and time outdoors with making connections between humans and the environment and brainstorming solutions. "The program gets kids outside and thinking about the bigger picture and the combination of all the elements of the program supports the district's goals," said James Roberson, PGCPS Instructional Specialist for Environmental Literacy. And after the lessons have ended, classes are left with beautiful embroidered tapestries they can share with the school community. "The tapestries are a great way to showcase what they've learned."
Our state was the first in the nation to approve an environmental graduation requirement for all Maryland students. In 2011, the school board created Environmental Literacy Standards that would support the growth of the planet's next generation of stewards. Prince George's County Public Schools is intentionally integrating these standards into the PreK-12 curriculum, and through Growing Up Green, they are successfully reaching the county's youngest students. This is the first year that PGCPS is running Growing Up Green without Young Audiences' support. "Young Audiences has been an outstanding partner over the last four years," said Roberson. 
"I'm really impressed by how different teachers have taken what they learned and run with it," said Jhanna Levin, PGCPS Environmental Literacy Outreach Teacher. As a result of Growing Up Green, teachers in the district's Autism Program, for instance, have embraced the art of embroidery, the fine motor skills it develops, and the calm it inspires. "It soothes the kids in a way they weren't expecting." Levin, new to the department, has taken the reigns of Growing Up Green and nurtured the development of teachers new to the program as well as veteran educators. She is constantly checking in and helping the teachers to do what works best for them.
She is holding a training session this coming January for lead kindergarten teachers to explore additional arts integration techniques for classrooms and it's not just new teachers who are looking forward to it. "We're talking about turning T-shirts into yarn and using dance for the observational piece," said Levin. James Roberson added, "We're really excited about what Jhanna brings to the program."
Growing Up Green was a tiny seed that with research and tremendous effort and love, Young Audiences was able to sow. Through the amazing partnership we've had with PGCPS, we've seen the program evolve and take shape in a way that both works best for the district and stays true to the vision of Growing Up Green at its conception. We are extremely proud to see the district take charge and continue nurturing and developing this incredible program. Levin said, "There are teachers who have done this for three years now and they say, 'Just give us the materials. We've got this.'"
It's been almost a year since we announced our partnership with WTMD to feature YA teaching artists on their family-favorite Saturday morning radio show Young At Heart! Since May 6, 2017, host Lisa Mathews—YA teaching artist and lead singer of Grammy-nominated children's band Milkshake—has invited eleven top-notch, talented YA roster musicians to date into the studio to chat on a monthly segment called smARTbeats. Listeners have learned about the artists' professional work outside of schools, arts integration, and heard how they've reached students through art in the classroom.
"Listening to music is great, but making music is transformative." –Alden Phelps
Some of the featured artists have talked about the guidance they've received and diligence and artistic discipline they learned from parents, peers, or mentors. Some have revealed the inspiration they've found through their own small children. All have shared with listeners the energy, kindness, and expertise that they bring into every Maryland classroom they visit.
"If we never spoke a word, we could communicate through music." –Devin Walker
From memories of touring with the one-and-only Mr. Ray Charles, reaching audiences around the world in Spanish, English, and through poetry, taking a musical journey to outer space, to finding out not just how artists inspire children every day in Maryland classrooms, but hearing what motivates, energizes, and inspires them, getting to know these fantastic teaching artists has been a real treat for Saturday mornings!
"There's power in words, build or destroy, so watch what you say." –Femi the Drifish
And just in case you prefer to sleep in on the weekends, we've compiled WTMD's Soundcloud links here for you to enjoy any time of day or night!
Young At Heart airs weekly from 7 to 8 am on Saturdays, featuring music that appeals to parents and children alike. Previous shows have featured music by Wilco, David Bowie, Andrew & Polly, Weezer, and others.
smARTbeats returns to WTMD this Saturday, July 8, during the weekly children's music program Young At Heart. On this month's smARTbeats segment, Young At Heart host Lisa Mathews sits down for a chat with Bomani. A seasoned performer, teaching artist, Director of Poetry Events for the Busboys and Poets restaurants, CBS Radio personality, and head audio-engineer for Urban-Intalek Studios, Bomani describes himself as a poet with a Hip Hop style.
During the segment, you'll get a taste of Baba Bomani's Hip Hop poetry as well as hear about his experience in the classroom. The artist teaches creative writing and prose through the exciting world of Hip Hop songwriting. By first creating a fearless, supportive and collaborative environment, he instructs children to use elements of creative writing including simile, metaphor, and rhyme to structure a song written in the pattern of a well-written essay. "Young people need to have freedom to develop an idea out loud without self-doubt and to not fear right or wrong answers," Bomani says.
"At the beginning of a residency, there are three writing rules I give students: Artists don't make mistakes, they make discoveries; Do not edit in your head; The only wrong answer is a blank answer."
"One of the reasons I love group creative-writing sessions is because the conversations that go on in a group setting are the same internal conversations that go on in a writer's head. Showing that process to young people in a physical way, where they are acting out how ideas are communicated — 'what about this idea, what about that idea, we should take this back, we should add that in there!' — helps them to better understand complicated topics."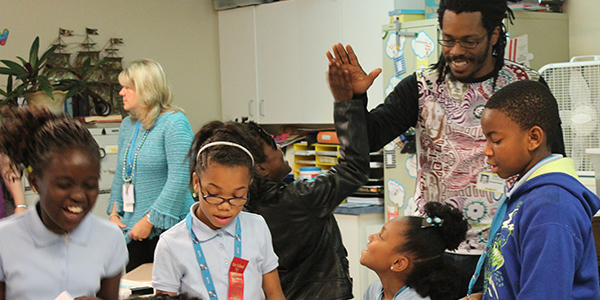 Young At Heart airs weekly from 7 to 8 am on Saturdays, featuring music that appeals to parents and children alike. Previous shows have featured music by Wilco, David Bowie, Andrew & Polly, Weezer, and others.
Hear YA teaching artist and composer Bomani online now!
 
Growing Up Green: Hip-Hop Poetry and Composting
Teaching Our Youngest Learners Environmental Citizenship Through the Arts
Part 2: Local Ecosystems
This Spring, Young Audiences wrapped up the initial phase of its pilot programming for Prince George's County Public School District's new arts integration initiative, Growing Up Green. We introduced the program in an earlier blog post, but here is a refresher for those who missed it:
The initiative is part of an exciting new partnership between Young Audiences/Arts for Learning and Prince George's County Public Schools and is funded in part by a BGE Green Grant and the Chesapeake Bay Trust. The program engages kindergarteners in meaningful and authentic outdoor experiences that help connect them to their local ecosystems and inspire them to learn more about protecting our environment. The arts provide the vehicle that the students use to demonstrate and communicate their understanding to the greater learning community of their school.
Bomani, a Young Audiences Teaching Artist, began his pilot program by using poetry to investigate the process of composting with five groups of Kindergarten classes at three different schools: John Hanson Montessori, Oxon Hill Elementary, and Benjamin Foulois Creative and Performing Arts Academy. Over 80 kindergarteners had the opportunity to literally get their hands dirty in hands-on learning while understanding everything from what type of trash can be composted to why we need to grow food. Read on to hear more about Poetry and Composting from Bomani:
"Growing Up Green was a learning experience for me. I had done residences with kindergarteners before, but never where the final project had to narrate a sequence. Usually, when I'm working with kindergarteners, we are having fun working with rhyming words, and we can make up definitions for them and write like Dr. Seuss, creating an imaginary world.
This workshop offered something new, a tangible, in-your-hands experience that's different from my usual history- or social studies-based residencies. But what is the root of this imaginary world for this particular workshop? We start with a shared experience.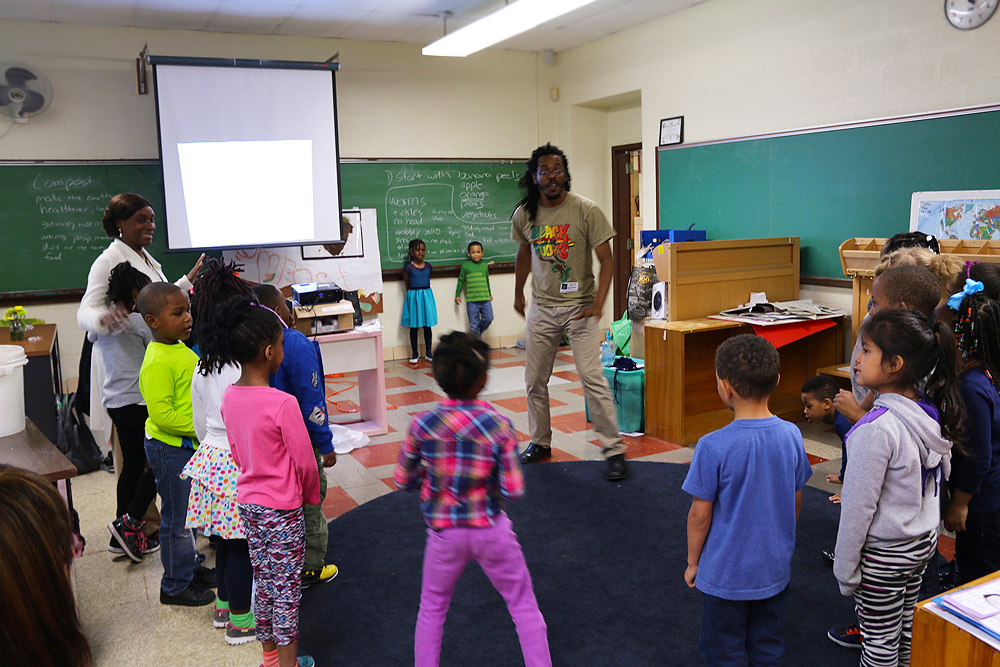 Students learn the ingredients and components to the composting process. I asked the students what they already knew, and then we would question and discuss the most important things. It doesn't really matter what the subject is, as long as kids have a shared experience to draw from, all getting to feel, touch, smell, discuss; when we start throwing out ideas, we can better interact with each other.
One of the reasons I love group creative-writing sessions is because the conversations that go on in a group setting are the same internal conversations that go on in a writer's head. Showing that process to young people in a physical way, where they are acting out how ideas are communicated — 'what about this idea, what about that idea, we should take this back, we should add that in there!' — helps them to better understand complicated topics like composting.
One student would forget one part, and another would remember and say, 'Oh you forgot the part about adding the paper!' And they would all respond 'oh yeah!' and a conversation about the process of composting would develop further, which would inevitably lead to other discussions surrounding composting, like 'Why do we need more trees? Why do we compost in the first place? Why and where do we grow food?"
The writing process began with the teachers and I adding the "odd" lines — the first line — and then students brainstormed the second line for the couplet, coming up with the rhyming components. At first, I was worried about how heavy-handed the adults in the room would need to be for it to make sense, but the students came up with some amazing things! Here's a great example:
"Put holes in the bin so the worms get air,
Holes in the bin show worms you care,
Put strips of paper and some leaves,
Paper and leaves come from trees,
Add food scraps and coffee grinds,
You just need some time
Put the top back on, they don't like sun,
Composting is very fun!"
Usually, there's one student in every class that starts off really nervous about moving their body, using their voice or raising their hand. One young lady at John Hanson Montessori was very quiet at first but over the course of the class, her teacher came up to me and said, "She's completely opened up!" With younger students, they typically have less fear than older kids, but for many of these children, English is a second language so it's sometimes hard to communicate quickly or expressively.
This one student was able to open up because I kept repeating, 'someone tell me a bad idea' or 'someone say something that's not exactly right yet, but you think it's almost there.' Giving the young lady that freedom made it easier for her to open up. She would raise her hand and say something, and I would say 'Oh! That's not quite right, but please keep trying, I love where you are going with that! Rethink that, talk to your neighbor and come back to me.' She got used to the idea of not being afraid of the wrong answer because we are all collectively looking for the right set of words.
There's a line in one of the songs where they rhymed the word "word' with "serve" as a near-rhyme. The teachers all agreed that "serve" was not the easiest to rhyme with, but when we asked the kids to vote, they picked "serve," so we went with it! I prepped the kids for this more difficult rhyme, saying 'you know, if it doesn't work out, it's okay, we can always back-track, but since you all voted on it, we'll try it out and see how it works.' I let them huddle up, and I got back a whole bunch of excellent ideas about how to use the word 'serve'! Below is the final line we used in the poem:
Composting is how we serve, and we use this rap to spread the word!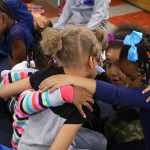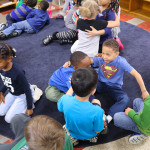 One of the side effects of this workshop, let alone the main idea of composting, is that it gets kids really excited about words and about articulating thoughts. Kindergarteners were constantly trying to find ways to tie in words to create new ideas, really stretching themselves and questioning the meaning of words.
In all honestly we probably did underestimate the ability of one 6-year-old to use 'serve' in a rhyme, but with 30 of them together all talking about it, they figured it out! Each rap came out really well!
——
Teaching Children Not to Be Afraid of Giving the Wrong Answers
Ever wondered why kids say they're bored at school, or why they stop trying when the work gets harder? In this essential video on Fixed vs. Growth mindsets, Educationalist Carol Dweck explains how the wrong kind of praise actually *harms* young people. This short video is essential viewing for everyone — from teachers and education workers to relatives and friends — which promotes GROWTH rather than "fixed" mindsets in students.
——
Help Fund This Program!
Your tax-deductible donation will help support programs like Growing Up Green.


By Donna Greenleaf, Coordinator of Gifted and Talented Programs, Dorchester County Public Schools, and Renee Hesson, Coordinator of Instruction for Fine Arts, Dorchester County Public Schools
Being on the Eastern Shore, Dorchester is relatively isolated from many of the cultural experiences available closer to the Baltimore-Washington area. With reduced opportunities to experience art, children and adults can become limited in their thinking and understanding of different art forms. Working with Young Audiences, we tried to find a way to make an arts learning program that was more lasting for Dorchester students. Last year, we developed an assembly and workshop model—something that was totally new to the schools in our county. In the past, we had only ever had large group assemblies. These performances felt like "one and done" experiences and it was hard to measure the impact of this limited exposure to the arts on our students. By adding workshop sessions, we were able to reach more students in a more significant way because they had a hands-on experience with Young Audiences performing ensembles WombWork Productions and Quest Visual Theatre.
This assembly and workshop model was successful, but we thought there was still more to be done to truly impact the culture and climate of our schools through the arts. Artist-in-residence programs have the feature of offering professional learning opportunities to teachers while providing ongoing workshop opportunities to students. Although this was the type of program we believed our schools needed for the arts to have the maximum impact, we told Young Audiences that there was no way that we would be able to afford it. But with Young Audiences' help, we began applying for grant funding to help alleviate the cost and make it happen.
Beginning last spring, we wrote Maryland State Arts Council Arts in Education Artist-in-Residence Grants to bring programs to seven Dorchester elementary and middle schools of the 11 total schools in our district. To supplement this funding, we also applied for a grant from a local foundation, the George B. Todd Fund and for supportive funds from the local Dorchester Center for the Arts. We hoped to bring WombWork back to build on the work they did with our students the year before, as well as bring beatboxer Max Bent and Hip Hop poet Bomani to our students. These Young Audiences artists were chosen to address the specific needs each school had identified as a part of their school improvement plan, including interpersonal skills, bullying prevention, math, and language arts.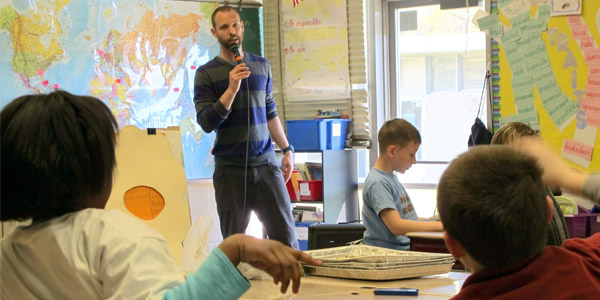 These programs were as much for the kids as they were for the teachers. When Max came to our elementary schools, his enthusiasm brought a lot of energy to the kids and appealed to those kids who needed a different kind of artistic outlet. His program crossed cultural stereotypes and appealed to a wide-range of kids—and adults. Our teachers were reluctant at first, but Max was able to bring everyone into the experience. During pre-program meetings with Max, teachers were impressed that he was able to speak their language. His art form became more than just a nice enrichment activity, but one that made a strong connection to curriculum. Max was interested in what specific units and standards the teachers were working on at the time, and how he could incorporate beatboxing. He wanted to do more than tie into grade-level concepts, but ensure that it was focused and timely in the curriculum. That approach enhanced the partnership feeling between artist and educators.
During the professional development workshops, Max showed teachers how beatboxing can uniquely link to fractions. It was a distinctive example of how educators have to challenge themselves to come up with new and unique ways to teach the material instead of the same ways they've always taught.
In another one of our schools, Mama Rashida and WombWork worked with one classroom that had a reputation for negative behavior and not staying on task when an outsider visited. When we visited this class to observe them working with Mama Rashida on the play they were creating to perform for their peers, every single student was engaged and working together on the activity. Mama Rashida's knowledge of young people and how to quickly build relationships helped support our students emotionally so that the group could get to the important work of learning the language of virtues. This experience proved to us—and to the students—that they have the ability to be college- and career-ready middle school students. They now have a relationship with their classroom teacher that they may not have had without this program.
When Max's residencies began, we thought kids may be reticent about getting up in front of their peers and performing. At both culminating events at the close of the residencies, there was an overwhelming show of hands of students who wanted to get up and demonstrate what they had learned. It was exciting to see our kids transform into performers and there was no judgment. Even when a child got up and made a mistake, other students didn't call them out. They were supportive of each other. Seeing this program's contribution to a positive school climate, as students worked together on projects and supported each other, was a wonderful side effect of our residencies this year.
Maryland State Arts Council (MSAC) provides schools with AiE grants to support artist-in-residence programs. These grants can subsidize up to 30 percent of the total cost of a Young Audiences residency program, including travel costs. The application deadline for programs occurring next school year is Friday, May 15, by 5 p.m. Read more about this opportunity at yamd.org. 

By Bomani, Young Audiences teaching artist and Hip Hop poet
Before my recent residency with fourth-graders at Scholars K-8 in Baltimore County began, the teachers I worked with–Mrs. Brumbalow, Ms. Barnes, and Ms. Hicks–had prepared the students for my arrival. When I walked through the door on the first day, the students recognized me and treated me like a rock star, so I knew I had to make a meaningful impact.
At the beginning of a residency, there are three writing rules I give students:
Artists don't make mistakes, they make discoveries.
Do not edit in your head.
The only wrong answer is a blank answer.
Students are oftentimes drilled to memorize answers in order to score highly on assignments. Sometimes they become paralyzed with fear when asked their opinion, so I try to loosen them up to think creatively. Young people need to have freedom to develop an idea out loud without self-doubt and to not fear right or wrong answers.
I worked with the Scholars K-8 teachers to create a series of Hip Hop writing workshops to strengthen students' comprehension skills. In the two weeks I was at the school, students wrote songs about the writing process, how to count money and use decimals, as well as climate and how humans affect the environment.
The initial challenge was getting students excited about writing. They were energized by Hip Hop poetry writing because it's a style of music they admire beyond the school setting.
Once they got used to the idea that we weren't looking for one correct answer, they felt free to say what they were thinking. There was one student in particular whose reading and comprehension skills were not where they should have been for his grade level. One of his teachers revealed that this residency was one of the few opportunities where he felt confident enough to answer questions because he could take his time and work through his ideas out loud. Each day he was fighting through the door for the front seat, and his self-esteem was boosted each time he answered a question.
During an exercise, we discussed the music video "Me, Myself, and I" by De La Soul which includes symbolism about self-acceptance. The light bulb went off for many students, who immediately related to trying to fit in or be cool. They realized that at some point, you have to validate yourself without caring about the opinion of others. To see them react to that song, and have students come in the next day writing lines I didn't assign, was a very powerful feeling. They were using art to reflect their realities and project their hopes for the future.
There was one point during the residency that I had to put my "teacher" foot down when a student became disruptive while we were writing the chorus of a song. Students that age can struggle with differentiating positive and negative attention, but when we got down to the last line, that student raised his hand and offered a new idea to our brainstorming session. The line was exactly what we needed and the whole class recognized him for it. To be validated like that after being reprimanded showed him that we wanted him to participate and be a part of the team, but in a constructive way.
This residency strengthened their class bonds by allowing students to collaborate and recognize each other's talent. Even students who often had problems dealing with their classmates or paying attention were invested. They appreciated each other's creativity and when they were put into groups to write on their own, they just took off.
One of the main complaints I get from young people is that they aren't understood. My response is always that they need to improve their communication. The ability to speak, write, and create art in a way that others can comprehend is something students latch onto, and they internalized the techniques I gave them. We would brainstorm an idea, flesh out a paragraph on this idea, and then break the paragraph into a rhyme.  While writing the song, they formulated introductory and supporting paragraphs. Before they knew it, they had completed an essay. The process made them realize how much they want this skill. One student gave me a poster she made outside of class time with an anagram for my name. Her classmates loved it so much they all signed it and gave it to me. I still don't think I've come down from that high.
Learn more about Bomani and his programs for schools at yamd.org.
Young Audiences artist and Hip Hop poet Bomani took to the airwaves during the morning announcements at William Paca/Old Post Road Elementary in Harford County to build excitement for upcoming SMART Days at the school. SMART Days are a key component of Young Audiences' ongoing SMART program in all five Harford County Title I schools. Each school has one SMART day per week, all school year. On SMART days, a teaching artist and an arts integration specialist spend the entire day with teachers and students. Teaching artist and teachers collaboratively plan, teach, and reflect on arts-integrated lessons. The lessons are always aligned with the College and Career Ready Standards and focused on skills and concepts students struggle with most, such as fractions or figurative language skills.
This "Hip Hop Public Service Announcement" highlights Bomani's skills as a poet and "shout outs" for teachers who are arts integration leaders at the school. Listen to the full announcement here:
[soundcloud url="https://api.soundcloud.com/tracks/143057728″ params="auto_play=false&hide_related=false&visual=true" width="100%" height="450″ iframe="true" /]
The SMART program, formed in partnership with the Harford County Public Schools Title I Office, aims to help improve teacher practice through arts-integrated embedded professional development for teachers. At the heart of the program is the collaboration between teaching artists and teachers. The education expert and artistic expert work together to re-envision how to teach content in a way that challenges, motivates, and inspires students to learn more.
Learn more about the SMART program here.
Young Audiences Hip Hop poet Bomani recently visited Empowerment Academy Elementary/Middle for an assembly and workshop to teach students the elements of writing Hip Hop music and its parallels to poetry- and essay-writing while also addressing the subject of anti-bullying. Following the assembly, Open Mic, students worked with Bomani to use the techniques demonstrated in his performance to write their own Hip Hop poem about how to handle bullying inside and outside of school. One teacher shared: "Students were pleasantly surprised at their ability to write poetry, and became more adamant about stopping bullying."
The assembly and workshop were made possible through the Young Audiences Access for All Initiative which makes Young Audiences artists and programs available to high-need Baltimore City Public Schools at up to 80 percent off of the cost. This opportunity helps principals with limited resources provide hands-on learning in the arts that supplements and enriches the curriculum.
The following day, three students volunteered to share their finished poem with the student body over the school intercom. Read the full poem below!
No Bullies!
When there is bullying, don't just be a bystander,
Better not mess with a Marylander!
Find an adult who is trustworthy,
So the bully will not continue to hurt me!
There is verbal, physical, cyber, and exclusion,
Don't do any of these. Use inclusion!
Bullies cause a lot of confusion,
Everyone must help to find a solution!
This is just one example of how Young Audiences artists connect fine arts, the curriculum, and important 21st Century skills to impact how students see themselves and relate to others.
Learn more about Bomani's assembly and residency programs here!