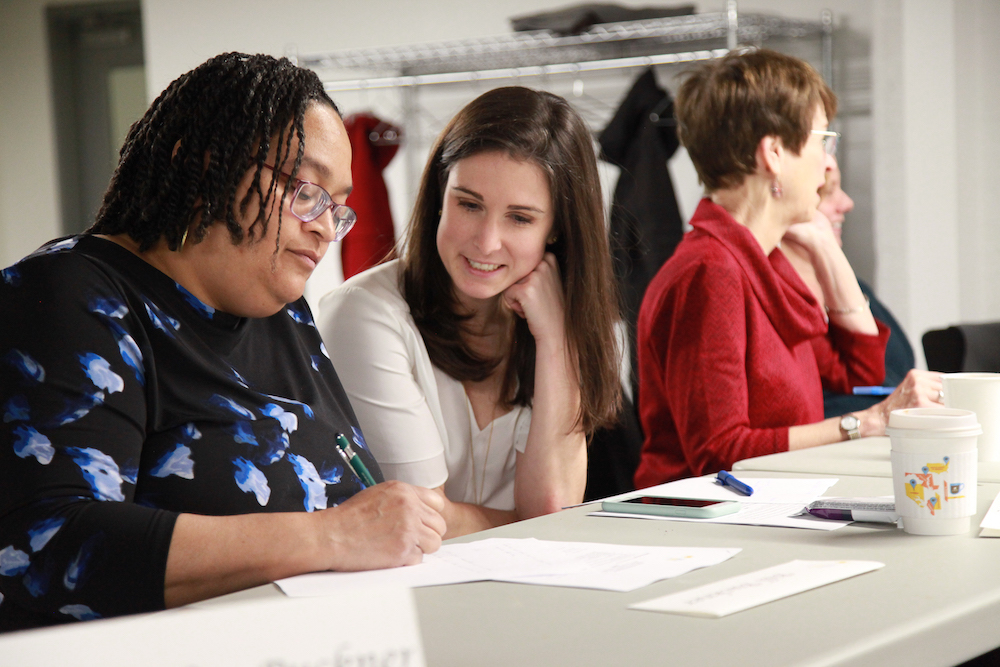 If you are part of any nonprofit, what kinds of things come to mind that a board member might ask you to bring to a meeting? Is it a budget? The latest donor report? 
This is why I love the Young Audiences Board of Directors. Yes, sometimes they ask me for these things. But, prior to our last meeting, the Board Chair asked me, "How are the artists doing?" He wanted to bring a report that spoke to this.
If you are reading this, you likely already know that COVID-19 has hit the artist community hard.  Nearly two-thirds of artists and creative workers report being unemployed. Last year, when COVID-19 hit, it was the Board that launched the Teaching Artist Emergency Fund and, between the individuals who donated to that, foundations that allowed us to repurpose grant funds, and the Maryland State Arts Council, YA was able to ensure that those artists who were depending on contracted income last school year received what they were counting on. YA provided over $270,000 in earnings and financial relief to artists in our community. In turn, our artists innovated, and we found new ways to put them to work continuing to inspire and engage children during the pandemic: Check out Arts & Learning Snacks and Arts & Learning Kids, two of our innovations, which continue to positively impact kids.  
COVID-19 is still with us. School budgets are frozen, and money typically earmarked for the arts is being directed elsewhere. The result: Our artists lost more than $80,000 in earnings between September and December, and we project greater losses this Spring. On December 18th, when Board members saw this, they agreed to allocate $30,000 in immediate financial relief to artists. Five days later, on December 23rd, this relief hit artists' bank accounts.  
Board members also agreed to relaunch the Teaching Artist Emergency Fund, and swiftly found two donors to kick off the Fund with $5,000. We know our artists want more than financial relief. They want to be put to work, to breathe joy and creativity into virtual learning, and to show up for kids when they could really use us! One hundred percent of the funds raised will go directly to putting artists to work and benefiting children. 
Wanna see who these amazing board members are?!? Check them out here. 
In closing out this love letter, I am sharing just one example of the outpouring of love from YA artists when they received this unexpected and much needed financial relief: 
It brings me to tears but tears of great joy to know we have people like you in support of your artists in these trying times! With the holidays coming up and very low income on our part, we want to say God is good and this blessing is just in time and right on time and much needed. Working with YAMD for two decades has been one of our best journeys, as we are still working to create top quality virtual prerecorded videos and live Zoom performances, etc. To have some kind of income flow and we are more than dedicated to staying connected to youth and community which is most important. We love you dearly, Brandon Albright, Illstyle Peace Productions. 
We love our Board dearly, too! Be on the lookout for how you can join our board in loving our artists through the Teaching Artist Emergency Fund this Friday.
With appreciation,
Stacie
Written by Barbara Krebs,
Young Audiences volunteer and Sunburst Society member
Recently I toured Ireland, circumnavigating this gorgeous island from the Republic of Ireland, to Northern Ireland before returning to Dublin. If you have half a day, I'll be happy to tell you about everything I learned there, from Irish history to Irish dancing to Irish food to (ahh) Irish whiskey. But if you have only a few moments, then I'll just tell you about my biggest takeaway from this trip–passion.
So now you're thinking, "What does this have to do with Young Audiences?" In the great tradition of Irish storytelling, I will let you know how one starts in Ireland and ends up in Baltimore with passion as the theme.
My story starts with a tour guide in Northern Ireland named Garvin, who told us about his wonderful city, Derry. Following the itinerary map, I had been puzzled since I couldn't find it. This mystery was quickly cleared up as Garvin explained that Derry is the town's traditional Irish name but it had become Londonderry during British rule. But he was also quick to explain with a broad grin that what his city actually is, is Legen-Derry (Get it? "Legendary!").
And thus began his tour of a city that he was obviously totally devoted to and passionate about. Today Derry is a wonderful city, with much to offer tourists–historic 17th fortification walls (the most intact in Ireland), Gothic-style cathedrals, a vibrant waterfront restaurant/bar scene and fascinating museums. But if, like me, you think of Derry during The Troubles, your memories will be very different, with scenes of bombed-out buses and civilian and British troop deaths.
But Garvin used that very history to make his point about his city being a wonderful place. He took us to Bogside, scene of infamous clashes between citizens and British military police, and said, matter-of-factly, "You would not be on a bus going here in the '70s, because it would be hijacked, turned on its side and burned out to use as a barricade to block the street against the British." This, while we looked out the bus windows at calm, clean streets.
I loved the beauty of Derry, its rich and troubled history, and yes, the passion of Garvin. And what struck me most forcefully was how many times he repeated, "I thank you for coming to visit my beautiful city. Please tell your friends and relatives what a wonderful place it is." And I knew then how deep his passion was for his flawed and scarred, yet fascinating city. And through him, I fell in love with it, too.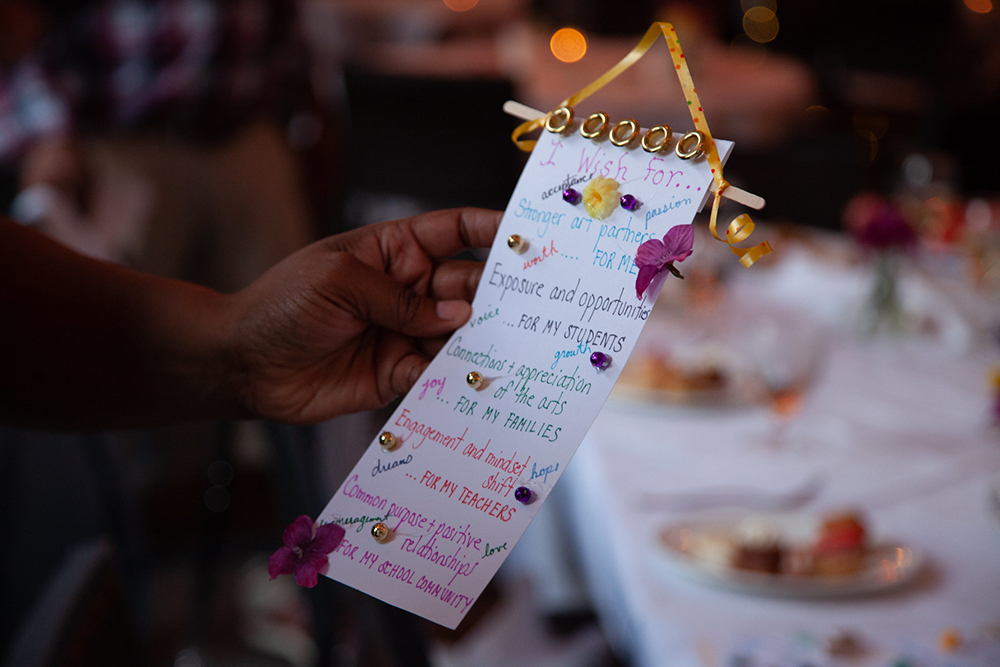 So now here's the connect with Young Audiences. I have witnessed the passion of Young Audiences artists like Femi the DriFish and their teacher partners who, despite challenging situations, work tirelessly to promote learning in their classrooms, using the innovative arts techniques taught by YA. I have seen deep passion in our principals who set aside hard-fought funds to bring the arts into the classrooms when others are choosing to cut these opportunities. I see this passion in the YA board, who includes my husband, who donate their limited time outside of work and family to ensure that more kids have opportunities. It is through them that I fell in love with Young Audiences, too.
I am pleased to announce that Garvin's passion for his birth city is contagious. With his example, I am happy to tell all who will listen that I am passionate about Young Audiences. I will tell folks about how fantastic Young Audiences is–and that includes you!
Wanna know more? Consider joining CEO Stacie Sanders Evans and a Young Audiences teaching artist on Thursday, December 5, 5:30-6:30 pm for a free, one-hour Meet YA Event. To register, please contact Erin Nolder via email or phone – [email protected] or (410) 837-7577 ext. 105. All I ask is that afterward, like Garvin, you tell all your friends and relatives about the wonderful work that YA does.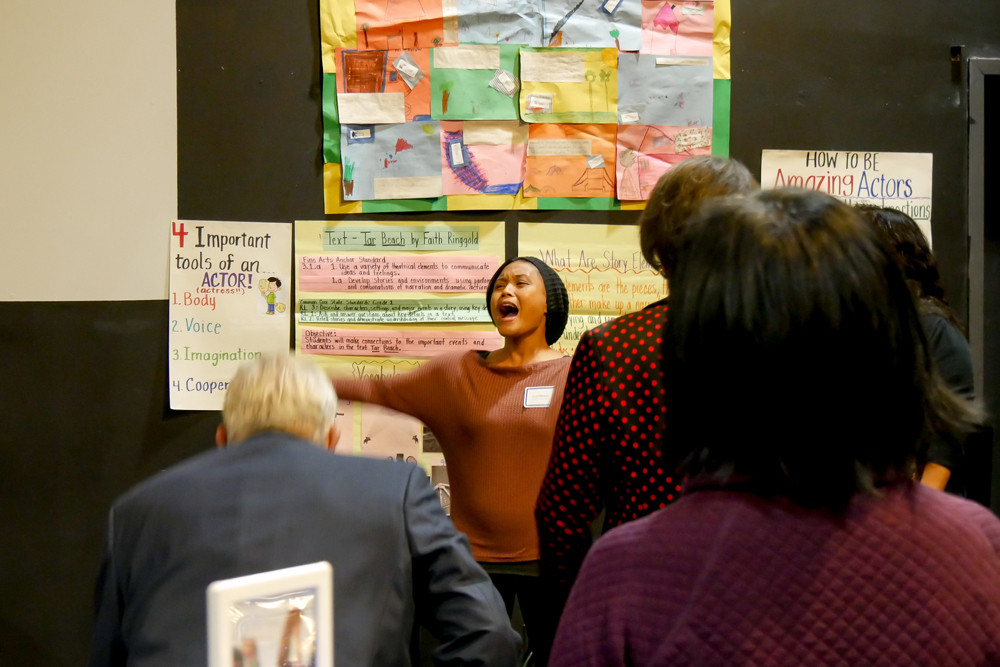 Written by Barbara Krebs,
Young Audiences volunteer and Sunburst Society member
A few weeks ago, I was happy to attend Young Audiences' third Art Crawl, held this year at the Single Carrot Theatre adjacent to YA's offices.
For those of you who have not attended this annual event, I highly encourage you to do so. First of all, you'll get to party with a group of fun, interesting, entertaining and dedicated folks. Secondly, you'll get to enjoy the learning environment presented to the kids who attend YA's Summer Arts & Learning Academy (SALA). And by that, I mean you'll act, play music and create artwork, which helps you understand your reading assignment or your math homework. And finally, you get to nosh on great hors-d'oeuvres and sip handcrafted cocktails created by some of YA's board members!
As always, I find myself splitting my time between talking to people I've met in the past, and meeting new folks who have interesting stories to tell. This time was no different. Balancing a plate of delicious appetizers from Copper Kitchen and a glass of wine provided by North Charles Fine Wine & Spirits, my husband and I soon found an empty spot at a table and introduced ourselves to Cori Daniel and Carlotta Williams. Turns out they were actually a teaching artist/teacher team who would later explore the book, Tar Beach, a story by artist Faith Ringgold recalling the dream adventure of a young girl flying high above her neighborhood in 1939 Harlem.
No matter the genre, the goal is making sure the children stay focused on the subject matter, sneakily presented as a lot of fun.
But I didn't know this yet. What I did find out though was how long they had been teaching, what they taught, and I got to observe their obvious enthusiasm for the children and learning. Their animated conversation about their SALA classroom was fascinating, as were their fond memories of inspiring kids to learn while the children used their imaginations to improve their reading scores.
Oh, did I just use inspire, imagine and improve in one sentence? Yes, I did, and that is, of course, no accident. Having witnessed teachers and children in action in several of SALA's classrooms this summer, and getting a chance to actually engage in it myself during Art Crawl is to truly understand how those three words create an arts-integrated learning environment that SALA uses to stem summer learning loss and bridge the Inspiration Gap.
In SALA's five-week summer classrooms, kids use a wide variety of art techniques to help them master core subjects – whether it's textile art to illustrate a story they are studying or rapping their multiplication tables or dancing to show character development. No matter the genre, the goal is making sure the children stay focused on the subject matter, sneakily presented as a lot of fun.
And so it was. In the segment taught by the second-grade teacher and teaching artist I had just met, we warmed up with some dance movements to highlight acting concepts. Then we looked at the pictures in the book and explained what we saw in them. Finally, we paired off and used our imaginations to explore a special place for us – one that made us feel warm and welcomed.
Next up was a math segment, guided by teaching artist Nadia Rea Morales and teacher Jose Hernandez. With a chart in the room illustrating ones as yellow, tens as red, and hundreds as blue, I created a Piet Mondrian "masterpiece."  The focus was to teach second-graders their ones, tens, and hundreds places and the relationships between digits and their place value. My own memory of learning such things was of boring, rote exercises that left me cold. Here, I hadn't had so much fun with scissors and construction paper in ages. And to think – I was learning math!
I ended the evening with teaching artist Christina Cook, who was surrounded by a variety of percussion instruments. As she demonstrated how these were used to sound out the syllables in words, I noticed how she was combining both math and vocabulary – a certain number of syllables to express a phrase, as she beat the rhythm on her drum.  She then handed out instruments and instructed us to follow along.
In addition, she said she used this technique to help the pre-K kids she taught to express their emotions. At first, she told us that the students mostly stuck to "happy" or "sad," but soon she noticed that, as the kids gained confidence with the percussion pieces, their emotional range expanded, too. Now they were "curious" and "frustrated" and "ecstatic." She admitted that she was impressed with the varying emotions the kids conveyed as well as the fact that they already had the vocabulary to communicate it. They had only needed the little nudge the music gave them to open up and express themselves more fully.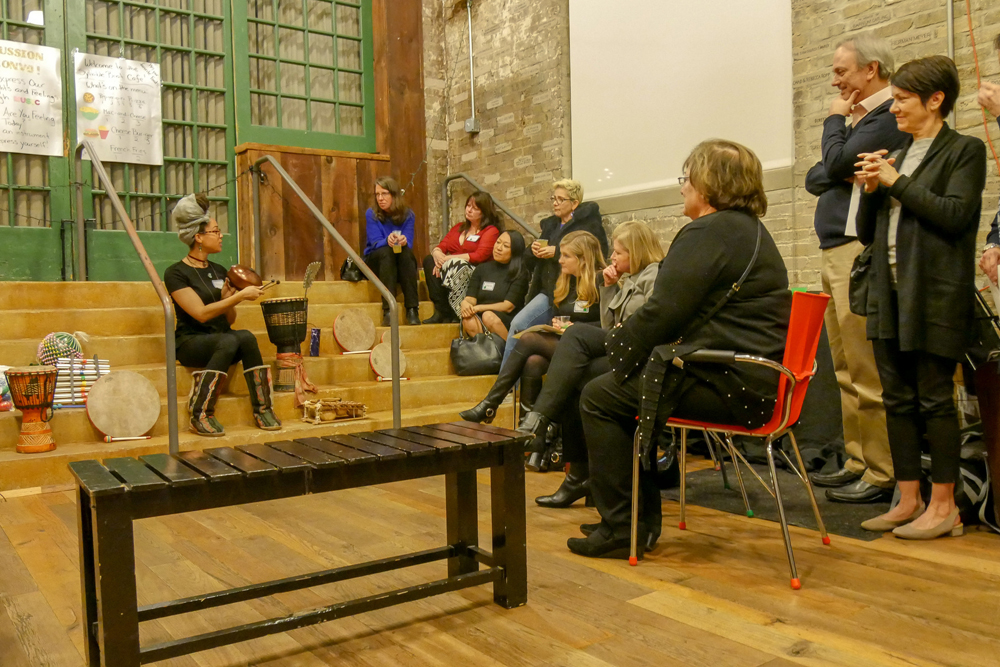 I have to admit – Inspire, Imagine, Improve is a mantra I can really get behind. Because each time I've attended Art Crawl, I come away inspired by all the people who donate time, expertise and/or money to make SALA a reality for 2,100 elementary school-age kids.  I can only imagine how much harder it would be for the children and their teachers if this summer program didn't exist. And I know that Young Audiences' aim to improve test scores and access to arts-integrated learning is something I'm behind 100 percent.
Wouldn't you like a little Inspire, Imagine, Improve in your life?  Come join us next year and I think you'll find your own stories of imagination that inspire you to improve. Until then, Happy Holidays!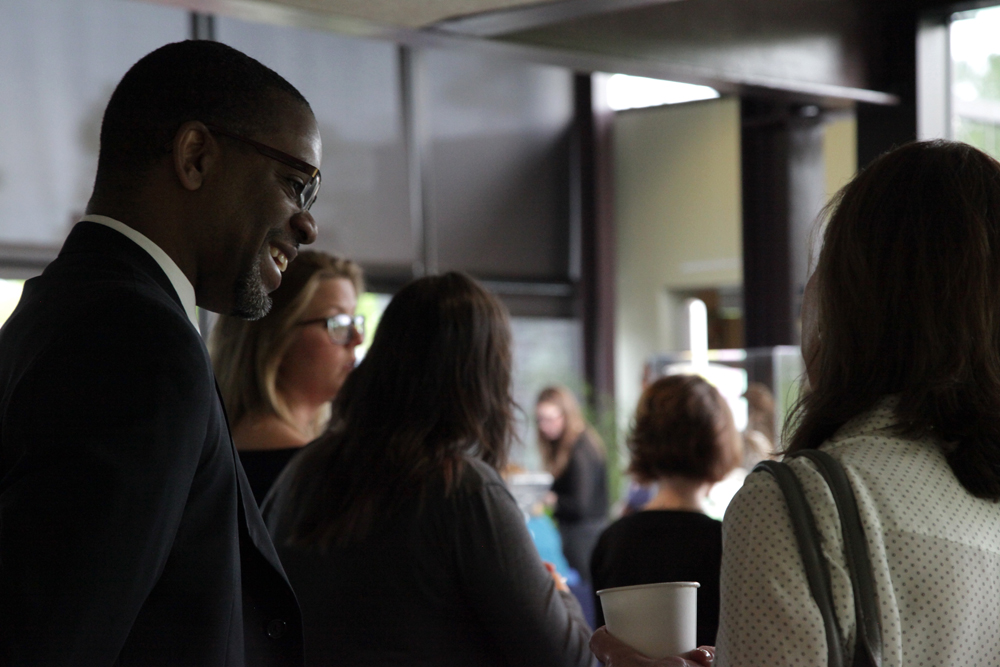 We are reminded every day of the irreplaceable support we receive from those who share in our mission to transform the lives and education of Maryland students through arts experiences. From teachers and teaching artists to principals, parents, and donors, our list of allies is long. And because of our allies, the reach of our impact is wide and growing even wider.
"Thanks to our amazing staff and board, and to our supporters, including our Sunburst Society, our outreach has grown by 400%," executive director, Stacie Sanders Evans, announced at the crowded Impact Breakfast last week. "Last year, we reached 191,000 students at nearly 500 schools with 225,000 hours of inspired learning! Also, we trained 1,096 teachers in arts-integrated instruction – so that means this kind of learning takes place even when our artists aren't in schools."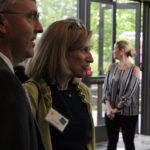 Our teaching artists live and breathe our mission through their work in classrooms every day. And that's just the beginning. While they may fly under the radar, our board of directors includes 23 of the most engaged, hands-on leaders and supporters we could hope for. Their commitment is extraordinary. Our board members can be found supporting our work in any number of ways including authoring blog posts, hosting On The Brightside events or leading full-day staff and teaching artist trainings. You may find them meeting with potential sponsors over lunch, inviting colleagues to our events, learning dance routines with their co-workers from a teaching artist, or even volunteering to make sock-puppets at our Family Engagement Night!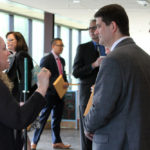 Our board members are proud of the work we all do and they are eager to say so. "Arts integration is when the arts are drilled down into an academic curriculum in a thoughtful and meaningful way – and that is what puts the 'Arts for Learning' in our name and what makes Young Audiences/Arts for Learning so exceptional," explained board member Tea Carnell at the Impact Breakfast. "What do the arts bring to a curriculum? Creativity, joy, and expression are the obvious ones. Arts integration brings mastery, perseverance, insight, focus, understanding, reflection, and problem solving."
It is this passion for arts integration and the desire to reach all children that drives each one of us at Young Audiences, but we wouldn't be able to do the work we do, and we wouldn't be able to reach the children we reach, without the unwavering support of our board members. "We are at this incredible moment in time. We have the evidence our programs work. We have a school system that is asking for help. All we need to do is bravely create the opportunities we know students need," Stacie Sanders Evans told supporters. "Young Audiences, its incredible artists, everyone in this room – YOU – can close the gaps for our young people."
And you are. Because of you, we not only met, we surpassed our Impact Breakfast's fundraising goal. From the bottom of our hearts, we extend a sincere thank you to our board, to Alan Hoff, chair of our major gifts committee, and to each and every one of our wonderful supporters. Visit yamd.org to learn more about the programs we offer and how you can help us reach even more children.