Young people especially have felt the brunt of disappointment this year. It's been hard for adults not to throw up our hands defeated by what felt like every important event and pivotal milestone of 2020 being cancelled. Imagine how that feeling must be amplified in teenagers. And it wasn't just the celebratory moments, the graduations, dances, concerts, performances, and year-end trips being cancelled. Important next steps were postponed and progress, halted.
Many students relying on the professional experience an internship provides have missed out on those opportunities as well. But not Bloomberg Arts interns. The Bloomberg Arts Internship (BAI) has always been special. Since 2017, the chance to work within arts and cultural organizations, to learn from and alongside arts and cultural professionals, and to be a valued voice within an organization has been extraordinary for rising high school seniors in Baltimore City. Couple that with mentorship, college prep, and practice with writing coaches, and you can understand what makes BAI such an invaluable opportunity for young people at the intersection between high school and college. It had to happen.
Each host city—Baltimore, Boston, New York City, and Philadelphia—stepped up to the challenge of reimagining and delivering an intense and multifaceted program involving multiple organizations and students from many different high schools in a virtual space this summer. If that doesn't tell you that the Bloomberg Arts Internship is something extraordinary, know this: 75% of our Baltimore program's college mentors are BAI 2017 graduates and our social media manager, Josh Ray, is a BAI 2018 graduate. To have so many alumni return full-circle to guide students, to make sure that they, too, have the opportunities, training, and insight needed to be successful in college and careers speaks volumes. We are so honored.
The 2020 Bloomberg Arts Internship Worksites:
Art with a Heart
Arts Education in Maryland Schools (AEMS)
Arts Every Day
Baltimore Jewelry Center
Baltimore Youth Arts
Creative Alliance
Dance & Bmore
DewMore Baltimore
Evergreen Museum and Library
Homewood Museum
Living Classrooms – Ascend through Music Program
Maryland Historical Society
Maryland Institute College of Art
Single Carrot Theatre
The Baltimore Museum of Art
By now, our 2020 cohort of Bloomberg Arts Interns have each settled into working with one of these 15 arts and cultural organizations in Baltimore–some who have welcomed interns since the program began in 2017, some brand new this year, all of them excited to work with students and make the most of their internship even in a virtual landscape. We cannot wait to hear and read about the projects they will imagine and develop this summer in their blog and through their Instagram page. Like most programs post-COVID-19, the Bloomberg Arts Internship looks a little different this year. But it feels right.
The Bloomberg Arts Internship is managed by Young Audiences through the support of Bloomberg Philanthropies. Learn more about the program here.
This week, 35 Bloomberg Arts Interns—all rising seniors in Baltimore high schools—will be winding down their travels in and out and through our city's marvelous historic and contemporary art-filled spaces. We are lucky, here in Baltimore, to have such esteemed institutions that not only teach, but listen. They value our young people's contributions and know that in order to ensure a vibrant future, they must consider voice in their collections, among their staff, and at the helm.
Baltimore is not alone in its work to become more inclusive and reflective of the community among leadership and staff. "In a city that prides itself on both the diversity of its population and its globally recognized cultural institutions, there is a lopsided reality: While about two-thirds of New Yorkers are people of color, two-thirds of the people who run its cultural institutions are white," wrote Julia Jacobs for the New York Times.
"Our interns are high school students. They are growing up in a world where equity is important and know what it truly means for a space to be equitable for all," said Philip Muriel, Bloomberg Arts Internship Lead Coordinator. "Our worksite partners are providing extensive opportunities for our interns to help make their institution more aware and inclusive."
Twenty local arts facilities and museums are currently providing positions within their institutions to our interns that offer a wide range of dance, music, art, theatre, cultural, and curatorial opportunities. In 2017, our first cohort of interns visited the Baltimore Museum of Art and learned about the museum's challenge of not just welcoming the community, but making sure the community feels welcomed in the space. There is a difference.
Less than a year later, acclaimed artist Amy Sherald joined their board. Christopher Bedford, the museum's director, said in a statement, "As we develop a new strategic plan, it is important to have the voice of artists like Amy on the BMA's Board of Trustees. Amy will bring a unique perspective to museum leadership, one that not only draws on her career as one of today's most important artists, but also on her ties to the city of Baltimore itself."
"Static, monolithic history must be supplanted with histories, plural—even as museums continue to safeguard the past in the objects they conserve and display. Directors and their staffs can enact bold forward-looking visions only when their boards support them in seeing museums as spaces to challenge, take creative risks and not simply conserve," wrote Darren Walker in a New York Times op-ed earlier this summer.
Changing narratives to reflect our very diverse population—one that is youthful, justice-minded, and looking to connect with and build upon the treasures that fill our institutions—does not detract or devalue. On the contrary, relevance ensures community involvement and support. It ensures that a new generation will love and enjoy and support our city's museums. Relevance shows an institution's willingness to evolve. Relevance builds trust and confidence in communities' willingness to grow and learn alongside institutions both now and in the future.
Step into 1 West Mount Vernon Place, the Walters Art Museum's 19th-century mansion, and you are not just engulfed in the luxurious architectural details and pristinely preserved artifacts from distant cultures, you are drawn into stories. Works from ceramicist Roberto Lugo illuminate the life of Sibby Grant, as does the community art project, led by local ceramicist and educator Herb Massie and art program Jubilee Arts, which incorporates over 200 plates made by members of the Baltimore community.
Now wrapping up its third year in Baltimore, the Bloomberg Arts internship is ensuring that our students' ideas and contributions are helping to shape and secure the future and relevance, as well as the inclusiveness, of arts organizations in Baltimore and beyond.
"Two of our interns, Connor and Isabelle, are working at the Walters Art Museum on a gallery guide aimed toward teenaged guests," Philip said. "Another, Sonia, is interning at Wide Angle Youth Media where she is working as a journalist this summer investigating the dangers of heat-related illness in low-income communities."
At all of our 2019 worksites, these students' ideas are valued, their participation is appreciated, and their voices are heard. And while there is still plenty of hard work to do to achieve equity and representation within our arts and cultural institutions, we can at least know that these aren't just places where community and student voices are welcomed, but places they are wanted.
The Bloomberg Arts Internship is managed by Young Audiences through the support of Bloomberg Philanthropies. It is a rigorous eight-week program providing 35 rising Baltimore high school seniors crucial college and career readiness preparation through hands-on, real-world workplace experiences and professional development. We are so proud of our interns and all they have accomplished this summer. Learn more about the program at yamd.org/bloomberg-arts-internship.
Written by Barbara Krebs,
Young Audiences volunteer and Sunburst Society member
Classes may be just about to wrap up, but for 33 Baltimore students who have accepted positions in the Bloomberg Arts Internship this summer, a different kind of learning experience is only beginning. Young Audiences, with funding from Bloomberg Philanthropies, established a now eight-week program three years ago to offer paid internships to rising high school seniors. Twenty local arts facilities and museums are currently providing jobs that offer a wide range of dance, music, art, theatre, cultural, and curatorial opportunities.
It's no great secret that internships are often viewed (and rightfully so) as stepping stones to higher education opportunities and greater career possibilities. Internships offer high school and college students crucial job skills and mentorship relationships that help them stand out in an often crowded job market. But paid internships can be few and far between.
The Bloomberg Arts Internship aims to make paid internships in the arts and culture field more inclusive and available to students who otherwise may not have the opportunity to network and build skills in that professional setting.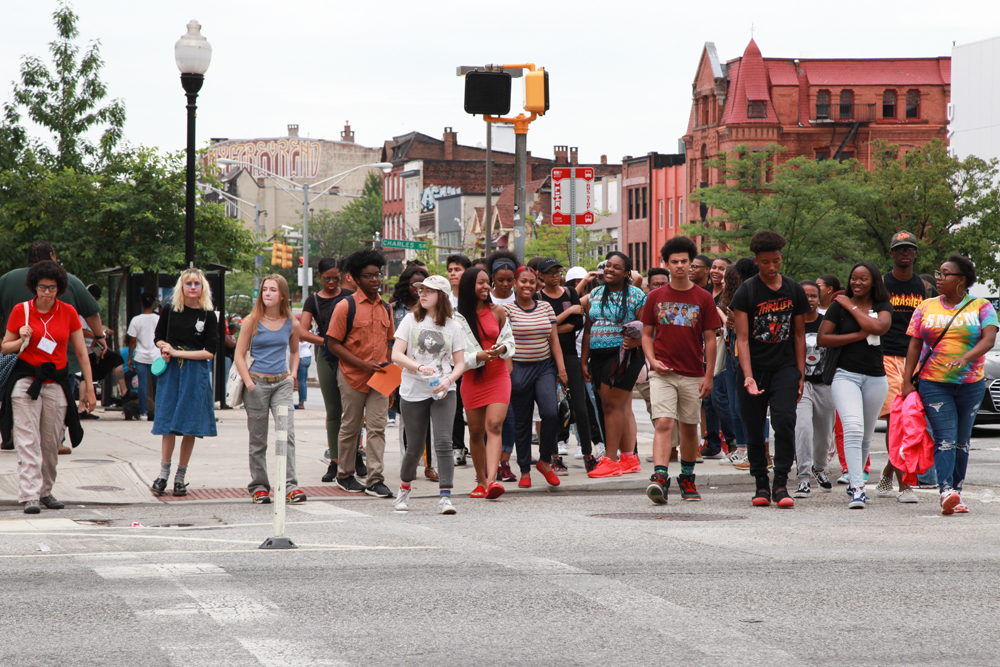 An article–How Internships Are Changing the Art World–from Artsy.net has this to say about how intertwined the relationships and skill building are. "It's not only that your intern could be your successor, they might one day be your colleague," said Selene Preciado, program assistant for the Getty Marrow Undergraduate Internships in Los Angeles.
Indeed, they might! But these Bloomberg Arts internships go far beyond job training and networking, as important as these are. These students will gain familiarity and comfort with workplace etiquette, improve verbal and written communication skills, explore cultural assets in our city, develop critical life and work skills, and prepare to apply and transition into college. In addition, the program aims to encourage a more equitable and diverse range of staff and audiences among cultural institutions, while instilling in the students an understanding and appreciation of the important civic contributions of arts and culture.
That's a lot to learn in just eight weeks! And yet, these arts internships provide not just amazing arts education, the students also strengthen their:
computer capabilities (Center Stage – "how to use leading software for the industry")

 

research, interview, and publishing skills (Baltimore Office of Promotion & the Arts – "the student will research history, interview artists, and ultimately publish a youth-organized 'tour' of murals and sculptures")

proficiencies in following a project to completion (Maryland Film Festival – by curating and promoting short films, the student will "be involved in every aspect, from curation to marketing to execution.")

 
In short, skills to last a lifetime. In the Artsy article, Maxwell Anderson, president of the Souls Grown Deep Foundation in Atlanta said, "Museums desperately need talent in all sorts of positions–curators represent a fraction of the staff of museums. We'd be thrilled if an accountant emerges from [our program] and finds their way into the museum profession, but they're an accountant who has knowledge and experience in a particular cultural remit that otherwise they may not have."
In the short bios that the students provided, I noticed one recurring theme: learning. These are students who have a passion for learning, who will make the most of their internship, and who will carry what they learn with them into the future. I have no doubt that they will take this small stepping stone and use it to build a solid foundation in the years to come.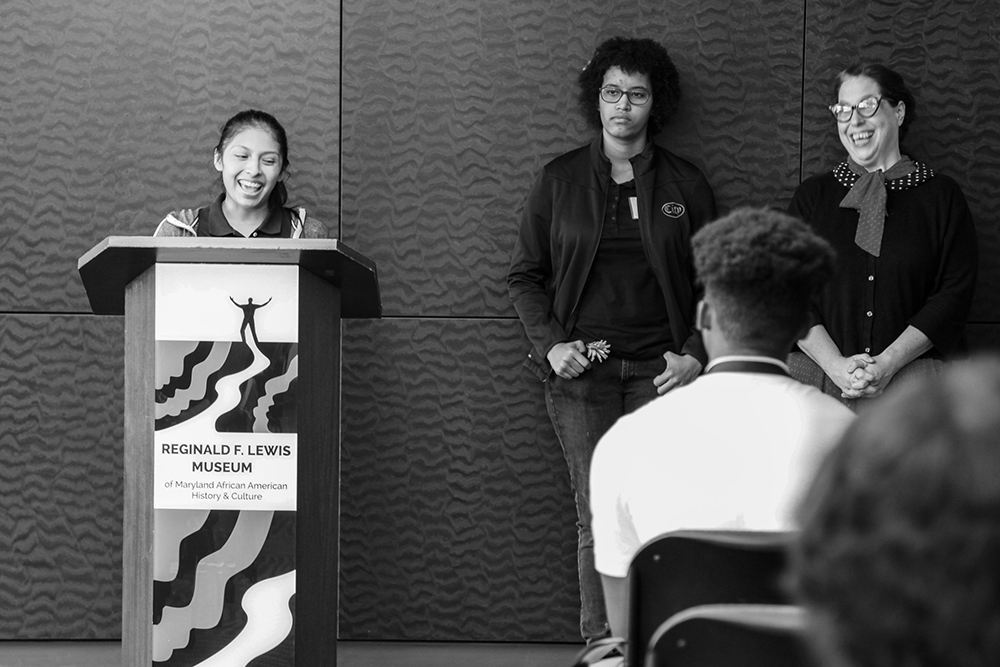 This summer, rising high school seniors in Baltimore City Public Schools will have the opportunity to work and learn in one of Maryland's stellar and well-respected arts and cultural organizations through the Bloomberg Arts Internship, a program designed to challenge and inspire students.
The 2019 Bloomberg Arts Internship worksites are:
Art with a Heart
Arts Education in Maryland Schools (AEMS) Alliance
Arts Every Day
Baltimore Clayworks
The Baltimore Museum of Art
The Baltimore Office of Promotion & the Arts
Center Stage Associates, Inc. (Baltimore Center Stage)
Dance & Bmore
Evergreen Museum and Library
Everyman Theatre
Homewood Museum
Maryland Film Festival / SNF Parkway Theatre
Maryland Historical Society
Maryland Institute College of Art, Young People's Studios
Peabody Preparatory
Port Discovery Children's Museum
Reginald F. Lewis Museum
Single Carrot Theatre
The Walters Art Museum
Wide Angle Youth Media
Students will get paid, hands-on, meaningful experience learning about the many roles played behind the scenes at these organizations. They'll also complete a special project unique to their worksite placement!
Collin Snow Stokes, a 2018 intern at the Reginald F. Lewis Musem, interviewed and documented the thoughts and feelings of Lewis staff, visitors, and volunteers evoked by objects reflecting Jim Crow era stereotypes from their exhibition "Hateful Things."
Bella Smith, a 2018 intern at Evergreen Museum and Library, curated the exhibition "New Acquisition – Works by Aaron Sopher." She cataloged 34 of the artist's drawings, then transferred the catalogs to a digital file before selecting which works to exhibit, and matting, framing, and labeling the pieces for the show.
Internship projects vary among organizations to include production, education, development, community engagement, artist engagement, video, music, administration and more. At the end of the program, interns create final presentations highlighting their experiences, sharing with the community the new skills and interests that have developed over the course of their internships at each site.
In addition to gaining valuable work experience, Bloomberg Arts interns will be honing writing skills while preparing personal essays and receiving guidance in applying for colleges. They'll also have the chance to explore cultural institutions through field trips, and to see/hear/talk about works of art in various arts disciplines (visual art, music, theatre, dance, design, film/video, and technology).
The Bloomberg Arts Internship is managed by Young Audiences through the support of Bloomberg Philanthropies. There are only 35 spots available for rising seniors. Apply NOW!
Application Deadlines:
Early Bird: April 12, 2019
Final: May 6, 2019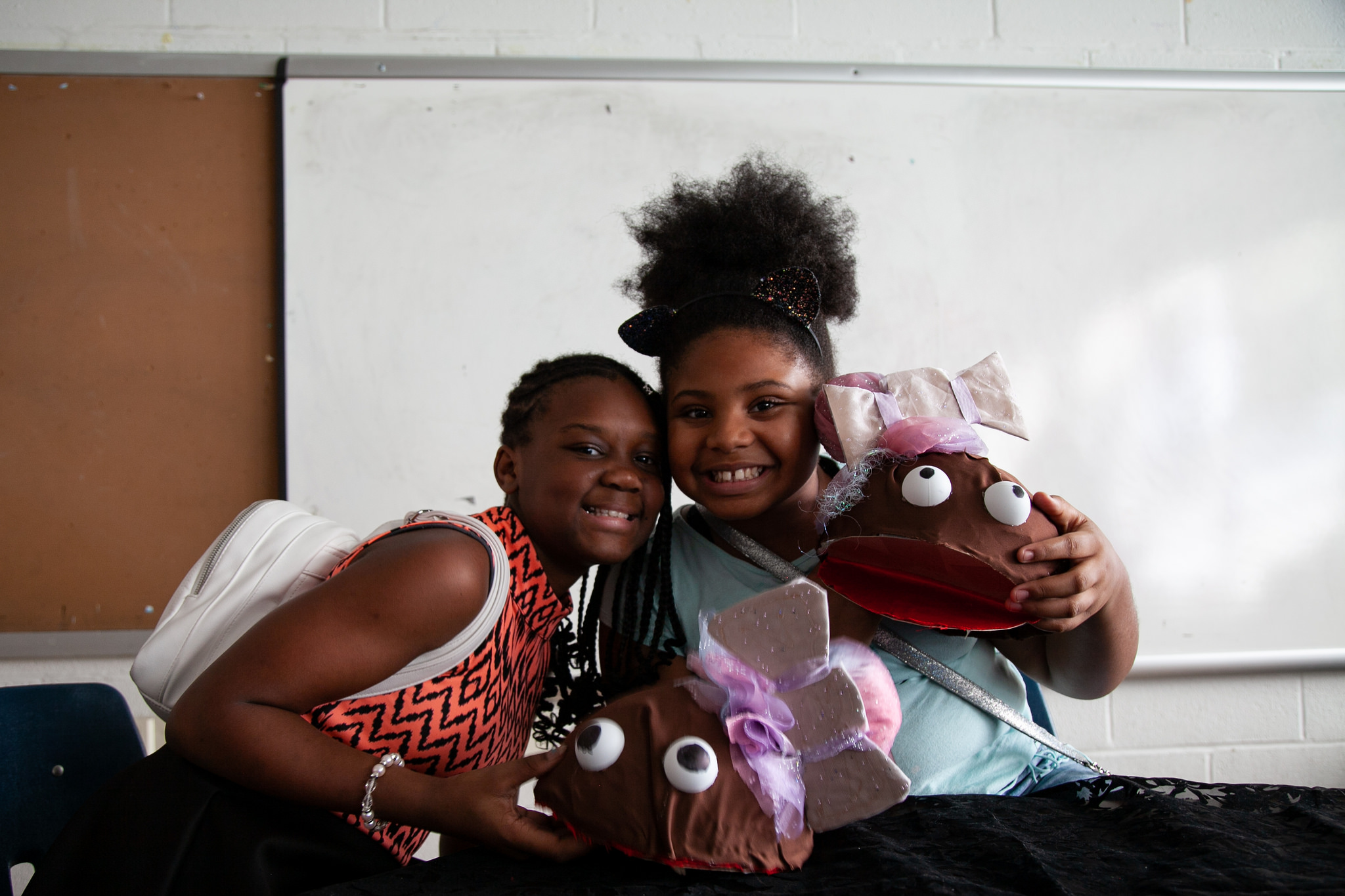 Young Audiences / Arts for Learning Maryland will participate in $43 million program
Young Audiences announced that it is a grantee recipient of Bloomberg Philanthropies' Arts Innovation and Management (AIM) program. The invitation-only program seeks to strengthen the organizational capacity and programming of small and mid-size cultural organizations within Atlanta, Austin, Baltimore, Denver, New Orleans, Pittsburgh, and Washington, D.C. Through the $43 million multi-year initiative, Bloomberg Philanthropies will provide unrestricted general operating support as well as arts management training in areas that include fundraising, strategic planning, marketing, and board development.
"We're incredibly thankful for Bloomberg Philanthropies' support as we work to infuse and enhance student learning with hands-on arts experiences throughout Maryland," said Stacie Sanders Evans, Young Audiences/Arts For Learning President and CEO. "This crucial funding will strengthen our organizational capacity and support all of our programs, from year-round arts-integrated classroom residencies to teacher and artist professional development."
AIM targets arts non-profits because of the vital role that they play in building communities, driving local economies and supporting artists. "The arts inspire people, provide jobs, and strengthen communities," said Michael R. Bloomberg, founder of Bloomberg Philanthropies. "This program is aimed at helping some of the country's most exciting cultural organizations reach new audiences and expand their impact."
Bloomberg Philanthropies will develop curricula and conduct seminars for the program in partnership with leading experts, including the DeVos Institute of Arts Management at the University of Maryland, led by Institute Chairman Michael M. Kaiser and President Brett Egan. AIM organizations will engage in activities that strengthen their long-term health and goals, and will receive one-on-one consultations and implementation support for organization leaders and their boards.
All organizations invited to participate in the 2018 expansion of the AIM program are nonprofits that have been in existence for at least two years. Participating organizations will be required to secure 20% of their AIM grant in matching dollars; reach 100% board participation in fundraising; and maintain up-to-date information in DataArts, an online management tool that assists arts organizations across the country in collecting, learning from, and using data effectively. The grants will be unrestricted to allow recipients to utilize the funds to address their greatest needs.
Since 2011, AIM has helped more than 500 small and mid-sized organizations in all creative disciplines, including theater, visual arts, music, film, literature and dance. Participating organizations reported significant improvements in board development, fundraising and overall income over the two-year program. Watch this video for an overview of the Arts Innovation and Management program: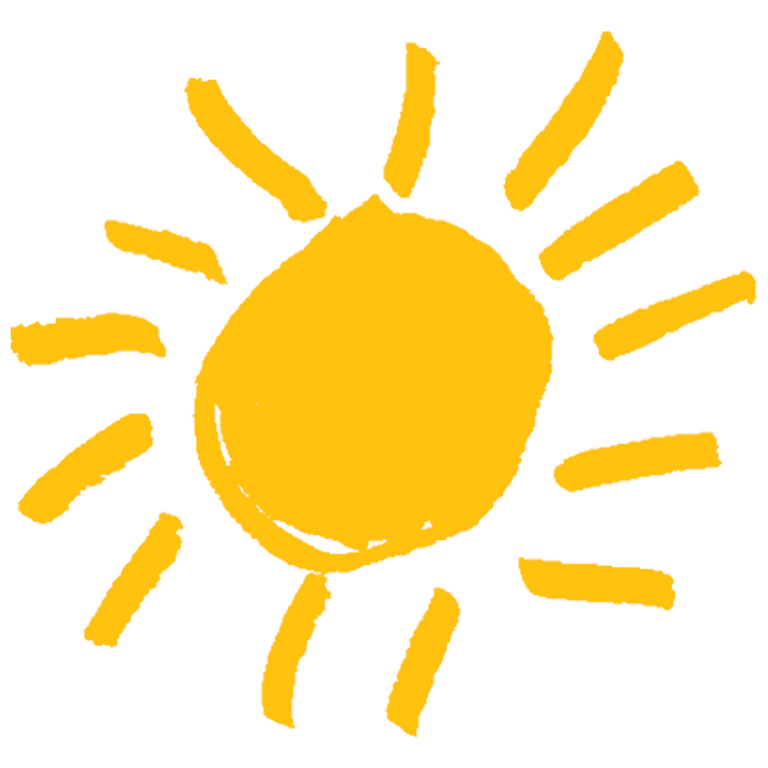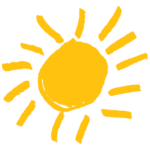 About Young Audiences/Arts for Learning Maryland
Young Audiences is the nation's largest arts-in-education provider and started in Baltimore in 1950. As a Young Audiences affiliate, Young Audiences/Arts for Learning (YA) is a nonprofit organization devoted to enriching the lives and education of Maryland's youth through educational and culturally diverse arts programs for more than 65 years. Each year, YA reaches more than 180,000 students through over 5,000 arts learning experiences by partnering professional artists from all disciplines with schools throughout Maryland for hands-on arts learning experiences. We envision a Maryland where the arts are valued for their capacity to transform lives, and where every student is immersed in opportunities to imagine, to create, and to realize their full potential through the arts. For more information, contact YA at 410-837-7577 or visit yamd.org.
About Bloomberg Philanthropies
Bloomberg Philanthropies works in over 480 cities in more than 120 countries around the world to ensure better, longer lives for the greatest number of people. The organization focuses on five key areas for creating lasting change: Arts, Education, Environment, Government Innovation, and Public Health. Bloomberg Philanthropies encompasses all of Michael R. Bloomberg's charitable activities, including his foundation and his personal giving. In 2017, Bloomberg Philanthropies distributed $702 million. For more information, please visit bloomberg.org.
Written by Barbara Krebs,
Young Audiences volunteer and Sunburst Society member
Field trip! Remember the excitement you felt as a kid when you got to explore the world outside your classroom for the day, file on the bus, and leave school far behind? Well, it was a bit like that on Wednesday, July 25, when a diverse group of Maryland legislators, high-level education officials, and others boarded a bus to learn more about the programs that Young Audiences and its partners are offering Baltimore youth this summer. Except instead of leaving school, we headed toward them!
Initially, visitors met at Moravia Park Elementary School, the first of three stops that day. As Stacie Sanders Evans, President & CEO of Young Audiences, shared in her opening remarks, "We're shining a light on summer learning opportunities; we're shining a light on amazing kids; and we're shining a light on how the arts blends these two things."
At Moravia Park, we visited SummerREADS, a free drop-in literacy program that is the result of partnerships with the Harry and Jeanette Weinberg Foundation, the Baltimore Elementary and Middle School Library Project, Baltimore City Public Schools, and Young Audiences. Over a five-week period of time, more than 500 K-8 Baltimore City students will have had the opportunity to visit one of nine reading sites where they encountered engaging literacy workshops with teaching artists and fun enrichment activities with special guests.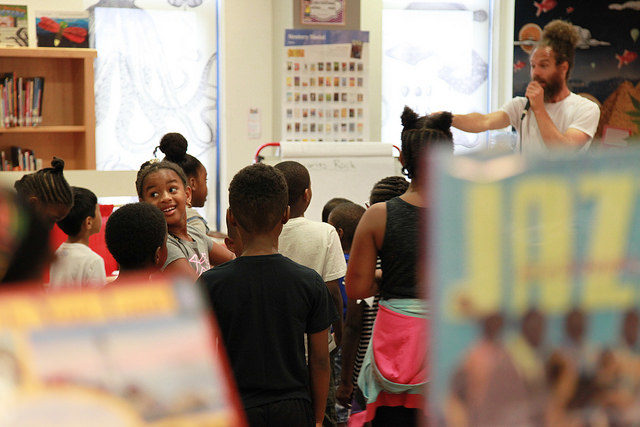 And that is exactly what we found when Max Bent, a beatboxer who has been a Young Audiences teaching artist for 7 years, led a group of six- and seven-year-olds in the basics of beatboxing. He taught them how to make various sounds and then incorporated them into a song, "My Banana." As they counted out beats (three syllables in banana!), they thought of other fruits (apple, two syllables!) to add into the song.
We had to leave for our next stop before he could complete the lesson, but I could already see the intriguing possibilities in beatboxing for both math and English. Before we left the school, there was a quick Q&A session. The questions came fast and furiously from all sides of the room, a testimony to how interested people were, not only in the learning they had just witnessed, but what it took to make this possible.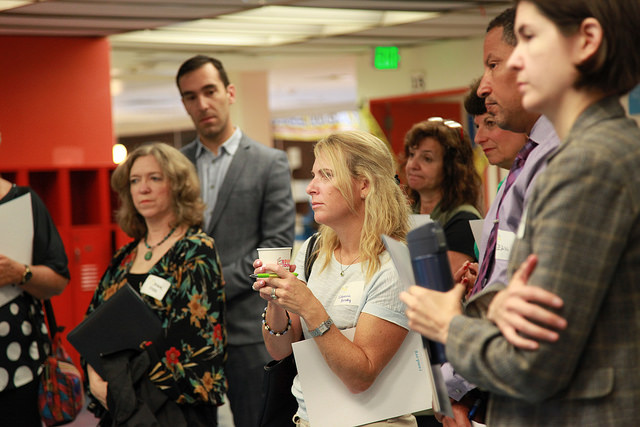 Our next stop was at Dorothy I. Height Elementary School for an introduction to Young Audiences' Summer Arts & Learning Academy (SALA). Here we learned that SALA is a five-week program for Pre-K through fifth graders where the focus is twofold. First, to arrest summer learning loss, and second, to make sure that learning is fun and engaging every day.
At this particular school, 260 children meet each day to learn and reinforce lessons in literacy and math. Last year, Young Audiences reached more than 1,150 children at four different school sites. Incredibly, in one year's time, Young Audiences, in partnership with the Baltimore City School system, has doubled its efforts, reaching about 2,200 kids at eight school sites.
We were then offered the opportunity to enter classrooms to observe the action.  I slid into a third-grade classroom, where the children were focusing on The Red, a book about a confused crayon, whose friends eventually help him discover his true color.
The teaching artist, Daniel Ssuuna, whose specialty is East African dance and drumming, divided the kids into three groups, each focusing on one particular part of the story. Handing out percussion instruments, he instructed students to focus on the emotions of the crayon during their assigned story segment. Was the crayon confused, or supported, or happy? With that in mind, they then created a dance and drum accompaniment to illustrate the crayon's feelings.
Other instructions given by the classroom teacher, Amanda Bila, highlighted listening skills. She asked, "When we are not performing, what do we do?" The kids supplied helpful advice: Be quiet. Be respectful. Listen. Pay attention.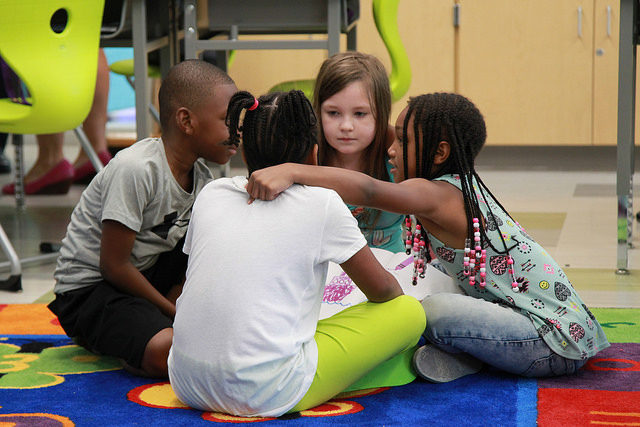 As the groups formed, I watched their interactions with the teachers and each other. I saw collaboration, referring to the book for inspiration, asking teachers questions, answering questions from the teacher, ideas discussed, ideas kept or discarded.
If Socrates had walked into this classroom, I'm sure he would have been proud to see his famous critical thinking methods being deployed.
Though I would have loved to watch each group perform, sadly, our time was up. Still, the excitement the kids exhibited as they analyzed their book was a potent reminder of how exciting and fun learning can be when you combine the arts and dedicated teachers.
Next we traveled to the Reginald F. Lewis Museum of Maryland African American History and Culture. Here we learned about the Bloomberg Arts Internship (supported by Bloomberg Philanthropies NYC) which places 35 Baltimore City rising seniors in paid internships at local arts and cultural institutions. These teens worked throughout the city with a goal of learning career readiness skills through real-world workplace experiences and professional development. Additionally, college mentors and writing coaches worked with the interns on college applications, resumes, and other experiences that will help them move to the next level professionally and/or academically.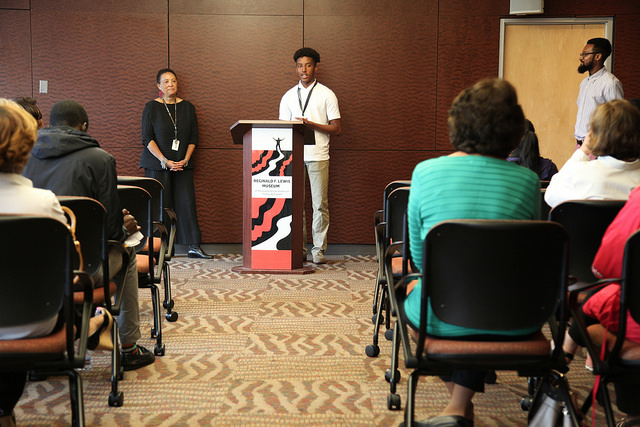 One intern, Collin Snow Stokes, spent his time at the Reginald F. Lewis Museum documenting the thoughts and feelings of Lewis staff, visitors, and volunteers evoked by objects reflecting Jim Crow era stereotypes from their upcoming exhibition "Hateful Things." His goal was 10 interviews, but he became so interested in the project that he exceeded his goal and even had time to do a few more before writing up his findings. And since his goals are to go into journalism and/or broadcasting, the interview process has honed job skills he will use for the rest of his life.
We also heard from two young women, Citlalli Islas and Paris Day, who worked at Port Discovery Children's Museum. Paris was assigned an archival project, logging in items that have been collected by Port Discovery over the 20 years of its existence. As she began her assignment, both she and the curators soon realized that the scope of it was more than they had anticipated. But by creating a system to log and track the items, they have begun the process that will help the museum maintain its collection for years to come. And as an added bonus, as she archived items, the collection overseers realized what a great exhibit some of the artifacts would make and, thus, an exhibit was born!
Citlalli interned in the exhibits department and has learned a lot about all the behind-the-scenes work that goes into creating and maintaining a museum exhibit. Obviously, this requires artistic vision. But beyond that, this has called on her to be innovative, meticulous and organized – not a bad group of skills to acquire before college and beyond.
Finally, it was time to get on the bus to return to our cars. As we wound our way down Baltimore's city streets, I listened to the conversations around me, ranging from other arts organizations and what they accomplish in their communities to legislative and philanthropic aides asking questions about the work that Young Audiences does and how each person present got involved.
And as I thought about involvement, I remembered another thing that Stacie had said at the beginning of our journey: It takes a village. At the time she was referring to the teaching artists, librarians, kids, and parents who were involved with SummerREADS. But it was just as applicable to each program we visited, and to each organization that contributes time, money, or leadership.
None of what I had witnessed occurs in a vacuum. The sheer number of people, funds, and time takes a rather large village, actually. And I'm happy to be a small part of this Young Audiences village. It's a great place to be and I invite you to join me! Field trip!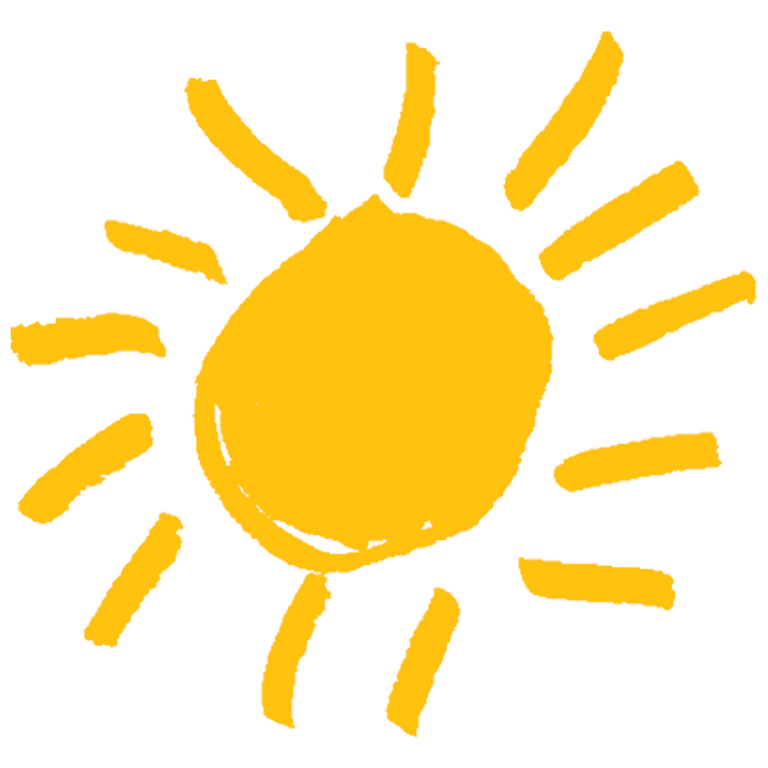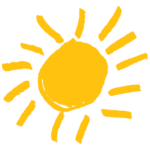 Learn more about our mission, our methods, and our future plans during a one-hour Meet Young Audiences event. In addition to hearing from the organization's leaders and getting an inside look into the amazing work we are doing around the state, one of our roster artists will share their amazing work with you and speak about how the arts complements and enriches classroom learning. Please reach out to Ingrid Murray, Individual Giving Manager, at [email protected] for more information or call (410) 837-7577 x. 107. Interested in hosting your own Meet Young Audiences event? Find out more here!
The school year may only have just ended, but this year's cohort of Bloomberg Arts Interns have already been hard at work for three weeks now. They attended a week of rigorous orientation and participated in behind-the-scenes tours and presentations at arts organizations. And perhaps most significantly, interns have gotten their feet through the doors of a number of reputable arts and culture organizations and have begun weaving themselves into passionate and supportive arts and education networks.
Outside of their internships, the students participate in professional development, college prep workshops, and writing coaching sessions. On these days, students receive guidance and support with completing college applications and build strong career skills with mentors and writing coaches. They create personal essays, write responses to art and performances, and work not just on college applications, but prepare for the bills, the challenges, and the change that comes along with transitioning to a college or university.
Two of last summer's Bloomberg Arts Interns, Jahsol and Sequoia, will be headed to Bard College at Simon's Rock and the Arts Institute of Chicago, respectively, in the fall. But first, the pair visited students at OpenWorks to answer questions and give them insight into their own internship experiences last summer. The questions poured in. While just a year older than the 2018 interns, Jahsol and Sequoia had so much knowledge, experience, and wisdom to impart, getting this year's cohort excited about the possibilities to come.
A college panel brought together three community members to talk about first-hand challenges, solutions, and to provide conversation and guidance in applying and adjusting to college life: Danielle Staton, Program Manager of Fund for Educational Excellence; De'asia Ellis, a Frederick Douglass High School graduate and current Goucher College student; and Ruben Ramirez Jr., a graduate of Digital Harbor High School and restaurant entrepreneur.
From practical advice, like applying to more than one school and developing a plan for time management, to being prepared to handle rejection, facing culture shock and loneliness away from home, or confronting ignorance and discrimination, the panellists shared valuable online resources and their honest experiences to help prepare the interns for what may come in the next year, not to mention all the steps required just to apply. "It's hard when families don't know how to get there," said Ms. Ellis. She advises students who may not have family to support them through the daunting application process to find a mentor to help guide them.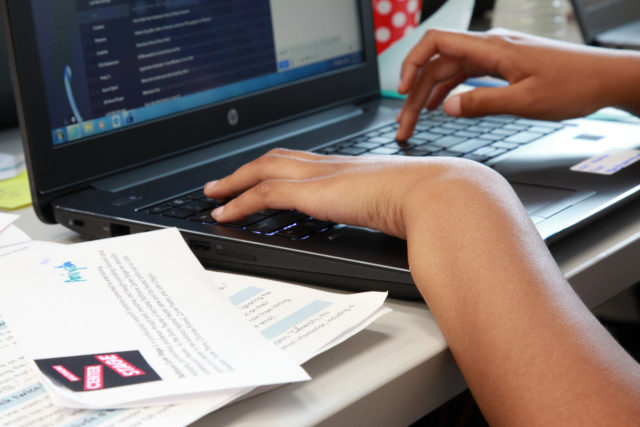 As the summer progresses, this year's cohort will continue to be afforded the chance to explore art of every discipline, and to meet and learn from artists, curators, and everyone else who works so hard to keep local institutions dynamic, engaging, up, and running. And while they are busy working on projects for their worksites, they will be networking. They will be making lasting connections, opening themselves up to all that is possible in a career in the arts, and forging their futures.
The Bloomberg Arts Internship is managed by Young Audiences through the support of Bloomberg Philanthropies. Learn more about the program here.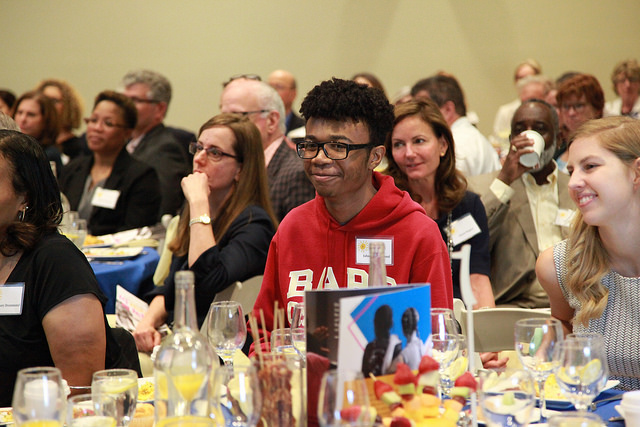 Written by Jahsol Drummond
The 2017 Bloomberg Arts Intern and Filmmaker delivered the following speech at Young Audiences' annual Impact Breakfast earlier this month.
My name is Jahsol Drummond. I am eighteen and currently a senior at Bard High School Early College.  I have attended Baltimore City Public Schools since kindergarten and I have never been a big fan. I was always told I was a good kid but my grades never really reflected that. From early on I was put in a box. Once I got to middle school, classes were separated and labeled 31 through 34. We all knew that groups 31 and 32 were supposed to be for the smart kids and 33 and 34 were for the "dumb" ones. I was in 33, and the stigma of feeling lesser set in, but I was also just glad I wasn't in 34.  
When I didn't get good grades in middle school, I couldn't get into a good high school, and a cycle began. This is the problem. In middle school, a composite score based on the grades you earn determines where you can go to high school. Once kids get behind in their education here in the city, they get derailed and there isn't much help to get you caught up. Luckily, I found Bard High School Early College, a school with college-level expectations that encourages its students to think. Bard gives kids who haven't done well in the current system a second chance and (I think) a better education than any other city school can provide.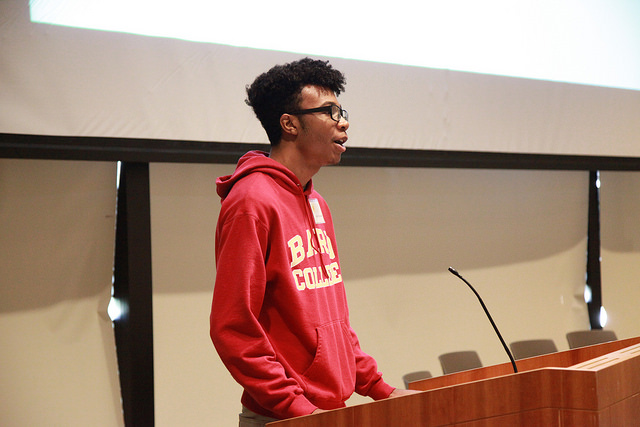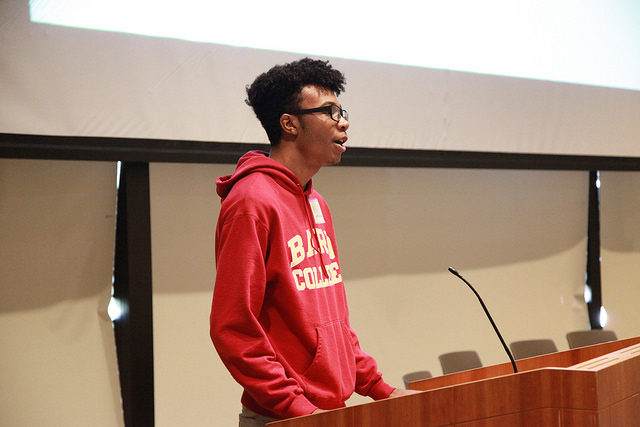 I first learned about the Bloomberg Arts Internship from Bard's guidance counselor. This program, which is managed by Young Audiences, matches students with arts and cultural organizations for a paid internship over the summer. I wanted to be a filmmaker, but I wasn't sure how to go about it.
So, I was excited when I was accepted into the program and Young Audiences matched me with Tim Nohe, who is the Director for the Center for Innovative Research in the Creative Arts (CIRCA) at UMBC and a filmmaker. We clicked instantly. We saw that we had a common interest in using film to communicate perspectives.
On the first day, Tim and I hit the ground running. He taught me how to use the camera, and how to use editing software. My first project was to film interviews with the arts staff at the university. I was involved throughout the entire production process: from researching the artist, to formulating the questions, filming the interviews, and editing the footage. Tim believed in me and over my six weeks at CIRCA, I was exposed to the world of professional filmmaking and working with people to create pieces of work that I cared about. I made something I was proud of and a spark ignited. That first-hand experience helped me get involved in the local industry and I came away feeling like I had earned the title of filmmaker.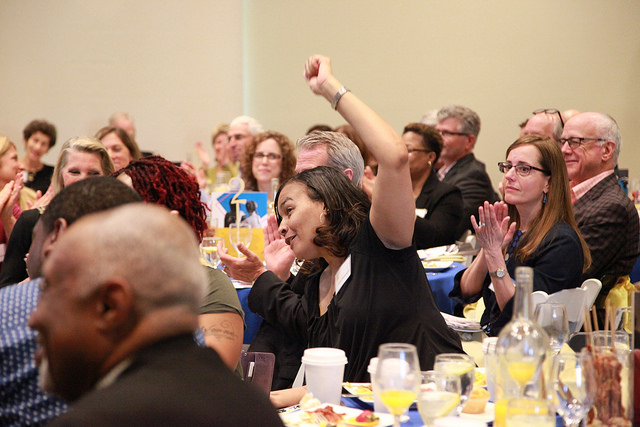 On top of connecting me with a great worksite, Young Audiences helped me and my fellow interns apply to college. We spent time working on our college essays and doing extensive research on the colleges we wanted to attend for the next fall. Today, I'm graduating from Bard with an Associates degree and I will be attending Bard College at Simon's Rock in Massachusetts on a full-ride scholarship and with all of my current credits carried over.
At the end of the summer, Young Audiences required me and the 24 other Bloomberg Interns to present what we learned in a public presentation in front of hundreds of people. I had the opportunity to show what I had learned by producing my own video for my presentation. I was really pleased with how it turned out, and there were leaders in the city's arts and cultural industry who were impressed with my work too.
My dream is to communicate the problems in our educational system through film, and now that I have finished the program, I know that I can do this. I hope my films inspire a spark within others to make a change. I now know enough to trust my spark to guide my work, and Young Audiences hiring me to film all three of YA's summer programs this year means that others believe I have it in me, too. My career has only just begun, and it's already so exciting. Thank you to Young Audiences and Bloomberg for opening this world up to me, and a special thanks to Tim for showing me the way.
Young Audiences is excited to announce the arts and culture worksite partners for the 2018 Bloomberg Arts Internship in Baltimore. This year's expansion of the program meant that we needed to partner with even more of Baltimore's high-quality, renown institutions than we did last year. In order to fully serve the needs of the incoming cohort of interns, we increased the total number of worksite partners from 14 to 20. Bloomberg Arts interns will be gaining tremendously valuable experience working and learning three days a week at one of the following 20 local arts and cultural organizations this summer:
Internship projects vary among organizations to include production, education, development, community engagement, artist engagement, video, music, administration and more. Last year's interns worked on everything from curating museum exhibits, to integrating technology into museum experiences, to engaging young children in arts activities. At the end of the program, interns create final presentations highlighting their experiences, sharing with the community the new skills and interests that have developed over the course of their internships at each site.
"I love being at the Bloomberg Arts Internship. You guys have helped me grow in the working field and I would not trade out the people I have met for anything in the world." –Triaje Eaddy, 2017 BAI intern
A large network of community partners are working to prepare 35 hard-working and motivated Baltimore City Public High School students for higher education and careers in the arts. Baltimore is rich with not only excellent arts and cultural institutions, but with the phenomenal people whose contributions and passion make those very same organizations so great. "I love being at the Bloomberg Arts Internship," said 2017 BAI intern Triaje Eaddy. "You guys have helped me grow in the working field and I would not trade out the people I have met for anything in the world." Introducing young minds to the people, all of the incredible possibilities, and the many opportunities open to them in a career in the arts is a great gift to us all.
The Bloomberg Arts Internship is managed by Young Audiences through the support of Bloomberg Philanthropies. Learn more about the program here.
Categorized:

Bloomberg Arts Internship, News, Summer Learning

Tagged:

Art With a Heart, Arts Every Day, Baltimore Center Stage, Baltimore City Public Schools, Baltimore Creatives Acceleration Network, Baltimore Museum of Art, Baltimore Symphony Orchestra, Bloomberg Arts Internship, Bloomberg Philanthropies, Creative Alliance, Dance and BMore, Everyman Theatre, Maryland Film Festival, Maryland Historical Society, Maryland Institute College of Art, Maryland Public Television, Port Discovery Children's Museum, Reginald F Lewis Museum, Sheridan Libraries, Single Carrot Theatre, summer internship, The Peabody Institute, The Walters Art Museum, Wide Angle Youth Media, Worksite Partners
The Bloomberg Arts Internship program is returning to Baltimore this summer, expanding to 35 paid, six-week internships for Baltimore City rising seniors at local arts and cultural institutions. Running June 18 to August 3, students will participate in college and career readiness preparation through hands-on, real work experiences in the arts and engaging professional development.
Applications are now being accepted for interns and host organizations. Rising high school seniors may apply until March 30, 2018. The deadline for Baltimore area arts organizations interested in hosting interns is March 2, 2018. Both applications can be found here.
The internship program is managed by Young Audiences through the support of Bloomberg Philanthropies. Bloomberg Philanthropies increased its support from 25 students last year.
The 35 Bloomberg Arts Internships interns, selected through a multi-step application and interview process, will work with arts organizations three days a week, visit cultural institutions once a week, and engage in professional development trainings once a week. Students will develop organizational work plans, start college applications, analyze art, and complete final presentations highlighting their experiences to be shared with the community on the last day of the program. Internship focuses vary among organizations to include production, education, development, community engagement, artist engagement, video, music, administration and more. Host organizations will include performing arts centers focusing on dance and music, art museums, libraries, theatres and television studios.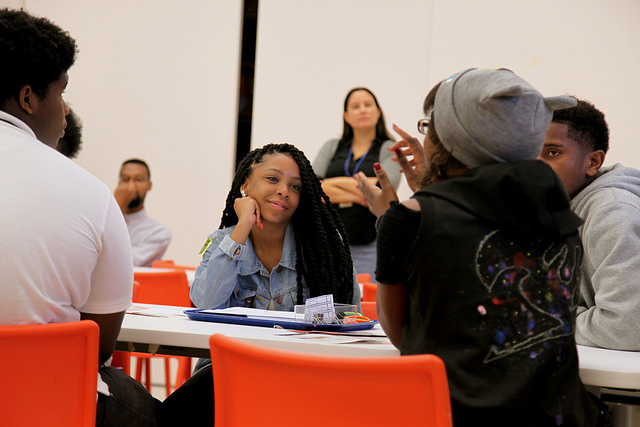 "The Bloomberg Arts Internship program creates wonderful opportunities for young people in Baltimore while expanding the impact and engagement of our vibrant arts community," said Mayor Catherine E. Pugh. "It's so rewarding to witness talented students learning, developing their potential and becoming leaders. We need to do everything we can to support them. I am continuously thankful for Bloomberg's on-going commitment to improving the lives of people in Baltimore."
"Bloomberg Philanthropies' generous commitment to not only return the program to Baltimore, but to expand it, is a testament to the power of this program and the incredible students and arts organizations in Baltimore," said Stacie Sanders, Young Audiences President & CEO. "We're overjoyed for the opportunity to manage a program making such an impact—showing the arts as a viable career path."