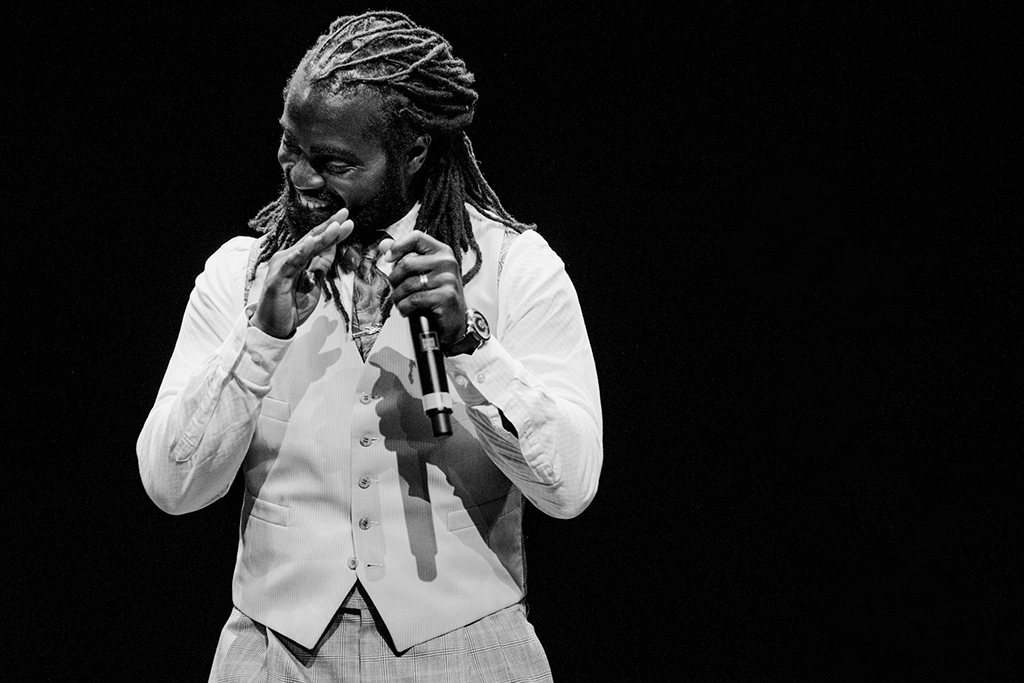 smARTbeats is back this Saturday, January 13 on WTMD during the weekly children's program Young At Heart! On this month's segment, host Lisa Mathews sits down for a chat with Hip Hop performer, YA teaching artist, and Maryland Wolf Trap Artist, Jamaal "Mr. Root" Collier.
A dynamic and engaging Hip Hop artist, Jamaal has been working with Young Audiences/Arts for Learning since 2007, has served on its artist roster since 2013, and was named Artist of the Year for 2016. His energy and passion for the arts is boundless, and show in the volume of work he does, not only offering assemblies and long-term residencies in schools, but also providing professional development for teachers.
By incorporating rapping, vocal percussion, and dynamic stage presence, Jamaal articulates his passionate appreciation for his artistry every time he teaches and performs.
During the segment, you'll hear how the artist, who is also half of the family-friendly beatboxing duo Baby Beats, invites students to learn, listen, and participate.
"(Mr. Root's program) was a true testament of how you can take learning and make it fun," said Ms. Hines, Principal of Villa Maria School after the artists' residency. "He was able to get some of the most resistant kids engaged."
Jamaal uses rapping, freestyling, and beatboxing to appeal to a variety of learners. His students craft rhyming couplets and non-traditional quatrains to analyze and summarize their course content, gaining a deeper understanding of lesson material through elements of Hip Hop.
Take a look for yourself:
Staci Taustine, Fifth Grade Teacher at F.L. Templeton Preparatory Academy said that through her class' residency with Mr. Root, students didn't just advance academically, but socially.
"My students learned how to be vulnerable with one another, brave enough to share their feelings, and empowered to use their voices to express everything they learned," she said. "Each and every one of my students came away with a unique perspective on who they are as individuals."
Jamaal's passion for the arts is clear, as is the impact it has had on his life. "Our life without the arts can be so empty," he has said. Thankfully, the artist shares the power of art, music, and rhyme with students and their teachers across the state of Maryland every day.
Young At Heart airs weekly from 7 to 8 am on Saturdays, featuring music that appeals to parents and children alike. Previous shows have featured music by Wilco, David Bowie, Andrew & Polly, Weezer, and others.
Hear Jamaal "Mr. Root" Collier online now:
smARTbeats returns to WTMD Saturday, October 14, during the weekly children's music program Young At Heart. On this month's smARTbeats segment, Young At Heart host Lisa Mathews sits down for a chat with beatboxer and YA teaching artist Max Bent. Performing for adults and the Pre-K set alike, the artist treats his audiences to a mix of original songs, fun covers, and interactive rhythmic games sure to get you up and moving.
Max started beatboxing at the age of eight, imitating with his mouth what he heard on the radio. Since then, Max's love for the beat has taken him on many exciting journeys and a never-ending search for sounds that surprise him. His experience as a teacher has helped him transition into his work as a teaching artist.
During the segment, you'll hear how the artist, who is also half of the family-friendly beatboxing duo Baby Beats, challenges students and teachers alike to learn by making music. A former science teacher, Max is able to combine his artistic talent with his educational background to make strong connections to specific units and standards in the curriculum with irresistible enthusiasm and energy.
He works not only with kids, but with educators, leading professional development classes to show teachers how music, and, more specifically, beatboxing can be used as a tool to teach fractions and challenging them to think outside the box in their own lesson planning.
Give it a try and see: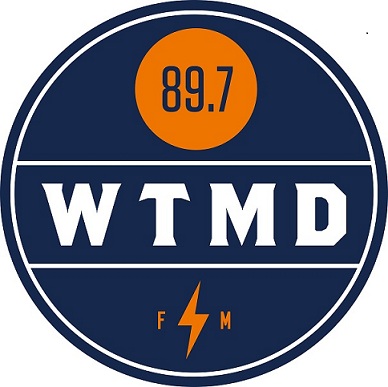 Young At Heart airs weekly from 7 to 8 am on Saturdays, featuring music that appeals to parents and children alike. Previous shows have featured music by Wilco, David Bowie, Andrew & Polly, Weezer, and others.
Hear YA teaching artist and beatboxer Max Bent online now!

By Donna Greenleaf, Coordinator of Gifted and Talented Programs, Dorchester County Public Schools, and Renee Hesson, Coordinator of Instruction for Fine Arts, Dorchester County Public Schools
Being on the Eastern Shore, Dorchester is relatively isolated from many of the cultural experiences available closer to the Baltimore-Washington area. With reduced opportunities to experience art, children and adults can become limited in their thinking and understanding of different art forms. Working with Young Audiences, we tried to find a way to make an arts learning program that was more lasting for Dorchester students. Last year, we developed an assembly and workshop model—something that was totally new to the schools in our county. In the past, we had only ever had large group assemblies. These performances felt like "one and done" experiences and it was hard to measure the impact of this limited exposure to the arts on our students. By adding workshop sessions, we were able to reach more students in a more significant way because they had a hands-on experience with Young Audiences performing ensembles WombWork Productions and Quest Visual Theatre.
This assembly and workshop model was successful, but we thought there was still more to be done to truly impact the culture and climate of our schools through the arts. Artist-in-residence programs have the feature of offering professional learning opportunities to teachers while providing ongoing workshop opportunities to students. Although this was the type of program we believed our schools needed for the arts to have the maximum impact, we told Young Audiences that there was no way that we would be able to afford it. But with Young Audiences' help, we began applying for grant funding to help alleviate the cost and make it happen.
Beginning last spring, we wrote Maryland State Arts Council Arts in Education Artist-in-Residence Grants to bring programs to seven Dorchester elementary and middle schools of the 11 total schools in our district. To supplement this funding, we also applied for a grant from a local foundation, the George B. Todd Fund and for supportive funds from the local Dorchester Center for the Arts. We hoped to bring WombWork back to build on the work they did with our students the year before, as well as bring beatboxer Max Bent and Hip Hop poet Bomani to our students. These Young Audiences artists were chosen to address the specific needs each school had identified as a part of their school improvement plan, including interpersonal skills, bullying prevention, math, and language arts.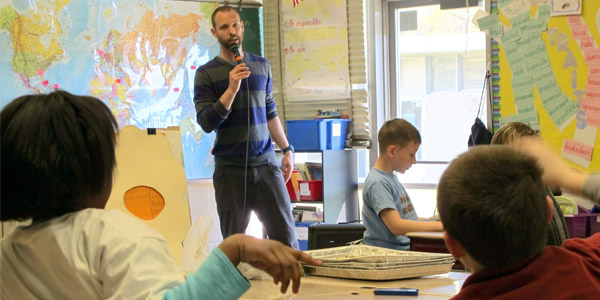 These programs were as much for the kids as they were for the teachers. When Max came to our elementary schools, his enthusiasm brought a lot of energy to the kids and appealed to those kids who needed a different kind of artistic outlet. His program crossed cultural stereotypes and appealed to a wide-range of kids—and adults. Our teachers were reluctant at first, but Max was able to bring everyone into the experience. During pre-program meetings with Max, teachers were impressed that he was able to speak their language. His art form became more than just a nice enrichment activity, but one that made a strong connection to curriculum. Max was interested in what specific units and standards the teachers were working on at the time, and how he could incorporate beatboxing. He wanted to do more than tie into grade-level concepts, but ensure that it was focused and timely in the curriculum. That approach enhanced the partnership feeling between artist and educators.
During the professional development workshops, Max showed teachers how beatboxing can uniquely link to fractions. It was a distinctive example of how educators have to challenge themselves to come up with new and unique ways to teach the material instead of the same ways they've always taught.
In another one of our schools, Mama Rashida and WombWork worked with one classroom that had a reputation for negative behavior and not staying on task when an outsider visited. When we visited this class to observe them working with Mama Rashida on the play they were creating to perform for their peers, every single student was engaged and working together on the activity. Mama Rashida's knowledge of young people and how to quickly build relationships helped support our students emotionally so that the group could get to the important work of learning the language of virtues. This experience proved to us—and to the students—that they have the ability to be college- and career-ready middle school students. They now have a relationship with their classroom teacher that they may not have had without this program.
When Max's residencies began, we thought kids may be reticent about getting up in front of their peers and performing. At both culminating events at the close of the residencies, there was an overwhelming show of hands of students who wanted to get up and demonstrate what they had learned. It was exciting to see our kids transform into performers and there was no judgment. Even when a child got up and made a mistake, other students didn't call them out. They were supportive of each other. Seeing this program's contribution to a positive school climate, as students worked together on projects and supported each other, was a wonderful side effect of our residencies this year.
Maryland State Arts Council (MSAC) provides schools with AiE grants to support artist-in-residence programs. These grants can subsidize up to 30 percent of the total cost of a Young Audiences residency program, including travel costs. The application deadline for programs occurring next school year is Friday, May 15, by 5 p.m. Read more about this opportunity at yamd.org. 
In February's smART Tip, Young Audiences beatboxer Max Bent shares the basics of vocal percussion and how it can connect to other subjects, such as fraction units in math. Press play below!
[youtube http://youtu.be/5WEcbnQWcAM]
smART Tips is a monthly video series sharing tips for educators who are interested in new, creative ways to use the arts in their classroom with students. See all smART Tips to date here. Interested in a specific topic? Let us know!
Earlier this week, Young Audiences roster theatre ensemble Single Carrot Theatre joined our celebration of National and Maryland YA Week with a dramatic reading of the gubernatorial proclamation. Today, Hip Hop musician and teaching artist Jamaal "Mr. Root" Collier is helping us close out the week on a high note with a musical interpretation of the proclamation. Warning: Be prepared to have this catchy beat stuck in your head all day!
[youtube http://youtu.be/KtE5TZKTsG0]
Thank you to Jamaal and Single Carrot for lending their talents to our recognition of Maryland YA Week 2014 and providing two examples of how our roster of more than 110 teaching artists infuse the arts, creativity, and fun into learning and inspire and engage nearly 170,000 students and educators across Maryland each year.
Although YA Week ends tomorrow, Young Audiences and our artist and school partners will continue our work of increasing access to valuable arts experiences in all Maryland schools throughout the year. We agree with Jamaal: Let's celebrate the arts all the time!
If you believe, like we do, that learning in and through the arts gives students opportunities to imagine, create, and realize their full potential, stay up-to-date with Young Audiences news by checking back in with our blog and following us on Facebook and Twitter. You can also sign up for our monthly enewsletter here.
See all Maryland YA Week posts here.
Learn more about Jamaal's arts-in-education programs for schools here, and Single Carrot's assembly program here. 
By Max Bent, Musician and beatboxer
Young Audiences artists and teacher partners have written case studies documenting their work in schools and their exploration of one essential question. Each study provides a snapshot of how the artist or teacher works with students to integrate the arts into the curriculum and provide opportunities for students to imagine, create, and realize their full potential through the arts.

Project or Program Summary
I first experienced beat tubes (capped PVC tubes that produce distinct pitch) while playing in the ensemble of fellow Young Audiences artist Kevin Martin. Inspired by their simplicity and immediate impact on students, I worked with a team of fifth- and sixth-grade teachers to design an arts-integrated beat tube residency. Our team began with the essential question "What is sound?" Through interacting with and playing the beat tubes, students experienced the propagation of sound while applying principles of music and dance during a culminating group performance.
Purpose and Rational
Beat tubes offer a wealth of possibilities for further exploration of arts-integrated teaching. As an instrument, beat tubes are linked in heritage to Tamboo Bamboo in Trinidad as well as numerous folk music traditions surrounding the pounding of grain into flour. This case study is submitted in the hopes of inspiring other educators to experiment with beat tubes.
Analysis and Outcomes
What are your overall conclusions regarding the documentation gathered for this case study?
Students learned that the phenomenon of sound can be understood as patterns of vibration through a medium–usually air. These patterns of vibration are called "sound waves." "Pitch" and "volume" are aspects of sound waves that can be manipulated by musicians to express ideas and feelings.
What conclusions have you drawn from the responses to the assessment tools you have developed?
Students gained new insights into the phenomenon of sound. Students also improved their ability to work together cooperatively and to communicate in a collaborative setting.
Back to the initial inquiry question, can it be answered?
Yes. After the residency, students were able to identify and discuss specific scientific terms related to sound (i.e. frequency, amplitude, wavelength) and use this knowledge to enrich their compositions.
Playing the beat tubes connected body and mind in the practice of music. Students learned to play rhythmic patterns on steady beats but the challenge was both physical (kinesthetic) and mental.
Summary and Conclusions
What was learned?
By playing the beat tubes, students were able to objectify the often confusing and mysterious nature of sound. Students were able to approach the inquiry question scientifically.
Students learned:
Sound is a phenomenon that our brains perceive and process in a specific, predictable way.

The physical characteristics of sound are frequency and amplitude.

The frequency of a sound wave is defined in musical terms as pitch.

Different pitches form melodies and harmonies, both of which can be defined mathematically through interval relationships.
What can be done differently in the future?
I introduced the residency with beatboxing (vocal percussion) activities during the course of three days. In the future, one day of beatboxing would suffice. This would allow more time for working with the beat tubes and further discussion and analysis of the scientific principles of sound.
I would have liked to give students more time to compose independently. Also, students can potentially be involved in the construction of the beat tubes in the future.
How will this inform the work moving forward?
This project inspired me to expand the possibilities of working with beat tubes. Specifically I learned that vocalizations and movement are essential to successful instruction. Therefore I will explore the elements of dance as well as other related musical traditions (i.e. drum lines, West African drumming) to improve the project. Overall, I was amazed at the possibilities of working with beat tubes.
Curriculum Connections
Music
Science
Dance
21st Century Skills
Learn more about Max's  assembly, residency, and professional development programs. 
Read other case studies written by Young Audiences teaching artists and teacher partners. 
Categorized:

News

Tagged:

21st Century Skills, arts integration, Beat Tubes, beatboxing, case study, dance, Max Bent, Music, pitch, science, sound, sound waves