I have been a volunteer for Young Audiences for seven years now, ever since discovering them when Colette was in 10th grade, and was asked to speak at their Impact Breakfast. I learned then how much YA had already impacted her, as Colette was part of the PVA (Performing and Visual Arts) magnet at school. Teaching artists from YA were very active, and still are, with the PVA in Anne Arundel County.
But what really impressed me was YA's involvement at all grade levels and in so many schools across Maryland. By integrating the arts into core curriculum, kids learn in a way that helps them retain the information. Whether it's rapping their multiplication tables, dancing to showcase literature themes or creating mosaics to depict basic biology, the kids are learning because they're HAVING FUN!
As for Colette, she's finishing her senior year at East Carolina University, as an electrical engineer.  And she still benefits from the arts-integrated education she has received.  For example, although I may not comprehend the mathematical formulas in the papers I proofread for her, her PowerPoint presentations are so visually pleasing that I don't mind reading what I don't understand!  Seriously, I hope you'll consider donating today so that other kids can have the great experiences and training that she received as part of YA's arts-integrated education techniques.
Written by Barbara Krebs,
Young Audiences volunteer and Sunburst Society member
Recently I toured Ireland, circumnavigating this gorgeous island from the Republic of Ireland, to Northern Ireland before returning to Dublin. If you have half a day, I'll be happy to tell you about everything I learned there, from Irish history to Irish dancing to Irish food to (ahh) Irish whiskey. But if you have only a few moments, then I'll just tell you about my biggest takeaway from this trip–passion.
So now you're thinking, "What does this have to do with Young Audiences?" In the great tradition of Irish storytelling, I will let you know how one starts in Ireland and ends up in Baltimore with passion as the theme.
My story starts with a tour guide in Northern Ireland named Garvin, who told us about his wonderful city, Derry. Following the itinerary map, I had been puzzled since I couldn't find it. This mystery was quickly cleared up as Garvin explained that Derry is the town's traditional Irish name but it had become Londonderry during British rule. But he was also quick to explain with a broad grin that what his city actually is, is Legen-Derry (Get it? "Legendary!").
And thus began his tour of a city that he was obviously totally devoted to and passionate about. Today Derry is a wonderful city, with much to offer tourists–historic 17th fortification walls (the most intact in Ireland), Gothic-style cathedrals, a vibrant waterfront restaurant/bar scene and fascinating museums. But if, like me, you think of Derry during The Troubles, your memories will be very different, with scenes of bombed-out buses and civilian and British troop deaths.
But Garvin used that very history to make his point about his city being a wonderful place. He took us to Bogside, scene of infamous clashes between citizens and British military police, and said, matter-of-factly, "You would not be on a bus going here in the '70s, because it would be hijacked, turned on its side and burned out to use as a barricade to block the street against the British." This, while we looked out the bus windows at calm, clean streets.
I loved the beauty of Derry, its rich and troubled history, and yes, the passion of Garvin. And what struck me most forcefully was how many times he repeated, "I thank you for coming to visit my beautiful city. Please tell your friends and relatives what a wonderful place it is." And I knew then how deep his passion was for his flawed and scarred, yet fascinating city. And through him, I fell in love with it, too.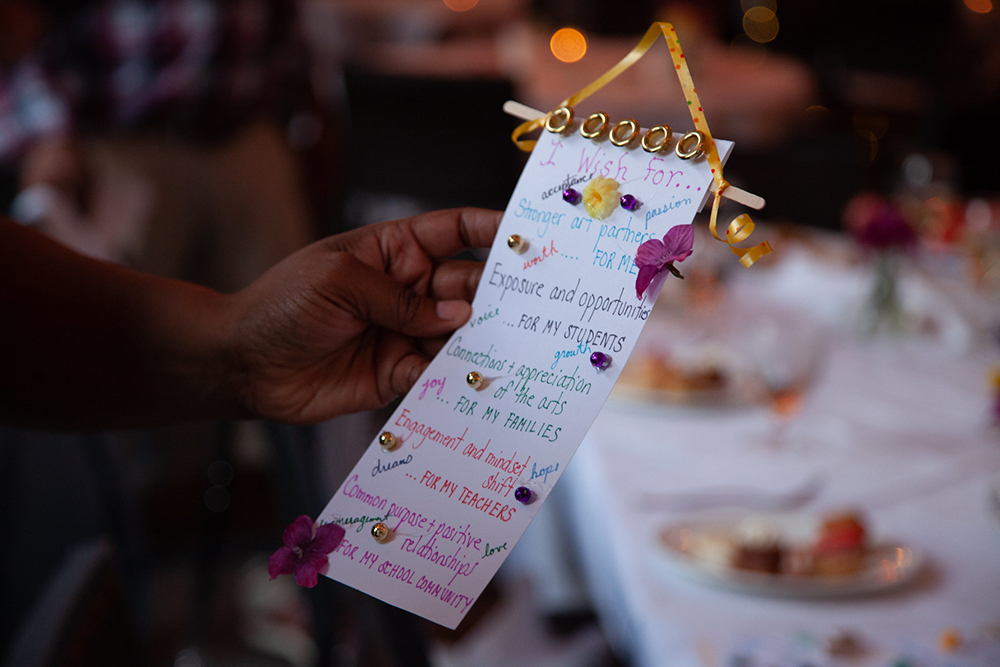 So now here's the connect with Young Audiences. I have witnessed the passion of Young Audiences artists like Femi the DriFish and their teacher partners who, despite challenging situations, work tirelessly to promote learning in their classrooms, using the innovative arts techniques taught by YA. I have seen deep passion in our principals who set aside hard-fought funds to bring the arts into the classrooms when others are choosing to cut these opportunities. I see this passion in the YA board, who includes my husband, who donate their limited time outside of work and family to ensure that more kids have opportunities. It is through them that I fell in love with Young Audiences, too.
I am pleased to announce that Garvin's passion for his birth city is contagious. With his example, I am happy to tell all who will listen that I am passionate about Young Audiences. I will tell folks about how fantastic Young Audiences is–and that includes you!
Wanna know more? Consider joining CEO Stacie Sanders Evans and a Young Audiences teaching artist on Thursday, December 5, 5:30-6:30 pm for a free, one-hour Meet YA Event. To register, please contact Erin Nolder via email or phone – [email protected] or (410) 837-7577 ext. 105. All I ask is that afterward, like Garvin, you tell all your friends and relatives about the wonderful work that YA does.
Written by Barbara Krebs,
Young Audiences volunteer and Sunburst Society member
The thing I like most about Young Audiences' Impact Breakfast is that I never know what new insight I will take away from it. Sometimes I go home and think about the things I heard and saw, and something takes root and grows from my pondering. Other years it hits me immediately with, um, impact. This year's Impact Breakfast was of the second variety.
It started with the music. Because the day began with rain, award-winning Folk singer and guitarist Letitia VanSant welcomed guests with her songs in the lobby of the Vollmer Center, and not outside, like planned. She played and sang softly, setting a mood of serenity. Ahh, yes, very pleasant as I sipped my coffee. And then as I started looking at Maura Dwyer's handmade crankie, a wooden box containing an illustrated scroll that reveals a moving picture story as it is slowly wound by the artist, a very different style of music was unleashed–ragtime! Now that gets the blood pumping!
The guitarist's intimate melodies were quickly drowned out. Assessing the situation–and the weather, YA staff and board members moved the duo's entire set-up where they belonged all along–just outside, at the entrance of the building. And that improvisation really worked, as Letitia's musical style and the moving panorama that accompanied her songs connected naturally to the park-like setting surrounding the Vollmer Center. You can't control the weather, but you can spring into action when it changes for the better!
After listening to her a while, I wandered back into the building to take in some more ragtime and to look over the student works displayed downstairs. And that's when one of the accompanying quotes struck me. Labeled "What Students Have to Say," a 6th-grade improvisational theatre major stated, "My favorite major is improv because of how we can laugh and be silly. We can be anything because it is based on your imagination. In your imagination you can be anything and see anything." Exactly!
More improvisation followed as Mama Rashida and WombWork Productions performed. With Virtues as the theme and a backdrop listing a huge variety of positive qualities, she prompted the audience to participate in a call-and-response activity, shouting out "gratitude" and "unity" and "creativity" as we swayed in our seats and responded, "yeah, yeah!"
When it was time to hear Femi "The Drifish" Lawal speak, I have to admit I was particularly happy to hear from him. That's because I have been fortunate enough to have had the opportunity to observe him in action in the classroom, at Art Crawl and at introductory "house" parties that showcase what YA does. In all of these settings, he's a master at getting both kids and adults involved.
So I was both surprised and amused to hear him admit to "winging it" before he began working with Young Audiences. But what did not surprise me was to learn how his involvement with Young Audiences helped him hone and master his teaching style. He knew he was already positively impacting young lives in the classroom, but with YA's assistance, he learned techniques that extended what he could offer and bring out in the kids.
As a person who enjoys contradictions, I thought about the nature of improvisation. Yes, it is about doing things without previous preparation. Yes, it is about responding to whatever circumstance comes your way. And yes, it is about reacting to your imagination as the 6th grader said.
But… it is also about the preparation, oddly enough. When you prepare fertile ground for your imagination to take you places, you become increasingly comfortable with the journey, and you find new and creative ways to respond to real-world situations. When you learn classroom techniques that allow children to explore their worlds in different ways, you discover the power of improv paired with preparation. How it helps them rap their way to mathematical formulas, dance their way to literature themes and draw their way to social justice.
So at this year's Impact Breakfast, I learned that preparing for improvisation is not quite the oxymoron it appears to be. Because no matter how prepared you are, you need to be able to improvise when the moment calls for it. And no matter how stellar you are at winging it, preparation makes it easier to soar on those improv wings.
Visit our Flickr page to see more images from Young Audiences' annual Impact Breakfast.
Written by Barbara Krebs,
Young Audiences volunteer and Sunburst Society member
As a Young Audiences volunteer, I've been fortunate enough to watch a variety of artists at work in the classroom. And the results always amaze and humble me. Whether it's rapping the multiplication tables, or acting out a storyline, or drawing to illustrate a book's theme(s), I love how the arts grab kids' attention and not only hold it, but draw them out, asking questions, trying out new ideas, and expanding their horizons.
But it dawned on me that I had never watched a class in its entirety–had never witnessed the full lesson plan. I finally got a chance to do so recently when I visited Ms. Bradley's eighth-grade Honors English class at Chesapeake Science Point Charter School in Hanover, Maryland. Over the course of a week, Gayle Danley, an internationally recognized slam poet, was there to guide them in writing their own poems.
Full disclosure: Gayle is a personal friend of mine. I met her five years ago when she mentored my daughter, Colette, who had been asked to speak at Young Audiences' annual Impact Breakfast. And over the years, I have watched her perform at YA events and in her own shows. But I had not yet witnessed her in action in the classroom.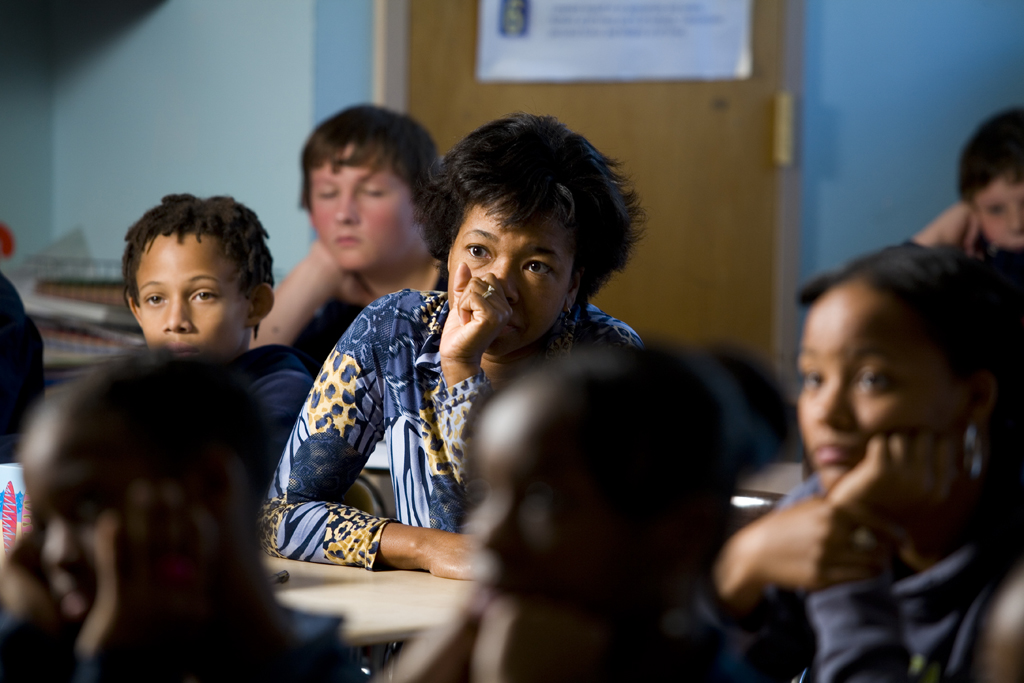 And so, I found an inconspicuous spot from which to observe. Gayle quickly got to the heart of the lesson. She had started working with the class on Monday, so she now asked for volunteers to read the poems they had written since then. She instructed them to listen carefully and write down two things: 1) a sentence or phrase they really liked; that they could truly identify with and 2) a sentence or phrase they didn't like or didn't understand.
"So, who wants to go first?" After a predictable silence, Gayle encouraged them, "Poets have to be afraid sometimes. I know you're afraid to share your work. But if you come up here, we'll support you."
After another quiet pause, one brave soul ventured forth. "Let's hear it for the poet!" Gayle shouted, and led the class in applause. Even so, the first girl almost returned to her seat. But by then, her classmates were shouting their own encouragement, "You got this!" "Own it–you're already up there!"  "You can do it!"
And so she read. Sometimes Gayle interrupted to ask her to slow down or to speak louder. Another time she stopped her to ask the class what they thought of one line, "how does that make you feel?" When the teenager had finished, Gayle again led the applause and praised her for being first.
Then she asked the class for their favorite and least favorite lines, and asked them to explain. At one point, Gayle focused on "f-a-i-t-h," which the young woman had spelled out rather than saying the word. She asked if that bothered anyone, threw them out of the poem temporarily because that's how Gayle had felt. And when there was no comment, she asked, "Ms. Barbara, what about you?"
And so, being honest, I answered that I had actually liked that because it made me truly pause on that word and think about it. Hopefully, that was a good teaching moment about how unique poetry is and that your own personal experience will guide your interpretation!
Back at the front of the classroom, Gayle pointed to words that were written on the board: Wring, Fling, Bling, Sing. "Let's talk about these for a while." And for the uninitiated (as I was), Gayle describes this as her writing process.
Wring: Wring the words out onto the paper like you're wringing out a washcloth. Just write it down!
Fling: Once it's on paper, fling out any words that aren't needed.
Bling: Now, add words that will really make your meaning stand out.
Sing: Finally, read it aloud and see how it sounds. Fling or Bling as needed.
As she described this, I laughed internally because I recognized my own writing process. Except I had always described it (skip this part if you're squeamish) as the vomit method. Throw it up on the paper and clean it up later. Leave it to a poet to be, well, more poetic about it!
And so it went. Kids coming to the front, reading their poems, a start-and-stop process to consider edits. "When you say 'ancestors,' I think it would be good to be more specific. What if you substituted 'Rosa Parks' for ancestors?"
"His color was dangerous," Gayle repeated from another poet. "What is dangerous?" she asked the teens. "A knife!" "A gun!" "A wild animal!" And with those words, she suggested illustrating the danger more concretely with a visual image that would strike the listener/reader.
As the lesson wound down, I gathered my things to leave. Did I mention there are no observers in this classroom? At the beginning of the lesson, the teacher had explained what she was looking for in an assignment that talked about regional differences and dialects in language. Before I could exit, I found myself surrounded by a group of three girls who asked me where I was from (North Carolina), how did I pronounce "pecan" (accent on the second syllable), what word do I use that generally isn't used in other parts of the country (y'all).
Signing off on their papers, I felt excited to be a part of their education even in such a small way, inspired to try this on my own, and happy to be a tiny part of Young Audiences' mission to reach kids through arts-integrated education. With Gayle's teaching style demonstrated, I am ready to Wring, Fling, Bling, and Sing on my own!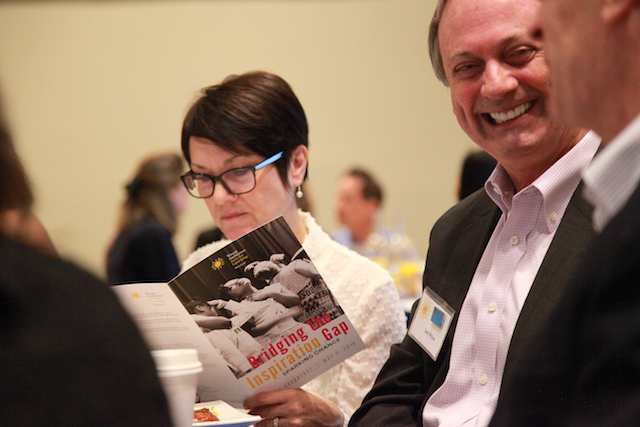 Written by Barbara Krebs,
Young Audiences volunteer and Sunburst Society member
Spark. Ahh, now that's a great word. Quick, simple, to the point.  And it's versatile – noun or verb – it's all good. And if you're a fan of onomatopoeia (and who isn't?), well, I think spark works well there, too.
If you attended the 11th annual Young Audiences Impact Breakfast, you heard that word a lot. First, from Stacie Sanders Evans, President and CEO of Young Audiences, whose drama teacher sparked a passion that would put her on the path to her leadership of YA. You heard it from Jaime Clough, a second-grade Baltimore City Public School teacher who taught in YA's Summer Arts & Learning Academy (SALA) and who has used the tools and strategies learned at SALA to transform her classroom during the school year. You even heard it from a student. High school senior Jahsol Drummond spoke about his experience developing his video and editing skills at the Center for Innovative Research in the Creative Arts (CIRCA) at UMBC  in last summer's Bloomberg Arts Internship. He shared his plans for the future as a college student (he was awarded a full scholarship to Bard College) and as a filmmaker. "My career has only just begun, and it's already so exciting," Jahsol beamed.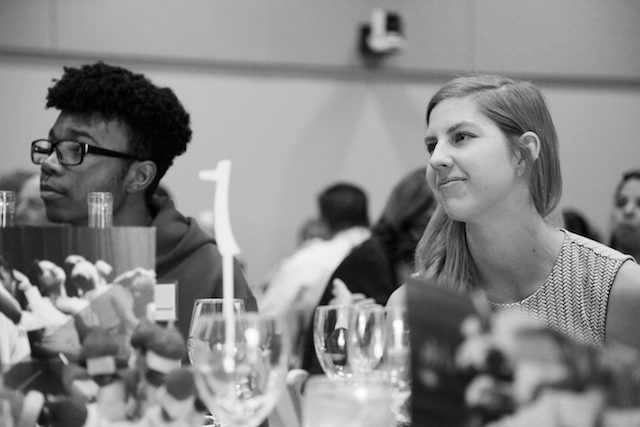 It is amazing where a spark will take you if you have the passion and determination to stoke the fire.
But, of course, the thing about the Impact Breakfast is not just the inspirational stories we hear from the presenters, nor is it solely about acknowledging the remarkable strides Young Audiences has made over the past few years in overcoming summer learning loss. These are important and wonderful things to witness, no doubt. But what truly struck me this time around was the synergy of people attending this event united by the desire to improve educational opportunities for the children in our communities.  
Seated to my right was Kariz Marcel, a DJ, music producer, teaching artist, and founder of the nonprofit Innovation Echo Alliance who is seeking ways to partner with Young Audiences and other educational organizations through his music industry connections. As he explained it to me, he was hoping to establish a roster of professional recording artists who would be willing to donate a small portion of their music royalties to these organizations as an ongoing and sustainable way to raise funds for education in our local schools.
Another gentleman at our table was Lieutenant Steven Thomas, a member of the Anne Arundel County Police Crisis Intervention Team.  He and his team identify youth who can be helped by, for instance, after-school programs, like the Police, Artist, and Community Engagement program (PACE), and then find ways to make these things happen.  For example, when it was discovered that transportation was an issue, they partnered with the school system to provide it.  That meant getting the school-approved CDL bus license so they could drive students on the county's buses.  A little spark of creativity to problem solve what might otherwise have been a deal killer. Instead, police officers are keeping local youth involved in enrichment programs.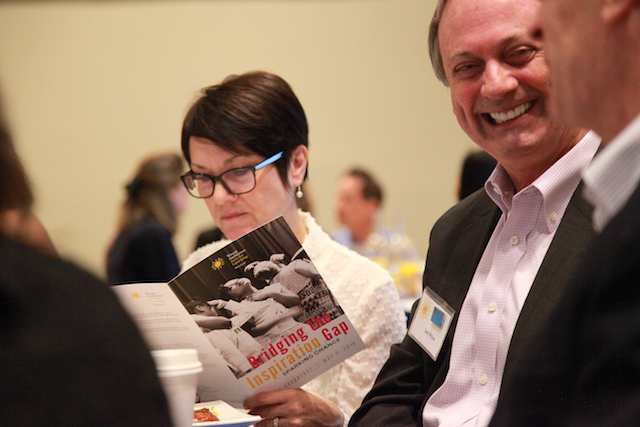 Likewise, I got a chance to talk briefly with Dr. Stuart Levine, President and Chief Medical Officer of MedStar Harbor Hospital, who I had heard speak only a week before at the unveiling of the mural that now sits in the lobby of the hospital's Emergency Department. This mural, which focused on how cells and viruses interact with human and animal bodies, was created by sixth-grade biology students from Brooklyn Park Middle School. The project was the result of a multi-week Young Audiences teaching artist residency in partnership with Arts Empowered Minds Initiative (AEMI). So here was yet another way that a group, which is pivotal to the lives and health of its local community, had found a way to connect with young students, perhaps sparking future collaborations?
And that is just a small sampling of the conversations I had at my table alone. As I looked across the room, I could only imagine what discussions, ideas, creative solutions, and inspirational tales were being shared elsewhere. Knowing that so many people had gathered because they have a passion to improve the educational lives of our youth, I came away from the event feeling recharged, hopeful and, yes, ready to find fresh ways to kindle the spark – in whatever myriad forms it appears – in my own life and those of others.
Indeed, there is no telling what particular spark at what precise table will catch fire and generate a lasting, positive impact. 
But that's the Impact Breakfast for you – a kaleidoscope of people who are sparking change and impacting the future for our children!
Categorized:

News

Tagged:

Anne Arundel County Police Department, Baltimore City Public Schools, Barbara Krebs, Bloomberg Arts Internship, community, Cylburn Arboretum, Development, fundraising, Impact Breakfast, Jaime Clough, Kariz Marcel, MedStar Harbor Hospital, PACE, Summer Arts & Learning Academy, summer learning, SummerREADS
Written by Barbara Krebs,
Young Audiences volunteer and Sunburst Society member
If you follow education trends even a little, you can't avoid the STEM acronym. In fact, at many area high schools, getting a slot in the highly popular STEM (Science, Technology, Engineering, and Math) magnet program is tricky at best.
Why is that?  Why do people automatically assume that if you want your student to get ahead in life, your best bet is to seek out an education that prioritizes a STEM-based curriculum over one that values the humanities or visual and performing arts? Now, enrolling in a STEM-focused program is certainly not bad advice. But, it's definitely not the only path to success as one recent Washington Post article reported.
"Kids have been educated in a computer world.  But that computer world continues to threaten traditional jobs, so success will rely on the ability of students to innovate and use tools in a non-traditional way."
In the article, "The surprising thing Google learned about its employees – and what it means for today's students," the Post reported on a 2013 study that Google conducted on its own hiring practices. Its founders, with solid backgrounds in computer science, felt certain that only "technologists can understand technology." But after every bit of data was gathered and analyzed, the company discovered something unexpected. Of the top eight criteria considered essential for a top employee, STEM expertise rated… um… eighth.
This led to a deeper dive into the data, which ultimately led to Google re-evaluating its employment processes and putting more emphasis on hiring "humanities majors, artists, and even MBAs." Other companies (such as Chevron and IBM) have also discovered the positives of hiring liberal arts majors because they "prize their ability to communicate."
On a personal level, I feel very strongly about this. My daughter, Colette, spent seven years (three in middle school and four in high school) pursuing a Performing and Visual Arts education. She learned to sing, dance, act, write, and most importantly from my perspective, think creatively. And while she was singing and acting her way through high school, she was also taking AP Physics and Calculus and learning to wire circuit boards. So it didn't come as a huge surprise when she enrolled in Engineering as a college freshman.
While some people were shocked at the 180° turn she made, I viewed it as the logical conclusion to a style of learning that she honed as an arts major in high school. Combining a love of math and science with the arts is not as unusual as you might think.
"Finding a path to my final images is a complex choreography of math, my sensibilities as an artist/scientist, and the subtleties of the subject."
Take, for instance, Dr. Tim Christensen, biology professor at East Carolina University (ECU) and Senior Faculty Fellow in their Honors College (full disclosure – that's how I first met him, when touring ECU with my daughter, who was accepted into both ECU and their Honors College). Dr. Christensen is primarily a scientist but also an artist. Merging the two disciplines, he fully embraces and personifies the concept of STEAM (Science, Technology, Engineering, Arts, and Math).
I was immediately struck while perusing the awe-inspiring galactic photographs on his website, AstroWimp. "As an artist, I've been heavily influenced by my scientific training," he wrote. "To a scientist, images are 'data.' Standing in both art and science worlds, I attempt to convey the art of the data." In his role as teacher, Dr. Christensen transfers the wonder he experiences as a scientist and an artist to his students.
He readily admits that while he finds jumping back and forth between scientific and artistic worlds a natural leap, that is not the case with every scientist.  "Some are still wary of anything that can't be measured scientifically."  Nevertheless, he continues to champion the intersection of science and art, as evidenced in his own artwork. "Finding a path to my final images is a complex choreography of math, my sensibilities as an artist/scientist, and the subtleties of the subject."
Dr. Christensen is currently collaborating with a fellow faculty member, Daniel Kariko, Associate Professor of Fine Art Photography. Their project, dataSTEAM, "focuses on artists who work directly with scientists to develop a deep understanding of the data, preparing artists to contextualize data in their art, connecting both disciplines… art to science, and science to art."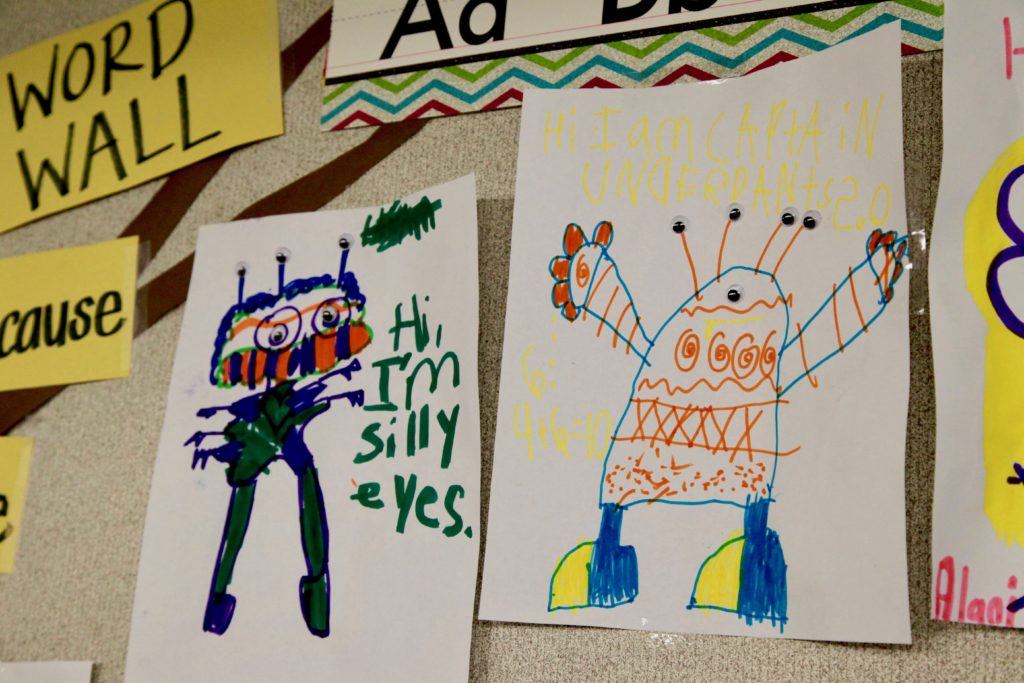 Starting in the fall semester, the two will "facilitate collaborations between Art and Honors/Science students" leading to a gallery exhibit at the university. But more important than the exhibition is, of course, the concept of cross-fertilization between the two disciplines.
As Dr. Christensen explained it, "Kids have been educated in a computer world.  But that computer world continues to threaten traditional jobs, so success will rely on the ability of students to innovate and use tools in a non-traditional way." He feels that merging science and art will create students who are quicker to think outside the box and can straddle both the worlds of imagination and hard-core data.
Similarly, what Google has identified as the top characteristics of successful employees are not unlike the same skills that educators and other business leaders identify as being critical to a person's success in careers, in college, and as a citizen: critical thinking, collaboration, communication, and creativity. These are behaviors that Young Audiences' teaching artists observe and nurture every day among students in arts-integrated classrooms. And so, for those folks who doubt the value of arts integration into core curriculum subjects such as science and math, the, ahem, data demonstrate that arts and science together create a more balanced individual who can successfully work in today's fast-paced, ever-changing work environment.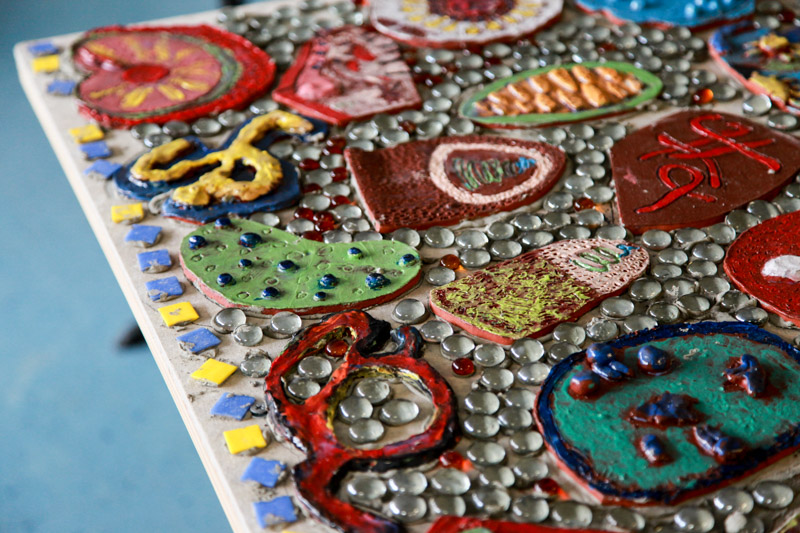 But don't take my word for it, just ask my daughter.  In a recent phone call, Colette was excitedly discussing her Statics class.  The definition of her Statics class from ECU's website- the analysis of equilibrium of particles, addition and resolution of forces, equivalent system of forces, equilibrium of rigid bodies, centroid and moment of inertia, structural analysis, internal forces, friction, and virtual work- left my head spinning.
When I commented on the apparent difficulty of the class, she assured me breezily, "Oh Mom, it's easy for me.  After all those arts classes in high school, I can see in 3-D."