In January 2020, Bay Brook Elementary Middle School will move into a 21st Century school building! Monique B. Reese, Principal of Bay Brook told us that along with the move, her school is adopting an arts integration model. During her first three years at the school, she focused on reducing suspensions and building a positive school climate. Now, Mrs. Reese's goal is to use the arts to assist with increasing student engagement and higher achievement. That's what brings her to the Young Audiences Principal Fellowship Program.
Mrs. Reese began her career as an elementary school teacher in various urban school districts. During her time as a teacher, she found a passion for leading others in teaching and learning. This passion for leadership led her to serve for eight years as an Assistant Principal in the District of Columbia Public Schools, and then as a principal at Bay Brook Elementary Middle School. During her first three years at Bay Brook, she focused on reducing suspensions and building a positive school climate. "I am excited about being a part of the Young Audiences Principal Fellowship program because it directly connects to my new school model," she said. "I can learn new ideas about arts integration that I can directly implement in my school as we begin our new vision."
"We have seen first-hand the excitement the arts bring to our students."
Over the course of the program, she'll receive coaching from experienced educators who have already used arts integration as leverage for school change. "Our students learn in different ways and we need a path that reaches all learners," Mrs. Reese said. "When given the choice between STEM, project-based learning, and arts integration for their new school model, the staff and community were confident that a larger focus on the arts would bring positive change."
The school currently has a partnership with Arts Every Day which helps fund artist residencies for classrooms. Already, the school holds monthly arts integration days in which teachers engage students in an art project to teach literacy, math, or science. "We have seen first-hand the excitement the arts bring to our students," she said. "The staff believe that the arts will give students the opportunity to be more engaged in the content, thus reducing class disruptions and increasing achievement."
Mrs. Monique Reese, Principal of Bay Brook Elementary Middle School, is one of ten Baltimore City Public Schools principals selected to participate in the Principal Fellowship Program. The year-long fellowship provides principals with the guidance and framework to develop an arts-based action plan in their schools and we are thrilled to have her in the inaugural cohort!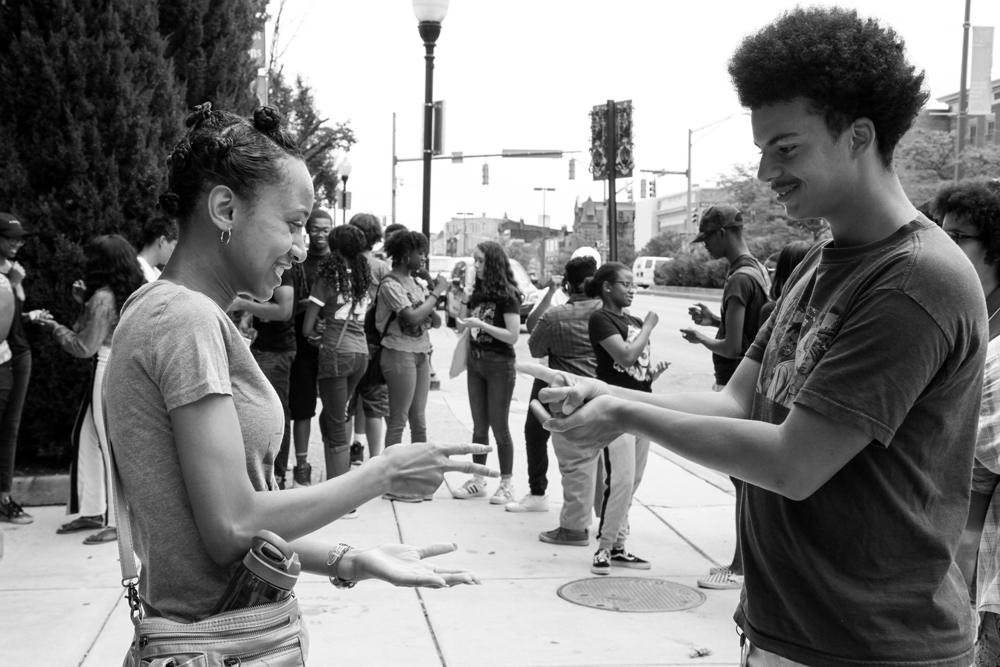 Written by Barbara Krebs,
Young Audiences volunteer and Sunburst Society member
Classes may be just about to wrap up, but for 33 Baltimore students who have accepted positions in the Bloomberg Arts Internship this summer, a different kind of learning experience is only beginning. Young Audiences, with funding from Bloomberg Philanthropies, established a now eight-week program three years ago to offer paid internships to rising high school seniors. Twenty local arts facilities and museums are currently providing jobs that offer a wide range of dance, music, art, theatre, cultural, and curatorial opportunities.
It's no great secret that internships are often viewed (and rightfully so) as stepping stones to higher education opportunities and greater career possibilities. Internships offer high school and college students crucial job skills and mentorship relationships that help them stand out in an often crowded job market. But paid internships can be few and far between.
The Bloomberg Arts Internship aims to make paid internships in the arts and culture field more inclusive and available to students who otherwise may not have the opportunity to network and build skills in that professional setting. 
An article–How Internships Are Changing the Art World–from Artsy.net has this to say about how intertwined the relationships and skill building are. "It's not only that your intern could be your successor, they might one day be your colleague," said Selene Preciado, program assistant for the Getty Marrow Undergraduate Internships in Los Angeles.
Indeed, they might! But these Bloomberg Arts internships go far beyond job training and networking, as important as these are. These students will gain familiarity and comfort with workplace etiquette, improve verbal and written communication skills, explore cultural assets in our city, develop critical life and work skills, and prepare to apply and transition into college. In addition, the program aims to encourage a more equitable and diverse range of staff and audiences among cultural institutions, while instilling in the students an understanding and appreciation of the important civic contributions of arts and culture.
That's a lot to learn in just eight weeks! And yet, these arts internships provide not just amazing arts education, the students also strengthen their:
computer capabilities (Center Stage – "how to use leading software for the industry")

 

research, interview, and publishing skills (Baltimore Office of Promotion & the Arts – "the student will research history, interview artists, and ultimately publish a youth-organized 'tour' of murals and sculptures")

proficiencies in following a project to completion (Maryland Film Festival – by curating and promoting short films, the student will "be involved in every aspect, from curation to marketing to execution.")

 
In short, skills to last a lifetime. In the Artsy article, Maxwell Anderson, president of the Souls Grown Deep Foundation in Atlanta said, "Museums desperately need talent in all sorts of positions–curators represent a fraction of the staff of museums. We'd be thrilled if an accountant emerges from [our program] and finds their way into the museum profession, but they're an accountant who has knowledge and experience in a particular cultural remit that otherwise they may not have."
In the short bios that the students provided, I noticed one recurring theme: learning. These are students who have a passion for learning, who will make the most of their internship, and who will carry what they learn with them into the future. I have no doubt that they will take this small stepping stone and use it to build a solid foundation in the years to come.
Young Audiences / Arts for Learning Maryland will participate in $43 million program
Young Audiences announced that it is a grantee recipient of Bloomberg Philanthropies' Arts Innovation and Management (AIM) program. The invitation-only program seeks to strengthen the organizational capacity and programming of small and mid-size cultural organizations within Atlanta, Austin, Baltimore, Denver, New Orleans, Pittsburgh, and Washington, D.C. Through the $43 million multi-year initiative, Bloomberg Philanthropies will provide unrestricted general operating support as well as arts management training in areas that include fundraising, strategic planning, marketing, and board development.
"We're incredibly thankful for Bloomberg Philanthropies' support as we work to infuse and enhance student learning with hands-on arts experiences throughout Maryland," said Stacie Sanders Evans, Young Audiences/Arts For Learning President and CEO. "This crucial funding will strengthen our organizational capacity and support all of our programs, from year-round arts-integrated classroom residencies to teacher and artist professional development."
AIM targets arts non-profits because of the vital role that they play in building communities, driving local economies and supporting artists. "The arts inspire people, provide jobs, and strengthen communities," said Michael R. Bloomberg, founder of Bloomberg Philanthropies. "This program is aimed at helping some of the country's most exciting cultural organizations reach new audiences and expand their impact."
Bloomberg Philanthropies will develop curricula and conduct seminars for the program in partnership with leading experts, including the DeVos Institute of Arts Management at the University of Maryland, led by Institute Chairman Michael M. Kaiser and President Brett Egan. AIM organizations will engage in activities that strengthen their long-term health and goals, and will receive one-on-one consultations and implementation support for organization leaders and their boards.
All organizations invited to participate in the 2018 expansion of the AIM program are nonprofits that have been in existence for at least two years. Participating organizations will be required to secure 20% of their AIM grant in matching dollars; reach 100% board participation in fundraising; and maintain up-to-date information in DataArts, an online management tool that assists arts organizations across the country in collecting, learning from, and using data effectively. The grants will be unrestricted to allow recipients to utilize the funds to address their greatest needs.
Since 2011, AIM has helped more than 500 small and mid-sized organizations in all creative disciplines, including theater, visual arts, music, film, literature and dance. Participating organizations reported significant improvements in board development, fundraising and overall income over the two-year program. Watch this video for an overview of the Arts Innovation and Management program: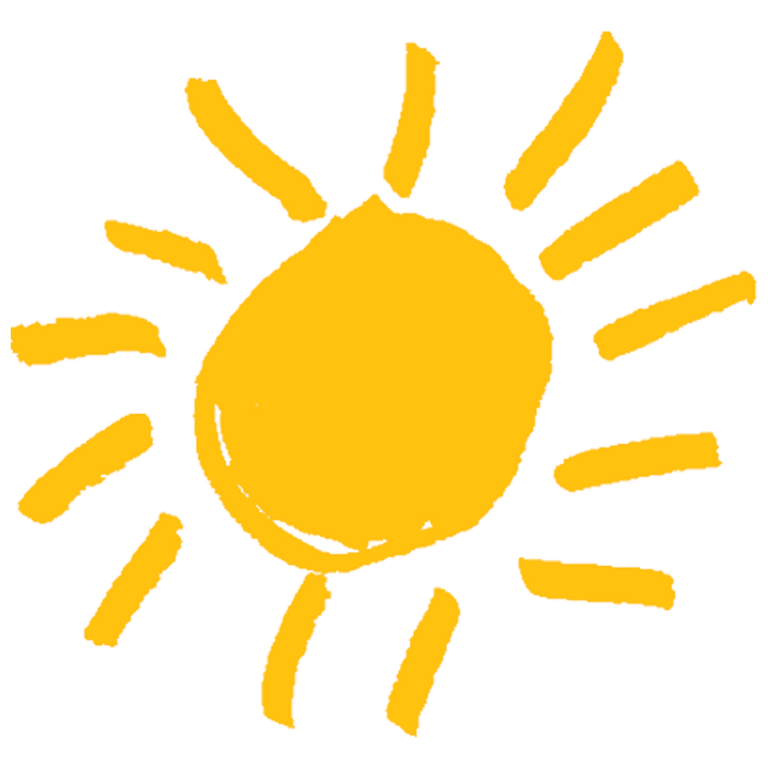 About Young Audiences/Arts for Learning Maryland
Young Audiences is the nation's largest arts-in-education provider and started in Baltimore in 1950. As a Young Audiences affiliate, Young Audiences/Arts for Learning (YA) is a nonprofit organization devoted to enriching the lives and education of Maryland's youth through educational and culturally diverse arts programs for more than 65 years. Each year, YA reaches more than 180,000 students through over 5,000 arts learning experiences by partnering professional artists from all disciplines with schools throughout Maryland for hands-on arts learning experiences. We envision a Maryland where the arts are valued for their capacity to transform lives, and where every student is immersed in opportunities to imagine, to create, and to realize their full potential through the arts. For more information, contact YA at 410-837-7577 or visit yamd.org.
About Bloomberg Philanthropies
Bloomberg Philanthropies works in over 480 cities in more than 120 countries around the world to ensure better, longer lives for the greatest number of people. The organization focuses on five key areas for creating lasting change: Arts, Education, Environment, Government Innovation, and Public Health. Bloomberg Philanthropies encompasses all of Michael R. Bloomberg's charitable activities, including his foundation and his personal giving. In 2017, Bloomberg Philanthropies distributed $702 million. For more information, please visit bloomberg.org.
Written by Barbara Krebs,
Young Audiences volunteer and Sunburst Society member
Excited. Proud. Love. These are the three words that I heard repeatedly as I attended the unveiling of the mural that sixth-grade students from Brooklyn Park Middle School created. Though these are not words typically linked with a middle school science project, they help illustrate the magic that is produced when you combine science education with an arts-integrated approach to learning.
The collaboration between their science class and a professional teaching artist from Young Audiences, in partnership with Arts Empowered Minds Initiative (AEMI), resulted in a 10-foot science-themed mural, titled "Brooklyn Park Middle Students Research Cells and Viruses." As explained in the program, the mural "illustrates the dynamic, multifaceted interactions occurring thousands of times a day between cells, viruses, and living things."
I wasn't sure what to expect as I entered MedStar Harbor Hospital's Baum Auditorium in South Baltimore, but I immediately felt welcomed as a saxophone quartet from Brooklyn Park Middle played classical music. Their melodies formed a soothing backdrop to the animated conversations between medical personnel, artists, educators, politicians, parents, students, and others who had gathered for the event. A delightful spread of food – chicken satay, veggie trays, fruit and cheese platters, and even cupcakes for the kids – provided by the catering arm of the hospital, Morrison Healthcare, ensured that no one would walk away without all their senses satisfied.
But I digress.  As the reception wound to a close, the formal program began. First up, Stacie Sanders Evans, the President and CEO of Young Audiences. Reaching for a hospital analogy, she spoke of Young Audiences' facilitating role behind the scenes as the "spinal cord" or "backbone" that makes the arts-integrated learning possible in area schools. She described how Young Audiences partners with schools and other organizations like AEMI and the Arts Council of Anne Arundel County (who helped fund this project) to pair core curriculum teachers with professional teaching artists to enhance learning experiences in Maryland classrooms. Rather than rote learning, students explore academic subjects in any number of hands-on, arts-oriented ways.
Next was Dr. Stuart Levine, President and Chief Medical Officer of MedStar Harbor Hospital. He told the young student artists just how meaningful their creation would be to the hospital, saying that it would be proudly displayed in MedStar's Emergency Department lobby. He talked about the VIPs in the room – the sixth graders – who had created this mural. He told them, "When community members come in for care, when they're sick, when they are at their moment of need, they're going to come into a place that has this incredibly hopeful work on the wall that's made with love by the kids of their community."
Then Dr. George Arlotto, Superintendent of Anne Arundel County Public Schools, spoke, stressing, "People who don't even know you love you; people who don't know you are proud of you." This was the legacy that, even as young tweens, they were creating for their community.
Following Dr. Arlotto, the two teachers who guided the kids through the process spoke. Lisa Radike, the Brooklyn Park Middle school science teacher, recalled that this process helped the kids learn more than just the science of cells, it also helped them "learn how to get along, how to work together." Amanda Pellerin is the Young Audiences artist who taught them to mold clay, shape it into the cells and viruses they were studying, and then assemble an entire mural from all the different parts they had imagined and created. As she looked proudly onto the students, she made sure they understood the significance of what they had done. "You now have artwork that is on permanent display– and you're not even out of sixth-grade yet!"
Finally, it was time for the unveiling of the mural. As the students and their teachers surrounded the mural, people leaned forward in their seats, many creeping to the front with cell phones to capture the much-anticipated moment. After a few more remarks from one of the students who reiterated the theme of how creating the artwork had required them to put aside differences and work together, the veil was cast off and everyone could finally see the finished artwork.  
Brightly colored cells wiggled and squirmed their way across the surface. And like a visiting rock star, the mural sat "patiently" as a host of people came up to be photographed with it.
As the event wound down, I finally managed to talk to one of the students, asking simply, "How long did it take all of you to create this?" His answer pulled me out of my adult world of man-hours and Outlook schedules. "About 10 classes."
There it is simply. It's about the classes. It's about what you learn in the classes. It's about how the classes are taught. It's about the knowledge you retain from the classes. And though my own knowledge of sixth-grade biology is but a dim memory, it didn't take a Jonas Salk knowledge of cells to clearly see how wonderful this evening was. That these kids were excited about science. That the folks in attendance were proud of what the middle schoolers had learned and created. And that everyone loved the intersection of science and art.
Children have a lot to say. Slam Poet and YA teaching artist Femi the Drifish worked with students in last year's Summer Arts & Learning Academy to help them get their poem to the stage for all of Artscape to hear. We are proud to share this light, energy, and love for our city, straight from the mouths, hearts, and minds of the future of our nation.
Baltimore
We live
Baltimore
We wise
Baltimore
We Lit
Baltimore
We live [2X]
Don't try to fit me in, your equation
I'm not a part of your, situation
We repping Baltimore real hard
Doing it real big, World Star
We eating chicken boxes, half N half
At the harbor, eating crabs
Repping Baltimore, since I was five
They don't know me, I ain't gotta lie
Baltimore
We live
Baltimore
We wise
Baltimore
We Lit
Baltimore
We live [2X]
We love this city, all heart
Always loved it, from the start
No more murders, more hugs
Stop the drug dealing, no more thugs
We don't need to be, from the hood
What we need is, more brotherhood
We from Coldstream, getting an education
Cause we the future, of this nation
Baltimore
We live
Baltimore
We wise
Baltimore
We Lit
Baltimore
We live [2X]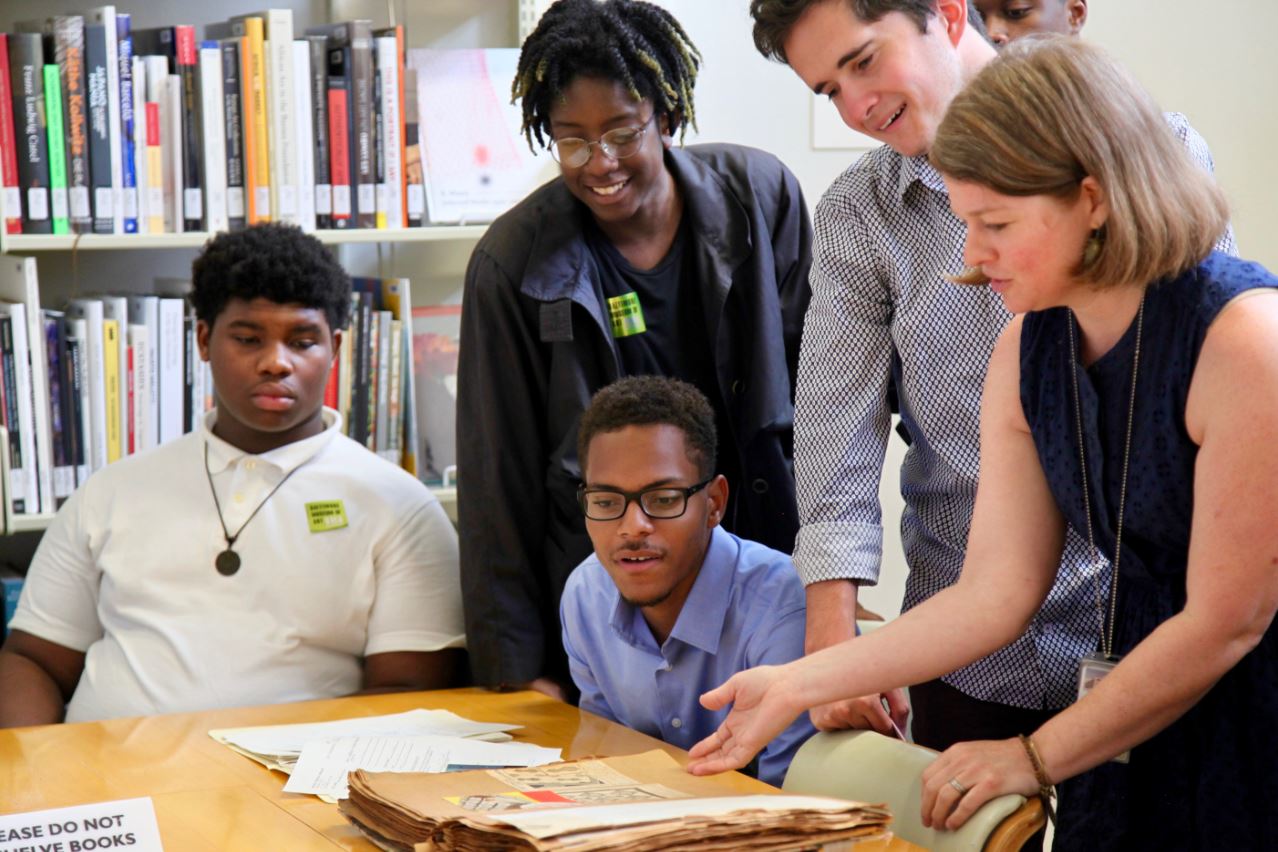 Written by Stacie Sanders Evans
President and CEO, Young Audiences / Arts for Learning
I love watching students memorize fractions by performing a dance routine or recall math facts through a song. Or marveling at a mural created by students to honor the important women and their contributions to science that they studied. I smile from ear to ear watching students in our Summer Arts & Learning Academy light up after making new connections using illustration, music, or poetry.
Every day across Maryland, I am reminded how arts-integrated educational experiences help students understand academic content. The joy and excitement that comes from not just seeing and hearing but by creating and doing, makes content interesting, relevant, and easier to understand.
Arts integration extends that joy and excitement beyond the classroom and into students' lives. The arts help them see the world differently through new experiences, expanding their perspectives while testing new approaches.
That's why this summer I was inspired to watch a group of rising high-school seniors grow and learn through arts opportunities outside of the school year. The Bloomberg Arts Internship Program just completed its inaugural summer in Baltimore, graduating 25 Baltimore City Public School students from the program.
The interns each completed six-week paid internships at 14 of the city's leading arts and cultural organizations, including:
Baltimore Center Stage
Baltimore Museum of Art
Baltimore Symphony Orchestra
Center for Innovation, Research and Creativity in the Arts (CIRCA) – UMBC
Dance & BMore
Everyman Theatre
Hippodrome Foundation, Inc.
Maryland Film Festival
Maryland Institute College of Art (MICA)
Maryland Public Television
Peabody Institute of The Johns Hopkins University
Port Discovery Children's Museum
The Reginald F. Lewis Museum of Maryland African American History & Culture
Sheridan Libraries and University Museums, Johns Hopkins University
Interns worked hands-on, three days a week at cultural organizations and participated in field trips and professional development on the other two. Young Audiences had the honor of managing the program, the rigorous application/selection process, and professional development along with our partner, the Greater Baltimore Cultural Alliance (GBCA).
Excitement, pride, and curiosity filled the faces of 25 rising Baltimore City high school seniors earlier this month as they graduated from the program. The feeling was contagious. Parents, friends, teachers, and mentors looked on as interns told stories of their experiences, described projects and tasks they were assigned, and the impact it all had on their plans for the future. Some found passions they didn't know they had. Others refined interests and built skills that will help prepare them to reach goals already set. All of them built important connections and relationships in the arts and cultural community.
The Bloomberg Arts Internship program is a reminder of so many things we learn through our work: that education extends beyond the classroom, that learning can (and must) happen year round, not just between September and June, and that we need to create these non-traditional opportunities for students to grow academically and personally. The arts open minds and inspire passions that last lifetimes. These programs plant those seeds for our children.
Just as I see the powerful impact of arts integration activities in school settings, I saw it this summer throughout Baltimore, as Baltimore's Bloomberg Arts Interns discovered the world – and themselves- through their experience.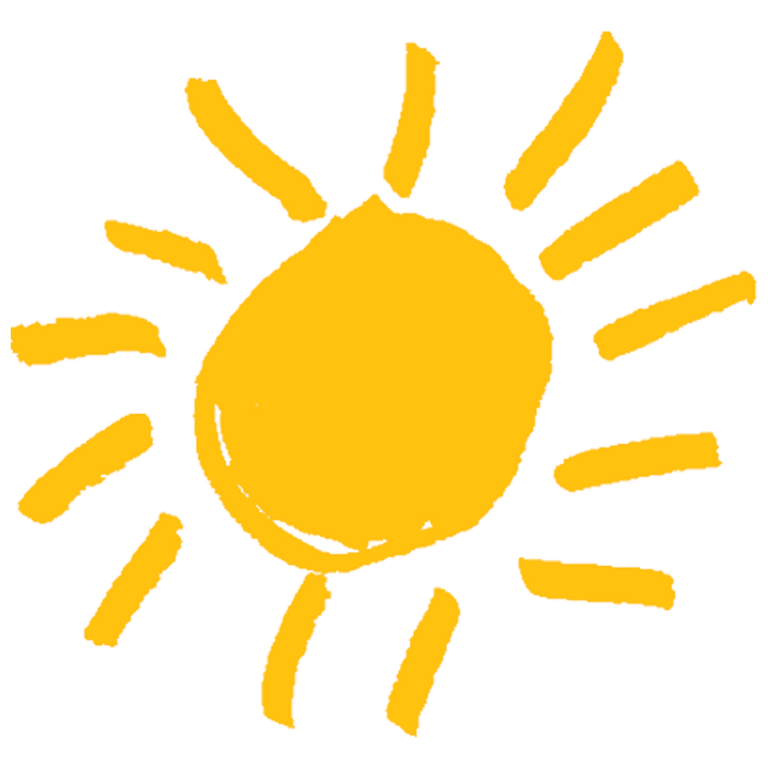 See more images from throughout the program on our Flickr page.
Written by Barbara Krebs,
Young Audiences volunteer and Sunburst Society member
Seedfolks. Bizz Buzz. These are just a couple of the new things I learned about when I visited the Summer Arts and Learning Academy at Thomas Jefferson Elementary/Middle School in Baltimore.
And learning through the arts is the whole point of this summer academy, now in its third year of operation. Young Audiences/Arts for Learning, in partnership with Baltimore City Public Schools, operates four of these academies at schools throughout the district as part of a system-wide arts-integrated strategy to reduce summer learning loss in literacy and math. Approximately 1,144 kindergartners through fifth graders take advantage of this free, fun-filled educational opportunity. 
My first stop was to meet Site Director Kristin Taylor who manages the program at Thomas Jefferson. As we headed to the first classroom of fifth graders, she enthusiastically filled me in on the size of this particular academy (280 students), its average daily attendance (250 students), and the benefits provided at every site to help parents and kids (after-school care until 6:00 pm and free breakfasts and lunches served every day to each student).
As we walked through the halls, student-created posters, snippets of conversations, and the sounds of music offered glimpses of the learning that was taking place.  
I entered the fifth-grade classroom of Ms. Paige and visual artist Mama Sallah just in time to watch a production of a chapter from Seedfolks, a book that shows how a neighborhood is transformed as people from different cultures interact in a garden. After the first group performed, I got a chance to ask Kenaya, one of the student actresses, about the book.  She explained to me that each chapter of the book focused on a different character. The classroom had been divided into groups, each assigned to act out a different chapter of the book. These groups were to then silently act out what the narrator was reading.  
Kenaya's group focused on Kim, a Vietnamese girl from the first chapter. The story starts with the girl staring at a portrait of her father. While one student narrated, others acted out the parts of Kim, the father's portrait, and even more characters as the action moved into the garden Kim had planted.
I enjoyed watching their attention to the story and how each child handled their role, whether it was bending down to dig in the "dirt" or, like the young man playing the role of the portrait, staring silently into space, giving no indication that he was anything other than a photograph frozen in time. These were serious actors, hard at work.
The next classroom was quite a contrast. Ms. Chase and hip hop musician Jamaal "Mr. Root" Collier were teaching math to a mixed classroom of fourth and fifth graders, and I had arrived in time to witness a game of Bizz Buzz. The children formed a large circle in the room, then took turns doing math calculations in their heads, making sure their answer was either a multiple of three or five. Emotional sounds quickly filled the room: Squeals of excitement for the game, celebratory cheers as someone answered correctly, silence filled with tension and pressure as someone struggled to find the right number, and supportive classmates whispering, "You can do it!" and "You got this!"
I have to admit I never did quite get the idea of when you yelled, "Buzz!" or "Bizz!" instead of a number, so I guess I'm going to have to admit that I am NOT as smart as a fifth grader. Luckily, they are!
The next classroom was filled with third graders who were also working on math. However this time the class focused on word problems and measurements. Without the drama of Bizz Buzz, this classroom was much quieter with children working at their desks. As I wandered around the room, one outgoing and cheerful girl, Mikhia, came up to me.  I probably looked a little lost because she explained to me what was going on – how they were learning about different cultures.  I asked her if she liked the Academy, and she grinned broadly and nodded her head, yes.  
"What do you like about it?"
"The teachers," she answered without hesitation.
"What do you like about them?"
"They are nice, loving, and helpful.  I'm learning so much this summer!"
The last classroom I visited was composed of first graders.  I noticed a colorful picture on one boy's desk of a volcano with a person going up the side of it and asked him about it.  "Who's that?" I asked, pointing to the person.  
"That's me," Donald answered.
At that point, we were interrupted as it was time to line up for lunch.  But before he left, I got another opportunity to ask him about his work. "Why are you walking up the side of the volcano?" I asked. He seemed a little confused but answered gamely, "I'm not walking, I'm flying."  
"Oh," and now it was my turn to be a little confused.  "You must be very powerful to fly."  
By now the girl in line behind him decided she had to help this poor confused person. Explaining patiently but emphatically, she corrected me. "It's not powerful. It's imagination!" At which point, I learned that their classroom was focusing on stories that dealt with imagination. So, yes, flying makes perfect sense. I'd rather fly over a volcano than walk up it, too!
As the children headed off to lunch, I thought about my first morning at Young Audience's Summer Arts and Learning Academy and all the kindergarten through fifth-grade pros who had guided me through the learning process. I realized I had learned a lot, too.  
For example, I learned that reading and acting out the story is a powerful way to concentrate on both the characters and the narration. I learned that math can be extremely riveting and exciting. I learned that different cultures can guide your math skills. And I learned that I need to let my imagination soar. But most importantly, I learned that combining arts with learning is fun – and effective – and that's why the kids love it.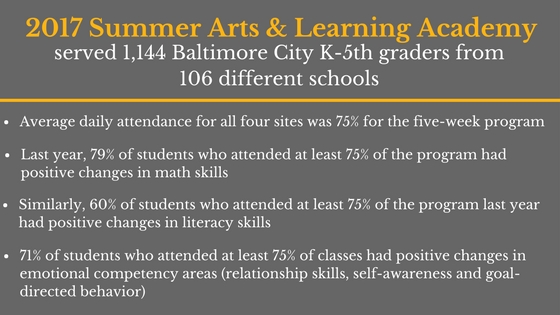 The Bloomberg Arts Internship program is coming to Baltimore this summer, placing 25 Baltimore City rising seniors in paid internships at 14 local arts and cultural institutions. Students will participate in a rigorous six-week program, providing crucial college and career readiness preparation through hands-on, real world workplace experiences and professional development.
Managed by Young Audiences/Arts for Learning and the Greater Baltimore Cultural Alliance (GBCA), the program includes work at an arts organization, visits to arts and cultural organizations, and professional development training. The Baltimore Bloomberg Arts Internship Program runs June 20-August 4, with Baltimore being the third city to host the program along with New York City and Philadelphia.
Participating institutions include performing arts centers focusing on dance and music, art museums, libraries as well as film festivals and television studios. The organizations welcoming Bloomberg Arts Interns include:
Baltimore Center Stage
Baltimore Museum of Art
Baltimore Symphony Orchestra
Center for Innovation, Research and Creativity in the Arts (CIRCA) – UMBC
Dance & BMore
Everyman Theatre
Hippodrome Foundation, Inc.
Maryland Film Festival
Maryland Institute College of Art (MICA)
Maryland Public Television
Peabody Institute of The Johns Hopkins University
Port Discovery Children's Museum
The Reginald F. Lewis Museum of Maryland African-American History & Culture
Sheridan Libraries and University Museums, Johns Hopkins University
"Through our arts internship program, we're working to change how the next generation of employees and leaders perceive cultural institutions' contributions to a city's workforce, economy, and identity," said Patricia E. Harris, CEO of Bloomberg Philanthropies. "As part of the program, interns will develop critical workforce skills at select non-profit cultural organizations, meet with professionals in the field, and attend career and college readiness workshops as part of their summer experience. We are delighted to expand this program to Baltimore."
The 25 Bloomberg Arts Internships interns were selected through a multi-step application and interview process. They will work with arts organizations three days a week, go on field trips to cultural institutions once a week, and engage in professional development trainings once a week. Through the internships and trainings, students will develop organizational work plans, begin their college applications, write analyses of art performances, and complete final projects on their experiences. Internship focuses vary across organizations to include production, education, development, community engagement, artist engagement, video, music, administration and more.
"The arts have the power to transform lives and the futures of students in our community," said Stacie Sanders Evans, Young Audiences Executive Director. "Through their generous investment in Baltimore, it is clear that Bloomberg Philanthropies not only agrees, but also can see the vibrant, growing community of artists and organizations that make this city unique. We're thrilled to coordinate this wonderful opportunity, providing Baltimore students with experiences showing the arts as a viable career pathway and passion. We can not wait to see how this program impacts the ideas and dreams of these interns."
"GBCA is excited to be part of this new project," said Jeannie Howe, GBCA Executive Director. "The Bloomberg Arts Internships will help young people develop workforce and college preparation skills, and support an equitable pipeline for talented young people interested in careers in arts and culture. The cohort in turn, many of whom are of color, will help strengthen the equity and inclusion of Baltimore's wonderful and diverse arts organizations."
Baltimore Bloomberg Arts Interns come from schools across the city, including REACH! Partnership School, Baltimore City College, Western High School, Ben Franklin High School, Patterson High School, Baltimore School for the Arts, City Neighbors Charter School, Baltimore Design School, Digital Harbor High School, Bard High School Early College, and Mergenthaler Vocational Technical High School.
Categorized:

Bloomberg Arts Internship, News, Press Releases, Summer Learning

Tagged:

Baltimore, Baltimore City, Baltimore City College, Baltimore City Public Schools, Baltimore Design School, Baltimore School for the Arts, Bard High School Early College, Ben Franklin High School, Bloomberg Arts Internship, City Neighbors Charter School, Digital Harbor High School, high school, high school students, Interns, Mayor Catherine Pugh, Mergenthaler Vocational Technical High School, Patterson High School, REACH! Partnership School, summer internship, Western High School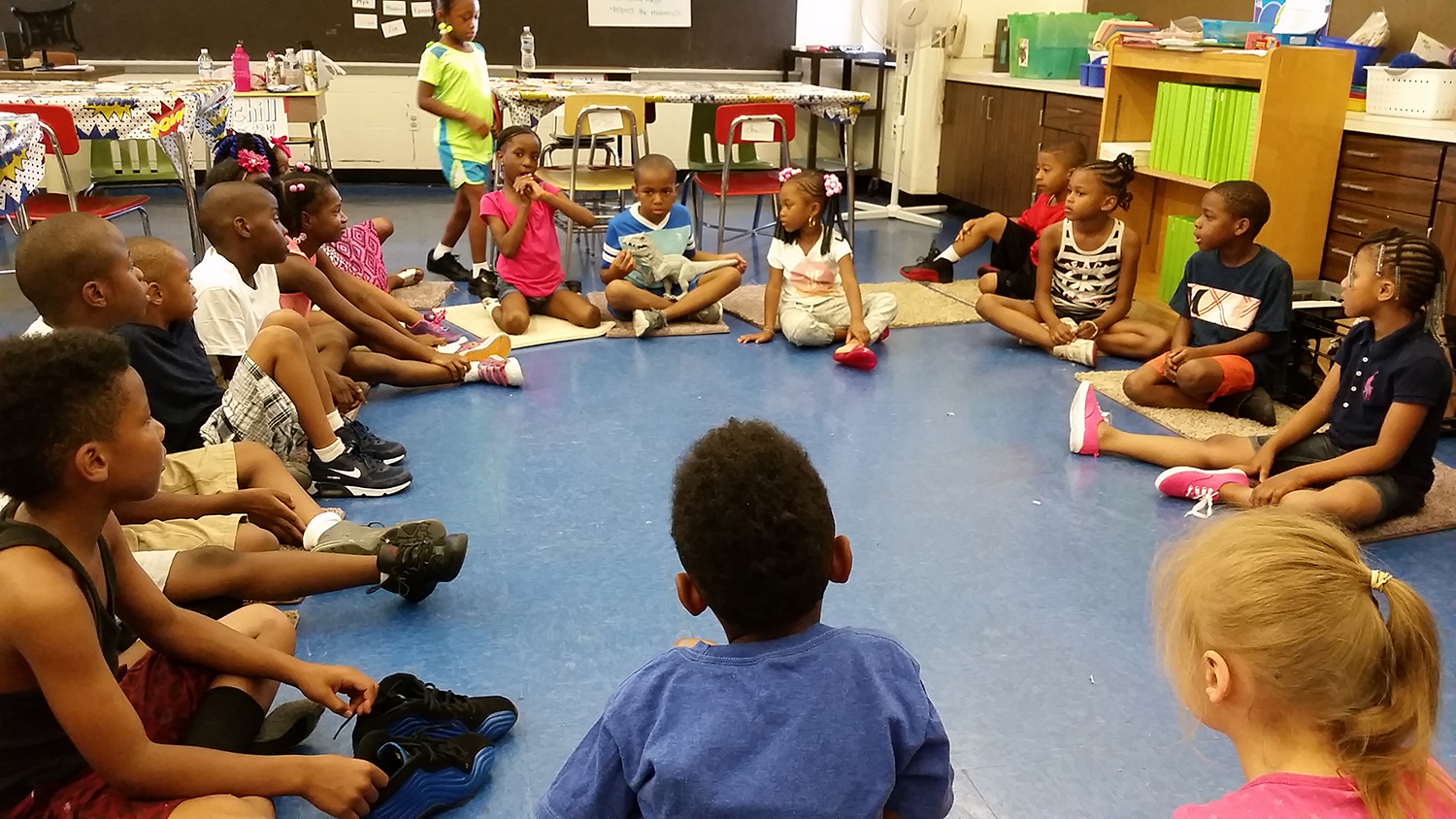 A post from Young Audiences Executive Director, Stacie Sanders Evans
Today, we visited one of our Summer Arts and Learning Academy sites at William Pinderhughes Elementary Middle School. The first classroom we entered had this statement on the board:
Every morning at 9 a.m., a teacher, an artist and their students gather in a small "Crew" as part of Young Audiences' commitment to helping children build relationships and community with one another and their teachers.  It is called Crew because it is based on the belief that we are not just passengers on this "ship," but we are "crew" members playing a role in where we go and how we get there. Crew gives our kids and teachers an opportunity to talk, to listen, and to connect as people.
The violence happening in our city and other cities is not going unnoticed by our children.
At our Academy, we strive to give our children the tools they need to express themselves, push for what they believe in, and build the communities they envision. We believe arts integration helps continue that process.
Young Audiences is not a political organization, so it feels inappropriate for me to make statements on behalf of Young Audiences about our City's and nation's current struggles. However, I will say this:
We are committed to creating safe places for children to reflect, to express themselves, to learn and to grow as people (artistically, academically, socially, and emotionally) through the arts.
Our Academy artists and their teacher partners are providing safe and nurturing places for some of our most vulnerable children to imagine, to create and to realize their full potential.
The posts we have been sharing on Facebook about our work have been inspiring others to reach out with words of encouragement. From one commenter:
"In a time when our society seems to be crumbling before our eyes, the hope and joy created by YA cannot be overstated.  Everyone at Young Audiences should be incredibly proud of being beacons of light to so many children in our community."
There are so many ways that you can be more than a passenger in this city — you can be a part of a "crew" to provide transformative learning opportunities for our young people.
If you would like to learn more about our Summer Arts and Learning Academies, the artists involved, or where the academies are located, please contact Lisa Fritsch at lisa@yamd.org or register to attend a one-hour tour of our offices and mission (what we call our On the Bright Side Tour) this Thursday, July 21 at 5:30 p.m.
______
Young Audiences' Summer Arts and Learning Academy is funded by Baltimore City Public Schools, The Abell Foundation, The Family League of Baltimore with the support of the Mayor and the City Council of Baltimore, The Alvin and Fanny B. Thalheimer Foundation and individual contributions to Young Audiences. All participants are students at a Title I Baltimore City Public School.
By Jessica Porter, Young Audiences Program Director
Tuesday morning in Baltimore began with a somber tone. As community members cleaned up our streets, led peaceful demonstrations, and opened their doors to their neighbors who needed a place to go, reflect, and process​, something beautiful began to happen​.
Early on in the day, I was struggling to find ways to productively volunteer. Despite our initial frustrations, the Young Audiences staff worked collaboratively with each other and with our artists to ​identify ways to positively affect the lives of quite a few people in meaningful, creative, and important ways throughout the day.
Young Audiences​'​ musician Kevin Martin volunteered to provide his Steel Drum Experience program, with children and volunteers who were spending the day at The 29th Street Community Center​. ​Our very own Chief Innovation Officer​ Pat Cru​z​ and several Young Audiences staff ​partnered with ​puppeteer Michael Lamason​ to get arts activities, such as mural painting​, puppet making,​ and a free puppet show, off the ground at Black Cherry Puppet Theater.
This doesn't even touch on the ​powerful work our artists were doing on their own! ​In a 10-minute span of​ the ​local ​news​ Tuesday evening​, I ​saw at least four different artists I've worked with in some capacity​ during my time​ at Young Audiences right in the epicenter of the healing taking place in our city.​ ​​Having long been active members of the communities in which they live,​ ​many of our artists are poised to lead the change that ​our city deserves.
When Kevin​ called me to say he was on his way to the 29th Street Community Center, I ​decided to come along. There were only about a dozen students at the center, and probably just as many volunteers, but s​eeing the smiles on those kids faces was the hope that I needed​​. I could tell ​the experience provided a​ much needed ​spark for the other adults too. ​The students​ chose to​ name our band ​"Monkey Kids." Though we had only​ ​40 minutes​ ​together​, at the end we performed a rough rendition of the Toots and the Maytals' song "Monkey Man"–and everyone walked away​ ​​beaming​.​
A​cross town at Black Cherry Puppet Theater, more than 30 kids and parents gathered to draw, paint, and create their own puppets before a free puppet show mid-afternoon. ​This was a true community effort, as ​​artists donated their time​ and​ volunteers ​contributed food and labor​.​
We've all got a lot of work to do in order to see the change our city needs​, but I am more confident than ever in the transformational power of our work, and thanks to my experience,​ I am once again​ hopeful for our city's future.

By John Iampieri, Young Audiences visual artist and screen painter
There is a magical feeling that happens when you are painting a screen. Everywhere I go, I always ask, "Has anybody ever seen a painted screen?" and hardly anyone ever raises a hand. It is such a functional, unique art form, and yet there are only a handful of us left that are associated with the Baltimore Painted Screen Society. Screen painting is like any other practice or custom that becomes extinct: it can become too late to embrace it.
I make it my mission to try to keep the art alive by sharing my passion with others. When I'm working with students during a screen painting residency program, I'm planting the seeds of knowledge about an art form specific to Baltimore. This is why the opportunity to bring a residency to Baltimore Design School students was so exciting for me.
There are so many talented young people at the Baltimore Design School. Early on in the residency, I realized that I was working with a special group of individuals with a lot of possibilities ahead of them. The task at hand was to work with an unusual art form that was born and bred in Baltimore, and the students rose to the occasion.
I had the opportunity to collaborate with the teachers before our first workshop to create the curriculum that would work best for students. We decided to focus the designs of the screens on four categories: fashion design, architecture, graphic design, and visual arts. The students went online to research artists in three of these fields, and then voted on the artists they wanted to feature. Students sketched designs of the three selected individuals which would be transferred to the screens. The teachers also got involved, collaborating with me to create the design for the fourth and final screen, featuring visual artist Romare Bearden.
During the residency, students had the opportunity to meet with folklorist and author Elaine Eff for a tour through her exhibit, "Picture Windows: The Painted Screens of Baltimore and Beyond," at MICA in January. Throughout the tour, the students were interested and focused, and they got a great experience out of it.
In the classroom, my goal is always to keep the kids engaged. One way I do this is by giving control to the students. I brought the materials, but the students constructed the frames and stretched the screens. I constantly reminded them after each workshop, "Remember when we started this project? There was nothing! Remember when the screens were black? Remember when we primed them? Remember when we painted?" I wanted to reiterate to them that everything was their doing.
See more photos from this residency here!
Teacher Ms. Cafaro developed the idea of a screen painting quiz. Working together, we made a list of questions on screen painting, incorporating what students had learned in class about the history of the art form, the figures they were painting, and other famous historical designers. This exercise regularly grounded our project in history, connecting the construction of the screens to what was being learned in the classroom.
What was most challenging for the students during the residency was working in groups. Creating painted screens in the classroom is really team-oriented, and each workshop is an organized chaos as students work next to each other and make decisions together. After collaborating on the design of the screen, decisions also need to be made about color and the application of the paint.
It's very exciting to see those types of engagements among students. When everybody–students and teachers–saw the completed screens, they genuinely reacted with "Wow, these are really cool!" I encouraged the students to try screen painting at home now that they are trained professionals.
Projects like this residency are important because through the arts, students can learn a different way to better understand curricular concepts that may be more challenging when taught with a more conventional learning path.
I'm very fortunate to be able to get into the classroom, and I never could have done it if it weren't for what I've learned through Young Audiences and the Maryland State Arts Council. I'm fortunate to be involved with Young Audiences because it gives me the chance to do what I love.
Read Elaine Eff's reflection on the residency.
Learn more about John Iampieri and his visual arts residency program.
The recent Young Audiences artist-in-residence at the Baltimore Design School was one of those serendipitous and wonderful coincidences you don't often come across. John Iampieri, a member of the Painted Screen Society who we've been working with for a number of years, has taught all over Maryland through his work with Young Audiences. When he announced that there was going to be a residency at the school, it was like all of our dreams come true!
The Painted Screen Society has been involved in residencies since the society began in 1985 for the purpose of keeping rowhouse arts alive in Baltimore. The whole idea behind the society is to get the art form into the hands of people who are more likely to carry it on or would benefit from knowledge of the indigenous tradition. Nothing could be more useful than to maintain it in the hands of Baltimore students who are being schooled to be artistic in some way.
I wanted to make sure that the students working with John would get the full experience of the history of painted screens, so they came to MICA, and together we toured the recent exhibit, Picture Windows: The Painted Screens of Baltimore and Beyond (Meyerhoff Gallery, December 13, 2013 to March 16, 2014), which was a three-dimensional embodiment of everything in my book, "The Painted Screens of Baltimore: An Urban Folk Art Revealed," and focused on passing the tradition on. The students also saw the documentary film "The Screen Painters" and got to see the painters in action. They learned that painted screens were not just meant to be beautiful, but were also a practical innovation, used in private homes to discourage individuals from seeing into windows while still allowing those inside to see out. I wanted students to understand that this is something that is relevant to their lives and their environments, because this is a Baltimorean art form–born here, created here, consumed here, and beloved here for many years.
Anybody who is able to get one more person to understand the value of painted screens in his or her own community is important, but John just happens to be an incredibly organized, thoughtful, and patient teacher. He has the right combination of creative ideas because he thinks in terms of the group working together as opposed to individuals creating single products.
John thinks beyond the screen. He isn't thinking merely about putting an image on your window; he's thinking about images that can be adapted to all sorts of applications, and the fact that he thinks big, in terms of banners and murals, brings him right into the intersection of the new breed of screen painters and the whole digital evolution. His approach allows many hands to collaborate to make large screens that can have a variety of installations. With his help, the students at the Baltimore Design School came together with a single purpose, which produced really impressive results that they can be proud of.
What was really important throughout the project was that the students realized that everything was up to them. They chose the subjects and the teams. They then learned about design, color, and new materials they never would have heard of. They were also learning to work as a group. Learning to do something in a prescribed manner sometimes trumps being an independent artist—a status they may not be ready for.
I'm hoping that, after this project, some of them say, "Wow, I can do that!" and will go home and add value to their own homes. I hope the students' eyes have been opened to possibilities they didn't even know about and also to a really important traditional art that is native to their city, one that couldn't be more relevant to the rowhouses they live in and the lives that they lead. I'm hoping that connections were made and that one day they'll say, "I remember that." I hope they some will keep the tradition alive, because without people who know and value them, traditions do not endure.
Part of the beauty of this art form is that there's always been an ebb and a flow. Painted screens have been everywhere and nowhere in the course of a hundred years, and my sense is that they'll be back, and they'll be in another form, and let's hope that Young Audiences continues to play a role.
Learn more about Elaine's book, "The Painted Screens of Baltimore: An Urban Folk Art Revealed," and how to purchase a copy online .
Read more about John Iampieri and his visual arts residency program here.