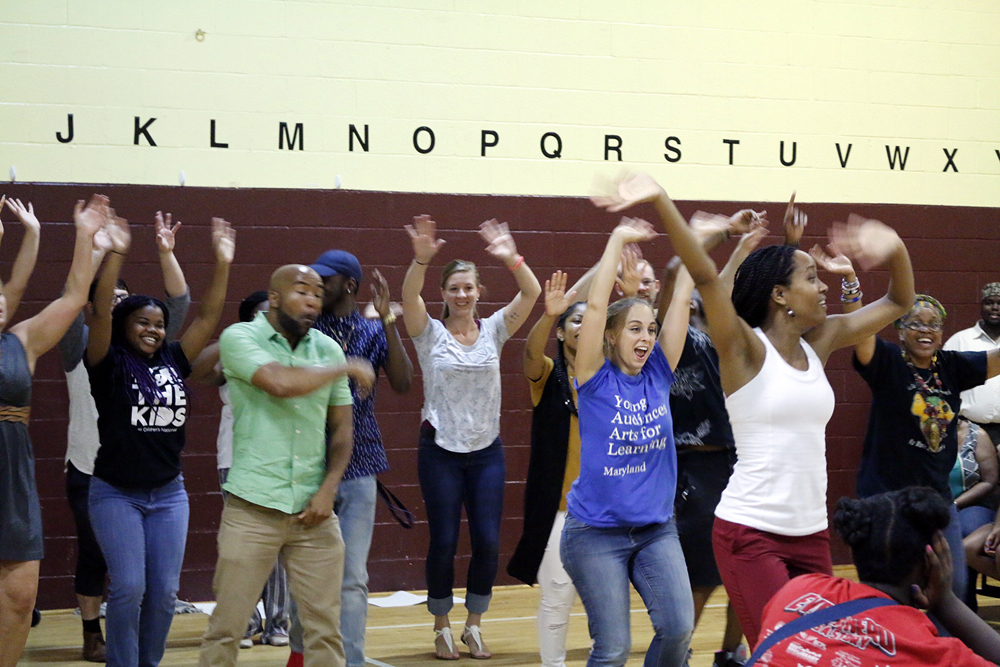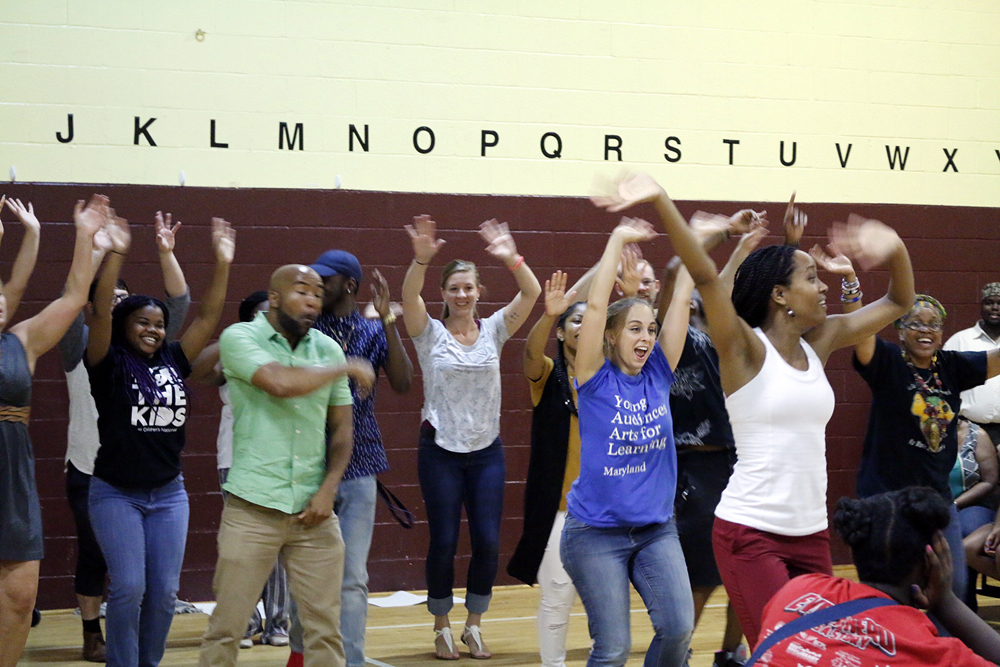 This morning, we kicked off our expanded Summer Arts and Learning Academy – a free, five week program immersing 900 City students in a variety of art forms taught by 36 locally-based professional artists. The full-day program welcomes students grades K-5, encouraging imagination, creation and expression through the arts, such as painting, songwriting, spoken word poetry, dance, piano, singing, visual art, sound production, playwriting, fiber art, and filmmaking.
Our kickoff this morning was a blast – welcoming students and their parents to the Academy's four sites with high-energy performances, live music, and vibrant interactive art demonstrations – giving them a preview of the truly unique and empowering experiences to come throughout the next five weeks.
Due to last year's success; with academic gains by students drawing from 93 different city schools—the district asked us to expand the Academy to four sites: Thomas Jefferson Elementary, William Pinderhughes Elementary, Gardenville Elementary and Fort Worthington Elementary.
Working with kids as they discover passions, refine creative processes and integrate arts in their everyday learning is an inspirational experience we and our Teaching Artists look forward to every year. We spoke with a few participating Teaching Artists about their plans and why the Summer Arts Academy is such a great opportunity for students and artists:
Scott Paynter, reggae singer:
I wanted to teach at this year's Summer Arts and Learning Academy to gain more experience working with Baltimore's greatest resource…it's children. My art form helps students express themselves through lyrics, it introduces them to cultures and people they've never encountered before, and it brings life to a classroom environment. Music is like a force of nature. It's everywhere you are if you pay attention."
Bridget Cavaiola, Baltimore Improv Group:
This is such a unique experience to provide our students with collaborative and engaging arts experiences that they may not get to during the school year. The mood and energy are contagious as you get to watch the students engage themselves in something in which they have passion."
Alden Phelps, musician:
My focus has always been on playing with words and the joy of language. Language is the foundation of how we communicate and function as human beings. Students who practice manipulating language, expanding their vocabulary, using rhymes, and counting syllables will better succeed in their regular academic work. Creative thinking opens up new pathways in our brains. There's also a wonderful freedom when a student can express an idea creatively. They synthesize their academic knowledge with skill in the arts, such as using color or figurative language, and the result is far more engaging to them."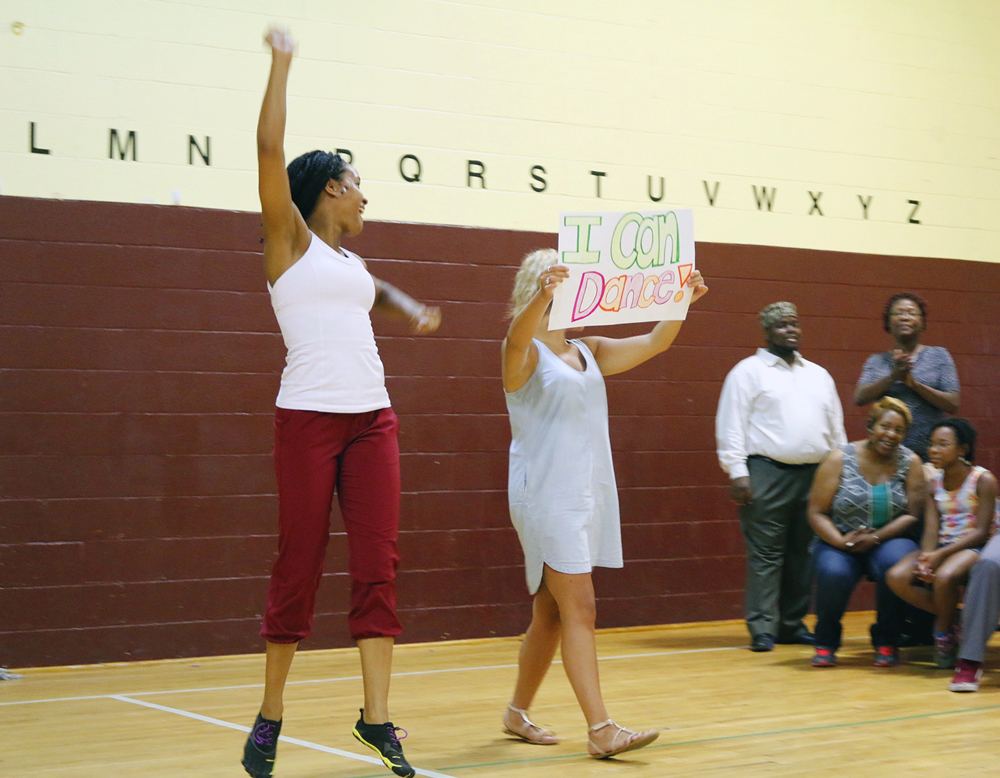 Students will imagine, create and express themselves through the arts, with a chance to concentrate on two art forms. The students even show-off their talents at Artscape, at pop-up performances in mobile art galleries around the city and at the August 5 final culminating event. We can't wait to see the students perform!
After this morning's successful kick-off event, led by teaching artists Valerie Branch and Sean Roberts, at William Pinderhughes Elementary, one parent said:
"I am just so excited to get to see my child perform soon. Seeing what the [teachers and artists] did just now, I know they are in trusted hands. It made me look at my daughter and think yes! This is going to be different, we are so excited! She LOVES art! I can't wait for the workshops too!"
Kicking off YA's Summer Arts Academy at #TJEMS with Femi the Drifish @BaltCitySchools #yamdsummer #SummerLearning pic.twitter.com/C8HwIkJ6MS

— Young Audiences MD (@arts4learning) July 5, 2016
Young Audiences' Summer Arts and Learning Academy is funded by Baltimore City Public Schools, The Abell Foundation, The Family League of Baltimore with the support of the Mayor and the City Council of Baltimore, The Alvin and Fanny B. Thalheimer Foundation and individual contributions to Young Audiences. All participants are students at a Title I Baltimore City Public School.
Categorized:

News

Tagged:

Alden Phelps, arts integration, Baltimore City, Baltimore City Public Schools, Baltimore Improv Group, ceramic art, creative learning, dance, Femi the Drifish, fiber art, filmmaking, Hip Hop, movement, Music, painting, percussion, Piano, playwriting, poetry, singing, songwriting, sound production, spoken word poetry, STEAM, Summer Arts Academy, Summer Arts and Learning Academy, summer learning, summer learning loss, summer learning slide, teaching artists, theatre, Valerie Branch, visual art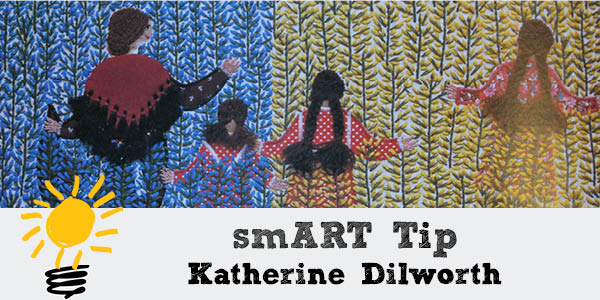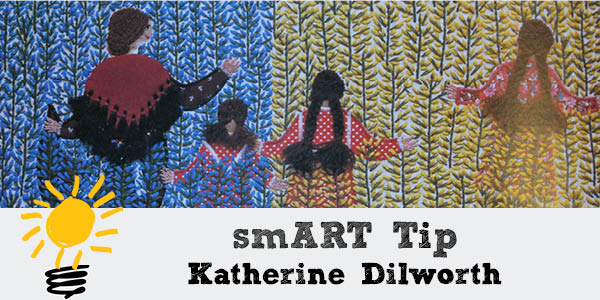 History and social studies curriculum can include subjects that are difficult to address. The brutality of past atrocities, such as the Holocaust and genocide in Rwanda, can be difficult for students to comprehend. In this month's smART Tip, Young Audiences visual artist Katherine Dilworth explains how the art of felting and other visual arts can be a helpful entry point for students when dealing with difficult and emotional subject matter.
[youtube http://youtu.be/0ximBeqQ3Mo?list=PLUssR-3GtBZfiKXpU72zQAkgXh3wBcBzQ]
smART Tips is a monthly video series sharing tips for educators who are interested in new, creative ways to use the arts in their classroom with students. See all smART Tips to date here. Interested in a specific topic? Let us know!
Young Audiences has launched smART Tips, a monthly video series sharing tips for educators who are interested in new, creative ways to use the arts in their classroom with students. Each month, we bring you a new video tip from a Young Audiences roster artist, ensemble, or teacher partner to demonstrate a short activity or a resource to make it easy to incorporate the arts into learning for students.
Check out our first smART Tip, from Young Audiences ensemble Baltimore Improv Group!
[youtube https://www.youtube.com/watch?v=mpkSC6SZKtA]
Be sure to check back for more smART Tips in the coming weeks. Interested in a specific topic? Let us know!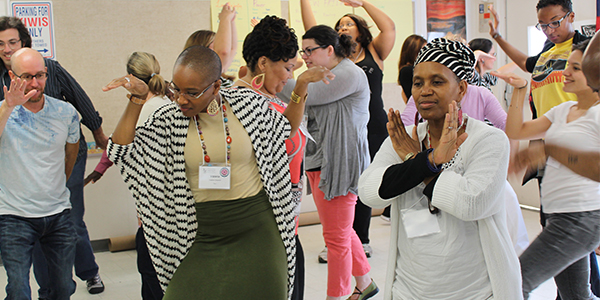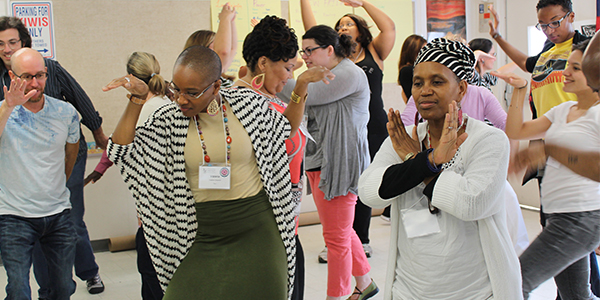 The 2014-2015 Teaching Artist Institute (TAI) Seminar is already underway, but we wanted to share some reflections from artists who have graduated from the program. Here's what they had to say about the experience:
As a full-time preservationist of acoustic Delta Blues from the 1920s and 1930s, I must make my history of Blues show academically relevant to the curriculums of Maryland and Virginia schools. I completed the TAI training program in 2009, and the course completely transformed my understanding of how I can support the current teaching standards in schools with my music programs.

As Young Audiences knows better than anyone, all the arts are under tremendous pressure to prove their relevance to school systems that are struggling to meet national testing standards in different disciplines. What I learned from my TAI training is that the arts serve a valuable role in preparing students with the 21st Century thinking skills they need for their future success in our rapidly changing world.

By creating a residency with a language arts teacher as my partner, I was able to use songwriting to teach students figurative writing skills. Without the TAI training, my school music programs would not be as academically relevant to the school's goals. This connection is critical for the arts to survive in our schools, not as a reward for difficult academic work, but as a means to help students meet their academic goals.

The TAI program is well-run by dedicated educators and artists. It is challenging, rigorous, and exposes artists, teaching artists, and professional educators to each other's thinking styles. This program deserves support, and I hope it continues to transform serious performing artists into skilled teaching artists.
– Curtis Blues, Blues Musician, Exploring Math and Music by Making a One String Guitar
I had never thought of myself as an educator, at least not in the traditional sense. Musically, there is always an underlying truth or teachable moment I try to impart. However, now I needed to do so in a structured, educational format. Although the curriculum was challenging, I am ever so grateful for having gone through the process. The fellowship with the teachers and other artists truly cannot be measured. As an artist, mentally you have to re-wire your brain to remember that it is not about you or a performance; it is about what the children learn and take away from the experience. A few months later I had the opportunity to return to the school for a musical performance for a general assembly. My class was so excited to see me and the feeling was more than mutual. For that reason alone, it was a journey worth taking.
– Uncle Devin, Musician and "Drumcussionist," Uncle Devin's World of Percussion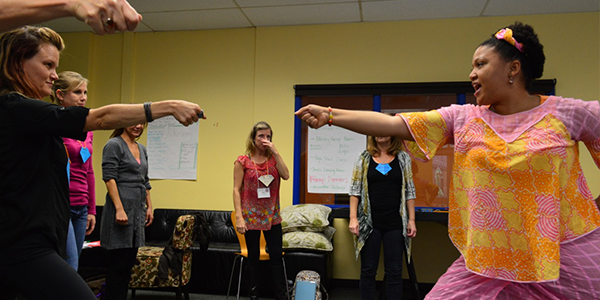 TAI gave me such an appreciation for the life of the classroom teacher. Not only did I learn how to plan and sequence a project into realistic, meaningful lesson plans, I learned a whole new vocabulary and some best practices of a strong teacher as well. Field testing my lessons with my teaching partner gave me real world practice in collaboration, classroom management, solid preparation and flexibility.

TAI is also a rare opportunity to work and learn side-by-side with artists from other disciplines. I met so many energetic, thoughtful, creative people who are not only committed to their art, but also to making a difference in the lives of children. It was incredibly valuable to me to be stretched and out of my comfort zone. As a visual artist, I found that experiences in music, dance and drama helped me move out of my head and in to my body. I learned that this whole body engagement is something that I want to bring to students when I lead them in the visual arts.

On the last day of TAI we were asked to say one word that summed up our experience. My word was "ALIVE." That pretty much says it all.
– Pam Negrin, Visual Artist, Transformative Textiles: Weaving Together Math, Literacy and History and
Collaborative Stitching: Connecting and Inventing with Needle and Thread
TAI is an amazing opportunity where artists, educators, and staff truly collaborate to help process, define, and designate the importance of art in the classroom. I loved the guided lessons, hands on experience, and being around such amazing, talented individuals. I feel like this experience helped to shine a new light on my own experiences as a classroom teacher and now a teaching artist.
– Bridget Cavaiola and Michael Harris, Baltimore Improv Group, Life is Improvised!
The staff and artists who coached us through TAI opened a whole new level of integrated content, planning, and instructional skills to us. The opportunity to develop new programming for excited young artists, alongside engaged education professionals in so many unique environments has grown our vision as an organization. This fall, three more team members will begin TAI. Best professional development around!
– Matt Barinholtz, FutureMakers, It's Alive: Kinetic Creature Lab!
I really felt like I was re-energized in my way of thinking and the facilitators brought a plethora of knowledge to the table. I appreciated their ability to listen, answer questions, and make the experience fun, interactive and simply enjoyable.
– Valerie Branch, Modern Dancer, Exploring, Creating, and Dancing with our Friends!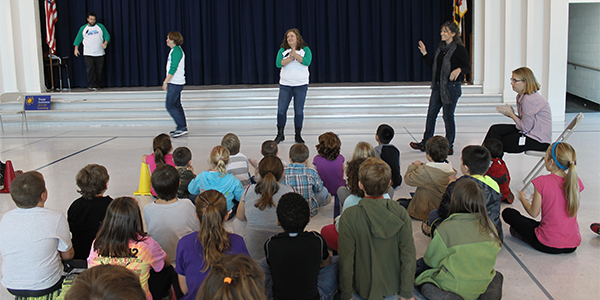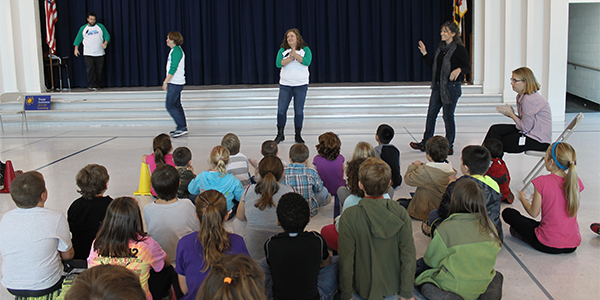 During the last two years, our roster has grown in size to encompass new artists, ensembles, and art forms. From slam poets to improvisers to Capoeira masters, these new artists are undeniably unique.
To introduce audiences to our new artists, we'll be posting interviews with those who recently joined our roster, giving them a chance to share more about themselves and their experiences with Young Audiences so far.
The Baltimore Improv Group is a talented ensemble that came aboard our roster in 2013, and their performances and residencies never fail to evoke laughter and learning. Read on to find out why they became a Young Audiences roster artist, what they learned through our Teaching Artist Institute, and why they believe improv works so well in the classroom.
What is your background as an artist?
​The Baltimore Improv Group is celebrating its 10th year as a theatre company in Baltimore. We started small but have grown close to 60 performers, and we perform 90+ shows a year, including our annual Baltimore Improv Festival. We also teach classes to adults, teens, and children. Our performers have studied and trained all across the country, and we continue to host the best improvisers in Baltimore. ​
How did you hear about Young Audiences?
​Our Education Director, Bridget Cavaiola, worked with Young Audiences for years in her position as the Residential Life Director for the Upper Chesapeake Summer Center for the Arts. The center would bring in Young Audiences artists to perform for its campers. She knew it would be a perfect fit for BIG and made the suggestion that we audition.
What made you decide to become a Young Audiences roster artist?
​Improv is such a natural fit with children. It encourages risk taking, creativity, and collaboration. We have hosted our own kids' shows and classes but knew this would be a perfect match for us. ​
Have you had any programs through Young Audiences yet? What was the most memorable part?
YES! We had more than 10 assemblies at schools this year and our first residency, too! We are looking forward to more in the coming school year. Some of our favorite memories are watching the students come up on stage and perform in front of their peers and receive that amazing confidence boost that comes from taking a risk within a supportive environment! We certainly have traveled Maryland quite extensively, and we will certainly remember the fun trek to Flintstone Elementary School in Allegany County!
You recently completed the Teaching Artist Institute Seminar this spring. What was your favorite part of the program? How has that experience changed your approach to a program or your teaching practices?
The Teaching Artist Institute is an amazing opportunity where artists, educators, and staff truly collaborate to help process, define, and designate the importance of art in the classroom. We loved the guided lessons, hands-on experience, and being around such amazing, talented individuals. We felt that this experience helped to shine a new light on our own experiences as a teaching artist.
What does your art form in particular teach students?
​Improv teaches a lot! Listening skills, taking risks, collaboration, the power of "yes," learning from failure and mistakes, and much more! ​
Why do you believe it is important for every student to have access to the arts?
​Art is the glue that solidifies education for so many kids. It allows them to access their own creativity and instills a level of respect and ownership over a child's education.
Learn more about the Baltimore Improv Group's offerings through Young Audiences here.
Keep an eye out for more interviews featuring our newest roster artists!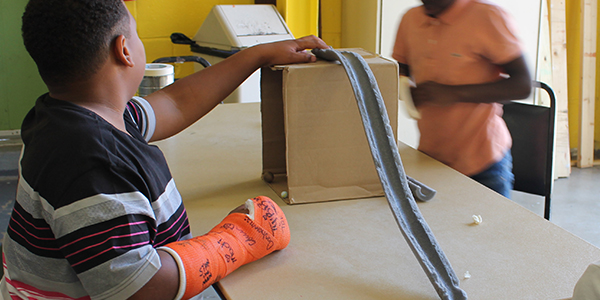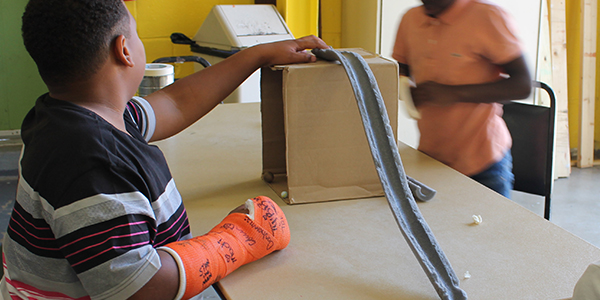 During the past few weeks, nearly 150 middle school students have dived into math and science concepts through the arts at the Young Audiences and Baltimore City Public Schools 22nd Century Pioneers Arts-Based Summer Camp. Students have learned how ratios are used in photography and how the physics of sound affect each note played on a steel drum. Through these art forms, and many more, students have been engaged in learning this summer so that they are prepared to hit the ground running this school year.
While most of the learning goes on inside the school, students have also had the opportunity to take their knowledge beyond the classroom walls on field trips. These excursions allow students to continue their hands-on learning in a new atmosphere, applying the skills and knowledge they've acquired throughout the summer.
The first trip was a visit to the Baltimore Museum of Industry, where students learned the ins and outs of technology and put their own engineering skills to the test. In one activity, students worked together in small groups to create a track that would carry a wooden ball and drop it into a can. This required them to go through the five steps of solving an engineering problem: plan, get materials, build, test, fix, and re-rest. Students were forced to adjust and readjust their designs before finally reaching their goal, usually resulting in loud cheers.
Students received another challenge: creating an artistic interpretation of the word industry. Groups joined together, combining their knowledge and creativity to come up with dances, skits, and songs that showed what they had learned that day.
See more photos from summer learning!
The following week, students traveled to Baltimore's Artscape, America's largest free arts festival organized by the Baltimore Office of Promotion and the Arts. Surrounded by artists of all disciplines, the students put on a show of their own at the Station North Stage, showcasing what they've been working on during their arts enrichment classes. The show opened with a lively Hip Hop dance performance from Jamaal Collier and Alicia Shaw's Hip Hop class. After the performance, one student explained the four pillars of Hip Hop, the most important one being knowledge. Next, Valerie Branch and Heather Tuttle's dance class got the crowd cheering with a dance set to Ariana Grande and Iggy Azelea's "Problem." Kevin Martin and Kevin Older's students also got to show off their steel drum skills.
Even those who didn't perform on stage took part in their own form of art-making. Throughout the day, Christina Delgado's photography students captured Artscape from behind the lens, while Danyett Tucker's illustration students filled up their sketchbooks with drawings of everything from festival attendees to graffiti on buildings.
Bridget Cavaiola's improv class performed an exercise called "Improv Everywhere." All over the festival, they held compliment battles, gave flowers to strangers, and posed as wax statues, making them the target of many curious stares and even a few pictures. See this group in action in the video below!
[youtube http://youtu.be/hg-sdwpGYQg]
Read more about the arts-integrated learning happening at the Young Audiences 22nd Century Pioneers Arts-Based Summer Camp site and see photos here.
Categorized:

News

Tagged:

22nd Century Pioneers Summer Camp, arts integration, Artscape, Baltimore City, Baltimore City Public Schools, Baltimore Improv Group, Baltimore Museum of Industry, Bridget Cavaiola, Christina Delgado, creative learning, Danyett Tucker, field trip, Jamaal Collier, Kevin Martin, Math, middle school students, science, summer learning, summer learning loss, Valerie Branch

By Stacie Sanders Evans, Young Audiences/Arts for Learning Executive Director
Last week I visited the classroom of teaching artist and improv master Bridget Cavaiola and science teacher Heather Tuttle, who are teacher partners in our 22nd Century Pioneers Arts-Based Summer Camp in West Baltimore. Like in all of our classes, these two teachers were "starting with the art" by warming up brains and bodies with the drama game "Big Booty." This particular game required kids to call on each other using a number instead of their name, and the goal of the game was to keep the it going as long as possible and as quickly as possible, without someone "messing up" by forgetting who had what number. (I realize this description doesn't explain why this game is called Big Booty but just stick with me here…)
The first time a student messed up in Big Booty, everyone clapped. I wasn't sure what was going on but smiles ensued and the game started over. Quickly another kid forgot which number they were and when their number was called, the game stalled. Once again everyone clapped and Bridget looked over at me to clue me in and said, "We celebrate our failures in here." The game continued, and as the kids' brains warmed up and the fear of making a mistake in front of their peers dissipated, the need to clap wasn't as frequent. When they did clap, they laughed, they shrugged it off, and they quickly moved on.
When it came time to move on to the science lesson, the teachers wanted to recap the lesson from the day before about the engineer design process. Bridget realized she had mistakenly erased the board which had listed all the key terms shared yesterday and Heather realized she forgot her notebook for reference. Oops! I don't think the situation could have been better orchestrated, in that moment Bridget and Heather, modeled "the way" by shrugging off their mistake and asked the class, "What can we do?"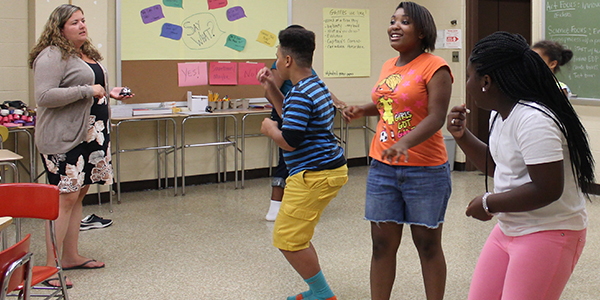 See more photos from the Young Audiences arts-integrated summer learning site!
The kids immediately started calling out the key terms they learned the day before. "Imagine!" "Investigate!" "Test!" In a quick minute all the key terms were there. I noticed each term was delivered with a gesture. The day before, the students came up with a move that conveyed the essence of each word. This lesson recap evolved into sixth-grade boys and girls (remember those awkward years?) moving their arms, hands, and heads in space as they defined the engineer design process.
Bridget and Heather and their sixth-graders are onto something. The simple act of celebrating failure creates a safe space for trying something, even if you are unsure if you are right or if you might look silly. Just imagine what is possible when you remove that fear–real opportunities for exploration, experimentation, reflection, and growth emerge.
Read more about the arts-integrated learning happening at the Young Audiences 22nd Century Pioneers Arts-Based Summer Camp site and see more photos here.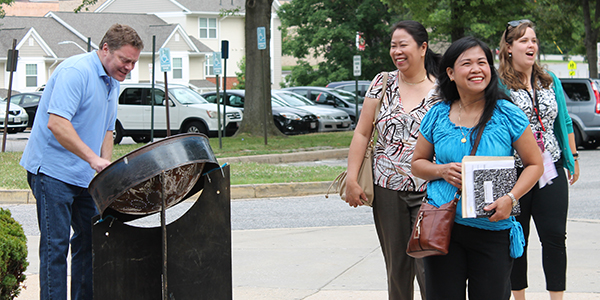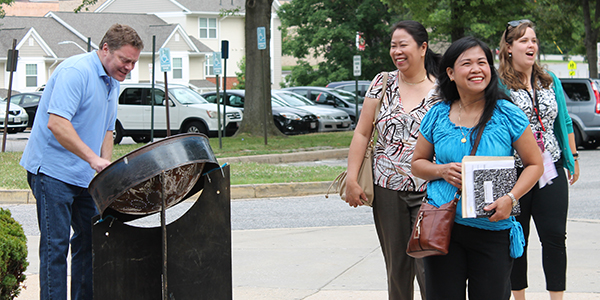 The school year may have ended, but for Young Audiences, that doesn't mean the fun, arts-integrated learning stops. Young Audiences has again partnered with Baltimore City Public Schools to bring arts enrichment activities to seven Baltimore City 22nd Century Pioneers Arts-Based Summer Camp sites. In addition, for the first time Young Audiences is also managing an eighth completely arts-integrated camp site at Edmondson Westside High School. The 22nd Century Pioneers Summer Camp is free to Baltimore City Public Schools middle school students.
At the Young Audiences camp, nearly 150 students will explore math and science concepts through the arts in classes and arts enrichment activities led by Baltimore City teachers and Young Audiences artists during the five-week program. Students can select the art form they will focus on during enrichment sessions, with choices including dance, photography, illustration and mural painting, theatre, Hip Hop, steel drum, or VEX robotics.
Because this is the first-ever Young Audiences arts-based summer learning site, we thought it deserved an equally spectacular kick-off event. As students arrived, what better way to greet them than with the arts?
On Monday, June 30, as students walked up to the school for the opening day of camp, the first thing that hit their ears was the sound of a steel drum being played by Young Audiences roster artist Kevin Martin of Rockcreek Steel Drums. Kevin has been building and playing steel drums for more than 20 years; this summer, he will show students how the instrument connects to math.
See more photos from the Young Audiences arts-integrated summer learning site!
On the way into the building, students passed the dancing Valerie Branch, a new Young Audiences artist whose energetic moves caused many to stop and watch. Valerie will get students moving while studying science this summer. Those walking in also got to witness the Hip Hop talents of musician Jamaal "Mr. Root" Collier, who will use his skills to bring math to life. Bridget Cavaiola of Baltimore Improv Group used improvisational theatre techniques to direct students inside the building. With her help, students will learn how theatre can make abstract science concepts concrete.
The excitement wasn't just at the front of the school. Once inside, students had the opportunity to take part in photographer Christina Delgado's photo booth, dressing themselves in hats and glasses before striking poses. Students will have the chance to go behind the lens with Christina to learn the art of photography and its connections to math. Visual artist Danyett Tucker will link illustration to science. As students looked on, she created a colorful mural with images of various art forms incorporated into the design, from music notes to microphones to Polaroid pictures. Students were invited to create murals of their own, as each table was decked with markers and a giant sheet of paper.
All children, regardless of their resources or where they live, lose some math skills during the summer. Studies show that economically-disadvantaged students also lose literacy skills during this "summer learning slide." Experts believe that the achievement gap between middle- and low-income students not only grows during the summer—it exists largely because of the summer.
Programs like 22nd Century Pioneers provide students with a safe place to go during the day, access to free healthy meals, adequate adult supervision, and positive, educational activities. This summer Young Audiences artists will connect students with new experiences through the arts as they learn about math and science in a new way and build their self-confidence as they gain knowledge and skills.
Check back in with the Young Audiences blog throughout July as we look at how these artist and teacher pairs are using arts integration in their classrooms.
Happy summer and happy learning!
Categorized:

News

Tagged:

22nd Century Pioneers Summer Camp, achievement gap, arts integration, Baltimore City Public Schools, Baltimore Improv Group, Christina Delgado, dance, Danyett Tucker, Edmondson Westside High School, Hip Hop, illustration and mural painting, Jamaal Collier, Kevin Martin, photography, Rockcreek Steel Drums, steel drum, summer learning, summer learning loss, summer learning slide, theatre, Valerie Branch