The recent Young Audiences artist-in-residence at the Baltimore Design School was one of those serendipitous and wonderful coincidences you don't often come across. John Iampieri, a member of the Painted Screen Society who we've been working with for a number of years, has taught all over Maryland through his work with Young Audiences. When he announced that there was going to be a residency at the school, it was like all of our dreams come true!
The Painted Screen Society has been involved in residencies since the society began in 1985 for the purpose of keeping rowhouse arts alive in Baltimore. The whole idea behind the society is to get the art form into the hands of people who are more likely to carry it on or would benefit from knowledge of the indigenous tradition. Nothing could be more useful than to maintain it in the hands of Baltimore students who are being schooled to be artistic in some way.
I wanted to make sure that the students working with John would get the full experience of the history of painted screens, so they came to MICA, and together we toured the recent exhibit, Picture Windows: The Painted Screens of Baltimore and Beyond (Meyerhoff Gallery, December 13, 2013 to March 16, 2014), which was a three-dimensional embodiment of everything in my book, "The Painted Screens of Baltimore: An Urban Folk Art Revealed," and focused on passing the tradition on. The students also saw the documentary film "The Screen Painters" and got to see the painters in action. They learned that painted screens were not just meant to be beautiful, but were also a practical innovation, used in private homes to discourage individuals from seeing into windows while still allowing those inside to see out. I wanted students to understand that this is something that is relevant to their lives and their environments, because this is a Baltimorean art form–born here, created here, consumed here, and beloved here for many years.
Anybody who is able to get one more person to understand the value of painted screens in his or her own community is important, but John just happens to be an incredibly organized, thoughtful, and patient teacher. He has the right combination of creative ideas because he thinks in terms of the group working together as opposed to individuals creating single products.
John thinks beyond the screen. He isn't thinking merely about putting an image on your window; he's thinking about images that can be adapted to all sorts of applications, and the fact that he thinks big, in terms of banners and murals, brings him right into the intersection of the new breed of screen painters and the whole digital evolution. His approach allows many hands to collaborate to make large screens that can have a variety of installations. With his help, the students at the Baltimore Design School came together with a single purpose, which produced really impressive results that they can be proud of.
What was really important throughout the project was that the students realized that everything was up to them. They chose the subjects and the teams. They then learned about design, color, and new materials they never would have heard of. They were also learning to work as a group. Learning to do something in a prescribed manner sometimes trumps being an independent artist—a status they may not be ready for.
I'm hoping that, after this project, some of them say, "Wow, I can do that!" and will go home and add value to their own homes. I hope the students' eyes have been opened to possibilities they didn't even know about and also to a really important traditional art that is native to their city, one that couldn't be more relevant to the rowhouses they live in and the lives that they lead. I'm hoping that connections were made and that one day they'll say, "I remember that." I hope they some will keep the tradition alive, because without people who know and value them, traditions do not endure.
Part of the beauty of this art form is that there's always been an ebb and a flow. Painted screens have been everywhere and nowhere in the course of a hundred years, and my sense is that they'll be back, and they'll be in another form, and let's hope that Young Audiences continues to play a role.
Learn more about Elaine's book, "The Painted Screens of Baltimore: An Urban Folk Art Revealed," and how to purchase a copy online .
Read more about John Iampieri and his visual arts residency program here.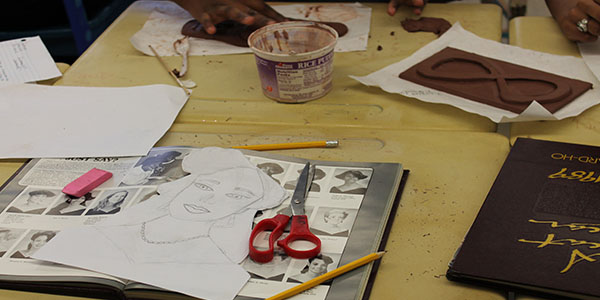 By Juernene Bass, Western High School alumna
I was very excited to take time away from work to be a part of a Young Audiences clay mural residency at my alma mater, Western High School, in October. Being a proud alumna from the Class of 1975, the program was a great example of our school motto, "Lucem Accepimus, Lucem Demus," meaning: "We have received light, let us give forth light." The mural project connected alumnae and current students with the rich history of our school. We had the chance to share our experiences and look back to historic articles, yearbooks, and artwork to create a piece that we could share with the whole Western community.
During the course of the project I was able to spend quality time interacting with my sister Westernites, grades nine through 12, as we learned from Young Audiences ceramic artist Amanda Pellerin how to create a clay mural depicting Western's 170-year-long history of rigorous studies in arts, sciences, literature, drama, and fashion.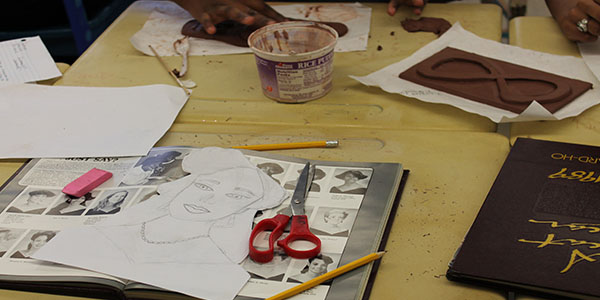 Amanda invited me to share my memories of Western during the 1970s with the current students. They found my reflections to be interesting, humorous, and sometimes unbelievable. I shared how Western taught me the academics that prepared me for college, the skills I needed to succeed in the workforce, and what studies I am using today to progress in my career.
As I mingled with the students and got to know them one-on-one, I learned that Western students are very creative and artistic. They were also knowledgeable about Western's history, and many expressed great pride in attending the school. They used their imaginations and pulled their ideas together with the decades of historical facts and traced, drew, carved, and painted the clay pieces to form a magnificent treasure. Clay tiles depicted the different school buildings to illustrate the school's various locations in Baltimore City over the years. Other clay pieces showed girls playing basketball, reading books, and graduating in cap and gown.
The clay mural project brought multiple classes of students and teachers together, giving them the opportunity to share their ideas and creativity while learning more about working with clay, Western, and each other. It allowed the students a chance to experience an art form which they may not have been exposed to before for lack of materials and time. I am sure the students enjoyed sharing this experience with one another.
Many sincere thanks to everyone who made this happen!
Read more about this project from a student participant, Nadine, who wrote a reflection of the project in January.
By Nadine Elsigal, senior at Western High School
As a senior at Western High School I had the privilege of being involved in a clay mural project with Young Audiences artist Amanda Pellerin in October. Working with Ms. Amanda during the residency was such a pleasure because clay is a medium I don't often get to use in my art classes at Western. This project was new territory for me since most of my school projects are created digitally and working with clay was an opportunity to get more hands-on. I feel that art is a crucial element to a person's development that is often overlooked, but projects like the mural we created with Ms. Amanda really gave back to the students and allowed us a chance to create. Art is a big part of my life and I plan to pursue it as my career. This residency was also a chance for me to learn about Young Audiences, an organization that shares my belief in the importance of the arts in learning.
Seniors from both my graphic design class and a history class worked with several Western alumnae and Ms. Amanda throughout the project. We decided to create a visual timeline of our school's history to celebrate Western's 170th anniversary this year. I knew little about our school's rich history at the start of the project. We worked as a team to delve into past yearbooks and brainstorm with alumnae to decide on the imagery we would include in the final piece.
I decided to recreate our senior class T-shirt design in my clay tile to represent current Western students. Including a symbol of our class in the mural was a chance to leave behind a piece of the Class of 2014 within an artwork that will hang at our school for years to come.
View all three pieces of the finished mural, as well as photos of its creation, online. 
As hard as it is to choose my favorite part of the residency, I think I enjoyed hanging the finished mural the most. There isn't a better feeling than seeing work you have created put on display. It made me realize that I had done it–I overcame the challenges of the project and created something that current and future students will enjoy. I feel proud to have been a part of this residency and to have successfully completed such a large project that can be shared by my school community.
At the start of the residency I was excited–I thought the project would be fun and a great opportunity to leave our mark on Western. Now that the mural is complete and installed I feel accomplished. As I finish my last year at Western, I will graduate knowing that I added to my school's long history.
Learn more about Amanda Pellerin and her residency and teacher professional development program offerings online!