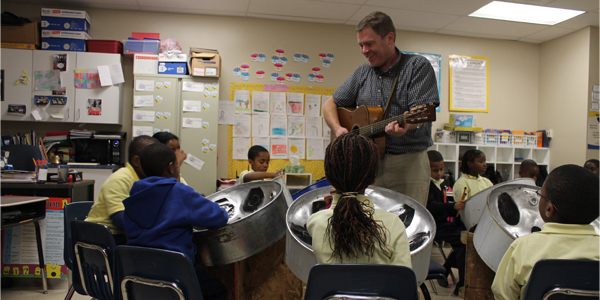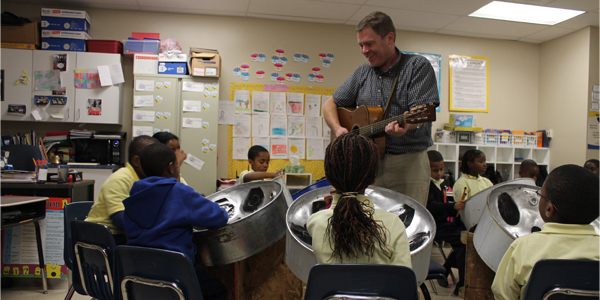 By Lindsay McLaughlin, Alternative Therapies Coordinator, The Pathways Schools
The Pathways Schools held its third annual Student Art Show on April 30. The event is a showcase for student creativity and artistic expression and is an opportunity to recognize standout partners, such as family members, Pathways staff and board members, businesses and agencies who employ or provide internships for our students, teaching artists who carry out residencies at our schools, and many others. This year's Community Partner of the Year was Young Audiences teaching artist and musician Kevin Martin of Rockcreek Steel Drums for his dedication to bringing steel drum music and the vitality of Caribbean culture and history to our students.
During his residencies with students, Kevin teaches the basics of the steel drum, melody, rhythm, and so much more. Our students learned about another culture and saw a different way of seeing the world and themselves. Kevin has an ability to connect with students through music. That ability, along with his patience and consistent encouraging attitude, has made Kevin a sought-after teaching artist here at Pathways.
A couple years ago, our Pathways teachers and therapists were looking for ways to bring music into our schools so I asked Young Audiences staff to recommend a musician who could connect with our students. Thus Kevin came to us. He has completed no fewer than five residencies at Pathways in four of our six schools during the past two years. Next year, he is scheduled for a residency at a fifth school.
We are very grateful for Kevin, his commitment and talent, and also for organizations like Young Audiences that advocate for and make it possible for artists to come into our schools, work with our teachers and staff, and enhance the education and indeed the lives of our students and staff.
There's a bigger picture here as well. As Pathways educators, we know that the best learning often doesn't take place behind a desk. Our students thrive in a variety of learning environments, including museums and libraries, to job sites, such as ships sailing the Potomac tributaries and production studios at local television stations. Similarly, they learn best using a variety of means, like while playing a steel drum or molding a mosaic tile. This is because as human beings we need many avenues to take in the world and to release the prodigious power of our imaginations. This is what art does for us. It is an accessible way for us to connect our minds to the world that surrounds us. It gives us a way to communicate who we are–our ideas, thoughts, new understandings, and what we perceive
This is why it is critically important that we keep the arts vibrant in our schools for our students. How much better it is to experience the vitality of Caribbean culture through a steel drum compared to a textbook. How much better it is to feel the edges of a mosaic piece and use it to create an image with personal significance than look at a geometry chart or the dictionary entry for "symbol." Art is how information becomes tangible and how knowledge becomes understanding. This is the sort of transformation that artists who come to work with our students facilitate every day. In turn, they are supported by dedicated arts educators and advocates who ensure that they are able to do what they do, particularly local and state arts councils and nonprofit organizations like Young Audiences.
Art–human expression in all its forms–should never be on the margins, whether we are talking about our communities or our schools. Thanks to the efforts of artists like Kevin and organizations like Young Audiences, it isn't. Congratulations to the Pathways Community Partner of the Year Kevin Martin.
Learn more about Kevin and his program offering for schools.

By John Iampieri, Young Audiences visual artist and screen painter
There is a magical feeling that happens when you are painting a screen. Everywhere I go, I always ask, "Has anybody ever seen a painted screen?" and hardly anyone ever raises a hand. It is such a functional, unique art form, and yet there are only a handful of us left that are associated with the Baltimore Painted Screen Society. Screen painting is like any other practice or custom that becomes extinct: it can become too late to embrace it.
I make it my mission to try to keep the art alive by sharing my passion with others. When I'm working with students during a screen painting residency program, I'm planting the seeds of knowledge about an art form specific to Baltimore. This is why the opportunity to bring a residency to Baltimore Design School students was so exciting for me.
There are so many talented young people at the Baltimore Design School. Early on in the residency, I realized that I was working with a special group of individuals with a lot of possibilities ahead of them. The task at hand was to work with an unusual art form that was born and bred in Baltimore, and the students rose to the occasion.
I had the opportunity to collaborate with the teachers before our first workshop to create the curriculum that would work best for students. We decided to focus the designs of the screens on four categories: fashion design, architecture, graphic design, and visual arts. The students went online to research artists in three of these fields, and then voted on the artists they wanted to feature. Students sketched designs of the three selected individuals which would be transferred to the screens. The teachers also got involved, collaborating with me to create the design for the fourth and final screen, featuring visual artist Romare Bearden.
During the residency, students had the opportunity to meet with folklorist and author Elaine Eff for a tour through her exhibit, "Picture Windows: The Painted Screens of Baltimore and Beyond," at MICA in January. Throughout the tour, the students were interested and focused, and they got a great experience out of it.
In the classroom, my goal is always to keep the kids engaged. One way I do this is by giving control to the students. I brought the materials, but the students constructed the frames and stretched the screens. I constantly reminded them after each workshop, "Remember when we started this project? There was nothing! Remember when the screens were black? Remember when we primed them? Remember when we painted?" I wanted to reiterate to them that everything was their doing.
See more photos from this residency here!
Teacher Ms. Cafaro developed the idea of a screen painting quiz. Working together, we made a list of questions on screen painting, incorporating what students had learned in class about the history of the art form, the figures they were painting, and other famous historical designers. This exercise regularly grounded our project in history, connecting the construction of the screens to what was being learned in the classroom.
What was most challenging for the students during the residency was working in groups. Creating painted screens in the classroom is really team-oriented, and each workshop is an organized chaos as students work next to each other and make decisions together. After collaborating on the design of the screen, decisions also need to be made about color and the application of the paint.
It's very exciting to see those types of engagements among students. When everybody–students and teachers–saw the completed screens, they genuinely reacted with "Wow, these are really cool!" I encouraged the students to try screen painting at home now that they are trained professionals.
Projects like this residency are important because through the arts, students can learn a different way to better understand curricular concepts that may be more challenging when taught with a more conventional learning path.
I'm very fortunate to be able to get into the classroom, and I never could have done it if it weren't for what I've learned through Young Audiences and the Maryland State Arts Council. I'm fortunate to be involved with Young Audiences because it gives me the chance to do what I love.
Read Elaine Eff's reflection on the residency.
Learn more about John Iampieri and his visual arts residency program.