Written by Stacie Sanders Evans,
President and CEO of Young Audiences/Arts for Learning
The arts shape who we are. When we're exposed to an art form–when we're diving in and really experiencing it–we're seeing life through a different lens. This means that we're accessing information that might otherwise have been out of reach and making connections that may not have been evident. And when these experiences happen in the classroom, students are empowered to make decisions, to collaborate and build with their peers, and to understand lessons in a way that is accessible to them. In celebration of National Arts in Education Week, we want to amplify the message that now more than ever, the arts are an essential part of every child's education.
I remember the steel drums from my first assembly in second grade, the ballet performance of my first field trip at the Columbia Coliseum in South Carolina, and music class in the trailer. My first artist-in-residence experience introduced me to Batik in fourth grade. We had arts integration before anyone thought we needed to define what that was: In fifth grade, our teachers gave us a camcorder, and we produced a music video using Cyndi Lauper's lyrics to True Colors as part of ELA curriculum.
This was all before I turned 12 years old. These moments made a mark on me. #BecauseOfArtsEd, I knew that life existed beyond my neighborhood, that history expanded beyond what I knew, and that those who "got" Cyndi Lauper "got" me at a time when I needed to feel understood. Three decades later, these moments from school resonate with me more than anything else.
It turns out my robust arts education back in the 80's is now deemed a privilege. In the years since I was in elementary school, the facts show that kids today have fewer artists and arts teachers in their lives and as part of their public education.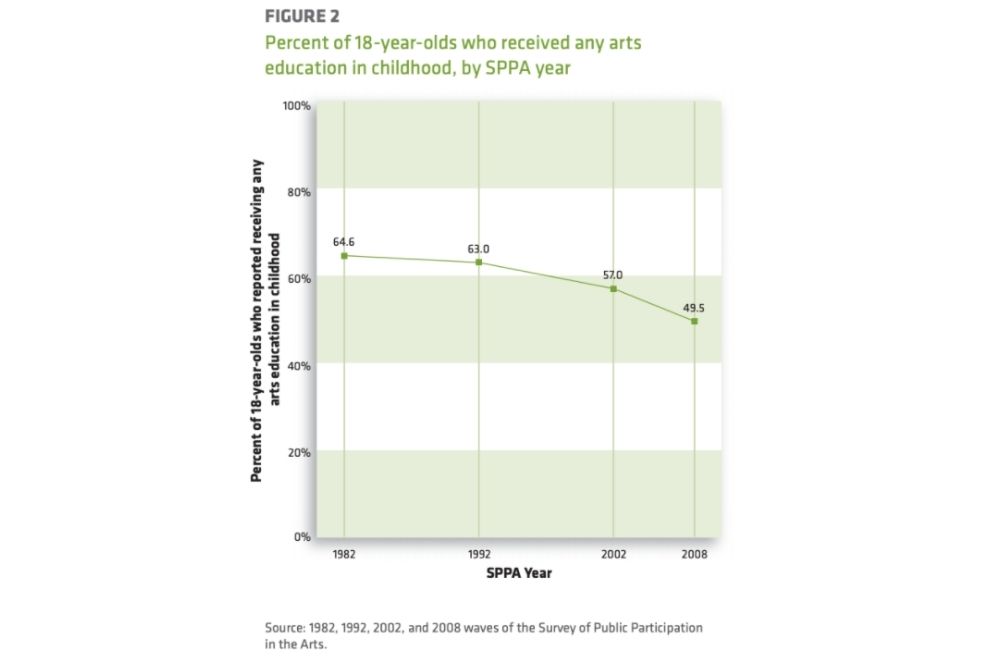 This is not the only privilege that I benefit from and, when you are a person carrying privilege, it's easier to look at the world through a window instead of raising the mirror to the world you are a part of. The mirror reveals a City where the police receive a budget of half a billion dollars–a sixth of the overall city budget–while our school system receives a mere fraction of that. The mirror shows that Black and Brown children in our state are less likely to have visual arts, dance, music, and theatre as part of their education. Imagine all of the moments of discovery, expression, connection, and cohesion that are eliminated by not having those kinds of teachers in their life?
The disinvestment grows. With the economic fallout of COVID, "belt-tightening" is already happening in school budgets; arts positions for the current school year in my kids' public school have been cut, and I've heard that other arts teachers have either lost their positions or have been asked to not teach their art forms (i.e. an "elective") but in a "core" subject. How is this ok when children are experiencing the trauma of a global pandemic and the murdering of Black people, including George Floyd, Breona Taylor, and Ahmaud Arbery? How is this ok when the arts could help build the sanctuary our kids need and fuel the empowerment and self-actualization needed for the next generation to create a more racially just world?
At Young Audiences, we see that when we integrate the arts into instruction–beyond the art room or dance studio, and into literacy and math–you get high levels of engagement and, in turn, higher levels of achievement, particularly for kids who are identified as below grade level. This is because different things motivate and speak to different learners. For many kids, the arts may just be that thing. Each child has their own light switch that they sometimes need help turning on. The arts, teaching artists, and arts teachers in my life flipped that switch for me.
We at Young Audiences have come to realize that it can play a more intentional role in disrupting systems, like public education, when we see that system oppressing Black and Brown children instead of uplifting them. We are starting by getting our own classrooms in order, so that the faculty who teach in our Summer Arts & Learning Academy can construct anti-racist classrooms where all children are celebrated, honored, and affirmed. We asked this faculty to step into their roles as change agents within the current system. We understand that, in order to transform systems, we need to lift up an alternative model for what a new just system could look like. Artists, arts teachers, and arts organizations are essential to dismantling and rebuilding.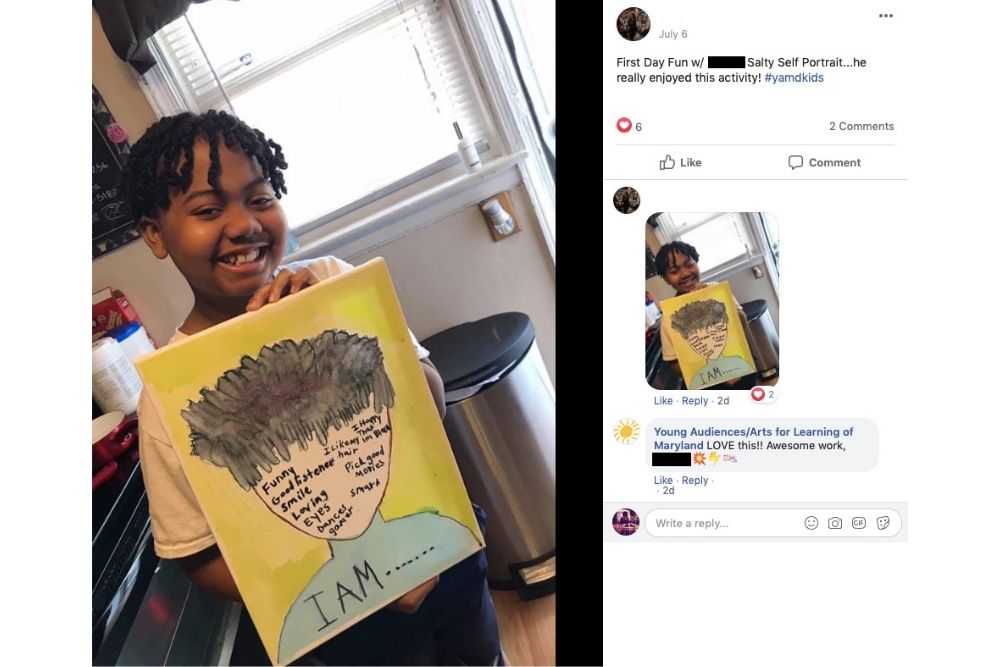 YA, in community with teaching artists, is on a course to re-envision how the arts can be used to transform the learning environment in school settings and at a systemic level. We know that #BecauseOfArtsEd, children start Kindergarten better prepared and ready to learn; that #BecauseOfArtsEd, students experience less summer learning loss, leading to more instruction time devoted to learning new material; and that #BecauseOfArtsEd, school communities see positive academic achievement and social and emotional development among students. The new system undoubtedly includes the arts. And we know that students absolutely deserve the arts as part of a well-rounded education. But, in this society, if we want to see a different reflection when looking in the mirror, we need them.
This post originally was written for AEMS and their #WeAllDeserveArts campaign. To learn more about the important work AEMS does to support and advance quality arts education in Maryland, visit their website at aems-edu.org.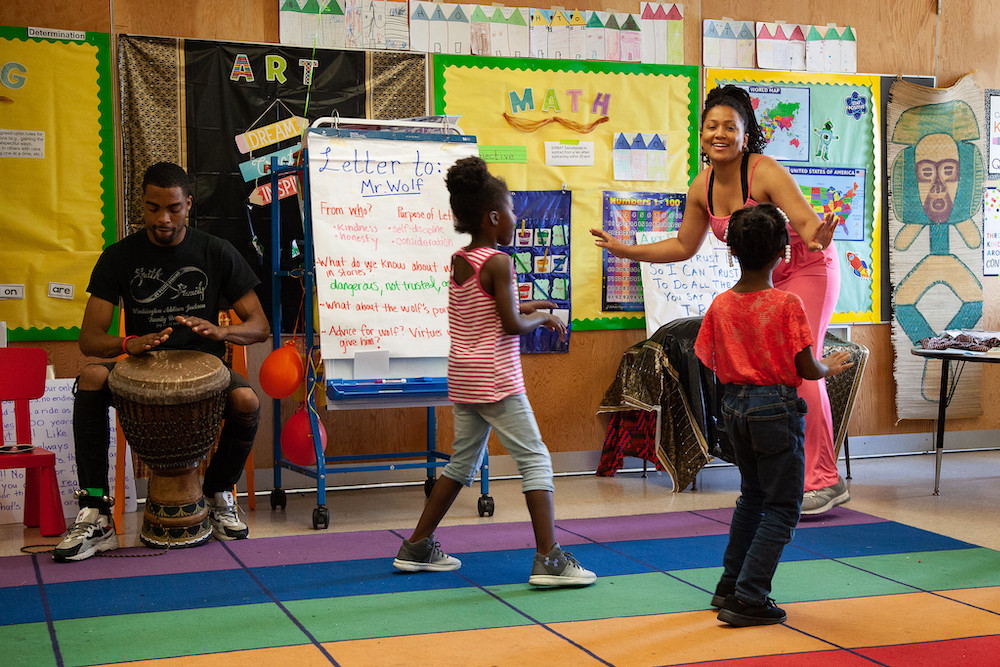 BALTIMORE – Young Audiences of Maryland, the Baltimore-based nonprofit delivering arts-integrated learning experiences to Maryland students and educators, has won the National Summer Learning Association's 2020 New York Life Foundation Excellence in Summer Learning Award for its Summer Arts & Learning Academy (SALA). Young Audiences was selected out of more than 350 applying organizations from across the country.
The 2020 New York Life Foundation Excellence in Summer Learning Award award honors Young Audiences' Summer Arts & Learning Academy – operated in partnership with Baltimore City Public Schools – for curbing summer learning loss. While most children lose up to two months of math skills over the summer, the cumulative effects of summer learning loss are most detrimental to students living in under-resourced communities. Young Audiences has also been recognized for demonstrating excellence in accelerating academic achievement, promoting healthy development for children and youth, supporting educator professional development and enhancing family and community engagement. The award included a $10,000 donation to Young Audiences. Past award winners have included West Virginia University, Hasbro, Ohio State, and the YMCA.
"Our teaching artists, educators, and staff do incredible work every year to provide excellent arts and educational experiences to students in Title1 Baltimore City Public Schools through the Summer Arts & Learning Academy," said Stacie Sanders Evans, Young Audiences President & CEO. "We are proud and thankful to be honored with this award, which validates what we've known all along: the arts transform learning for students."
SALA is a free, five-week, summer program typically engaging more than 2,000 Baltimore students a year in hands-on, arts-based learning guided by professional teaching artists and educators. The seven year old program has been shown by multiple independent studies to reduce summer learning loss, increase student confidence and engagement, and transform how teachers teach. For example, SALA students may use beat boxing to support math instruction, paint their favorite scenes from stories they are reading, or explore the art of photography to learn about the nature all around them. This kind of programming is designed to make learning more accessible for students, and to influence traditional educational systems to empower all students to express their voices and experiences.
The awards are presented annually by the National Summer Learning Association (NSLA), the only national nonprofit exclusively focused on closing the achievement gap by increasing access to high-quality summer learning opportunities.
"Our teaching artists, educators, and staff do incredible work every year to provide excellent arts and educational experiences to students in Title1 Baltimore City Public Schools through the Summer Arts & Learning Academy," said Stacie Sanders Evans, Young Audiences President & CEO. "We are proud and thankful to be honored with this award, which validates what we've known all along: the arts transform learning for students."
"This award validates the creative approach of Baltimore City Public Schools and Young Audiences to using the summer months to address the opportunity gaps in our city," said Dr. Sonia Santelises, CEO of Baltimore City Public Schools. "When we bring artists into our classrooms in the summer they spark curiosity, creativity, and a desire to learn that fuels our students' academic growth."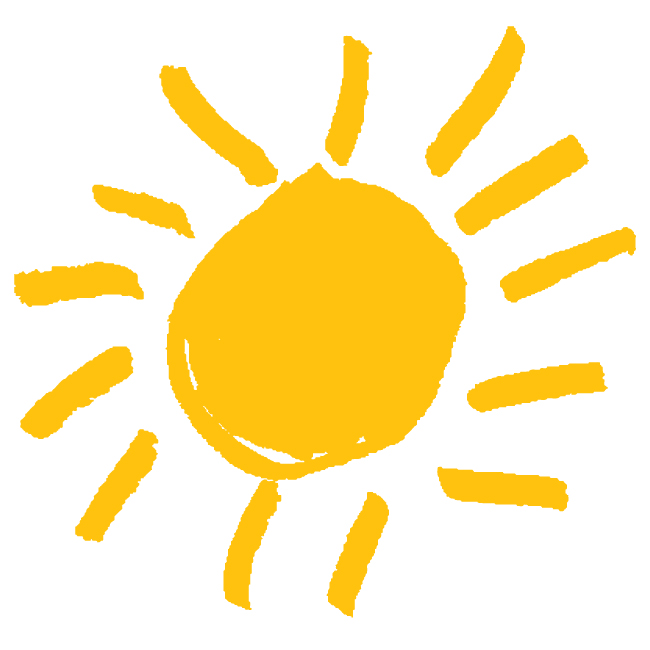 About Young Audiences/Arts for Learning:
Started in Baltimore in 1950, Young Audiences is the nation's largest arts-in-education provider. As the Maryland affiliate, Young Audiences/Arts for Learning (YA) is devoted to enriching the lives and education of Maryland's youth through educational and culturally diverse arts programs. Through Young Audiences, professional artists from all disciplines partner with leaders and schools for nearly 10,000 hands-on arts learning experiences that reach more than 190,000 Maryland students. Young Audiences envisions a Maryland where the arts are valued for their capacity to transform lives, and where every student is immersed in opportunities to imagine, to create, and to realize their full potential.
About the National Summer Learning Association
The National Summer Learning Association (NSLA) is the only national nonprofit exclusively focused on closing the achievement gap by increasing access to high-quality summer learning opportunities. NSLA recognizes and disseminates what works in summer learning, develops and delivers community capacity-building offerings and convenes and empowers key actors to embrace summer learning as a solution for equity and excellence in education. For more information, visit www.summerlearning.org/.
Categorized:

Press Releases

Tagged:

achievement gap, arts, arts education, arts integration, Award, Baltimore City, Baltimore City Public Schools, BCPSS, Excellence in Summer Learning Award, literacy, Math, National Summer Learning Association, SALA, Summer Arts & Learning Academy, summer learning, summer slide, teaching artists, Title I
Young people especially have felt the brunt of disappointment this year. It's been hard for adults not to throw up our hands defeated by what felt like every important event and pivotal milestone of 2020 being cancelled. Imagine how that feeling must be amplified in teenagers. And it wasn't just the celebratory moments, the graduations, dances, concerts, performances, and year-end trips being cancelled. Important next steps were postponed and progress, halted.
Many students relying on the professional experience an internship provides have missed out on those opportunities as well. But not Bloomberg Arts interns. The Bloomberg Arts Internship (BAI) has always been special. Since 2017, the chance to work within arts and cultural organizations, to learn from and alongside arts and cultural professionals, and to be a valued voice within an organization has been extraordinary for rising high school seniors in Baltimore City. Couple that with mentorship, college prep, and practice with writing coaches, and you can understand what makes BAI such an invaluable opportunity for young people at the intersection between high school and college. It had to happen.
Each host city—Baltimore, Boston, New York City, and Philadelphia—stepped up to the challenge of reimagining and delivering an intense and multifaceted program involving multiple organizations and students from many different high schools in a virtual space this summer. If that doesn't tell you that the Bloomberg Arts Internship is something extraordinary, know this: 75% of our Baltimore program's college mentors are BAI 2017 graduates and our social media manager, Josh Ray, is a BAI 2018 graduate. To have so many alumni return full-circle to guide students, to make sure that they, too, have the opportunities, training, and insight needed to be successful in college and careers speaks volumes. We are so honored.
The 2020 Bloomberg Arts Internship Worksites:
Art with a Heart
Arts Education in Maryland Schools (AEMS)
Arts Every Day
Baltimore Jewelry Center
Baltimore Youth Arts
Creative Alliance
Dance & Bmore
DewMore Baltimore
Evergreen Museum and Library
Homewood Museum
Living Classrooms – Ascend through Music Program
Maryland Historical Society
Maryland Institute College of Art
Single Carrot Theatre
The Baltimore Museum of Art
By now, our 2020 cohort of Bloomberg Arts Interns have each settled into working with one of these 15 arts and cultural organizations in Baltimore–some who have welcomed interns since the program began in 2017, some brand new this year, all of them excited to work with students and make the most of their internship even in a virtual landscape. We cannot wait to hear and read about the projects they will imagine and develop this summer in their blog and through their Instagram page. Like most programs post-COVID-19, the Bloomberg Arts Internship looks a little different this year. But it feels right.
The Bloomberg Arts Internship is managed by Young Audiences through the support of Bloomberg Philanthropies. Learn more about the program here.
Did you catch Arts & Learning Kids! on Channel 77 this weekend? Young Audiences created this cool educational TV show in partnership with City Schools to reinforce what our students are learning remotely through interactive arts-integrated lessons!
Each episode is geared toward one of three grade bands (PreK/K, 1/2, and 3rd-5th Grades), and features a teacher and professional artist co-teaching an arts-integrated math or literacy lesson in-line with the math and literacy work students are currently doing either virtually or via packets. After each episode airs, it is accessible anytime online at yamd.org/kids.
This is not a passive viewing experience! During each episode, students are challenged to explore learning through a variety of art forms. They'll learn key math concepts using their whole bodies and voices; write and animate their own myths by creating a flip book; learn basic tap steps to help review fractions; engage in storytelling using an actor's tools; or even solve math problems with shadow puppets!
In the episode "Character Traits Choreography," students have the opportunity to identify their own character traits and those of important Civil Rights leaders like Dr. Martin Luther King Jr. and Ruby Bridges. Students will be able to unlock their creativity and communicate those character traits through dance! Learning several elements of dance like frozen poses, levels, shapes and energy, students will not only get to perform the Ruby Bridges choreography, but will be inspired to look for the leaders—particularly those who respond to injustice—in their communities and in themselves, identify character traits of those individuals, and create their own choreography. (This episode is recommended for students in 1st and 2nd Grade) 
As a fun bonus, within each episode are two special segments. The "Sweet Stuff Showcase" highlights an engaging and educational digital experience from outside of our own organization. The "Artsplosions" segment features YA artists presenting a cool and quick experience in their art form that often encourages kids to get up and get moving. We are so excited to share Arts & Learning Kids! with you. It really is an AWESOME program and we think that even parents and caregivers will find that it's super fun to watch. Check it out!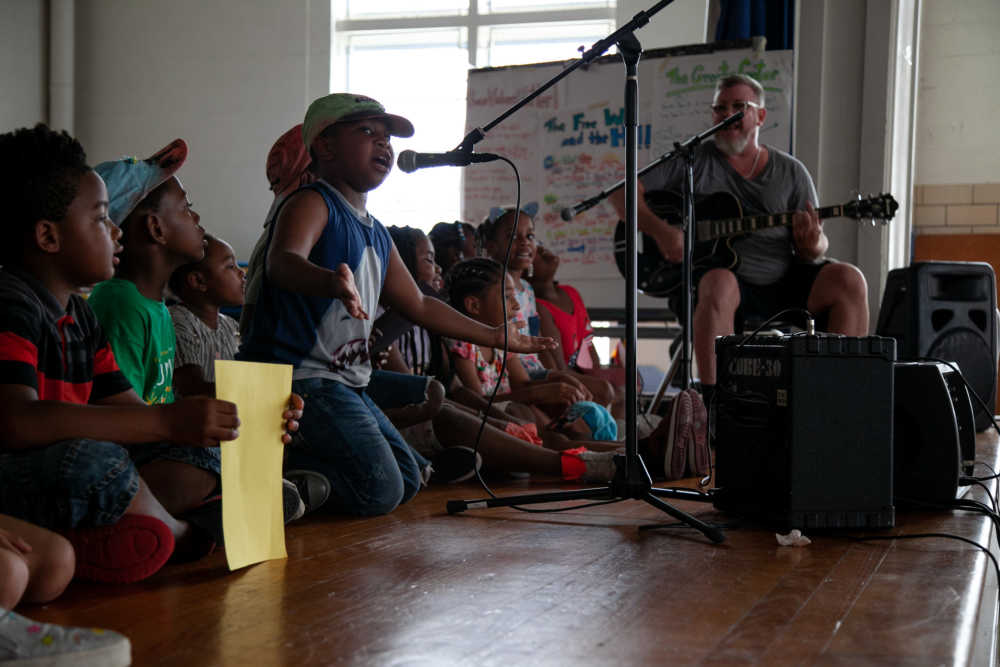 smARTbeats returns to WTMD on Saturday, October 19 during the weekly children's program Young At Heart! On this month's segment, host Lisa Mathews talks with Scott Paynter, or Scotty P as he's known around town, one of our talented teaching artists from Summer Arts & Learning Academy (SALA). He embodies fun and warmth in his classroom and on stage as a solo performer and as a lead vocalist with the world-renowned reggae band Jah Works. 
"Jah Works is a true grassroots success story that emerged from Baltimore's reggae scene over 20 years ago. This is music made by and for lovers of real, authentic reggae music. Consistently performing hundreds of shows a year worldwide, they have forged their sound in clubs, festivals and on the sun drenched beaches of Negril. Their sound is firmly planted in the roots of Jamaican music and culture, encompassing rock steady, reggae, and elements of dancehall and dub. What Jah Works does best is introduce the novice music listener to the fullness of reggae music and culture." —from jahworks.com
Scott's classroom in SALA is a creative and joyful place where music and children go hand in hand. Perhaps it's because he got his own start in music as a young child with a guitar he built from plywood and yarn. How awesome that every summer he helps more young musicians discover their passion for music and songwriting!
Scott doesn't just share his art form with students, he teaches them to demonstrate what they've learned through music. By writing songs about the books and stories they've read, children are able to dive deep into the different characters and their personalities—bringing them to life. Take this video, for instance, of Scott's students performing a song they wrote with the artist about a book they read together called City Green by DyAnne DiSalvo-Ryan.
It should come as no surprise that kids love coming to his class to sing and learn! Mr. P makes learning fun—and even though his time with them is relatively short, his patience and commitment to the students can be seen in the strengthening of their academic abilities, their understanding, and the genuine smiles on their faces.
Listen online now to the smARTbeats interview with Scott Paynter at WTMD.org
Young At Heart airs weekly on 89.7 WTMD from 7 to 8 am on Saturdays, featuring music that appeals to parents and children alike. Previous shows have featured music by Wilco, David Bowie, Andrew & Polly, Weezer, and others. 
In January 2020, Bay Brook Elementary Middle School will move into a 21st Century school building! Monique B. Reese, Principal of Bay Brook told us that along with the move, her school is adopting an arts integration model. During her first three years at the school, she focused on reducing suspensions and building a positive school climate. Now, Mrs. Reese's goal is to use the arts to assist with increasing student engagement and higher achievement. That's what brings her to the Young Audiences Principal Fellowship Program.
Mrs. Reese began her career as an elementary school teacher in various urban school districts. During her time as a teacher, she found a passion for leading others in teaching and learning. This passion for leadership led her to serve for eight years as an Assistant Principal in the District of Columbia Public Schools, and then as a principal at Bay Brook Elementary Middle School. During her first three years at Bay Brook, she focused on reducing suspensions and building a positive school climate. "I am excited about being a part of the Young Audiences Principal Fellowship program because it directly connects to my new school model," she said. "I can learn new ideas about arts integration that I can directly implement in my school as we begin our new vision."
"We have seen first-hand the excitement the arts bring to our students."
Over the course of the program, she'll receive coaching from experienced educators who have already used arts integration as leverage for school change. "Our students learn in different ways and we need a path that reaches all learners," Mrs. Reese said. "When given the choice between STEM, project-based learning, and arts integration for their new school model, the staff and community were confident that a larger focus on the arts would bring positive change."
The school currently has a partnership with Arts Every Day which helps fund artist residencies for classrooms. Already, the school holds monthly arts integration days in which teachers engage students in an art project to teach literacy, math, or science. "We have seen first-hand the excitement the arts bring to our students," she said. "The staff believe that the arts will give students the opportunity to be more engaged in the content, thus reducing class disruptions and increasing achievement."
Mrs. Monique Reese, Principal of Bay Brook Elementary Middle School, is one of ten Baltimore City Public Schools principals selected to participate in the Principal Fellowship Program. The year-long fellowship provides principals with the guidance and framework to develop an arts-based action plan in their schools and we are thrilled to have her in the inaugural cohort!
Written by Stacie Sanders Evans,
President and CEO of Young Audiences/Arts for Learning
Belonging. That's the word that has been on my mind. Our founder, Nina Collier, understood belonging. She felt music belonged in schools, that artists belonged in a child's education. In 1950 she inspired a movement of artists-in-schools. What started in Baltimore has now grown to 30 Young Audiences–the largest arts-in-education network in the US.
Today, Young Audiences artists like Femi the DriFish and Valerie Branch ignite a child's desire to learn. Whatever our partner artists' art form is–hip hop dance or improvisational theatre–they use it to draw kids into learning. We train our artists to integrate their art form with whatever is being taught in students' literacy, math, social studies, and science classes.
We do that because when kids create something they get to make choices. They make meaningful connections. They express themselves. Choice and voice–that makes the learning matter.
When we, as a community, provide children with these kinds of opportunities, we are telling them, "You matter!" All of this, what we do, it nurtures the sense of belonging in our kids, artists, parents, and teachers. And it is belonging that I feel when I walk into one of our classrooms. Listen to how Tiffani, Dawn, and Valerie talk about our community in Together–we are their people–and we all belong.
Think back to when you were growing up. Who were YOUR people? What teacher or coach left their imprint. Who helped you become the person that you are today?  I bet that person made you feel visible. Known. That you belonged.
My moment was in ninth grade. I was struggling in many different ways and my drama teacher, Mrs. Howard, saw something in me. She knew how to draw that "something" out–just like the 200 artists (both YA roster artists and independent artists) we work with. In her class, I belonged. She cast me as Juliet in Romeo and Juliet. And that moment was like rocket fuel for me.
Belonging is a strong human need, particularly in our children. I see belonging as the net below the trapeze. When kids have that net of belonging, they are more likely to lean into learning–kids like Josh Ajala, who in Together, spoke about moving from the back of the class to the front–and his sister Tiffani Ajala–who was brave enough to apply for Baltimore Design School (and got the highest possible score on her fashion portfolio!) These are the courageous risks we want our kids to take so that they can grow.
But public education for the last 17 years, after the birth of No Child Left Behind, hasn't been focused on this. It has been about raising standards and increasing school accountability–measured through standardized testing. What do kids who are part of this system think about this? In Brenna's poem, she says students feel like they are just inputs and outputs in one simple equation.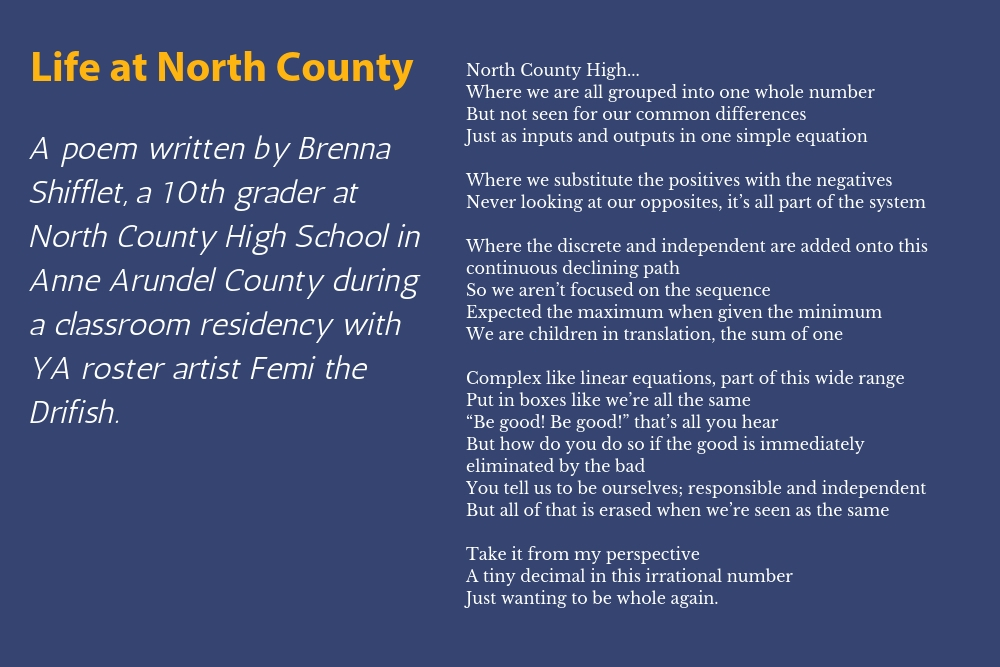 The outcomes we are seeing are heartbreaking and not sustainable as a society. Eight out of ten Baltimore City Schools students do not meet "proficiency" in math or reading. Nearly half of our children across the state entering Kindergarten are already behind. Four out of ten Maryland teachers leave teaching within five years because this isn't the equation they want to be a part of.
A different way is needed. Young Audiences is a different way. Our movement is to make sure all kids–and the people who teach them–are not treated like inputs and outputs but as the whole beautiful human beings that they are.
Today, thanks to our 450 school partners, our Sunburst Society members, and our game-changing evidence, our movement is growing. Outreach has doubled in the last five years. We impact the education of 191,000 children EVERY year–children in EVERY Maryland county.
We are on a mission to close the opportunity gaps in this educational system. We have four strategies:
Preventing summer learning loss by operating 20 summer programs across our city
Increasing school readiness through early childhood programs in four counties
Improving student engagement in learning by providing professional development to 500 teachers every year
Increasing equity in access to opportunity–more than 30,000 of our children are in under-resourced communities, so we provide more to them
We have made tremendous progress over the last five years but we can take this to a new level. Five years from today, I think we can change the educational trajectory of 50,000 more kids. Here is how we can get there:
Expand our evidence-based Summer Arts & Learning Academy in and beyond Baltimore City. This is the program that Tiffani, Alice, and Josh participated in that continues to have a ripple effect in their life. To expand to just one more school district, we have to find and train 20 more artists.
This Academy is only 25 days of a kid's life–and in that short time, we see lots of benefits. Imagine if kids had that kind of arts-integrated learning during the school year and school day? We want to launch year-round professional development and support for teachers and principals to make that happen. If we were able to add just one more person to our staff that focused on professional development, we could support 100 more teachers and principals every year.
To have the greatest impact on a child's potential, we need to invest early. (Did you know that 80% of the brain's synaptic connections are made by age 3?) In 2024, we want to bring our Baby Artsplay program to 5,000 infants and toddlers across Maryland and–to their very first teacher–their parents. This will require our artists to be trained in early childhood development.
Think back to your person–your Mrs. Howard. Think back to that feeling of belonging. Imagine if you could create that opportunity for someone else. For another Josh. Another Brenna. Take that opportunity and multiply it by 50,000. Fifty thousand children sitting in the front of the class, trying out for Baltimore Design School, reaching for that trapeze handle.
That is the opportunity in front of us. For Brenna, that is the equation she wants us to come together and solve.
Categorized:

News

Tagged:

Anne Arundel County Public Schools, Baltimore City, Baltimore City Public Schools, Bloomberg Arts Internship, community, Femi the Drifish, fundraising, Impact Breakfast, Maryland Public Schools, North County High School, Stacie Sanders Evans, Summer Arts & Learning Academy, summer learning, Summer READS
Written by Barbara Krebs,
Young Audiences volunteer and Sunburst Society member
Classes may be just about to wrap up, but for 33 Baltimore students who have accepted positions in the Bloomberg Arts Internship this summer, a different kind of learning experience is only beginning. Young Audiences, with funding from Bloomberg Philanthropies, established a now eight-week program three years ago to offer paid internships to rising high school seniors. Twenty local arts facilities and museums are currently providing jobs that offer a wide range of dance, music, art, theatre, cultural, and curatorial opportunities.
It's no great secret that internships are often viewed (and rightfully so) as stepping stones to higher education opportunities and greater career possibilities. Internships offer high school and college students crucial job skills and mentorship relationships that help them stand out in an often crowded job market. But paid internships can be few and far between.
The Bloomberg Arts Internship aims to make paid internships in the arts and culture field more inclusive and available to students who otherwise may not have the opportunity to network and build skills in that professional setting.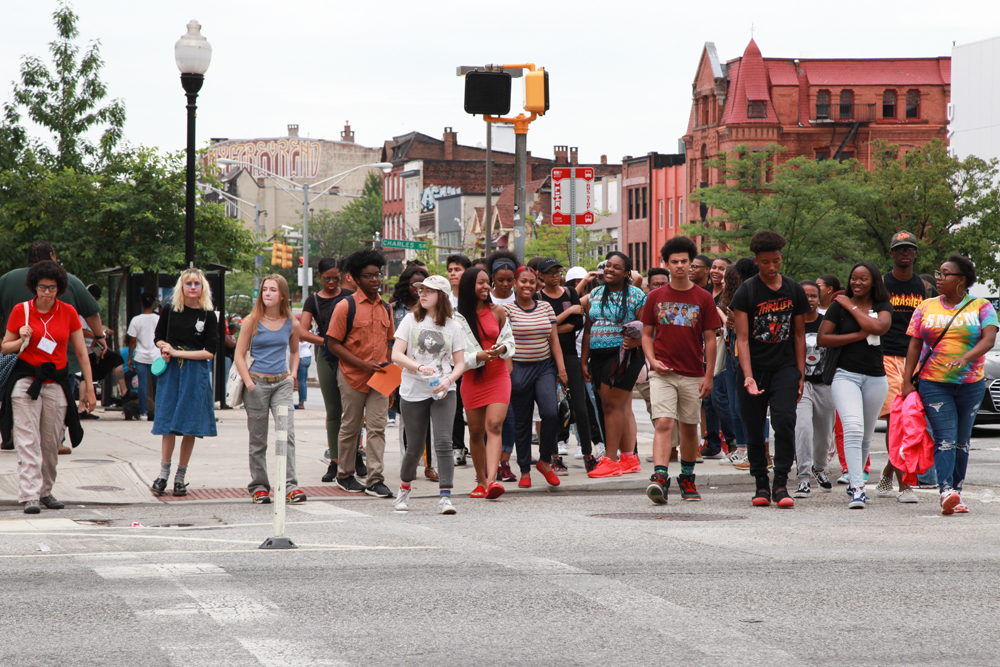 An article–How Internships Are Changing the Art World–from Artsy.net has this to say about how intertwined the relationships and skill building are. "It's not only that your intern could be your successor, they might one day be your colleague," said Selene Preciado, program assistant for the Getty Marrow Undergraduate Internships in Los Angeles.
Indeed, they might! But these Bloomberg Arts internships go far beyond job training and networking, as important as these are. These students will gain familiarity and comfort with workplace etiquette, improve verbal and written communication skills, explore cultural assets in our city, develop critical life and work skills, and prepare to apply and transition into college. In addition, the program aims to encourage a more equitable and diverse range of staff and audiences among cultural institutions, while instilling in the students an understanding and appreciation of the important civic contributions of arts and culture.
That's a lot to learn in just eight weeks! And yet, these arts internships provide not just amazing arts education, the students also strengthen their:
computer capabilities (Center Stage – "how to use leading software for the industry")

 

research, interview, and publishing skills (Baltimore Office of Promotion & the Arts – "the student will research history, interview artists, and ultimately publish a youth-organized 'tour' of murals and sculptures")

proficiencies in following a project to completion (Maryland Film Festival – by curating and promoting short films, the student will "be involved in every aspect, from curation to marketing to execution.")

 
In short, skills to last a lifetime. In the Artsy article, Maxwell Anderson, president of the Souls Grown Deep Foundation in Atlanta said, "Museums desperately need talent in all sorts of positions–curators represent a fraction of the staff of museums. We'd be thrilled if an accountant emerges from [our program] and finds their way into the museum profession, but they're an accountant who has knowledge and experience in a particular cultural remit that otherwise they may not have."
In the short bios that the students provided, I noticed one recurring theme: learning. These are students who have a passion for learning, who will make the most of their internship, and who will carry what they learn with them into the future. I have no doubt that they will take this small stepping stone and use it to build a solid foundation in the years to come.
Students in free arts-integrated program for City Schools realize growth in math, reading, writing, and social-emotional learning – especially for those behind academically.
BALTIMORE, (February 18, 2019) – A new study shows that students who participate in Baltimore City Public Schools' Summer Arts & Learning Academy (SALA), operated by Young Audiences, realize positive academic growth and improved social-emotional skills. The research indicates that when compared to the rest of the students in the program, students with special needs saw significantly more growth in writing and in some social emotional domains. Similarly, students that started the summer program behind in math saw significantly more growth over the summer than their peers who began the program on grade level.
The 2018 Summer Arts & Learning Academy, a free five week arts integration program for Baltimore City Schools students, was held from July 9 to August 10 at eight sites across Baltimore City. Through hands-on activities co-taught by professional artists and classroom teachers, nearly 2,200 Pre–K-5th grade students engaged in painting, songwriting, poetry, dance, music, photography, playwriting, filmmaking while learning math and literacy.
SALA students' test scores at the beginning and end of the program were analyzed by WolfBrown, a national leader in research on arts education and children's academic, social, and emotional development. WolfBrown's analyses revealed increases in students' math, reading comprehension and writing scores that were not only statistically significant, but large. On average, students' math scores increased by 15 percentage points, their reading comprehension scores increased by 11 percentage points, and their writing scores increased by 14 to 16 percentage points.
Of particular interest in the study was the growth seen among students who were behind academically or who were at risk of falling behind. Students further behind in math at the beginning of SALA showed the largest growth in math – their test scores grew nearly 1.5 times the rate of their peers. Similar results were observed among students with IEPs. An IEP is an individualized educational plan given to students who demonstrate at least one of 13 special factors, all of which are considered to impede learning. Students with IEPs out-paced their peers in writing content score-growth by nearly 1.24 times. Students with IEPs also showed growth in self control as reported by parents.
Dr. Sonja Santelises, Baltimore City Schools CEO, said,
"We believe in educating the whole child and this summer program does just that. We are thrilled that this investment is resulting in student gains in literacy and math. Just as important, this program gives young people an opportunity to learn about and express themselves through different art forms, which ultimately strengthens empathy and other social-emotional skills in our young people."
The Baltimore City Schools Office of Achievement and Accountability conducted its own evaluation of the program, comparing scores from end-of-academic-year standardized assessments (iReady and DIBELS) to the beginning of the year in order to measure summer learning loss and the impact of SALA in mitigating that loss. In three of the four comparisons, SALA students program showed lower rates of summer learning loss than students who were not in a summer program.
"Young Audiences' evaluation contributes to the body of national research showing that when children have sustained opportunities to learn in and through the arts, they have greater rates of academic success," said Stacie Sanders Evans, Young Audiences President & CEO.
"The Every Student Succeeds Act, the law that governs US public education policy, calls for greater attention on the whole child and specifically social-emotional learning, while requiring schools to adopt evidence-based practices. We hope this evidence will lead more Maryland schools to consider the arts as a vehicle for building student empathy and other life skills such as cooperation and self-management."
As a result of the program's continued success, Baltimore City Schools and Young Audiences will expand SALA in 2019 to Pre-K, reaching more than 230 of our City's youngest learners across all 8 sites.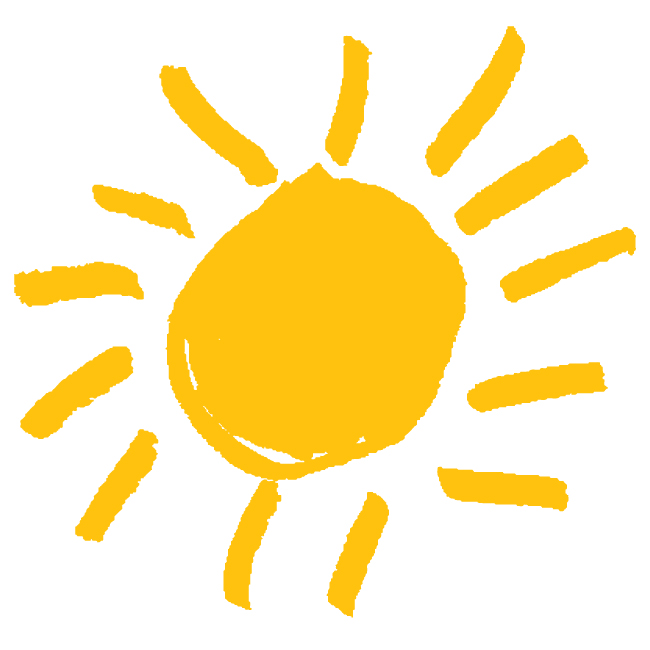 About Young Audiences/Arts for Learning
Started in Baltimore in 1950, Young Audiences is the nation's largest arts-in- education provider. As the Maryland affiliate, Young Audiences/Arts for Learning (YA) is devoted to enriching the lives and education of Maryland's youth through educational and culturally diverse arts programs. Through Young Audiences, professional artists from all disciplines partner with leaders and schools for nearly 10,000 hands on arts learning experiences that reach more than 190,000 Maryland students. Young Audiences envisions a Maryland where the arts are valued for their capacity to transform lives, and where every student is immersed in opportunities to imagine, to create, and to realize their full potential.
In January, the sun disappears so quickly—its absence makes the air that much colder. It feels funny to reflect on my youngest daughter's first experience at Summer Arts & Learning Academy (SALA) when, outside, it feels like it just might snow.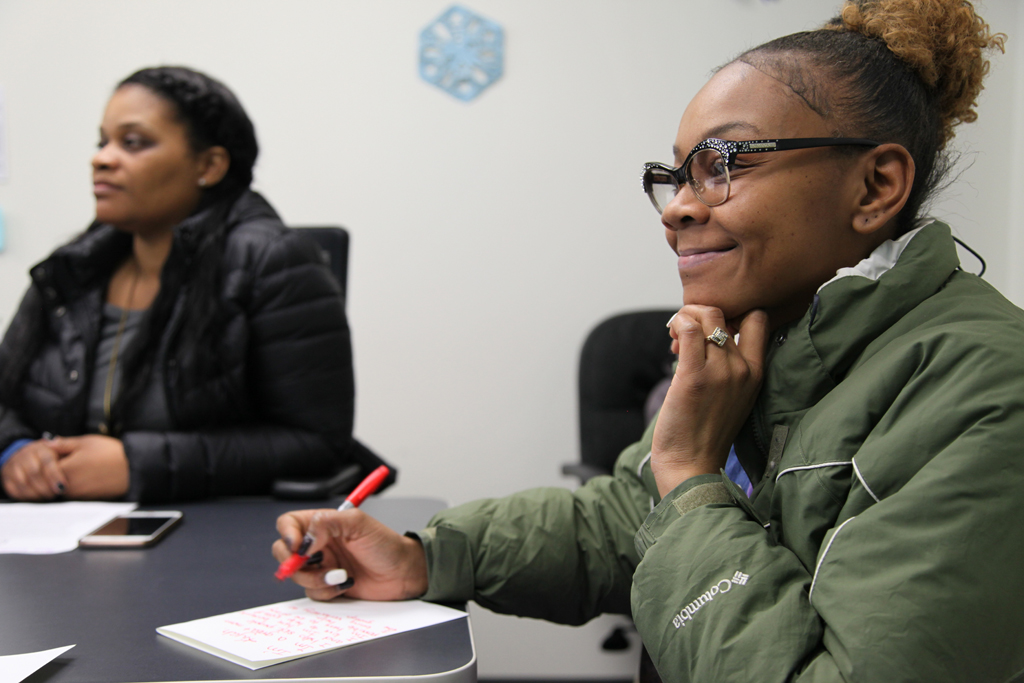 Kiyah and I, both of us parents of children who attended SALA 2018, were asked to meet at Young Audiences a couple of weeks ago. A teacher, Jesika Paige, was here, too. She wasn't at my child's SALA site last year, but I remember meeting her once. And I recognize her from our How We Do Summer video. Her smile is warm and her energy is radiant and it was so nice to be sitting at the table with her. Joining us were five teaching artists: Katherine Dilworth, Jamaal "Mr. Root" Collier, Vonnya Pettigrew, and Mama Kay and Mama Rashida of WombWork Productions, along with staff members Michael Brush, Monique Cox, Kurtis Donnelly, and Kristina Berdan.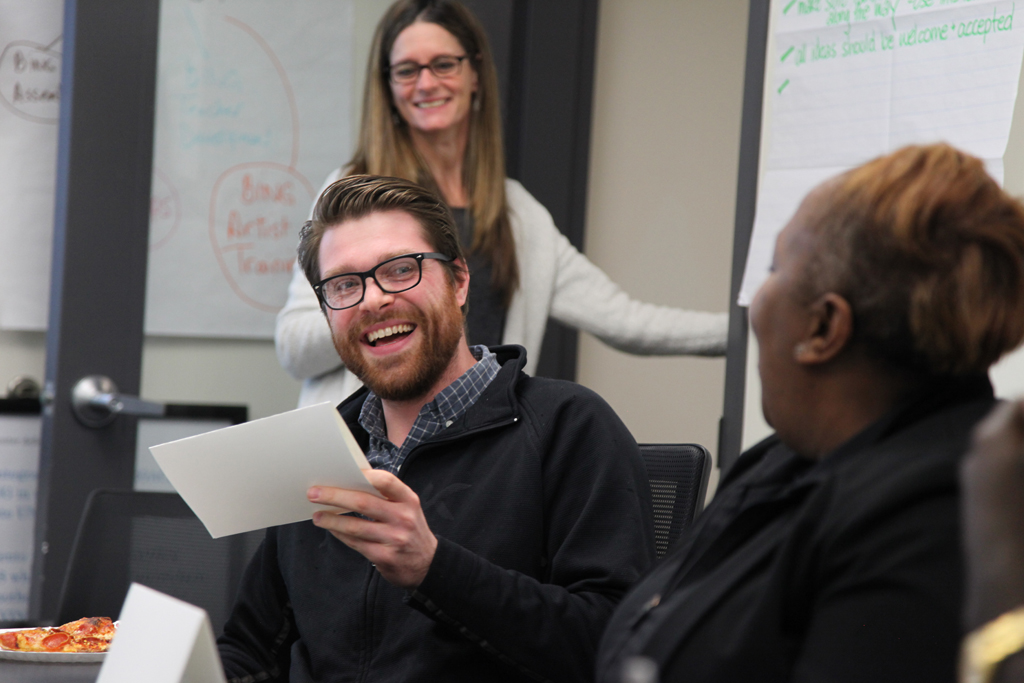 Parents love SALA for a multitude of reasons. For one, Baltimore City Public Schools students participating in SALA have not only avoided summer learning loss but, in many cases, gained ground on their national peers in standardized testing. Between this and the fact that kids in SALA are immersed in meaningful art projects every single day, enrolling my 6-year-old was an easy decision. And as Ms. Paige noted in How We Do Summer, "for children who suppress their art during the school year, this was a time for them to actually show up and show out and show their artistic ability." So, how can we take this amazing and enriching educational experience and make it even better? This is what we are here to find out.
Something that Young Audiences always makes sure to do is collect and evaluate feedback from all of a program's stakeholders. If you are ever asked to fill out a survey regarding one of YA's programs, know that your comments are read, your answers to questions are carefully considered, and your voice matters. The idea to form a community advisory for SALA was brought about in the feedback we collected from parents, and from students, teachers, and artists. Our mission is to ensure that SALA (an incredible, free, arts-filled, and academically excellent program) is student-centered and to identify program changes and improvements to implement during SALA 2019.
Coming together with other stakeholders for the SALA Community Advisory's inaugural meeting reiterated to me the desire of everyone involved to improve, and to be wise, and strong. The group committed to making sure all families are involved all along the way and that all ideas are welcome. We look forward to sharing and listening with open hearts and open minds, reflecting on what we did well in 2018, what we can do better, on ideas for the future, and welcoming the unexpected. We cannot wait for another summer of SALA, each one better than the last—in the meantime, let it snow. Written by Shannon Kline, parent and Young Audiences Communications Associate.
If you would like to be a part of the Summer Arts & Learning Academy (SALA) Community Advisory, we invite you to contact Kurtis Donnelly at [email protected]. Your thoughtful input helps to make our programs the very best for students and we appreciate your time and dedication.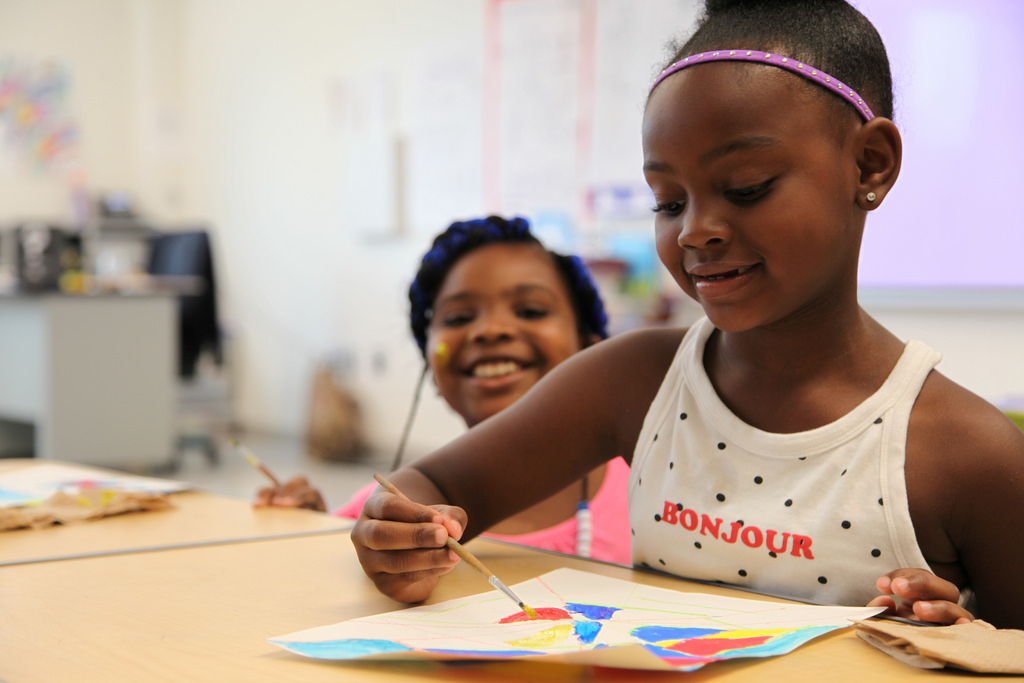 Written by Barbara Krebs,
Young Audiences volunteer and Sunburst Society member
When I was studying for exams in college, I would often create a strong visual image to help me remember test items. For example – the 6 C's of credit? Character, capacity, capital, condition, collateral, cash flow. And while these concepts didn't flow naturally through my brain, the image I created did. There was a guy (character) leaning on a crutch (condition) with a cap on (capacity) standing in front of the Capitol Dome (capital) with a briefcase (collateral) full of dollar bills (cash flow).
At the time I didn't have a name for my study method – I just knew it worked for me. Years later I can now identify this as arts integration with an emphasis on a visual learning style.
And so I felt very at home as I toured Young Audiences' Summer Arts & Learning Academy (SALA) at Lyndhurst Elementary/Middle School in Baltimore. That's because each classroom was filled with young students learning in a variety of arts-integrated formats. I witnessed drama, rap songs, textile art, drawings, and writing—all used in conjunction with classwork such as a math problem or a reading assignment.
And while I knew, and the teachers knew, that these children were involved in thoughtful, hard work here—the serious business of arresting summer learning loss—the kids were focused on how much fun learning was. For example, in the PreK classroom, YA roster artist Mama Rashida of WombWork Productions and her teacher partner, Samantha Amey, worked with the students on a basic math problem: 1 + 2 = 3. Now, of course, you can force your brain to learn this by sheer rote repetition, but let's face it. How exciting is that?
But if you illustrate it with a story about the marketplace where you must buy one fruit (fruit sellers stand here to the right!) and then move on to the vegetable stalls where you need a tomato and a carrot (veggie vendors over here, please!), you set the stage for a fun learning experience.
As the kids moved excitedly from place to place to "fill" their baskets or "sell" their wares, the teacher illustrated what they were doing on the whiteboard. With their "shopping" completed, the children returned to their seats and began to answer questions about the math problem. At this point, the teacher pretended to be confused and wrote wrong answers on the board. As the children rushed to correct her, she had them explain what was wrong, until everyone agreed that the proper answer was three.
No, this wasn't bored voices droning "1 + 1 = 2," "2 + 2 = 4." Instead, these were kids excited about math, happy to supply the correct answer to a befuddled teacher and eager to learn more!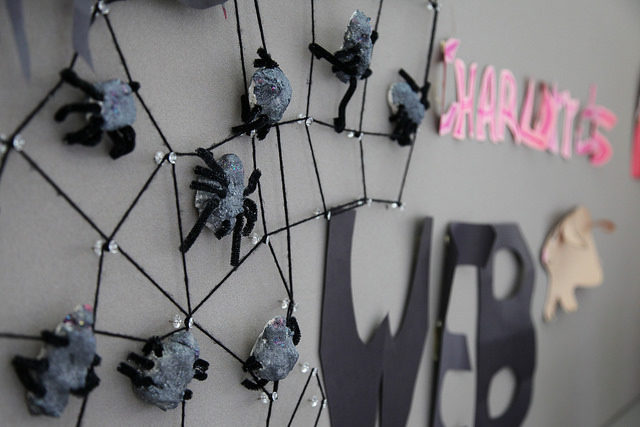 But what about English? A little later I stepped into a first-grade classroom where students were studying Charlotte's Web. Here, I found a mix of visual art and drama being used to tell the story. Several children took turns at the front of the classroom with a drawing they had made. After displaying it, they then acted out that portion in mime. Initially, the teacher set the scene, reminding the kids what was happening in the story at this point. After the child was done, the teacher asked the other students what they had observed as their classmate portrayed the scene.
Later, I noticed a bulletin board filled with tiny spiders made using a modified papier mache technique, with pipe cleaner legs. As I looked at this, one young girl came up to me and proudly told me about the paper collages they had made to illustrate what the barnyard looked like. "They're displayed outside the classroom. You have to see them!" Indeed, I did, and when I left, I enjoyed all the bright, cheery artwork that surrounded the door frame.
My next stop was a mixed class of second, third, and fourth graders who were working on both how to solve for an unknown number in a math problem and the nine's in the multiplication table. And here is where I definitely appreciated the arts-integrated approach. I remember learning the nine's and, oh, how I despised them.
But nobody seemed to hate nine's here. Maybe that's because as they chanted this portion of the multiplication table, not only did they give it a fun rap slant, but other classmates accompanied the song with percussion instruments. Why couldn't they have done that when I was in school?
My final stop was to a fourth-grade classroom where the lesson was to reinforce the basic math operations: addition, subtraction, multiplication, division. Here, too, I felt very at home, but this time it was because not only did I recognize the teaching artist, YA roster artist Femi the DriFish, who I've witnessed teaching on several occasions, but I actually recognized kids whom I had seen before. This heightened my sense of how compelling arts-integrated learning is in capturing kids' imaginations, so much so that they return for another summer of learning!
They rapped their way through a popular song remixed to describe math operations terms in word problems (equals to, divided by, times, added to, subtracted from, etc.) in preparation to shoot their own music video. As they practiced, I wondered what they would take away with them after this summer. Would they remember these lyrics and hum them in their head as they take a math quiz next year? Will they think about a marketplace full of vegetables and fruits and how math filled their baskets? Perhaps they'll draw a picture that will help them recall the story they're reading in class.
But most of all, will they remember the fun that accompanied all these math and English concepts? And that 1 + 2 = 3? I think so. And this funny little guy, leaning on his crutch with his cap, briefcase and dollar bills, standing in front of the Capitol agrees with me!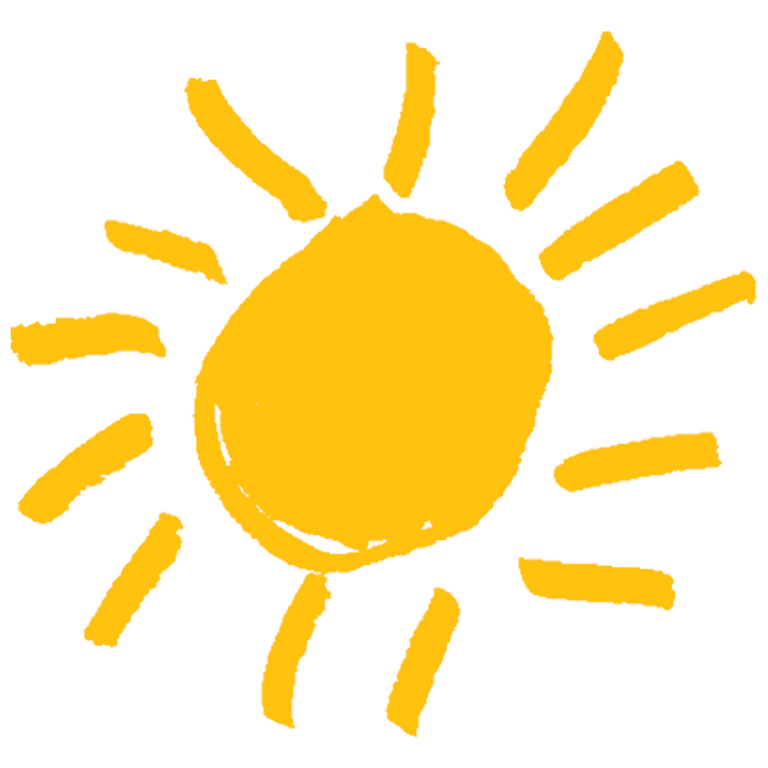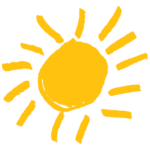 Learn more about our mission, our methods, and our future plans during a one-hour Meet Young Audiences event. In addition to hearing from the organization's leaders and getting an inside look into the amazing work we are doing around the state, one of our roster artists will share their amazing work with you and speak about how the arts complements and enriches classroom learning. Please reach out to Ingrid Murray, Individual Giving Manager, at [email protected] for more information or call (410) 837-7577 x. 107. Interested in hosting your own Meet Young Audiences event? Find out more here!
Written by Barbara Krebs,
Young Audiences volunteer and Sunburst Society member
Field trip! Remember the excitement you felt as a kid when you got to explore the world outside your classroom for the day, file on the bus, and leave school far behind? Well, it was a bit like that on Wednesday, July 25, when a diverse group of Maryland legislators, high-level education officials, and others boarded a bus to learn more about the programs that Young Audiences and its partners are offering Baltimore youth this summer. Except instead of leaving school, we headed toward them!
Initially, visitors met at Moravia Park Elementary School, the first of three stops that day. As Stacie Sanders Evans, President & CEO of Young Audiences, shared in her opening remarks, "We're shining a light on summer learning opportunities; we're shining a light on amazing kids; and we're shining a light on how the arts blends these two things."
At Moravia Park, we visited SummerREADS, a free drop-in literacy program that is the result of partnerships with the Harry and Jeanette Weinberg Foundation, the Baltimore Elementary and Middle School Library Project, Baltimore City Public Schools, and Young Audiences. Over a five-week period of time, more than 500 K-8 Baltimore City students will have had the opportunity to visit one of nine reading sites where they encountered engaging literacy workshops with teaching artists and fun enrichment activities with special guests.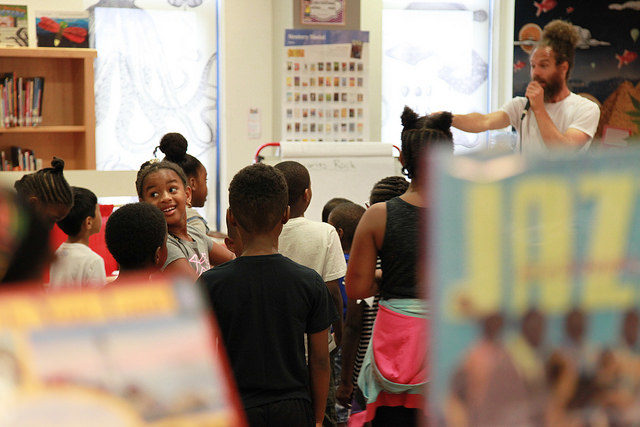 And that is exactly what we found when Max Bent, a beatboxer who has been a Young Audiences teaching artist for 7 years, led a group of six- and seven-year-olds in the basics of beatboxing. He taught them how to make various sounds and then incorporated them into a song, "My Banana." As they counted out beats (three syllables in banana!), they thought of other fruits (apple, two syllables!) to add into the song.
We had to leave for our next stop before he could complete the lesson, but I could already see the intriguing possibilities in beatboxing for both math and English. Before we left the school, there was a quick Q&A session. The questions came fast and furiously from all sides of the room, a testimony to how interested people were, not only in the learning they had just witnessed, but what it took to make this possible.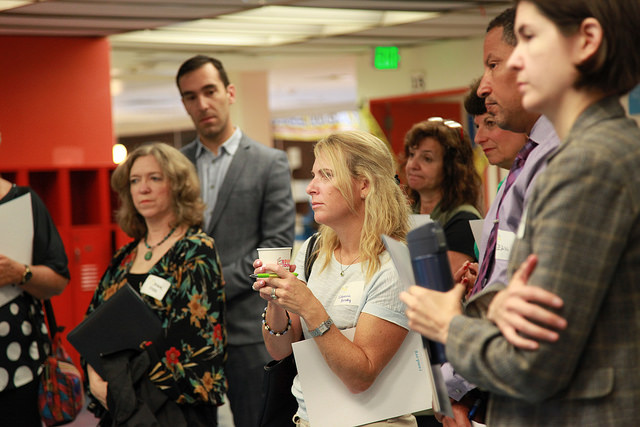 Our next stop was at Dorothy I. Height Elementary School for an introduction to Young Audiences' Summer Arts & Learning Academy (SALA). Here we learned that SALA is a five-week program for Pre-K through fifth graders where the focus is twofold. First, to arrest summer learning loss, and second, to make sure that learning is fun and engaging every day.
At this particular school, 260 children meet each day to learn and reinforce lessons in literacy and math. Last year, Young Audiences reached more than 1,150 children at four different school sites. Incredibly, in one year's time, Young Audiences, in partnership with the Baltimore City School system, has doubled its efforts, reaching about 2,200 kids at eight school sites.
We were then offered the opportunity to enter classrooms to observe the action.  I slid into a third-grade classroom, where the children were focusing on The Red, a book about a confused crayon, whose friends eventually help him discover his true color.
The teaching artist, Daniel Ssuuna, whose specialty is East African dance and drumming, divided the kids into three groups, each focusing on one particular part of the story. Handing out percussion instruments, he instructed students to focus on the emotions of the crayon during their assigned story segment. Was the crayon confused, or supported, or happy? With that in mind, they then created a dance and drum accompaniment to illustrate the crayon's feelings.
Other instructions given by the classroom teacher, Amanda Bila, highlighted listening skills. She asked, "When we are not performing, what do we do?" The kids supplied helpful advice: Be quiet. Be respectful. Listen. Pay attention.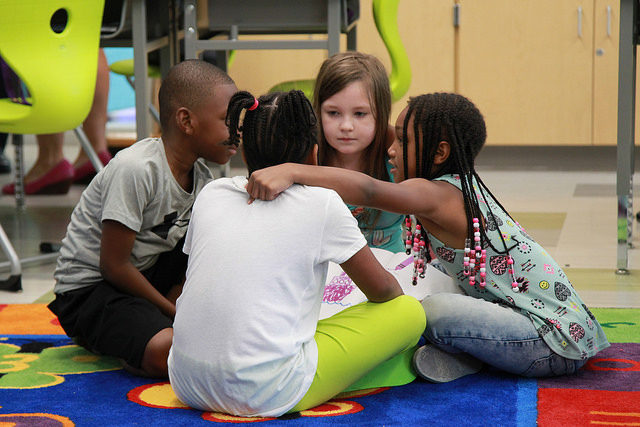 As the groups formed, I watched their interactions with the teachers and each other. I saw collaboration, referring to the book for inspiration, asking teachers questions, answering questions from the teacher, ideas discussed, ideas kept or discarded.
If Socrates had walked into this classroom, I'm sure he would have been proud to see his famous critical thinking methods being deployed.
Though I would have loved to watch each group perform, sadly, our time was up. Still, the excitement the kids exhibited as they analyzed their book was a potent reminder of how exciting and fun learning can be when you combine the arts and dedicated teachers.
Next we traveled to the Reginald F. Lewis Museum of Maryland African American History and Culture. Here we learned about the Bloomberg Arts Internship (supported by Bloomberg Philanthropies NYC) which places 35 Baltimore City rising seniors in paid internships at local arts and cultural institutions. These teens worked throughout the city with a goal of learning career readiness skills through real-world workplace experiences and professional development. Additionally, college mentors and writing coaches worked with the interns on college applications, resumes, and other experiences that will help them move to the next level professionally and/or academically.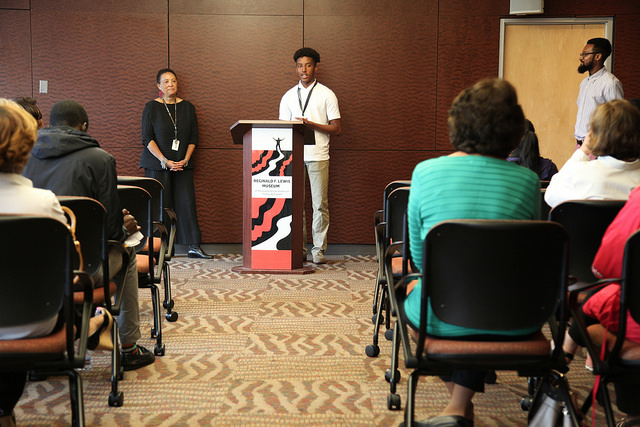 One intern, Collin Snow Stokes, spent his time at the Reginald F. Lewis Museum documenting the thoughts and feelings of Lewis staff, visitors, and volunteers evoked by objects reflecting Jim Crow era stereotypes from their upcoming exhibition "Hateful Things." His goal was 10 interviews, but he became so interested in the project that he exceeded his goal and even had time to do a few more before writing up his findings. And since his goals are to go into journalism and/or broadcasting, the interview process has honed job skills he will use for the rest of his life.
We also heard from two young women, Citlalli Islas and Paris Day, who worked at Port Discovery Children's Museum. Paris was assigned an archival project, logging in items that have been collected by Port Discovery over the 20 years of its existence. As she began her assignment, both she and the curators soon realized that the scope of it was more than they had anticipated. But by creating a system to log and track the items, they have begun the process that will help the museum maintain its collection for years to come. And as an added bonus, as she archived items, the collection overseers realized what a great exhibit some of the artifacts would make and, thus, an exhibit was born!
Citlalli interned in the exhibits department and has learned a lot about all the behind-the-scenes work that goes into creating and maintaining a museum exhibit. Obviously, this requires artistic vision. But beyond that, this has called on her to be innovative, meticulous and organized – not a bad group of skills to acquire before college and beyond.
Finally, it was time to get on the bus to return to our cars. As we wound our way down Baltimore's city streets, I listened to the conversations around me, ranging from other arts organizations and what they accomplish in their communities to legislative and philanthropic aides asking questions about the work that Young Audiences does and how each person present got involved.
And as I thought about involvement, I remembered another thing that Stacie had said at the beginning of our journey: It takes a village. At the time she was referring to the teaching artists, librarians, kids, and parents who were involved with SummerREADS. But it was just as applicable to each program we visited, and to each organization that contributes time, money, or leadership.
None of what I had witnessed occurs in a vacuum. The sheer number of people, funds, and time takes a rather large village, actually. And I'm happy to be a small part of this Young Audiences village. It's a great place to be and I invite you to join me! Field trip!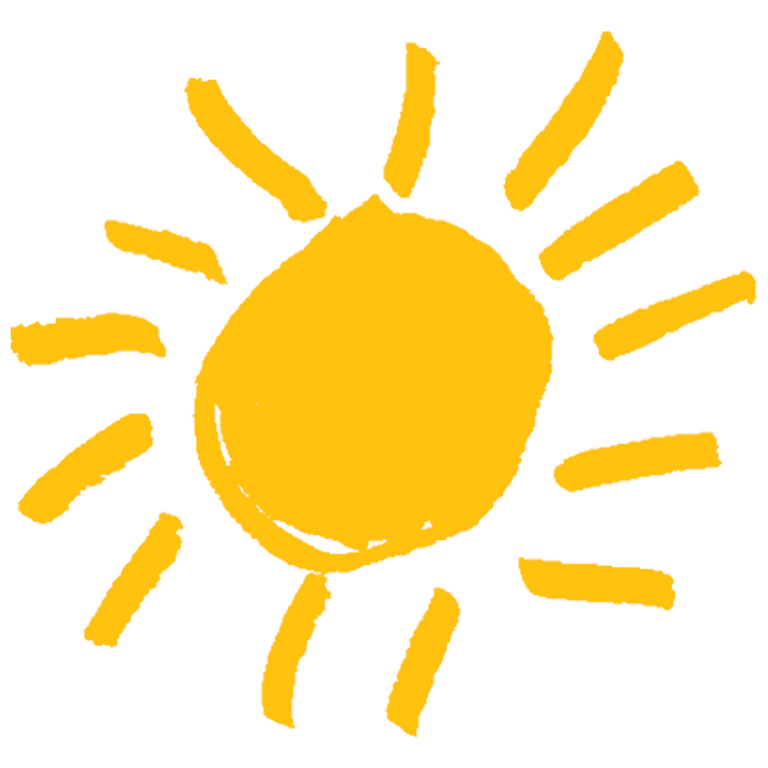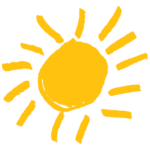 Learn more about our mission, our methods, and our future plans during a one-hour Meet Young Audiences event. In addition to hearing from the organization's leaders and getting an inside look into the amazing work we are doing around the state, one of our roster artists will share their amazing work with you and speak about how the arts complements and enriches classroom learning. Please reach out to Ingrid Murray, Individual Giving Manager, at [email protected] for more information or call (410) 837-7577 x. 107. Interested in hosting your own Meet Young Audiences event? Find out more here!