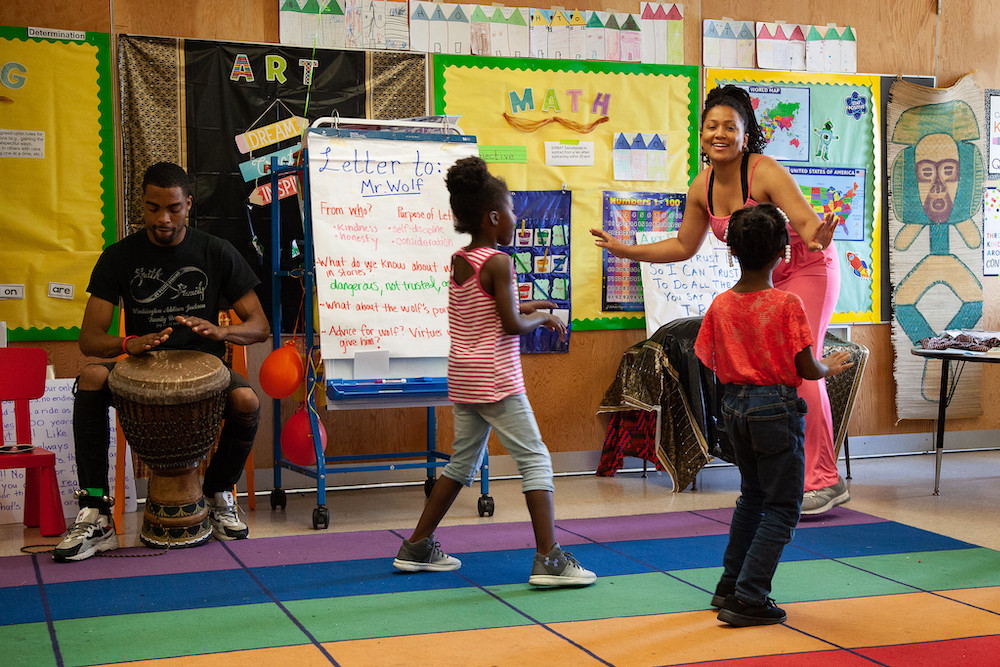 BALTIMORE – Young Audiences of Maryland, the Baltimore-based nonprofit delivering arts-integrated learning experiences to Maryland students and educators, has won the National Summer Learning Association's 2020 New York Life Foundation Excellence in Summer Learning Award for its Summer Arts & Learning Academy (SALA). Young Audiences was selected out of more than 350 applying organizations from across the country.
The 2020 New York Life Foundation Excellence in Summer Learning Award award honors Young Audiences' Summer Arts & Learning Academy – operated in partnership with Baltimore City Public Schools – for curbing summer learning loss. While most children lose up to two months of math skills over the summer, the cumulative effects of summer learning loss are most detrimental to students living in under-resourced communities. Young Audiences has also been recognized for demonstrating excellence in accelerating academic achievement, promoting healthy development for children and youth, supporting educator professional development and enhancing family and community engagement. The award included a $10,000 donation to Young Audiences. Past award winners have included West Virginia University, Hasbro, Ohio State, and the YMCA.
"Our teaching artists, educators, and staff do incredible work every year to provide excellent arts and educational experiences to students in Title1 Baltimore City Public Schools through the Summer Arts & Learning Academy," said Stacie Sanders Evans, Young Audiences President & CEO. "We are proud and thankful to be honored with this award, which validates what we've known all along: the arts transform learning for students."
SALA is a free, five-week, summer program typically engaging more than 2,000 Baltimore students a year in hands-on, arts-based learning guided by professional teaching artists and educators. The seven year old program has been shown by multiple independent studies to reduce summer learning loss, increase student confidence and engagement, and transform how teachers teach. For example, SALA students may use beat boxing to support math instruction, paint their favorite scenes from stories they are reading, or explore the art of photography to learn about the nature all around them. This kind of programming is designed to make learning more accessible for students, and to influence traditional educational systems to empower all students to express their voices and experiences.
The awards are presented annually by the National Summer Learning Association (NSLA), the only national nonprofit exclusively focused on closing the achievement gap by increasing access to high-quality summer learning opportunities.
"Our teaching artists, educators, and staff do incredible work every year to provide excellent arts and educational experiences to students in Title1 Baltimore City Public Schools through the Summer Arts & Learning Academy," said Stacie Sanders Evans, Young Audiences President & CEO. "We are proud and thankful to be honored with this award, which validates what we've known all along: the arts transform learning for students."
"This award validates the creative approach of Baltimore City Public Schools and Young Audiences to using the summer months to address the opportunity gaps in our city," said Dr. Sonia Santelises, CEO of Baltimore City Public Schools. "When we bring artists into our classrooms in the summer they spark curiosity, creativity, and a desire to learn that fuels our students' academic growth."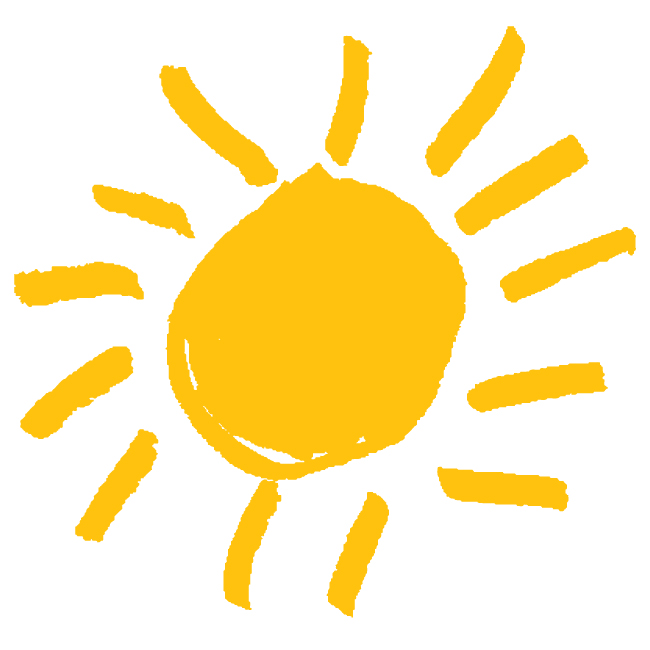 About Young Audiences/Arts for Learning:
Started in Baltimore in 1950, Young Audiences is the nation's largest arts-in-education provider. As the Maryland affiliate, Young Audiences/Arts for Learning (YA) is devoted to enriching the lives and education of Maryland's youth through educational and culturally diverse arts programs. Through Young Audiences, professional artists from all disciplines partner with leaders and schools for nearly 10,000 hands-on arts learning experiences that reach more than 190,000 Maryland students. Young Audiences envisions a Maryland where the arts are valued for their capacity to transform lives, and where every student is immersed in opportunities to imagine, to create, and to realize their full potential.
About the National Summer Learning Association
The National Summer Learning Association (NSLA) is the only national nonprofit exclusively focused on closing the achievement gap by increasing access to high-quality summer learning opportunities. NSLA recognizes and disseminates what works in summer learning, develops and delivers community capacity-building offerings and convenes and empowers key actors to embrace summer learning as a solution for equity and excellence in education. For more information, visit www.summerlearning.org/.
Categorized:

Press Releases

Tagged:

achievement gap, arts, arts education, arts integration, Award, Baltimore City, Baltimore City Public Schools, BCPSS, Excellence in Summer Learning Award, literacy, Math, National Summer Learning Association, SALA, Summer Arts & Learning Academy, summer learning, summer slide, teaching artists, Title I
Written by Barbara Krebs,
Young Audiences volunteer and Sunburst Society member
Classes may be just about to wrap up, but for 33 Baltimore students who have accepted positions in the Bloomberg Arts Internship this summer, a different kind of learning experience is only beginning. Young Audiences, with funding from Bloomberg Philanthropies, established a now eight-week program three years ago to offer paid internships to rising high school seniors. Twenty local arts facilities and museums are currently providing jobs that offer a wide range of dance, music, art, theatre, cultural, and curatorial opportunities.
It's no great secret that internships are often viewed (and rightfully so) as stepping stones to higher education opportunities and greater career possibilities. Internships offer high school and college students crucial job skills and mentorship relationships that help them stand out in an often crowded job market. But paid internships can be few and far between.
The Bloomberg Arts Internship aims to make paid internships in the arts and culture field more inclusive and available to students who otherwise may not have the opportunity to network and build skills in that professional setting.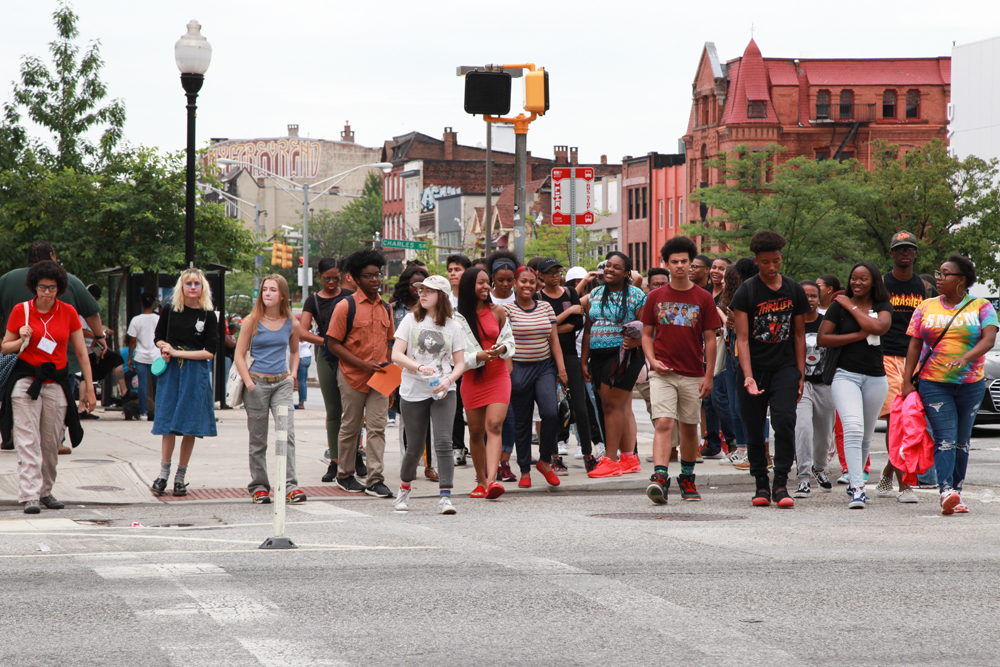 An article–How Internships Are Changing the Art World–from Artsy.net has this to say about how intertwined the relationships and skill building are. "It's not only that your intern could be your successor, they might one day be your colleague," said Selene Preciado, program assistant for the Getty Marrow Undergraduate Internships in Los Angeles.
Indeed, they might! But these Bloomberg Arts internships go far beyond job training and networking, as important as these are. These students will gain familiarity and comfort with workplace etiquette, improve verbal and written communication skills, explore cultural assets in our city, develop critical life and work skills, and prepare to apply and transition into college. In addition, the program aims to encourage a more equitable and diverse range of staff and audiences among cultural institutions, while instilling in the students an understanding and appreciation of the important civic contributions of arts and culture.
That's a lot to learn in just eight weeks! And yet, these arts internships provide not just amazing arts education, the students also strengthen their:
computer capabilities (Center Stage – "how to use leading software for the industry")

 

research, interview, and publishing skills (Baltimore Office of Promotion & the Arts – "the student will research history, interview artists, and ultimately publish a youth-organized 'tour' of murals and sculptures")

proficiencies in following a project to completion (Maryland Film Festival – by curating and promoting short films, the student will "be involved in every aspect, from curation to marketing to execution.")

 
In short, skills to last a lifetime. In the Artsy article, Maxwell Anderson, president of the Souls Grown Deep Foundation in Atlanta said, "Museums desperately need talent in all sorts of positions–curators represent a fraction of the staff of museums. We'd be thrilled if an accountant emerges from [our program] and finds their way into the museum profession, but they're an accountant who has knowledge and experience in a particular cultural remit that otherwise they may not have."
In the short bios that the students provided, I noticed one recurring theme: learning. These are students who have a passion for learning, who will make the most of their internship, and who will carry what they learn with them into the future. I have no doubt that they will take this small stepping stone and use it to build a solid foundation in the years to come.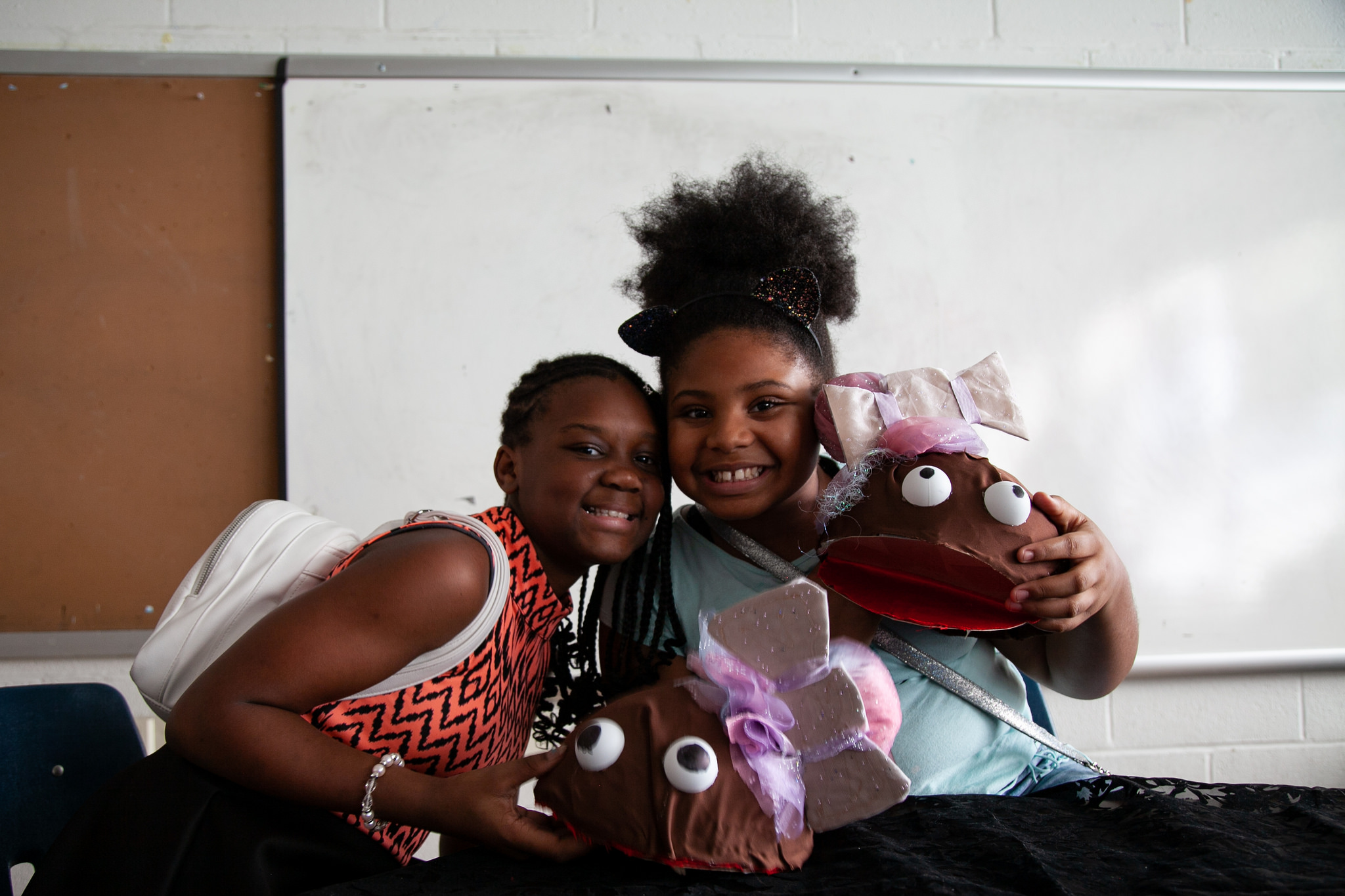 Young Audiences / Arts for Learning Maryland will participate in $43 million program
Young Audiences announced that it is a grantee recipient of Bloomberg Philanthropies' Arts Innovation and Management (AIM) program. The invitation-only program seeks to strengthen the organizational capacity and programming of small and mid-size cultural organizations within Atlanta, Austin, Baltimore, Denver, New Orleans, Pittsburgh, and Washington, D.C. Through the $43 million multi-year initiative, Bloomberg Philanthropies will provide unrestricted general operating support as well as arts management training in areas that include fundraising, strategic planning, marketing, and board development.
"We're incredibly thankful for Bloomberg Philanthropies' support as we work to infuse and enhance student learning with hands-on arts experiences throughout Maryland," said Stacie Sanders Evans, Young Audiences/Arts For Learning President and CEO. "This crucial funding will strengthen our organizational capacity and support all of our programs, from year-round arts-integrated classroom residencies to teacher and artist professional development."
AIM targets arts non-profits because of the vital role that they play in building communities, driving local economies and supporting artists. "The arts inspire people, provide jobs, and strengthen communities," said Michael R. Bloomberg, founder of Bloomberg Philanthropies. "This program is aimed at helping some of the country's most exciting cultural organizations reach new audiences and expand their impact."
Bloomberg Philanthropies will develop curricula and conduct seminars for the program in partnership with leading experts, including the DeVos Institute of Arts Management at the University of Maryland, led by Institute Chairman Michael M. Kaiser and President Brett Egan. AIM organizations will engage in activities that strengthen their long-term health and goals, and will receive one-on-one consultations and implementation support for organization leaders and their boards.
All organizations invited to participate in the 2018 expansion of the AIM program are nonprofits that have been in existence for at least two years. Participating organizations will be required to secure 20% of their AIM grant in matching dollars; reach 100% board participation in fundraising; and maintain up-to-date information in DataArts, an online management tool that assists arts organizations across the country in collecting, learning from, and using data effectively. The grants will be unrestricted to allow recipients to utilize the funds to address their greatest needs.
Since 2011, AIM has helped more than 500 small and mid-sized organizations in all creative disciplines, including theater, visual arts, music, film, literature and dance. Participating organizations reported significant improvements in board development, fundraising and overall income over the two-year program. Watch this video for an overview of the Arts Innovation and Management program: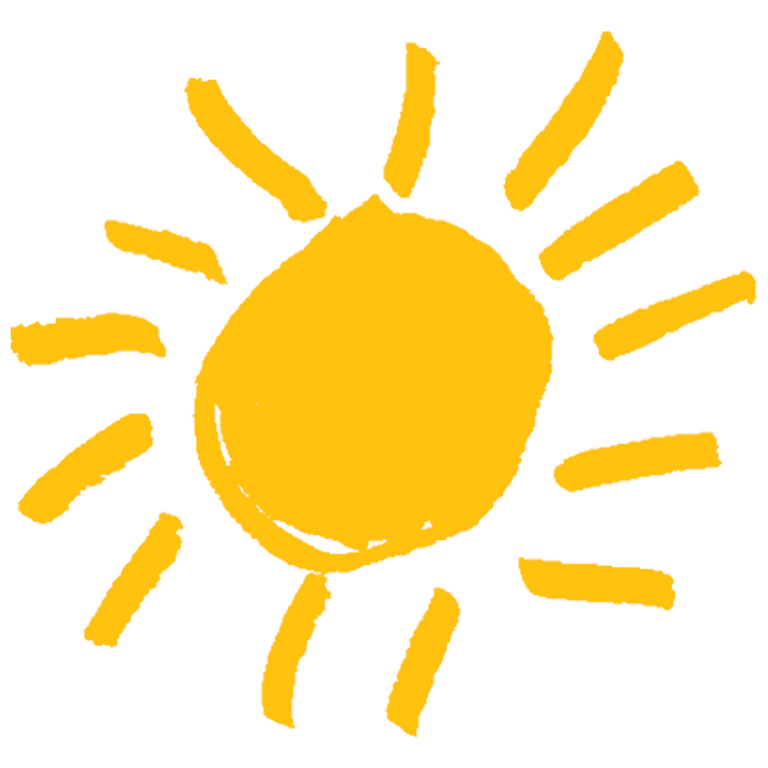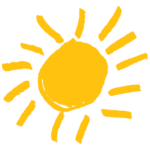 About Young Audiences/Arts for Learning Maryland
Young Audiences is the nation's largest arts-in-education provider and started in Baltimore in 1950. As a Young Audiences affiliate, Young Audiences/Arts for Learning (YA) is a nonprofit organization devoted to enriching the lives and education of Maryland's youth through educational and culturally diverse arts programs for more than 65 years. Each year, YA reaches more than 180,000 students through over 5,000 arts learning experiences by partnering professional artists from all disciplines with schools throughout Maryland for hands-on arts learning experiences. We envision a Maryland where the arts are valued for their capacity to transform lives, and where every student is immersed in opportunities to imagine, to create, and to realize their full potential through the arts. For more information, contact YA at 410-837-7577 or visit yamd.org.
About Bloomberg Philanthropies
Bloomberg Philanthropies works in over 480 cities in more than 120 countries around the world to ensure better, longer lives for the greatest number of people. The organization focuses on five key areas for creating lasting change: Arts, Education, Environment, Government Innovation, and Public Health. Bloomberg Philanthropies encompasses all of Michael R. Bloomberg's charitable activities, including his foundation and his personal giving. In 2017, Bloomberg Philanthropies distributed $702 million. For more information, please visit bloomberg.org.
The school year may only have just ended, but this year's cohort of Bloomberg Arts Interns have already been hard at work for three weeks now. They attended a week of rigorous orientation and participated in behind-the-scenes tours and presentations at arts organizations. And perhaps most significantly, interns have gotten their feet through the doors of a number of reputable arts and culture organizations and have begun weaving themselves into passionate and supportive arts and education networks.
Outside of their internships, the students participate in professional development, college prep workshops, and writing coaching sessions. On these days, students receive guidance and support with completing college applications and build strong career skills with mentors and writing coaches. They create personal essays, write responses to art and performances, and work not just on college applications, but prepare for the bills, the challenges, and the change that comes along with transitioning to a college or university.
Two of last summer's Bloomberg Arts Interns, Jahsol and Sequoia, will be headed to Bard College at Simon's Rock and the Arts Institute of Chicago, respectively, in the fall. But first, the pair visited students at OpenWorks to answer questions and give them insight into their own internship experiences last summer. The questions poured in. While just a year older than the 2018 interns, Jahsol and Sequoia had so much knowledge, experience, and wisdom to impart, getting this year's cohort excited about the possibilities to come.
A college panel brought together three community members to talk about first-hand challenges, solutions, and to provide conversation and guidance in applying and adjusting to college life: Danielle Staton, Program Manager of Fund for Educational Excellence; De'asia Ellis, a Frederick Douglass High School graduate and current Goucher College student; and Ruben Ramirez Jr., a graduate of Digital Harbor High School and restaurant entrepreneur.
From practical advice, like applying to more than one school and developing a plan for time management, to being prepared to handle rejection, facing culture shock and loneliness away from home, or confronting ignorance and discrimination, the panellists shared valuable online resources and their honest experiences to help prepare the interns for what may come in the next year, not to mention all the steps required just to apply. "It's hard when families don't know how to get there," said Ms. Ellis. She advises students who may not have family to support them through the daunting application process to find a mentor to help guide them.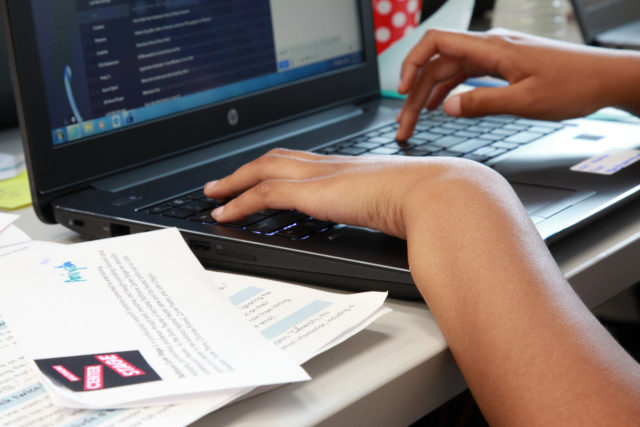 As the summer progresses, this year's cohort will continue to be afforded the chance to explore art of every discipline, and to meet and learn from artists, curators, and everyone else who works so hard to keep local institutions dynamic, engaging, up, and running. And while they are busy working on projects for their worksites, they will be networking. They will be making lasting connections, opening themselves up to all that is possible in a career in the arts, and forging their futures.
The Bloomberg Arts Internship is managed by Young Audiences through the support of Bloomberg Philanthropies. Learn more about the program here.
The Arts Empowered Minds Initiative (AEMI) is aimed at ensuring equitable access to the arts for Northern Anne Arundel County Public Schools through in-school arts integration, out-of-school arts programming, and professional development for teachers. Now in its second year, the initiative has been expanded to include all twelve schools in the region thanks to generous funding from the National Endowment for the Arts!

Notable among the additional schools is the North County High School (NCHS). All students in every other school impacted by AEMI are zoned to complete their secondary education at this high school. North County High School's new designation as an AEMI school will enable local students to continue their learning through arts integration throughout their school years. This creates a unique opportunity for the school to serve as a beacon for arts engagement, not just for high school students, but for the whole Northern Anne Arundel County community.
NCHS is already home to a variety of performing band and orchestra ensembles, and offers students the opportunity to become involved in a number of in-school and after-school arts activities. "The medium of music is a fantastic way to teach some wonderful life lessons as part of the comprehensive program at North County," wrote NCHS Music Director Theresa Bange on the school's extensive music program's webpage. The school climate encourages a culture of respect for the arts in its many forms. NCHS has also shown a commitment to innovation, offering special programs including the STEM (science, technology, engineering, mathematics) Magnet Program, the IT3 (International Trade, Transportation, and Tourism) Program, and the Early College Access program.
This year, the high school will participate in several arts-integrated opportunities where artists will professionally deliver instruction through the arts. Math Department chair Amy Goodman is leading the charge of integrating the arts at North County High. She is currently coordinating a residency developed by YA artist and spoken word poet Femi the DriFish in collaboration with the school's Algebra 1 team as well as collaborating with theatre artist, storyteller, and YA roster artist TAHIRA to develop a residency through the Teaching Artist Institute (TAI). Also through TAI, 9th grade algebra teacher Sarah Dobry is collaborating with steel drummer, Kevin Martin, integrating music with the curriculum!
"It's all about creating opportunities," said Mrs. Goodman. She recalled her experience working with teaching artist Carolyn Koerber in the previous school year. "There was one student who struggled all year, but finally felt success working with Carolyn. Bringing artists into the classroom is an amazing opportunity for not only our students, but for faculty as well."
We are looking forward to sharing the collaborative work of YA artists and educators in arts integration at North County High School over the next few months and for years to come.
The Arts Empowered Minds Initiative is the combined effort of many groups and individuals seeking to build a movement for increased equity through the arts in their community. With funding from the NEA in 2016, we built partnerships with Anne Arundel County Public Schools (AACPS), Chesapeake Arts Center (CAC), Arts Education in Maryland Schools Alliance (AEMS), Arts Council of Anne Arundel County, and University of Maryland – Baltimore County (UMBC).
Categorized:

News

Tagged:

AEMI, Algebra, Anne Arundel County, Anne Arundel County Public Schools, arts, Arts Empowered Minds, arts integration, drumming, Femi the Drifish, high school students, Kevin Martin, Math, Music, North Arundel High School, performance, poetry, residency, spoken word poetry, steel drums, STEM, TAHIRA, theatre, trigonometry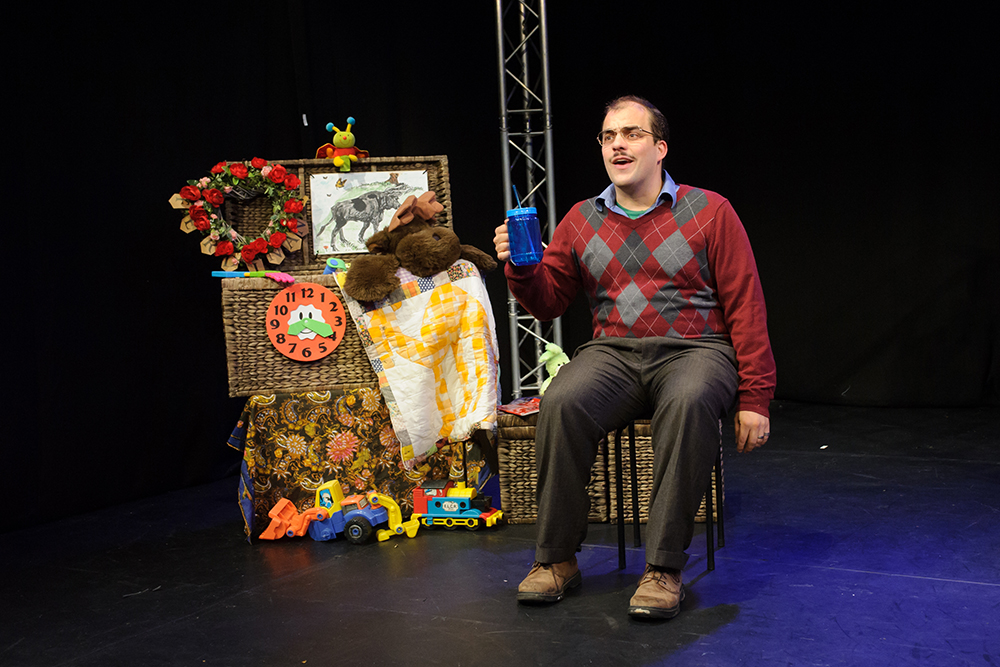 Promoting empathy and kindness in all schools is a priority across school systems, with particular attention paid to encouraging a positive school climate in the month of October, National Bullying Prevention Month. New YA roster artist Tasty Monster Productions designed an award-winning program to open communication in the classroom and inspire students and teachers to engage in conversations about social issues such as loss and bereavement, the many guises of bullying, the necessity of kindness and empathy, and the power of our words in society.
Tasty Monster Production's Ferdinand is a powerful and moving modern adaptation of the classic children's book The Story of Ferdinand by Munro Leaf. "Ferdinand tells the poignant story of Tom, a single dad, struggling to go with the flow and raise his son in a world determined to make him fight," says the artist. "Raised on the story of his namesake Ferdinand, the bull who refused to fight but just wanted to sit and smell the flowers, young Ferdy learns the hard lessons in life as his father endeavors to shield him from the harsh realities of adulthood."
A 2013 Congressional Research Service report found that these school-based bullying prevention programs decrease bullying by up to 25%.
Researchers have found that programs designed to build character and empathy, address conflict management, and enhance social- and emotional-development are successful at reducing bullying behaviors (Swearer, Wang, Collins, Strawhun, & Fluke, 2014). School systems have rightly begun implementing strategies and hosting programs to address concerning behavior and educate both adult and peer communities to recognize the signs and effects of bullying. A 2013 Congressional Research Service report found that these school-based bullying prevention programs decrease bullying by up to 25%. And since peer interventions have been found to end 57% incidents of bullying (Hawkins, Pepler, & Craig, 2001), it is imperative that schools keep the dialogue open year-round about what it means to be kind, how to listen, and the importance of empathy and understanding.
Schools searching for meaningful, current, and effective programming to relay a message of positivity will find an ally in Tasty Monster Productions. "Ferdinand is a hard-hitting yet heart-warming one-man show which takes the audience on a journey of rebirth. Told from the perspective of Tom, a hard-working middle manager, this is the story of a father bringing up his son with empathy and kindness in a world that seems determined to push him in all the wrong directions. Through Tom we experience all the joys and all the heartbreaks of growing up, as well as quite a few very real parental dilemmas, as he battles to preserve the innocence of childhood despite corporate downsizing, classroom peer pressure, and mixed social messages about what it means to be a man in this contemporary twist on a grown-up fairy tale."
Tasty Monster Productions brings engaging new and re-envisioned works to a broad audience while expanding the use of technology and multi-media as a tool for storytelling. Learn how to bring Tasty Monster Production's award-winning performance, Ferdinand, into your school.
It was a summer filled with activity, singing, dancing, reading, creating, and sunshine. We witnessed the excitement of mastering new skills and discovering new talents. We felt the calm of classrooms illuminated with only the rays of light peeking in from behind drawn shades, students enveloped in peace, quietly drawing, ink and graphite on white paper.
When families initially enrolled their children in our Summer Arts and Learning Academy, we asked them why their child was interested in participating. Many stated that their children were creative and hoped that through the program, they'd be able to enhance their skills. Others emphasized the integrated academics or latent benefits of the arts. Some registrants celebrated the availability of the arts and educational summer program, as these opportunities are limited in Baltimore City.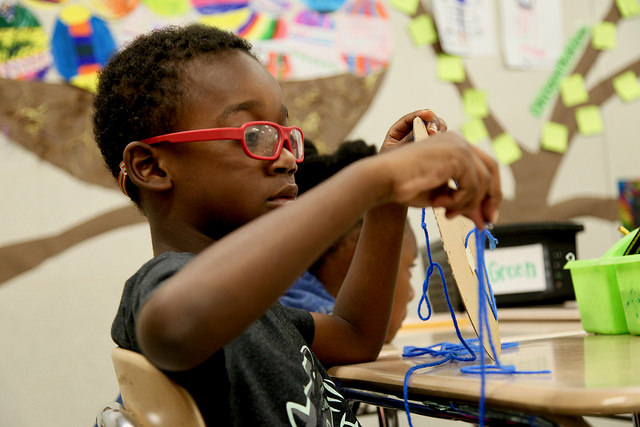 Did our Summer Arts and Learning Academy live up to families' expectations? Culmination ceremonies came to a close, classrooms were disassembled and packed up for next year, and students prepared for their next summer adventures. We asked parents and families if they'd give us feedback about their experience by filling out a survey. Their responses poured in- 413 of them to be exact. We discovered that in Summer Arts and Learning Academy, parents watched their children not only learn, but grow and thrive artistically, emotionally, and academically.
When asked about any positive changes they noticed in their kids, one parent replied, "An eagerness to attend school. IN THE SUMMER! Who knew?!"
87% of families who completed surveys told us that their child found something new that he or she has fun doing. "My son began to enjoy sewing and dancing," one parent told us. Another let us know that her grandson was very proud of the work he did in ceramics class. "He usually gives me all of his drawings and art projects, but he kept his claywork for himself."
Even when one particular art form grabbed a student's interest above all others, the children in Summer Arts and Learning Academy developed a deeper appreciation of and openness to all art. Students discovered that flexibility leads to new passions, discovery, and opportunity. "I learned that I am exceptionally good at ceramics. I knew I would like it but I didn't know I would actually be good at it," a rising sixth grader told us. "She was disappointed that the Coldstream Park site didn't offer theatre for older kids," her dad explained. "We're working on 'rolling with it,' though, and she ended up really loving African Dance and Ceramics. She would never have known, otherwise."
Parents told us that their kids were excited to get to the academy every morning, on time. When families reunited in the afternoons, kids would talk and talk about everything they did that day. When asked about any positive changes they noticed in their kids, one parent replied, "An eagerness to attend school. IN THE SUMMER! Who knew?!"
Upwards of 80% of parents who responded told us that they noticed an increase in their child's reading and math skills. With this strengthening of skills, their children became more confident. Of one student who enjoys writing poetry, we were told, "she will now actually share her writing with others." Many families reported their children not only enjoying reading but choosing to read books over watching television. Still others described students proudly reading on their own and teaching younger siblings what they had learned.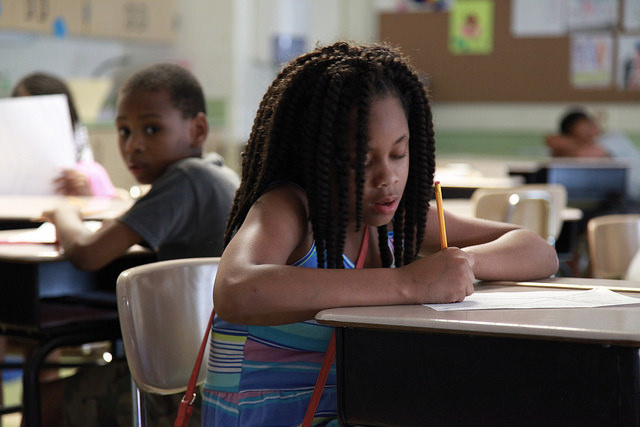 The positive changes parents noticed in their children exemplified 21st Century Skills, a set of higher order skills that have been identified by educators and business leaders as being critical to a person's success in careers, in college, and as a citizen. These are skills that typically cannot be measured through standardized testing and include critical thinking, collaboration, communication, and creativity.
Through Summer Arts and Learning Academy, students were introduced to many new ways of thinking, seeing, and expression. They learned to look at things from different perspectives through the eyes artists, characters in literature, and through new friends, which made their own experiences more joyful and meaningful. Children embraced their curiosity, asking questions, exploring, and researching independently. "My daughter is better able to integrate her love of arts (fun) with learning (not as much fun) and see ways to make learning something that's both fun and something she can accomplish," one mom told us.
Families described their students as being more social, friendly, outgoing, and connected. One student told her mom that she "enjoys being a loving and caring friend." Another student "wants to take care of the neighborhood." Students discovered that they liked working in groups and parents thought their children were now better able to deal with conflict. Through collaboration, the kids learned how to communicate, compromise, and achieve a common goal. They learned to 'roll with it', an enviable and necessary skill for 21st century children and adults alike.
Over the summer, Baltimore City Public School principals convened for the third time to attend a professional development course unlike any other. The first session was held in May at the Baltimore Museum of Industry where they explored the many ways arts and creativity intertwine with local industry of both the past and the future. The second, at Creative Alliance, where the group attended a workshop and lunch with Artesanas Mexicanas, a group of talented Mexican women, now residents of Southeast Baltimore, who share their rich cultures and folkloric traditions through art.
On this third session, principals gathered on a stage where so many critically acclaimed actors and singers have stood before. Looking out into the house of the Hippodrome Theatre, one could only imagine the thrill a performer might feel standing before a crowd of fans.
But how does an actor get to the stage? And what needs to happen for a show to go on? What can Baltimore City Public Schools do to prepare students for careers in theatre? These are some of the questions local principals explored in Creative Collaborations for School Improvement, a leadership course designed for principals to experience first-hand the many facets of Baltimore arts and cultural organizations, as well as how innovative partnerships with area cultural resources can help schools prepare their students for careers in fields related to the industry.
Throughout the course, principals have the opportunity to build strong relationships with not only engaged cultural organizations, but with expert teaching artists, like YA roster artists Matt Barinholtz of FutureMakers and internationally acclaimed slam poet Gayle Danley, as well as guest speakers including arts integration advocates.
"I do think that in my 31 years in City Schools that the Creative Collaborations for School Improvement course is among the most beneficial professional developments in which I have participated," said Sinclair Lane Elementary School principal Roxanne Thorn-Lumpkins.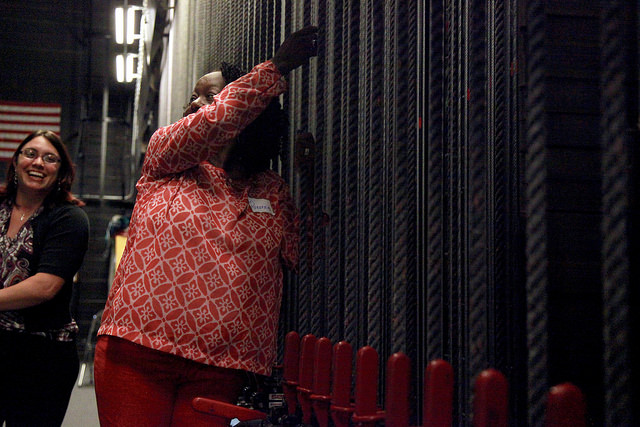 The principals were briefed on the history of the renowned theatre, then were led on a tech tour of the space by assistant electrician Danyela Marks. High above the stage is home to the control center of all of a production's moving parts: the fly system. Thick, strong ropes, levers, weights and counterweights are all strung taut, connected precisely and purposefully, reminiscent of the inside of a piano. Any movement on the set during a production: a wall sliding, scenes changing, or an actor flying, is made from here. To work on this side of the curtain, they discover, a person needs a solid foundation in math and physics.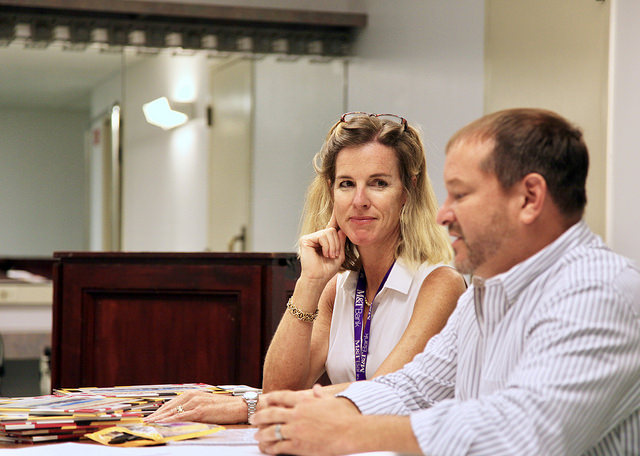 The group descended from the tech booth to the dressing rooms, located one level beneath the stage. Here, among the bright lights and mirrors, they learned about the Hippodrome Foundation (HFI), its mission & educational outreach programs, and how their schools can take advantage of them. They spoke with Olive Waxter, Director of the Hippodrome Foundation and Ron Legler, President of the France-Merrick Performing Arts Center about their institutions' commitment to providing opportunity in the community.
Former long-time Baltimore Sun critic and current WYPR theatre critic Judy Wynn Rousuck met principals for a fun written exercise. Part of Judy's work with HFI centers on enhancing written communication skills with young people. On this day, she challenged the educators to write a short descriptive piece using just one of their fives senses to illustrate their subject. It is easy to imagine the excitement young people must feel in Judy's classes when they see their words come alive and work together to paint a vivid picture.
Of course, no visit to the theatre is complete without getting a taste of the performers' experience. So here, on the Hippodrome Stage, principals stepped into students' shoes to work with co-director of the Hippodrome Foundation's summer theatre camp, Becky Mossing, education director Barb Wirsing, and Markia Smith, a former camper, now a counselor to learn a number from the musical 70, Girls, 70. At the piano, they worked on vocals. The group then moved on to blocking (the movements and positions actors are assigned on stage), and after some practice, revealed their grand performance of "Coffee (In a Cardboard Cup)." And they did a pretty great job.
The next Creative Collaborations for School Improvement course will be held at Center Stage on October 7, 2017. Principals and assistant principals who would like to register for the course should contact Valeriya Nakshun for more information.
Written by Barbara Krebs,
Young Audiences volunteer and Sunburst Society member
Seedfolks. Bizz Buzz. These are just a couple of the new things I learned about when I visited the Summer Arts and Learning Academy at Thomas Jefferson Elementary/Middle School in Baltimore.
And learning through the arts is the whole point of this summer academy, now in its third year of operation. Young Audiences/Arts for Learning, in partnership with Baltimore City Public Schools, operates four of these academies at schools throughout the district as part of a system-wide arts-integrated strategy to reduce summer learning loss in literacy and math. Approximately 1,144 kindergartners through fifth graders take advantage of this free, fun-filled educational opportunity. 
My first stop was to meet Site Director Kristin Taylor who manages the program at Thomas Jefferson. As we headed to the first classroom of fifth graders, she enthusiastically filled me in on the size of this particular academy (280 students), its average daily attendance (250 students), and the benefits provided at every site to help parents and kids (after-school care until 6:00 pm and free breakfasts and lunches served every day to each student).
As we walked through the halls, student-created posters, snippets of conversations, and the sounds of music offered glimpses of the learning that was taking place.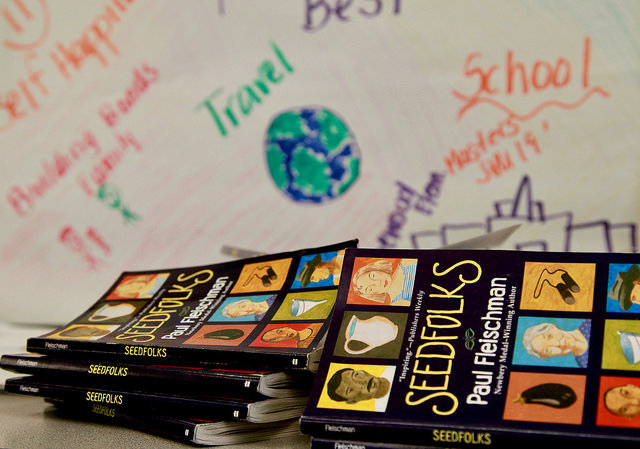 I entered the fifth-grade classroom of Ms. Paige and visual artist Mama Sallah just in time to watch a production of a chapter from Seedfolks, a book that shows how a neighborhood is transformed as people from different cultures interact in a garden. After the first group performed, I got a chance to ask Kenaya, one of the student actresses, about the book.  She explained to me that each chapter of the book focused on a different character. The classroom had been divided into groups, each assigned to act out a different chapter of the book. These groups were to then silently act out what the narrator was reading.  
Kenaya's group focused on Kim, a Vietnamese girl from the first chapter. The story starts with the girl staring at a portrait of her father. While one student narrated, others acted out the parts of Kim, the father's portrait, and even more characters as the action moved into the garden Kim had planted.
I enjoyed watching their attention to the story and how each child handled their role, whether it was bending down to dig in the "dirt" or, like the young man playing the role of the portrait, staring silently into space, giving no indication that he was anything other than a photograph frozen in time. These were serious actors, hard at work.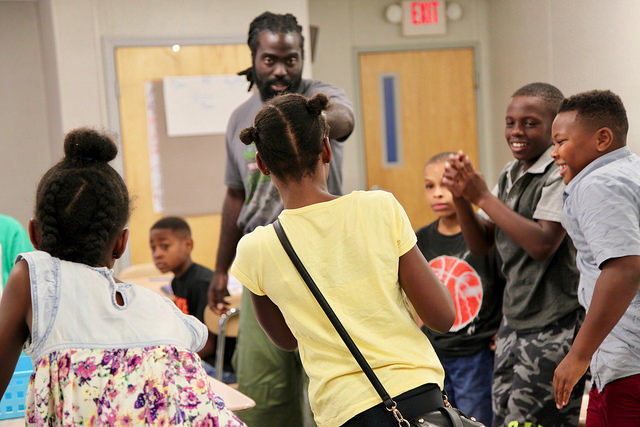 The next classroom was quite a contrast. Ms. Chase and hip hop musician Jamaal "Mr. Root" Collier were teaching math to a mixed classroom of fourth and fifth graders, and I had arrived in time to witness a game of Bizz Buzz. The children formed a large circle in the room, then took turns doing math calculations in their heads, making sure their answer was either a multiple of three or five. Emotional sounds quickly filled the room: Squeals of excitement for the game, celebratory cheers as someone answered correctly, silence filled with tension and pressure as someone struggled to find the right number, and supportive classmates whispering, "You can do it!" and "You got this!"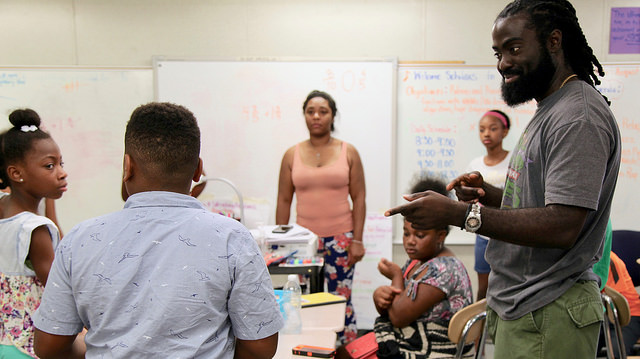 I have to admit I never did quite get the idea of when you yelled, "Buzz!" or "Bizz!" instead of a number, so I guess I'm going to have to admit that I am NOT as smart as a fifth grader. Luckily, they are!
The next classroom was filled with third graders who were also working on math. However this time the class focused on word problems and measurements. Without the drama of Bizz Buzz, this classroom was much quieter with children working at their desks. As I wandered around the room, one outgoing and cheerful girl, Mikhia, came up to me.  I probably looked a little lost because she explained to me what was going on – how they were learning about different cultures.  I asked her if she liked the Academy, and she grinned broadly and nodded her head, yes.  
"What do you like about it?"
"The teachers," she answered without hesitation.
"What do you like about them?"
"They are nice, loving, and helpful.  I'm learning so much this summer!"
The last classroom I visited was composed of first graders.  I noticed a colorful picture on one boy's desk of a volcano with a person going up the side of it and asked him about it.  "Who's that?" I asked, pointing to the person.  
"That's me," Donald answered.
At that point, we were interrupted as it was time to line up for lunch.  But before he left, I got another opportunity to ask him about his work. "Why are you walking up the side of the volcano?" I asked. He seemed a little confused but answered gamely, "I'm not walking, I'm flying."  
"Oh," and now it was my turn to be a little confused.  "You must be very powerful to fly."  
By now the girl in line behind him decided she had to help this poor confused person. Explaining patiently but emphatically, she corrected me. "It's not powerful. It's imagination!" At which point, I learned that their classroom was focusing on stories that dealt with imagination. So, yes, flying makes perfect sense. I'd rather fly over a volcano than walk up it, too!
As the children headed off to lunch, I thought about my first morning at Young Audience's Summer Arts and Learning Academy and all the kindergarten through fifth-grade pros who had guided me through the learning process. I realized I had learned a lot, too.  
For example, I learned that reading and acting out the story is a powerful way to concentrate on both the characters and the narration. I learned that math can be extremely riveting and exciting. I learned that different cultures can guide your math skills. And I learned that I need to let my imagination soar. But most importantly, I learned that combining arts with learning is fun – and effective – and that's why the kids love it.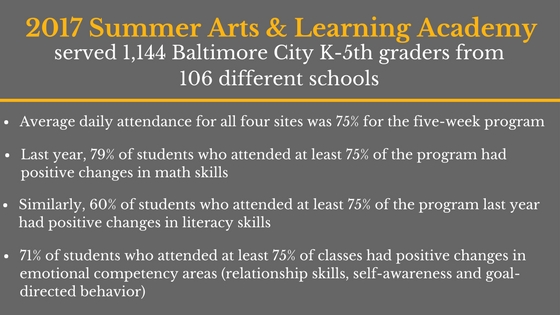 Young Audiences of Maryland and the Greater Baltimore Cultural Alliance are searching for 25 rising Baltimore City public high school seniors for a six-week paid summer internship!
In 2012, Bloomberg Philanthropies created the Bloomberg Arts Internship program in New York City as a pipeline for public school students to college and careers. It is a rigorous program with three major elements: a six-week placement and project working day-to-day in an arts organization; visits to arts/cultural organizations; and professional development. This program's success led the foundation to expand its reach, first to students in Philadelphia, and in 2017, to Baltimore City. Young Audiences and GBCA are thrilled to be able to offer this opportunity to Baltimore City School students as well as Baltimore's arts and cultural institutions.
This is so much more than a summer job, it is a chance for young scholars to be challenged and inspired while getting meaningful, real-world experience. This phenomenal opportunity is made possible through the Bloomberg Arts Internship program which places qualified students at arts and cultural institutions across Baltimore City. This summer, 25 students will participate in a rich, immersive, and dynamic learning environment in which they will build career skills and plan for their futures. Baltimore's renowned and reputable arts and cultural organizations will guide interns through both creative and administrative projects, offering a unique perspective of  day-to-day operations within the art world.
STUDENTS
Interns are paid $9.25 per hour for 35 hours per week for the six-week internship, and an additional 20 hours during the orientation week—a total of 230 hours from June 20 – August 4, 2017. To apply, students must be enrolled in a Baltimore City public high school and:
Successfully complete junior year in 2016-17
Be 16 years of age or above by June 15, 2017
Have a passion for the arts
Commit to attend the 35-hour/week internship plus 20 hours of orientation  (June 20-23)
Commit to working full-time for 6 weeks  from June 26-August 4
Be able to work legally in the U.S.
Applications are due March 31, 2017
Submit an Application  |  Learn More
ARTS & CULTURAL ORGANIZATIONS
Arts and Cultural organizations play a critical role in The Bloomberg Arts Internship. We are looking for 12-15 partners with the capacity to provide a rich, quality experience for the interns and meet the necessary Bloomberg guidelines. Worksite partners will be paid $750 per intern to help offset the costs of staff time in supervising and guiding the intern(s). Although only 12 to 15 organizations will be selected as worksite partners, there will be other ways to collaborate with us on BAI, such as hosting visits as part of the cultural field trip days or participating as a presenter/panel member as part of the professional development curriculum.
The YA/GBCA team comprises members with expertise in arts leadership and management, curriculum development, and arts education. Partners can expect consistent support from the YA/GBCA staff throughout the program.
Applications are due April 14, 2017
Apply to Become a Worksite Partner |  Learn More
For more information
contact Chaz Walters, Bloomberg Program Coordinator
[email protected] or call 410-837-7577
This week, Washington Post reporter Valerie Strauss wrote about why the arts are, more often than not, the first budget cut at public schools serving predominately low-income students–even though much research has supported why the arts are critical to a child's development. These schools' tight budgets force them to prioritize the subjects covered in standardized tests that both measure students' achievement as well as teachers' ability. Ms. Strauss argues that the focus on testing has forced educators to ignore what they know about the positive and transformative impact of the arts in the classroom.
Less fortunate children have been on the receiving end of what I'd call an emergency-room approach to education —one that addresses only the parts of a child thought to be in most dire need of attention. Their curriculum may consist solely of reading, writing and mathematics – the subjects tested on high-stakes exams.
Ms. Strauss notes how, for privately funded and operated schools, the approach to the arts can be starkly different. These schools proudly highlight the arts and their importance to developing well-rounded students and individuals. With adequate funding, arts learning opportunities are not only available but celebrated.
Young Audiences has seen this disparity in access to the arts in Maryland and is striving to close the gap so that all students have the chance to learn in and through the arts. Since its launch in the winter of 2009, our Access for All Initiative has subsidized programs for students in low-income Baltimore City Public Schools to ensure that all students have equitable access to the best artists and educational arts experiences that our state has to offer. The initiative offers three rounds of grant funding each school year to schools that serve a majority of low-income students and do not have regular arts programming.
Young Audiences awarded a total of $29,600 in funding to 16 Baltimore City schools in the first round of Access for All grants awarded earlier this week to start the 2014-2015 school year. These funds will be used to bring Young Audiences artists and ensembles to students through arts-in-education programs this fall. Schools can choose from a steel drum assembly, creating a ceramic mural during an artist-in-residence program, an African drumming workshop, and many more.
Ms. Strauss summarizes why the arts are critical to the education process, writing:
Arts transport. It's often said they are an essential part of what makes us human – and an element of that is the ability to imagine another reality, apart from the one we are living, a skill essential to resilience and ambition. Children already living a in a narrowed world need more access to the arts, not less.
Young Audiences agrees. One day, every school–no matter its resources–will value the arts for their ability to inspire and engage students in learning. Until then, we will be working to increase access to the arts so that Maryland students have the opportunity to imagine, create, and realize their full potential through the arts.
Learn more about the Access for All Initiative and the next grant application deadline.