smARTbeats returns to WTMD on Saturday, October 19 during the weekly children's program Young At Heart! On this month's segment, host Lisa Mathews talks with Scott Paynter, or Scotty P as he's known around town, one of our talented teaching artists from Summer Arts & Learning Academy (SALA). He embodies fun and warmth in his classroom and on stage as a solo performer and as a lead vocalist with the world-renowned reggae band Jah Works. 
"Jah Works is a true grassroots success story that emerged from Baltimore's reggae scene over 20 years ago. This is music made by and for lovers of real, authentic reggae music. Consistently performing hundreds of shows a year worldwide, they have forged their sound in clubs, festivals and on the sun drenched beaches of Negril. Their sound is firmly planted in the roots of Jamaican music and culture, encompassing rock steady, reggae, and elements of dancehall and dub. What Jah Works does best is introduce the novice music listener to the fullness of reggae music and culture." —from jahworks.com
Scott's classroom in SALA is a creative and joyful place where music and children go hand in hand. Perhaps it's because he got his own start in music as a young child with a guitar he built from plywood and yarn. How awesome that every summer he helps more young musicians discover their passion for music and songwriting!
Scott doesn't just share his art form with students, he teaches them to demonstrate what they've learned through music. By writing songs about the books and stories they've read, children are able to dive deep into the different characters and their personalities—bringing them to life. Take this video, for instance, of Scott's students performing a song they wrote with the artist about a book they read together called City Green by DyAnne DiSalvo-Ryan.
It should come as no surprise that kids love coming to his class to sing and learn! Mr. P makes learning fun—and even though his time with them is relatively short, his patience and commitment to the students can be seen in the strengthening of their academic abilities, their understanding, and the genuine smiles on their faces.
Listen online now to the smARTbeats interview with Scott Paynter at WTMD.org
Young At Heart airs weekly on 89.7 WTMD from 7 to 8 am on Saturdays, featuring music that appeals to parents and children alike. Previous shows have featured music by Wilco, David Bowie, Andrew & Polly, Weezer, and others. 
In January 2020, Bay Brook Elementary Middle School will move into a 21st Century school building! Monique B. Reese, Principal of Bay Brook told us that along with the move, her school is adopting an arts integration model. During her first three years at the school, she focused on reducing suspensions and building a positive school climate. Now, Mrs. Reese's goal is to use the arts to assist with increasing student engagement and higher achievement. That's what brings her to the Young Audiences Principal Fellowship Program.
Mrs. Reese began her career as an elementary school teacher in various urban school districts. During her time as a teacher, she found a passion for leading others in teaching and learning. This passion for leadership led her to serve for eight years as an Assistant Principal in the District of Columbia Public Schools, and then as a principal at Bay Brook Elementary Middle School. During her first three years at Bay Brook, she focused on reducing suspensions and building a positive school climate. "I am excited about being a part of the Young Audiences Principal Fellowship program because it directly connects to my new school model," she said. "I can learn new ideas about arts integration that I can directly implement in my school as we begin our new vision."
"We have seen first-hand the excitement the arts bring to our students."
Over the course of the program, she'll receive coaching from experienced educators who have already used arts integration as leverage for school change. "Our students learn in different ways and we need a path that reaches all learners," Mrs. Reese said. "When given the choice between STEM, project-based learning, and arts integration for their new school model, the staff and community were confident that a larger focus on the arts would bring positive change."
The school currently has a partnership with Arts Every Day which helps fund artist residencies for classrooms. Already, the school holds monthly arts integration days in which teachers engage students in an art project to teach literacy, math, or science. "We have seen first-hand the excitement the arts bring to our students," she said. "The staff believe that the arts will give students the opportunity to be more engaged in the content, thus reducing class disruptions and increasing achievement."
Mrs. Monique Reese, Principal of Bay Brook Elementary Middle School, is one of ten Baltimore City Public Schools principals selected to participate in the Principal Fellowship Program. The year-long fellowship provides principals with the guidance and framework to develop an arts-based action plan in their schools and we are thrilled to have her in the inaugural cohort!
Written by Alan Hoff,
Young Audiences Board of Directors, Vice Chairman
The arts are not just nice, they're critical to the development and well-being of our communities. I am both excited and proud that Baltimore County has continued to recognize the importance of funding for the Arts, particularly Arts in Education, in the current budget.
In addition to being a proud citizen of Baltimore County, I am also the Vice Chair of the board of Young Audiences/Arts for Learning, an arts-in-education organization that serves more than 12,000 Baltimore County students each year. I also serve as the president of the board of WTMD, Towson University's radio station.
I've seen the power of the arts and what the arts can do for our community here in Baltimore County. The fact that the County–even with budget challenges–has continued to support the arts is impressive and commendable.
From a pure cost-benefit analysis, the arts provide a strong return on investment to the County. For example, Young Audiences is grateful to have received $40,000 in funding from the Citizens of Baltimore County through the Baltimore County Commission on Arts & Sciences last year. At the same time, with that investment, we served more than 12,000 County students and provided nearly $770,000 in payments to teachers and to teaching artists who live in Baltimore County.
Beyond a cost-benefit analysis is what I call the tangible intangible: The power of the arts that I see every day. I see it in kids' eyes, I see it when they look up to a teacher who they admire, I see it in the difference it makes in helping them learn, and I see the impact the arts have in programs like WTMD's Saturday Morning Tunes where we've literally welcomed thousands of kids and their parents.
At Young Audiences, I have seen students learn fractions by beatboxing, math from drumming, and grammar from a poet or a spoken word artist. Not only do the arts provide kids with opportunities to express themselves and build confidence, but they also support all those educational priorities we talk about–like math and reading skills.
I'm probably the biggest anomaly that there is to talk about the power of the arts. I'm a lawyer–and I'm a business lawyer at that. But I am making this case because I see every day the power of the arts and I see that it makes a difference in people's lives.
Alan Hoff joined Young Audiences, Arts for Learning Maryland's Board of Directors in July of 2014. In addition to volunteering on both the Executive and Bridging the Inspiration Gap Committees, he currently serves as Vice Chairman of the Board. Alan has volunteered countless hours of his time and is a passionate advocate for ensuring the artistic, emotional, and intellectual growth of the children in our community. We are thankful every day for his advocacy, for his voice, for his vision, and for his generous spirit.
What does learning look like in June? It's hot, kids are getting restless, and classes don't typically get any easier academically. Quite the opposite, in fact, for Algebra 1 students and teachers at North County High School in Anne Arundel County Public Schools (AACPS) who, in their final weeks of 9th grade, worked on teaching and understanding one of the class' most difficult concepts: Graphing Piecewise Functions.
In the past, through the Arts Empowered Minds Initiative, the Math department at North County High has enlisted a slam poet, a storyteller, and a steel drum musician to help teach Algebra 1 concepts. This year, they invited YA roster artist Christina Delgado to guide the 9th-grade students and teachers through the art of photography to produce images that symbolize points on a Piecewise Graph.
Piecewise functions have multiple equations that define different sections of a graph. One section may look like a straight line, the adjoining section may look like a parabola. Rather than having one equation that defines the graph, there are multiple equations that define the function for specific sections.
To bring this concept to life, Christina and the mathematics team took the complex math idea and made it personal. Students were asked to tell the story of their freshman year of high school and translate that story to a graph with the X-axis representing time and the Y-axis, happiness. As with life itself, happiness over time does not always look like a straight line or a steady curve—sometimes there are sharp turns and big ups and downs in short periods of time. Students started with the story they wanted to tell—the story of their school year, then worked backward to graph these stories over time and layered them over a photograph of their creation and choosing.
The students took the art form very seriously and paid close attention to Christina's advice and direction—and because the teachers participated along beside them, they were able to experience the pleasure and resonance of learning through photography. They were able to relay this experience while leading a professional development course for the rest of the math department, giving them a small taste of how integrating the arts not only helps students grasp difficult concepts in math, but helps build community and understanding in the classroom.
"It's a great way to learn how your students learn," Christina told the teachers. Mr. Kellermann and Ms. Russell recounted how much their students enjoyed working on the projects—projects that were meaningful to them. "I learned a lot about the kids I didn't know—it was cool sitting and talking with them and talking about their stories." In preplanning sessions, students wrote stories about their lives, highlighting events that had an impact on them. Teachers helped students identify symbols that could represent critical points in these stories.
The Algebra 1 teachers walked the rest of the math department faculty through the same initial exercises their students completed on the first day of the residency. Just like their students, the teachers learned to operate and care for their tools and to use them respectfully. After reviewing some of the children's final projects, talking about the choices their students made, and what elements were included to make their photographs visually interesting, the teachers set off on a scavenger hunt of sorts. They were to collect three images on their digital cameras: One of a colorful circle, one of a triangle, and the last one, showing pattern.
When their students were first handed cameras, they immediately wanted to take pictures of themselves and their friends. They quickly shifted their focus to the environment around them, however. They became observant and attentive. Now faculty members were able to see that being behind the lens requires them to look around and take note of what they are seeing—to be purposeful of what they are capturing in the frame. "I was trying to take a picture of this flower," one teacher commented, "but a person blocked the way. It was like we partnered on it. It was kind of cool."
That kind of partnership is something Christina fosters in her classroom residencies. "Actually, one of our rules is to cooperate," the artist told educators. You have to share equipment, so students have to remind each other of how to handle cameras safely and carefully, but they will also share ideas and photo-taking techniques like perspective.
The faculty returned to the classroom to share their images. Their excitement and level of anticipation while waiting for the photos to upload matched their young students. One teacher, upon seeing a colleague's photo of a circle, exclaimed, "It looks like Saturn!" As they clicked through the images together, Ms. Russell reminded them that in the classroom, reviewing the work does not signal the end of the lesson. This, too, was an opportunity to engage. "Alright guys, this is a great picture. Now how can we make it better?"
Day One: Camera Basics and Color, Line, and Pattern
The classes learned to operate and care for their tools and to use them respectfully. They then learned to identify visual art elements through the lens of a digital camera. After reviewing examples of Christina's own work, talking about the choices an artist makes in capturing images, and what makes a photograph visually interesting, students and teachers set off on a scavenger hunt of sorts. They were to collect three images: One of a colorful circle, one of a triangle, and the last one, showing pattern.
Days Two and Three: Composition, Symbolism, and a Final Image
Christina arrived with bags overflowing with curious objects, colorful mementos, magazines, and flags. Everyone was excited to sort through the treasures to find the perfect piece to symbolize a moment in their story. Their task on this day was to put that object into a specific environment and use their cameras to capture it from a point of view that would support its meaning. "People were really mindful about how they were holding their cameras and the colors they used," said the artist about students' final photos. 
Day Four: Visual Stories—Graphed
Students and teachers plotted timelines using a piecewise graph, then transferred the graph directly onto their final images. From yet another bag of goodies, the class added multimedia collage elements—stickers, multicolored transparency film, pipe cleaners, yarn—the works! "I encouraged the students to try and be creative about how they wanted to draw their line or how they wanted to tell their story a little bit deeper—maybe add some words and some embellishments to make their pictures stand out a little bit more." They were able to create some really interesting and compelling multimedia pieces. "You're seeing the graph, but you're also seeing the visual representation of the graph or the story."
Looking to the Future
Is it any wonder that positive energy and the excitement of big ideas in teaching will ripple through a school community and spark even more minds and imaginations? The math teachers at North County High School (NCHS) brainstormed many additional concepts they'd like to teach through digital photography. And the art department was so excited to see the Algebra 1 students' finished pieces that they plan to replicate this exact lesson for their art students.
As even further evidence of their commitment to arts integration, NCHS just received a $40,000 STEM + Arts Integration grant from the National Office of Young Audiences Arts for Learning to support a year-long arts integration program with their 9th-grade Algebra students and YAMD teaching artists. Christina Delgado will be traveling to Kansas City, MO this August with Lacey Sheppard, AACPS Arts Integration Teacher Specialist, and Hana Morford, YAMD Education Director of Statewide Initiatives, to take part in a Professional Learning Institute to develop the program's curriculum. We cannot wait to see the lesson plans that will emerge.
Learn more about the Arts Empowered Minds Initiative, its collective impact partners, and the community it serves by visiting artsempoweredminds.org.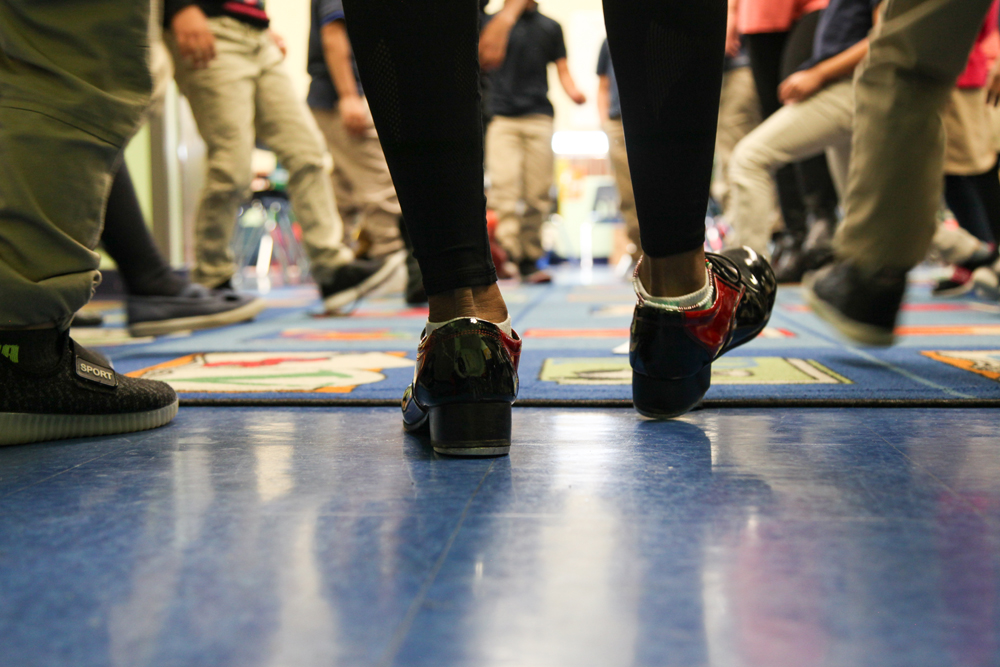 When Quynn Johnson steps into the Pre-K and Kindergarten classrooms at Margaret Brent Elementary School in Baltimore City, she is met with hugs and big, bright smiles. The students love that they've been learning to tap with the artist and they've been waiting patiently for her to return. "What do I do?" the artist asks. "You make music with your feet and you keep a steady beat!" the students respond.
Quynn is a multi-award-winning performing artist, choreographer, author, and the co-director of SOLE Defined, a percussive dance company. Though she has performed tap dance for national and international audiences, on this morning, she is captivating our state's youngest learners—not on a stage, but in a classroom—through rhythm, imagination, and dance. Already a professional teaching artist on the Young Audiences roster, Quynn is now training to also become a Maryland Wolf Trap Artist. 
As the Maryland regional affiliate of Wolf Trap, Young Audiences is proud to be expanding access to the arts for Maryland's youngest students during the critical early learning years. 
High-quality early childhood education is absolutely essential to giving children the best possible start in school and in life. Decades of practice and research prove that integrating the arts into classroom experiences contributes to greater academic achievement and social/emotional development for our youngest students. The creative collaboration between teachers and artists in the Wolf Trap residency builds foundations and fuels momentum in arts-integrated early learning classrooms.
The children sing along with the artist to the tune of Frère Jacques, "I am ready, You are, too, Eyes on the teacher, We're going to learn." Everyone knows the song and everyone is excited to sing it—first in English, then in Spanish.
Estoy listo
Estás tambien
Ojos en la profe
Vamos a aprender
Quynn made up the song while teaching in the Summer Arts & Learning Academy last summer, but now sings it with students in lower elementary grades at every school she visits. Mrs. Jager, the Kindergarten teacher, likes it, too. She uses "I am ready" as a transition song all the time—and her students will remind her if she forgets!
The artist is not only here to teach the young students how to tap, she is here to build the teachers' skills and knowledge and demonstrate how to integrate the art form into their lessons throughout the year. This embedded professional development is something that distinguishes the Wolf Trap Early Learning Residency from other artist residencies.
As Quynn leads the students in an exercise stomping out beats, another skill is being fortified. They are identifying patterns and practicing word sounds like "Apple, apple, ah, ah, ah," and "Bat, bat, buh, buh, buh." The classroom teachers and the artist work together to tailor the residency to each particular classroom—deciding how refined the dance movements should be for each age group and which literacy skills to focus on.
"The process is pretty new and different to me but I like it," said Quynn. The artist pays particular attention to teach the elements of her art form that educators will feel comfortable utilizing in the future—and not just off the cuff, but with some artistic integrity. "I think the embedded PD portion is a great way to keep the teachers involved and shows them how it doesn't have to be its own lesson but can be incorporated within what they're already doing. I never want them to feel like it's unreachable."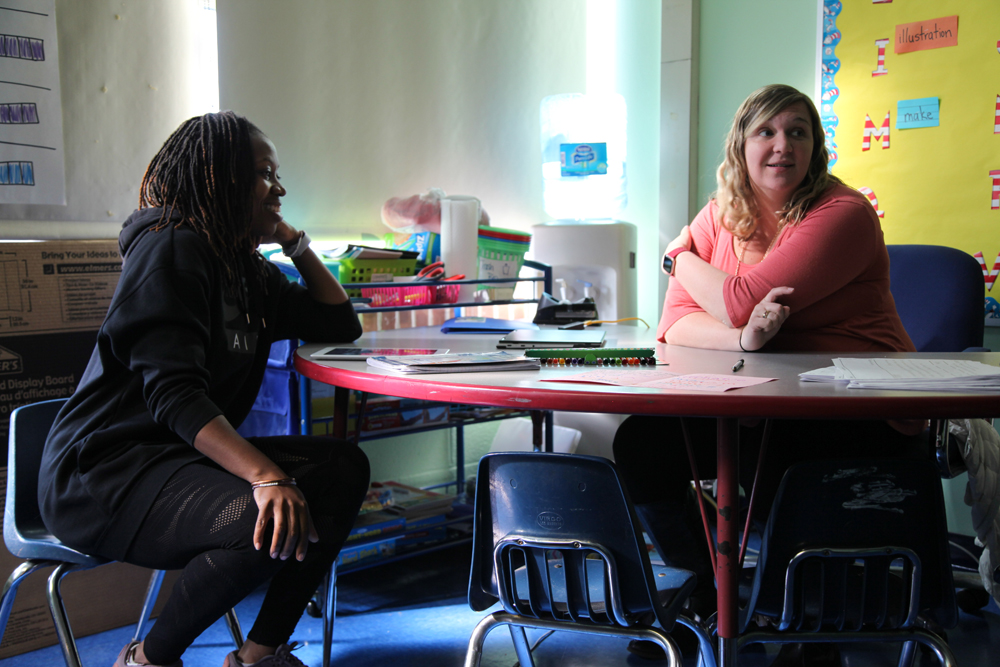 By the end of Quynn's residency in the Pre-K and Kindergarten classrooms, the students know how to keep a steady beat on their feet, and they remember a beat pattern and two basic tap steps. And the teachers can connect the art form to literacy—leading students to sound out words and sounds with their feet. "They both felt great and comfortable with everything we did in class and I could hear them using it after our time was over." They were ready.
Eighty-five percent of brain development occurs during the first five years of a child's life. Participation in the arts encourages positive growth in a child's emotional, physical, intellectual, creative, and social development. As the Maryland affiliate of the Wolf Trap Institute for Early Learning Through the Arts, Young Audiences expands access to the arts for Maryland's youngest students during the critical early learning years. Bring a Maryland Wolf Trap 16-Session Residency into your school.
Categorized:

News

Tagged:

artist-in-residence, arts integration, Baltimore City Public Schools, dance, early learning, kindergarten, literacy, Margaret Brent Elementary Middle School, Maryland Wolf Trap, pre-kindergarten, professional development, professional development for educators, Quynn Johnson, roster artist, tap dance, teaching artist, Wolf Trap
An inaugural Arts Integration Conference held at the Chesapeake Arts Center (CAC) showcased the strength and excellence of the Arts Empowered Minds Initiative (AEMI)'s collective knowledge and resources. Over the course of the day, Anne Arundel County Public Schools (AACPS) educators and CAC artists participated together in classes, learning to integrate three different art forms into other academic areas.
"This was actually the first time we brought these two groups together and—WOW—what amazing things happened!"
"CAC is a fantastic arts hub next door to all 12 AEMI schools, but there isn't always time for teachers to experience all it has to offer," said Hana Morford, YA Education Director, Statewide Initiatives. "Our goal for the day was to create synergy between the amazing CAC artists and AACPS teachers—giving them space to work together and learn from one another through the arts. This was actually the first time we brought these two groups together and—WOW—what amazing things happened!"
The teachers and artists rotated in groups throughout the workshops, spending equal time weaving and stitching with Katherine Dilworth, a Young Audiences fiber artist; learning the elements of dance with Lacey Sheppard, Arts Integration Teacher Specialist; and forming clay vessels with CAC artist Cami Ascher. Then, in the afternoon, the teachers worked in their school teams to write an arts-integrated lesson plan that connected to one of the three art forms. During this time, CAC artists were able to get a taste of arts integration and develop ideas on how they might integrate their art form with some of the teachers' content areas.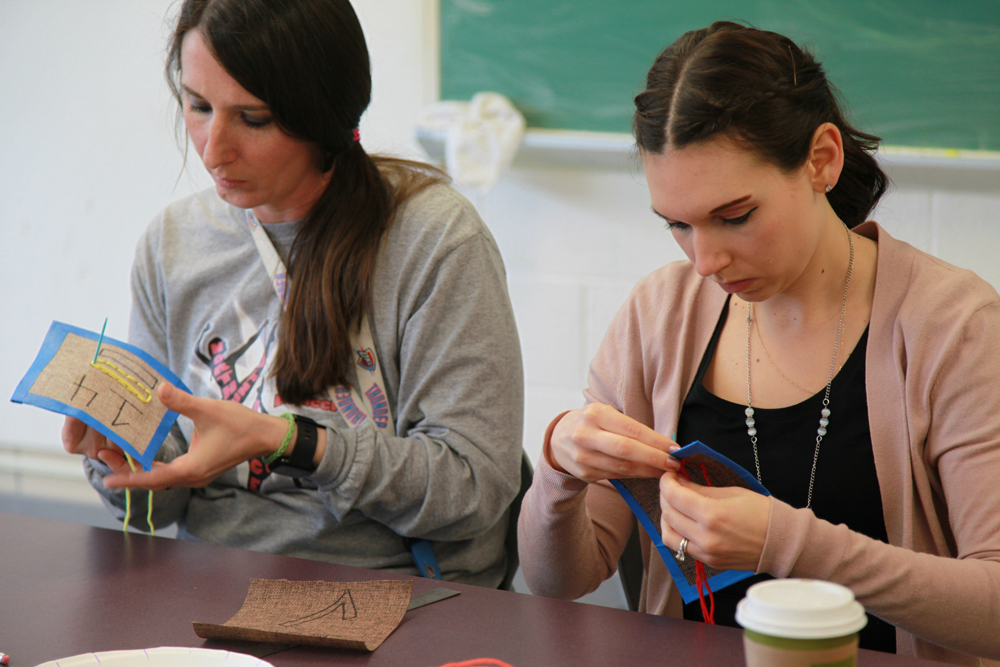 As they engaged in the various art forms, ah-has and ideas filled the classrooms. Katherine Dilworth guided participants first in a weaving project using sturdy paper plates and colorful yarn, and later, in stitching. She shared finished samples with the teachers that focused on math and on literacy—incorporating felt and even beads into the designs. Her excitement was contagious. Working with burlap, needle, and thread, one history teacher imagined the possibility of students stitching constitutional amendments.
Teachers got their hands messy learning clay building techniques with Cami Ascher in the CAC's ceramics studio. They rolled long snakes and coiled them into different shapes. They transformed balls of clay into pots and funny characters with big eyeballs. And they learned how to "scratch and attach" to create a strong bond between formed pieces of the material. Cami had lots of advice for the group: which clays to use if they have/don't have access to a kiln, how to minimize mess, and how to preserve a project if more than a class period is needed to complete it.
Lacey Sheppard divided participants into two groups for her workshop, each choreographing and performing an original dance for the other. They thought carefully about BEST: Body, Energy, Space, and Time—the elements of dance. Some stepped out of their comfort zones while others felt right at home in the limelight, but they all enjoyed the exercise in movement and the connections they could make through the art form to other classroom lessons.
One participant gained so much from the professional development workshops, she sent a note of appreciation the next day. "I just wanted to share that yesterday's PD was by far the best PD I have ever been to," she said. "I loved how you had us in groups that stayed together through the day. I am so excited to bring back new ideas to my school. Thank you so so much!"
Hana added, "It was so beautiful to see the AEMI community begin to take shape between teachers and artists!" And it is a community, we know, that will create so many opportunities in Northern Anne Arundel County. That is the power of the Arts Empowered Minds Initiative.
Learn more about the Arts Empowered Minds Initiative, its collective impact partners and the community it serves by visiting artsempoweredminds.org.
Categorized:

Arts Empowered Minds, News

Tagged:

AACPS, AEMI, Anne Arundel County, Anne Arundel County Public Schools, Arts Empowered Minds, Arts Empowered Minds Initiative, arts integration, CAC, Cami Ascher, ceramics, Chesapeake Arts Center, clay, community, dance, fiber, Katherine Dilworth, Lacey Sheppard, PD, professional development, visual arts
Written by Barbara Krebs,
Young Audiences volunteer and Sunburst Society member
As a pair of dancers performed, a group of elementary school children sat, crisscross applesauce, watching their every move. Valerie Branch, a dancer and choreographer with Young Audiences had been working with the Belle Grove Elementary students in an artist residency made possible through the Arts Empowered Minds Initiative (AEMI). When the last notes faded away, Valerie asked the children what they had observed.
"They love each other," one child offered.
"They share," another chimed in.
Then she asked the kids to explain what dancing techniques they had witnessed. "Negative space," "weight sharing," and "weight bearing" were some of the answers shouted out.
Next, she gathered a group of her second-grade students to pair off with each other to demonstrate some of those concepts. Once the children had done so, half of the students were instructed to use a frozen pose in a high, medium, or low position. The rest were to react to whatever their partner had created. With the new poses in place, she asked the other children in the assembly to discuss what they saw and how the partners had related to one another.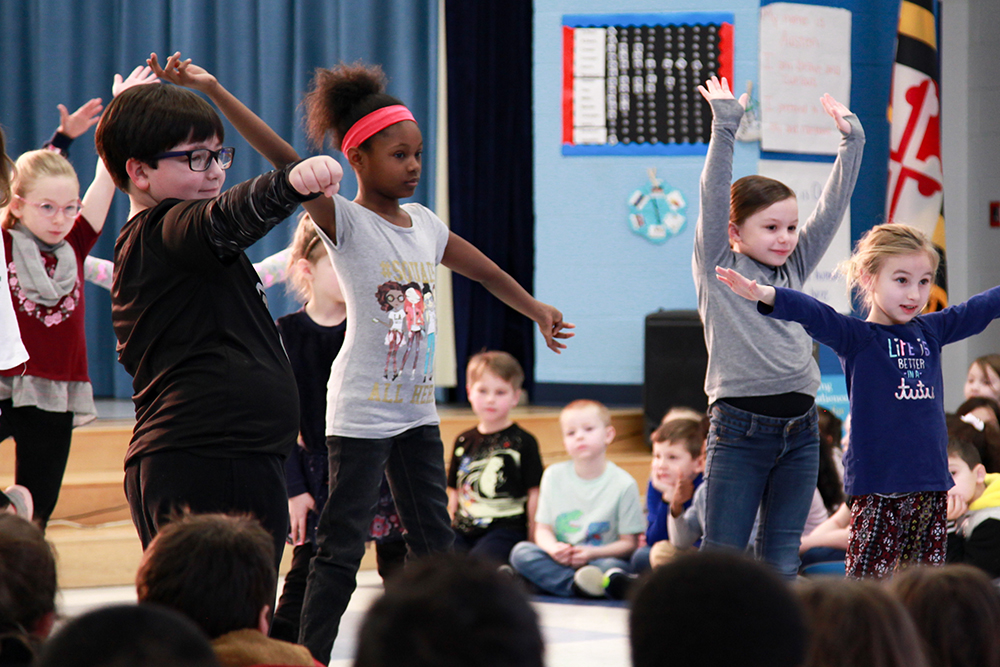 And, in true arts integration form, this exercise was not just about learning dance terminology and positions, but was tied to lessons at the school. This particular one was used in conjunction with a poetry-writing assignment in which the children described themselves through the creation of "I am" poems. Later, choreography was added to illustrate their autobiographical poetry.
Such was the back-and-forth learning that observers witnessed at the Arts Empowered Minds Announcement Event and Celebration on Friday, March 8. The group of educators, politicians, state and local arts administrators, and volunteers gathered at the school was celebrating a $100,000 grant from the National Endowment for the Arts (NEA), which will be used to expand arts integration and teacher professional development in Northern Anne Arundel County.
This is the third time that the NEA has awarded Young Audiences, the program's managing partner, a grant for AEMI. This collaborative partnership between a wide array of arts and education organizations throughout Anne Arundel County seeks to "address the disparity in arts access–and associated gaps in student achievement–between students in Northern Anne Arundel County and the rest of the county."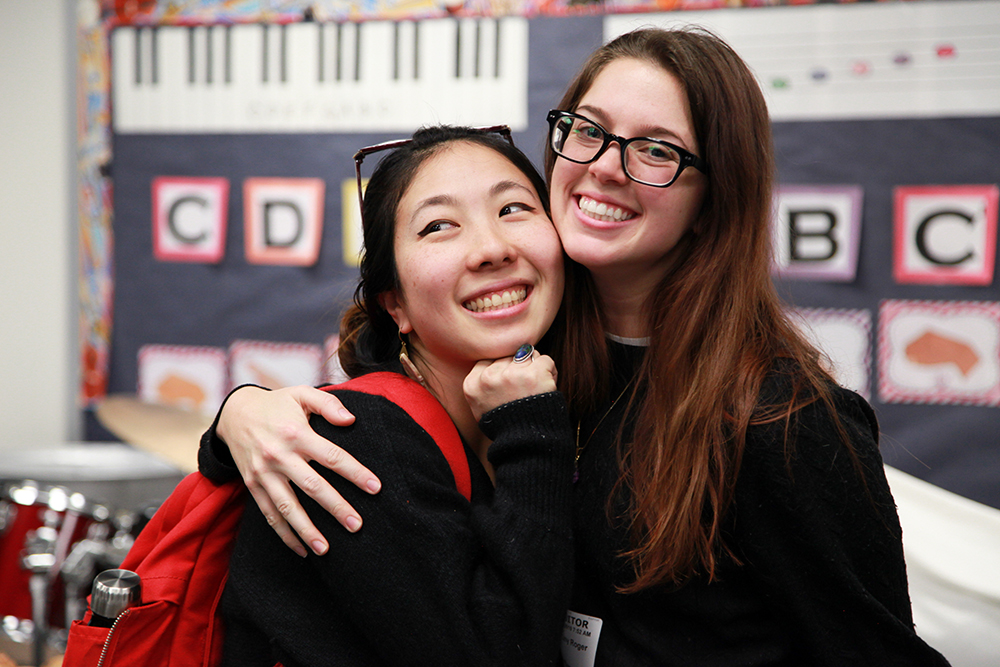 Now in its third year, AEMI has already racked up an impressive set of statistics. But even better than the numbers are the inspiring stories that teachers and administrators had to share during the event. Brittany Roger, a teaching artist with a scientific illustration background, spoke of bringing exotic animals (Madagascar hissing cockroaches, iguanas, corn snakes) to the classroom and allowing children to explore the creatures through sight, sound, touch, and smell. Afterward, the students draw and sketch the animals based on their observations.
Amy Goodman, who heads the math department at North County High School, told of her department's initial skepticism about linking arts and math together. But as the teachers learned arts integration techniques and applied them in the classroom, they began to see students who had been turned off or struggling with math begin to make connections that helped them grasp the concepts they needed to learn.
And so, step by step, AEMI partners create opportunities for children to learn through the arts. Step by step, the Initiative changes minds about the importance of integrating the arts with reading, 'riting and 'rithmetic. And, step by step, it makes converts of those who witness how the arts engage young minds and help them stay, not only focused on their education, but truly inspired to learn.
Learn more about the Arts Empowered Minds Initiative, its collective impact partners and the community it serves by visiting artsempoweredminds.org.
Categorized:

Arts Empowered Minds

Tagged:

AACPS, AEMI, Anne Arundel County, Anne Arundel County Public Schools, arts ed, arts education, Arts Empowered Minds, Arts Empowered Minds Initiative, arts integration, Belle Grove Elementary, Brittany Roger, dance, FutureMakers, Matt Barinholtz, Modern Dance, National Endowment for the Arts, NEA, Northern Anne Arundel County, poetry, The Drawing Zoo, Valerie Branch, Valerie Branch Dance Ensemble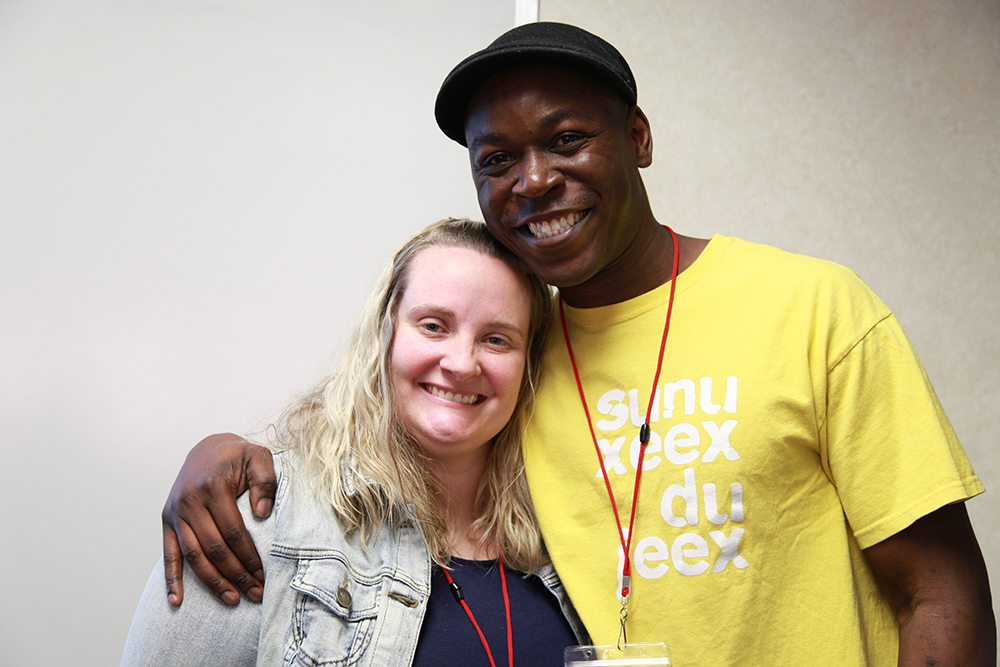 Teaching a subject through a new art form feels less daunting after not only seeing a successful idea modeled in a classroom setting, but actually participating in the learning as a student. At Community Arts: Connecting Neighborhoods and Classrooms, the 13th Annual Arts Integration Conference at UMBC, academic teachers were given the opportunity to see and do in a number of classrooms on campus.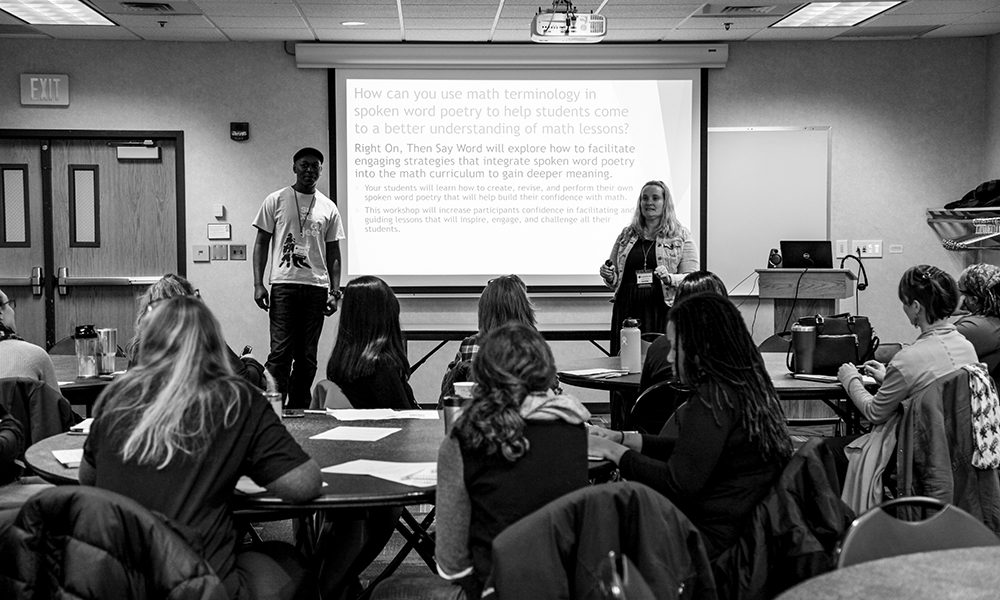 Workshop participants learned, for example, the art storytelling with Laura Wexler of  The Stoop Storytelling Series, how to connect ELA and STEAM with designing and building kinetic sculptures with FutureMakers, and ways to integrate theatre standards with language arts standards.
Participants in one class learned how to teach mathematics through wring poetry. Teachers of grade levels ranging from Pre-K through adult learners convened to learn from North County High School (NCHS) Algebra teacher Ashley Russell and Young Audiences roster artist and spoken word poet Femi the Drifish. Their workshop Right On, Then Say Word: Poetic Mathematics was developed through a lesson they have been successfully co-teaching since the 2017-18 school year.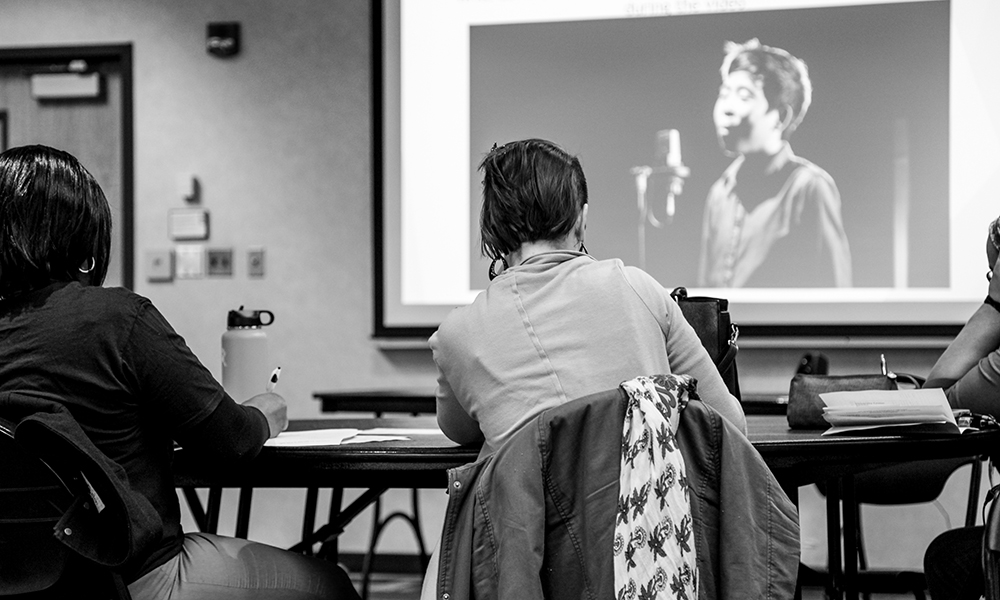 The pair shared their collective experience working with students and showed examples of student work and performances. Femi (his students address him as Mr. Fish) gave the teachers a small taste of his signature style and shared other arts-integrated lessons he's taught over the years, encouraging them to think about the intersection of language and math in word problems and popular mnemonic devices like PEMDAS (Please Excuse My Dear Aunt Sally).
At the end of the hour, the teachers had not only enjoyed their time, they learned to create, revise, and perform their own spoken word poetry using mathematical terms. They felt confident that they could use poetry to teach material in their own classrooms. And their students will most certainly enjoy the challenge, pride, creative thinking, and accomplishment that comes from learning through this art form.
You can read more about their partnership in the classroom and how students learn Algebra through the practice of writing and performing slam poetry here.
In 2017, North County High School Math Department Chair Amy Goodman began working to bring arts integration to all of the school's 9th grade Algebra 1 classes. Thanks to the Arts Empowered Minds Initiative, these students have studied with a variety of professional teaching artists. In addition to Femi the DriFish, Algebra 1 students have worked with TAHIRA, Skher Brown, and Kevin Martin. Since beginning this effort, the school's Algebra I PARCC scores have shown double-digit gains (not to mention, students nurtured their creative sides exploring storytelling, learning to play steel drums, expressing themselves through poetry, and practicing the art of Capoeira Angola).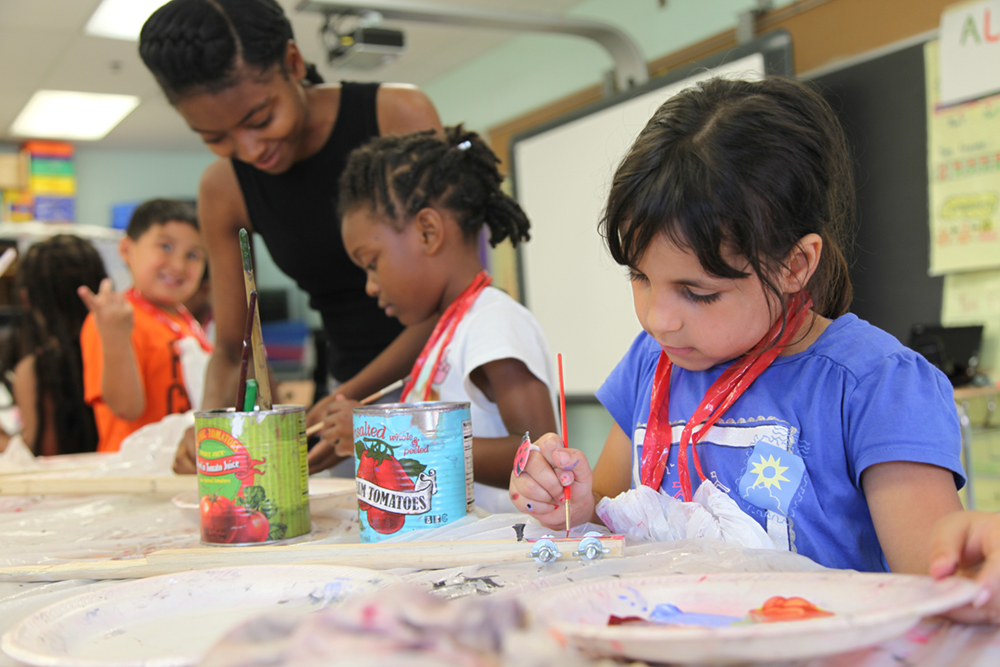 Students in free arts-integrated program for City Schools realize growth in math, reading, writing, and social-emotional learning – especially for those behind academically.
BALTIMORE, (February 18, 2019) – A new study shows that students who participate in Baltimore City Public Schools' Summer Arts & Learning Academy (SALA), operated by Young Audiences, realize positive academic growth and improved social-emotional skills. The research indicates that when compared to the rest of the students in the program, students with special needs saw significantly more growth in writing and in some social emotional domains. Similarly, students that started the summer program behind in math saw significantly more growth over the summer than their peers who began the program on grade level.
The 2018 Summer Arts & Learning Academy, a free five week arts integration program for Baltimore City Schools students, was held from July 9 to August 10 at eight sites across Baltimore City. Through hands-on activities co-taught by professional artists and classroom teachers, nearly 2,200 Pre–K-5th grade students engaged in painting, songwriting, poetry, dance, music, photography, playwriting, filmmaking while learning math and literacy.
SALA students' test scores at the beginning and end of the program were analyzed by WolfBrown, a national leader in research on arts education and children's academic, social, and emotional development. WolfBrown's analyses revealed increases in students' math, reading comprehension and writing scores that were not only statistically significant, but large. On average, students' math scores increased by 15 percentage points, their reading comprehension scores increased by 11 percentage points, and their writing scores increased by 14 to 16 percentage points.
Of particular interest in the study was the growth seen among students who were behind academically or who were at risk of falling behind. Students further behind in math at the beginning of SALA showed the largest growth in math – their test scores grew nearly 1.5 times the rate of their peers. Similar results were observed among students with IEPs. An IEP is an individualized educational plan given to students who demonstrate at least one of 13 special factors, all of which are considered to impede learning. Students with IEPs out-paced their peers in writing content score-growth by nearly 1.24 times. Students with IEPs also showed growth in self control as reported by parents.
Dr. Sonja Santelises, Baltimore City Schools CEO, said,
"We believe in educating the whole child and this summer program does just that. We are thrilled that this investment is resulting in student gains in literacy and math. Just as important, this program gives young people an opportunity to learn about and express themselves through different art forms, which ultimately strengthens empathy and other social-emotional skills in our young people."
The Baltimore City Schools Office of Achievement and Accountability conducted its own evaluation of the program, comparing scores from end-of-academic-year standardized assessments (iReady and DIBELS) to the beginning of the year in order to measure summer learning loss and the impact of SALA in mitigating that loss. In three of the four comparisons, SALA students program showed lower rates of summer learning loss than students who were not in a summer program.
"Young Audiences' evaluation contributes to the body of national research showing that when children have sustained opportunities to learn in and through the arts, they have greater rates of academic success," said Stacie Sanders Evans, Young Audiences President & CEO.
"The Every Student Succeeds Act, the law that governs US public education policy, calls for greater attention on the whole child and specifically social-emotional learning, while requiring schools to adopt evidence-based practices. We hope this evidence will lead more Maryland schools to consider the arts as a vehicle for building student empathy and other life skills such as cooperation and self-management."
As a result of the program's continued success, Baltimore City Schools and Young Audiences will expand SALA in 2019 to Pre-K, reaching more than 230 of our City's youngest learners across all 8 sites.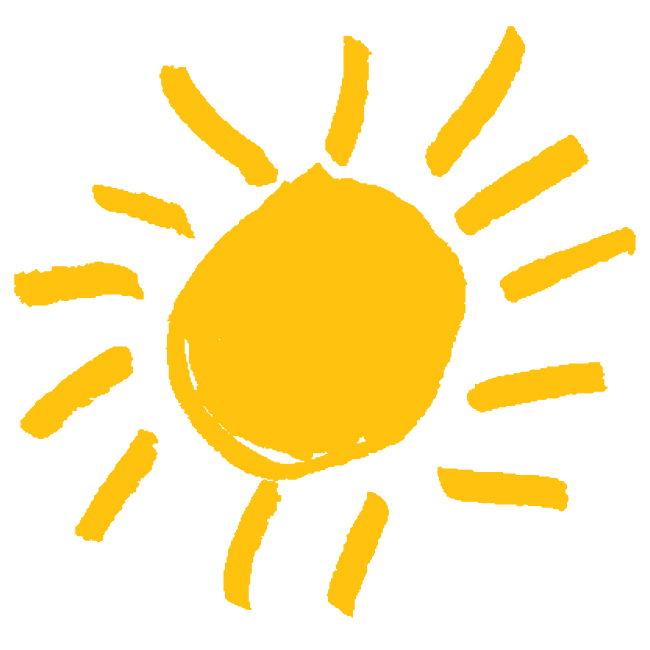 About Young Audiences/Arts for Learning
Started in Baltimore in 1950, Young Audiences is the nation's largest arts-in- education provider. As the Maryland affiliate, Young Audiences/Arts for Learning (YA) is devoted to enriching the lives and education of Maryland's youth through educational and culturally diverse arts programs. Through Young Audiences, professional artists from all disciplines partner with leaders and schools for nearly 10,000 hands on arts learning experiences that reach more than 190,000 Maryland students. Young Audiences envisions a Maryland where the arts are valued for their capacity to transform lives, and where every student is immersed in opportunities to imagine, to create, and to realize their full potential.
Written by Barbara Krebs,
Young Audiences volunteer and Sunburst Society member
A few weeks ago, I was happy to attend Young Audiences' third Art Crawl, held this year at the Single Carrot Theatre adjacent to YA's offices.
For those of you who have not attended this annual event, I highly encourage you to do so. First of all, you'll get to party with a group of fun, interesting, entertaining and dedicated folks. Secondly, you'll get to enjoy the learning environment presented to the kids who attend YA's Summer Arts & Learning Academy (SALA). And by that, I mean you'll act, play music and create artwork, which helps you understand your reading assignment or your math homework. And finally, you get to nosh on great hors-d'oeuvres and sip handcrafted cocktails created by some of YA's board members!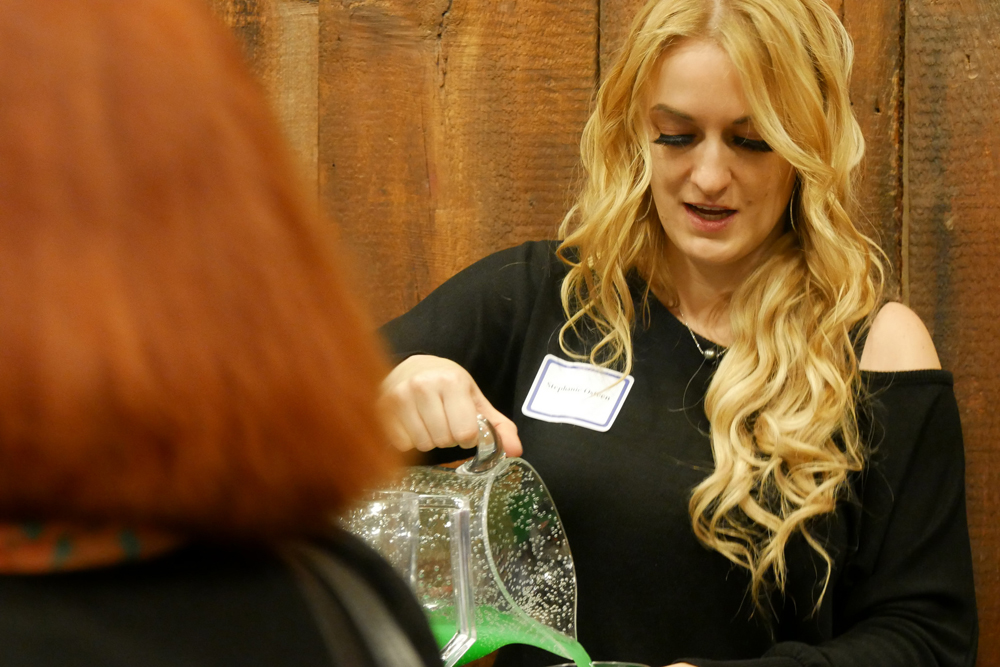 As always, I find myself splitting my time between talking to people I've met in the past, and meeting new folks who have interesting stories to tell. This time was no different. Balancing a plate of delicious appetizers from Copper Kitchen and a glass of wine provided by North Charles Fine Wine & Spirits, my husband and I soon found an empty spot at a table and introduced ourselves to Cori Daniel and Carlotta Williams. Turns out they were actually a teaching artist/teacher team who would later explore the book, Tar Beach, a story by artist Faith Ringgold recalling the dream adventure of a young girl flying high above her neighborhood in 1939 Harlem.
No matter the genre, the goal is making sure the children stay focused on the subject matter, sneakily presented as a lot of fun.
But I didn't know this yet. What I did find out though was how long they had been teaching, what they taught, and I got to observe their obvious enthusiasm for the children and learning. Their animated conversation about their SALA classroom was fascinating, as were their fond memories of inspiring kids to learn while the children used their imaginations to improve their reading scores.
Oh, did I just use inspire, imagine and improve in one sentence? Yes, I did, and that is, of course, no accident. Having witnessed teachers and children in action in several of SALA's classrooms this summer, and getting a chance to actually engage in it myself during Art Crawl is to truly understand how those three words create an arts-integrated learning environment that SALA uses to stem summer learning loss and bridge the Inspiration Gap.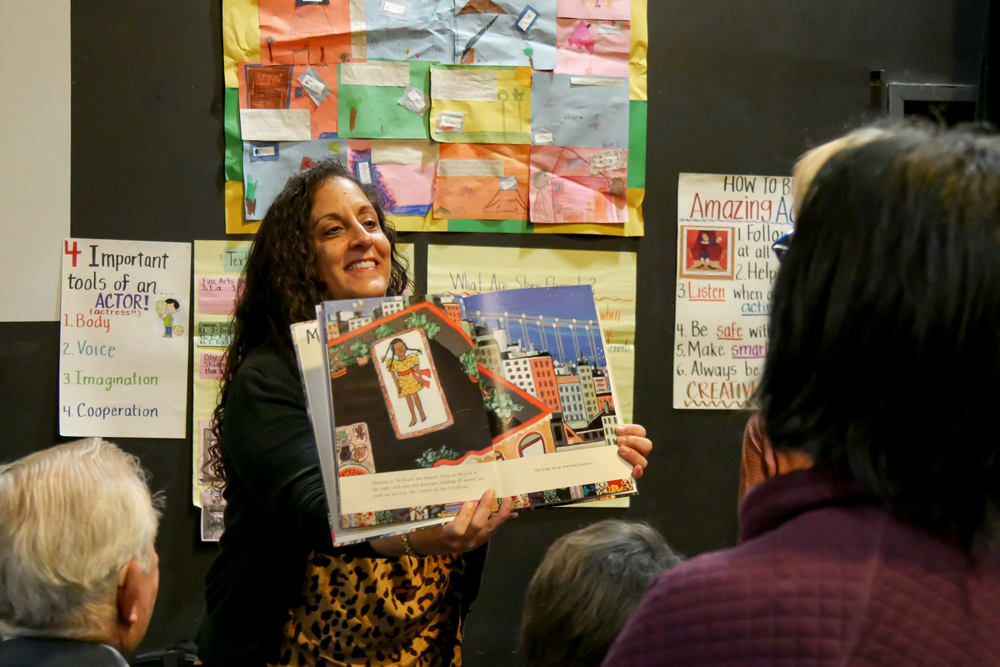 In SALA's five-week summer classrooms, kids use a wide variety of art techniques to help them master core subjects – whether it's textile art to illustrate a story they are studying or rapping their multiplication tables or dancing to show character development. No matter the genre, the goal is making sure the children stay focused on the subject matter, sneakily presented as a lot of fun.
And so it was. In the segment taught by the second-grade teacher and teaching artist I had just met, we warmed up with some dance movements to highlight acting concepts. Then we looked at the pictures in the book and explained what we saw in them. Finally, we paired off and used our imaginations to explore a special place for us – one that made us feel warm and welcomed.
Next up was a math segment, guided by teaching artist Nadia Rea Morales and teacher Jose Hernandez. With a chart in the room illustrating ones as yellow, tens as red, and hundreds as blue, I created a Piet Mondrian "masterpiece."  The focus was to teach second-graders their ones, tens, and hundreds places and the relationships between digits and their place value. My own memory of learning such things was of boring, rote exercises that left me cold. Here, I hadn't had so much fun with scissors and construction paper in ages. And to think – I was learning math!
I ended the evening with teaching artist Christina Cook, who was surrounded by a variety of percussion instruments. As she demonstrated how these were used to sound out the syllables in words, I noticed how she was combining both math and vocabulary – a certain number of syllables to express a phrase, as she beat the rhythm on her drum.  She then handed out instruments and instructed us to follow along.
In addition, she said she used this technique to help the pre-K kids she taught to express their emotions. At first, she told us that the students mostly stuck to "happy" or "sad," but soon she noticed that, as the kids gained confidence with the percussion pieces, their emotional range expanded, too. Now they were "curious" and "frustrated" and "ecstatic." She admitted that she was impressed with the varying emotions the kids conveyed as well as the fact that they already had the vocabulary to communicate it. They had only needed the little nudge the music gave them to open up and express themselves more fully.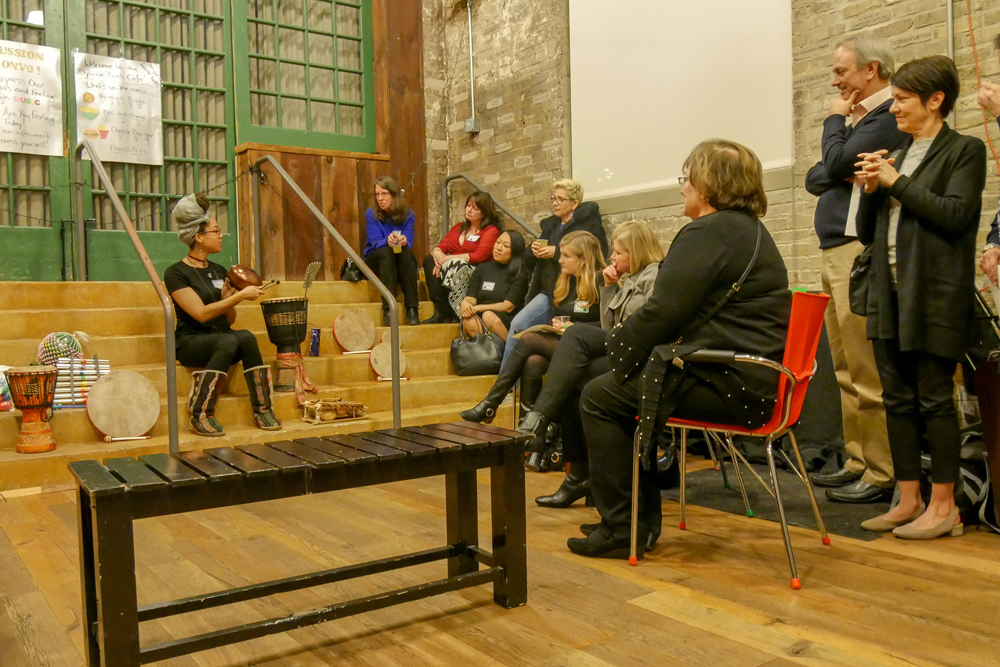 I have to admit – Inspire, Imagine, Improve is a mantra I can really get behind. Because each time I've attended Art Crawl, I come away inspired by all the people who donate time, expertise and/or money to make SALA a reality for 2,100 elementary school-age kids.  I can only imagine how much harder it would be for the children and their teachers if this summer program didn't exist. And I know that Young Audiences' aim to improve test scores and access to arts-integrated learning is something I'm behind 100 percent.
Wouldn't you like a little Inspire, Imagine, Improve in your life?  Come join us next year and I think you'll find your own stories of imagination that inspire you to improve. Until then, Happy Holidays!
Have you noticed how much we're growing? Our staff is now 29 people strong! That collective energy is felt every day, but it really blew us all away as new and veteran staff sang together at the start of our annual retreat. Some of us were just getting to know everyone—one of us was meeting everyone for the very first time that day— and all of us grateful for the time together. As you may well know, at Young Audiences, we start with the art! The group split into sections and sang one of three traditional gospel hymns, each individually powerful. When sung together as a medley, though, the three hymns created an entirely new force.
Over the summer, we created two new Teaching Artist Fellow positions within the organization and welcomed Katherine Dilworth and Valerie Branch into the role! Both Katherine and Valerie are highly skilled in teaching artistry and have been delivering arts-integrated instruction and teacher professional development with Young Audiences for years. In addition to continuing their fantastic work in the schools as teaching artists, they will also serve in an expanded capacity by consulting with school districts and partners on arts integration strategies and practice, leading PDs, and mentoring other Teaching Artists.
"I really love being in this new position at YA. I love that I have the opportunity to grow as an artist and hone in on my skills as a mentor and Master Teaching Artist," said Valerie — who will be doing a lot of work in Prince George's County, including professional development and training teachers as part of their new Arts Integration Master Teacher training program. "I am excited for all of the continued possibilities that lie ahead and am looking forward to getting into the classroom this school year!"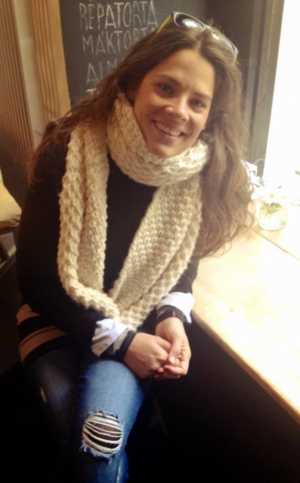 Nel Andrews is officially our new Chief Operating Officer. She comes to us from the Annie E. Casey Foundation, where she worked for the last 10 years in their Center for Systems Innovation. She has a passion for racial equity, organizational development, and systems change. We are thrilled to have her join our family! We also welcomed Arnold Joo to the brand new Data and Systems Manager position and promoted Michael Brush to Summer Arts & Learning Academy Regional Director. To top it all off, three new program coordinators have joined the staff and settled right in: Kerrigan Dougherty, Alex Crockett, and Cori Gill.
"We couldn't be more proud of our growth and all of the hardworking and passionate people we are working with on this journey," said Young Audiences President & CEO Stacie Sanders Evans. "We are everyday people committed to transforming education through the arts. We have enormous respect for our teaching artists and such love for our communities." And while we are a growing organization of many parts, we work in sync, moving forward together— a medley of many parts reverberating, energizing, elevating, working to realize our mission: that one day, every student in Maryland will have the opportunity to imagine, create, and realize their full potential through the arts.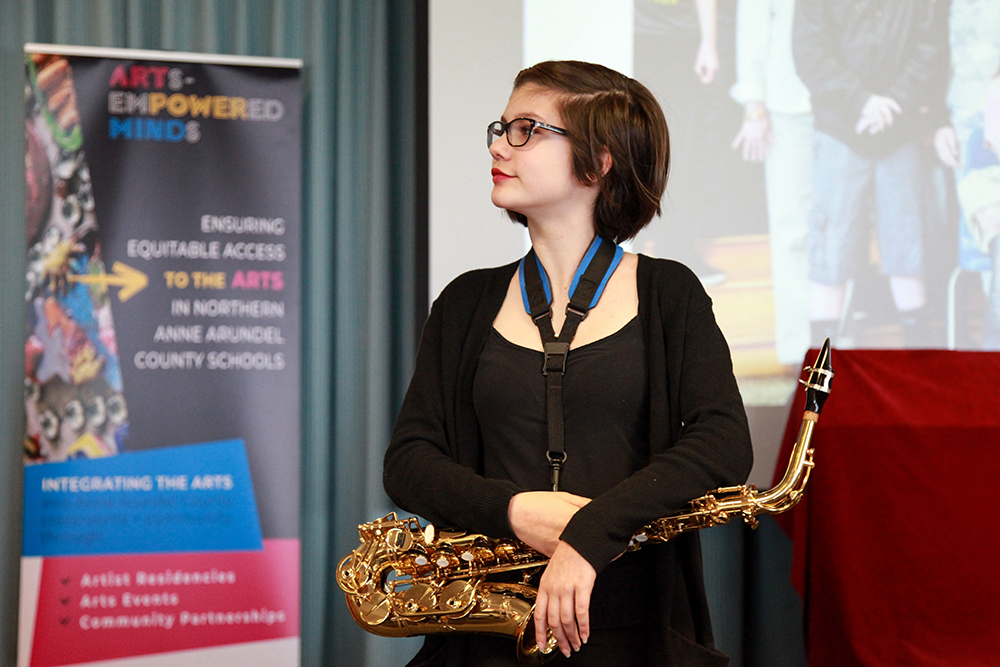 Written by Barbara Krebs,
Young Audiences volunteer and Sunburst Society member
It's all about priorities. There are only 24 hours in a day, and as a busy person, you have to prioritize the most important things. I could tell that this principal really wanted to talk about the Arts Empowered Minds Initiative (AEMI), Young Audiences, and how arts-based learning was impacting his school. That's because, despite the week-long game of telephone and email tag we played just before the start of the new school year, he kept contacting me to set up the next potential interview time. Happily, I finally connected with Rodney Walker, principal of Brooklyn Park Elementary School in Northern Anne Arundel County.
But first–what is AEMI? According to its website, it is "a collective impact initiative that utilizes the arts to improve school achievement, parent involvement, and student engagement and empathy in Northern Anne Arundel County Public Schools (AACPS)." That collective involves more than a half dozen organizations selected for, among other things, their "expertise in the arts, education, or both."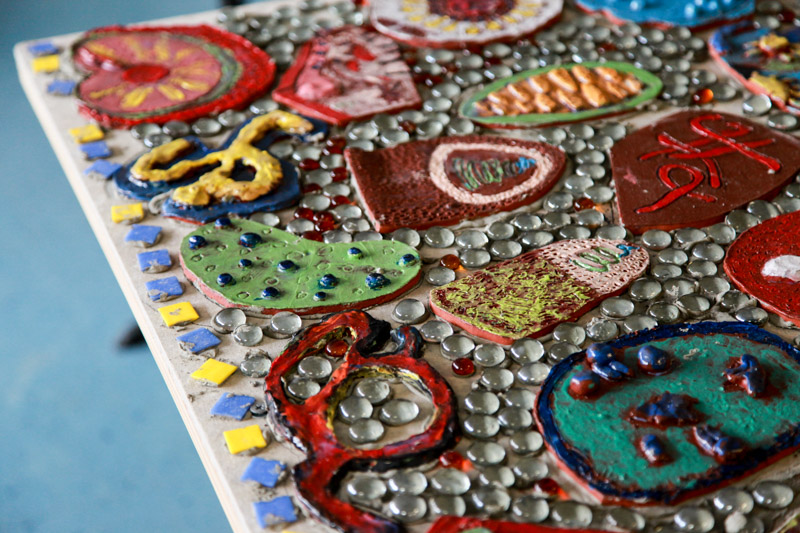 So when I spoke to Principal Walker, I was curious as to how his school had become involved, how the partnership worked in his school, and what his observations of its impact were. Brooklyn Park Elementary had become an AEMI school about three years ago when he received info about the group from AACPS' Central Office. When he met with AEMI staff and learned of their mission and partnerships, he knew that it would be a "natural fit" for his school. He liked the idea that it "gives kids different opportunities to expand their learning. It exposes them to different art genres and focuses on creative ways to teach core subjects."
Over the summer, Principal Walker attended one of Young Audiences' tours of Summer Arts & Learning Academy (SALA), which was specifically geared towards introducing principals to the program. Having toured SALA earlier in the summer myself, I wondered how his experience as an educator differed from mine.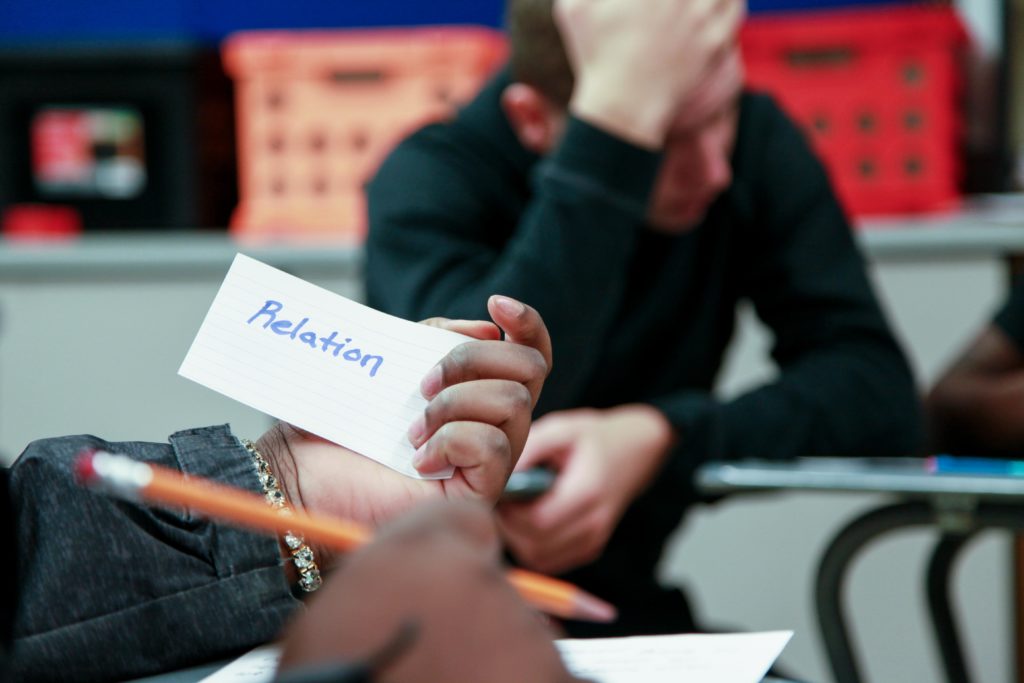 Like me, he was impressed with the fourth-grade classroom he observed using a rap song to learn math concepts. We both noticed how much fun the kids were having while they were learning, a crucial element in creating positive learning experiences.
But as a long-term educator, he noticed something that I had missed. "Sometimes our kids have difficulty in learning the math vocabulary. Here, they're connecting because they're having fun. But in the process, the kids are becoming leaders. They're holding themselves accountable." In other words, it was the children who were helping to create a positive classroom culture. Of course, the teachers were guiding it, but by empowering their students, the kids took ownership and were self-motivated.
Principal Walker's assessment of the learning techniques he witnessed was "phenomenal," but how will this translate back on the ground at Brooklyn Park Elementary? With AEMI's focus on arts-based learning and its links to other arts/education groups, Principal Walker sees a continued focus on "creating a safe space for learning and exploration."
"We will continue to work with AEMI, Young Audiences, and its partners to add professional development for our teachers, and incorporate new and creative ways to add arts-based learning into our writing and math classes."
AEMI's priority is to "increase access to high-quality, arts-integrated learning opportunities…" Though it's not always easy to quantify any particular program's impact, there is one thing that Principal Walker is absolutely certain of. That's the "happy faces" he sees during assemblies with an arts orientation.
As Principal Walker's enthusiasm for AEMI and its partners show, I suspect that arts-focused education will continue to be a priority at Brooklyn Park Elementary School.
The Arts Empowered Minds Initiative is the combined effort of many groups and individuals seeking to build a movement for increased equity through the arts in their community. With funding from the NEA in 2016, we built partnerships with Anne Arundel County Public Schools (AACPS), Chesapeake Arts Center (CAC), Arts Education in Maryland Schools Alliance (AEMS), Arts Council of Anne Arundel County, and University of Maryland – Baltimore County (UMBC).