Written by Barbara Krebs,
Young Audiences volunteer and Sunburst Society member
A few weeks ago, I was happy to attend Young Audiences' third Art Crawl, held this year at the Single Carrot Theatre adjacent to YA's offices.
For those of you who have not attended this annual event, I highly encourage you to do so. First of all, you'll get to party with a group of fun, interesting, entertaining and dedicated folks. Secondly, you'll get to enjoy the learning environment presented to the kids who attend YA's Summer Arts & Learning Academy (SALA). And by that, I mean you'll act, play music and create artwork, which helps you understand your reading assignment or your math homework. And finally, you get to nosh on great hors-d'oeuvres and sip handcrafted cocktails created by some of YA's board members!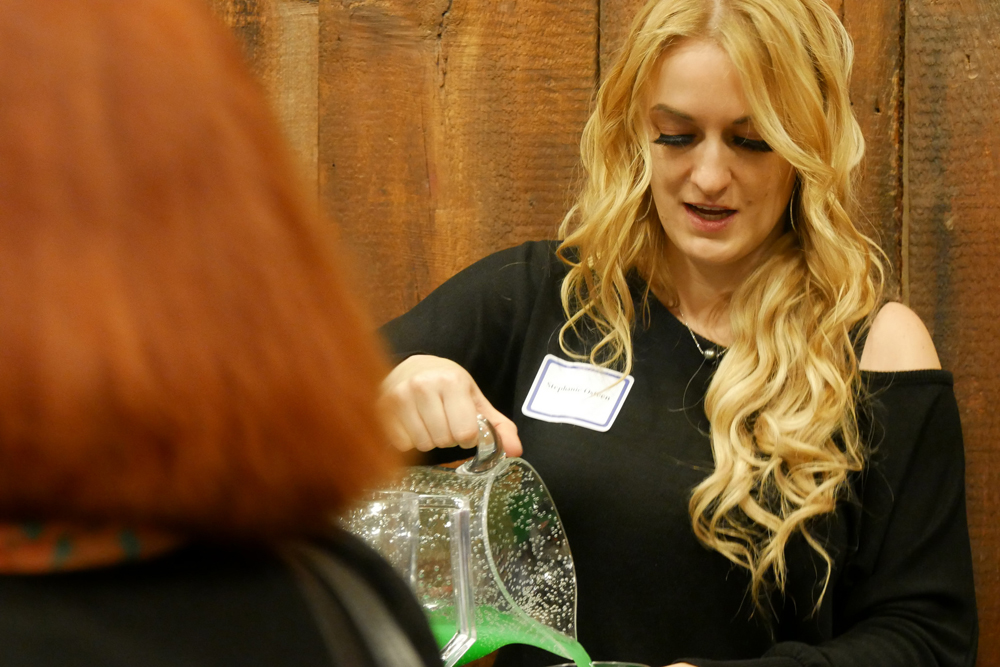 As always, I find myself splitting my time between talking to people I've met in the past, and meeting new folks who have interesting stories to tell. This time was no different. Balancing a plate of delicious appetizers from Copper Kitchen and a glass of wine provided by North Charles Fine Wine & Spirits, my husband and I soon found an empty spot at a table and introduced ourselves to Cori Daniel and Carlotta Williams. Turns out they were actually a teaching artist/teacher team who would later explore the book, Tar Beach, a story by artist Faith Ringgold recalling the dream adventure of a young girl flying high above her neighborhood in 1939 Harlem.
No matter the genre, the goal is making sure the children stay focused on the subject matter, sneakily presented as a lot of fun.
But I didn't know this yet. What I did find out though was how long they had been teaching, what they taught, and I got to observe their obvious enthusiasm for the children and learning. Their animated conversation about their SALA classroom was fascinating, as were their fond memories of inspiring kids to learn while the children used their imaginations to improve their reading scores.
Oh, did I just use inspire, imagine and improve in one sentence? Yes, I did, and that is, of course, no accident. Having witnessed teachers and children in action in several of SALA's classrooms this summer, and getting a chance to actually engage in it myself during Art Crawl is to truly understand how those three words create an arts-integrated learning environment that SALA uses to stem summer learning loss and bridge the Inspiration Gap.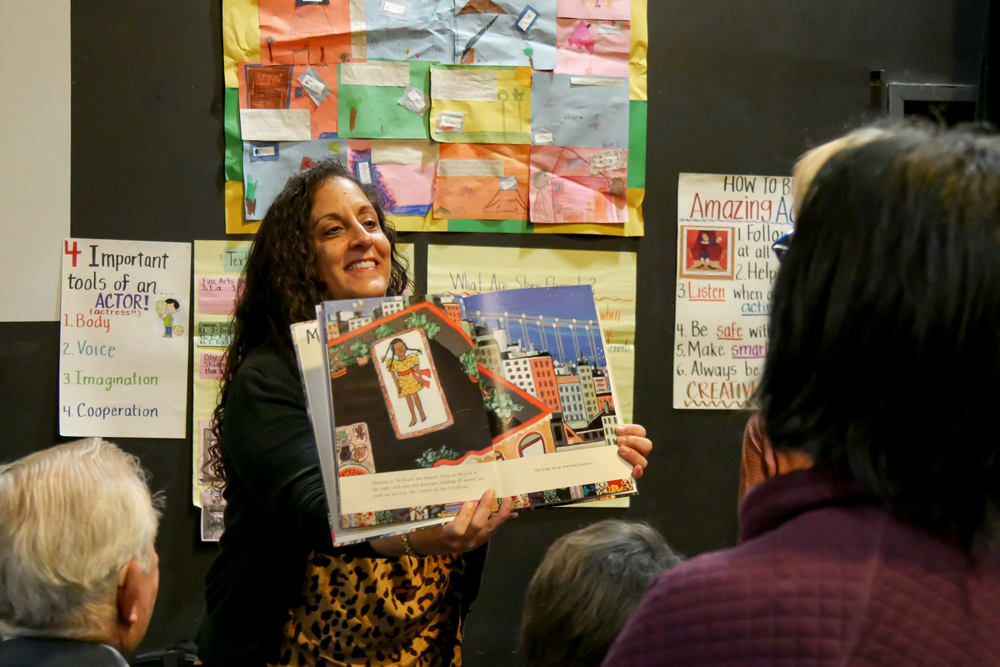 In SALA's five-week summer classrooms, kids use a wide variety of art techniques to help them master core subjects – whether it's textile art to illustrate a story they are studying or rapping their multiplication tables or dancing to show character development. No matter the genre, the goal is making sure the children stay focused on the subject matter, sneakily presented as a lot of fun.
And so it was. In the segment taught by the second-grade teacher and teaching artist I had just met, we warmed up with some dance movements to highlight acting concepts. Then we looked at the pictures in the book and explained what we saw in them. Finally, we paired off and used our imaginations to explore a special place for us – one that made us feel warm and welcomed.
Next up was a math segment, guided by teaching artist Nadia Rea Morales and teacher Jose Hernandez. With a chart in the room illustrating ones as yellow, tens as red, and hundreds as blue, I created a Piet Mondrian "masterpiece."  The focus was to teach second-graders their ones, tens, and hundreds places and the relationships between digits and their place value. My own memory of learning such things was of boring, rote exercises that left me cold. Here, I hadn't had so much fun with scissors and construction paper in ages. And to think – I was learning math!
I ended the evening with teaching artist Christina Cook, who was surrounded by a variety of percussion instruments. As she demonstrated how these were used to sound out the syllables in words, I noticed how she was combining both math and vocabulary – a certain number of syllables to express a phrase, as she beat the rhythm on her drum.  She then handed out instruments and instructed us to follow along.
In addition, she said she used this technique to help the pre-K kids she taught to express their emotions. At first, she told us that the students mostly stuck to "happy" or "sad," but soon she noticed that, as the kids gained confidence with the percussion pieces, their emotional range expanded, too. Now they were "curious" and "frustrated" and "ecstatic." She admitted that she was impressed with the varying emotions the kids conveyed as well as the fact that they already had the vocabulary to communicate it. They had only needed the little nudge the music gave them to open up and express themselves more fully.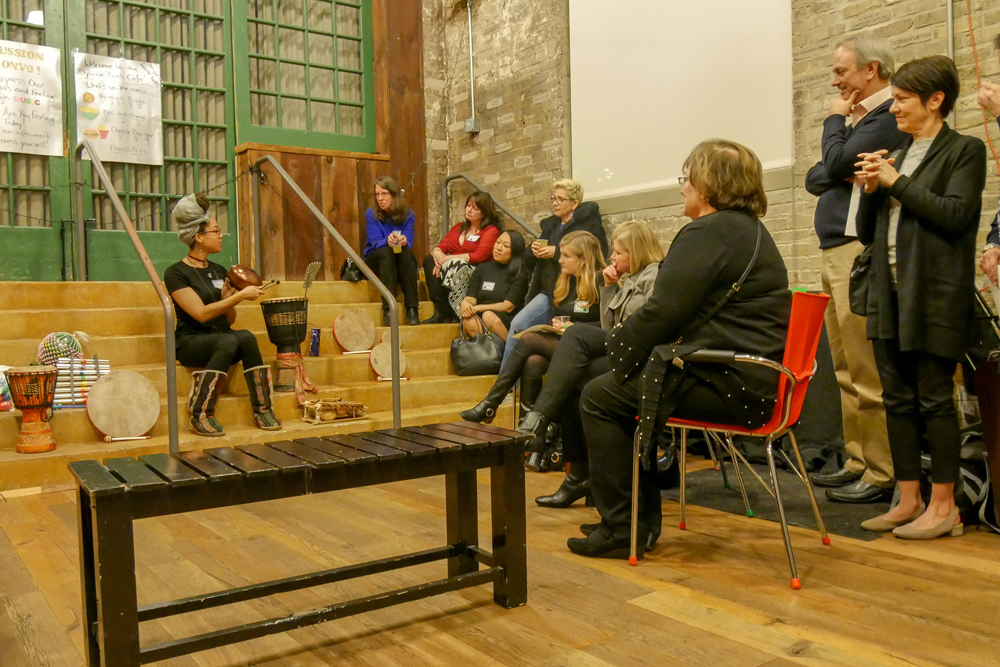 I have to admit – Inspire, Imagine, Improve is a mantra I can really get behind. Because each time I've attended Art Crawl, I come away inspired by all the people who donate time, expertise and/or money to make SALA a reality for 2,100 elementary school-age kids.  I can only imagine how much harder it would be for the children and their teachers if this summer program didn't exist. And I know that Young Audiences' aim to improve test scores and access to arts-integrated learning is something I'm behind 100 percent.
Wouldn't you like a little Inspire, Imagine, Improve in your life?  Come join us next year and I think you'll find your own stories of imagination that inspire you to improve. Until then, Happy Holidays!
Have you noticed how much we're growing? Our staff is now 29 people strong! That collective energy is felt every day, but it really blew us all away as new and veteran staff sang together at the start of our annual retreat. Some of us were just getting to know everyone—one of us was meeting everyone for the very first time that day— and all of us grateful for the time together. As you may well know, at Young Audiences, we start with the art! The group split into sections and sang one of three traditional gospel hymns, each individually powerful. When sung together as a medley, though, the three hymns created an entirely new force.
Over the summer, we created two new Teaching Artist Fellow positions within the organization and welcomed Katherine Dilworth and Valerie Branch into the role! Both Katherine and Valerie are highly skilled in teaching artistry and have been delivering arts-integrated instruction and teacher professional development with Young Audiences for years. In addition to continuing their fantastic work in the schools as teaching artists, they will also serve in an expanded capacity by consulting with school districts and partners on arts integration strategies and practice, leading PDs, and mentoring other Teaching Artists.
"I really love being in this new position at YA. I love that I have the opportunity to grow as an artist and hone in on my skills as a mentor and Master Teaching Artist," said Valerie — who will be doing a lot of work in Prince George's County, including professional development and training teachers as part of their new Arts Integration Master Teacher training program. "I am excited for all of the continued possibilities that lie ahead and am looking forward to getting into the classroom this school year!"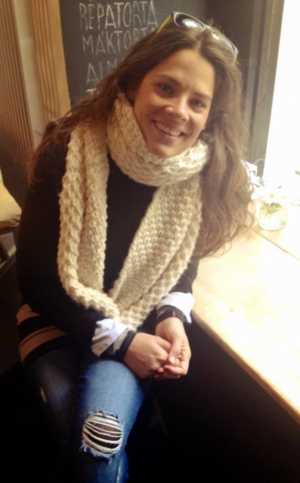 Nel Andrews is officially our new Chief Operating Officer. She comes to us from the Annie E. Casey Foundation, where she worked for the last 10 years in their Center for Systems Innovation. She has a passion for racial equity, organizational development, and systems change. We are thrilled to have her join our family! We also welcomed Arnold Joo to the brand new Data and Systems Manager position and promoted Michael Brush to Summer Arts & Learning Academy Regional Director. To top it all off, three new program coordinators have joined the staff and settled right in: Kerrigan Dougherty, Alex Crockett, and Cori Gill.
"We couldn't be more proud of our growth and all of the hardworking and passionate people we are working with on this journey," said Young Audiences President & CEO Stacie Sanders Evans. "We are everyday people committed to transforming education through the arts. We have enormous respect for our teaching artists and such love for our communities." And while we are a growing organization of many parts, we work in sync, moving forward together— a medley of many parts reverberating, energizing, elevating, working to realize our mission: that one day, every student in Maryland will have the opportunity to imagine, create, and realize their full potential through the arts.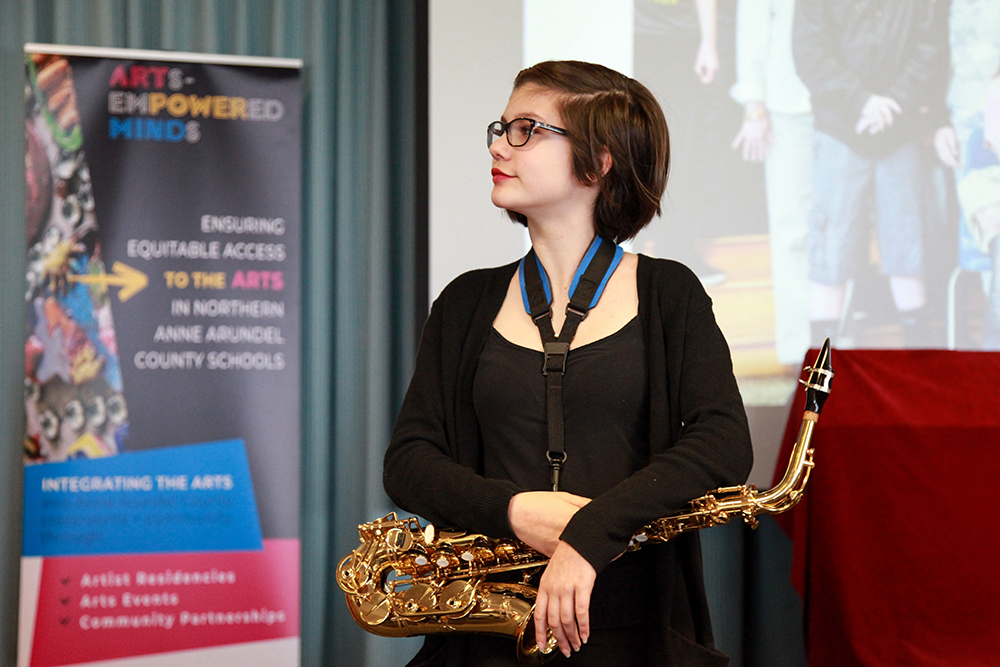 Written by Barbara Krebs,
Young Audiences volunteer and Sunburst Society member
It's all about priorities. There are only 24 hours in a day, and as a busy person, you have to prioritize the most important things. I could tell that this principal really wanted to talk about the Arts Empowered Minds Initiative (AEMI), Young Audiences, and how arts-based learning was impacting his school. That's because, despite the week-long game of telephone and email tag we played just before the start of the new school year, he kept contacting me to set up the next potential interview time. Happily, I finally connected with Rodney Walker, principal of Brooklyn Park Elementary School in Northern Anne Arundel County.
But first–what is AEMI? According to its website, it is "a collective impact initiative that utilizes the arts to improve school achievement, parent involvement, and student engagement and empathy in Northern Anne Arundel County Public Schools (AACPS)." That collective involves more than a half dozen organizations selected for, among other things, their "expertise in the arts, education, or both."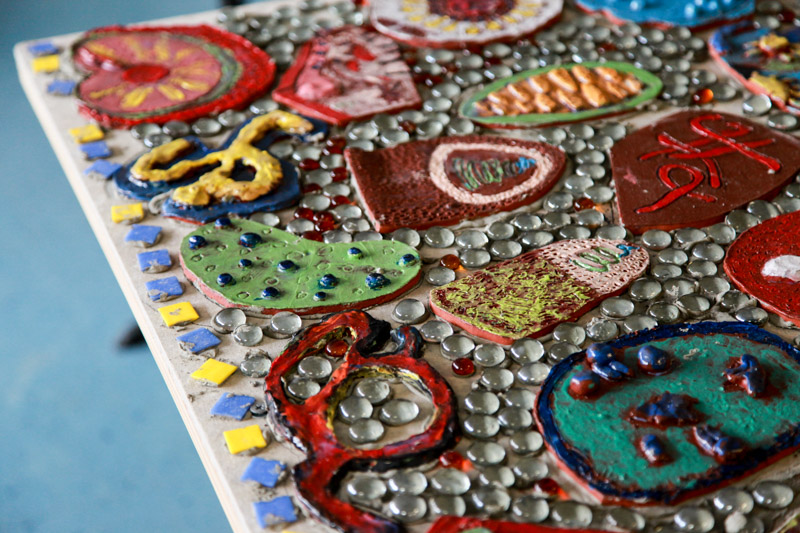 So when I spoke to Principal Walker, I was curious as to how his school had become involved, how the partnership worked in his school, and what his observations of its impact were. Brooklyn Park Elementary had become an AEMI school about three years ago when he received info about the group from AACPS' Central Office. When he met with AEMI staff and learned of their mission and partnerships, he knew that it would be a "natural fit" for his school. He liked the idea that it "gives kids different opportunities to expand their learning. It exposes them to different art genres and focuses on creative ways to teach core subjects."
Over the summer, Principal Walker attended one of Young Audiences' tours of Summer Arts & Learning Academy (SALA), which was specifically geared towards introducing principals to the program. Having toured SALA earlier in the summer myself, I wondered how his experience as an educator differed from mine.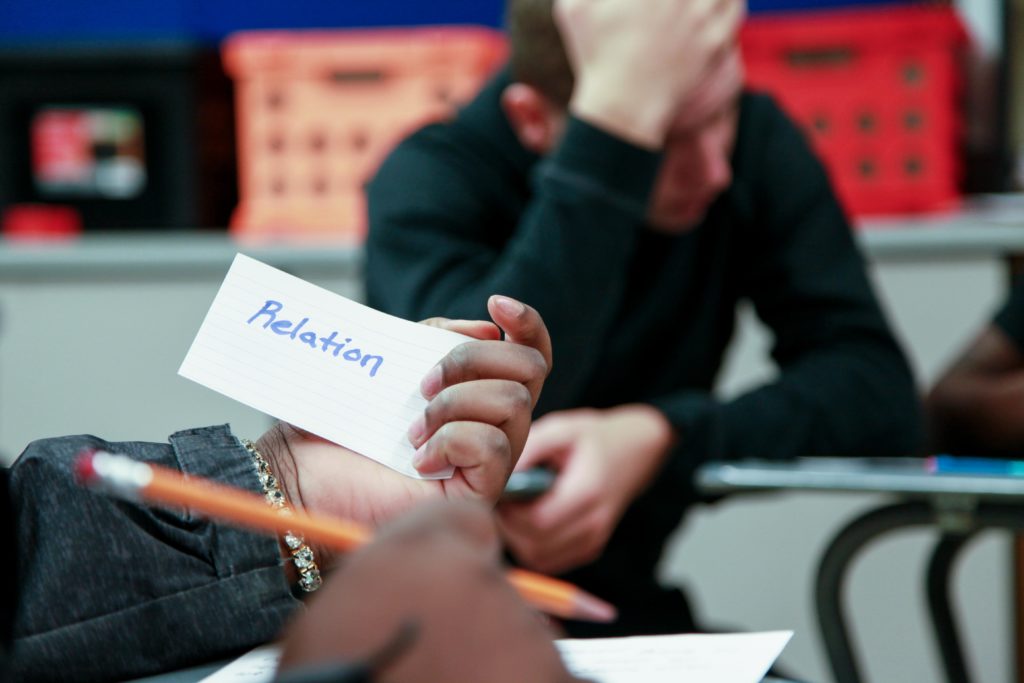 Like me, he was impressed with the fourth-grade classroom he observed using a rap song to learn math concepts. We both noticed how much fun the kids were having while they were learning, a crucial element in creating positive learning experiences.
But as a long-term educator, he noticed something that I had missed. "Sometimes our kids have difficulty in learning the math vocabulary. Here, they're connecting because they're having fun. But in the process, the kids are becoming leaders. They're holding themselves accountable." In other words, it was the children who were helping to create a positive classroom culture. Of course, the teachers were guiding it, but by empowering their students, the kids took ownership and were self-motivated.
Principal Walker's assessment of the learning techniques he witnessed was "phenomenal," but how will this translate back on the ground at Brooklyn Park Elementary? With AEMI's focus on arts-based learning and its links to other arts/education groups, Principal Walker sees a continued focus on "creating a safe space for learning and exploration."
"We will continue to work with AEMI, Young Audiences, and its partners to add professional development for our teachers, and incorporate new and creative ways to add arts-based learning into our writing and math classes."
AEMI's priority is to "increase access to high-quality, arts-integrated learning opportunities…" Though it's not always easy to quantify any particular program's impact, there is one thing that Principal Walker is absolutely certain of. That's the "happy faces" he sees during assemblies with an arts orientation.
As Principal Walker's enthusiasm for AEMI and its partners show, I suspect that arts-focused education will continue to be a priority at Brooklyn Park Elementary School.
The Arts Empowered Minds Initiative is the combined effort of many groups and individuals seeking to build a movement for increased equity through the arts in their community. With funding from the NEA in 2016, we built partnerships with Anne Arundel County Public Schools (AACPS), Chesapeake Arts Center (CAC), Arts Education in Maryland Schools Alliance (AEMS), Arts Council of Anne Arundel County, and University of Maryland – Baltimore County (UMBC).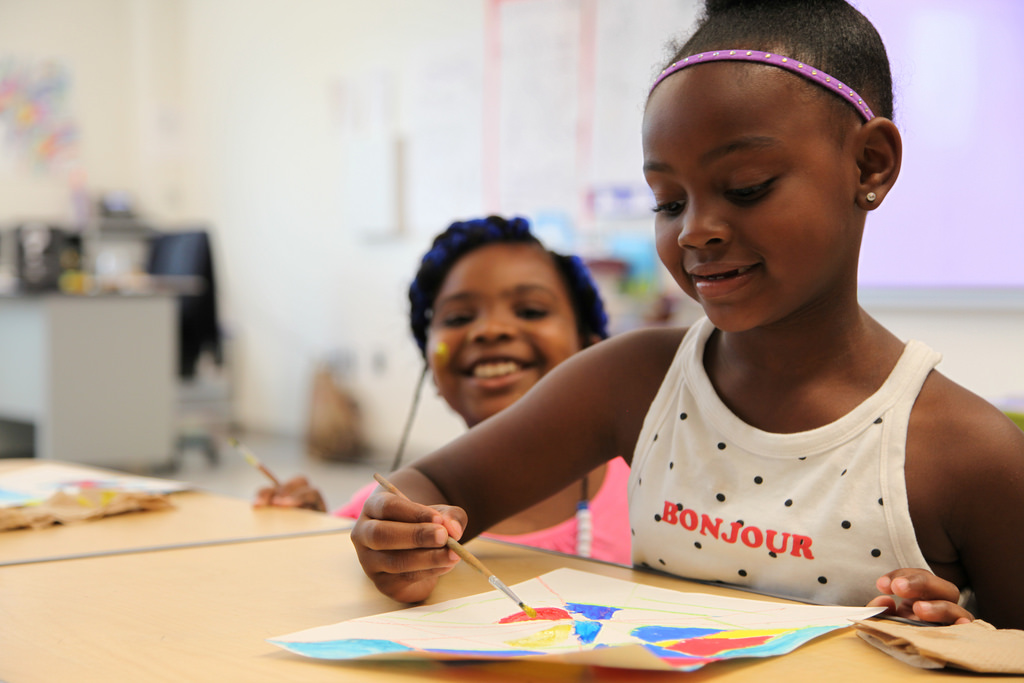 Written by Barbara Krebs,
Young Audiences volunteer and Sunburst Society member
When I was studying for exams in college, I would often create a strong visual image to help me remember test items. For example – the 6 C's of credit? Character, capacity, capital, condition, collateral, cash flow. And while these concepts didn't flow naturally through my brain, the image I created did. There was a guy (character) leaning on a crutch (condition) with a cap on (capacity) standing in front of the Capitol Dome (capital) with a briefcase (collateral) full of dollar bills (cash flow).
At the time I didn't have a name for my study method – I just knew it worked for me. Years later I can now identify this as arts integration with an emphasis on a visual learning style.
And so I felt very at home as I toured Young Audiences' Summer Arts & Learning Academy (SALA) at Lyndhurst Elementary/Middle School in Baltimore. That's because each classroom was filled with young students learning in a variety of arts-integrated formats. I witnessed drama, rap songs, textile art, drawings, and writing—all used in conjunction with classwork such as a math problem or a reading assignment.
And while I knew, and the teachers knew, that these children were involved in thoughtful, hard work here—the serious business of arresting summer learning loss—the kids were focused on how much fun learning was. For example, in the PreK classroom, YA roster artist Mama Rashida of WombWork Productions and her teacher partner, Samantha Amey, worked with the students on a basic math problem: 1 + 2 = 3. Now, of course, you can force your brain to learn this by sheer rote repetition, but let's face it. How exciting is that?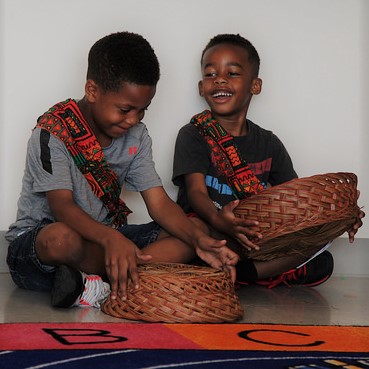 But if you illustrate it with a story about the marketplace where you must buy one fruit (fruit sellers stand here to the right!) and then move on to the vegetable stalls where you need a tomato and a carrot (veggie vendors over here, please!), you set the stage for a fun learning experience.
As the kids moved excitedly from place to place to "fill" their baskets or "sell" their wares, the teacher illustrated what they were doing on the whiteboard. With their "shopping" completed, the children returned to their seats and began to answer questions about the math problem. At this point, the teacher pretended to be confused and wrote wrong answers on the board. As the children rushed to correct her, she had them explain what was wrong, until everyone agreed that the proper answer was three.
No, this wasn't bored voices droning "1 + 1 = 2," "2 + 2 = 4." Instead, these were kids excited about math, happy to supply the correct answer to a befuddled teacher and eager to learn more!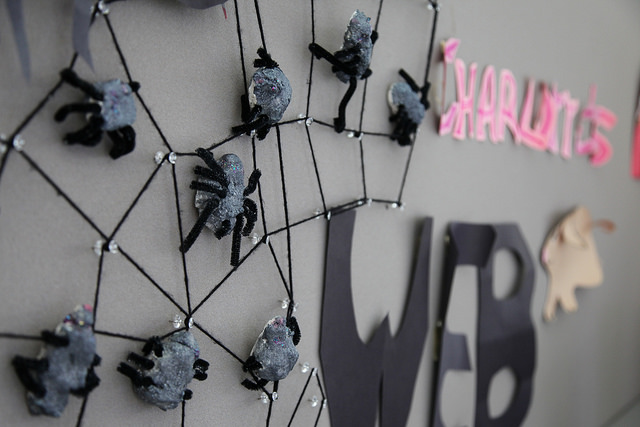 But what about English? A little later I stepped into a first-grade classroom where students were studying Charlotte's Web. Here, I found a mix of visual art and drama being used to tell the story. Several children took turns at the front of the classroom with a drawing they had made. After displaying it, they then acted out that portion in mime. Initially, the teacher set the scene, reminding the kids what was happening in the story at this point. After the child was done, the teacher asked the other students what they had observed as their classmate portrayed the scene.
Later, I noticed a bulletin board filled with tiny spiders made using a modified papier mache technique, with pipe cleaner legs. As I looked at this, one young girl came up to me and proudly told me about the paper collages they had made to illustrate what the barnyard looked like. "They're displayed outside the classroom. You have to see them!" Indeed, I did, and when I left, I enjoyed all the bright, cheery artwork that surrounded the door frame.
My next stop was a mixed class of second, third, and fourth graders who were working on both how to solve for an unknown number in a math problem and the nine's in the multiplication table. And here is where I definitely appreciated the arts-integrated approach. I remember learning the nine's and, oh, how I despised them.
But nobody seemed to hate nine's here. Maybe that's because as they chanted this portion of the multiplication table, not only did they give it a fun rap slant, but other classmates accompanied the song with percussion instruments. Why couldn't they have done that when I was in school?
My final stop was to a fourth-grade classroom where the lesson was to reinforce the basic math operations: addition, subtraction, multiplication, division. Here, too, I felt very at home, but this time it was because not only did I recognize the teaching artist, YA roster artist Femi the DriFish, who I've witnessed teaching on several occasions, but I actually recognized kids whom I had seen before. This heightened my sense of how compelling arts-integrated learning is in capturing kids' imaginations, so much so that they return for another summer of learning!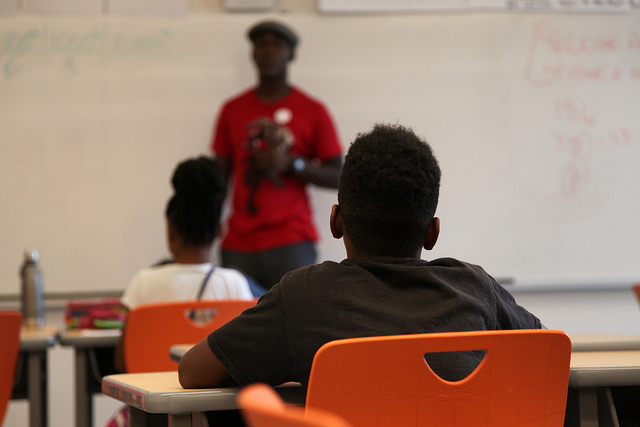 They rapped their way through a popular song remixed to describe math operations terms in word problems (equals to, divided by, times, added to, subtracted from, etc.) in preparation to shoot their own music video. As they practiced, I wondered what they would take away with them after this summer. Would they remember these lyrics and hum them in their head as they take a math quiz next year? Will they think about a marketplace full of vegetables and fruits and how math filled their baskets? Perhaps they'll draw a picture that will help them recall the story they're reading in class.
But most of all, will they remember the fun that accompanied all these math and English concepts? And that 1 + 2 = 3? I think so. And this funny little guy, leaning on his crutch with his cap, briefcase and dollar bills, standing in front of the Capitol agrees with me!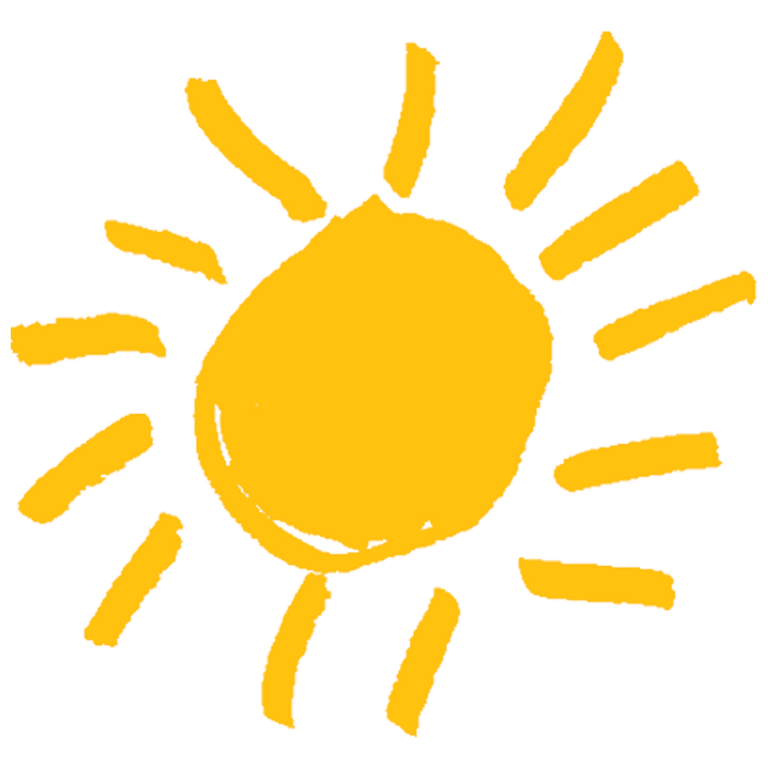 Learn more about our mission, our methods, and our future plans during a one-hour Meet Young Audiences event. In addition to hearing from the organization's leaders and getting an inside look into the amazing work we are doing around the state, one of our roster artists will share their amazing work with you and speak about how the arts complements and enriches classroom learning. Please reach out to Ingrid Murray, Individual Giving Manager, at ingrid@yamd.org for more information or call (410) 837-7577 x. 107. Interested in hosting your own Meet Young Audiences event? Find out more here!
smARTbeats returns to WTMD on Saturday, June 14 during the weekly children's program Young At Heart! On this month's segment, host Lisa Mathews talks with the multi-talented Khaleshia Thorpe-Price. Khaleshia is a musician, actor, and Young Audiences teaching artist with a contagious and explosive energy for the arts that fills students with creativity and excitement.
For over 15 years, she has facilitated residencies and workshops for children and adults for many arts organizations including Wolf Trap, Arena Stage, Young Playwrights' Theater, Young Audiences of Maryland, Folger Shakespeare Library, Shakespeare Theater Company, and M-NCPP. In classrooms across Maryland, DC, and Virginia, Khaleshia helps students create and perform original plays with props and visual aids.  In addition to teaching, you can find Khaleshia directing performances in the Folger Shakespeare Children's Festival and serving as a dramaturge for the Young Playwrights Theater Festival.
The artist not only co-wrote A Journey with Jazz, an interactive performance experience for young audiences, for the Wolf Trap Institute for Early Learning through the Arts, she performs in the production with the Wolf Trap Jazz Trio. "In my classes I love to use music to unify my students, to build ensemble and community," Khaleshia said. "The language of music has a way of speaking to my students and pulling us all together. I begin and end all of my classes with some type of music."
Young At Heart airs weekly on 89.7 WTMD from 7 to 8 am on Saturdays, featuring music that appeals to parents and children alike. Previous shows have featured music by Wilco, David Bowie, Andrew & Polly, Weezer, and others.
Tune into 89.7 WTMD this Saturday at 7 am as YA teaching artist, actor and musician Khaleshia Thorpe-Price joins host Lisa Mathews in the studio!
Categorized:

Artist Spotlight, smARTbeats on WTMD, Spotlight

Tagged:

actor, arts integration, drama, Music, radio, smARTbeats, teaching artist, theatre, Wolf Trap, WTMD, Young At Heart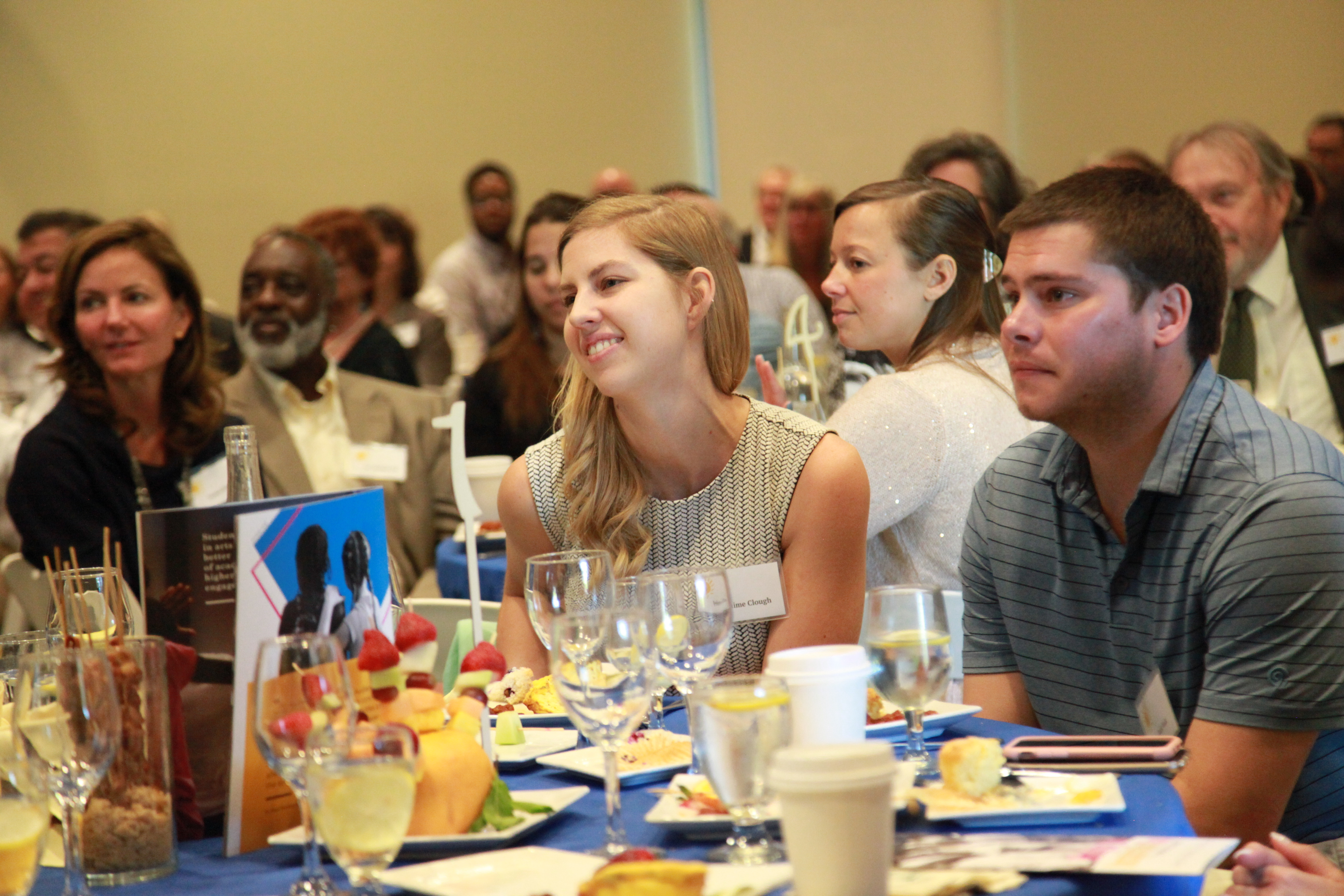 Written by Jaime Clough
The 2nd grade Baltimore City Public Schools teacher spoke about how the tools she learned at Summer Arts & Learning Academy have informed her teaching and transformed her classroom at Young Audiences' annual Impact Breakfast earlier this month.
"Buffalo Woman, go," Mr. Briggs nudged me. I stepped onto the stage, took a deep breath, and began my lines. I was eight and dressed in a leather Native American dress with beads and fringe. I was shy, but I had done the work. By the morning of the production, I had read primary texts, written a research paper, and created my own costume. So, when I stepped onto that stage, I was not timid or nervous, but passionate and proud. This was my first experience with arts integration.
Fourteen years after my role as the Buffalo Woman, I was accepted into Teach for America Baltimore and began teaching at Margaret Brent Elementary/Middle School in Charles Village. My students are diverse. One walked with her family from Mexico to America. One, who cannot yet read, learns in the same space as another, who is reading Harry Potter. Some of my students come to school without having eaten since the night before. Others rarely have clean uniforms.
I knew what I wanted to do in my classroom, but I didn't have the tools to execute my ideas.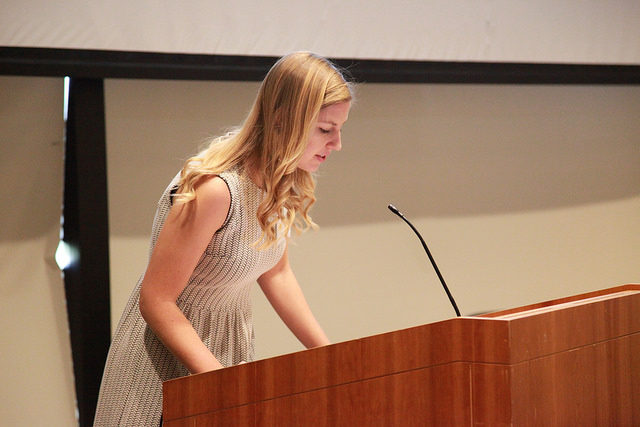 It was last March that I found Young Audiences. They matched me with fiber artist and Young Audiences teaching artist Katherine Dilworth, and together we went through a one-week professional development class. I learned how to use song and rap to teach students multiplication, and theatre to understand points of view in a story. During Summer Arts & Learning Academy, for the first time, I taught the way I had always wanted to teach.
As part of our literacy unit, students read City Green. To help kids understand the message of the book, "what makes a community?" and connect with the characters, Katherine and I planned a lesson around creating a community garden out of woven flowers. We'd use our art standards to create ABAB patterns and connect math standards for adding and subtracting the strings.  
We had one student in the class with lots of sensory difficulties. He had challenges with personal space, with expressing his emotions, and would often just put his head on his desk. As he began to wind thread through his loom to make his flower, I was ready for him to say, "It's too hard," and stomp away. After 15 minutes of weaving blues and purples, a pattern emerged. His flower was taking shape beautifully. He was adding and subtracting, counting his strings, and weaving the pattern. Absorbed in his work, he sat without prompting for the longest amount of time since I had known him. "Ms. Clough, look! Ms. Clough, I did it," he said. "I made my flower and it's so cool!" That was the spark.
From that moment on, my student was different. He raised his hand. He worked with partners. He asked questions about how to make his work better. Without that moment at the beginning of summer, we would not have seen a change in him. The arts gave both him and me the tools we needed to help him succeed.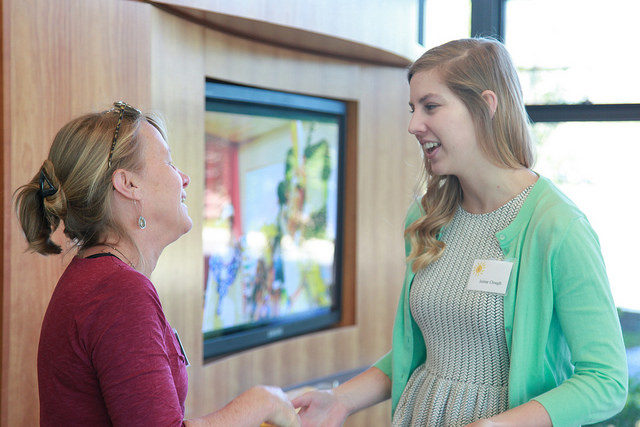 My classroom after SALA is a different world. Teaching through the arts doesn't just work for some students, it works for everyone. I have the highest engagement I have ever had, we are on track to grow two years in one school year as a class, and there is a spark in every single eye in the room when I write the lyrics to a "Ms. Clough Original" on the board. iReady, ANET, and DIBELS tests do not make us anxious anymore. When we walk into the computer lab, my students cheer because now they know they can do it. They are confident because they know their math and reading strategies from the songs, skits, and choreography we use every day. The successes and swagger among students in my classroom are because of the skills I gained while teaching with Young Audiences. Now, my dream is to be a principal so that I don't just have a classroom of sparks, but a whole school of them.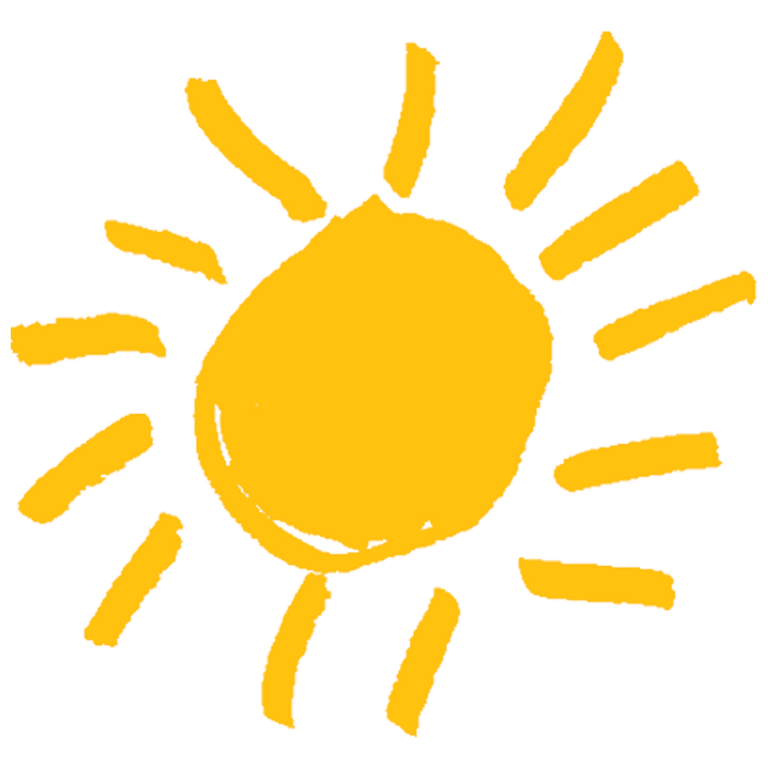 Jaime Clough is a 2nd Grade Teacher at Margaret Brent Elementary/Middle School and Summer Arts & Learning Academy Classroom Teacher. Her first-hand experience is a testament to the power of arts integration in the classroom and is an example of the incredible strides a class can take both emotionally and academically when children learn through the arts.
Written by Barbara Krebs,
Young Audiences volunteer and Sunburst Society member
Excited. Proud. Love. These are the three words that I heard repeatedly as I attended the unveiling of the mural that sixth-grade students from Brooklyn Park Middle School created. Though these are not words typically linked with a middle school science project, they help illustrate the magic that is produced when you combine science education with an arts-integrated approach to learning.
The collaboration between their science class and a professional teaching artist from Young Audiences, in partnership with Arts Empowered Minds Initiative (AEMI), resulted in a 10-foot science-themed mural, titled "Brooklyn Park Middle Students Research Cells and Viruses." As explained in the program, the mural "illustrates the dynamic, multifaceted interactions occurring thousands of times a day between cells, viruses, and living things."
I wasn't sure what to expect as I entered MedStar Harbor Hospital's Baum Auditorium in South Baltimore, but I immediately felt welcomed as a saxophone quartet from Brooklyn Park Middle played classical music. Their melodies formed a soothing backdrop to the animated conversations between medical personnel, artists, educators, politicians, parents, students, and others who had gathered for the event. A delightful spread of food – chicken satay, veggie trays, fruit and cheese platters, and even cupcakes for the kids – provided by the catering arm of the hospital, Morrison Healthcare, ensured that no one would walk away without all their senses satisfied.
But I digress.  As the reception wound to a close, the formal program began. First up, Stacie Sanders Evans, the President and CEO of Young Audiences. Reaching for a hospital analogy, she spoke of Young Audiences' facilitating role behind the scenes as the "spinal cord" or "backbone" that makes the arts-integrated learning possible in area schools. She described how Young Audiences partners with schools and other organizations like AEMI and the Arts Council of Anne Arundel County (who helped fund this project) to pair core curriculum teachers with professional teaching artists to enhance learning experiences in Maryland classrooms. Rather than rote learning, students explore academic subjects in any number of hands-on, arts-oriented ways.
Next was Dr. Stuart Levine, President and Chief Medical Officer of MedStar Harbor Hospital. He told the young student artists just how meaningful their creation would be to the hospital, saying that it would be proudly displayed in MedStar's Emergency Department lobby. He talked about the VIPs in the room – the sixth graders – who had created this mural. He told them, "When community members come in for care, when they're sick, when they are at their moment of need, they're going to come into a place that has this incredibly hopeful work on the wall that's made with love by the kids of their community."
Then Dr. George Arlotto, Superintendent of Anne Arundel County Public Schools, spoke, stressing, "People who don't even know you love you; people who don't know you are proud of you." This was the legacy that, even as young tweens, they were creating for their community.
Following Dr. Arlotto, the two teachers who guided the kids through the process spoke. Lisa Radike, the Brooklyn Park Middle school science teacher, recalled that this process helped the kids learn more than just the science of cells, it also helped them "learn how to get along, how to work together." Amanda Pellerin is the Young Audiences artist who taught them to mold clay, shape it into the cells and viruses they were studying, and then assemble an entire mural from all the different parts they had imagined and created. As she looked proudly onto the students, she made sure they understood the significance of what they had done. "You now have artwork that is on permanent display– and you're not even out of sixth-grade yet!"
Finally, it was time for the unveiling of the mural. As the students and their teachers surrounded the mural, people leaned forward in their seats, many creeping to the front with cell phones to capture the much-anticipated moment. After a few more remarks from one of the students who reiterated the theme of how creating the artwork had required them to put aside differences and work together, the veil was cast off and everyone could finally see the finished artwork.  
Brightly colored cells wiggled and squirmed their way across the surface. And like a visiting rock star, the mural sat "patiently" as a host of people came up to be photographed with it.
As the event wound down, I finally managed to talk to one of the students, asking simply, "How long did it take all of you to create this?" His answer pulled me out of my adult world of man-hours and Outlook schedules. "About 10 classes."
There it is simply. It's about the classes. It's about what you learn in the classes. It's about how the classes are taught. It's about the knowledge you retain from the classes. And though my own knowledge of sixth-grade biology is but a dim memory, it didn't take a Jonas Salk knowledge of cells to clearly see how wonderful this evening was. That these kids were excited about science. That the folks in attendance were proud of what the middle schoolers had learned and created. And that everyone loved the intersection of science and art.
You can feel a good story in your core- the sadness, the suspense, the bitterness, and the beauty. We are good at registering and reacting to all of the characters, events, and plot twists a story throws at us, but have you ever tried to look at one through the eyes of a mathematician? What would a story look like without words, without pictures, its content plotted on a graph?
YA teaching artist and storyteller TAHIRA and Amy Goodman, Math Department Chair at North County High School (NCHS), collaborated in the development of a unique residency through the Teaching Artist Institute (TAI) to show just that. NCHS is one of 12 in Northern Anne Arundel County benefiting from professional development like TAI, in-school arts integration, and out-of-school arts programming as part of the Arts Empowered Minds Initiative (AEMI), a partnership aimed at ensuring equitable access to the arts for Northern Anne Arundel County Public Schools.
TAHIRA: What happened that surprised you?
Student: As you were telling the story, the story was compared to math- because events were escalating like in a graph. And then when events took a downfall in the story, the graph started decreasing.
TAHIRA: Then the class had to describe what function the story plotted out, right?
Student: Exponential.
TAHIRA: Yeah, it was exponential. And you had a reaction to all that. What did you say? Do you remember what you said?
Student: I was surprised at how the story could be compared to math.
Each student was asked to illustrate why they chose a particular function over another to describe the characteristics of the story. Could there be more than one answer? Two students each shared their understanding of how a story unfolded by taking turns plotting it out on the same graph, compared and contrasted their unique perspectives, then decided if both functions made sense or if one more accurately described the story than the other.
TAHIRA: Did it make you look at storytelling differently? Or math differently- or help you understand the math?
Student: Yeah, it helped me understand how the graph can be compared to anything such as… in the story, when everything goes wrong, the graph decreases and it shows how it takes a negative effect.
TAHIRA: Exactly. And then?
Student: And then everything comes back together and that creates a positive effect.
TAHIRA: And we talked about the parts of a story: There's a beginning…
Student: A middle and an end… when there's a conflict, the two forces, the positive and the negative collide and whoever wins- that's how the story plays out.
TAHIRA: Exactly, how it plays out- that's right, it's called a resolution.
The Arts Empowered Minds Initiative is the combined effort of many groups and individuals seeking to build a movement for increased equity through the arts in their community. With funding from the NEA in 2016, we built partnerships with Anne Arundel County Public Schools (AACPS), Chesapeake Arts Center (CAC), Arts Education in Maryland Schools Alliance (AEMS), Arts Council of Anne Arundel County, and University of Maryland – Baltimore County (UMBC).
It's been almost a year since we announced our partnership with WTMD to feature YA teaching artists on their family-favorite Saturday morning radio show Young At Heart! Since May 6, 2017, host Lisa Mathews—YA teaching artist and lead singer of Grammy-nominated children's band Milkshake—has invited eleven top-notch, talented YA roster musicians to date into the studio to chat on a monthly segment called smARTbeats. Listeners have learned about the artists' professional work outside of schools, arts integration, and heard how they've reached students through art in the classroom.
"Listening to music is great, but making music is transformative." –Alden Phelps
Some of the featured artists have talked about the guidance they've received and diligence and artistic discipline they learned from parents, peers, or mentors. Some have revealed the inspiration they've found through their own small children. All have shared with listeners the energy, kindness, and expertise that they bring into every Maryland classroom they visit.
"If we never spoke a word, we could communicate through music." –Devin Walker
From memories of touring with the one-and-only Mr. Ray Charles, reaching audiences around the world in Spanish, English, and through poetry, taking a musical journey to outer space, to finding out not just how artists inspire children every day in Maryland classrooms, but hearing what motivates, energizes, and inspires them, getting to know these fantastic teaching artists has been a real treat for Saturday mornings!
"There's power in words, build or destroy, so watch what you say." –Femi the Drifish
And just in case you prefer to sleep in on the weekends, we've compiled WTMD's Soundcloud links here for you to enjoy any time of day or night!
Young At Heart airs weekly from 7 to 8 am on Saturdays, featuring music that appeals to parents and children alike. Previous shows have featured music by Wilco, David Bowie, Andrew & Polly, Weezer, and others.
What do you call a collection of two or more equations using the same set of unknowns? Can you identify the variables and constants in a mathematic expression? Why would a person ever use the Method of Matrices? If you were an Algebra student, you'd be committing these definitions, methods, and terms to memory, filling your lexicon with the language of math.
"If you don't use it, you'll lose it." Any veteran language learner will tell you that old adage. Being challenged to use their new vocabulary in a different context is one way to help students become (and remain) fluent. To encourage this, Amy Goodman, Math Department Chair of North County High School (NCHS) in Northern Anne Arundel County, coordinated an artist residency developed by YA artist and spoken word poet Femi the DriFish in collaboration with the school's Algebra 1 team. Artist residencies, like this one, came to the school thanks to the Arts Empowered Minds Initiative.
Through the initiative, schools in Northern Anne Arundel County are learning to use arts integration as a strategy for boosting student achievement and engagement. Classroom teachers and school administrators are building sustainable partnerships with teaching artists and arts organizations that inspire students and use the creative process to make meaningful, real-world connections to the curriculum.
"Mr. Fish!" NCHS students announced Femi the DriFish's arrival. The artist is a master of illustrating the meaning of words through poetry and, through literary guidance, builds a strong rapport with the young scholars. For this residency, Femi worked with students to write poems within small groups on the topic where I'm from.
The 9th graders brainstormed over how to use the algebraic vocabulary words scribed onto the backs of index cards to convey their thoughts: function, common difference, output, relation. The language usually reserved for Algebra class became double entendres in lyrics carrying messages of citizenship, diversity, and pride. "If you use the terms correctly," Femi said, "you remember the definition. You retain it and can access it later."
"Like parallel lines, some soulmates never meet," one student revealed in his group's performance. Some soloists represented their classmates. "Word pairs are like the relation to life, we are all like terms so we don't have to fight."
NCHS Algebra teacher Mrs. Russell was pleasantly surprised by the outpouring of creativity. "I'm seeing different things and personalities from kids that I don't normally see," the teacher said. "They're a lot more excited than I thought they'd be!"
As they industriously crafted metaphors and similes, cleverly using their new vocabulary as figurative language, debate arose over whether or not the verses should rhyme. "It never has to rhyme," Femi advised. "It's how you perform it that gives it flavor." He taught the children to confidently use body language by analyzing performing techniques and discussing what is needed to relay a message. "It's all about how to effectively communicate with your audience," Femi said. Scholars rehearsed the delivery of their collaborative poetry to truly express their emotions, communicate their history, and challenge the audience to walk in their shoes.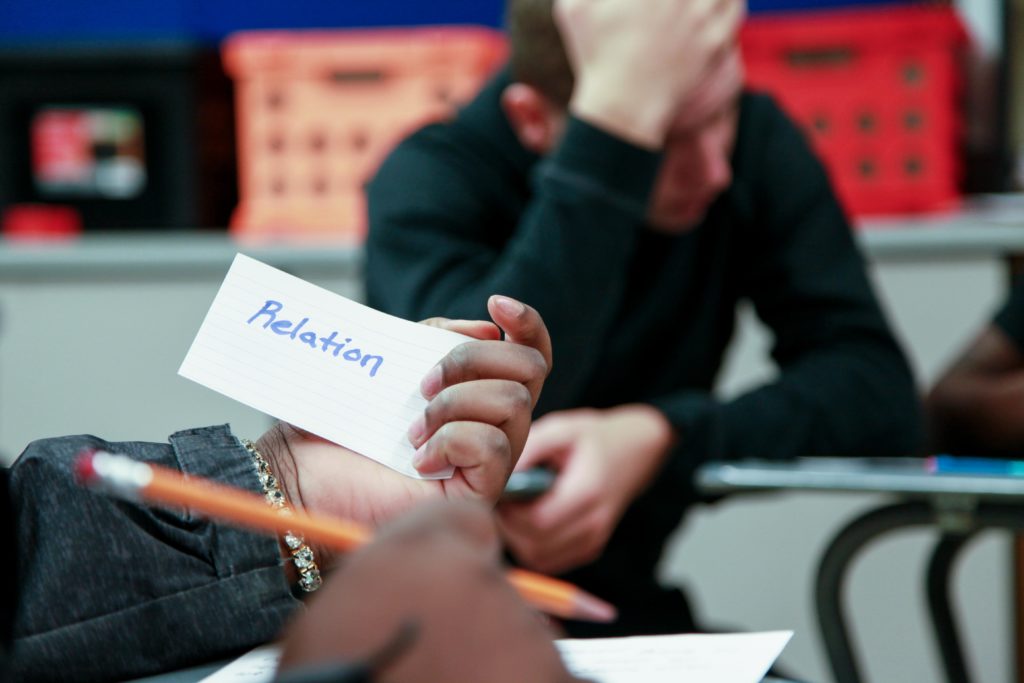 The students did not disappoint. "Like parallel lines, some soulmates never meet," one student revealed in his group's performance. Most groups selected just a few students to deliver their words in the culminating performance. Some soloists represented their classmates. "Word pairs are like the relation to life, we are all like terms so we don't have to fight." Performers garnered many cheers and rousing support from the teachers and peers populating the auditorium. And everyone involved in the residency left with a much stronger understanding of algebraic vocabulary and a knowledge of terms they won't soon forget.
So, what do you call a collection of two or more equations with the same set of unknowns? A system. You call it a system.
The Arts Empowered Minds Initiative is the combined effort of many groups and individuals seeking to build a movement for increased equity through the arts in their community. With funding from the NEA in 2016, we built partnerships with Anne Arundel County Public Schools (AACPS), Chesapeake Arts Center (CAC), Arts Education in Maryland Schools Alliance (AEMS), Arts Council of Anne Arundel County, and University of Maryland – Baltimore County (UMBC).
Written by Barbara Krebs,
Young Audiences volunteer and Sunburst Society member
If you follow education trends even a little, you can't avoid the STEM acronym. In fact, at many area high schools, getting a slot in the highly popular STEM (Science, Technology, Engineering, and Math) magnet program is tricky at best.
Why is that?  Why do people automatically assume that if you want your student to get ahead in life, your best bet is to seek out an education that prioritizes a STEM-based curriculum over one that values the humanities or visual and performing arts? Now, enrolling in a STEM-focused program is certainly not bad advice. But, it's definitely not the only path to success as one recent Washington Post article reported.
"Kids have been educated in a computer world.  But that computer world continues to threaten traditional jobs, so success will rely on the ability of students to innovate and use tools in a non-traditional way."
In the article, "The surprising thing Google learned about its employees – and what it means for today's students," the Post reported on a 2013 study that Google conducted on its own hiring practices. Its founders, with solid backgrounds in computer science, felt certain that only "technologists can understand technology." But after every bit of data was gathered and analyzed, the company discovered something unexpected. Of the top eight criteria considered essential for a top employee, STEM expertise rated… um… eighth.
This led to a deeper dive into the data, which ultimately led to Google re-evaluating its employment processes and putting more emphasis on hiring "humanities majors, artists, and even MBAs." Other companies (such as Chevron and IBM) have also discovered the positives of hiring liberal arts majors because they "prize their ability to communicate."
On a personal level, I feel very strongly about this. My daughter, Colette, spent seven years (three in middle school and four in high school) pursuing a Performing and Visual Arts education. She learned to sing, dance, act, write, and most importantly from my perspective, think creatively. And while she was singing and acting her way through high school, she was also taking AP Physics and Calculus and learning to wire circuit boards. So it didn't come as a huge surprise when she enrolled in Engineering as a college freshman.
While some people were shocked at the 180° turn she made, I viewed it as the logical conclusion to a style of learning that she honed as an arts major in high school. Combining a love of math and science with the arts is not as unusual as you might think.
"Finding a path to my final images is a complex choreography of math, my sensibilities as an artist/scientist, and the subtleties of the subject."
Take, for instance, Dr. Tim Christensen, biology professor at East Carolina University (ECU) and Senior Faculty Fellow in their Honors College (full disclosure – that's how I first met him, when touring ECU with my daughter, who was accepted into both ECU and their Honors College). Dr. Christensen is primarily a scientist but also an artist. Merging the two disciplines, he fully embraces and personifies the concept of STEAM (Science, Technology, Engineering, Arts, and Math).
I was immediately struck while perusing the awe-inspiring galactic photographs on his website, AstroWimp. "As an artist, I've been heavily influenced by my scientific training," he wrote. "To a scientist, images are 'data.' Standing in both art and science worlds, I attempt to convey the art of the data." In his role as teacher, Dr. Christensen transfers the wonder he experiences as a scientist and an artist to his students.
He readily admits that while he finds jumping back and forth between scientific and artistic worlds a natural leap, that is not the case with every scientist.  "Some are still wary of anything that can't be measured scientifically."  Nevertheless, he continues to champion the intersection of science and art, as evidenced in his own artwork. "Finding a path to my final images is a complex choreography of math, my sensibilities as an artist/scientist, and the subtleties of the subject."
Dr. Christensen is currently collaborating with a fellow faculty member, Daniel Kariko, Associate Professor of Fine Art Photography. Their project, dataSTEAM, "focuses on artists who work directly with scientists to develop a deep understanding of the data, preparing artists to contextualize data in their art, connecting both disciplines… art to science, and science to art."
Starting in the fall semester, the two will "facilitate collaborations between Art and Honors/Science students" leading to a gallery exhibit at the university. But more important than the exhibition is, of course, the concept of cross-fertilization between the two disciplines.
As Dr. Christensen explained it, "Kids have been educated in a computer world.  But that computer world continues to threaten traditional jobs, so success will rely on the ability of students to innovate and use tools in a non-traditional way." He feels that merging science and art will create students who are quicker to think outside the box and can straddle both the worlds of imagination and hard-core data.
Similarly, what Google has identified as the top characteristics of successful employees are not unlike the same skills that educators and other business leaders identify as being critical to a person's success in careers, in college, and as a citizen: critical thinking, collaboration, communication, and creativity. These are behaviors that Young Audiences' teaching artists observe and nurture every day among students in arts-integrated classrooms. And so, for those folks who doubt the value of arts integration into core curriculum subjects such as science and math, the, ahem, data demonstrate that arts and science together create a more balanced individual who can successfully work in today's fast-paced, ever-changing work environment.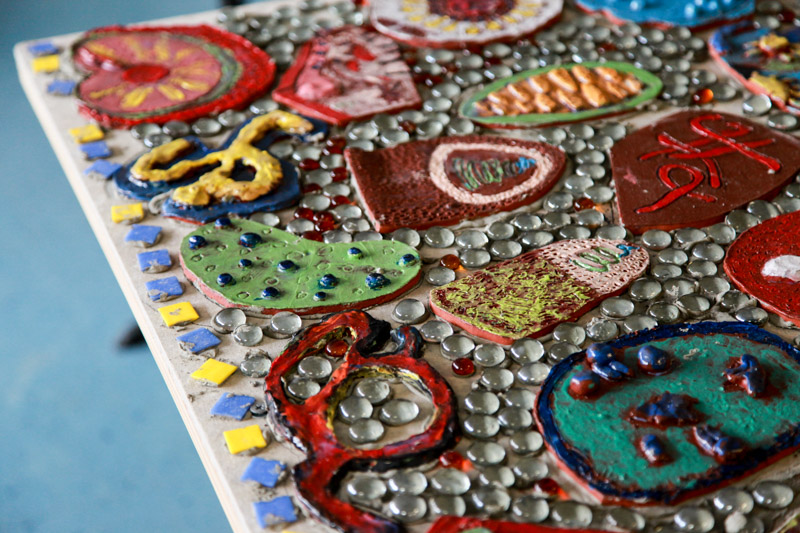 But don't take my word for it, just ask my daughter.  In a recent phone call, Colette was excitedly discussing her Statics class.  The definition of her Statics class from ECU's website- the analysis of equilibrium of particles, addition and resolution of forces, equivalent system of forces, equilibrium of rigid bodies, centroid and moment of inertia, structural analysis, internal forces, friction, and virtual work- left my head spinning.
When I commented on the apparent difficulty of the class, she assured me breezily, "Oh Mom, it's easy for me.  After all those arts classes in high school, I can see in 3-D." 
smARTbeats is back this Saturday, January 13 on WTMD during the weekly children's program Young At Heart! On this month's segment, host Lisa Mathews sits down for a chat with Hip Hop performer, YA teaching artist, and Maryland Wolf Trap Artist, Jamaal "Mr. Root" Collier.
A dynamic and engaging Hip Hop artist, Jamaal has been working with Young Audiences/Arts for Learning since 2007, has served on its artist roster since 2013, and was named Artist of the Year for 2016. His energy and passion for the arts is boundless, and show in the volume of work he does, not only offering assemblies and long-term residencies in schools, but also providing professional development for teachers.
By incorporating rapping, vocal percussion, and dynamic stage presence, Jamaal articulates his passionate appreciation for his artistry every time he teaches and performs.
During the segment, you'll hear how the artist, who is also half of the family-friendly beatboxing duo Baby Beats, invites students to learn, listen, and participate.
"(Mr. Root's program) was a true testament of how you can take learning and make it fun," said Ms. Hines, Principal of Villa Maria School after the artists' residency. "He was able to get some of the most resistant kids engaged."
Jamaal uses rapping, freestyling, and beatboxing to appeal to a variety of learners. His students craft rhyming couplets and non-traditional quatrains to analyze and summarize their course content, gaining a deeper understanding of lesson material through elements of Hip Hop.
Take a look for yourself:
Staci Taustine, Fifth Grade Teacher at F.L. Templeton Preparatory Academy said that through her class' residency with Mr. Root, students didn't just advance academically, but socially.
"My students learned how to be vulnerable with one another, brave enough to share their feelings, and empowered to use their voices to express everything they learned," she said. "Each and every one of my students came away with a unique perspective on who they are as individuals."
Jamaal's passion for the arts is clear, as is the impact it has had on his life. "Our life without the arts can be so empty," he has said. Thankfully, the artist shares the power of art, music, and rhyme with students and their teachers across the state of Maryland every day.
Young At Heart airs weekly from 7 to 8 am on Saturdays, featuring music that appeals to parents and children alike. Previous shows have featured music by Wilco, David Bowie, Andrew & Polly, Weezer, and others.
Hear Jamaal "Mr. Root" Collier online now: