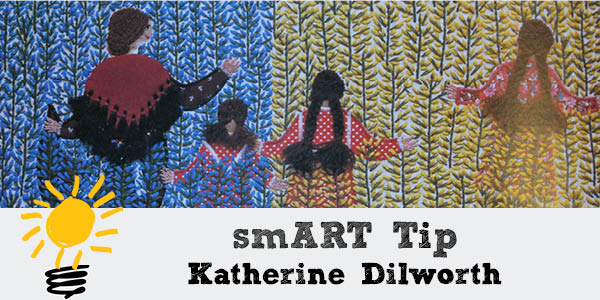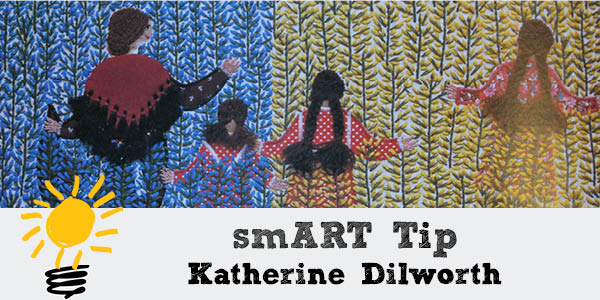 History and social studies curriculum can include subjects that are difficult to address. The brutality of past atrocities, such as the Holocaust and genocide in Rwanda, can be difficult for students to comprehend. In this month's smART Tip, Young Audiences visual artist Katherine Dilworth explains how the art of felting and other visual arts can be a helpful entry point for students when dealing with difficult and emotional subject matter.
[youtube http://youtu.be/0ximBeqQ3Mo?list=PLUssR-3GtBZfiKXpU72zQAkgXh3wBcBzQ]
smART Tips is a monthly video series sharing tips for educators who are interested in new, creative ways to use the arts in their classroom with students. See all smART Tips to date here. Interested in a specific topic? Let us know!
Young Audiences has launched smART Tips, a monthly video series sharing tips for educators who are interested in new, creative ways to use the arts in their classroom with students. Each month, we bring you a new video tip from a Young Audiences roster artist, ensemble, or teacher partner to demonstrate a short activity or a resource to make it easy to incorporate the arts into learning for students.
Check out our first smART Tip, from Young Audiences ensemble Baltimore Improv Group!
[youtube https://www.youtube.com/watch?v=mpkSC6SZKtA]
Be sure to check back for more smART Tips in the coming weeks. Interested in a specific topic? Let us know!
This week, Washington Post reporter Valerie Strauss wrote about why the arts are, more often than not, the first budget cut at public schools serving predominately low-income students–even though much research has supported why the arts are critical to a child's development. These schools' tight budgets force them to prioritize the subjects covered in standardized tests that both measure students' achievement as well as teachers' ability. Ms. Strauss argues that the focus on testing has forced educators to ignore what they know about the positive and transformative impact of the arts in the classroom.
Less fortunate children have been on the receiving end of what I'd call an emergency-room approach to education —one that addresses only the parts of a child thought to be in most dire need of attention. Their curriculum may consist solely of reading, writing and mathematics – the subjects tested on high-stakes exams.
Ms. Strauss notes how, for privately funded and operated schools, the approach to the arts can be starkly different. These schools proudly highlight the arts and their importance to developing well-rounded students and individuals. With adequate funding, arts learning opportunities are not only available but celebrated.
Young Audiences has seen this disparity in access to the arts in Maryland and is striving to close the gap so that all students have the chance to learn in and through the arts. Since its launch in the winter of 2009, our Access for All Initiative has subsidized programs for students in low-income Baltimore City Public Schools to ensure that all students have equitable access to the best artists and educational arts experiences that our state has to offer. The initiative offers three rounds of grant funding each school year to schools that serve a majority of low-income students and do not have regular arts programming.
Young Audiences awarded a total of $29,600 in funding to 16 Baltimore City schools in the first round of Access for All grants awarded earlier this week to start the 2014-2015 school year. These funds will be used to bring Young Audiences artists and ensembles to students through arts-in-education programs this fall. Schools can choose from a steel drum assembly, creating a ceramic mural during an artist-in-residence program, an African drumming workshop, and many more.
Ms. Strauss summarizes why the arts are critical to the education process, writing:
Arts transport. It's often said they are an essential part of what makes us human – and an element of that is the ability to imagine another reality, apart from the one we are living, a skill essential to resilience and ambition. Children already living a in a narrowed world need more access to the arts, not less.
Young Audiences agrees. One day, every school–no matter its resources–will value the arts for their ability to inspire and engage students in learning. Until then, we will be working to increase access to the arts so that Maryland students have the opportunity to imagine, create, and realize their full potential through the arts.
Learn more about the Access for All Initiative and the next grant application deadline.
In response to feedback from our school partners throughout the state, Young Audiences has expanded the resources available on its website for schools and community organizations looking for additional funding opportunities to bring valuable arts experiences to Maryland students.
In preparation for our five-year strategic planning process, Young Audiences conducted community interviews with leaders in education, arts and culture, philanthropy, business, government, and higher education. We also surveyed our current school and community organization partners, as well as those schools we have not partnered with in recent years. These surveys and interviews helped us understand what thought leaders in our field see as the biggest challenges in education and how our community views the role of the arts, artists, and Young Audiences in the education of our children.
Here were some key findings:
More than three-quarters of our surveyed partners said they would like to increase the amount of Young Audiences programming in their schools! Our school partners are also more aware of the array of arts-integrated programs Young Audiences offers, such as professional development workshops for educators.
While both partners and non-partners alike believe in the importance of arts-in-education programs, many schools said that barriers to the arts still exist–the most prohibitive being cuts to school budgets. Half of the surveyed schools noted that their discretionary funds for arts/cultural programs from outside providers have decreased. Many of our partners suggested that Young Audiences offer additional grant opportunity information, so we have compiled an even more comprehensive list of grants and resources for schools. Visit our website to take a look!
Despite these financial obstacles, we found a promising consensus that the arts play an important role in the education of Maryland students and in meeting educational priorities.
Young Audiences partners with several generous individuals and foundations to make our programs accessible. While many of our donors have specific sites that they wish to sponsor, if you are in need of funding to bring one of our programs to your area, please contact us at 410-837-7577. We may be able to help.