Young Audiences of Maryland is excited to offer a new and innovative program from one of our roster artists, Alden Phelps, called Singing, Reading & Writing Songs: an Interactive Assembly. Alden Phelps' new assembly combines the inspiration and fun of a live concert with an extended hands-on time for students to participate in songwriting.
It's a show and it's a workshop: Silly Songster Alden Phelps plays guitar and sings his original children's songs, then leads students step by step as they design their own musical couplets in teams. This hands-on experience is designed for an entire school grade to enjoy together.
Why is this program so special?
Not only does this program combine the best aspects of an assembly and a classroom workshop, but it also uses a thoroughly engaging inspiration for writing: magnetic words. By physically manipulating magnetic words, roadblocks that inhibit participation (spelling, handwriting, etc.) are removed; new vocabulary is expanded and stimulated; students at different levels can engage meaningfully and achieve writing success in activities that build language skills. Guided exercises, along with teacher support, help students try their hand at lyric writing. Most importantly, it's a whole lot of fun! The assembly ends as students transform Alden's opening song into their own original creation. This Interactive Assembly is designed for up to 100 students or one full grade. The assembly is 45 minutes long and is suited for grades 3-5.
How does it work?
Alden sets up 25 magnetic easels in your gym (or suitable space) and 50 of his original boxes of magnetic nouns, verbs, adjectives, prepositions, and rhymes. The program begins with Alden singing an original silly song for the students. He then explains his songwriting technique and breaks down the lyrics to the songs' chorus on two large magnetic boards. Students are invited up to get creative and rewrite Alden's rhyming couplet.
In the second half of the program, all the students move to the magnetic easels and continue to get creative, rewriting Alden's lyrics. Alden circulates through the room, helping students and celebrating their successes by singing along with their newly created lyrics.
The differentiation is built in: basic & special needs students succeed by plugging in verbs, nouns, and rhymes, and the supplied dry-erase magnets allow advanced students to push their writing beyond Alden's selection of words.
Common Core Connections: CCSS.ELA-Literacy.L   CCSS.ELA-Literacy.RF
100% Participation!
Alden has spent months developing this new Interactive Assembly, and in its initial performances, every single student in the room participated every time! And not just participated, but gleefully dove in to write their own song lyrics!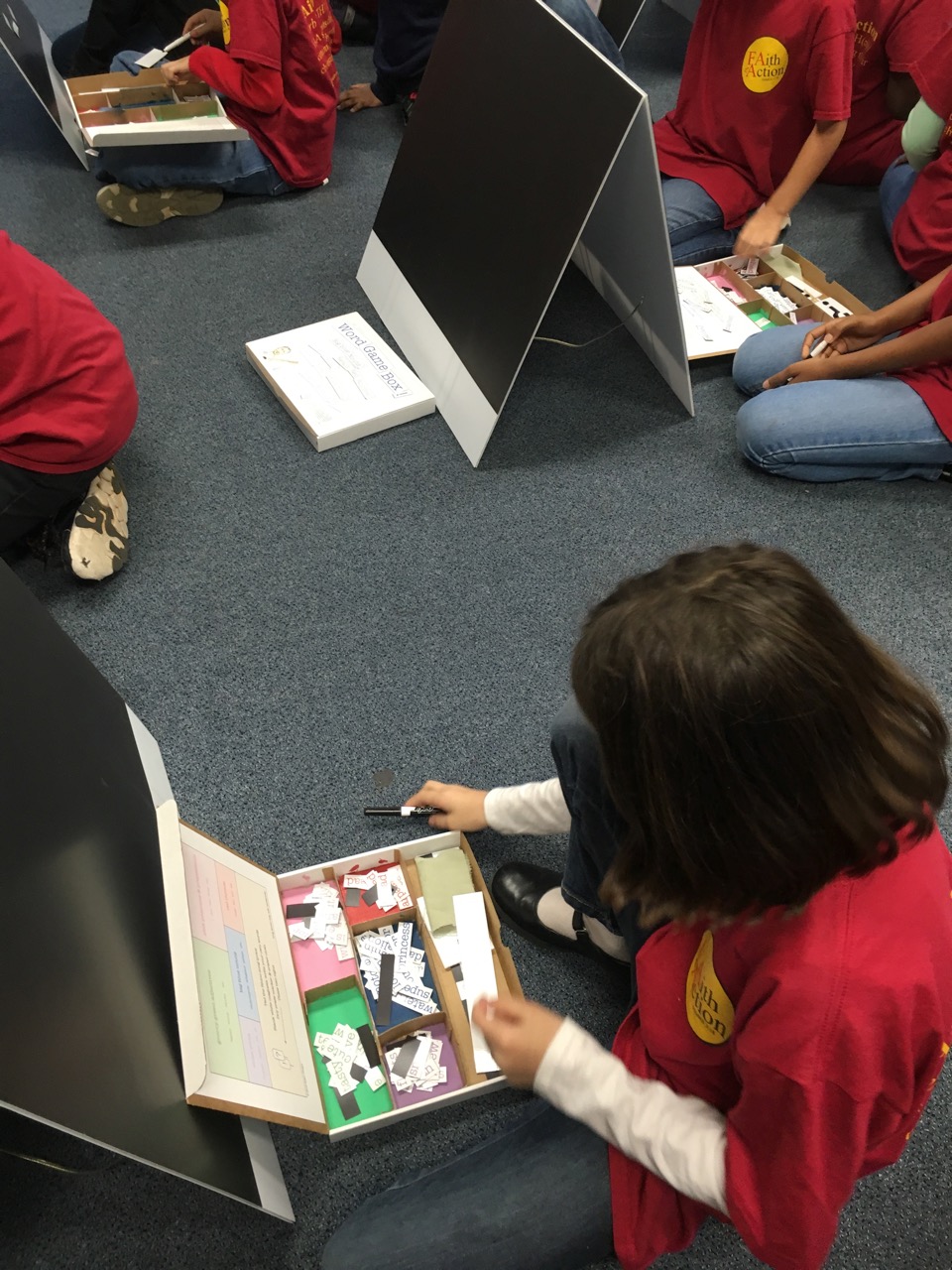 Mr. Phelps did an excellent job getting even my least interested students involved in this program!  Some of my students who hate to sing REALLY enjoyed this program!! The students were singing their song lyrics for the rest of the day. I highly recommend this program at any school!!"   –Frederick Adventist Academy, March 2016
Every single kid that participated LOVED IT!"   –Sandymount Elementary School

Alden's rapport with the kids and level of enthusiasm is contagious! It all channels our students' focus and involvement in the content he delivers."   –Thunder Hill Elementary School
Q: Who is this Interactive Assembly for?
A: Singing, Reading & Writing Songs: an Interactive Assembly is designed for grades: 3-5, up to 100 students, or one whole grade.
 Q: What about K – grade 2?
A: I'm working on adapting this for beginning readers using magnetic rebus. I think it's a great idea!
 Q: What about a longer version of this like a residency?
A: I'm working on it! I hope very soon this will be a multi-day residency too!
by Stacie Sanders Evans, Young Audiences/Arts for Learning Executive Director
I was reminded of my friend Deborah Bedwell, the former executive director of Baltimore Clayworks, this week when I visited my daughter Virginia's classroom to observe a workshop led by Tori Bertocci of Synetic Theater. Deborah wrote an article back in 2001 called "Measuring Joy," which detailed her journey of trying to arrive at measurable outcomes in her work while remaining true to the spirit of her organization or, as Deb put it, "not lying" to the funders who were increasingly asking to quantify the impact of Baltimore Clayworks on humanity. Deb decided the best course of action was to come up with a way to measure the joy created by touching clay. I was new to Maryland and to Young Audiences when I came across this article.
"How rebellious!" I thought and I went on my way and on my own journey of trying to establish a connection between our work and academic outcomes. Deb's evaluation tool and the article that accompanied it, has stuck with me for more than a decade—through No Child Left Behind, the adoption of the Common Core and new standardized assessments and teacher evaluations. When it came time to select a school for my own child, I ignored test results and walked through many school hallways and sat in many classrooms…simply looking for joy.
The second graders at Virginia's school are currently studying fairytales so we thought it would be a good time to bring in the Washington, D.C.-based group Synetic Theater for a classroom workshop. Synetic Theater specializes in physical theater, blending elements of gymnastics, dance, improvisation, mime, and acting. Through teaching the four elements—body, emotion, focus, and imagination—they brought different interpretations of the classic fairytale "Cinderella" to life.
"They are SO happy!" Virginia's teacher said to me. "Even the kids who aren't happy are happy." I looked at my daughter's amazing teacher, and while she is always happy, and beloved by her students and their parents, she was especially happy that morning relishing the joy she saw on her students' faces. At that moment I wished I had Deb's observation tool with me because the joy in that classroom was off the charts.
While I believe, and research shows, that the arts positively impact student achievement, I understand that part of the secret sauce of learning in or through the arts is the simple joy that it creates. The joy these students experience give teachers and parents that same feeling of joy when witnessing this act, and this in turn creates a joyful learning environment. It is in this environment that kids and adults alike are more likely to look beyond any constraints and envision—and act on—something better for themselves and each other.
Richard Deasy, the founding director of Arts Education Partnership, has told me many times, "You can't make a learner learn. It is the decision of the learner." What Young Audiences teaching artists and teacher partners do is offer approaches in which the student wants to learn. We saw that in Virginia's class of 26 students who were opting into learning at that moment because of the joy derived from physical theater.
Let's imagine something better for our children in public education –something better but something also very basic — joyful learning environments — where kids, parents, and teachers are eager to engage. YA aims to do this every year through its mission. Won't you join us in the cause?
———————————————-


In our June smART Tip, Young Audiences Chief Innovation Officer Pat Cruz shows you how to make a book out of one piece of 8.5×11″ paper. Press play to get started and learn how this arts enrichment exercise can be used in any classroom!
smART Tips is a monthly video series sharing tips for educators who are interested in new, creative ways to use the arts in their classroom with students. See all smART Tips to date here. Interested in a specific topic? Let us know!

By Stacie Sanders Evans, Young Audiences/Arts for Learning Executive Director
Last week I visited the classroom of teaching artist and improv master Bridget Cavaiola and science teacher Heather Tuttle, who are teacher partners in our 22nd Century Pioneers Arts-Based Summer Camp in West Baltimore. Like in all of our classes, these two teachers were "starting with the art" by warming up brains and bodies with the drama game "Big Booty." This particular game required kids to call on each other using a number instead of their name, and the goal of the game was to keep the it going as long as possible and as quickly as possible, without someone "messing up" by forgetting who had what number. (I realize this description doesn't explain why this game is called Big Booty but just stick with me here…)
The first time a student messed up in Big Booty, everyone clapped. I wasn't sure what was going on but smiles ensued and the game started over. Quickly another kid forgot which number they were and when their number was called, the game stalled. Once again everyone clapped and Bridget looked over at me to clue me in and said, "We celebrate our failures in here." The game continued, and as the kids' brains warmed up and the fear of making a mistake in front of their peers dissipated, the need to clap wasn't as frequent. When they did clap, they laughed, they shrugged it off, and they quickly moved on.
When it came time to move on to the science lesson, the teachers wanted to recap the lesson from the day before about the engineer design process. Bridget realized she had mistakenly erased the board which had listed all the key terms shared yesterday and Heather realized she forgot her notebook for reference. Oops! I don't think the situation could have been better orchestrated, in that moment Bridget and Heather, modeled "the way" by shrugging off their mistake and asked the class, "What can we do?"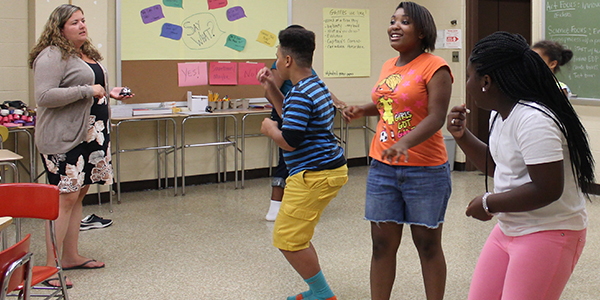 See more photos from the Young Audiences arts-integrated summer learning site!
The kids immediately started calling out the key terms they learned the day before. "Imagine!" "Investigate!" "Test!" In a quick minute all the key terms were there. I noticed each term was delivered with a gesture. The day before, the students came up with a move that conveyed the essence of each word. This lesson recap evolved into sixth-grade boys and girls (remember those awkward years?) moving their arms, hands, and heads in space as they defined the engineer design process.
Bridget and Heather and their sixth-graders are onto something. The simple act of celebrating failure creates a safe space for trying something, even if you are unsure if you are right or if you might look silly. Just imagine what is possible when you remove that fear–real opportunities for exploration, experimentation, reflection, and growth emerge.
Read more about the arts-integrated learning happening at the Young Audiences 22nd Century Pioneers Arts-Based Summer Camp site and see more photos here.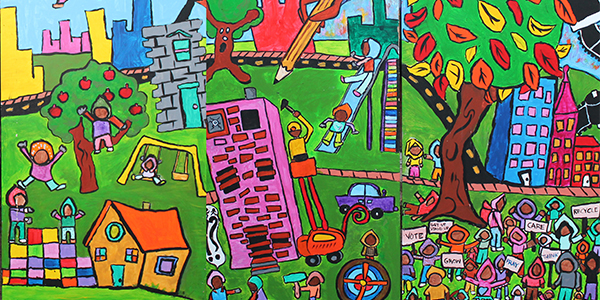 By Danyett Tucker, Young Audiences visual artist and illustrator
Do you think there is a difference between listening and hearing? One of my professors once asked me to illustrate Jimmy Hendrix's song "Voodoo Child." The project made me see art in a new light. I don't think I've ever had to listen to lyrics as hard as I did to really hear Jimmy. After hitting repeat over and over again, I finally heard Jimmy and realized the power of his music. I realized that music has the power to unite us by telling stories that we can all identify with and illustrating themes of what it means to be human.
This summer I worked with Baltimore City middle school students at Rognel Heights as a part of Young Audiences' partnership with Baltimore City Public Schools Summer Academies which brought Young Audiences artists to 10 sites throughout the city. In the mornings I partnered with the
sixth-grade science teacher to incorporate arts integration with the summer science curriculum, and each afternoon my mural painting class was one of the choices offered to students for arts enrichment.
Summer programming is a valuable resource for Baltimore City students. Many Baltimore neighborhoods are deprived and neglected. Many lack basic necessities, such as access to fresh groceries or safe places for children to play and the community to gather, preventing individuals and families from thriving. Challenges related to gun violence, poverty, public health, and family structure are obstacles for students in these communities to remain focused and committed to their education. These challenges can also make summer the scariest time of the year for students in the inner city. Without a regular school schedule, these children lack access to school lunches, a safe place to spend the day, and activities that keep them intellectually engaged.
My goal for the summer learning program was to show my students how music combined with a public work of art can play an important role in restoring a community's broken spirit. I wanted to encourage them to uplift each other through the powerful lyrics and positive messages that we shared during our mural project.
To guide the project, I selected a series of songs that spoke to community concerns. We started with one of my favorite songs of all time, Lauryn Hill's "Everything is Everything." I began by demonstrating how illustrators turn words into pictures. We illustrated the chorus together and then students had the chance to pick a verse of the song that painted the clearest picture in their mind and illustrate it.
Next was Cat Stevens' "Where Do the Children Play?" which introduced students to creating depth in settings. The environmental references in this song are so profound and led to deep discussions about the physical conditions of our communities. I talked with students about using public spaces to promote a cause or message and how music and art combined can move a community to action.
The next songs on the soundtrack were Bob Marley's "Get Up Stand Up" and "One Love." Imagine the vibe in the classroom as we collectively realized that gun violence wasn't just something in the news–many of us had friends or family who had been affected by gun violence. We listened to Bob's words of peace, love, and his call for all to move to action and reflected on the social commentary of the times.
As we continued work on our mural, we began focusing on the people depicted and drawing proportions. The students wanted to create a piece with a lasting legacy that would awaken civic responsibility in all viewers of the mural.
The final 12-panel mobile mural portrayed people coming together and holding up signs that displayed community declarations. Places to play, to honor loved ones lost, and to highlight every day community heroes were interwoven throughout our visual testimony.
Click on the images above to see the "A" and "B" sides of the completed mural.
We ended the project on a personal note and illustrated Emily King's, song "Walk in My Shoes," because let's face it, if we could walk in each other's shoes we would spend less time judging, hating, and bullying others.
The students were inspired by the music and were so expressive in the images they created. They were singing along with the songs by the time we started painting. They couldn't wait to get to my class every day and they didn't want to leave. The work we created was magical and the five C's–culture, comparisons, connections, communication, and community–were covered in this socially conscious endeavor. Every student was carrying their community on their shoulders and felt a civic responsibility to represent the voices of many through their art.
I could not have been happier with the outcome. The confidence of each student soared during the five-week program, and I know they will listen harder to the music they hear from now on and think about the messages that are received and sent. One voice, one love, and one heart! Let's get together and feel all right!
See more photos of the completed mural and other photos from this summer's arts-integrated programs!