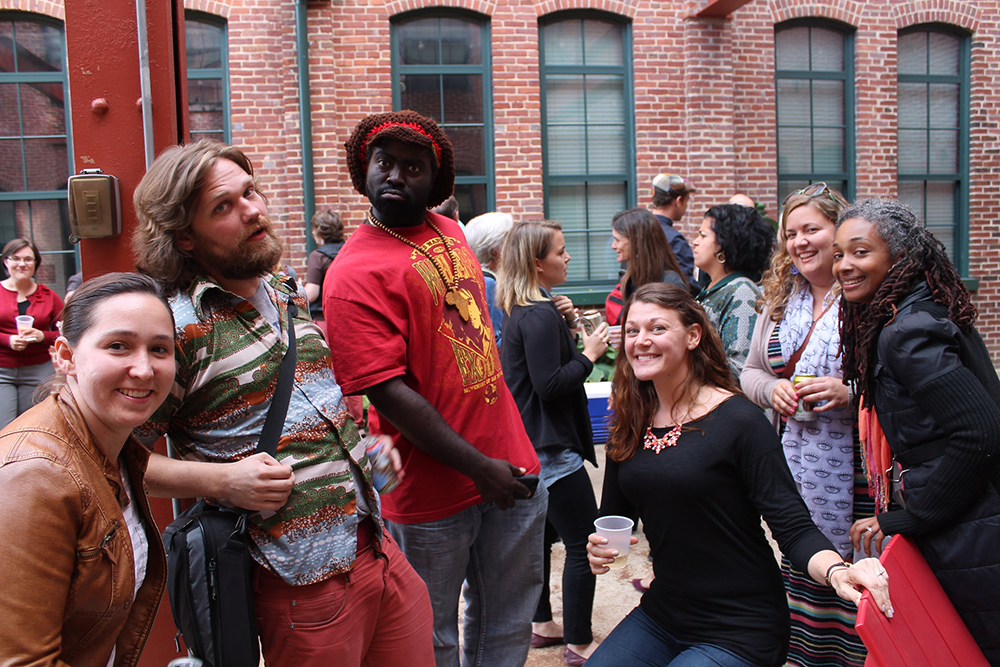 Our staff at Young Audiences do not just come to work. We come to support a mission: to transform the lives and education of our youth through the arts by connecting educators, professional artists, and communities. And we come with our hearts and minds and bodies ready to go above and beyond to realize this mission.
Micaela wrote, "When I started at Young Audiences six years ago, I thought we needed the arts to help students be more engaged in school and make learning more accessible. I had just been a teacher, and I saw changes in my students when they worked in the arts—new leaders emerged when we did a class talent show, and huge smiles appeared on kids' faces when they got "their own" recorders to take home from music class.
We need young people who not only have the skills needed to build a better world, but can imagine what that might look like. Artists in schools seems like one of our best shots at giving kids the space and community to become the wild, imaginative thinkers and doers that we all need.
These things are still true—the arts are awesome at engaging kids in school, providing an opportunity for students to do hands on work that is meaningful, visible, and matters. And, they spark joy in kids!
Today, though, I think there is more that I didn't realize a few years ago. I think we need imagination in volume and degrees beyond what I understand. We need young people who not only have the skills needed to build a better world, but can imagine what that might look like. Artists in schools seems like one of our best shots at giving kids the space and community to become the wild, imaginative thinkers and doers that we all need."
Our artists know how to use their art form to draw kids into the work, to get students to challenge and surprise themselves and proudly show off their achievements. They see how arts integration engages and motivates even the most reluctant students.
Spoken Word Artist Femi the Drifish told us, "I was working with 7th graders at Commodore John Rodgers Elementary/Middle doing an arts integration math program using rhythm, rhyme, and poetry. Going through what is common in a classroom, I challenged the students to use their algebra vocabulary to describe the city of Baltimore using the terms in creative ways—metaphorically, but in correct context.
There was one student, clearly the "too cool for school" type, who just wasn't participating in any activity that led up to the final writing exercise. Once the scaffolding was completed and students were set to complete their assigned writing prompt, I witnessed that one kid scribbling on paper in the corner by his lonesome, away from tables where students where gathered.
Upon completion, students shared their work trying to impress each other with the cleverness of their vocabulary usage in the Baltimore City descriptive poems, when he asked if he could share his poem.
I was surprised—just like his teacher and his class peers—and quickly encouraged him to step up to the front of the class to present before he decided to retreat into the disinterested facade he used during all the warmups. As he delivered the poem I realized that he didn't stick to the theme given, but instead described his love for the game of football using the math terms.
The class roared on cheers upon his completion and the teacher grabbed the poem from him to share with other teachers who wandered into the class to congratulate him."
Alice's year at Summer Arts & Learning Academy (SALA) meant so much to her. The program helped bring clarity to math concepts my daughter was struggling with through an art form she loves, she felt confident, and she felt like she was part of something larger than herself. It made her feel proud of herself and proud of her community.
She wrote, "A lot of people think of Baltimore as how the news shows and talks about it. The news tends to only show the little bad things about us. I wish people could just see what SALA is like. It's a perfect representation of Baltimore's youth! It shows that we are creative, compassionate, caring, and loyal." Now Rosario, my youngest daughter, looks forward to SALA every summer. And even though Alice is too old to attend, she volunteers in the program. "I can help and watch other children get the same great experience that I did."
As I've seen with my own children, arts integration is not just fun in the moment. These are experiences that shape students' mindsets, their education, their goals—experiences that students carry with them and inform their decisions for years to come. Please give today.
I have been a volunteer for Young Audiences for seven years now, ever since discovering them when Colette was in 10th grade, and was asked to speak at their Impact Breakfast. I learned then how much YA had already impacted her, as Colette was part of the PVA (Performing and Visual Arts) magnet at school. Teaching artists from YA were very active, and still are, with the PVA in Anne Arundel County.
But what really impressed me was YA's involvement at all grade levels and in so many schools across Maryland. By integrating the arts into core curriculum, kids learn in a way that helps them retain the information. Whether it's rapping their multiplication tables, dancing to showcase literature themes or creating mosaics to depict basic biology, the kids are learning because they're HAVING FUN!
As for Colette, she's finishing her senior year at East Carolina University, as an electrical engineer.  And she still benefits from the arts-integrated education she has received.  For example, although I may not comprehend the mathematical formulas in the papers I proofread for her, her PowerPoint presentations are so visually pleasing that I don't mind reading what I don't understand!  Seriously, I hope you'll consider donating today so that other kids can have the great experiences and training that she received as part of YA's arts-integrated education techniques.
Young Audiences has played a pivotal role in Alex's life, both past and present. As a child, he discovered his love of writing during a YA artist residency in his public elementary school. Nearly two decades later he works as a staff member with Young Audiences of Maryland.
He wrote "As an adult who was diagnosed with a learning disorder later in life, I can look back and say that my experience with YA was a turning point in my journey to know and love myself. When I had the chance to demonstrate my understanding by creating, rather than just consuming information, I found myself not only participating in class but thriving! I want to stress how much even a single experience can expand a young person's horizons of possibility, both for their education and their future."
Now, Alex coordinates YA's programming with schools in Prince George's, St. Mary's and Calvert County and writes fiction and poetry as well. "It brings me great joy to step into a school and know that a student will find a lifelong sense of meaning and passion because of our work."
Alex is an example of the power of arts integration in the life of our students, especially those who struggle to learn through traditional means. He is proud to "pay it forward" as a staff member and encourages you to support our work across the state of Maryland. Please give today.
In January 2020, Bay Brook Elementary Middle School will move into a 21st Century school building! Monique B. Reese, Principal of Bay Brook told us that along with the move, her school is adopting an arts integration model. During her first three years at the school, she focused on reducing suspensions and building a positive school climate. Now, Mrs. Reese's goal is to use the arts to assist with increasing student engagement and higher achievement. That's what brings her to the Young Audiences Principal Fellowship Program.
Mrs. Reese began her career as an elementary school teacher in various urban school districts. During her time as a teacher, she found a passion for leading others in teaching and learning. This passion for leadership led her to serve for eight years as an Assistant Principal in the District of Columbia Public Schools, and then as a principal at Bay Brook Elementary Middle School. During her first three years at Bay Brook, she focused on reducing suspensions and building a positive school climate. "I am excited about being a part of the Young Audiences Principal Fellowship program because it directly connects to my new school model," she said. "I can learn new ideas about arts integration that I can directly implement in my school as we begin our new vision."
"We have seen first-hand the excitement the arts bring to our students."
Over the course of the program, she'll receive coaching from experienced educators who have already used arts integration as leverage for school change. "Our students learn in different ways and we need a path that reaches all learners," Mrs. Reese said. "When given the choice between STEM, project-based learning, and arts integration for their new school model, the staff and community were confident that a larger focus on the arts would bring positive change."
The school currently has a partnership with Arts Every Day which helps fund artist residencies for classrooms. Already, the school holds monthly arts integration days in which teachers engage students in an art project to teach literacy, math, or science. "We have seen first-hand the excitement the arts bring to our students," she said. "The staff believe that the arts will give students the opportunity to be more engaged in the content, thus reducing class disruptions and increasing achievement."
Mrs. Monique Reese, Principal of Bay Brook Elementary Middle School, is one of ten Baltimore City Public Schools principals selected to participate in the Principal Fellowship Program. The year-long fellowship provides principals with the guidance and framework to develop an arts-based action plan in their schools and we are thrilled to have her in the inaugural cohort!
Written by Barbara Krebs,
Young Audiences volunteer and Sunburst Society member
As a pair of dancers performed, a group of elementary school children sat, crisscross applesauce, watching their every move. Valerie Branch, a dancer and choreographer with Young Audiences had been working with the Belle Grove Elementary students in an artist residency made possible through the Arts Empowered Minds Initiative (AEMI). When the last notes faded away, Valerie asked the children what they had observed.
"They love each other," one child offered.
"They share," another chimed in.
Then she asked the kids to explain what dancing techniques they had witnessed. "Negative space," "weight sharing," and "weight bearing" were some of the answers shouted out.
Next, she gathered a group of her second-grade students to pair off with each other to demonstrate some of those concepts. Once the children had done so, half of the students were instructed to use a frozen pose in a high, medium, or low position. The rest were to react to whatever their partner had created. With the new poses in place, she asked the other children in the assembly to discuss what they saw and how the partners had related to one another.
And, in true arts integration form, this exercise was not just about learning dance terminology and positions, but was tied to lessons at the school. This particular one was used in conjunction with a poetry-writing assignment in which the children described themselves through the creation of "I am" poems. Later, choreography was added to illustrate their autobiographical poetry.
Such was the back-and-forth learning that observers witnessed at the Arts Empowered Minds Announcement Event and Celebration on Friday, March 8. The group of educators, politicians, state and local arts administrators, and volunteers gathered at the school was celebrating a $100,000 grant from the National Endowment for the Arts (NEA), which will be used to expand arts integration and teacher professional development in Northern Anne Arundel County.
This is the third time that the NEA has awarded Young Audiences, the program's managing partner, a grant for AEMI. This collaborative partnership between a wide array of arts and education organizations throughout Anne Arundel County seeks to "address the disparity in arts access–and associated gaps in student achievement–between students in Northern Anne Arundel County and the rest of the county."
Now in its third year, AEMI has already racked up an impressive set of statistics. But even better than the numbers are the inspiring stories that teachers and administrators had to share during the event. Brittany Roger, a teaching artist with a scientific illustration background, spoke of bringing exotic animals (Madagascar hissing cockroaches, iguanas, corn snakes) to the classroom and allowing children to explore the creatures through sight, sound, touch, and smell. Afterward, the students draw and sketch the animals based on their observations.
Amy Goodman, who heads the math department at North County High School, told of her department's initial skepticism about linking arts and math together. But as the teachers learned arts integration techniques and applied them in the classroom, they began to see students who had been turned off or struggling with math begin to make connections that helped them grasp the concepts they needed to learn.
And so, step by step, AEMI partners create opportunities for children to learn through the arts. Step by step, the Initiative changes minds about the importance of integrating the arts with reading, 'riting and 'rithmetic. And, step by step, it makes converts of those who witness how the arts engage young minds and help them stay, not only focused on their education, but truly inspired to learn.
Learn more about the Arts Empowered Minds Initiative, its collective impact partners and the community it serves by visiting artsempoweredminds.org.
Categorized:

Arts Empowered Minds

Tagged:

AACPS, AEMI, Anne Arundel County, Anne Arundel County Public Schools, arts ed, arts education, Arts Empowered Minds, Arts Empowered Minds Initiative, arts integration, Belle Grove Elementary, Brittany Roger, dance, FutureMakers, Matt Barinholtz, Modern Dance, National Endowment for the Arts, NEA, Northern Anne Arundel County, poetry, The Drawing Zoo, Valerie Branch, Valerie Branch Dance Ensemble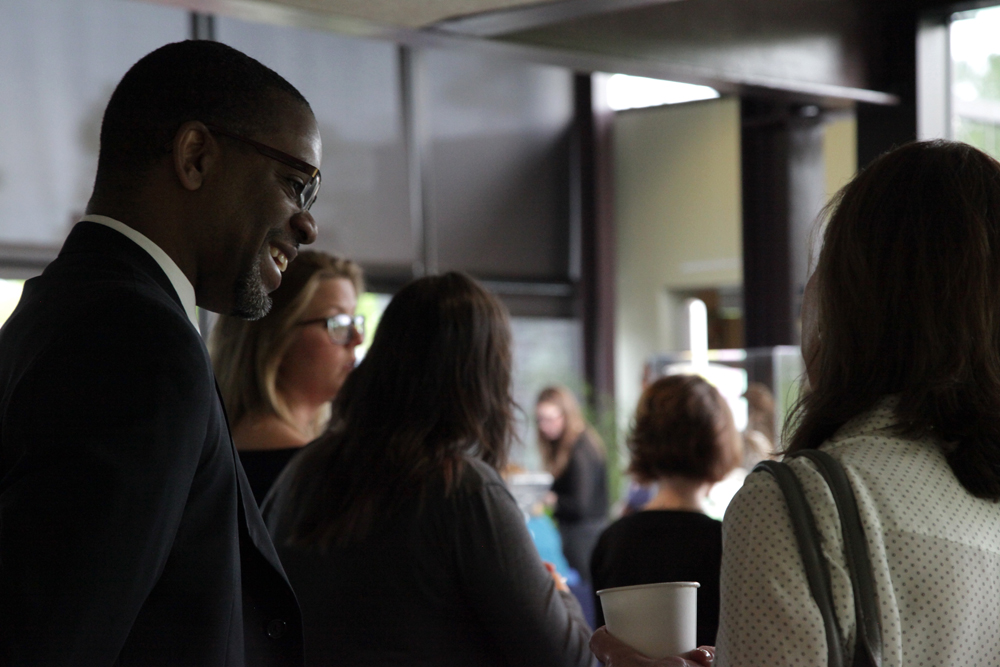 We are reminded every day of the irreplaceable support we receive from those who share in our mission to transform the lives and education of Maryland students through arts experiences. From teachers and teaching artists to principals, parents, and donors, our list of allies is long. And because of our allies, the reach of our impact is wide and growing even wider.
"Thanks to our amazing staff and board, and to our supporters, including our Sunburst Society, our outreach has grown by 400%," executive director, Stacie Sanders Evans, announced at the crowded Impact Breakfast last week. "Last year, we reached 191,000 students at nearly 500 schools with 225,000 hours of inspired learning! Also, we trained 1,096 teachers in arts-integrated instruction – so that means this kind of learning takes place even when our artists aren't in schools."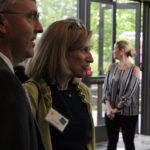 Our teaching artists live and breathe our mission through their work in classrooms every day. And that's just the beginning. While they may fly under the radar, our board of directors includes 23 of the most engaged, hands-on leaders and supporters we could hope for. Their commitment is extraordinary. Our board members can be found supporting our work in any number of ways including authoring blog posts, hosting On The Brightside events or leading full-day staff and teaching artist trainings. You may find them meeting with potential sponsors over lunch, inviting colleagues to our events, learning dance routines with their co-workers from a teaching artist, or even volunteering to make sock-puppets at our Family Engagement Night!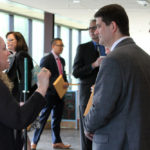 Our board members are proud of the work we all do and they are eager to say so. "Arts integration is when the arts are drilled down into an academic curriculum in a thoughtful and meaningful way – and that is what puts the 'Arts for Learning' in our name and what makes Young Audiences/Arts for Learning so exceptional," explained board member Tea Carnell at the Impact Breakfast. "What do the arts bring to a curriculum? Creativity, joy, and expression are the obvious ones. Arts integration brings mastery, perseverance, insight, focus, understanding, reflection, and problem solving."
It is this passion for arts integration and the desire to reach all children that drives each one of us at Young Audiences, but we wouldn't be able to do the work we do, and we wouldn't be able to reach the children we reach, without the unwavering support of our board members. "We are at this incredible moment in time. We have the evidence our programs work. We have a school system that is asking for help. All we need to do is bravely create the opportunities we know students need," Stacie Sanders Evans told supporters. "Young Audiences, its incredible artists, everyone in this room – YOU – can close the gaps for our young people."
And you are. Because of you, we not only met, we surpassed our Impact Breakfast's fundraising goal. From the bottom of our hearts, we extend a sincere thank you to our board, to Alan Hoff, chair of our major gifts committee, and to each and every one of our wonderful supporters. Visit yamd.org to learn more about the programs we offer and how you can help us reach even more children.
Growing Up Green: Teaching Our Youngest Learners Environmental Citizenship Through the Arts
Part One: The Life Cycle of Plants
We think with our hands, and when students are immersed in a lesson together, they begin to make their own connections."
We are in the midst of pilot programming for Prince George's County Public School's new arts integration initiative—Growing Up Green, a Kindergarten-level, environmental literacy program. The initiative, part of an exciting new partnership between Young Audiences/Arts for Learning, the Chesapeake Bay Trust, and Prince George's County Public Schools, is funded in part by a BGE Green Grant and the Chesapeake Bay Trust.
The program engages kindergartners in meaningful and authentic outdoor experiences that connect them to their local ecosystems and inspire them to protect our environment. The arts provide the vehicle that the students use to demonstrate and communicate their learning to the greater learning community of their school.
Growing Up Green residencies are divided into four major themes—Habitats, Local Ecosystems, The Life Cycle of Animals, and The Life Cycle of Plants.
One of the first YA teaching artists to pilot this program was textile artist Pam Negrin. Pam chose "The Life Cycle of Plants" for her residency with the Kindergarten class at Rockledge Elementary School. "One of the tenants of this initiative is just getting kids outside!" With cuts to recess, these residencies provide purposeful outdoor experiences that directly engage students with their surroundings and sharpen their observation skills.
Along with being outside, one of Pam's favorite things about Growing Up Green is "giving students a chance to experience wonder." She and the students had several surprises while exploring the hidden parts of plants everyone gathers at the beginning of the residency. After reading about what constitutes a "fruit," students sort their treasures—dandelion, sweet gum fruit, crepe myrtle seed, milkweed—into the appropriate plant life phase: seed, seedling, mature plant, flower, or fruit. The students loved playing a game where they had to accurately categorize collected plant life alongside familiar food found in a grocery store by exclaiming "fruit!" or "not fruit!"
Early on in the pilot program, students gathered an assortment of "fruits" resembling spiky balls that fall from sweet gum trees. Even though most attempt to avoid these prickly pods, the students gave no hesitation in cracking them open to find hundreds of seeds! Once the plants were sorted, the students began to observe and draw each part. Using their original drawings as a visual guide, and after learning some basic embroidery stitches, they collectively stitched a large-scale embroidery depicting the life cycle of plants. "Kids are stitching around the table with each other, working in groups, exploring together. Really, collaboration is another strong aspect of Growing Up Green," says Pam. "We think with our hands, and when students are immersed in a lesson together, they begin to make their own connections."
Ultimately, Growing Up Green can naturally make children stewards of the environment, "not because we taught them preservation is important in a textbook, but because they were outside experiencing it for themselves." Pam adds, "this residency reminded me that the more immersed I can be in what the students are learning in their core curriculum, and the more I experience the wonder and excitement of that learning, the more I have to share with my students and the stronger the arts integration."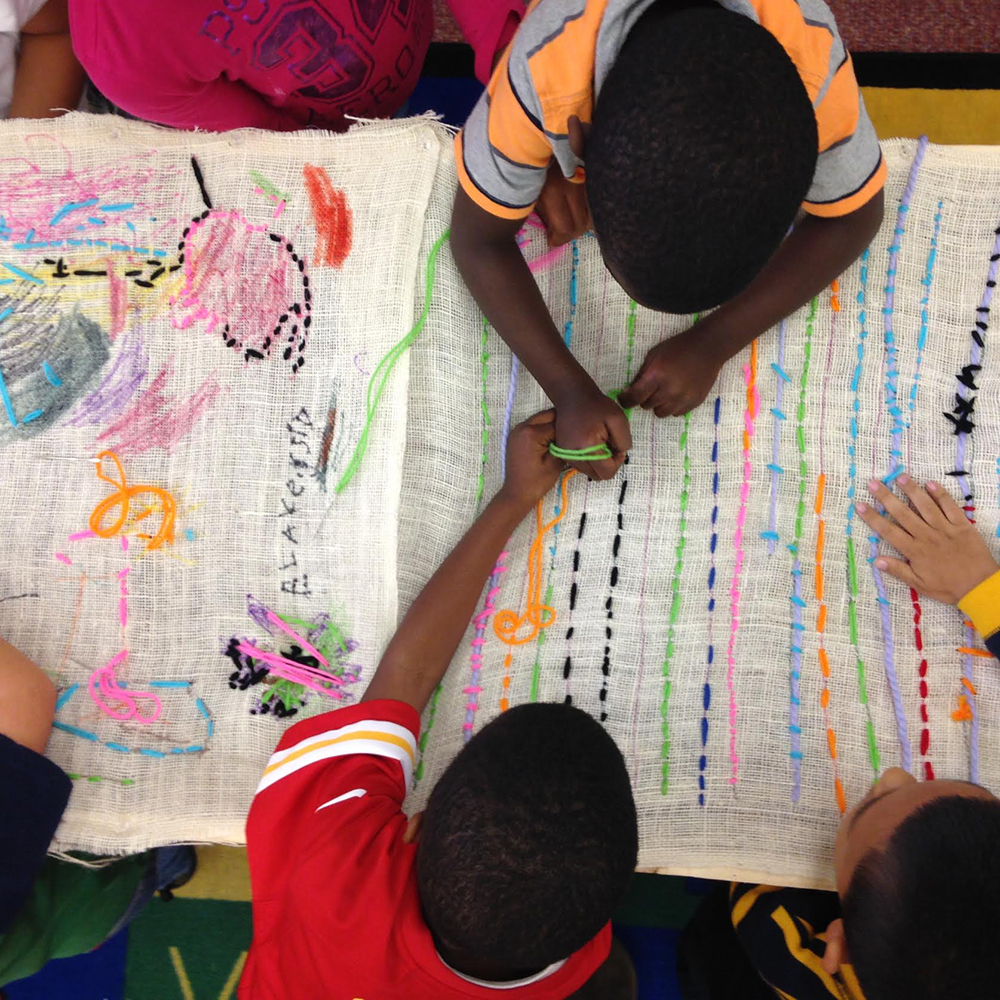 The program also provides teachers the tools to creatively engage students in curriculum-based learning through arts integration long after the residency has ended. In fact, one of Growing Up Green's primary missions is to ensure the program's long-term sustainability in the classroom. Once the residency ends, the arts integration techniques that were taught during the residency help teachers to more accurately and confidently employ environmentally based learning strategies into their current lesson plans. Ideally, once the piloting phase of the program is complete, Growing Up Green will become embedded into the core science and social studies curriculum of Prince George's County Public Schools.
By partnering with the Chesapeake Bay Trust to arm schools with relevant, local environmental data to meet district-level standards, and by doing our part to provide teaching artists and professional development in arts integration, this program could not be more equipped to succeed.
Video: Growing Up Green @ Rockledge Elementary
Growing Up Green aligns with Environmental Literacy Standards, Next Generation Science Standards, Common Core State Standards, and Visual Arts Standards.
Categorized:

News

Tagged:

21st Century Skills, artist-in-residence, arts ed, arts integration, BGE, Chesapeake Bay Foundation, Chesapeake Bay Trust, Common Core Standards, creative learning, early learning, environmental literacy, environmentalism, Growing Up Green, kindergarten, Meaningful Watershed Educational Experiences, Next Generation Science Standards, Pam Negrin, PGCPS