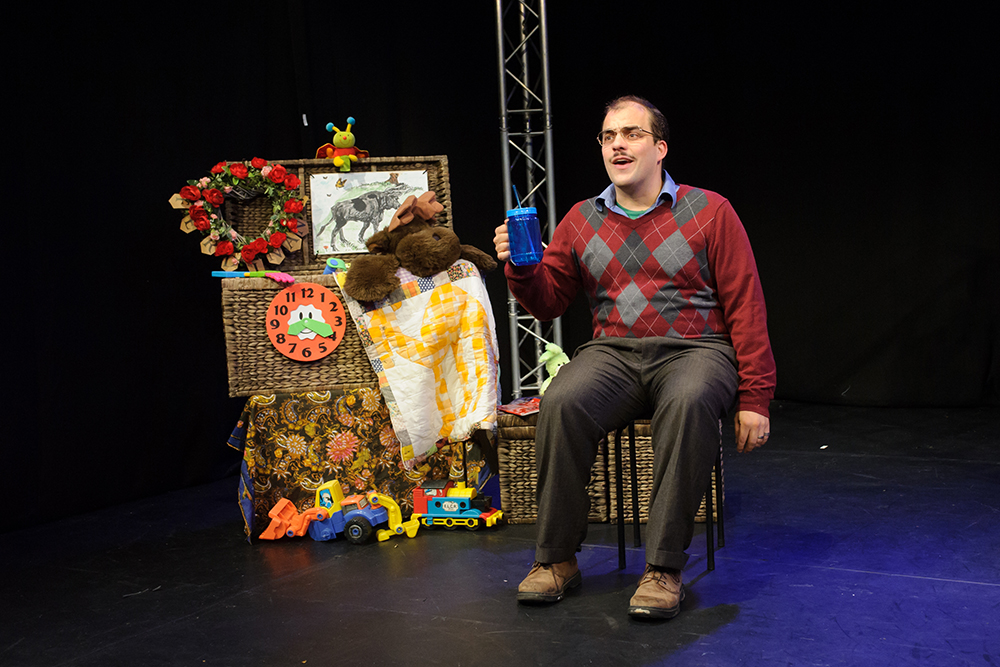 Promoting empathy and kindness in all schools is a priority across school systems, with particular attention paid to encouraging a positive school climate in the month of October, National Bullying Prevention Month. New YA roster artist Tasty Monster Productions designed an award-winning program to open communication in the classroom and inspire students and teachers to engage in conversations about social issues such as loss and bereavement, the many guises of bullying, the necessity of kindness and empathy, and the power of our words in society.
Tasty Monster Production's Ferdinand is a powerful and moving modern adaptation of the classic children's book The Story of Ferdinand by Munro Leaf. "Ferdinand tells the poignant story of Tom, a single dad, struggling to go with the flow and raise his son in a world determined to make him fight," says the artist. "Raised on the story of his namesake Ferdinand, the bull who refused to fight but just wanted to sit and smell the flowers, young Ferdy learns the hard lessons in life as his father endeavors to shield him from the harsh realities of adulthood."
A 2013 Congressional Research Service report found that these school-based bullying prevention programs decrease bullying by up to 25%.
Researchers have found that programs designed to build character and empathy, address conflict management, and enhance social- and emotional-development are successful at reducing bullying behaviors (Swearer, Wang, Collins, Strawhun, & Fluke, 2014). School systems have rightly begun implementing strategies and hosting programs to address concerning behavior and educate both adult and peer communities to recognize the signs and effects of bullying. A 2013 Congressional Research Service report found that these school-based bullying prevention programs decrease bullying by up to 25%. And since peer interventions have been found to end 57% incidents of bullying (Hawkins, Pepler, & Craig, 2001), it is imperative that schools keep the dialogue open year-round about what it means to be kind, how to listen, and the importance of empathy and understanding.
Schools searching for meaningful, current, and effective programming to relay a message of positivity will find an ally in Tasty Monster Productions. "Ferdinand is a hard-hitting yet heart-warming one-man show which takes the audience on a journey of rebirth. Told from the perspective of Tom, a hard-working middle manager, this is the story of a father bringing up his son with empathy and kindness in a world that seems determined to push him in all the wrong directions. Through Tom we experience all the joys and all the heartbreaks of growing up, as well as quite a few very real parental dilemmas, as he battles to preserve the innocence of childhood despite corporate downsizing, classroom peer pressure, and mixed social messages about what it means to be a man in this contemporary twist on a grown-up fairy tale."
Tasty Monster Productions brings engaging new and re-envisioned works to a broad audience while expanding the use of technology and multi-media as a tool for storytelling. Learn how to bring Tasty Monster Production's award-winning performance, Ferdinand, into your school.
Young Audiences Hip Hop poet Bomani recently visited Empowerment Academy Elementary/Middle for an assembly and workshop to teach students the elements of writing Hip Hop music and its parallels to poetry- and essay-writing while also addressing the subject of anti-bullying. Following the assembly, Open Mic, students worked with Bomani to use the techniques demonstrated in his performance to write their own Hip Hop poem about how to handle bullying inside and outside of school. One teacher shared: "Students were pleasantly surprised at their ability to write poetry, and became more adamant about stopping bullying."
The assembly and workshop were made possible through the Young Audiences Access for All Initiative which makes Young Audiences artists and programs available to high-need Baltimore City Public Schools at up to 80 percent off of the cost. This opportunity helps principals with limited resources provide hands-on learning in the arts that supplements and enriches the curriculum.
The following day, three students volunteered to share their finished poem with the student body over the school intercom. Read the full poem below!
No Bullies!
When there is bullying, don't just be a bystander,
Better not mess with a Marylander!
Find an adult who is trustworthy,
So the bully will not continue to hurt me!
There is verbal, physical, cyber, and exclusion,
Don't do any of these. Use inclusion!
Bullies cause a lot of confusion,
Everyone must help to find a solution!
This is just one example of how Young Audiences artists connect fine arts, the curriculum, and important 21st Century skills to impact how students see themselves and relate to others.
Learn more about Bomani's assembly and residency programs here!