Written by Barbara Krebs,
Young Audiences volunteer and Sunburst Society member
Excited. Proud. Love. These are the three words that I heard repeatedly as I attended the unveiling of the mural that sixth-grade students from Brooklyn Park Middle School created. Though these are not words typically linked with a middle school science project, they help illustrate the magic that is produced when you combine science education with an arts-integrated approach to learning.
The collaboration between their science class and a professional teaching artist from Young Audiences, in partnership with Arts Empowered Minds Initiative (AEMI), resulted in a 10-foot science-themed mural, titled "Brooklyn Park Middle Students Research Cells and Viruses." As explained in the program, the mural "illustrates the dynamic, multifaceted interactions occurring thousands of times a day between cells, viruses, and living things."
I wasn't sure what to expect as I entered MedStar Harbor Hospital's Baum Auditorium in South Baltimore, but I immediately felt welcomed as a saxophone quartet from Brooklyn Park Middle played classical music. Their melodies formed a soothing backdrop to the animated conversations between medical personnel, artists, educators, politicians, parents, students, and others who had gathered for the event. A delightful spread of food – chicken satay, veggie trays, fruit and cheese platters, and even cupcakes for the kids – provided by the catering arm of the hospital, Morrison Healthcare, ensured that no one would walk away without all their senses satisfied.
But I digress.  As the reception wound to a close, the formal program began. First up, Stacie Sanders Evans, the President and CEO of Young Audiences. Reaching for a hospital analogy, she spoke of Young Audiences' facilitating role behind the scenes as the "spinal cord" or "backbone" that makes the arts-integrated learning possible in area schools. She described how Young Audiences partners with schools and other organizations like AEMI and the Arts Council of Anne Arundel County (who helped fund this project) to pair core curriculum teachers with professional teaching artists to enhance learning experiences in Maryland classrooms. Rather than rote learning, students explore academic subjects in any number of hands-on, arts-oriented ways.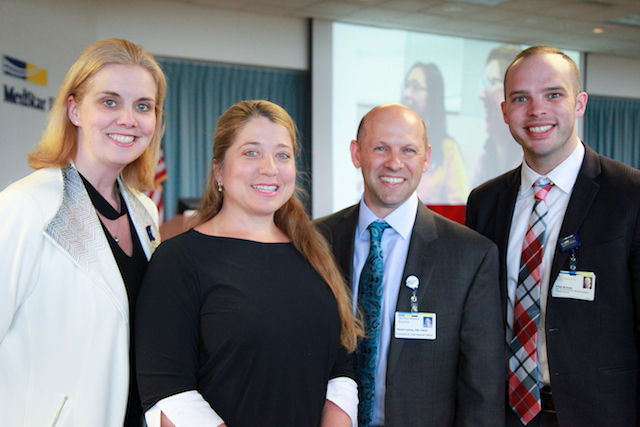 Next was Dr. Stuart Levine, President and Chief Medical Officer of MedStar Harbor Hospital. He told the young student artists just how meaningful their creation would be to the hospital, saying that it would be proudly displayed in MedStar's Emergency Department lobby. He talked about the VIPs in the room – the sixth graders – who had created this mural. He told them, "When community members come in for care, when they're sick, when they are at their moment of need, they're going to come into a place that has this incredibly hopeful work on the wall that's made with love by the kids of their community."
Then Dr. George Arlotto, Superintendent of Anne Arundel County Public Schools, spoke, stressing, "People who don't even know you love you; people who don't know you are proud of you." This was the legacy that, even as young tweens, they were creating for their community.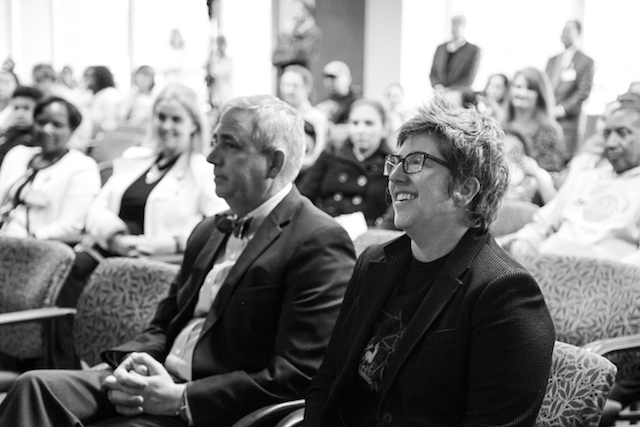 Following Dr. Arlotto, the two teachers who guided the kids through the process spoke. Lisa Radike, the Brooklyn Park Middle school science teacher, recalled that this process helped the kids learn more than just the science of cells, it also helped them "learn how to get along, how to work together." Amanda Pellerin is the Young Audiences artist who taught them to mold clay, shape it into the cells and viruses they were studying, and then assemble an entire mural from all the different parts they had imagined and created. As she looked proudly onto the students, she made sure they understood the significance of what they had done. "You now have artwork that is on permanent display– and you're not even out of sixth-grade yet!"
Finally, it was time for the unveiling of the mural. As the students and their teachers surrounded the mural, people leaned forward in their seats, many creeping to the front with cell phones to capture the much-anticipated moment. After a few more remarks from one of the students who reiterated the theme of how creating the artwork had required them to put aside differences and work together, the veil was cast off and everyone could finally see the finished artwork.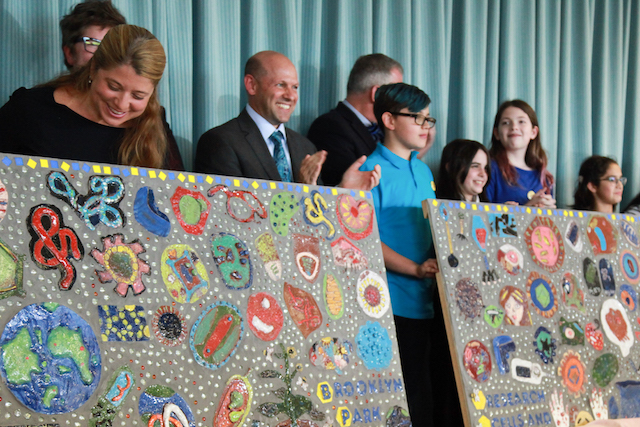 Brightly colored cells wiggled and squirmed their way across the surface. And like a visiting rock star, the mural sat "patiently" as a host of people came up to be photographed with it.
As the event wound down, I finally managed to talk to one of the students, asking simply, "How long did it take all of you to create this?" His answer pulled me out of my adult world of man-hours and Outlook schedules. "About 10 classes."
There it is simply. It's about the classes. It's about what you learn in the classes. It's about how the classes are taught. It's about the knowledge you retain from the classes. And though my own knowledge of sixth-grade biology is but a dim memory, it didn't take a Jonas Salk knowledge of cells to clearly see how wonderful this evening was. That these kids were excited about science. That the folks in attendance were proud of what the middle schoolers had learned and created. And that everyone loved the intersection of science and art.
Written by Barbara Krebs,
Young Audiences volunteer and Sunburst Society member
If you follow education trends even a little, you can't avoid the STEM acronym. In fact, at many area high schools, getting a slot in the highly popular STEM (Science, Technology, Engineering, and Math) magnet program is tricky at best.
Why is that?  Why do people automatically assume that if you want your student to get ahead in life, your best bet is to seek out an education that prioritizes a STEM-based curriculum over one that values the humanities or visual and performing arts? Now, enrolling in a STEM-focused program is certainly not bad advice. But, it's definitely not the only path to success as one recent Washington Post article reported.
"Kids have been educated in a computer world.  But that computer world continues to threaten traditional jobs, so success will rely on the ability of students to innovate and use tools in a non-traditional way."
In the article, "The surprising thing Google learned about its employees – and what it means for today's students," the Post reported on a 2013 study that Google conducted on its own hiring practices. Its founders, with solid backgrounds in computer science, felt certain that only "technologists can understand technology." But after every bit of data was gathered and analyzed, the company discovered something unexpected. Of the top eight criteria considered essential for a top employee, STEM expertise rated… um… eighth.
This led to a deeper dive into the data, which ultimately led to Google re-evaluating its employment processes and putting more emphasis on hiring "humanities majors, artists, and even MBAs." Other companies (such as Chevron and IBM) have also discovered the positives of hiring liberal arts majors because they "prize their ability to communicate."
On a personal level, I feel very strongly about this. My daughter, Colette, spent seven years (three in middle school and four in high school) pursuing a Performing and Visual Arts education. She learned to sing, dance, act, write, and most importantly from my perspective, think creatively. And while she was singing and acting her way through high school, she was also taking AP Physics and Calculus and learning to wire circuit boards. So it didn't come as a huge surprise when she enrolled in Engineering as a college freshman.
While some people were shocked at the 180° turn she made, I viewed it as the logical conclusion to a style of learning that she honed as an arts major in high school. Combining a love of math and science with the arts is not as unusual as you might think.
"Finding a path to my final images is a complex choreography of math, my sensibilities as an artist/scientist, and the subtleties of the subject."
Take, for instance, Dr. Tim Christensen, biology professor at East Carolina University (ECU) and Senior Faculty Fellow in their Honors College (full disclosure – that's how I first met him, when touring ECU with my daughter, who was accepted into both ECU and their Honors College). Dr. Christensen is primarily a scientist but also an artist. Merging the two disciplines, he fully embraces and personifies the concept of STEAM (Science, Technology, Engineering, Arts, and Math).
I was immediately struck while perusing the awe-inspiring galactic photographs on his website, AstroWimp. "As an artist, I've been heavily influenced by my scientific training," he wrote. "To a scientist, images are 'data.' Standing in both art and science worlds, I attempt to convey the art of the data." In his role as teacher, Dr. Christensen transfers the wonder he experiences as a scientist and an artist to his students.
He readily admits that while he finds jumping back and forth between scientific and artistic worlds a natural leap, that is not the case with every scientist.  "Some are still wary of anything that can't be measured scientifically."  Nevertheless, he continues to champion the intersection of science and art, as evidenced in his own artwork. "Finding a path to my final images is a complex choreography of math, my sensibilities as an artist/scientist, and the subtleties of the subject."
Dr. Christensen is currently collaborating with a fellow faculty member, Daniel Kariko, Associate Professor of Fine Art Photography. Their project, dataSTEAM, "focuses on artists who work directly with scientists to develop a deep understanding of the data, preparing artists to contextualize data in their art, connecting both disciplines… art to science, and science to art."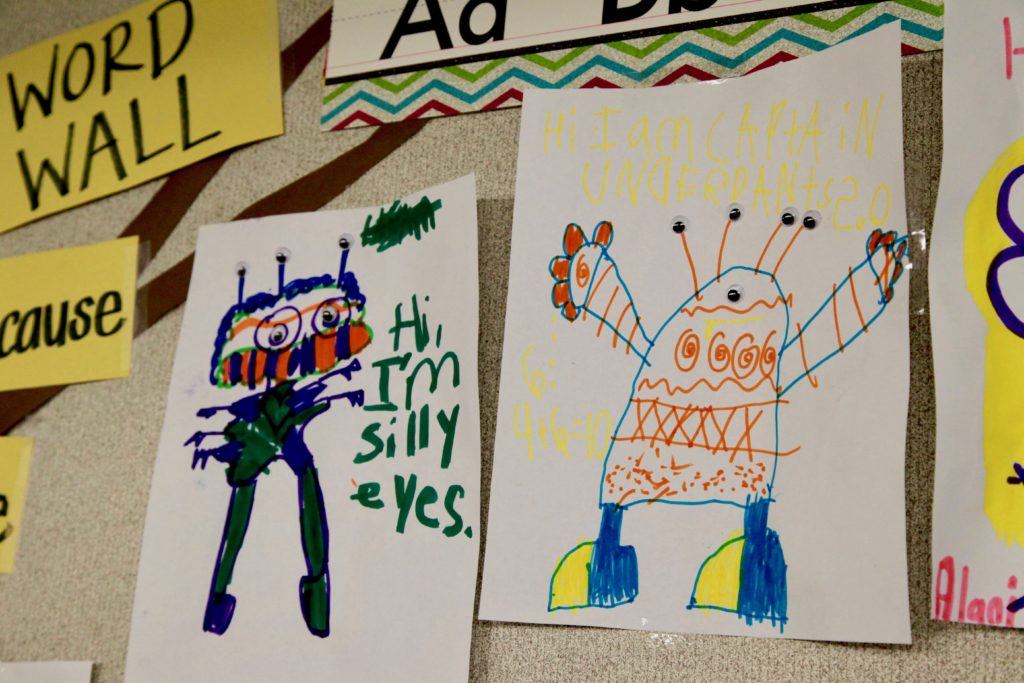 Starting in the fall semester, the two will "facilitate collaborations between Art and Honors/Science students" leading to a gallery exhibit at the university. But more important than the exhibition is, of course, the concept of cross-fertilization between the two disciplines.
As Dr. Christensen explained it, "Kids have been educated in a computer world.  But that computer world continues to threaten traditional jobs, so success will rely on the ability of students to innovate and use tools in a non-traditional way." He feels that merging science and art will create students who are quicker to think outside the box and can straddle both the worlds of imagination and hard-core data.
Similarly, what Google has identified as the top characteristics of successful employees are not unlike the same skills that educators and other business leaders identify as being critical to a person's success in careers, in college, and as a citizen: critical thinking, collaboration, communication, and creativity. These are behaviors that Young Audiences' teaching artists observe and nurture every day among students in arts-integrated classrooms. And so, for those folks who doubt the value of arts integration into core curriculum subjects such as science and math, the, ahem, data demonstrate that arts and science together create a more balanced individual who can successfully work in today's fast-paced, ever-changing work environment.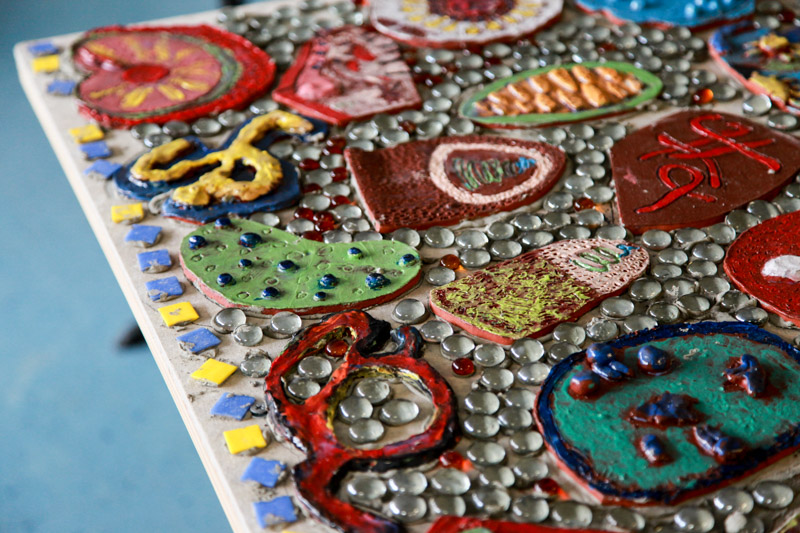 But don't take my word for it, just ask my daughter.  In a recent phone call, Colette was excitedly discussing her Statics class.  The definition of her Statics class from ECU's website- the analysis of equilibrium of particles, addition and resolution of forces, equivalent system of forces, equilibrium of rigid bodies, centroid and moment of inertia, structural analysis, internal forces, friction, and virtual work- left my head spinning.
When I commented on the apparent difficulty of the class, she assured me breezily, "Oh Mom, it's easy for me.  After all those arts classes in high school, I can see in 3-D." 
Before there is art, there is planning- lots of planning. This is something that 7th graders at the Baltimore Design School know all too well. Without it, the mural that these students created under the guidance of YA roster artist Amanda Pellerin and art teacher Stephanie Cafaro would not be the magnificent work that it is.
The class began with brainstorming and list-making. "We asked the students, "What's important to you?" Amanda Pellerin explained, "And we had different posters that asked, "What's important to you at home? What's important to you at school? What's important to you in your city? What's important to you in the world?"
From these ideas, Miss Cafaro had the students narrow down what they believed to be most important into one list of possible mural themes. Some suggested a tribute to President Obama or a better Baltimore. Others wanted to illustrate the power of protesting or important issues in the world today. "When I looked at this, I didn't see 10 different murals," Pellerin said. So, the artist proposed combining each idea into one single, powerful mural, and the students were all for it.
Before they could get to work on cutting and etching and glazing their tiles, however, the group first had to decide what the project was going to actually look like. After discussing composition and scale, and considering how the piece would flow visually, the group decided that the mural would feature three "larger than life" role models among a crowd of protesters. The class felt that President Obama, Harriet Tubman and a native American should stand out. The choices that the class made in the design process were purposeful. Role models weren't chosen randomly, they were justified and carried significance for each student.
Small teams of students worked together to create each larger than life figure, then reunited to complete the picture and piece the mural together. In their finished artwork, historic role models protest alongside important figures of the present. The figures carry protest signs that reflect current issues with sentiments that students imagined each role model might express if given the chance today.
"We're trying to help them understand that designers work as teams."
From conception to execution, the class was instrumental in seeing the project to completion. Directing the vision of the finished piece allowed the students to take ownership of the artwork and truly see it as their project. "I love that they had to come up with a concept and work together," noted Miss Cafaro. Every material that needed to be prepped and every decision that needed to be made happened because the class took charge, collaborated, and cooperated. "We're trying to help them understand that designers work as teams," Miss Cafaro said. "Even if it's not their favorite idea, they're part of a team and still need to contribute."
Amanda Pellerin specializes in handmade tile murals and clay sculptures and has 20 years of experience in teaching both children and adults. Learn how to bring Amanda's residency, Handmade Tile and Mosaic Murals, into your school.

By Christa Huber, Arts Integration Coach, Patterson Park Public Charter School
I have been with Patterson Park Public Charter School for six years in various teaching positions in Title I, third grade, the English for Speakers of Other Languages (ESOL) program, and am now the school's arts integration coach. This year has been a learning process, but also such a positive experience working in partnership with Young Audiences and Arts Every Day.
It was a personal goal for me to transition Patterson Park Public Charter School into becoming an arts-integrated school. I wanted to maximize our artist-in-residence programs with outside artists as much as I possibly could this school year. We believe in the strength of the impression that residencies make upon students and teachers. All of the work that comes out of a residency versus a day-long field trip makes such a difference. Residency programs allow students more time to engage with and learn from the artists. This exposure to artists is also important for the teachers because it provides a longer period of professional development so that they can learn skills and strategies that they can carry out in the future.
We had a fantastic variety of Young Audiences artists out to our school this year. These artists included: spoken word poet Femi the Drifish, ceramic visual artist Amanda Pellerin, Baltimore Improv Group, Flamenco dancer Anna Menendez, and more. These programs were made possible through Access for All grant funding from Young Audiences and funding from Arts Every Day.
We spread the residency experiences across different grade levels of the school. It was very helpful having the Young Audiences artist and program information online because it allowed me to search for artists that matched and linked to the content areas that our teachers were looking for.
There were a variety of stand-out experiences from our residencies, but here are a few:
Femi the Drifish worked with our middle school students in Language Arts. A great thing about that residency was the response we received from students who typically are not comfortable with performing in front of people. By their culminating performance, those students in particular were the ones to stand up and share their poetry with strength.
The third grade worked with Amanda Pellerin to create an Ancient Egyptian mosaic. This piece of work related to their study of the ancient civilization. Mr. O'Connell, our third grade science and social studies teacher, was blown away by how Amanda challenged the students to do their best work in a really positive way. We're very excited to have that piece of artwork as a permanent fixture in our school.
Anna Menendez brought some of the Spanish culture into our school. Some of our middle school students had just returned from a trip to Spain during spring break, so this residency was another way to connect with what they learned and saw on their travels. It also provided a relatable experience for the students who didn't have the chance to travel to Spain.
I have personally seen the impact that residencies have had upon teachers compared to other arts-related experiences. I believe that having artists at Patterson Park helped our teachers develop a great deal. Artists exposed teachers to new art forms that they may not have had any experience with, such as spoken word poetry or improvisation, and gave our teachers opportunities to learn how to tie these art forms to the curriculum.
One of our charter school philosophies is that children learn best through hands-on activities with interdisciplinary and semantic learning models. Arts integration is at the core of our values and it naturally makes sense for Patterson Park.
"Wow, this is the first time I have ever felt artistic!"
Young Audiences ceramic artist Amanda Pellerin overheard this proclamation from a student during an artist-in-residence program. The student made this statement to no one in particular, but Amanda asked him to explain.
"He said he never thought he could do art, so he had never opted to take an arts class before," Amanda said.
Instances like these, when the arts change how a student thinks of him or herself, are the reason why Amanda is committed to sharing her art and skills with students. "I work for those moments when kids exclaim to the world: I get it. I'm special. This is making me see myself in a different way," Amanda said.
Amanda partners with Young Audiences to bring arts experiences to Maryland students—regardless of the school's budget limitations. Young Audiences' Access for All Initiative was created to lower the financial barrier for Title I Baltimore City Public Schools interested in bringing a Young Audiences program to their students.
"I live in Baltimore and personally feel really good when I'm working on a residency that is funded by Access for All," Amanda said. "I'm directly affecting my community—I feel a special pride."
This pride has propelled Amanda to donate to Young Audiences and join the many community members who invest in our work.
"I believe in the mission," Amanda said. "As I've watched Young Audiences grow, my work has grown exponentially. I've realized that it's very satisfying for me to share my skills and my knowledge with someone—to see the light go on inside of someone's head as they turn an idea into a clay project."
Learn more about Amanda and her artist-in-residence and teacher professional development workshop offerings.
Read about the work Young Audiences supporters have helped make possible in our 2013 Annual Report.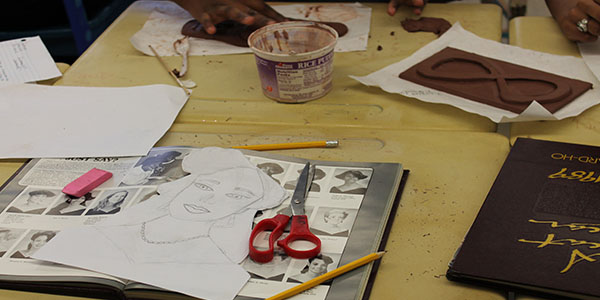 By Juernene Bass, Western High School alumna
I was very excited to take time away from work to be a part of a Young Audiences clay mural residency at my alma mater, Western High School, in October. Being a proud alumna from the Class of 1975, the program was a great example of our school motto, "Lucem Accepimus, Lucem Demus," meaning: "We have received light, let us give forth light." The mural project connected alumnae and current students with the rich history of our school. We had the chance to share our experiences and look back to historic articles, yearbooks, and artwork to create a piece that we could share with the whole Western community.
During the course of the project I was able to spend quality time interacting with my sister Westernites, grades nine through 12, as we learned from Young Audiences ceramic artist Amanda Pellerin how to create a clay mural depicting Western's 170-year-long history of rigorous studies in arts, sciences, literature, drama, and fashion.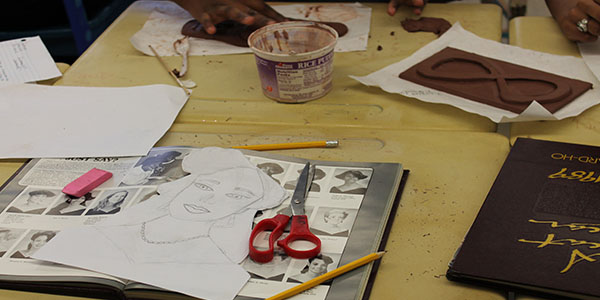 Amanda invited me to share my memories of Western during the 1970s with the current students. They found my reflections to be interesting, humorous, and sometimes unbelievable. I shared how Western taught me the academics that prepared me for college, the skills I needed to succeed in the workforce, and what studies I am using today to progress in my career.
As I mingled with the students and got to know them one-on-one, I learned that Western students are very creative and artistic. They were also knowledgeable about Western's history, and many expressed great pride in attending the school. They used their imaginations and pulled their ideas together with the decades of historical facts and traced, drew, carved, and painted the clay pieces to form a magnificent treasure. Clay tiles depicted the different school buildings to illustrate the school's various locations in Baltimore City over the years. Other clay pieces showed girls playing basketball, reading books, and graduating in cap and gown.
The clay mural project brought multiple classes of students and teachers together, giving them the opportunity to share their ideas and creativity while learning more about working with clay, Western, and each other. It allowed the students a chance to experience an art form which they may not have been exposed to before for lack of materials and time. I am sure the students enjoyed sharing this experience with one another.
Many sincere thanks to everyone who made this happen!
Read more about this project from a student participant, Nadine, who wrote a reflection of the project in January.
By Nadine Elsigal, senior at Western High School
As a senior at Western High School I had the privilege of being involved in a clay mural project with Young Audiences artist Amanda Pellerin in October. Working with Ms. Amanda during the residency was such a pleasure because clay is a medium I don't often get to use in my art classes at Western. This project was new territory for me since most of my school projects are created digitally and working with clay was an opportunity to get more hands-on. I feel that art is a crucial element to a person's development that is often overlooked, but projects like the mural we created with Ms. Amanda really gave back to the students and allowed us a chance to create. Art is a big part of my life and I plan to pursue it as my career. This residency was also a chance for me to learn about Young Audiences, an organization that shares my belief in the importance of the arts in learning.
Seniors from both my graphic design class and a history class worked with several Western alumnae and Ms. Amanda throughout the project. We decided to create a visual timeline of our school's history to celebrate Western's 170th anniversary this year. I knew little about our school's rich history at the start of the project. We worked as a team to delve into past yearbooks and brainstorm with alumnae to decide on the imagery we would include in the final piece.
I decided to recreate our senior class T-shirt design in my clay tile to represent current Western students. Including a symbol of our class in the mural was a chance to leave behind a piece of the Class of 2014 within an artwork that will hang at our school for years to come.
View all three pieces of the finished mural, as well as photos of its creation, online. 
As hard as it is to choose my favorite part of the residency, I think I enjoyed hanging the finished mural the most. There isn't a better feeling than seeing work you have created put on display. It made me realize that I had done it–I overcame the challenges of the project and created something that current and future students will enjoy. I feel proud to have been a part of this residency and to have successfully completed such a large project that can be shared by my school community.
At the start of the residency I was excited–I thought the project would be fun and a great opportunity to leave our mark on Western. Now that the mural is complete and installed I feel accomplished. As I finish my last year at Western, I will graduate knowing that I added to my school's long history.
Learn more about Amanda Pellerin and her residency and teacher professional development program offerings online!