It was a summer filled with activity, singing, dancing, reading, creating, and sunshine. We witnessed the excitement of mastering new skills and discovering new talents. We felt the calm of classrooms illuminated with only the rays of light peeking in from behind drawn shades, students enveloped in peace, quietly drawing, ink and graphite on white paper.
When families initially enrolled their children in our Summer Arts and Learning Academy, we asked them why their child was interested in participating. Many stated that their children were creative and hoped that through the program, they'd be able to enhance their skills. Others emphasized the integrated academics or latent benefits of the arts. Some registrants celebrated the availability of the arts and educational summer program, as these opportunities are limited in Baltimore City.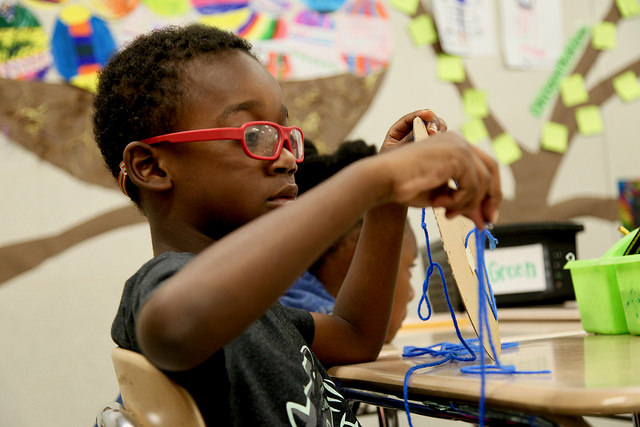 Did our Summer Arts and Learning Academy live up to families' expectations? Culmination ceremonies came to a close, classrooms were disassembled and packed up for next year, and students prepared for their next summer adventures. We asked parents and families if they'd give us feedback about their experience by filling out a survey. Their responses poured in- 413 of them to be exact. We discovered that in Summer Arts and Learning Academy, parents watched their children not only learn, but grow and thrive artistically, emotionally, and academically.
When asked about any positive changes they noticed in their kids, one parent replied, "An eagerness to attend school. IN THE SUMMER! Who knew?!"
87% of families who completed surveys told us that their child found something new that he or she has fun doing. "My son began to enjoy sewing and dancing," one parent told us. Another let us know that her grandson was very proud of the work he did in ceramics class. "He usually gives me all of his drawings and art projects, but he kept his claywork for himself."
Even when one particular art form grabbed a student's interest above all others, the children in Summer Arts and Learning Academy developed a deeper appreciation of and openness to all art. Students discovered that flexibility leads to new passions, discovery, and opportunity. "I learned that I am exceptionally good at ceramics. I knew I would like it but I didn't know I would actually be good at it," a rising sixth grader told us. "She was disappointed that the Coldstream Park site didn't offer theatre for older kids," her dad explained. "We're working on 'rolling with it,' though, and she ended up really loving African Dance and Ceramics. She would never have known, otherwise."
Parents told us that their kids were excited to get to the academy every morning, on time. When families reunited in the afternoons, kids would talk and talk about everything they did that day. When asked about any positive changes they noticed in their kids, one parent replied, "An eagerness to attend school. IN THE SUMMER! Who knew?!"
Upwards of 80% of parents who responded told us that they noticed an increase in their child's reading and math skills. With this strengthening of skills, their children became more confident. Of one student who enjoys writing poetry, we were told, "she will now actually share her writing with others." Many families reported their children not only enjoying reading but choosing to read books over watching television. Still others described students proudly reading on their own and teaching younger siblings what they had learned.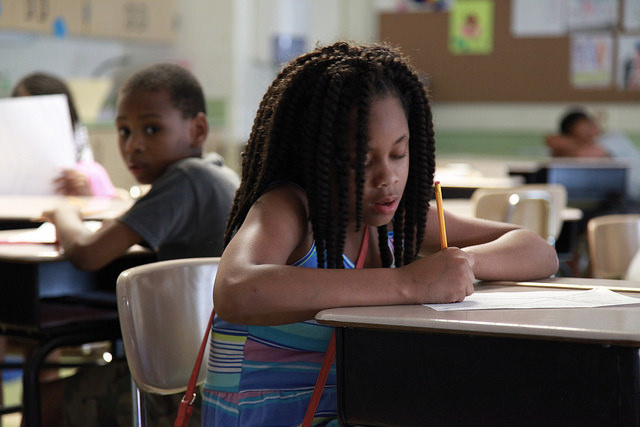 The positive changes parents noticed in their children exemplified 21st Century Skills, a set of higher order skills that have been identified by educators and business leaders as being critical to a person's success in careers, in college, and as a citizen. These are skills that typically cannot be measured through standardized testing and include critical thinking, collaboration, communication, and creativity.
Through Summer Arts and Learning Academy, students were introduced to many new ways of thinking, seeing, and expression. They learned to look at things from different perspectives through the eyes artists, characters in literature, and through new friends, which made their own experiences more joyful and meaningful. Children embraced their curiosity, asking questions, exploring, and researching independently. "My daughter is better able to integrate her love of arts (fun) with learning (not as much fun) and see ways to make learning something that's both fun and something she can accomplish," one mom told us.
Families described their students as being more social, friendly, outgoing, and connected. One student told her mom that she "enjoys being a loving and caring friend." Another student "wants to take care of the neighborhood." Students discovered that they liked working in groups and parents thought their children were now better able to deal with conflict. Through collaboration, the kids learned how to communicate, compromise, and achieve a common goal. They learned to 'roll with it', an enviable and necessary skill for 21st century children and adults alike.
Baltimore City School students closed out a summer of creativity and arts-integrated education with performances and visual art exhibitions at Young Audiences Summer Arts and Learning Academy. The academy's culmination events were an opportunity for students to showcase their art forms and what they learned to family and friends. 
The Summer Arts and Learning Academy took place over five weeks, giving students from Title 1 schools in Baltimore City a free, daily opportunity to explore art forms with teaching artists while improving literacy and math using hands-on, arts-integrated learning techniques. They wrote songs to memorize grammar rules, learned dances to recall fractions, and immersed themselves in a multitude of art forms, making literacy and math concepts stick. The third annual academy had children and staff laughing, learning, and inspired.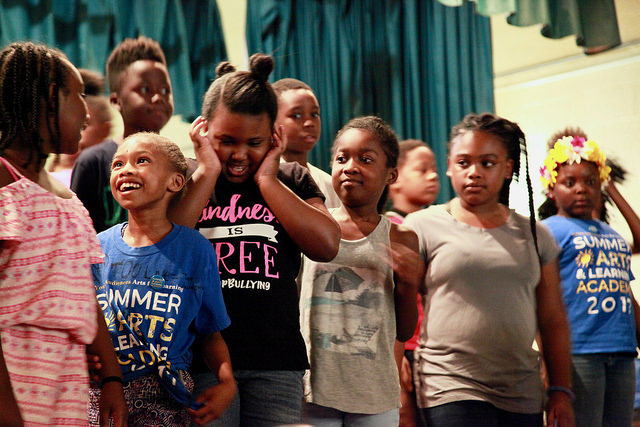 This kind of summer engagement with the arts is proven to have a significant impact on kids' education. In Summer Arts and Learning Academy, classroom teachers and teaching artists work together to continue to build momentum while stemming summer learning loss, or the loss of academic knowledge over the summer months. According to a study last year by Baltimore City Schools, students in 3rd-5th grade attending the Summer Arts and Learning Academy avoided summer learning loss, and in many cases, gained ground on their national peers in literacy and math.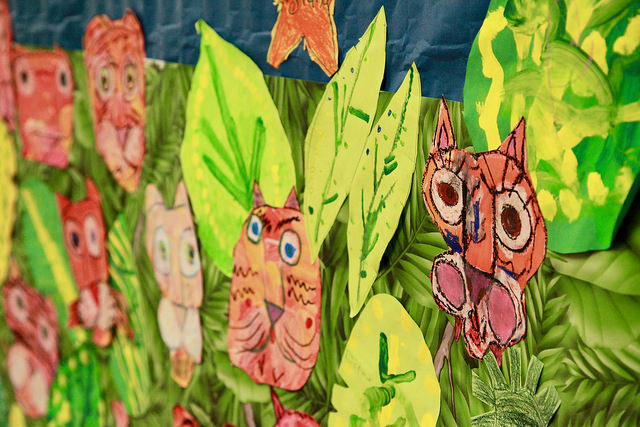 The culmination events, held at Thomas Jefferson Elementary/Middle, Coldstream Park Elementary/Middle, James Mosher Elementary, and Gardenville Elementary, put students on stage to showcase the art they created at the academy for parents, teachers, friends and family. Here is some of what we saw.
Two students from YA roster artist Femi theDrifish's spoken word poetry class read aloud their own inspiring words. They expressed the challenges caused by bullying through their writing, moving the audience with their heartfelt performance.

A larger group of students performed African dance on stage as their teacher, YA roster artist Ssuuna, led an accompanying rhythm section. A dance circle broke out at the end as students entered and showed the audience their skills. Cheers, laughs and applause filled the auditorium.
Music, poetry, and theater graced the stage as another group performed a chapter from a short story they read during the Academy. Kids performed as trolls and goats while their teacher, YA roster artist Drew Anderson narrated. Positive energy filled the room.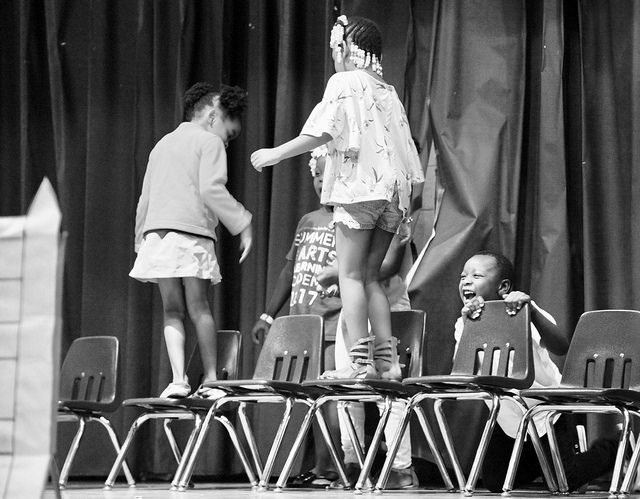 And that's only a taste of the dozens of performances that took place at culmination events around the city. Watching students light up and enjoy learning with the infusion of arts experiences is remarkable. We can't wait for next summer.
You can view images from all four of our summer sites by visiting our Flickr page. More information about Summer Arts and Learning Academy can be found on our website.
Young Audiences teaching artist Ssuuna, a dancer, musician, and storyteller from Uganda, brought his incredible stage presence to Dr. Henry A. Wise, Jr. High School recently. There, he taught over 100 high school students African dance and drumming using the same focused energy and passion he delivers on stage. What struck the teachers in attendance, however, was how well Ssuuna guided his students in building a community and how expertly he handled distractions in the classroom, even with pointed interruptions.

"He never raised his voice with them, but made it clear that their choices would have consequences," recognized Mrs. Black, a 9th-grade teacher at the school. By encouraging students to examine each of his or her options and the consequences and rewards that go along with them, Ssuuna cultivates classrooms built on cooperation and encouragement. "He put the responsibility on the students to take ownership of their actions and choices, and it was very meaningful for students to have that responsibility."
Another participating teacher, Mr. Hughes, observed that the residency made students feel more relevant. "Ssuuna met the students where they were and gave them confidence and a sense of belonging, no matter what their interest," he said. This "relevancy" seemed to be felt not only internally, but collectively. Participants created their own inclusive ritual by uniting and forming a prayer circle before performing at the culminating dance. Mrs. Black recalled how powerful the moment felt to her, "I was really inspired to see all kinds of students coming together to be supportive and work as a team in that way."
It is so important for students to be understanding, especially at this age, rather than making others feel like they don't fit in.
The culminating dance introduced one last challenge when a student suffered a panic attack onstage. Ssuuna stepped in to join the student and spoke with her. In the moments that followed, she was able to regain control, breathing and finally relaxing. Teachers could actually see the transition from panic to calm occur within the student. Mrs. Black described the experience as transcendent for the teachers, the students, and the audience. "That moment made the whole experience feel more intimate, supportive, and vulnerable," Mrs. Black explained. By witnessing first-hand Ssuuna's kindness and encouragement with the student in distress, the audience was inspired to also be encouraging and supportive. "It is so important for students to be understanding, especially at this age, rather than making others feel like they don't fit in."
Skher Brown teaches world cultural awareness, body coordination and interpersonal skills through the basics of Capoeira Angola, an African-Brazilian martial art form that is a blend between a dance, game, and self-defense. In his new residency, Capoeira Speaks: Dancing for Social Intelligence and Life Success Skills, students develop non-verbal communication skills through body language and kinesthetic movement. This residency is well-suited for inclusive learning settings and those with behavioral, social, emotional, and/or physical disabilities.
"Over 90% of all communication is nonverbal, yet far too little focus is placed on teaching our children how to empathize with others and build relationships. Capoeira Angola is a non-verbal language that uses our bodies to speak instead of our mouths."
Social intelligence affects how students manage their own behavior, their decision-making process, and how well they are able to navigate social situations. It is, along with academic achievement, one of the greatest predictors of success. Learning to read and respond to body language helps students learn to communicate more effectively, strengthening their social intelligence, thus increasing their chances of success.
"C
apoeira Angola creates a culture of being more aware of one another. It's communicating all at once with everyone in the room," Skher explains. "I will say with my movement, 'I'm about to ask you a question, I need an answer,' and the student will respond with his or her choice of movement–the 'answer'. Over 90% of all communication is nonverbal, yet far too little focus is placed on teaching our children how to empathize with others and build relationships. Capoeira Angola is a non-verbal language that uses our bodies to speak instead of our mouths. Once students learn the movements, they come together and begin to have a conversation."
Capoeira requires students to be very expressive with their entire bodies, including their faces. Participants smile, open their eyes wide, and use animated gestures. These movements help students connect with their own emotions, which translates into being able to recognize and connect to the emotions of others.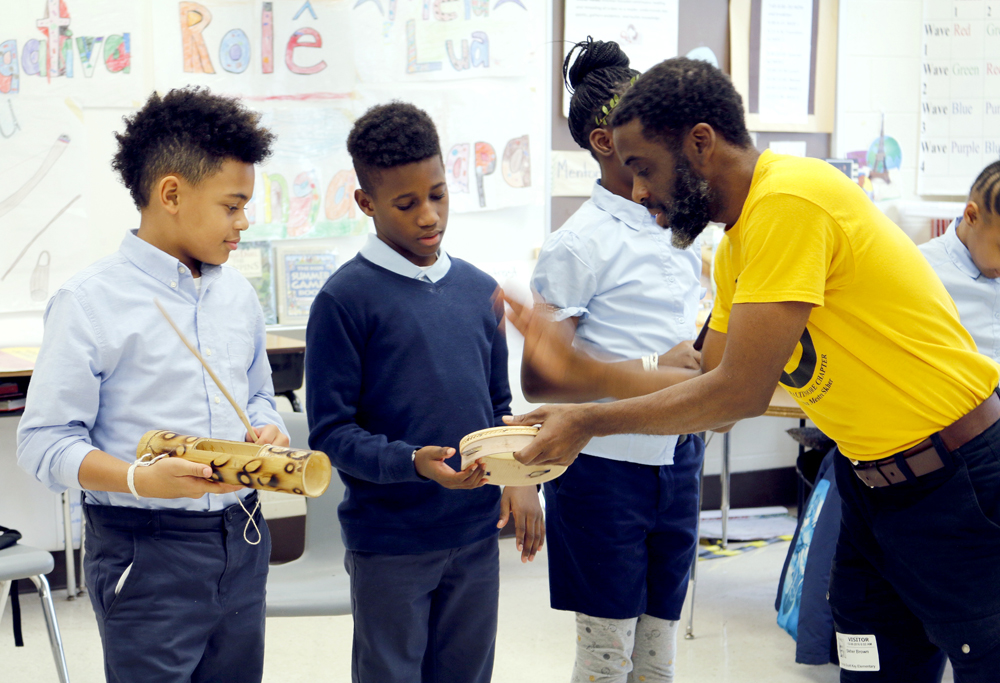 "Students take ownership of the new community culture and protect it."
In Skher's residency, students take turns observing one another performing the dance movements of Capoeira. "After the dance routine, we form a large circle for participants to look at one another using eye contact. Here, students express what positive observations they noticed about their partners. Then, students share how it felt to give and receive positive reflections. Invariably, though the expressions might start out a little stiff, the mood and classroom environment always turns into a welcoming and connected space. Students take ownership of this new community culture and protect it."
Skher Brown is one of nine selected roster artists who received training in a variety of inclusion tactics to utilize in the classroom through the Inclusive Allies program in partnership with Disability Rights Maryland. Learn more about our programs for students with special needs and the work we are doing to ensure that all students receive the many benefits of engaging and inclusive arts-integrated classroom experiences.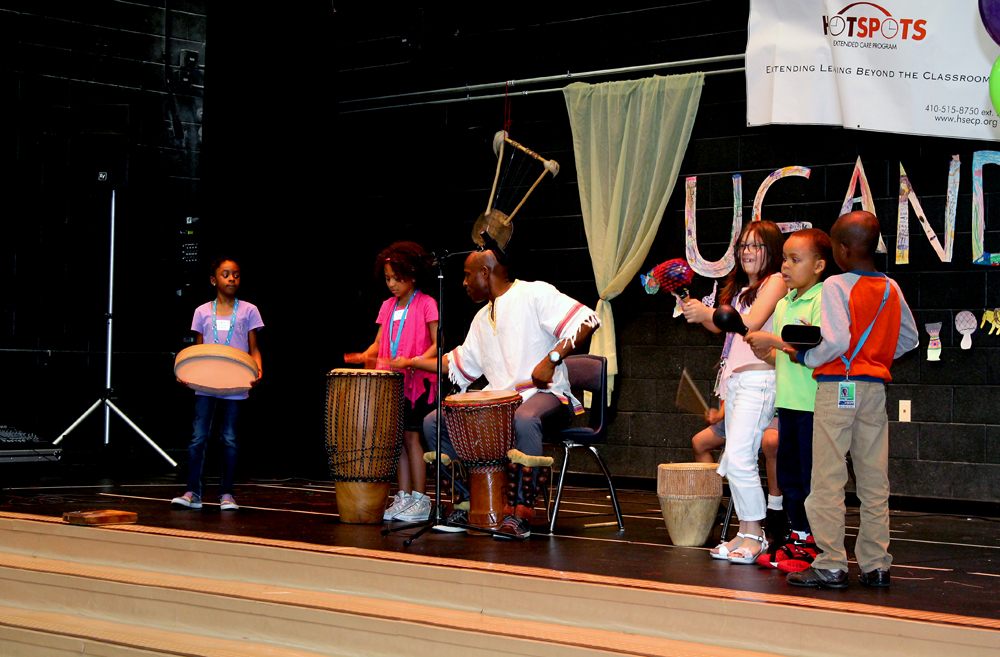 At Young Audiences, we're always building partnerships with great organizations to help enrich our children's lives through arts and culture. Hot Spots, a before and after school extended care cultural enrichment program, was a perfect match to do just that. This past spring, Young Audiences partnered with Hot Spots to bring Ugandan culture into the hands and hearts of the entire student body at Lyons Mills Elementary for a special performance dubbed "culminating".
Traditionally, Hot Spots offers artist residencies for students after school. For this partnership, an effort was led by Hot Spots Executive Director, Emily Gordon, to bring in-depth knowledge and meaningful craft-making to every student and teacher in the school for an entire day of culminating activities!
To facilitate this huge endeavor, Hot Spots chose Young Audiences Teaching Artist and Ugandan native, Ssuuna, a dancer, drummer, singer, and songwriter, to share significant cultural aspects of his home country with the entire school community. Hot Spots' ultimate goal with YA for the next year is to make these kinds of culminating performances an access point that will reach far beyond a school.
We spoke with Emily Gordon about this unique experience:
"We chose Ssuuna because he is an artist and performer who brings these experiences to life. He shares such enthusiasm and energy and encourages our students to be active learners, not passive. It's really important that we continue to work with artists who understand how to connect with children at their individual levels as opposed to simply teaching to the masses."
More from our interview with Emily:
"This partnership is different from how we've worked with Young Audiences in the past. The majority of our past work has been for students who participate in after-school programs and residencies. A culminating performance typically happens only with the students in the program. We are thrilled to be expanding that reach.
For this residency, we sent out lesson plans to every educator in the school with pre-assembly activities to support the experience with Ssuuna. Students memorized Ugandan vocabulary, researched facts about Ugandan every-day life, and learned about the musical instruments they would build in tandem with the performance later that day.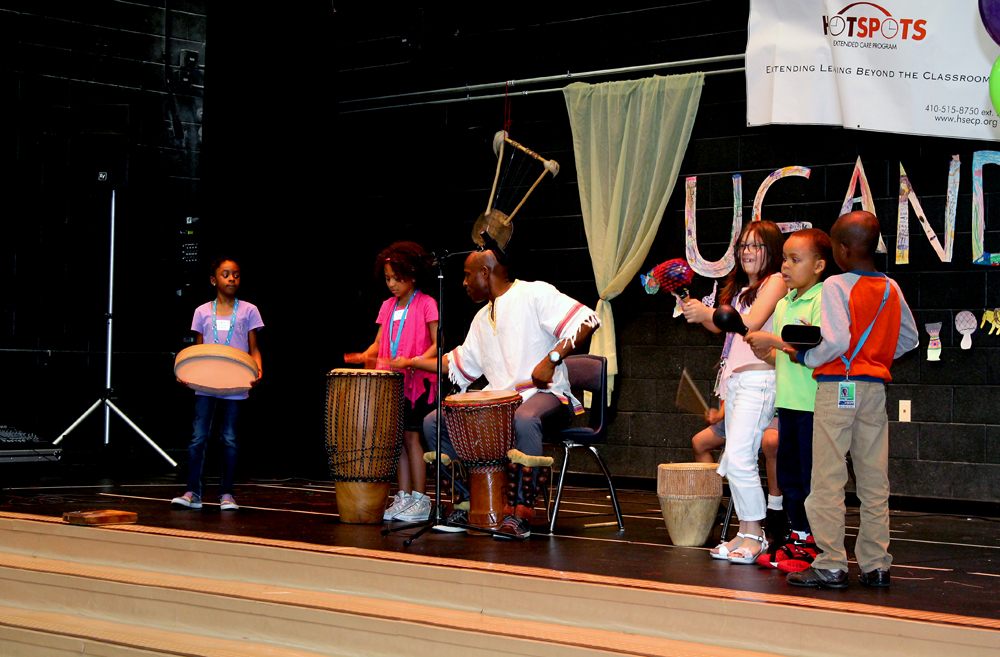 "This wasn't a 'come drop off your students at an assembly' type of day."
Teachers made sure they understood what the assembly was about and prepared questions for Ssuuna to answer. We didn't only focus on Ugandan music and dance; while grades third through fifth began the assembly watching a solo dance performance by Ssuuna and preparing questions, students K-2 sat down in small groups with Hot Spots teachers to create an Ensaasi, a Ugandan shaker. Rather than having them simply color in a pattern, Ssuuna identified forms of tribal art with cultural significance for design inspiration. From there, third through fifth-grade classes went back to the classroom and created Ugandan jewelry from different types of tribal wooden and plastic beads.
The success of this culminating day of activities reflects a desire to engage students differently with Teaching Artists. With assemblies, students are not able to stop and ask questions during a performance, and later they get forgotten. After Ssuuna had performed for 30 minutes, there was a fantastic Q & A session! Kids could ask Ssuuna anything based on what they had seen or read earlier in the day. We wanted to give them that forum, letting them express what they didn't understand. Ssuuna is such an amazing artist who can explain and relate to students not only his experience in America but his roots in Uganda. That unique connection helps reveal why his story is so relevant and compelling for students.
Another big part of this new model is encouraging not only our students, but the parents, families, and neighborhood to get involved. How do we make sure this experience can be expanded into the home? To extend our outreach, we shared photos and videos of the performance and activities in a short newsletter blast to every parent in the school. Included in the newsletter were extension activities and follow-up questions like this social media challenge:
Teach your family how to make Ugandan jewelry and take a picture of you and your family wearing it! Then, take a video of you and your family playing your shakers!
We really appreciate this unique opportunity to partner with Young Audiences. YA is a critical component of our efforts and we are excited to replicate and improve this program next year!"