Co-authored by Barbara Krebs, a Young Audiences volunteer and Sunburst Society member.
We grow up in the United States hearing that we get what we pay for. Such is the case with investments in the greater good. That's one of the many reasons we're so passionate about teaching in and through the arts. From our country's youngest students to our aging seniors, the entire population benefits in both the short- and long-term from the arts, whether it be emotionally, socially, or intellectually.
Non-profit arts organizations like us work hard to both generate sustainable programming and seek support from private and corporate funders so that we may fulfill our mission to positively impact the greatest number of Maryland children with the highest quality arts-integrated educational programming. Federal funding may only be a piece of our funding picture, but it is an important one.
We are excited and proud that the National Endowment for the Arts awarded Young Audiences of Maryland $90,000– one of only seven total Collective Impact Grants awarded nationwide– for the Arts Empowered Minds Initiative (AEMI) in Northern Anne Arundel County! The Arts Empowered Minds Initiative utilizes arts integration programming to boost achievement, parental involvement, student engagement, and empathy. Programming includes in-school arts integration, out-of-school arts programming, and professional development for teachers. In addition, the program will partner with community organizations to create family engagement opportunities, such as providing family passes to the new Maker Space at Chesapeake Arts Center.
The program is the culmination of the work of many groups and individuals seeking to build a movement for increased equity through the arts in their community. With funding from the NEA in 2016, we built partnerships with Anne Arundel County Public Schools (AACPS), Chesapeake Arts Center (CAC), Arts Education in Maryland Schools Alliance (AEMS), Arts Council of Anne Arundel County, and University of Maryland – Baltimore County (UMBC). Together, we have already provided professional development to over 100 teachers, and delivered high-quality arts-in-education programs to nearly 2,500 students at six schools.
"This second grant from the NEA will allow us to both deepen and expand our reach and maximize existing resources to ultimately bring the impact of arts integration to almost every student in Northern Anne Arundel County," Stacie Sanders Evans, Executive Director of Young Audiences explained. The Arts Empowered Minds Initiative will expand from six schools to all 12 public schools in Northern Anne Arundel County and impact more than 7,000 students in grades pre-k through 12.
To be clear, it's not the NEA's budget that is proposed to be cut; it's the NEA itself that is on the line. It's important to think about this as it impacts local communities and groups. And, should the NEA be eliminated, it will impact our community. When vital, far-reaching, and life-altering programs are at risk, we must speak up. And it's surprisingly simple and quick to let your voice be heard.  Identify your legislators. Email your senator. Call your representative. Write a letter.
Take 2 minutes now to contact your members of Congress and join the #SAVEtheNEA campaign. Involved citizens can and do make a difference.  Please, join us in the fight to keep the arts alive and accessible in our nation, state, and community. We get what we pay for. And, when we invest wisely, what we get is more than we could have ever even hoped for.
In a recent blog post for the Washington Post, Alvin Crawford, CEO of Knowledge Delivery Systems, addresses fundamental issues with the current professional development offerings for educators. He cites a 2009 report which found that "when asked about their experience in professional development, 'most teachers reported that it was totally useless.'" The substantial financial investment the U.S. makes in teacher development ($2.5 billion in 2012 according to U.S. Secretary of Education Arne Duncan) is not meeting the needs of many teachers, or in turn, students.
The Teaching Artist Institute (TAI), did not set out to be a teacher professional development program, but as the program starts its eighth year this fall, it is clear that it is succeeding where many traditional professional development workshops are not. TAI also has gained attention for how it provides teachers with creative and natural tools for implementing Maryland's Common Core College and Career-Ready Standards through the arts.
TAI is a statewide program made possible through the partnership of the Arts Education in Maryland Schools Alliance, the Maryland State Arts Council, and Young Audiences/Arts for Learning. It was founded to train teaching artists to create curriculum-aligned arts programs for classrooms. Since its start in 2007, the program has graduated more than 110 artists and has repositioned the role of artists in education in Maryland. Teaching artists were once perceived as performers—able to entertain, and perhaps share another culture with students—but they were a distraction from the school day, a break from the classroom. Through TAI, artists have demonstrated the value they bring to the classroom as educators.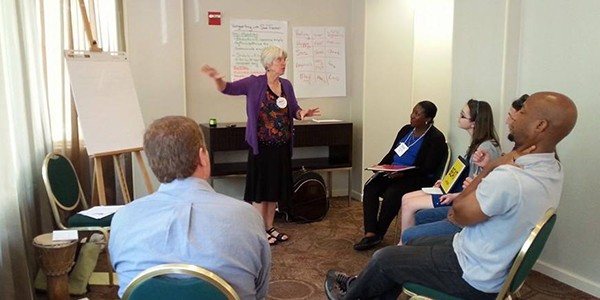 See more photos from the 2014-2015 TAI Seminar here!
TAI-trained artists are critical partners to teachers of any subject, using their art form to creatively address the ever-changing curriculum and standards to which teachers are held accountable. TAI fosters partnerships between teaching artists and teachers, requiring artists to collaboratively plan and teach with an assigned teacher. Through this collaboration, teachers experience the gifts a teaching artist brings to the classroom and learn how the arts can be used to engage children in learning. While TAI was not created for teachers, teachers report it improves their own practice of arts integration and reinvigorates their passion for teaching.
In his post, Mr. Crawford shares what teacher professional development needs to entail to be effective for teachers and to positively impact student achievement:
Teacher development studies…have shown over and over again that simply exposing a teacher to a new concept or skill has little to no classroom impact because most professional development opportunities for educators are still lecture style – telling, showing, and explaining how something can be done.

And when the "learning" is finished, we push teachers back into the choppy waters of their classrooms without so much as a life preserver; they're given very little or ineffective ongoing support from their district.

To be transformative, strategic professional development needs to be 50 hours or more plus less formal and ongoing interaction and peer engagement to refine skills and model successes. It must also be tailored by subject, grade level and type of student.
By developing an effective training program for artists, TAI has also grown to offer a professional development opportunity for teachers which fits Mr. Crawford's definition of "transformative." The 70-hour TAI Seminar begins with a three-day workshop, which includes sessions led by master teaching artists and opportunities for participants to develop and share their knowledge in small groups. Pairs of artists and teachers then work independently during the course of several months to co-create an arts residency program which integrates the artist's expertise with the curriculum and to test and refine their new program by piloting it with students in the teacher's classroom.
While TAI was not designed to address the teaching practice of educators, it continues to build a community of impassioned artists and teachers who want to work together to transform teaching and learning through the arts.
Learn more about the TAI program and see photos from the 2014-2015 TAI Seminar. Listen and read recent reporting by WYPR, Maryland's public radio station, on how TAI teacher and artist participants are creatively addressing Common Core through the arts: Meshing Common Core and Arts Standards and Arts and Common Core—a Natural Fit.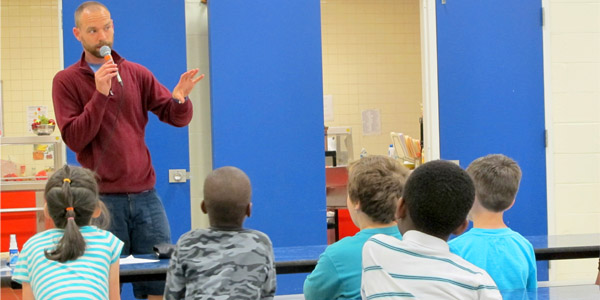 By Katie Keddell, Young Audiences/Arts for Learning Office and Volunteer Manager
This story was originally posted as a part of the Americans for the Arts Teaching Artist Blog Salon in March 2014. See all of the salon posts here.
On Saturday, February 1, I had the wonderful opportunity to watch Young Audiences/Arts for Learning teaching artist, Max Bent, work. We were not in a classroom and we were not in an official Young Audiences program at a school or community organization. Instead, we were joining our neighbors, Single Carrot Theatre, in welcoming the neighborhood to our new home at 2600 North Howard Street in Baltimore. Max was offering a musical demonstration to anyone who walked in to say hello and hear more about Young Audiences. After an hour of recording sounds visitors played on a small steel drum and various other eclectic instruments, Max created a symphony of sounds by layering impromptu measures of four beats on top of each other. As he taught, I was struck by one phrase he kept repeating: "We have to re-harness the things that happen by accident." I instantly connected this idea to my research as a graduate student.
As we talk about the young people in our state and across the country, one major trend is the desire to teach our students what one popular researcher calls, "Grit." As defined by TED Talk speaker Angela Lee Duckworth:
"Grit is sticking with your future—day in, day out, not just for the week, not just for the month, but for years—and working really hard to make that future a reality."
Passing a paper test with a singular focus cannot teach this tenacity, but overcoming a challenge does. In 10 minutes, I saw Max demonstrate how he teaches grit through the arts-integrated programs he brings to Maryland schools. Our guests saw the value of sticking with the exercise themselves and heard the physical evidence created by their instruments. Each individual walked away with a small but powerful example of success through staying with something despite no prior knowledge of the steel drum or the technology Max was using to record and layer sounds
Before Max joined Young Audiences, he did not see a connection between his art and the school curriculum. Max applied to participate in the Teaching Artist Institute (TAI), a training program for artists developed by Young Audiences in partnership with Arts Education in Maryland Schools Alliance (AEMS) and the Maryland State Arts Council (MSAC), to deepen his knowledge of how the arts can naturally connect to the curriculum and engage students in learning. After successfully completing the program, Max now has a collection of lessons that connect beatboxing and music to a multitude of subjects, such as probability, fractions, graphing, and phonics.
That's what excites me most about Young Audiences: the belief in arts integration. For me, it's not only about teaching the future generation aesthetic appreciation, it's also about finding the ways that divergent thinking and practical application speak to the future of what our children learn and believe they can achieve. It's about giving all students a chance to explore their talents, giving them a safe environment to take risks, to make mistakes, to achieve, and to persevere. It's about teaching grit.
The Teaching Artist Institute (TAI) is made possible in partnership with Young Audiences, Arts Education in Maryland Schools Alliance (AEMS), and the Maryland State Arts Council (MSAC). TAI partners and generous sponsors, like the Robert W. Deutsch Foundation, provide funding and support that make this training opportunity accessible to all qualified artists.
Taylor DeBoer, Communications Manager for the Deutsch Foundation, joined us for the first day of the 2013 TAI Seminar retreat last week and shared his experience on the foundation's blog. Check it out!
See more photos from the TAI Seminar retreat.
Arts Education in Maryland Schools (AEMS) Alliance is hosting the September Maryland Arts Integration Network (MAIN) event on Friday, September 27, from 9:30 a.m. to noon, at the 149-acre Center for Maryland Agriculture and Farm Park in Baltimore County. The focus of the morning will be on environmental education and the arts. AEMS, the Maryland Association for Environmental and Outdoor Education (MAEOE), and Young Audiences are partnering to offer this program. The program will include strategies for integrating fine arts and environmental content, a networking session, and an opportunity to tour the facility and the park.
The networking discussion will be crafted to address the interests of arts and arts integration educators and science/environmental educators.
Registration:
A $10 donation will be asked for all MAIN Events. These monies will go to the host venue for light breakfast fare and any remaining monies will be donated to the host site to support programs in arts education.
Event details:
MAIN Event
Friday, September 27, 2013
9:30 am to 12:00 pm
Center for Maryland Agriculture and Farm Park
1114 Shawan Road
Cockeysville, MD 21030
To request a registration form, please contact Alexa Milroy at: amilroy@aems-edu.org.