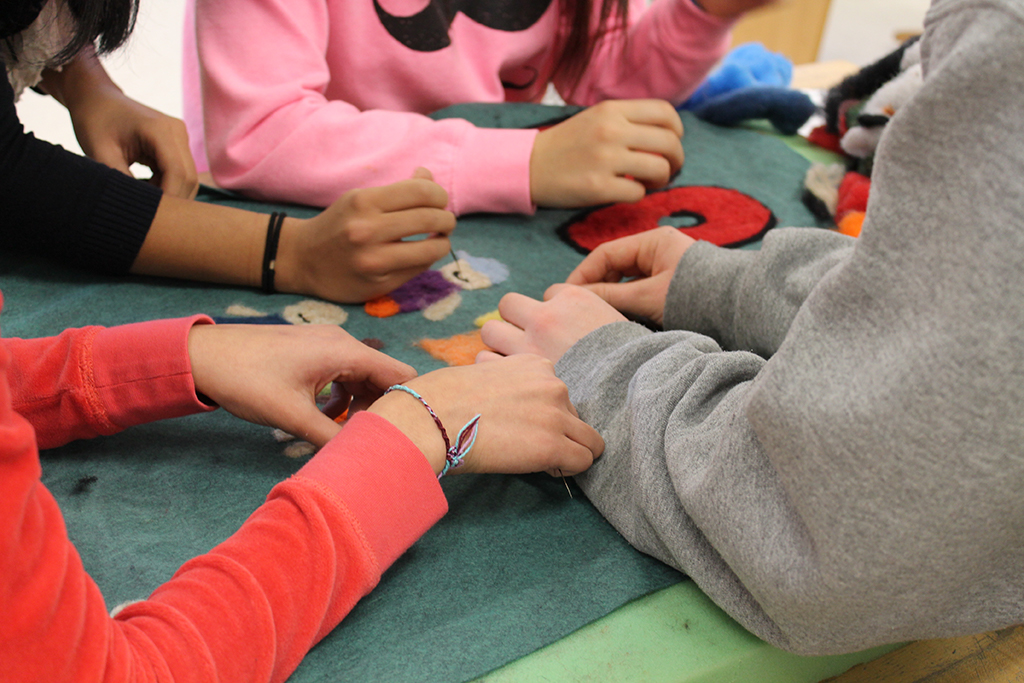 Young Audiences programs teach students about teamwork, tap into their creativity and imagination, and increase their understanding of other cultures through performances and artist-in-residence programs. We believe it is critical to share these opportunities with all students in Maryland.
In 2012-2013, Young Audiences reserved $102,847 of contributed funds to provide deeply-discounted programs for special needs and Title I schools in Baltimore City and rural Maryland counties through the Access for All Initiative.
To expand access in the city, public and private funds were matched with funds from the Baltimore City school district and the Maryland State Arts Council, which allowed us to serve more than 14,500 youth in 53 high-need schools, where on average 87.5 percent of the student body is eligible for free and reduced-price meals.
Blaustein Philanthropic Group, one of the contributors to this initiative, has significantly increased its support of Young Audiences to help lower the financial barrier to the arts.
Lara Hall, Blaustein Philanthropic Group program officer, said that supporting Young Audiences and Access for All allows the group to meet their goals of increasing their support of educational arts experiences in Baltimore City.
"The Blaustein family has a long history as patrons of the arts," Lara said. "As the younger generation has come into leadership roles at the foundation, they have posed the question: How do we use the arts as a spark to make sure kids have the best educational experience in Baltimore?"
Blaustein chose Young Audiences as the strongest nonprofit candidate to accomplish this work.
"Supporting Young Audiences' Access for All Initiative is the most efficient way for Blaustein Philanthropic Group to support more arts education in the city," Lara said.
Learn more about the Access for All Initiative.
Read about the work Young Audiences supporters have helped make possible in our 2013 Annual Report.
"Wow, this is the first time I have ever felt artistic!"
Young Audiences ceramic artist Amanda Pellerin overheard this proclamation from a student during an artist-in-residence program. The student made this statement to no one in particular, but Amanda asked him to explain.
"He said he never thought he could do art, so he had never opted to take an arts class before," Amanda said.
Instances like these, when the arts change how a student thinks of him or herself, are the reason why Amanda is committed to sharing her art and skills with students. "I work for those moments when kids exclaim to the world: I get it. I'm special. This is making me see myself in a different way," Amanda said.
Amanda partners with Young Audiences to bring arts experiences to Maryland students—regardless of the school's budget limitations. Young Audiences' Access for All Initiative was created to lower the financial barrier for Title I Baltimore City Public Schools interested in bringing a Young Audiences program to their students.
"I live in Baltimore and personally feel really good when I'm working on a residency that is funded by Access for All," Amanda said. "I'm directly affecting my community—I feel a special pride."
This pride has propelled Amanda to donate to Young Audiences and join the many community members who invest in our work.
"I believe in the mission," Amanda said. "As I've watched Young Audiences grow, my work has grown exponentially. I've realized that it's very satisfying for me to share my skills and my knowledge with someone—to see the light go on inside of someone's head as they turn an idea into a clay project."
Learn more about Amanda and her artist-in-residence and teacher professional development workshop offerings.
Read about the work Young Audiences supporters have helped make possible in our 2013 Annual Report.
By Micaela Gramelis, Young Audiences Grants and Annual Gala Manager and former teacher
Sitting in my class each day, Nadia did well. She worked hard; she smiled. She was kind, but deferred to her third-grade classmates for academic guidance during group activities. After the first half of the school year I would not have described her as a leader. Boy, was I wrong.
Nadia's gift spent months undercover in our classroom. It was not until the class held a talent show at our pre-spring break celebration that a brave, confident Nadia emerged. As Nadia's group began their rehearsed dance for the audience, her dance partners—both confident learners who often directed activity in the classroom—lost track of the dance sequence. All eyes turned to Nadia, whose poise and confidence in her movements indicated to her classmates that she was the one they should look to; she was the one they should follow.
During the two years I spent teaching in Baltimore City Public Schools, my students were aware of what was out there. They knew of museums, universities, and instruments, even if they did not utilize these things in their day-to-day lives. These artistic tools and institutions–so cool at first–quickly lost their appeal when my students thought that they were inaccessible. Consistently kept at a distance, they became the enemy and symbols of what one lacked.
Nadia was fortunate to discover her connection to dance outside of the classroom, despite not having access to dance classes at her school. Nadia's visual arts classes often consisted of coloring with crayons and pasting one color of construction paper on top of another when she was lucky—but a student's access to the arts should not be up to luck. Artistic opportunities in school are about much more than cultivating fine motor skills and identifying artistic talent; they are about closing the gap between what students know exists, and what they have been conditioned to believe is out of their reach from years of deprivation.
Nadia and her classmates did have the opportunity to play recorders in their music class, and the pride with which they carried their recorders down the hallway let me know that these instruments were prized possessions. When my students held their own recorders, with their names attached, the arts became tangible; they began to move forward, one step, toward what they deserved. When they performed in our talent show, and were cheered on by siblings, parents, and classmates, my students nudged forward toward what they deserved. When they wrote plays, and their written words were enthusiastically acted out by their peers, read aloud and valued by others, they began to experience how the arts can create a community and boost the self-esteem of each class member. Our students deserve this community. They deserve the opportunity to try new things. They deserve positive attention for their accomplishments, and for their voices to be valued. This is all possible through the arts.
To ensure that each Maryland student has the opportunity to experience the power of the arts, Young Audiences has increased its presence in Baltimore City schools from 89 schools to 119 schools during the last four years. In 2009, we served 22,033 students; in 2013, we served 38,317. Since its launch in the winter of 2009, our Access for All Initiative has subsidized programs for students in low-income Baltimore City schools to ensure that all students have equitable access to the best artists and educational arts experiences that our state has to offer.
Inequity in access to the arts is just one manner in which many of our students from low-income backgrounds are underserved. Increased access to the arts will not solve every challenge of poverty, but it can produce empowered leaders—equipped with resiliency, creative thinking, and problem-solving skills—who are prepared to tackle future challenges. It will produce youth who have learned to value their voice because they have had the opportunity to share it with others. It will produce students who know what they deserve, and have the tools they need to put up a fight for it.
e interested in applying for a Spring 2014 for Allgrant to bring a Young Audiences program to your school, the application is available online here. To learn more about Access for All and our work to increase equity in arts programming, click here.