Access for All Initiative
Access for All Initiative
This week, Washington Post reporter Valerie Strauss wrote about why the arts are, more often than not, the first budget cut at public schools serving predominately low-income students–even though much research has supported why the arts are critical to a child's development. These schools' tight budgets force them to prioritize the subjects covered in standardized tests that both measure students' achievement as well as teachers' ability. Ms. Strauss argues that the focus on testing has forced educators to ignore what they know about the positive and transformative impact of the arts in the classroom.
Less fortunate children have been on the receiving end of what I'd call an emergency-room approach to education —one that addresses only the parts of a child thought to be in most dire need of attention. Their curriculum may consist solely of reading, writing and mathematics – the subjects tested on high-stakes exams.
Ms. Strauss notes how, for privately funded and operated schools, the approach to the arts can be starkly different. These schools proudly highlight the arts and their importance to developing well-rounded students and individuals. With adequate funding, arts learning opportunities are not only available but celebrated.
Young Audiences has seen this disparity in access to the arts in Maryland and is striving to close the gap so that all students have the chance to learn in and through the arts. Since its launch in the winter of 2009, our Access for All Initiative has subsidized programs for students in low-income Baltimore City Public Schools to ensure that all students have equitable access to the best artists and educational arts experiences that our state has to offer. The initiative offers three rounds of grant funding each school year to schools that serve a majority of low-income students and do not have regular arts programming.
Young Audiences awarded a total of $29,600 in funding to 16 Baltimore City schools in the first round of Access for All grants awarded earlier this week to start the 2014-2015 school year. These funds will be used to bring Young Audiences artists and ensembles to students through arts-in-education programs this fall. Schools can choose from a steel drum assembly, creating a ceramic mural during an artist-in-residence program, an African drumming workshop, and many more.
Ms. Strauss summarizes why the arts are critical to the education process, writing:
Arts transport. It's often said they are an essential part of what makes us human – and an element of that is the ability to imagine another reality, apart from the one we are living, a skill essential to resilience and ambition. Children already living a in a narrowed world need more access to the arts, not less.
Young Audiences agrees. One day, every school–no matter its resources–will value the arts for their ability to inspire and engage students in learning. Until then, we will be working to increase access to the arts so that Maryland students have the opportunity to imagine, create, and realize their full potential through the arts.
Learn more about the Access for All Initiative and the next grant application deadline.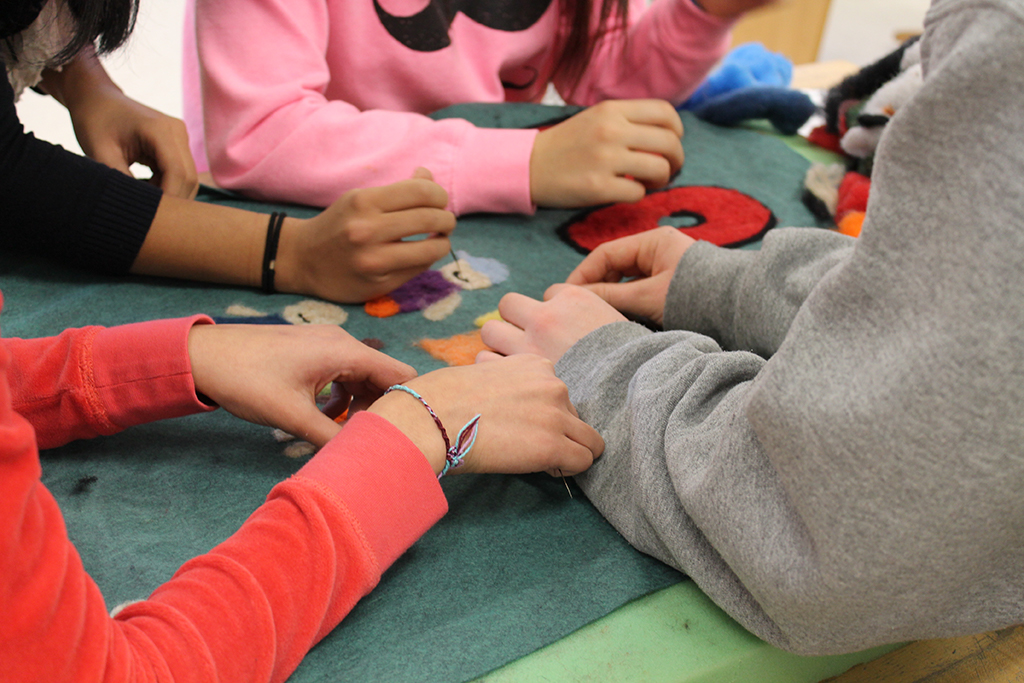 Access for All Initiative
Young Audiences programs teach students about teamwork, tap into their creativity and imagination, and increase their understanding of other cultures through performances and artist-in-residence programs. We believe it is critical to share these opportunities with all students in Maryland.
In 2012-2013, Young Audiences reserved $102,847 of contributed funds to provide deeply-discounted programs for special needs and Title I schools in Baltimore City and rural Maryland counties through the Access for All Initiative.
To expand access in the city, public and private funds were matched with funds from the Baltimore City school district and the Maryland State Arts Council, which allowed us to serve more than 14,500 youth in 53 high-need schools, where on average 87.5 percent of the student body is eligible for free and reduced-price meals.
Blaustein Philanthropic Group, one of the contributors to this initiative, has significantly increased its support of Young Audiences to help lower the financial barrier to the arts.
Lara Hall, Blaustein Philanthropic Group program officer, said that supporting Young Audiences and Access for All allows the group to meet their goals of increasing their support of educational arts experiences in Baltimore City.
"The Blaustein family has a long history as patrons of the arts," Lara said. "As the younger generation has come into leadership roles at the foundation, they have posed the question: How do we use the arts as a spark to make sure kids have the best educational experience in Baltimore?"
Blaustein chose Young Audiences as the strongest nonprofit candidate to accomplish this work.
"Supporting Young Audiences' Access for All Initiative is the most efficient way for Blaustein Philanthropic Group to support more arts education in the city," Lara said.
Learn more about the Access for All Initiative.
Read about the work Young Audiences supporters have helped make possible in our 2013 Annual Report.
Access for All Initiative
"Wow, this is the first time I have ever felt artistic!"
Young Audiences ceramic artist Amanda Pellerin overheard this proclamation from a student during an artist-in-residence program. The student made this statement to no one in particular, but Amanda asked him to explain.
"He said he never thought he could do art, so he had never opted to take an arts class before," Amanda said.
Instances like these, when the arts change how a student thinks of him or herself, are the reason why Amanda is committed to sharing her art and skills with students. "I work for those moments when kids exclaim to the world: I get it. I'm special. This is making me see myself in a different way," Amanda said.
Amanda partners with Young Audiences to bring arts experiences to Maryland students—regardless of the school's budget limitations. Young Audiences' Access for All Initiative was created to lower the financial barrier for Title I Baltimore City Public Schools interested in bringing a Young Audiences program to their students.
"I live in Baltimore and personally feel really good when I'm working on a residency that is funded by Access for All," Amanda said. "I'm directly affecting my community—I feel a special pride."
This pride has propelled Amanda to donate to Young Audiences and join the many community members who invest in our work.
"I believe in the mission," Amanda said. "As I've watched Young Audiences grow, my work has grown exponentially. I've realized that it's very satisfying for me to share my skills and my knowledge with someone—to see the light go on inside of someone's head as they turn an idea into a clay project."
Learn more about Amanda and her artist-in-residence and teacher professional development workshop offerings.
Read about the work Young Audiences supporters have helped make possible in our 2013 Annual Report.