22nd Century Pioneers Summer Camp
By Cyan McMillian, seventh-grade student, Windsor Hills Elementary/Middle
My name is Cyan McMillian and I am a seventh grader at Windsor Hills. I'd rather throw a football than paint my nails (seriously). I felt like a free spirit until my tenth birthday–which was the worst day ever. I was excited but made the mistake of not bringing enough cupcakes for the whole class. One girl–the drama queen–decided to take out her frustrations on me. She waited until we got in the cafeteria and took a mixture of yogurt, milk, juice, and water and poured it over my head in front of everyone. On my birthday! Everyone who saw it laughed. Even the adults. I was so hurt and embarrassed that I ran out of the cafeteria in tears.
I never wanted any friends after that. The more I tried to be myself the more I would get picked on. Bullies targeted me for all the ways that I was different–my weight, my clothes, and my love for school.
My parents signed me up for the Baltimore City summer learning academy, the summer before middle school started. I like math and science, but I was most interested in the art classes provided by Young Audiences. See, I don't get to enjoy the liberties of art during the school year. Having art every day during the summer was a treat because I got to make new friends, I learned how to use the color wheel, how to make 2D pictures become 3D pictures.
Watch Cyan share her story at Young Audiences' Impact Breakfast event earlier this month!
My art class was taught by Young Audiences teaching artist, Danyett Tucker. She played a song by Lauryn Hill called "Everything is Everything," and asked us to illustrate what the lyrics meant to us. I love that song. It was like math because my hands and brain were working at the same time to solve a problem. I was able to express myself without being judged in a way that was fun and challenging. I learned from Ms. D that there is no "right" or "wrong" when it comes to art.
Ms. D believed in me and gave me the confidence to believe in myself. She let me come to her when I needed someone to talk to and gave me helpful advice when I was stuck. I was free to be who I am again, which made me feel like my old happy-go-lucky free-spirited self.
Ms. D inspired me to keep drawing after the program was over. My dad loves to draw and after that summer we started drawing together. When I found out the summer program was going to happen again this summer, I found out where Ms. D was teaching and signed up. This summer was even better because not only did I get art with Ms. D, other artists also helped teach the science and math classes. I learned how ratios relate to music and how dance movements connect with science.
In Ms. D's class, we created a mural that's displayed here today illustrating Maya Angelou's poem, "A Brave and Startling Truth." The poem was confusing at first but the more we read it as a class it became easier to understand and inspired me to speak out about the positive and negative things that happen around me. I was able to use my voice through illustration again. I attended this program every single day and now I have two murals in my portfolio.
Now when I feel like I have something to express but don't know how to say it, I draw it out. Thanks to Young Audiences, I have learned a lot about myself. I'm more observant and I know what a real friend is. I know who I am. So what if I'm not a girly girl, I'm fast and I can handle my business. When they call my clothes trashy, I don't let it bother me because their shiny white sneakers always end up dirty in a few days. And when they talk about my weight, like the song "All About That Bass" says: "Every inch of me is perfect from the bottom to the top!"
Last year I had the highest grade point average in middle school and it is still sky-high. I have a scholarship to any college that I want. I plan to get a PhD and work for NASA. Thanks to the support of my family, a few good friends, and the Young Audiences artists who understand me like a parent would, I am going for my dreams. And while the summer program is over, what I learned from Ms. D, that "Everything is Everything," will stay with me forever. What that means to me is that if you want to be something and you work hard, you will most likely become that. So keep an eye out for me.
See photos from the Young Audiences arts-integrated summer learning site!
The summer can be a time for fun in the sun with family and friends, but for many students across the country, it is a time of uncertainty. Without school, many at-risk students are left without adequate supervision, access to regular, healthy meals, and opportunities to participate in engaging and constructive activities. On average, all children can lose approximately two months of learning from the previous school year during the summer months without engaging education activities, and for low-income students, the loss is even greater. More than half of the achievement gap between low-income students and their more affluent peers can be attributed to the unequal access to summer learning opportunities.
For five weeks this summer, Young Audiences again partnered with Baltimore City Public Schools to combat summer learning loss through a free math- and science-focused summer camp opportunity for Baltimore City middle school students. Young Audiences artists provided arts enrichment activities at seven Baltimore City 22nd Century Pioneers Summer Camp sites. In addition, for the first time, Young Audiences managed an eighth completely arts-integrated camp site at Edmondson Westside High School.
At the Young Audiences camp, morning math and science classes were co-taught by Baltimore City teachers and Young Audiences artists, who explored STEM subjects through the arts. Students had a choice in the art form they focused on during afternoon enrichment classes, including dance, photography, illustration and mural painting, improvisational theatre, Hip Hop, steel drum, or VEX robotics. The camp also included field trips, giving students the chance to apply their knowledge outside of the classroom.
The program was a learning opportunity for participating teachers as well, some of whom were new to arts integration as a teaching practice. Co-teaching with Young Audiences artists gave teachers the opportunity to try out a different way to approach each lesson, growing their knowledge of the arts and the natural connections that exist between core subjects and the arts.
In a recent survey of 500 U.S. teachers, 66 percent said it takes at least three to four weeks to re-teach content from the previous school year to get their students up to speed at the start of each new school year. At Edmondson Westside, the arts made learning fun and students both stayed intellectually engaged so they would not fall behind in their classes this coming school year, and also discovered a new way of learning through the arts. Students had the opportunity to develop their knowledge in math and science in a hands-on way, learning how the length of sound waves relates to the pitch of each note on a steel drum, or how a photographer or illustrator uses mathematical ratios to compose a piece. Students learned about themselves as they tried new things; took risks during classroom activities; and showcased what they had learned for others.
Read more about the Young Audiences arts-integrated summer learning site and see photos from this summer here.

By Grace Galarpe, Baltimore City Public School teacher
When I got involved in the Young Audiences and Baltimore City Public Schools 22nd Century Pioneers Arts-Based Summer Camp, I wasn't sure if I was in the right place at first. Even though I've seen arts integration in the news, this summer was my first time really working with it. It was my first time working with Young Audiences, too, so when they told me that this program was all about arts integration, I was curious to learn more.
As a high school teacher, I've had the opportunity to collaborate with other core subject teachers before, but a collaboration with an artist? This was my first time and the idea interested me. In the past, I've used the arts in my classroom in the sense that we would sometimes draw or dance or sing. If I did incorporate the arts, it was separate. These activities would be after instruction or after school. The program this summer, where arts integration happened within the instruction, used a completely different method.
I was paired with Valerie Branch, a dancer. Before Valerie and I started teaching, we did lesson planning. Looking back, we consider this the biggest factor in our success because the planning helped us gain a greater understanding of how we would integrate the arts into our lessons.
I was very fortunate because both of us took the program very seriously. We would do thorough planning and would really talk about what was going to happen the next day and the next. Everything that Valerie and I accomplished this summer was possible because we had time to plan together. I wasn't just going into a classroom where I would do everything by myself; it was a partnership.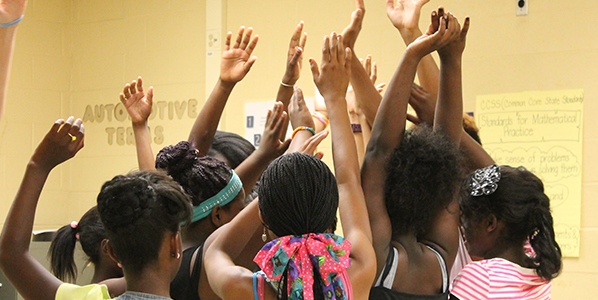 See more photos from the Young Audiences arts-integrated summer learning site!
Our lessons weren't always perfect, but since the teacher and the artist planned together, we could always reflect and revise–not just one of us, but both of us. We helped and respected each other, and as the summer went by, we became very comfortable with one another. When Valerie and I would sit down together, she made me feel confident about where the arts would come in and how we would make it possible. She made me feel more comfortable with her art form, too, and because of this, I could easily explain the elements of dance to students.
This summer, I realized that a dance activity can be incorporated with a science activity using the same concepts and vocabulary. That was amazing to me. At first, I wondered, "How will my students benefit from this collaboration and integration of the arts?" I now feel that arts integration gives students the chance to learn at a different level because we are able to touch multiple intelligences. I believe that our students achieved a deeper understanding of the science concepts and vocabulary that we taught them due to the integration of the arts into our teaching. They were able to apply what they had learned, not only through science but through dance, too.
Sometimes during the science instruction, students would ask: "Why do we need to learn this?" I would respond that they needed to know the terms and concepts so that we could apply them to our next dance choreography, and then they would get excited. When Valerie would talk about the elements of dance at the same time as the science, the students would be able to perform a dance choreography based on something related to science, such as pollution. That was a really wonderful outcome.
I can now see that if arts integration is a regular part of a classroom, it helps increase academic achievement and positive intervention regarding behavioral problems. I could tell that the arts were a huge help in attendance in our classroom, too, and I was so happy that the students looked forward to our class every day.
The arts also helped create responsibility. For example, Valerie and I decided that we needed to do something that would make the students understand that they had an obligation in the classroom. As a part of our teaching, we did an activity we called "Human Mirror," which incorporates dance movements that develop a sense of responsibility. It requires listening, following directions correctly, being observant, and an understanding of what it means to be a leader and a follower. This was a great success for our class. I could sense that the students also gained respect for both of us. They called both me and Valerie artists, which surprised me. I was like, "Oh wow, I'm an artist!"
[youtube http://youtu.be/7laf55H68VE]
If ever given the chance, I would tell teachers who haven't used arts integration not to be afraid of co-teaching with an artist. If there were an opportunity for me to be involved in another arts integration program, I would gladly do it. I've realized that in programs like this, the artist and teacher can become more than just teachers. I believe that they can do more than just share concepts or explain the academic side of things: they can inspire students' lives.
Read more about the Young Audiences 22nd Century Pioneers Arts-Based Summer Camp site and see photos here.
By Chanel Traboldt, Third Grade Teacher at Harford Heights Elementary and Young Audiences Public Programs Summer Intern
Two middle school girls sit in the back of the classroom. One of them is sneaking a look at her cell phone under her desk; the other is braiding her hair. They are in a morning class during the first week of the Young Audiences and Baltimore City Public Schools 22nd Century Pioneers Arts-Based Summer Camp, and neither girl is looking at the front of the room or listening as the teacher, Ms. Moss, begins a math lesson on integers.
For a school teacher, like me, this can be the scene of many early mornings. The question you ask yourself each time is: "How do I better engage my students in their learning?" This often can seem like an impossible task. We know that if you make learning fun, students will want to learn. As an educator, there is an urgency to fight the achievement gap and prepare your students with the skills needed to be college and career ready. But now the tricky part: how do we make learning fun?
Young Audiences again partnered with Baltimore City Public Schools to solve this dilemma in July. In addition to providing arts enrichment activities at seven summer learning sites in Baltimore City, Young Audiences and City Schools created the first-ever completely arts-integrated summer learning site at Edmondson Westside High School. All eight sites were a part of the 22nd Century Pioneers Summer Camp, which is a free program for Baltimore City Public School middle school students.
Back in the classroom at the Young Audiences arts-integrated camp site something surprising happens. Ms. Moss continues her math lesson by projecting photographs students took the previous day while working with Young Audiences photographer Christina Delgado. The two girls stop what they were doing and look up. Ms. Moss asks the group what elements of photography are being used in each image and how these elements relate to what they are learning about integers. The girls raise their hands to join the conversation.
See more photos from the Young Audiences arts-integrated summer learning site!
During my time at Young Audiences' site, I saw that teachers and artists had found a solution to many teachers' student engagement woes. Integrating the arts into daily lesson plans allowed students to create, explore, express, have fun, and most importantly, to learn.
At the Young Audiences camp, nearly 150 students explored math and science concepts through the arts in classes and arts enrichment activities led by Baltimore City teachers and Young Audiences artists during the five-week program. Students chose the art form they would focus on during afternoon enrichment sessions, with choices including dance, photography, illustration and mural painting, theatre, Hip Hop, steel drums, and VEX robotics.
In another class, I saw a group of chatty sixth-graders sitting in the corner go completely silent to listen to steel drum musician Kevin Martin play musical phrases the class had created using what they had learned about ratios.
An unenthused student turned frustration into joy while drawing blueprints for a cage to carry a wild boar across a lake of alligators in visual artist Danyett Tucker's eighth-grade math class.
Students, who were at first more focused on their weekend, turned that energy into an intricate dance routine about pollution in dancer Valerie Branch's class.
As a teacher witnessing these moments of transformation, I am amazed at how easy it is to engage students in learning. The key is to understand that learning and the arts are not separate entities. By combining the two elements and creating arts-integrated educational lessons, students are truly able to learn while having fun.
Read more about the Young Audiences 22nd Century Pioneers Arts-Based Summer Camp site and see photos here.
During the past few weeks, nearly 150 middle school students have dived into math and science concepts through the arts at the Young Audiences and Baltimore City Public Schools 22nd Century Pioneers Arts-Based Summer Camp. Students have learned how ratios are used in photography and how the physics of sound affect each note played on a steel drum. Through these art forms, and many more, students have been engaged in learning this summer so that they are prepared to hit the ground running this school year.
While most of the learning goes on inside the school, students have also had the opportunity to take their knowledge beyond the classroom walls on field trips. These excursions allow students to continue their hands-on learning in a new atmosphere, applying the skills and knowledge they've acquired throughout the summer.
The first trip was a visit to the Baltimore Museum of Industry, where students learned the ins and outs of technology and put their own engineering skills to the test. In one activity, students worked together in small groups to create a track that would carry a wooden ball and drop it into a can. This required them to go through the five steps of solving an engineering problem: plan, get materials, build, test, fix, and re-rest. Students were forced to adjust and readjust their designs before finally reaching their goal, usually resulting in loud cheers.
Students received another challenge: creating an artistic interpretation of the word industry. Groups joined together, combining their knowledge and creativity to come up with dances, skits, and songs that showed what they had learned that day.
See more photos from summer learning!
The following week, students traveled to Baltimore's Artscape, America's largest free arts festival organized by the Baltimore Office of Promotion and the Arts. Surrounded by artists of all disciplines, the students put on a show of their own at the Station North Stage, showcasing what they've been working on during their arts enrichment classes. The show opened with a lively Hip Hop dance performance from Jamaal Collier and Alicia Shaw's Hip Hop class. After the performance, one student explained the four pillars of Hip Hop, the most important one being knowledge. Next, Valerie Branch and Heather Tuttle's dance class got the crowd cheering with a dance set to Ariana Grande and Iggy Azelea's "Problem." Kevin Martin and Kevin Older's students also got to show off their steel drum skills.
Even those who didn't perform on stage took part in their own form of art-making. Throughout the day, Christina Delgado's photography students captured Artscape from behind the lens, while Danyett Tucker's illustration students filled up their sketchbooks with drawings of everything from festival attendees to graffiti on buildings.
Bridget Cavaiola's improv class performed an exercise called "Improv Everywhere." All over the festival, they held compliment battles, gave flowers to strangers, and posed as wax statues, making them the target of many curious stares and even a few pictures. See this group in action in the video below!
[youtube http://youtu.be/hg-sdwpGYQg]
Read more about the arts-integrated learning happening at the Young Audiences 22nd Century Pioneers Arts-Based Summer Camp site and see photos here.
Categorized:

News

Tagged:

22nd Century Pioneers Summer Camp, arts integration, Artscape, Baltimore City, Baltimore City Public Schools, Baltimore Improv Group, Baltimore Museum of Industry, Bridget Cavaiola, Christina Delgado, creative learning, Danyett Tucker, field trip, Jamaal Collier, Kevin Martin, Math, middle school students, science, summer learning, summer learning loss, Valerie Branch

By Stacie Sanders Evans, Young Audiences/Arts for Learning Executive Director
Last week I visited the classroom of teaching artist and improv master Bridget Cavaiola and science teacher Heather Tuttle, who are teacher partners in our 22nd Century Pioneers Arts-Based Summer Camp in West Baltimore. Like in all of our classes, these two teachers were "starting with the art" by warming up brains and bodies with the drama game "Big Booty." This particular game required kids to call on each other using a number instead of their name, and the goal of the game was to keep the it going as long as possible and as quickly as possible, without someone "messing up" by forgetting who had what number. (I realize this description doesn't explain why this game is called Big Booty but just stick with me here…)
The first time a student messed up in Big Booty, everyone clapped. I wasn't sure what was going on but smiles ensued and the game started over. Quickly another kid forgot which number they were and when their number was called, the game stalled. Once again everyone clapped and Bridget looked over at me to clue me in and said, "We celebrate our failures in here." The game continued, and as the kids' brains warmed up and the fear of making a mistake in front of their peers dissipated, the need to clap wasn't as frequent. When they did clap, they laughed, they shrugged it off, and they quickly moved on.
When it came time to move on to the science lesson, the teachers wanted to recap the lesson from the day before about the engineer design process. Bridget realized she had mistakenly erased the board which had listed all the key terms shared yesterday and Heather realized she forgot her notebook for reference. Oops! I don't think the situation could have been better orchestrated, in that moment Bridget and Heather, modeled "the way" by shrugging off their mistake and asked the class, "What can we do?"
See more photos from the Young Audiences arts-integrated summer learning site!
The kids immediately started calling out the key terms they learned the day before. "Imagine!" "Investigate!" "Test!" In a quick minute all the key terms were there. I noticed each term was delivered with a gesture. The day before, the students came up with a move that conveyed the essence of each word. This lesson recap evolved into sixth-grade boys and girls (remember those awkward years?) moving their arms, hands, and heads in space as they defined the engineer design process.
Bridget and Heather and their sixth-graders are onto something. The simple act of celebrating failure creates a safe space for trying something, even if you are unsure if you are right or if you might look silly. Just imagine what is possible when you remove that fear–real opportunities for exploration, experimentation, reflection, and growth emerge.
Read more about the arts-integrated learning happening at the Young Audiences 22nd Century Pioneers Arts-Based Summer Camp site and see more photos here.
By Azya Maxton, 22nd Century Pioneers Arts-Based Summer Camp Arts Integration Facilitator
Summer Learning is off to a great start. Our sixth-graders are studying coordinate grids and the engineering process. Seventh- and eighth-graders are learning about run off in science and ratio in math. It's so exciting to see them learning their math and science through arts integration and hands-on projects. Students have been designing roofs, buildings, and even cities! Last week, we got to explore the engineering process, and learn about science and industry during a field trip to the Baltimore Museum of Industry. Students were also given an opportunity to test water from the Chesapeake Bay for phosphates, dissolved oxygen, pH, and Chlorine. Today, students participating in arts enrichment classes will have the opportunity to present their work at Baltimore's Artscape while students in robotics go on to a citywide competition!
We'll continue to keep you posted on the wonderful learning of our middle school students throughout the next few weeks!
Read more about the arts-integrated learning happening at the Young Audiences 22nd Century Pioneers Arts-Based Summer Camp site and see photos here.
The school year may have ended, but for Young Audiences, that doesn't mean the fun, arts-integrated learning stops. Young Audiences has again partnered with Baltimore City Public Schools to bring arts enrichment activities to seven Baltimore City 22nd Century Pioneers Arts-Based Summer Camp sites. In addition, for the first time Young Audiences is also managing an eighth completely arts-integrated camp site at Edmondson Westside High School. The 22nd Century Pioneers Summer Camp is free to Baltimore City Public Schools middle school students.
At the Young Audiences camp, nearly 150 students will explore math and science concepts through the arts in classes and arts enrichment activities led by Baltimore City teachers and Young Audiences artists during the five-week program. Students can select the art form they will focus on during enrichment sessions, with choices including dance, photography, illustration and mural painting, theatre, Hip Hop, steel drum, or VEX robotics.
Because this is the first-ever Young Audiences arts-based summer learning site, we thought it deserved an equally spectacular kick-off event. As students arrived, what better way to greet them than with the arts?
On Monday, June 30, as students walked up to the school for the opening day of camp, the first thing that hit their ears was the sound of a steel drum being played by Young Audiences roster artist Kevin Martin of Rockcreek Steel Drums. Kevin has been building and playing steel drums for more than 20 years; this summer, he will show students how the instrument connects to math.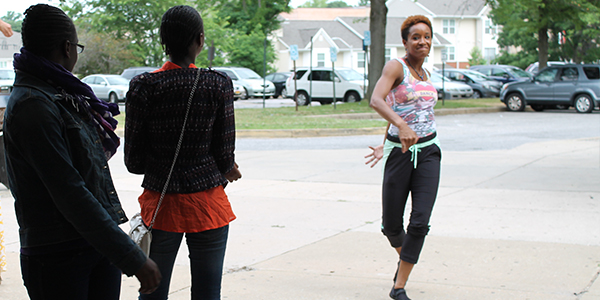 See more photos from the Young Audiences arts-integrated summer learning site!
On the way into the building, students passed the dancing Valerie Branch, a new Young Audiences artist whose energetic moves caused many to stop and watch. Valerie will get students moving while studying science this summer. Those walking in also got to witness the Hip Hop talents of musician Jamaal "Mr. Root" Collier, who will use his skills to bring math to life. Bridget Cavaiola of Baltimore Improv Group used improvisational theatre techniques to direct students inside the building. With her help, students will learn how theatre can make abstract science concepts concrete.
The excitement wasn't just at the front of the school. Once inside, students had the opportunity to take part in photographer Christina Delgado's photo booth, dressing themselves in hats and glasses before striking poses. Students will have the chance to go behind the lens with Christina to learn the art of photography and its connections to math. Visual artist Danyett Tucker will link illustration to science. As students looked on, she created a colorful mural with images of various art forms incorporated into the design, from music notes to microphones to Polaroid pictures. Students were invited to create murals of their own, as each table was decked with markers and a giant sheet of paper.
All children, regardless of their resources or where they live, lose some math skills during the summer. Studies show that economically-disadvantaged students also lose literacy skills during this "summer learning slide." Experts believe that the achievement gap between middle- and low-income students not only grows during the summer—it exists largely because of the summer.
Programs like 22nd Century Pioneers provide students with a safe place to go during the day, access to free healthy meals, adequate adult supervision, and positive, educational activities. This summer Young Audiences artists will connect students with new experiences through the arts as they learn about math and science in a new way and build their self-confidence as they gain knowledge and skills.
Check back in with the Young Audiences blog throughout July as we look at how these artist and teacher pairs are using arts integration in their classrooms.
Happy summer and happy learning!
Categorized:

News

Tagged:

22nd Century Pioneers Summer Camp, achievement gap, arts integration, Baltimore City Public Schools, Baltimore Improv Group, Christina Delgado, dance, Danyett Tucker, Edmondson Westside High School, Hip Hop, illustration and mural painting, Jamaal Collier, Kevin Martin, photography, Rockcreek Steel Drums, steel drum, summer learning, summer learning loss, summer learning slide, theatre, Valerie Branch