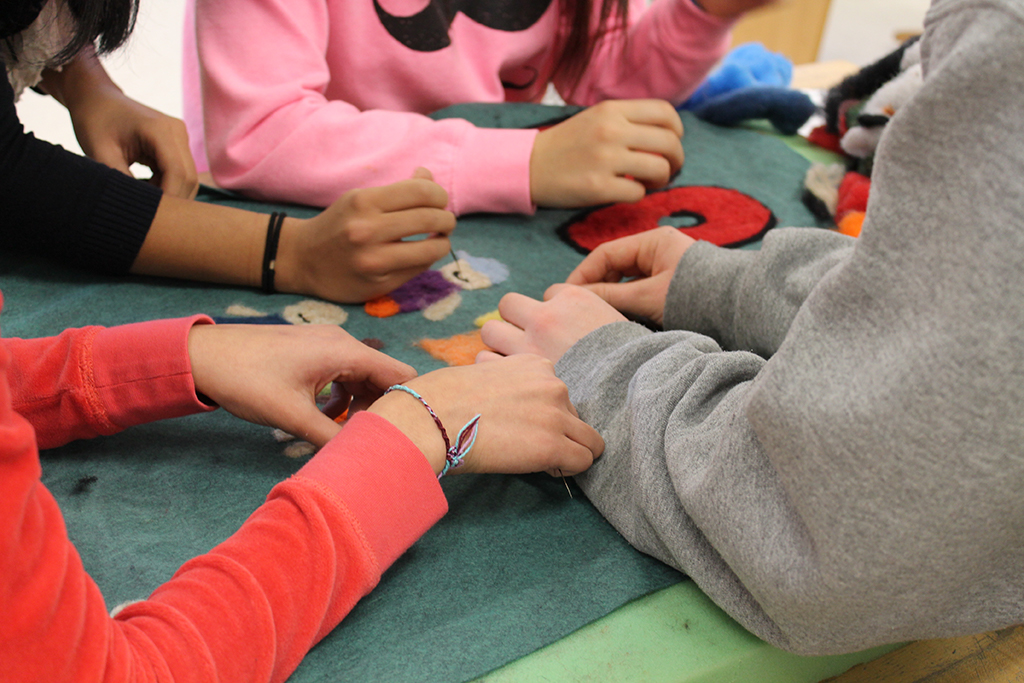 Young Audiences programs teach students about teamwork, tap into their creativity and imagination, and increase their understanding of other cultures through performances and artist-in-residence programs. We believe it is critical to share these opportunities with all students in Maryland.
In 2012-2013, Young Audiences reserved $102,847 of contributed funds to provide deeply-discounted programs for special needs and Title I schools in Baltimore City and rural Maryland counties through the Access for All Initiative.
To expand access in the city, public and private funds were matched with funds from the Baltimore City school district and the Maryland State Arts Council, which allowed us to serve more than 14,500 youth in 53 high-need schools, where on average 87.5 percent of the student body is eligible for free and reduced-price meals.
Blaustein Philanthropic Group, one of the contributors to this initiative, has significantly increased its support of Young Audiences to help lower the financial barrier to the arts.
Lara Hall, Blaustein Philanthropic Group program officer, said that supporting Young Audiences and Access for All allows the group to meet their goals of increasing their support of educational arts experiences in Baltimore City.
"The Blaustein family has a long history as patrons of the arts," Lara said. "As the younger generation has come into leadership roles at the foundation, they have posed the question: How do we use the arts as a spark to make sure kids have the best educational experience in Baltimore?"
Blaustein chose Young Audiences as the strongest nonprofit candidate to accomplish this work.
"Supporting Young Audiences' Access for All Initiative is the most efficient way for Blaustein Philanthropic Group to support more arts education in the city," Lara said.
Learn more about the Access for All Initiative.
Read about the work Young Audiences supporters have helped make possible in our 2013 Annual Report.
As a former preschool and kindergarten teacher, Jen Sachs often used music and theatre to engage her students. Although Jen lacked formal training in the arts or arts integration, she sang and used costumes and characters to encourage her students to participate in lessons. These small changes made a big impact.
"The benefits for my students were amazing," Jen said. "They learned and obtained concepts quicker. They were able to express themselves better. They loved coming to school and appreciated new experiences."
Seeing the impact of the arts on students is one of the reasons Jen was drawn to Young Audiences and became a Sunburst Society member in 2010.
Jen is particularly excited that Young Audiences has expanded into early learning classrooms as the Maryland sponsor of the Wolf Trap Institute's Early Learning Through the Arts.
"The arts programs that include music, visual arts, and theatre are extremely important for developing minds," Jen said. "Children are learning as they are doing. Whether they are building vocabulary through music and theatre or demonstrating the acquisition of knowledge through dance and movement—they are gaining vital skills for life and learning."
Using Wolf Trap's respected residency model, Young Audiences is bringing programs to Baltimore City preschool and kindergarten classrooms by off-setting the cost with community support.
"Low-income students often have limited opportunities to experience the arts in school," Jen said. "Young Audiences' programs fill this void and do more than teach students how to sing, act, dance, or play an instrument—they teach them to believe in themselves."
Read about the work Young Audiences supporters have helped make possible in our 2013 Annual Report.
"Wow, this is the first time I have ever felt artistic!"
Young Audiences ceramic artist Amanda Pellerin overheard this proclamation from a student during an artist-in-residence program. The student made this statement to no one in particular, but Amanda asked him to explain.
"He said he never thought he could do art, so he had never opted to take an arts class before," Amanda said.
Instances like these, when the arts change how a student thinks of him or herself, are the reason why Amanda is committed to sharing her art and skills with students. "I work for those moments when kids exclaim to the world: I get it. I'm special. This is making me see myself in a different way," Amanda said.
Amanda partners with Young Audiences to bring arts experiences to Maryland students—regardless of the school's budget limitations. Young Audiences' Access for All Initiative was created to lower the financial barrier for Title I Baltimore City Public Schools interested in bringing a Young Audiences program to their students.
"I live in Baltimore and personally feel really good when I'm working on a residency that is funded by Access for All," Amanda said. "I'm directly affecting my community—I feel a special pride."
This pride has propelled Amanda to donate to Young Audiences and join the many community members who invest in our work.
"I believe in the mission," Amanda said. "As I've watched Young Audiences grow, my work has grown exponentially. I've realized that it's very satisfying for me to share my skills and my knowledge with someone—to see the light go on inside of someone's head as they turn an idea into a clay project."
Learn more about Amanda and her artist-in-residence and teacher professional development workshop offerings.
Read about the work Young Audiences supporters have helped make possible in our 2013 Annual Report.