Available as a Virtual Program
Nurturing curiosity and joy from the start!
Baby Artsplay!™ provides engaging activities designed for parents, caregivers, and early childhood educators to use the arts at home, daycare, and school to set our youngest learners on a path toward kindergarten readiness.
Join a Wolf Trap Teaching Artist as they share music, drama, and movement to encourage self-expression and imaginative play!
Program Goals
Stimulate vocalization and language
Advance focus and self-regulation
Strengthen social and emotional skills
Tap into children's innate sense of curiosity and desire to connect to the world around them
Embedded Professional Development


FOR EARLY CHILDHOOD EDUCATORS

Baby Artsplay!™ residency programs include embedded professional development for early childhood educators using research-based performing arts experiences that support the cognitive, physical, and social development of infants and toddlers. During the residency, teaching artists work directly with educators and their students, coaching educators as they lead arts-based activities. This collaborative, hands-on approach ensures that educators receive effective training for using the arts in daily activities to improve learning.
Community Workshops


FOR PARENTS AND CAREGIVERS

Baby Artsplay!™ workshops demonstrate the important connection between the performing arts and infant and toddler development. Artists partner with parents and caregivers to develop strategies for incorporating singing, dancing, drama, and other multi-sensory activities into their child's daily routine to increase engagement and improve learning.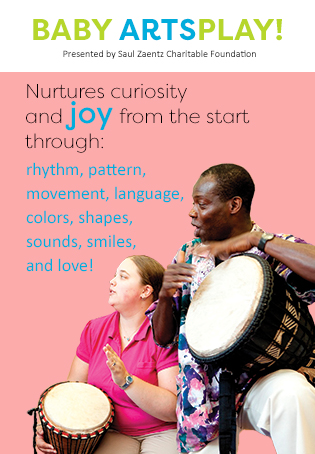 Current Baby Artsplay Partners
Interested in partnering with Young Audiences to bring the Baby Artsplay program into your school? Contact our Early Learning Specialist, J Little, at [email protected] to learn more!
Infants and Toddlers


PROFESSIONAL DEVELOPMENT

Wolf Trap Institute Workshops are led by Master Teaching Artists who specialize in music, movement, drama, or puppetry and engage participants in the natural connections between the performing arts and children's learning. These intensive, interactive sessions increase teachers' confidence in working with young children as they learn how to foster creativity, critical thinking, and emergent literacy skills in the classroom. Each session includes a handout, is 3 hours in length, and can accommodate up to 60 participants.
Subscribe to our Newsletter