Bloomberg Arts Internship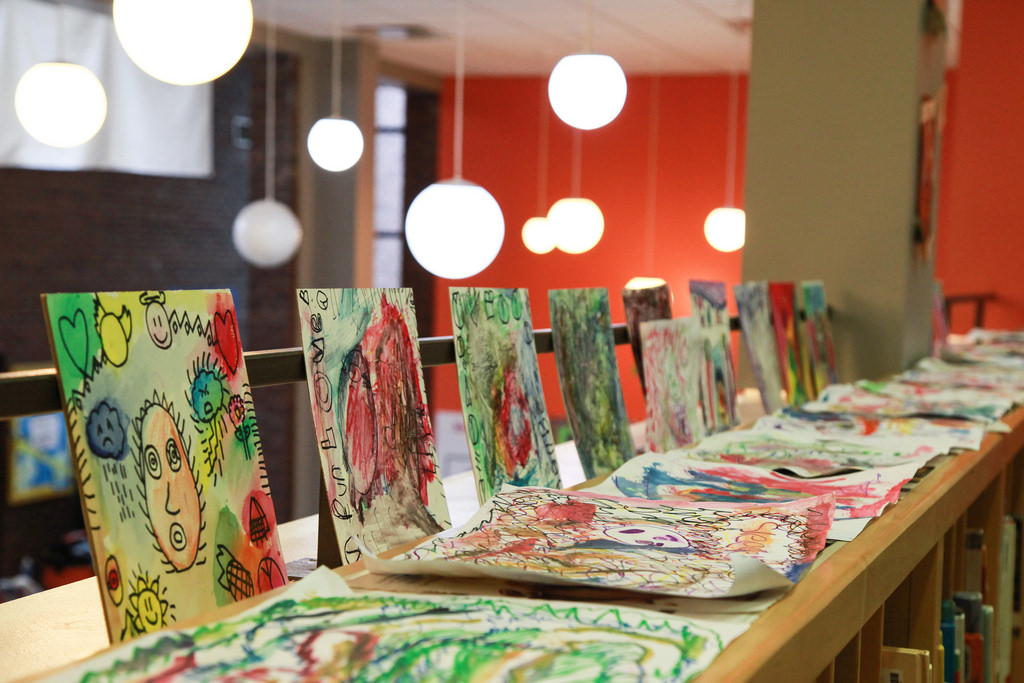 Written by Barbara Krebs,
Young Audiences volunteer and Sunburst Society member
Field trip! Remember the excitement you felt as a kid when you got to explore the world outside your classroom for the day, file on the bus, and leave school far behind? Well, it was a bit like that on Wednesday, July 25, when a diverse group of Maryland legislators, high-level education officials, and others boarded a bus to learn more about the programs that Young Audiences and its partners are offering Baltimore youth this summer. Except instead of leaving school, we headed toward them!
Initially, visitors met at Moravia Park Elementary School, the first of three stops that day. As Stacie Sanders Evans, President & CEO of Young Audiences, shared in her opening remarks, "We're shining a light on summer learning opportunities; we're shining a light on amazing kids; and we're shining a light on how the arts blends these two things."
At Moravia Park, we visited SummerREADS, a free drop-in literacy program that is the result of partnerships with the Harry and Jeanette Weinberg Foundation, the Baltimore Elementary and Middle School Library Project, Baltimore City Public Schools, and Young Audiences. Over a five-week period of time, more than 500 K-8 Baltimore City students will have had the opportunity to visit one of nine reading sites where they encountered engaging literacy workshops with teaching artists and fun enrichment activities with special guests.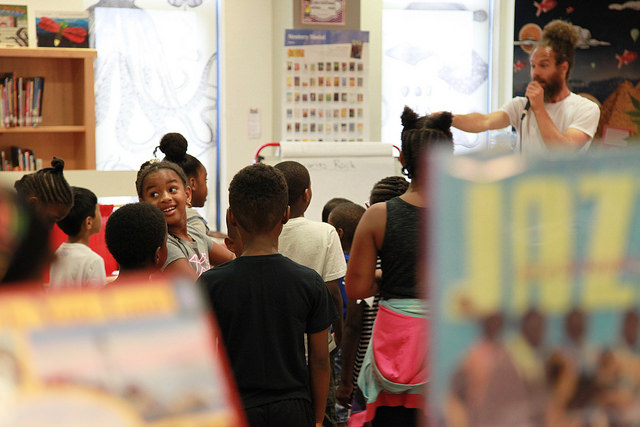 And that is exactly what we found when Max Bent, a beatboxer who has been a Young Audiences teaching artist for 7 years, led a group of six- and seven-year-olds in the basics of beatboxing. He taught them how to make various sounds and then incorporated them into a song, "My Banana." As they counted out beats (three syllables in banana!), they thought of other fruits (apple, two syllables!) to add into the song.
We had to leave for our next stop before he could complete the lesson, but I could already see the intriguing possibilities in beatboxing for both math and English. Before we left the school, there was a quick Q&A session. The questions came fast and furiously from all sides of the room, a testimony to how interested people were, not only in the learning they had just witnessed, but what it took to make this possible.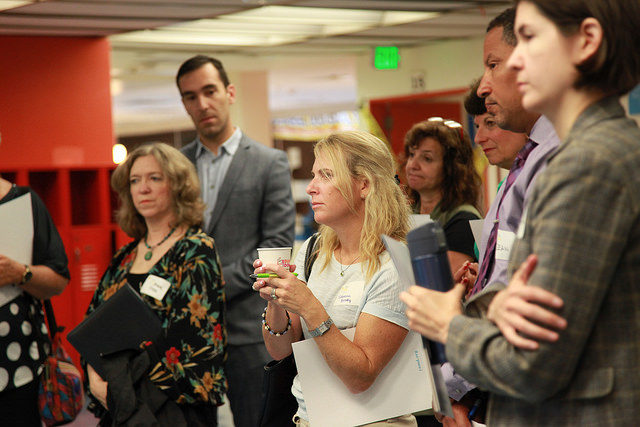 Our next stop was at Dorothy I. Height Elementary School for an introduction to Young Audiences' Summer Arts & Learning Academy (SALA). Here we learned that SALA is a five-week program for Pre-K through fifth graders where the focus is twofold. First, to arrest summer learning loss, and second, to make sure that learning is fun and engaging every day.
At this particular school, 260 children meet each day to learn and reinforce lessons in literacy and math. Last year, Young Audiences reached more than 1,150 children at four different school sites. Incredibly, in one year's time, Young Audiences, in partnership with the Baltimore City School system, has doubled its efforts, reaching about 2,200 kids at eight school sites.
We were then offered the opportunity to enter classrooms to observe the action.  I slid into a third-grade classroom, where the children were focusing on The Red, a book about a confused crayon, whose friends eventually help him discover his true color.
The teaching artist, Daniel Ssuuna, whose specialty is East African dance and drumming, divided the kids into three groups, each focusing on one particular part of the story. Handing out percussion instruments, he instructed students to focus on the emotions of the crayon during their assigned story segment. Was the crayon confused, or supported, or happy? With that in mind, they then created a dance and drum accompaniment to illustrate the crayon's feelings.
Other instructions given by the classroom teacher, Amanda Bila, highlighted listening skills. She asked, "When we are not performing, what do we do?" The kids supplied helpful advice: Be quiet. Be respectful. Listen. Pay attention.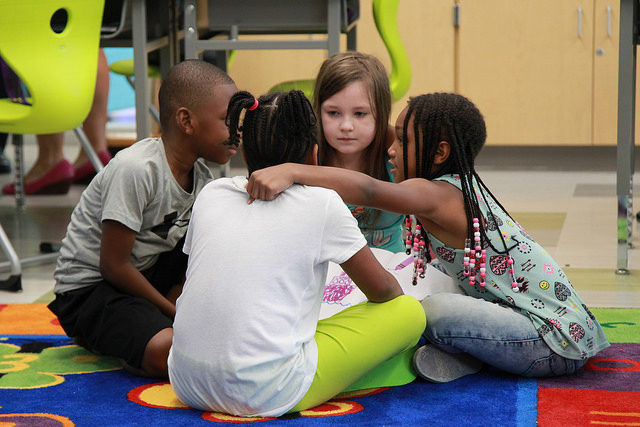 As the groups formed, I watched their interactions with the teachers and each other. I saw collaboration, referring to the book for inspiration, asking teachers questions, answering questions from the teacher, ideas discussed, ideas kept or discarded.
If Socrates had walked into this classroom, I'm sure he would have been proud to see his famous critical thinking methods being deployed.
Though I would have loved to watch each group perform, sadly, our time was up. Still, the excitement the kids exhibited as they analyzed their book was a potent reminder of how exciting and fun learning can be when you combine the arts and dedicated teachers.
Next we traveled to the Reginald F. Lewis Museum of Maryland African American History and Culture. Here we learned about the Bloomberg Arts Internship (supported by Bloomberg Philanthropies NYC) which places 35 Baltimore City rising seniors in paid internships at local arts and cultural institutions. These teens worked throughout the city with a goal of learning career readiness skills through real-world workplace experiences and professional development. Additionally, college mentors and writing coaches worked with the interns on college applications, resumes, and other experiences that will help them move to the next level professionally and/or academically.
One intern, Collin Snow Stokes, spent his time at the Reginald F. Lewis Museum documenting the thoughts and feelings of Lewis staff, visitors, and volunteers evoked by objects reflecting Jim Crow era stereotypes from their upcoming exhibition "Hateful Things." His goal was 10 interviews, but he became so interested in the project that he exceeded his goal and even had time to do a few more before writing up his findings. And since his goals are to go into journalism and/or broadcasting, the interview process has honed job skills he will use for the rest of his life.
We also heard from two young women, Citlalli Islas and Paris Day, who worked at Port Discovery Children's Museum. Paris was assigned an archival project, logging in items that have been collected by Port Discovery over the 20 years of its existence. As she began her assignment, both she and the curators soon realized that the scope of it was more than they had anticipated. But by creating a system to log and track the items, they have begun the process that will help the museum maintain its collection for years to come. And as an added bonus, as she archived items, the collection overseers realized what a great exhibit some of the artifacts would make and, thus, an exhibit was born!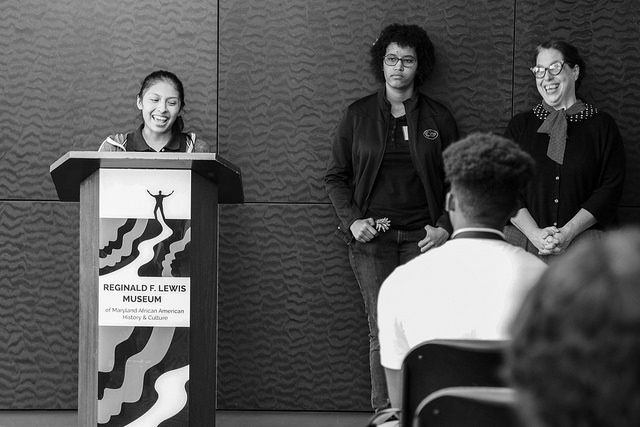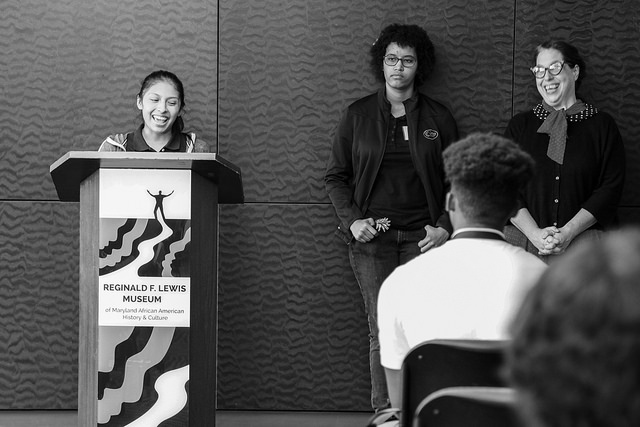 Citlalli interned in the exhibits department and has learned a lot about all the behind-the-scenes work that goes into creating and maintaining a museum exhibit. Obviously, this requires artistic vision. But beyond that, this has called on her to be innovative, meticulous and organized – not a bad group of skills to acquire before college and beyond.
Finally, it was time to get on the bus to return to our cars. As we wound our way down Baltimore's city streets, I listened to the conversations around me, ranging from other arts organizations and what they accomplish in their communities to legislative and philanthropic aides asking questions about the work that Young Audiences does and how each person present got involved.
And as I thought about involvement, I remembered another thing that Stacie had said at the beginning of our journey: It takes a village. At the time she was referring to the teaching artists, librarians, kids, and parents who were involved with SummerREADS. But it was just as applicable to each program we visited, and to each organization that contributes time, money, or leadership.
None of what I had witnessed occurs in a vacuum. The sheer number of people, funds, and time takes a rather large village, actually. And I'm happy to be a small part of this Young Audiences village. It's a great place to be and I invite you to join me! Field trip!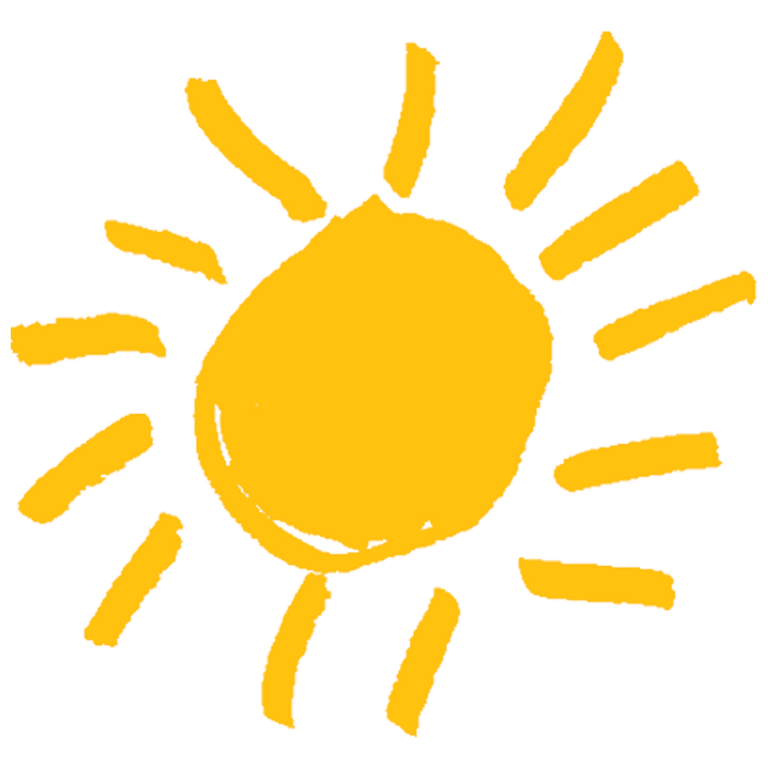 Learn more about our mission, our methods, and our future plans during a one-hour Meet Young Audiences event. In addition to hearing from the organization's leaders and getting an inside look into the amazing work we are doing around the state, one of our roster artists will share their amazing work with you and speak about how the arts complements and enriches classroom learning. Please reach out to Ingrid Murray, Individual Giving Manager, at ingrid@yamd.org for more information or call (410) 837-7577 x. 107. Interested in hosting your own Meet Young Audiences event? Find out more here!
The school year may only have just ended, but this year's cohort of Bloomberg Arts Interns have already been hard at work for three weeks now. They attended a week of rigorous orientation and participated in behind-the-scenes tours and presentations at arts organizations. And perhaps most significantly, interns have gotten their feet through the doors of a number of reputable arts and culture organizations and have begun weaving themselves into passionate and supportive arts and education networks.
Outside of their internships, the students participate in professional development, college prep workshops, and writing coaching sessions. On these days, students receive guidance and support with completing college applications and build strong career skills with mentors and writing coaches. They create personal essays, write responses to art and performances, and work not just on college applications, but prepare for the bills, the challenges, and the change that comes along with transitioning to a college or university.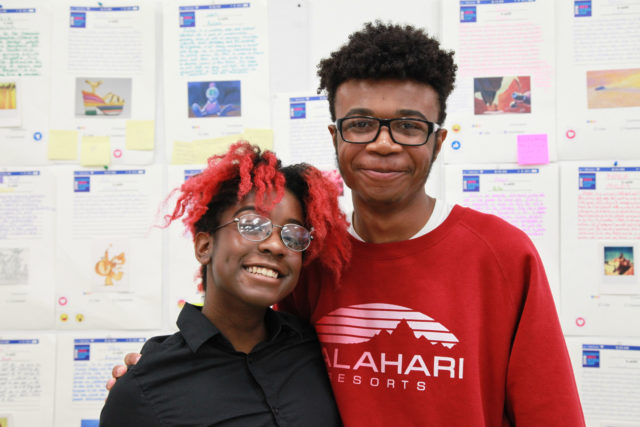 Two of last summer's Bloomberg Arts Interns, Jahsol and Sequoia, will be headed to Bard College at Simon's Rock and the Arts Institute of Chicago, respectively, in the fall. But first, the pair visited students at OpenWorks to answer questions and give them insight into their own internship experiences last summer. The questions poured in. While just a year older than the 2018 interns, Jahsol and Sequoia had so much knowledge, experience, and wisdom to impart, getting this year's cohort excited about the possibilities to come.
A college panel brought together three community members to talk about first-hand challenges, solutions, and to provide conversation and guidance in applying and adjusting to college life: Danielle Staton, Program Manager of Fund for Educational Excellence; De'asia Ellis, a Frederick Douglass High School graduate and current Goucher College student; and Ruben Ramirez Jr., a graduate of Digital Harbor High School and restaurant entrepreneur.
From practical advice, like applying to more than one school and developing a plan for time management, to being prepared to handle rejection, facing culture shock and loneliness away from home, or confronting ignorance and discrimination, the panellists shared valuable online resources and their honest experiences to help prepare the interns for what may come in the next year, not to mention all the steps required just to apply. "It's hard when families don't know how to get there," said Ms. Ellis. She advises students who may not have family to support them through the daunting application process to find a mentor to help guide them.
As the summer progresses, this year's cohort will continue to be afforded the chance to explore art of every discipline, and to meet and learn from artists, curators, and everyone else who works so hard to keep local institutions dynamic, engaging, up, and running. And while they are busy working on projects for their worksites, they will be networking. They will be making lasting connections, opening themselves up to all that is possible in a career in the arts, and forging their futures.
The Bloomberg Arts Internship is managed by Young Audiences through the support of Bloomberg Philanthropies. Learn more about the program here.
Written by Jahsol Drummond
The 2017 Bloomberg Arts Intern and Filmmaker delivered the following speech at Young Audiences' annual Impact Breakfast earlier this month.
My name is Jahsol Drummond. I am eighteen and currently a senior at Bard High School Early College.  I have attended Baltimore City Public Schools since kindergarten and I have never been a big fan. I was always told I was a good kid but my grades never really reflected that. From early on I was put in a box. Once I got to middle school, classes were separated and labeled 31 through 34. We all knew that groups 31 and 32 were supposed to be for the smart kids and 33 and 34 were for the "dumb" ones. I was in 33, and the stigma of feeling lesser set in, but I was also just glad I wasn't in 34.  
When I didn't get good grades in middle school, I couldn't get into a good high school, and a cycle began. This is the problem. In middle school, a composite score based on the grades you earn determines where you can go to high school. Once kids get behind in their education here in the city, they get derailed and there isn't much help to get you caught up. Luckily, I found Bard High School Early College, a school with college-level expectations that encourages its students to think. Bard gives kids who haven't done well in the current system a second chance and (I think) a better education than any other city school can provide.
I first learned about the Bloomberg Arts Internship from Bard's guidance counselor. This program, which is managed by Young Audiences, matches students with arts and cultural organizations for a paid internship over the summer. I wanted to be a filmmaker, but I wasn't sure how to go about it.
So, I was excited when I was accepted into the program and Young Audiences matched me with Tim Nohe, who is the Director for the Center for Innovative Research in the Creative Arts (CIRCA) at UMBC and a filmmaker. We clicked instantly. We saw that we had a common interest in using film to communicate perspectives.
On the first day, Tim and I hit the ground running. He taught me how to use the camera, and how to use editing software. My first project was to film interviews with the arts staff at the university. I was involved throughout the entire production process: from researching the artist, to formulating the questions, filming the interviews, and editing the footage. Tim believed in me and over my six weeks at CIRCA, I was exposed to the world of professional filmmaking and working with people to create pieces of work that I cared about. I made something I was proud of and a spark ignited. That first-hand experience helped me get involved in the local industry and I came away feeling like I had earned the title of filmmaker.
On top of connecting me with a great worksite, Young Audiences helped me and my fellow interns apply to college. We spent time working on our college essays and doing extensive research on the colleges we wanted to attend for the next fall. Today, I'm graduating from Bard with an Associates degree and I will be attending Bard College at Simon's Rock in Massachusetts on a full-ride scholarship and with all of my current credits carried over.
At the end of the summer, Young Audiences required me and the 24 other Bloomberg Interns to present what we learned in a public presentation in front of hundreds of people. I had the opportunity to show what I had learned by producing my own video for my presentation. I was really pleased with how it turned out, and there were leaders in the city's arts and cultural industry who were impressed with my work too.
My dream is to communicate the problems in our educational system through film, and now that I have finished the program, I know that I can do this. I hope my films inspire a spark within others to make a change. I now know enough to trust my spark to guide my work, and Young Audiences hiring me to film all three of YA's summer programs this year means that others believe I have it in me, too. My career has only just begun, and it's already so exciting. Thank you to Young Audiences and Bloomberg for opening this world up to me, and a special thanks to Tim for showing me the way.
Young Audiences is excited to announce the arts and culture worksite partners for the 2018 Bloomberg Arts Internship in Baltimore. This year's expansion of the program meant that we needed to partner with even more of Baltimore's high-quality, renown institutions than we did last year. In order to fully serve the needs of the incoming cohort of interns, we increased the total number of worksite partners from 14 to 20. Bloomberg Arts interns will be gaining tremendously valuable experience working and learning three days a week at one of the following 20 local arts and cultural organizations this summer:
Internship projects vary among organizations to include production, education, development, community engagement, artist engagement, video, music, administration and more. Last year's interns worked on everything from curating museum exhibits, to integrating technology into museum experiences, to engaging young children in arts activities. At the end of the program, interns create final presentations highlighting their experiences, sharing with the community the new skills and interests that have developed over the course of their internships at each site.
"I love being at the Bloomberg Arts Internship. You guys have helped me grow in the working field and I would not trade out the people I have met for anything in the world." –Triaje Eaddy, 2017 BAI intern
A large network of community partners are working to prepare 35 hard-working and motivated Baltimore City Public High School students for higher education and careers in the arts. Baltimore is rich with not only excellent arts and cultural institutions, but with the phenomenal people whose contributions and passion make those very same organizations so great. "I love being at the Bloomberg Arts Internship," said 2017 BAI intern Triaje Eaddy. "You guys have helped me grow in the working field and I would not trade out the people I have met for anything in the world." Introducing young minds to the people, all of the incredible possibilities, and the many opportunities open to them in a career in the arts is a great gift to us all.
The Bloomberg Arts Internship is managed by Young Audiences through the support of Bloomberg Philanthropies. Learn more about the program here.
Categorized:

Bloomberg Arts Internship, News, Summer Learning

Tagged:

Art With a Heart, Arts Every Day, Baltimore Center Stage, Baltimore City Public Schools, Baltimore Creatives Acceleration Network, Baltimore Museum of Art, Baltimore Symphony Orchestra, Bloomberg Arts Internship, Bloomberg Philanthropies, Creative Alliance, Dance and BMore, Everyman Theatre, Maryland Film Festival, Maryland Historical Society, Maryland Institute College of Art, Maryland Public Television, Port Discovery Children's Museum, Reginald F Lewis Museum, Sheridan Libraries, Single Carrot Theatre, summer internship, The Peabody Institute, The Walters Art Museum, Wide Angle Youth Media, Worksite Partners
The Bloomberg Arts Internship program is returning to Baltimore this summer, expanding to 35 paid, six-week internships for Baltimore City rising seniors at local arts and cultural institutions. Running June 18 to August 3, students will participate in college and career readiness preparation through hands-on, real work experiences in the arts and engaging professional development.
Applications are now being accepted for interns and host organizations. Rising high school seniors may apply until March 30, 2018. The deadline for Baltimore area arts organizations interested in hosting interns is March 2, 2018. Both applications can be found here.
The internship program is managed by Young Audiences through the support of Bloomberg Philanthropies. Bloomberg Philanthropies increased its support from 25 students last year.
The 35 Bloomberg Arts Internships interns, selected through a multi-step application and interview process, will work with arts organizations three days a week, visit cultural institutions once a week, and engage in professional development trainings once a week. Students will develop organizational work plans, start college applications, analyze art, and complete final presentations highlighting their experiences to be shared with the community on the last day of the program. Internship focuses vary among organizations to include production, education, development, community engagement, artist engagement, video, music, administration and more. Host organizations will include performing arts centers focusing on dance and music, art museums, libraries, theatres and television studios.
"The Bloomberg Arts Internship program creates wonderful opportunities for young people in Baltimore while expanding the impact and engagement of our vibrant arts community," said Mayor Catherine E. Pugh. "It's so rewarding to witness talented students learning, developing their potential and becoming leaders. We need to do everything we can to support them. I am continuously thankful for Bloomberg's on-going commitment to improving the lives of people in Baltimore."
"Bloomberg Philanthropies' generous commitment to not only return the program to Baltimore, but to expand it, is a testament to the power of this program and the incredible students and arts organizations in Baltimore," said Stacie Sanders, Young Audiences President & CEO. "We're overjoyed for the opportunity to manage a program making such an impact—showing the arts as a viable career path."
The Bloomberg Arts Internship program is coming to Baltimore this summer, placing 25 Baltimore City rising seniors in paid internships at 14 local arts and cultural institutions. Students will participate in a rigorous six-week program, providing crucial college and career readiness preparation through hands-on, real world workplace experiences and professional development.
Managed by Young Audiences/Arts for Learning and the Greater Baltimore Cultural Alliance (GBCA), the program includes work at an arts organization, visits to arts and cultural organizations, and professional development training. The Baltimore Bloomberg Arts Internship Program runs June 20-August 4, with Baltimore being the third city to host the program along with New York City and Philadelphia.
Participating institutions include performing arts centers focusing on dance and music, art museums, libraries as well as film festivals and television studios. The organizations welcoming Bloomberg Arts Interns include:
Baltimore Center Stage
Baltimore Museum of Art
Baltimore Symphony Orchestra
Center for Innovation, Research and Creativity in the Arts (CIRCA) – UMBC
Dance & BMore
Everyman Theatre
Hippodrome Foundation, Inc.
Maryland Film Festival
Maryland Institute College of Art (MICA)
Maryland Public Television
Peabody Institute of The Johns Hopkins University
Port Discovery Children's Museum
The Reginald F. Lewis Museum of Maryland African-American History & Culture
Sheridan Libraries and University Museums, Johns Hopkins University
"Through our arts internship program, we're working to change how the next generation of employees and leaders perceive cultural institutions' contributions to a city's workforce, economy, and identity," said Patricia E. Harris, CEO of Bloomberg Philanthropies. "As part of the program, interns will develop critical workforce skills at select non-profit cultural organizations, meet with professionals in the field, and attend career and college readiness workshops as part of their summer experience. We are delighted to expand this program to Baltimore."
The 25 Bloomberg Arts Internships interns were selected through a multi-step application and interview process. They will work with arts organizations three days a week, go on field trips to cultural institutions once a week, and engage in professional development trainings once a week. Through the internships and trainings, students will develop organizational work plans, begin their college applications, write analyses of art performances, and complete final projects on their experiences. Internship focuses vary across organizations to include production, education, development, community engagement, artist engagement, video, music, administration and more.
"The arts have the power to transform lives and the futures of students in our community," said Stacie Sanders Evans, Young Audiences Executive Director. "Through their generous investment in Baltimore, it is clear that Bloomberg Philanthropies not only agrees, but also can see the vibrant, growing community of artists and organizations that make this city unique. We're thrilled to coordinate this wonderful opportunity, providing Baltimore students with experiences showing the arts as a viable career pathway and passion. We can not wait to see how this program impacts the ideas and dreams of these interns."
"GBCA is excited to be part of this new project," said Jeannie Howe, GBCA Executive Director. "The Bloomberg Arts Internships will help young people develop workforce and college preparation skills, and support an equitable pipeline for talented young people interested in careers in arts and culture. The cohort in turn, many of whom are of color, will help strengthen the equity and inclusion of Baltimore's wonderful and diverse arts organizations."
Baltimore Bloomberg Arts Interns come from schools across the city, including REACH! Partnership School, Baltimore City College, Western High School, Ben Franklin High School, Patterson High School, Baltimore School for the Arts, City Neighbors Charter School, Baltimore Design School, Digital Harbor High School, Bard High School Early College, and Mergenthaler Vocational Technical High School.
Categorized:

Bloomberg Arts Internship, News, Press Releases, Summer Learning

Tagged:

Baltimore, Baltimore City, Baltimore City College, Baltimore City Public Schools, Baltimore Design School, Baltimore School for the Arts, Bard High School Early College, Ben Franklin High School, Bloomberg Arts Internship, City Neighbors Charter School, Digital Harbor High School, high school, high school students, Interns, Mayor Catherine Pugh, Mergenthaler Vocational Technical High School, Patterson High School, REACH! Partnership School, summer internship, Western High School