Young Audiences has played a pivotal role in Alex's life, both past and present. As a child, he discovered his love of writing during a YA artist residency in his public elementary school. Nearly two decades later he works as a staff member with Young Audiences of Maryland.
He wrote "As an adult who was diagnosed with a learning disorder later in life, I can look back and say that my experience with YA was a turning point in my journey to know and love myself. When I had the chance to demonstrate my understanding by creating, rather than just consuming information, I found myself not only participating in class but thriving! I want to stress how much even a single experience can expand a young person's horizons of possibility, both for their education and their future."
Now, Alex coordinates YA's programming with schools in Prince George's, St. Mary's and Calvert County and writes fiction and poetry as well. "It brings me great joy to step into a school and know that a student will find a lifelong sense of meaning and passion because of our work."
Alex is an example of the power of arts integration in the life of our students, especially those who struggle to learn through traditional means. He is proud to "pay it forward" as a staff member and encourages you to support our work across the state of Maryland. Please give today.
A whole-child approach to learning puts significant focus on the social and emotional needs of students. And as we've seen in our Summer Arts & Learning Academy (SALA), the arts and arts integration pair naturally with social and emotional learning (SEL). In SALA, our teaching artists and their academic partners plan their lessons through a student-centered lens, giving children the opportunity to learn in a way that works best for them—and supplying them with the emotional tools they need to be successful and connected to the learning—and to each other. In fact, a report from Education Dive notes that in school, "artistic endeavors—whether performing, creating, or responding to others' work—likely involve even more social-emotional skills and opportunities for students to practice them."
Through drama, students in SALA feel the thrill of embodying their favorite storybook characters. They learn to express ideas through dance and emotions through music. They feel the pride of understanding mathematical concepts when, through visual arts, abstract ideas can be seen, felt, created, and replicated. What if we applied the artist expertise and program model that makes SALA so successful to the actual school year?
Knowing that MSDE-approved educational models like SALA's can also be used to address many issues impacting education, our SALA team tailored its model to meet the needs of students who need extra schoolyear support and introduced Arts & Learning Days at three different sites in Baltimore City: Harlem Park Elementary/Middle, Collington Square Elementary/Middle, and Leith Walk Elementary/Middle. These new Arts & Learning Days give teachers and students the opportunity to teach and learn creatively, through self-expression, and with a focus on social and emotional wellbeing.
Arts & Learning Days:
Support students in afterschool time
Expose students to different art forms
Provide teacher professional development in arts integration
Increase academic performance
Each academic quarter has four Arts & Learning Days. On these days, five teaching artists spend the day at the school co-planning and co-teaching arts-integrated lessons with two different teachers each. Arts & Learning Days are more than artist residencies—they are real-time professional development for school-wide transformation. Teachers discover new ways to create engaging lessons, to blend academic and social and emotional learning, and to ignite creativity and self-expression—and they get to put it into practice right away!
Afterward, teachers and artists reflect and revise lessons. Classroom teachers also meet with Education Director Kristina Berdan multiple times, who offers the educators feedback and strategies to improve their practice.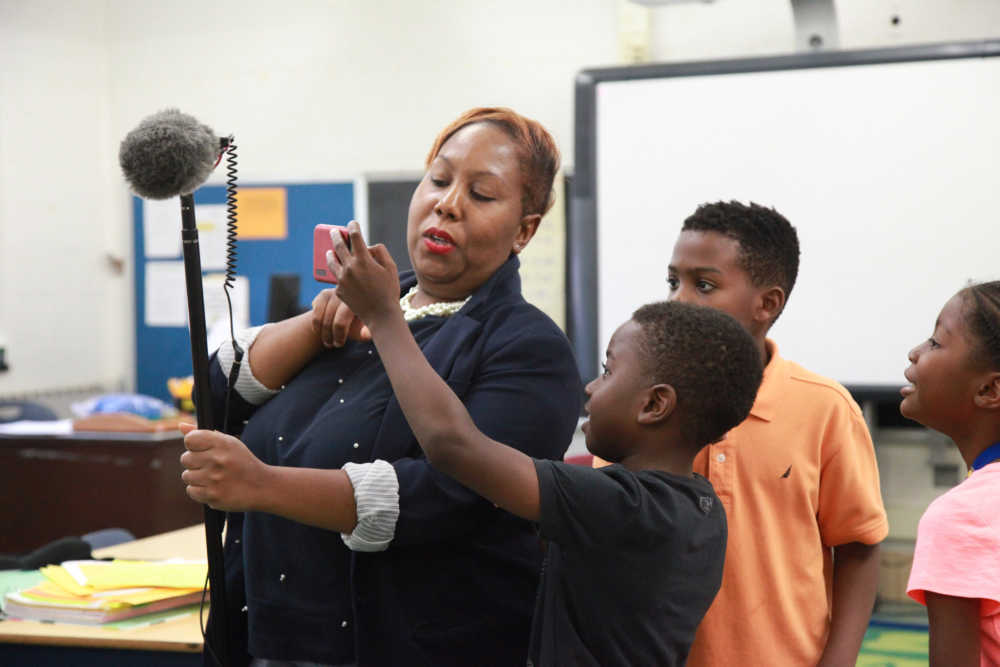 The arts even extend into afterschool time when an artist or ensemble brings their program to an existing afterschool program for additional enrichment. This year alone, students enrolled in afterschool programs have already been able to work with Wombwork Productions, Inc., Vonnya Pettigrew of Root Branch Film, and Guardian Dance Company!
These opportunities for students and educators through Arts & Learning Days wouldn't be possible without the support of the principals, the afterschool providers, and the teachers. We are looking forward to many more Arts & Learning Days to come and can't wait to share them with you.
To access the Collington Square Arts & Learning Day 1 video transcript, click here.
Written by Barbara Krebs,
Young Audiences volunteer and Sunburst Society member
Recently I toured Ireland, circumnavigating this gorgeous island from the Republic of Ireland, to Northern Ireland before returning to Dublin. If you have half a day, I'll be happy to tell you about everything I learned there, from Irish history to Irish dancing to Irish food to (ahh) Irish whiskey. But if you have only a few moments, then I'll just tell you about my biggest takeaway from this trip–passion.
So now you're thinking, "What does this have to do with Young Audiences?" In the great tradition of Irish storytelling, I will let you know how one starts in Ireland and ends up in Baltimore with passion as the theme.
My story starts with a tour guide in Northern Ireland named Garvin, who told us about his wonderful city, Derry. Following the itinerary map, I had been puzzled since I couldn't find it. This mystery was quickly cleared up as Garvin explained that Derry is the town's traditional Irish name but it had become Londonderry during British rule. But he was also quick to explain with a broad grin that what his city actually is, is Legen-Derry (Get it? "Legendary!").
And thus began his tour of a city that he was obviously totally devoted to and passionate about. Today Derry is a wonderful city, with much to offer tourists–historic 17th fortification walls (the most intact in Ireland), Gothic-style cathedrals, a vibrant waterfront restaurant/bar scene and fascinating museums. But if, like me, you think of Derry during The Troubles, your memories will be very different, with scenes of bombed-out buses and civilian and British troop deaths.
But Garvin used that very history to make his point about his city being a wonderful place. He took us to Bogside, scene of infamous clashes between citizens and British military police, and said, matter-of-factly, "You would not be on a bus going here in the '70s, because it would be hijacked, turned on its side and burned out to use as a barricade to block the street against the British." This, while we looked out the bus windows at calm, clean streets.
I loved the beauty of Derry, its rich and troubled history, and yes, the passion of Garvin. And what struck me most forcefully was how many times he repeated, "I thank you for coming to visit my beautiful city. Please tell your friends and relatives what a wonderful place it is." And I knew then how deep his passion was for his flawed and scarred, yet fascinating city. And through him, I fell in love with it, too.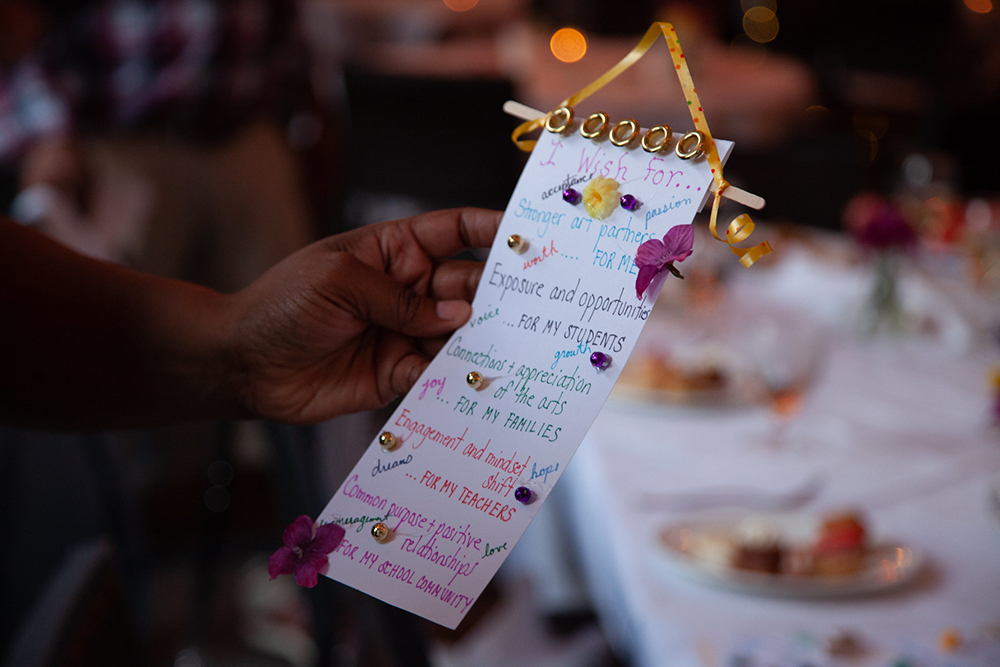 So now here's the connect with Young Audiences. I have witnessed the passion of Young Audiences artists like Femi the DriFish and their teacher partners who, despite challenging situations, work tirelessly to promote learning in their classrooms, using the innovative arts techniques taught by YA. I have seen deep passion in our principals who set aside hard-fought funds to bring the arts into the classrooms when others are choosing to cut these opportunities. I see this passion in the YA board, who includes my husband, who donate their limited time outside of work and family to ensure that more kids have opportunities. It is through them that I fell in love with Young Audiences, too.
I am pleased to announce that Garvin's passion for his birth city is contagious. With his example, I am happy to tell all who will listen that I am passionate about Young Audiences. I will tell folks about how fantastic Young Audiences is–and that includes you!
Wanna know more? Consider joining CEO Stacie Sanders Evans and a Young Audiences teaching artist on Thursday, December 5, 5:30-6:30 pm for a free, one-hour Meet YA Event. To register, please contact Erin Nolder via email or phone – erin@yamd.org or (410) 837-7577 ext. 105. All I ask is that afterward, like Garvin, you tell all your friends and relatives about the wonderful work that YA does.
Some big ideas are meant to be shared. It is through partnership and collaboration that the big ideas grow roots and become an integral part of something even bigger. In 2015, Pat Cruz, YA's then-chief innovation officer, and educator Mary Kate Bransford had a dream. What if every kindergarten classroom in Prince Georges County Public Schools (PGCPS) had an arts-integrated environmental literacy program?
Their big idea brought together twenty teachers and five teaching artists to write a five-day lesson plan that both met environmental literacy and visual art criteria and explored themes like habitat restoration, local ecosystems, the life cycle of plants, and the lifecycle of animals for a brand new program: Growing Up Green. The program, a partnership between Young Audiences and the Prince Georges County Office of Environmental Literacy, would be piloted in 17 schools in the district in the 2015-16 school year.
That first year resulted in the creation of five separate 5-day arts-integrated environmental literacy lessons. Teaching artists worked side by side with kindergarten teachers all five days of the program with the goal of handing off that role to each individual school's art teacher in future years. To prepare teachers, Kristina Berdan, Young Audiences Education Director, trained teacher ambassadors, kindergarten lead teachers, and art/music teachers to use the arts as a teaching tool in their classrooms. "I used to think art was a product of a lesson," said one kindergarten teacher in Prince George's County Public Schools after being trained in arts integration through Growing Up Green. "Now I think art is the process to achieve the objective."
The team constantly listened, assessed, reflected, and revised, resulting in a comprehensive catalog of resources for teachers and the refinement of, in the second year, four unique residencies instead of the initial five, and then in its third year, one: Fiber artist Pam Negrin's The Lifecycle of Plants. Kindergarteners and their teachers explored nature with their real-life senses—looking, smelling, touching—to not just learn about our natural world, but experience it. Classrooms across the district were outfitted with custom-made embroidery tables where students could gather and stitch their observations, building with and learning from one another. "We think with our hands and when students are immersed in a lesson together, they begin to make their own connections," said Pam. From sharing what they learned during the school day at home to internalizing and remembering more information, the effects on learning were so profound that once-resistant teachers embraced learning through arts integration and extended it into other content areas.
Growing Up Green combines the arts and time outdoors with making connections between humans and the environment and brainstorming solutions. "The program gets kids outside and thinking about the bigger picture and the combination of all the elements of the program supports the district's goals," said James Roberson, PGCPS Instructional Specialist for Environmental Literacy. And after the lessons have ended, classes are left with beautiful embroidered tapestries they can share with the school community. "The tapestries are a great way to showcase what they've learned."
Our state was the first in the nation to approve an environmental graduation requirement for all Maryland students. In 2011, the school board created Environmental Literacy Standards that would support the growth of the planet's next generation of stewards. Prince George's County Public Schools is intentionally integrating these standards into the PreK-12 curriculum, and through Growing Up Green, they are successfully reaching the county's youngest students. This is the first year that PGCPS is running Growing Up Green without Young Audiences' support. "Young Audiences has been an outstanding partner over the last four years," said Roberson. 
"I'm really impressed by how different teachers have taken what they learned and run with it," said Jhanna Levin, PGCPS Environmental Literacy Outreach Teacher. As a result of Growing Up Green, teachers in the district's Autism Program, for instance, have embraced the art of embroidery, the fine motor skills it develops, and the calm it inspires. "It soothes the kids in a way they weren't expecting." Levin, new to the department, has taken the reigns of Growing Up Green and nurtured the development of teachers new to the program as well as veteran educators. She is constantly checking in and helping the teachers to do what works best for them.
She is holding a training session this coming January for lead kindergarten teachers to explore additional arts integration techniques for classrooms and it's not just new teachers who are looking forward to it. "We're talking about turning T-shirts into yarn and using dance for the observational piece," said Levin. James Roberson added, "We're really excited about what Jhanna brings to the program."
Growing Up Green was a tiny seed that with research and tremendous effort and love, Young Audiences was able to sow. Through the amazing partnership we've had with PGCPS, we've seen the program evolve and take shape in a way that both works best for the district and stays true to the vision of Growing Up Green at its conception. We are extremely proud to see the district take charge and continue nurturing and developing this incredible program. Levin said, "There are teachers who have done this for three years now and they say, 'Just give us the materials. We've got this.'"
Mrs. Aleesha Manning, Principal of Cecil Elementary, began her teaching career in Baltimore City in 2003 as a Kindergarten teacher at Lakewood Elementary. The following year, she joined the Cecil family/community and served as a teacher and assistant principal. She is a graduate of Lincoln University in Pennsylvania with a degree in Early Childhood Education and earned her Master's Degree in Instructional Leadership from Towson University. "Arts Integration has always been an important part of my teaching philosophy. As a teacher, and now as a principal, I am always seeking out ways for my students to participate in the arts," she said. "We have applied for grants, created in-house programs, and work tirelessly to keep arts in our academic programming."
"I have a teacher who has had experience with arts integration and she has explained that student outcomes are much higher," Mrs. Manning said. "I want my students to be able to take their learning to the next level and experience academics in a new way that is highly effective and long-lasting."
Knowing the value arts education and arts integration brings to her school and students' education, Mrs. Manning applied for Young Audiences' Principal Fellowship Program. The 11-session program began this summer and brought together ten outstanding Baltimore City Public Schools Principals, including Mrs. Manning, who are all committed to using the arts to build a positive school climate that advances student wholeness and/or to improve academic instruction. 
Through the fellowship, she hopes to inspire teachers school-wide to intentionally integrate the arts into their lessons⁠—even when an artist is not present in the classroom. "I have a teacher who has had experience with arts integration and she has explained that student outcomes are much higher," Mrs. Manning said. "I want my students to be able to take their learning to the next level and experience academics in a new way that is highly effective and long-lasting."
Mrs. Aleesha Manning, Principal of Cecil Elementary, is one of ten Baltimore City Public Schools principals selected to participate in the Principal Fellowship Program. The year-long fellowship provides principals with the guidance and framework to develop an arts-based action plan in their schools and we are thrilled to have her in the inaugural cohort!
The arts in LaShella Stanfield's school have proven to be a catalyst for students' academic success. That's one reason Mrs. Stanfield, Principal of Cross Country Elementary/Middle School, is participating in Young Audiences' inaugural Principal Fellowship Program. Through the program, she not only hopes to realign the school's work with arts integration but gain the knowledge and resources to provide professional development and action plans around implementation to her staff.
"I am the parent of a professional artist and thoroughly understand the importance of the arts both in students' academic and social development."
Mrs. Stanfield holds a B.A. in Psychology from Frostburg State University and earned her M.Ed. in Elementary Education from UMBC. She has been trained in a range of modalities including Educational Leadership, Restorative Practices, Universal Design for Learning, and Trauma-Informed Care, and advocates for equitable instructional practices across all grade levels and disciplines. And because she notices her students are able to express themselves in unique and effective ways when they engage in the arts, she wants to ensure all Cross Country teachers receive the proper training and support in order to integrate the arts in their lessons daily. Mrs. Stanfield noted, "I am the parent of a professional artist and thoroughly understand the importance of the arts both in students' academic and social development."
"One of the greatest needs at my school is to support teachers with developing social-emotional learning strategies," said Mrs. Stanfield. Principals in the fellowship look closely at how integrating the arts into the curriculum can foster the development of the whole child while fueling academic achievement. They'll also work with principals who have already successfully used arts integration as a lever for school change and learn ways to address administrative barriers to expanding the arts in school, such as staffing, professional development, creating time to plan, and evaluation, ensuring fellows have the support they need to realize goals around arts integration in their own schools.
Mrs. LaShella Stanfield, Principal of Cross Country Elementary/Middle School, is one of ten Baltimore City Public Schools principals selected to participate in the Principal Fellowship Program. The year-long fellowship provides principals with the guidance and framework to develop an arts-based action plan in their schools and we are thrilled to have her in the inaugural cohort!
Mrs. Rochelle Machado believes every scholar has the potential to be great. The principal of Arundel Elementary Middle School and winner of the 2016 Heart of the School Award wants to make a difference in the Cherry Hill school community by building relationships, increasing academic achievement, and creating opportunities for her students. Before arriving at Arundel, Mrs. Machado spent 17 years serving scholars and their families in City Schools as a Special Education Teacher, Instructional Support Teacher, and Assistant Principal.
"I'm excited to learn how to be more creative when incorporating the arts in classroom instruction and teacher professional development," she said. "Focusing more on the arts in our school would be a great opportunity to cater to the whole child at an early age." She is looking forward to collaborating with colleagues and mentors in the Principal Fellowship Program and learning new strategies to improve school climate and academic achievement. "My scholars need more opportunities to experience the arts⁠—not only during resource periods⁠ but in their math, literacy, science, and history classes."
Focusing more on the arts in our school would be a great opportunity to cater to the whole child at an early age.
Arundel Elementary Middle School already works with Youth Resiliency Institute and Maryland Wolf Trap to bring arts engagement and experiences to their students, as well as with the Judy Center both during the school day and in after-school programming. Through the Fellowship Program, the principal hopes to receive support in planning opportunities to integrate the arts across all grade levels school-wide. She'll be connected with a mentor and experts in arts integration who will support her in training staff and identifying partnerships in the community that will help further her mission.
Mrs. Rochelle Machado, Principal of Arundel Elementary Middle School, is one of ten Baltimore City Public Schools principals selected to participate in the Principal Fellowship Program. The year-long fellowship provides principals with the guidance and framework to develop an arts-based action plan in their schools and we are thrilled to have her in the inaugural cohort!
In January 2020, Bay Brook Elementary Middle School will move into a 21st Century school building! Monique B. Reese, Principal of Bay Brook told us that along with the move, her school is adopting an arts integration model. During her first three years at the school, she focused on reducing suspensions and building a positive school climate. Now, Mrs. Reese's goal is to use the arts to assist with increasing student engagement and higher achievement. That's what brings her to the Young Audiences Principal Fellowship Program.
Mrs. Reese began her career as an elementary school teacher in various urban school districts. During her time as a teacher, she found a passion for leading others in teaching and learning. This passion for leadership led her to serve for eight years as an Assistant Principal in the District of Columbia Public Schools, and then as a principal at Bay Brook Elementary Middle School. During her first three years at Bay Brook, she focused on reducing suspensions and building a positive school climate. "I am excited about being a part of the Young Audiences Principal Fellowship program because it directly connects to my new school model," she said. "I can learn new ideas about arts integration that I can directly implement in my school as we begin our new vision."
"We have seen first-hand the excitement the arts bring to our students."
Over the course of the program, she'll receive coaching from experienced educators who have already used arts integration as leverage for school change. "Our students learn in different ways and we need a path that reaches all learners," Mrs. Reese said. "When given the choice between STEM, project-based learning, and arts integration for their new school model, the staff and community were confident that a larger focus on the arts would bring positive change."
The school currently has a partnership with Arts Every Day which helps fund artist residencies for classrooms. Already, the school holds monthly arts integration days in which teachers engage students in an art project to teach literacy, math, or science. "We have seen first-hand the excitement the arts bring to our students," she said. "The staff believe that the arts will give students the opportunity to be more engaged in the content, thus reducing class disruptions and increasing achievement."
Mrs. Monique Reese, Principal of Bay Brook Elementary Middle School, is one of ten Baltimore City Public Schools principals selected to participate in the Principal Fellowship Program. The year-long fellowship provides principals with the guidance and framework to develop an arts-based action plan in their schools and we are thrilled to have her in the inaugural cohort!
Written by Soni Kunwar,
2019 SummerREADS Intern
When I was looking for a summer internship during my spring semester at college, I came across an internship for the SummerREADS program at Young Audiences of Maryland. What caught my eye about this internship was that it offered a unique experience like no other. I was excited to work for an organization whose mission is to promote arts in education including through summer learning.
When I found out that I was offered the intern position for the SummerREADS program, I was very excited to get started. One of the main reasons why I joined the SummerREADS team is because of the opportunity to be an active member of my community. A library is a vital part of what makes a community so great. It is a place of learning and a hub for community activity for kids of all ages. Some of my favorite childhood memories took place in my school and community library. The joyful feeling of being in a brightly colored room with an endless supply of books is something all kids should be able to experience.
From the very first day of the internship, everyone welcomed me with open arms and made me feel like part of the team. Right off the bat, I was working alongside the team in the enrollment/registration process. It was exciting to see how spaces were filling up at the different sites as we inched closer to the start of the program. In the weeks of preparations, there were lots of team meetings, phone calls made, supplies sorted, and lesson plans printed. Once the program began, I provided support at the eleven different sites.
The most rewarding part of the internship was seeing the students engage in arts-integrated literacy workshops with teaching artists and visitors. Every time I stepped into a Weinberg library, students were participating in activities that showed creativity and innovation. I loved seeing collaboration amongst students when they were building 3D kinetic creatures with Futuremakers or when they were writing and performing hip hop verses with Bomani. I was able to capture many moments like this and post them on the SummerREADS Facebook page. Managing the Facebook page allowed me share photos of all the learning that took place, whether a site was learning about music, dance, theater, or visual arts on a particular day.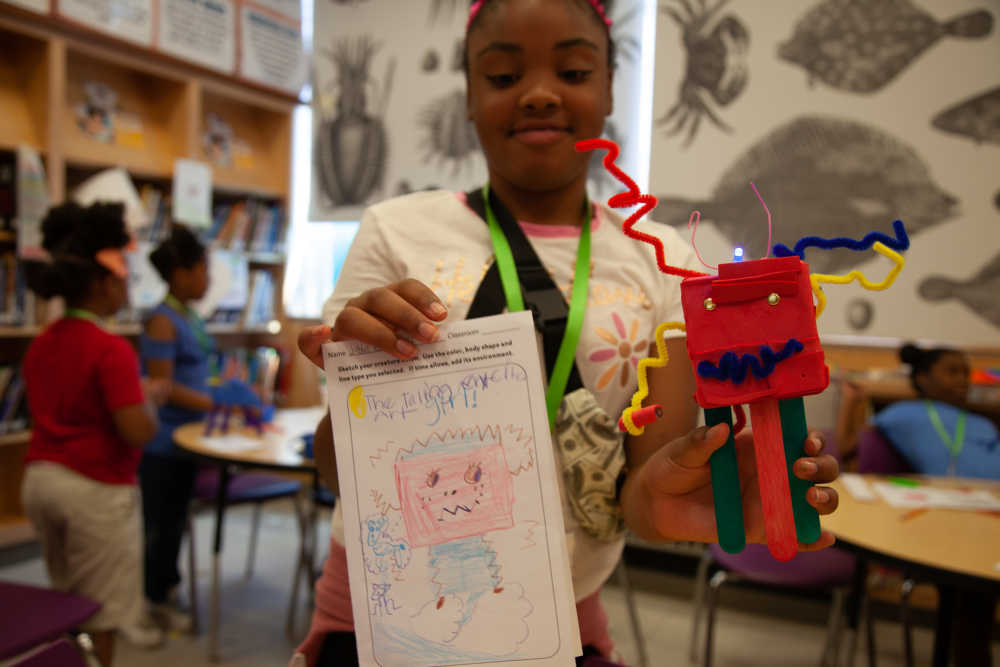 It makes me proud to have been part of a team of hard-working and dedicated people. I was constantly surrounded by people that were truly passionate about their job and who did everything they could to make the program a success. Everyone I met, from the librarians and teachers to the staff at YAMD, helped me grow not only at my job, but also as a person. Throughout the whole experience, I was able to see how a summer program that promotes arts in education really changes lives. It gives a child an opportunity to elevate their learning and dream big.
SummerREADS is a free literacy initiative that provides weekly drop-in programming for Baltimore City students. Each host school and library offers a safe and welcoming space where students can participate in literacy workshops with teaching artists and enrichment activities with special guests. Students also earn incentives for reading, receive two free and well-balanced meals per day, take books home, and access other library resources.
This week, 35 Bloomberg Arts Interns—all rising seniors in Baltimore high schools—will be winding down their travels in and out and through our city's marvelous historic and contemporary art-filled spaces. We are lucky, here in Baltimore, to have such esteemed institutions that not only teach, but listen. They value our young people's contributions and know that in order to ensure a vibrant future, they must consider voice in their collections, among their staff, and at the helm.
Baltimore is not alone in its work to become more inclusive and reflective of the community among leadership and staff. "In a city that prides itself on both the diversity of its population and its globally recognized cultural institutions, there is a lopsided reality: While about two-thirds of New Yorkers are people of color, two-thirds of the people who run its cultural institutions are white," wrote Julia Jacobs for the New York Times.
"Our interns are high school students. They are growing up in a world where equity is important and know what it truly means for a space to be equitable for all," said Philip Muriel, Bloomberg Arts Internship Lead Coordinator. "Our worksite partners are providing extensive opportunities for our interns to help make their institution more aware and inclusive."
Twenty local arts facilities and museums are currently providing positions within their institutions to our interns that offer a wide range of dance, music, art, theatre, cultural, and curatorial opportunities. In 2017, our first cohort of interns visited the Baltimore Museum of Art and learned about the museum's challenge of not just welcoming the community, but making sure the community feels welcomed in the space. There is a difference.
Less than a year later, acclaimed artist Amy Sherald joined their board. Christopher Bedford, the museum's director, said in a statement, "As we develop a new strategic plan, it is important to have the voice of artists like Amy on the BMA's Board of Trustees. Amy will bring a unique perspective to museum leadership, one that not only draws on her career as one of today's most important artists, but also on her ties to the city of Baltimore itself."
"Static, monolithic history must be supplanted with histories, plural—even as museums continue to safeguard the past in the objects they conserve and display. Directors and their staffs can enact bold forward-looking visions only when their boards support them in seeing museums as spaces to challenge, take creative risks and not simply conserve," wrote Darren Walker in a New York Times op-ed earlier this summer.
Changing narratives to reflect our very diverse population—one that is youthful, justice-minded, and looking to connect with and build upon the treasures that fill our institutions—does not detract or devalue. On the contrary, relevance ensures community involvement and support. It ensures that a new generation will love and enjoy and support our city's museums. Relevance shows an institution's willingness to evolve. Relevance builds trust and confidence in communities' willingness to grow and learn alongside institutions both now and in the future.
Step into 1 West Mount Vernon Place, the Walters Art Museum's 19th-century mansion, and you are not just engulfed in the luxurious architectural details and pristinely preserved artifacts from distant cultures, you are drawn into stories. Works from ceramicist Roberto Lugo illuminate the life of Sibby Grant, as does the community art project, led by local ceramicist and educator Herb Massie and art program Jubilee Arts, which incorporates over 200 plates made by members of the Baltimore community.
Now wrapping up its third year in Baltimore, the Bloomberg Arts internship is ensuring that our students' ideas and contributions are helping to shape and secure the future and relevance, as well as the inclusiveness, of arts organizations in Baltimore and beyond.
"Two of our interns, Connor and Isabelle, are working at the Walters Art Museum on a gallery guide aimed toward teenaged guests," Philip said. "Another, Sonia, is interning at Wide Angle Youth Media where she is working as a journalist this summer investigating the dangers of heat-related illness in low-income communities."
At all of our 2019 worksites, these students' ideas are valued, their participation is appreciated, and their voices are heard. And while there is still plenty of hard work to do to achieve equity and representation within our arts and cultural institutions, we can at least know that these aren't just places where community and student voices are welcomed, but places they are wanted.
The Bloomberg Arts Internship is managed by Young Audiences through the support of Bloomberg Philanthropies. It is a rigorous eight-week program providing 35 rising Baltimore high school seniors crucial college and career readiness preparation through hands-on, real-world workplace experiences and professional development. We are so proud of our interns and all they have accomplished this summer. Learn more about the program at yamd.org/bloomberg-arts-internship.
Written by Alan Hoff,
Young Audiences Board of Directors, Vice Chairman
The arts are not just nice, they're critical to the development and well-being of our communities. I am both excited and proud that Baltimore County has continued to recognize the importance of funding for the Arts, particularly Arts in Education, in the current budget.
In addition to being a proud citizen of Baltimore County, I am also the Vice Chair of the board of Young Audiences/Arts for Learning, an arts-in-education organization that serves more than 12,000 Baltimore County students each year. I also serve as the president of the board of WTMD, Towson University's radio station.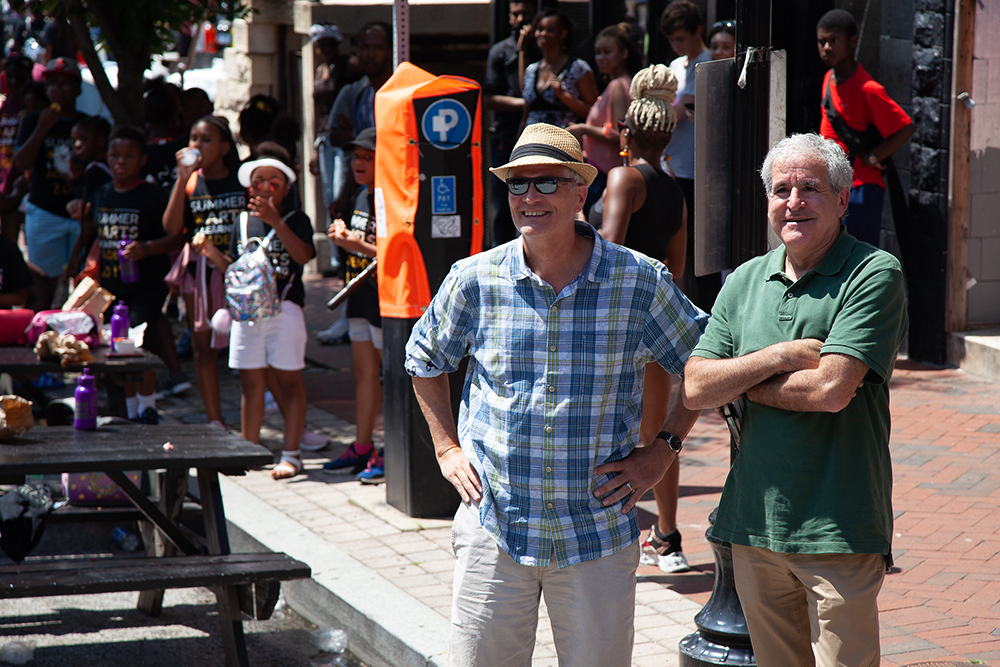 I've seen the power of the arts and what the arts can do for our community here in Baltimore County. The fact that the County–even with budget challenges–has continued to support the arts is impressive and commendable.
From a pure cost-benefit analysis, the arts provide a strong return on investment to the County. For example, Young Audiences is grateful to have received $40,000 in funding from the Citizens of Baltimore County through the Baltimore County Commission on Arts & Sciences last year. At the same time, with that investment, we served more than 12,000 County students and provided nearly $770,000 in payments to teachers and to teaching artists who live in Baltimore County.
Beyond a cost-benefit analysis is what I call the tangible intangible: The power of the arts that I see every day. I see it in kids' eyes, I see it when they look up to a teacher who they admire, I see it in the difference it makes in helping them learn, and I see the impact the arts have in programs like WTMD's Saturday Morning Tunes where we've literally welcomed thousands of kids and their parents.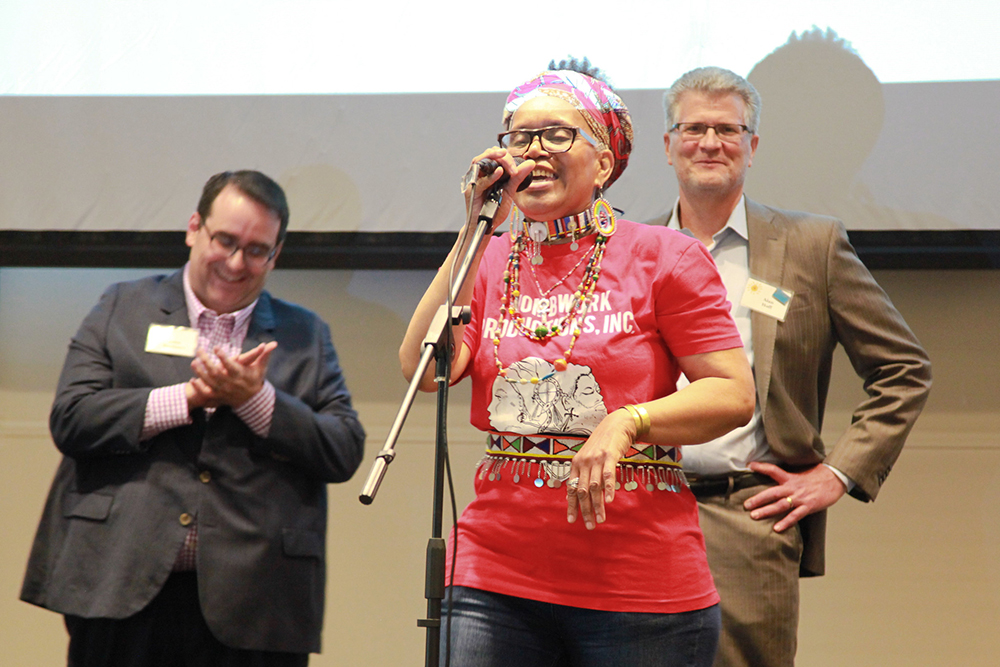 At Young Audiences, I have seen students learn fractions by beatboxing, math from drumming, and grammar from a poet or a spoken word artist. Not only do the arts provide kids with opportunities to express themselves and build confidence, but they also support all those educational priorities we talk about–like math and reading skills.
I'm probably the biggest anomaly that there is to talk about the power of the arts. I'm a lawyer–and I'm a business lawyer at that. But I am making this case because I see every day the power of the arts and I see that it makes a difference in people's lives.
Alan Hoff joined Young Audiences, Arts for Learning Maryland's Board of Directors in July of 2014. In addition to volunteering on both the Executive and Bridging the Inspiration Gap Committees, he currently serves as Vice Chairman of the Board. Alan has volunteered countless hours of his time and is a passionate advocate for ensuring the artistic, emotional, and intellectual growth of the children in our community. We are thankful every day for his advocacy, for his voice, for his vision, and for his generous spirit.
Written by Barbara Krebs,
Young Audiences volunteer and Sunburst Society member
"What does the artist do? He draws connections. He ties the invisible threads between things."
—Anselm Kiefer, German painter and sculptor
A few weeks ago, Young Audiences hosted an event to celebrate the organization's supporters and the arts and education experiences that, together, we were able to bring to Maryland students over the past year.
I imagine the connections. From teacher to student. From student to parent. From tap dancing to the nucleus of an atom. From all the "invisible threads between things." That's what Young Audiences does: Connects kids and imagination to education through the arts.
Having been to a number of YA's events, I had a reasonable idea of what to expect. Inspiring statistics of successes achieved in area schools. Teaching artists demonstrating classroom arts techniques. Audience participation. Delicious hors d'oeuvres and delightful cocktails. Animated conversations that explore the arts and our connection to Young Audiences. And on this occasion, expansive views of Baltimore's Inner Harbor.
It's easy enough to write this basic list of how YA celebrates. What's harder to capture is the excitement, inspiration, imagination, and connectedness that ensues.
For example, teaching demonstrations began with Khaleshia Thorpe-Price, who is involved with a program new to Young Audiences: Baby Artsplay. This program provides engaging activities designed for parents, caregivers, and early childhood educators to use the arts at home, daycare, and school to set our youngest learners on a path toward kindergarten readiness.
As she passed out small egg-shaped rattles (easy for small hands to hold), she explained how she uses simple songs and movement to engage the kids. Later she distributed scarves, which were used in a peek-a-boo song that encouraged creativity, imagination, and movement.
See, describing it doesn't do it justice – but if you can just visualize for a moment (encouraging active imaginations here!) a roomful of slightly self-conscious professional people waving scarves up, down, and sideways while they "flew" or "sashayed" or "danced," you begin to get an idea of how this reaches young kids who have no inhibitions about imaginative play. And better yet, these are techniques that can then be taken home and easily recreated to help children learn through play.
How about tap dancing? Quynn Johnson made music with her feet! Sliding, spinning, tapping toes, tapping heels–the rousing rhythms got and held our attention just as it does the K-8th-grade students she instructs.  Whether it's math, science, or literacy, her feet teach the lesson. I asked her about that later, admitting that I understood how tap dancing could teach math. But I wondered how she connected this art form to science and English. I then learned how she taught different rhythms to illustrate the nucleus of an atom; or the life cycle of a hurricane; or the development of Pinnochio from a wooden puppet, to a wooden puppet with a long nose, to a little boy.
Last up was Regie Cabico, a slam poet and theatre artist who produces wonderful, thought-provoking performance art informed by his Filipino American identity. Working in theatre, he constantly struggled to secure roles, being labeled "not Asian enough" for some and "too Asian" for others. And so he connects with his students, who also grapple with not being or appearing "something" enough. Feeling "other" is a universal theme that connects us all.
So I imagine the connections. From teacher to student. From student to parent. From tap dancing to the nucleus of an atom. From all the "invisible threads between things." That's what Young Audiences does–connects kids and imagination to education through the arts.