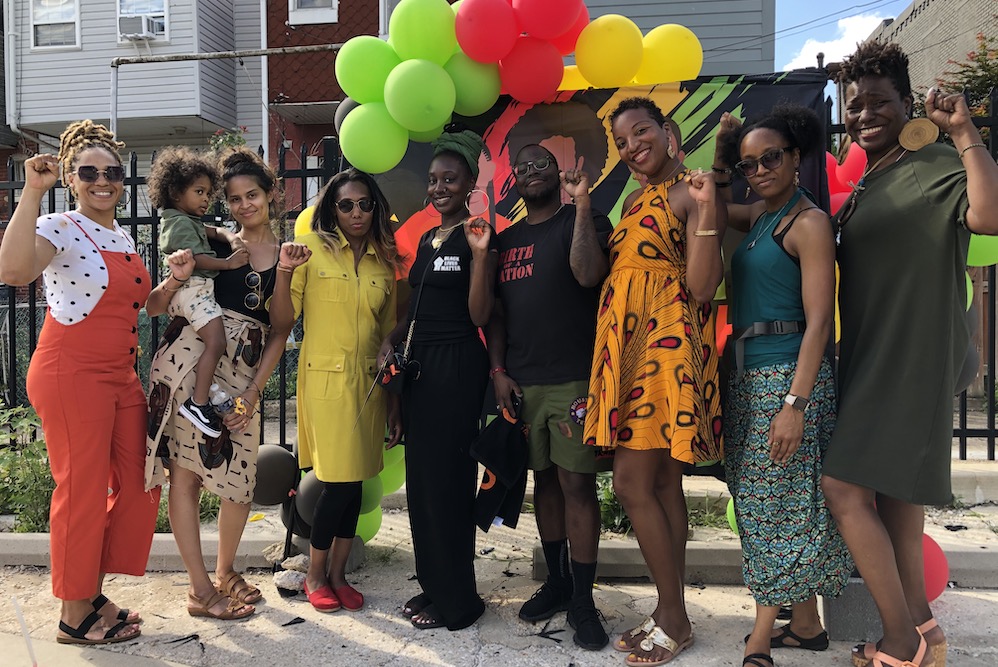 Young Audiences' mission is to transform the lives and education of young people through the arts. To do this, we must understand, appreciate, and celebrate our students – and each other.
Last month, our staff and board came together to recognize the cultural heritage of our Black and brown staff and community. Our inaugural Juneteenth celebration began with a dive into the history of Juneteenth, the oldest nationally celebrated commemoration of the ending of slavery in the United States. The holiday commemorates June 19, 1865, when Union soldiers, led by Major General Gordon Granger, arrived in Galveston, Texas, with news that the Civil War had ended and that the Black people who were enslaved were now free. This was two and a half years after President Lincoln's Emancipation Proclamation, which had become official January 1, 1863.
The YA Juneteenth celebration continued with meaningful performances from teaching artists, presentations on African American cultural heritage, a festival dance party, and some cool ice cream on a hot summer day. Also onsite was a gorgeous ancestral garden designed by Early Learning School & Relationship Coordinator Shana Teel, and flashcards honoring the names of Kings and Queens who made Black History in the marvelous state of Maryland. Participants were invited to call out the names of those people and other Africans throughout the diaspora who have passed on. The scene was decked out in colors of the Pan-African flag to honor Juneteenth: red, black, and green to represent the blood, soil, and prosperity of Africa and its people.
Young Audiences of Maryland honors the diverse cultures, contributions, and achievements of Black and brown staff, children, artists, board members, and partners. This joyful event, coordinated by the Young Audiences Black Caucus and Party Planning Committee, reminded us of the power of infusing our lives with cultural appreciation, understanding, our individual histories, and shared experiences.
As Jessica Hebron, our Chief Program Officer, put it: "We are immensely excited about the celebration and look forward to our continued work honoring Race Equity through social justice initiatives for our current staff and those to come."
As we all move forward – both as individuals and as an organization – race equity will help guide our work in having an honest and lasting impact on students, artists, and our community. And coming together will help us focus on this priority in the months and years ahead.
"Do you know what a stage manager is? You might be a stage manager." CJ Philip would know. The award-winning choreographer and artistic director of Dance and Bmore has spent more than enough time on, in front of, and behind the stage to identify the qualities necessary for the role. "The stage manager is air traffic control," she tells a group of rising high school seniors over Zoom. "If you're stage manager, you're communicating with lighting, dance directors, sound—if you wanna know something, ask the stage manager."
The students are rapt. Not only is CJ an expert in her field, she knows how to cultivate relationships with young people. How lucky we are that Dance & Bmore has returned for a 5th year as a worksite for the Bloomberg Arts Internship.
Since 2017, the Bloomberg Arts Internship has matched rising high school seniors in Baltimore City Public Schools with the city's premiere arts and cultural institutions to explore careers in the arts first-hand. The students learn that it takes talented individuals from a variety of backgrounds and with skills across many disciplines to create a final product—what the public experiences. The seven-week program, now in its 5th year in Baltimore, runs this summer from July 6 to August 20, with 25 interns working with 18 organizations.
Kristina Berdan, YA's education director of Baltimore City initiatives, organized the virtual matching session for new interns and worksites. She and team member Joanna Thursby, her executive assistant, have created a loving, energetic, and comfortable space for participants to gather and get to know each other. "You should not consider this a formal interview, but a question and answer period," she said.
The session begins with small groups completing an introductory task: design the vending machines of their dreams. In no time at all, participants imagine wild combinations of comfort and happiness nestled in springs and levers and housed behind glass. One is stocked with guinea pigs, band aids, and lots of peace. The contents are a delicious blend of fantastic and practical, abstract and essential: sushi, hope, and hair ties; puppies, kittens, and a good night's sleep.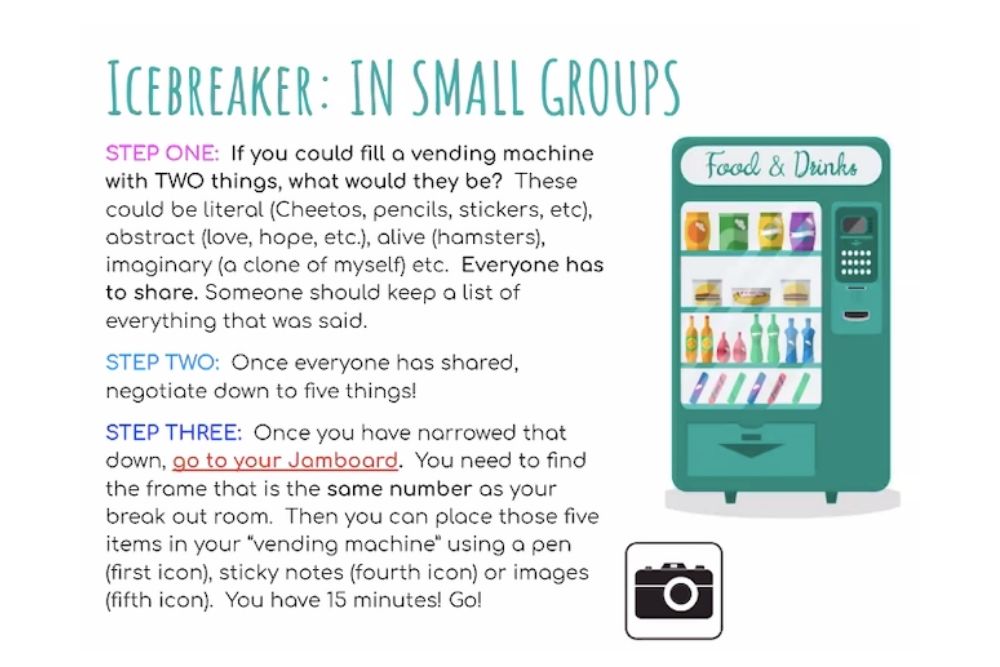 This icebreaker is anything but awkward. There is laughter and collaboration as a student wonders out loud, "How often do these get changed out anyway?" One group is trying to make their vending machine bigger. They have no trouble envisioning their unlikely contraptions. And because this is Smalltimore, there are reunions of sorts. One student recognizes another from their TWIGS program at Baltimore School for the Arts from years back, while another immediately recognizes a worksite partner—a dear friend of her mother. It's amazing how connected the worksite partners and interns feel after just a few minutes of brainstorming together. "I feel like I've known you forever," said Chin-Yer from Dewmore Poetry. "Well, one of you I have known forever."
The participants reunite after a while, a little bit smilier than they left, a little bit less nervous, and, some, wishing the vending machine of their dreams really did exist. It is at this point that the interns introduce themselves to the group, and worksite representatives learn that this talented cohort will bring everything from out-of-the-box thinking, communication skills, teamwork, and good vibes to photo-editing skills and visual art and musical talent to their internships. What's more, they will bring an invaluable resource to the arts and cultural organizations: youth voice.
Single Carrot Theatre, another worksite returning to the program, is seeking their next community partnership intern. They're looking for a student who enjoys research and connecting with people. Over the course of this internship, students will be in conversation with designers, and even get to sit in and observe auditions and experience the callback process.
Local nonprofit Art with a Heart is looking for a student interested in digital arts, 3D printing, and digital fabrication and design. This intern will assist in developing products for their online store, Heartwares, that was created in order to continue connecting with the community despite COVID restrictions.
The engaging process made it clear: worksites are as equally excited to share their work as they are to learn from and partner with these students. Together, they will engage and inspire younger audiences through the creation of new programs and activities. This, worksites understand, is an opportunity for them to harness the unique technical and social skills of this generation.
Between time at their worksites, in professional development workshops, and virtual field trips, the 2021 interns will receive college guidance, life skills, and build meaningful relationships and connections with Baltimore artists and people working in the arts. "This is deeper than an internship," said Chin-Yer. "We stay in touch for years and years and become a family."
To learn more about the Bloomberg Arts Internship Program, click here, and be sure to follow the program's Instagram page to stay up to date on interns' experiences this summer.
Passion, coupled with creativity, hope, and determination, leads to growth… growth of students, of artists and educators, of entire communities, and yes—of organizations! With immense excitement, we are thrilled to announce that leadership at Young Audiences of Maryland is growing!
Join us in welcoming two new hires—Chief Operating Officer Hector Garcia and Chief of Arts & Learning Academies Kendra Banks—and congratulating Chief of Innovation & Strategic Initiatives Kurtis Donnelly and Director of Arts & Learning Academies Michael Brush on their promotions!
These new leaders and the wide range of talents and ideas they bring are both a testament to and necessity of our organization's recent growth. Our opportunity has never been greater to reach more students, artists, and educators, to equitably expand our programs, and to push the boundaries of what is possible in arts-integrated learning. Hector, Kendra, Kurtis, and Michael will help make that happen.
Hector Garcia is a seasoned leader who brings strong experience leading and growing nonprofits, working with school districts, and helping guide impactful organizations such as the American Red Cross—serving there as COO of the Mid-Atlantic Region. In addition, he led FIRN (Foreign Born Referral Network) for nine years and worked as VP of Operations for the American Cancer Society. Hector connects with people with compassion, shares our commitment to equity, and he is passionate about service and the role the arts play in transforming learning for students.
Kendra Banks worked in Baltimore City Public Schools for more than seven years as teacher, administrator, and Director of Restorative Practices. She has extensive experience working directly with students and families, and has brought artists to schools and communities through the nonprofit she founded, One World Cultural Arts Society. She currently chairs the Education Committee of the Howard County Branch of the NAACP.
As Young Audiences' Chief of Arts & Learning Academies, Kurtis Donnelly played a central role in the creation and expansion of the Summer Arts & Learning Academy. In his new role as Chief of Innovation & Strategic Initiatives, Kurtis will lead us in exploring, planning, and pursuing new ideas that push our organization and programs to the next level for students.
As Director of Arts & Learning Academies, Michael Brush will lead the management, development, and ongoing enhancement of our Summer Arts & Learning Academy and After School Arts & Learning Academy. His five year experience supporting this work as Assistant Director of Arts & Learning Academies puts him and Young Audiences in a fantastic position to continue making progress.
Welcome and congratulations to each of these leaders!
If you live in Baltimore, you already know: our city's incredible arts and cultural organizations bring joy, curiosity, and beauty to the area. They enrich life, inspire ideas – and directly support residents. A perfect example: The Bloomberg Arts Internship Program! This summer, 18 of those organizations will welcome 25 rising Baltimore City Public School seniors as paid Bloomberg Arts Interns.
The seven-week program, managed by Young Audiences, is an incredible opportunity to gain meaningful work experience while getting a feel for a career in the arts – all while preparing for college and career! Through college mentoring, working with writing coaches and professional development activities, the program gives students guidance on college applications, essays, future planning and more. Interns spend three days a week with their host organizations and the other two in a cohort of fellow interns, learning and growing together. This summer's program – a combination of virtual and in-person experiences – runs from July 6 to August 20.
A huge thank you to the following Baltimore arts & cultural institutions that will be hosting interns this summer!
–  Art with a Heart
– Arts Education in Maryland Schools (AEMS)
– Arts Every Day
– Baltimore Center Stage
– Baltimore Clayworks
– Baltimore Jewelry Center
– Baltimore Museum of Art
– Dance & Bmore
– DewMore Baltimore
– Eubie Blake Cultural Center
– Everyman Theatre
– Johns Hopkins University Museums – Homewood Museum and Evergreen Museum & Library
– Living Classrooms – Ascend through Music Program
– Maryland Art Place
– Maryland Center for History and Culture
– Maryland Institute College of Art
– Port Discovery Children's Museum
– Single Carrot Theatre
To learn more about the Bloomberg Arts Internship Program, click here, and be sure to follow the program's Instagram page.
It's been crystal clear over her 16 years of leading Young Audiences of Maryland, Stacie Sanders Evans rocks! An incredible leader, supporter, mentor, and motivator, Stacie leads us to do more, reach higher, and support more students, families, artists, and educators. It's great to know others recognize it too: The Maryland Daily Record named Stacie one of its Maryland Top 100 Women Award winners for 2021!
Award winners were selected for their positive impact through leadership, community service, and mentoring—three qualities Stacie brings to Young Audiences every single day. Her fun, positive, passionate approach to leadership sets the tone for our work. Stacie inspires the YA team to create engaging programs that bring joy to students and support them in their academic successes. She truly believes in the arts' and artists' power to transform lives. And she understands how to support and manage the many elements of success; we continue to grow as a thriving organization serving more than 250,000 students in every Maryland County and remaining fiscally responsible—especially over the last year.
A heartfelt congratulations to Stacie on this well-deserved honor!
To learn more about the awards and to see the full list of incredible women honored this year, click here.
The scene: A Station North community centered around the arts, where Baltimoreans explore, dance, laugh, and learn.
The site: Odell's, the historic nightclub on North Avenue, which brought Baltimoreans together time and time again to share in the joy of living creatively.
The story: This fall, that same curious, creative spirit will return to the now-vacant building as our new home. We are more honored than words can express.
On Monday, March 15, we celebrated what's to come at the Odell's Virtual Groundbreaking. The celebration marked the beginning of a ten-month renovation, preparing the beloved former nightclub to become the home we will share with Code in the Schools.
Moving into a building with a history of such free expression and creativity is an absolute joy. This $6.6 million renovation of the 18,000 square foot building at 19-21 E. North Avenue will transform the building into a community hub for arts-integrated and STEM-based learning. For decades, Young Audiences has been welcomed into school and community buildings across the state. Now, for the first time in our 70-year history, students and their families and caregivers will be able to come to our home and explore their creativity, express themselves, and discover the arts' power to enhance learning, to enrich communities, and to change lives.
Hundreds watched online as we celebrated on the 15th, with city and educational leaders on-site to honor the day, including Mayor Brandon Scott, City Schools' CEO Dr. Sonja Santelises, City Councilman Robert Stokes, State Delegate Marlon Amprey, and others.
Like everything we do, the celebration featured arts experiences—with teaching artist Femi the DriFish moving the audience through a spoken word poem to start the day, and teaching artist Amanda Pellerin leading a collective creative experience to close it out. Pellerin is creating a clay mural for installation in the building after having the speakers and few in-person attendees make their impression in a block of clay using an object that, to them, represents learning, creativity, and community.
The excitement was palpable. But don't take our word for it—here is what a few of our special guests had to say:
Mayor Brandon Scott:
"Thank you to Code in the Schools and Young Audiences for keeping up the tradition of Odell's… You'll know when you'll belong was the saying at Odell's, and what Young Audiences and Code in the Schools are doing here is telling our young people that they belong. We know the arts are a vital tool in allowing our young people to imagine and envision a future for themselves and their community… We need to allow our young people to dream about what they want Baltimore to be for them. This is how we inspire the beautiful minds of our young people."
Dr Sonja Santelises:
"It is because of organizations like Young Audiences and Code in the Schools that young people in Baltimore have the kind of enrichment opportunities that are going to allow our community to not only bounce back from the last year of challenge, but actually to move forward. We know that a lot of our young people's healing, their re-engagement, their belief in themselves, is going to be connected to what's going to be happening in this building… A lot of that work is because of the dedication we have from partners like Young Audiences and Code in the Schools, who were committed long before this building to young people in Baltimore having the kinds of experiences that make school worth coming back to."
Find a recording of the ceremony, here. A huge thanks to our partners and funders in this project, including Jubilee Baltimore, Property Consulting Inc, The Harry and Jeanette Weinberg Foundation, Central Baltimore Partnership, Central Baltimore Future Fund, The Abell Foundation, and The France-Merrick Foundation.
We're filled with excitement and anticipation for the day our doors open at Odell's. We cannot wait to welcome you into our home to explore, create, learn, and have fun. Keep an eye out for updates as our renovation progresses. In the meantime, check out some photos from the celebration.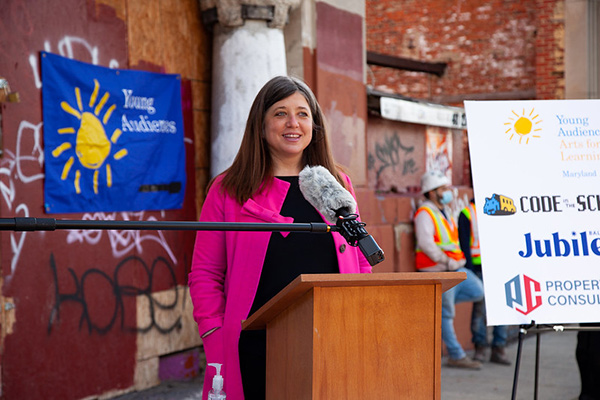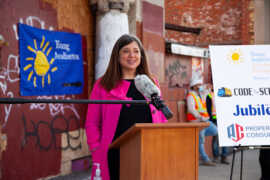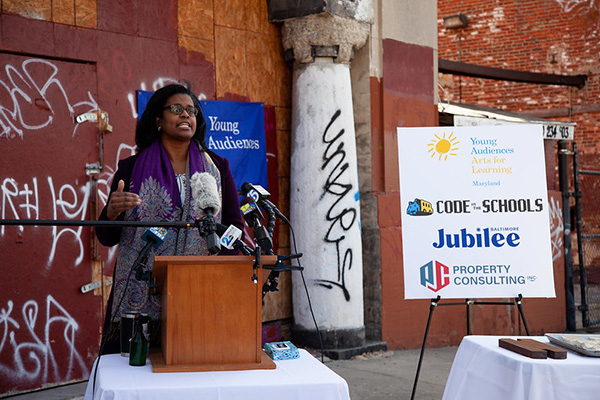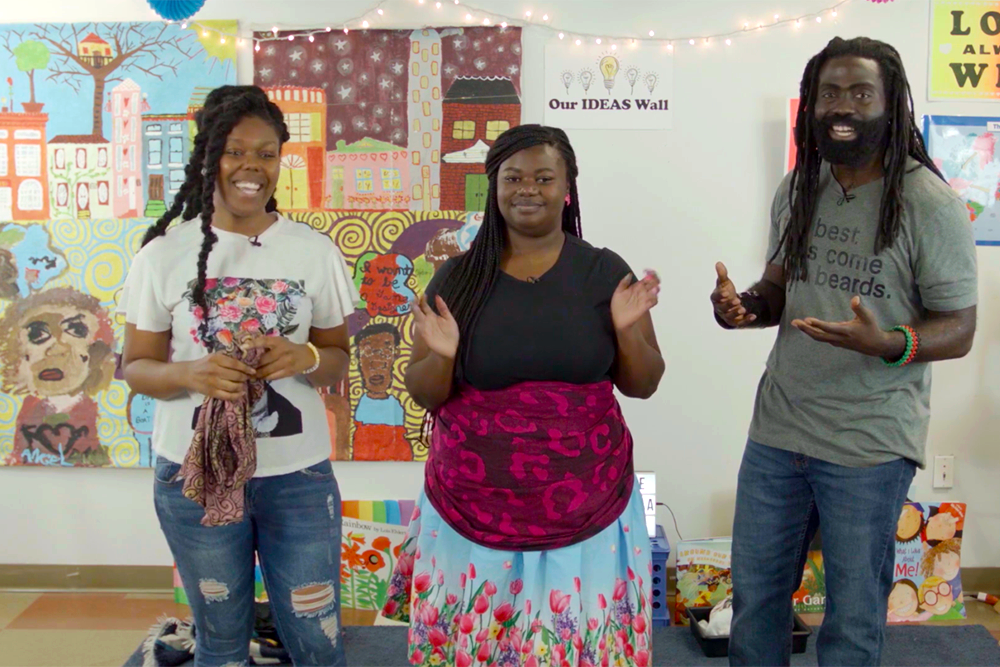 When schools closed last spring, we knew it was time to improvise. Even (or especially!) at home, students need high-quality learning experiences and creative engagement to ensure they continue growing. Closed classrooms presented a significant challenge for artists to collaborate with teachers and inspire students.
Enter Arts & Learning Kids. Young Audiences' talented team created this arts-integrated TV show where  master teaching artists and educators guide children in fun and inventive math and literacy lessons. The 30-minute, arts-infused episodes—there are more than 100 of them—bring joyous learning to life with music, beat boxing, illustration, puppetry, dancing, and more. Arts & Learning Kids are tailored to specific grades—preK to K, 1st and 2nd, and 3rd to 5th—and the content they are studying.
The shows have been available to Baltimore City and Prince George's County students through local cable TV channels, on our Facebook page, and through direct, weekly emails to more than 175 educators. And now, EVERY Maryland public school district can purchase these lessons for its students and families!
All Arts & Learning Kids episodes are available for purchase by school districts, educators, and care providers across the state.
The episodes support both remote and in-person learning and can be a useful tool for teachers working with students in both spaces. Check out some highlights, here!
Like all of us in so many ways, we didn't know what to expect after launching the show. But soon it became clear: thousands of students, families, and educators have used the Arts & Learning Kids shows to stay in touch, add some joy and diversity to their lessons, and continue to learn and grow. And with each show, we include written extensions – academic and arts-based activities that can be taught in a virtual or in-person classroom. As one school principal put it, the shows make it easier for teachers because it is easy to access and the kids are so engaged. "It is central to instruction."
In the New Year, Arts & Learning Kids will reach more districts, more educators, and more students. Spread the word! If you're interested in bringing Arts & Learning Kids to your district, students, household, or schools, send an email to [email protected].
Pure and simple, our teaching artists are the engine for the inspired learning Young Audiences brings to the classroom and to students. They drive the creativity. They are the inspiration that excites and motivates students. And they give selflessly.
Now it's our turn to give to them – through the Teaching Artist Emergency Fund.
 
You can support our partner artists in this unusually challenging time. Classrooms are closed. Programs and schools that contract for our teaching artists are financially challenged. As a result, our artists have lost more than $80,000 in earnings between September and December—and we project greater losses this Spring—and their opportunities to use their craft outside of YA have largely disappeared. Many of our partner artists are struggling, and there is no clear timeline for when they can again return to the classroom and restore their income.
By pivoting to online learning—and also through the generosity of our incredible supporters—we've been able to mitigate some of that financial impact. We've partnered with our artists to develop incredible online content. We also raised more than $57,000 through the Teaching Artist Emergency Fund launched in the Spring of 2020—all of which was given to our artists. We've helped to keep them working and reducing their financial gap.
Prior to the Winter holidays, our Board allocated $30,000 financial relief to artists…but it's not enough.
Today, we are reopening the Teaching Artist Emergency Fund. Two generous donors are furthering the relaunch of the Fund with an additional gift of $5,000. Knowing that 100% of the money contributed to the Fund goes directly to the artists and their families, we are asking you to offer your support by making a contribution to the Fund.
On behalf of our artists, their families, and the students who benefit from their work, thank you.
Stacie and the YA Team
Dear Friends,
I am struggling with the events of yesterday. Like so many, I feel anger, shame, sadness, and confusion. But I also know I will never truly understand what Black and brown people must be going through as these horrific events unfold. Many of my white friends and colleagues have expressed shock. Most of my Black friends and colleagues have shared that these events were not shocking at all, and, in fact, are in line with how they have always experienced this country. Herein lie the many truths that need to be reckoned with. 
The dichotomy between how police treat white supremacist terrorists and how they treat BIPOC going about their days or engaged in protests could not be clearer; nor could the series of events that lead our country here.
I am grateful that, when the events were unfolding, I was in community with about 90 artists, educators, and staff as part of an organization-wide series of race equity trainings. I wondered, coming into the meeting, if we would move forward with the training as it was planned or not. Ti Coleman, co-facilitator of the training, said something to the effect of, "This country has been burning for a long time, and this is just a different fire." Ti and their co-facilitator, Maryanne Fields, did what amazing teaching artists do: They held space for group processing while completing the objectives of the training. That represents the challenge teachers and teaching artists often face: Holding space for collective and individual traumas in the midst of the learning tasks.
I am thinking today of our young people and the adults who are stepping into spaces today to support our young people. I want to lift up something that Ronald McFadden, a school board member with City Schools and a BCPS music teacher, posted: "Teachers, take a moment and balance yourselves tonight. Tomorrow we are on the frontline. What is happening in our country should not be ignored. Our children are watching and they need us to guide them through the truth." 
Our work at YA is to transform the lives and education of young people, and this is just as important today as it ever was. Our race equity work is and will grow stronger, deeper, and broader because that is the key to sustainably changing the reality we face. I look forward to continuing to work with this community – all of you and the students we work with – as we navigate the truth.
Let's keep building together, 
Stacie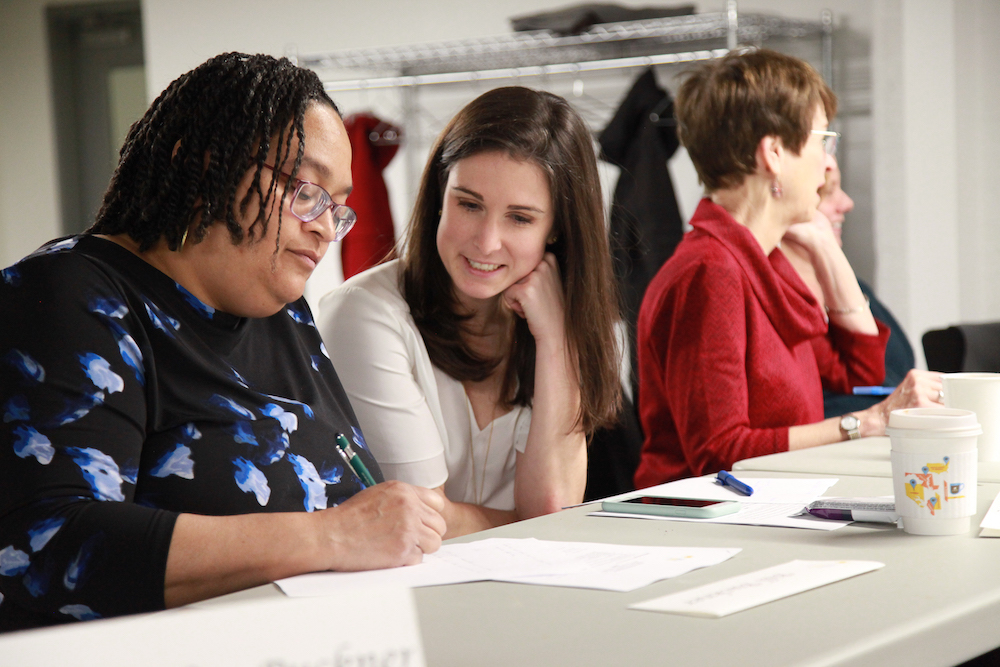 If you are part of any nonprofit, what kinds of things come to mind that a board member might ask you to bring to a meeting? Is it a budget? The latest donor report? 
This is why I love the Young Audiences Board of Directors. Yes, sometimes they ask me for these things. But, prior to our last meeting, the Board Chair asked me, "How are the artists doing?" He wanted to bring a report that spoke to this.
If you are reading this, you likely already know that COVID-19 has hit the artist community hard.  Nearly two-thirds of artists and creative workers report being unemployed. Last year, when COVID-19 hit, it was the Board that launched the Teaching Artist Emergency Fund and, between the individuals who donated to that, foundations that allowed us to repurpose grant funds, and the Maryland State Arts Council, YA was able to ensure that those artists who were depending on contracted income last school year received what they were counting on. YA provided over $270,000 in earnings and financial relief to artists in our community. In turn, our artists innovated, and we found new ways to put them to work continuing to inspire and engage children during the pandemic: Check out Arts & Learning Snacks and Arts & Learning Kids, two of our innovations, which continue to positively impact kids.  
COVID-19 is still with us. School budgets are frozen, and money typically earmarked for the arts is being directed elsewhere. The result: Our artists lost more than $80,000 in earnings between September and December, and we project greater losses this Spring. On December 18th, when Board members saw this, they agreed to allocate $30,000 in immediate financial relief to artists. Five days later, on December 23rd, this relief hit artists' bank accounts.  
Board members also agreed to relaunch the Teaching Artist Emergency Fund, and swiftly found two donors to kick off the Fund with $5,000. We know our artists want more than financial relief. They want to be put to work, to breathe joy and creativity into virtual learning, and to show up for kids when they could really use us! One hundred percent of the funds raised will go directly to putting artists to work and benefiting children. 
Wanna see who these amazing board members are?!? Check them out here. 
In closing out this love letter, I am sharing just one example of the outpouring of love from YA artists when they received this unexpected and much needed financial relief: 
It brings me to tears but tears of great joy to know we have people like you in support of your artists in these trying times! With the holidays coming up and very low income on our part, we want to say God is good and this blessing is just in time and right on time and much needed. Working with YAMD for two decades has been one of our best journeys, as we are still working to create top quality virtual prerecorded videos and live Zoom performances, etc. To have some kind of income flow and we are more than dedicated to staying connected to youth and community which is most important. We love you dearly, Brandon Albright, Illstyle Peace Productions. 
We love our Board dearly, too! Be on the lookout for how you can join our board in loving our artists through the Teaching Artist Emergency Fund this Friday.
With appreciation,
Stacie
Providing students with engaging, meaningful, arts-infused learning experiences is a team effort—and we're incredibly excited to announce that ours is growing!
We're pleased to welcome Jessica Smith Hebron to the Young Audiences team as our new Chief Program Officer!
Jessica's strong experience as a master teaching artist, arts manager, and entrepreneur uniquely positions her to enhance our many programs that ignite learning. For years, Jessica has successfully engaged young learners in the arts—both in classrooms in her role as teaching artist, and by planning and coordinating big picture programs. She's done the work on behalf of students, and her approach could not be a better fit!
Jessica is a multidisciplinary artist and accomplished playwright, musician, screenwriter, and children's book author with wide-ranging talents and a deep understanding of the arts' power to positively transform a child's self-image.
As Chief Program Officer, Jessica will lead Young Audiences' development and enhancement of innovative programs that use the arts to spark student learning, curiosity, and expression while building relationships with educators across the state. She will work to diversify our offerings, support the program team as they support educators, and apply a racial justice approach to program development and evaluation.
"Early and continuous exposure to arts programming enriched my childhood with imagination, empowerment, and countless learning opportunities," says Jessica. "I believe that every child deserves access to arts programming that is as inspiring and educational as it is impactful, and I am excited to use my extensive experiences as a master teaching artist, arts manager, and entrepreneur to continue the crucial work of innovating and transforming the dynamic programs offered by Young Audiences."
Prior to joining Young Audiences, Jessica was the Interim Executive Director of Prince George's African-American Museum and Cultural Center and served as Children's Program Coordinator for Busboys and Poets. She is also the owner and founder of Culture Kingdom Kids, LLC, which delivers innovative and empowering children's events with a cultural twist, including assemblies, festivals, and professional development workshops for diverse audiences.
Throughout her career, she has engaged thousands of students in the arts and managed programs that connect cultural awareness with arts integration. The experiences and ideas she brings will mean stronger programs and expanding impact on the students and educators we reach. Welcome, Jessica!
Written by Stacie Sanders Evans,
President and CEO of Young Audiences/Arts for Learning
In November, the Director of Arts Administrators of Color, Quanice Floyd, penned an op-ed with the title The Failure of Arts Organizations to Move Toward Racial Equity that called on the national arts advocacy group Americans for the Arts (AftA) to increase transparency and accountability and make progress toward racial equity in its role as a national leader in the arts and culture sector.
My hope is that you will read this piece to understand the many concerns of artists and arts administrators of color; and the many opportunities that AftA was given to respond to these concerns. No wonder Ms. Floyd put the call out for Black, Indigenous, and other POC artists, arts leaders—and the organizations that serve them—"to come together to build agency, support one another, shift the current systems that have alienated members of our community since their inception, and invest in ourselves when these organizations will not."
Ms. Floyd's courage in standing up to a titan in the arts caught the attention of many who had observed or experienced harmful actions as well—and resulted in leaders in the arts to call for five actions listed here. The Washington Post has now elevated the voices who are calling for change at AftA. My hope is you will read both of these articles, too.
What Ms. Floyd did, she shouldn't have had to do. Imagine the risk she had to take in her professional life to call out someone, and an organization with so much power? She displayed a love for our field and a belief in the potential of AftA to do and be better—these are two things we have yet to see from AftA's board of directors. It is out of love that I write this piece and use our platform to amplify Ms. Floyd's voice.
Many of you know our organization and me, so you know I am white and lead a nonprofit that predominantly serves Black and brown students in Baltimore City. Our community of staff, board, artists, and teacher faculty has become increasingly and intentionally more racially diverse to better reflect the young people we reach.
What some of you may not know is that Black and brown artists of Young Audiences have loved me and our organization in the same way that Ms. Floyd loves this field and AftA. These artists have shared that there have been times when they have felt hurt, unseen, and ignored by Young Audiences. Their sharing these experiences was a tremendous gift to me—because it helped me understand what I was doing to get in the way of my own commitment to advancing race equity through our work in schools and our organizational structures—but it is a gift that they should never have had to give. We can't continue to expect people of color to continue these acts of love at their own peril.
It is always Young Audiences' responsibility to stand up for racial justice. We stand with Ms. Floyd and ask that you do so, too.