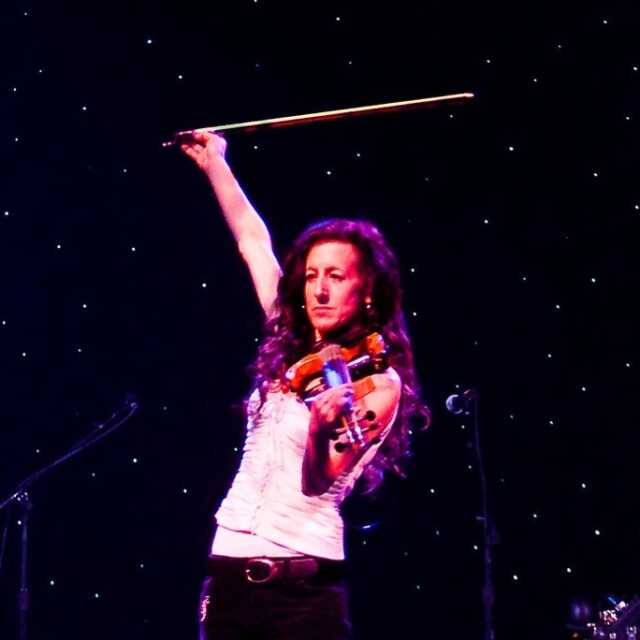 About this Artist
Caryn Lin is a classically-trained violinist who became an electric violinist and education innovator. There is no previously-defined category for her unique genre. She thinks of her music as new age/world/classical-ish.
The New Jersey native started violin lessons at age 9, and studied with the Philadelphia Orchestra's Larry Grika. She earned a violin performance degree from Northwestern University and then moved to Germany to study under virtuoso Suzanne Lautenbacher.
Caryn plays her electric violins, using looping to create short, on-the-spot recordings of her violin, voice, and percussion instruments. The layers of sound over deceptively simple melodies are otherworldly and totally catchy.
Performances venues include the Kimmel Center for the Performing Arts, the Lincoln Center for the Performing Arts, Six Flags, the Crayola Crayon Factory, a monastery in the French Alps, and thousands of schools. Her music has been featured on MTV's "The Real World," and on 150 international radio stations including satellite. She appeared performing in the movie Philadelphia. Caryn is currently recording her sixth studio album.
Artist Statement
Arts education is critical in balancing human thinking. it is only thru the arts that we learn how to think imaginatively and "out of the box." Einstein said, "I never made one of my discoveries through the process of rational thinking. Imagination is more important than knowledge. knowledge is limited." I feel that in order for us to continue on as a species, children must be taught to use their imaginations so they may find creative solutions to the global demands of today and into the future.
---
Testimonials
"Caryn Lin's Science of Sound was by far the best assembly we've had here in years! She was amazing!!"
"Caryn's assembly was one of the best we have ever had at our school! Her engaging pace, excellent musicianship, positive message, and use of multi-media made the entire presentation outstanding. We were able to make many connections in music class after the performance, and you could see excited expressions on the kids' faces when she made so many science connections. Her use of humor throughout was also great!"
"The students and staff loved your performance! Thank you so much for sharing your extraordinary talents with us once again!"
---