Articles by Month:
July 2019
Written by Alan Hoff,
Young Audiences Board of Directors, Vice Chairman
The arts are not just nice, they're critical to the development and well-being of our communities. I am both excited and proud that Baltimore County has continued to recognize the importance of funding for the Arts, particularly Arts in Education, in the current budget.
In addition to being a proud citizen of Baltimore County, I am also the Vice Chair of the board of Young Audiences/Arts for Learning, an arts-in-education organization that serves more than 12,000 Baltimore County students each year. I also serve as the president of the board of WTMD, Towson University's radio station.
I've seen the power of the arts and what the arts can do for our community here in Baltimore County. The fact that the County–even with budget challenges–has continued to support the arts is impressive and commendable.
From a pure cost-benefit analysis, the arts provide a strong return on investment to the County. For example, Young Audiences is grateful to have received $40,000 in funding from the Citizens of Baltimore County through the Baltimore County Commission on Arts & Sciences last year. At the same time, with that investment, we served more than 12,000 County students and provided nearly $770,000 in payments to teachers and to teaching artists who live in Baltimore County.
Beyond a cost-benefit analysis is what I call the tangible intangible: The power of the arts that I see every day. I see it in kids' eyes, I see it when they look up to a teacher who they admire, I see it in the difference it makes in helping them learn, and I see the impact the arts have in programs like WTMD's Saturday Morning Tunes where we've literally welcomed thousands of kids and their parents.
At Young Audiences, I have seen students learn fractions by beatboxing, math from drumming, and grammar from a poet or a spoken word artist. Not only do the arts provide kids with opportunities to express themselves and build confidence, but they also support all those educational priorities we talk about–like math and reading skills.
I'm probably the biggest anomaly that there is to talk about the power of the arts. I'm a lawyer–and I'm a business lawyer at that. But I am making this case because I see every day the power of the arts and I see that it makes a difference in people's lives.
Alan Hoff joined Young Audiences, Arts for Learning Maryland's Board of Directors in July of 2014. In addition to volunteering on both the Executive and Bridging the Inspiration Gap Committees, he currently serves as Vice Chairman of the Board. Alan has volunteered countless hours of his time and is a passionate advocate for ensuring the artistic, emotional, and intellectual growth of the children in our community. We are thankful every day for his advocacy, for his voice, for his vision, and for his generous spirit.
What does learning look like in June? It's hot, kids are getting restless, and classes don't typically get any easier academically. Quite the opposite, in fact, for Algebra 1 students and teachers at North County High School in Anne Arundel County Public Schools (AACPS) who, in their final weeks of 9th grade, worked on teaching and understanding one of the class' most difficult concepts: Graphing Piecewise Functions.
In the past, through the Arts Empowered Minds Initiative, the Math department at North County High has enlisted a slam poet, a storyteller, and a steel drum musician to help teach Algebra 1 concepts. This year, they invited YA roster artist Christina Delgado to guide the 9th-grade students and teachers through the art of photography to produce images that symbolize points on a Piecewise Graph.
Piecewise functions have multiple equations that define different sections of a graph. One section may look like a straight line, the adjoining section may look like a parabola. Rather than having one equation that defines the graph, there are multiple equations that define the function for specific sections.
To bring this concept to life, Christina and the mathematics team took the complex math idea and made it personal. Students were asked to tell the story of their freshman year of high school and translate that story to a graph with the X-axis representing time and the Y-axis, happiness. As with life itself, happiness over time does not always look like a straight line or a steady curve—sometimes there are sharp turns and big ups and downs in short periods of time. Students started with the story they wanted to tell—the story of their school year, then worked backward to graph these stories over time and layered them over a photograph of their creation and choosing.
The students took the art form very seriously and paid close attention to Christina's advice and direction—and because the teachers participated along beside them, they were able to experience the pleasure and resonance of learning through photography. They were able to relay this experience while leading a professional development course for the rest of the math department, giving them a small taste of how integrating the arts not only helps students grasp difficult concepts in math, but helps build community and understanding in the classroom.
"It's a great way to learn how your students learn," Christina told the teachers. Mr. Kellermann and Ms. Russell recounted how much their students enjoyed working on the projects—projects that were meaningful to them. "I learned a lot about the kids I didn't know—it was cool sitting and talking with them and talking about their stories." In preplanning sessions, students wrote stories about their lives, highlighting events that had an impact on them. Teachers helped students identify symbols that could represent critical points in these stories.
The Algebra 1 teachers walked the rest of the math department faculty through the same initial exercises their students completed on the first day of the residency. Just like their students, the teachers learned to operate and care for their tools and to use them respectfully. After reviewing some of the children's final projects, talking about the choices their students made, and what elements were included to make their photographs visually interesting, the teachers set off on a scavenger hunt of sorts. They were to collect three images on their digital cameras: One of a colorful circle, one of a triangle, and the last one, showing pattern.
When their students were first handed cameras, they immediately wanted to take pictures of themselves and their friends. They quickly shifted their focus to the environment around them, however. They became observant and attentive. Now faculty members were able to see that being behind the lens requires them to look around and take note of what they are seeing—to be purposeful of what they are capturing in the frame. "I was trying to take a picture of this flower," one teacher commented, "but a person blocked the way. It was like we partnered on it. It was kind of cool."
That kind of partnership is something Christina fosters in her classroom residencies. "Actually, one of our rules is to cooperate," the artist told educators. You have to share equipment, so students have to remind each other of how to handle cameras safely and carefully, but they will also share ideas and photo-taking techniques like perspective.
The faculty returned to the classroom to share their images. Their excitement and level of anticipation while waiting for the photos to upload matched their young students. One teacher, upon seeing a colleague's photo of a circle, exclaimed, "It looks like Saturn!" As they clicked through the images together, Ms. Russell reminded them that in the classroom, reviewing the work does not signal the end of the lesson. This, too, was an opportunity to engage. "Alright guys, this is a great picture. Now how can we make it better?"
Day One: Camera Basics and Color, Line, and Pattern
The classes learned to operate and care for their tools and to use them respectfully. They then learned to identify visual art elements through the lens of a digital camera. After reviewing examples of Christina's own work, talking about the choices an artist makes in capturing images, and what makes a photograph visually interesting, students and teachers set off on a scavenger hunt of sorts. They were to collect three images: One of a colorful circle, one of a triangle, and the last one, showing pattern.
Days Two and Three: Composition, Symbolism, and a Final Image
Christina arrived with bags overflowing with curious objects, colorful mementos, magazines, and flags. Everyone was excited to sort through the treasures to find the perfect piece to symbolize a moment in their story. Their task on this day was to put that object into a specific environment and use their cameras to capture it from a point of view that would support its meaning. "People were really mindful about how they were holding their cameras and the colors they used," said the artist about students' final photos. 
Day Four: Visual Stories—Graphed
Students and teachers plotted timelines using a piecewise graph, then transferred the graph directly onto their final images. From yet another bag of goodies, the class added multimedia collage elements—stickers, multicolored transparency film, pipe cleaners, yarn—the works! "I encouraged the students to try and be creative about how they wanted to draw their line or how they wanted to tell their story a little bit deeper—maybe add some words and some embellishments to make their pictures stand out a little bit more." They were able to create some really interesting and compelling multimedia pieces. "You're seeing the graph, but you're also seeing the visual representation of the graph or the story."
Looking to the Future
Is it any wonder that positive energy and the excitement of big ideas in teaching will ripple through a school community and spark even more minds and imaginations? The math teachers at North County High School (NCHS) brainstormed many additional concepts they'd like to teach through digital photography. And the art department was so excited to see the Algebra 1 students' finished pieces that they plan to replicate this exact lesson for their art students.
As even further evidence of their commitment to arts integration, NCHS just received a $40,000 STEM + Arts Integration grant from the National Office of Young Audiences Arts for Learning to support a year-long arts integration program with their 9th-grade Algebra students and YAMD teaching artists. Christina Delgado will be traveling to Kansas City, MO this August with Lacey Sheppard, AACPS Arts Integration Teacher Specialist, and Hana Morford, YAMD Education Director of Statewide Initiatives, to take part in a Professional Learning Institute to develop the program's curriculum. We cannot wait to see the lesson plans that will emerge.
Learn more about the Arts Empowered Minds Initiative, its collective impact partners, and the community it serves by visiting artsempoweredminds.org.
Written by Barbara Krebs,
Young Audiences volunteer and Sunburst Society member
"What does the artist do? He draws connections. He ties the invisible threads between things."
—Anselm Kiefer, German painter and sculptor
A few weeks ago, Young Audiences hosted an event to celebrate the organization's supporters and the arts and education experiences that, together, we were able to bring to Maryland students over the past year.
I imagine the connections. From teacher to student. From student to parent. From tap dancing to the nucleus of an atom. From all the "invisible threads between things." That's what Young Audiences does: Connects kids and imagination to education through the arts.
Having been to a number of YA's events, I had a reasonable idea of what to expect. Inspiring statistics of successes achieved in area schools. Teaching artists demonstrating classroom arts techniques. Audience participation. Delicious hors d'oeuvres and delightful cocktails. Animated conversations that explore the arts and our connection to Young Audiences. And on this occasion, expansive views of Baltimore's Inner Harbor.
It's easy enough to write this basic list of how YA celebrates. What's harder to capture is the excitement, inspiration, imagination, and connectedness that ensues.
For example, teaching demonstrations began with Khaleshia Thorpe-Price, who is involved with a program new to Young Audiences: Baby Artsplay. This program provides engaging activities designed for parents, caregivers, and early childhood educators to use the arts at home, daycare, and school to set our youngest learners on a path toward kindergarten readiness.
As she passed out small egg-shaped rattles (easy for small hands to hold), she explained how she uses simple songs and movement to engage the kids. Later she distributed scarves, which were used in a peek-a-boo song that encouraged creativity, imagination, and movement.
See, describing it doesn't do it justice – but if you can just visualize for a moment (encouraging active imaginations here!) a roomful of slightly self-conscious professional people waving scarves up, down, and sideways while they "flew" or "sashayed" or "danced," you begin to get an idea of how this reaches young kids who have no inhibitions about imaginative play. And better yet, these are techniques that can then be taken home and easily recreated to help children learn through play.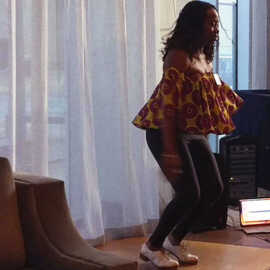 How about tap dancing? Quynn Johnson made music with her feet! Sliding, spinning, tapping toes, tapping heels–the rousing rhythms got and held our attention just as it does the K-8th-grade students she instructs.  Whether it's math, science, or literacy, her feet teach the lesson. I asked her about that later, admitting that I understood how tap dancing could teach math. But I wondered how she connected this art form to science and English. I then learned how she taught different rhythms to illustrate the nucleus of an atom; or the life cycle of a hurricane; or the development of Pinnochio from a wooden puppet, to a wooden puppet with a long nose, to a little boy.
Last up was Regie Cabico, a slam poet and theatre artist who produces wonderful, thought-provoking performance art informed by his Filipino American identity. Working in theatre, he constantly struggled to secure roles, being labeled "not Asian enough" for some and "too Asian" for others. And so he connects with his students, who also grapple with not being or appearing "something" enough. Feeling "other" is a universal theme that connects us all.
So I imagine the connections. From teacher to student. From student to parent. From tap dancing to the nucleus of an atom. From all the "invisible threads between things." That's what Young Audiences does–connects kids and imagination to education through the arts.