Articles by Month:
June 2019
Written by Stacie Sanders Evans,
President and CEO of Young Audiences/Arts for Learning
Belonging. That's the word that has been on my mind. Our founder, Nina Collier, understood belonging. She felt music belonged in schools, that artists belonged in a child's education. In 1950 she inspired a movement of artists-in-schools. What started in Baltimore has now grown to 30 Young Audiences–the largest arts-in-education network in the US.
Today, Young Audiences artists like Femi the DriFish and Valerie Branch ignite a child's desire to learn. Whatever our partner artists' art form is–hip hop dance or improvisational theatre–they use it to draw kids into learning. We train our artists to integrate their art form with whatever is being taught in students' literacy, math, social studies, and science classes.
We do that because when kids create something they get to make choices. They make meaningful connections. They express themselves. Choice and voice–that makes the learning matter.
When we, as a community, provide children with these kinds of opportunities, we are telling them, "You matter!" All of this, what we do, it nurtures the sense of belonging in our kids, artists, parents, and teachers. And it is belonging that I feel when I walk into one of our classrooms. Listen to how Tiffani, Dawn, and Valerie talk about our community in Together–we are their people–and we all belong.
Think back to when you were growing up. Who were YOUR people? What teacher or coach left their imprint. Who helped you become the person that you are today?  I bet that person made you feel visible. Known. That you belonged.
My moment was in ninth grade. I was struggling in many different ways and my drama teacher, Mrs. Howard, saw something in me. She knew how to draw that "something" out–just like the 200 artists (both YA roster artists and independent artists) we work with. In her class, I belonged. She cast me as Juliet in Romeo and Juliet. And that moment was like rocket fuel for me.
Belonging is a strong human need, particularly in our children. I see belonging as the net below the trapeze. When kids have that net of belonging, they are more likely to lean into learning–kids like Josh Ajala, who in Together, spoke about moving from the back of the class to the front–and his sister Tiffani Ajala–who was brave enough to apply for Baltimore Design School (and got the highest possible score on her fashion portfolio!) These are the courageous risks we want our kids to take so that they can grow.
But public education for the last 17 years, after the birth of No Child Left Behind, hasn't been focused on this. It has been about raising standards and increasing school accountability–measured through standardized testing. What do kids who are part of this system think about this? In Brenna's poem, she says students feel like they are just inputs and outputs in one simple equation.
The outcomes we are seeing are heartbreaking and not sustainable as a society. Eight out of ten Baltimore City Schools students do not meet "proficiency" in math or reading. Nearly half of our children across the state entering Kindergarten are already behind. Four out of ten Maryland teachers leave teaching within five years because this isn't the equation they want to be a part of.
A different way is needed. Young Audiences is a different way. Our movement is to make sure all kids–and the people who teach them–are not treated like inputs and outputs but as the whole beautiful human beings that they are.
Today, thanks to our 450 school partners, our Sunburst Society members, and our game-changing evidence, our movement is growing. Outreach has doubled in the last five years. We impact the education of 191,000 children EVERY year–children in EVERY Maryland county.
We are on a mission to close the opportunity gaps in this educational system. We have four strategies:
Preventing summer learning loss by operating 20 summer programs across our city
Increasing school readiness through early childhood programs in four counties
Improving student engagement in learning by providing professional development to 500 teachers every year
Increasing equity in access to opportunity–more than 30,000 of our children are in under-resourced communities, so we provide more to them
We have made tremendous progress over the last five years but we can take this to a new level. Five years from today, I think we can change the educational trajectory of 50,000 more kids. Here is how we can get there:
Expand our evidence-based Summer Arts & Learning Academy in and beyond Baltimore City. This is the program that Tiffani, Alice, and Josh participated in that continues to have a ripple effect in their life. To expand to just one more school district, we have to find and train 20 more artists.
This Academy is only 25 days of a kid's life–and in that short time, we see lots of benefits. Imagine if kids had that kind of arts-integrated learning during the school year and school day? We want to launch year-round professional development and support for teachers and principals to make that happen. If we were able to add just one more person to our staff that focused on professional development, we could support 100 more teachers and principals every year.
To have the greatest impact on a child's potential, we need to invest early. (Did you know that 80% of the brain's synaptic connections are made by age 3?) In 2024, we want to bring our Baby Artsplay program to 5,000 infants and toddlers across Maryland and–to their very first teacher–their parents. This will require our artists to be trained in early childhood development.
Think back to your person–your Mrs. Howard. Think back to that feeling of belonging. Imagine if you could create that opportunity for someone else. For another Josh. Another Brenna. Take that opportunity and multiply it by 50,000. Fifty thousand children sitting in the front of the class, trying out for Baltimore Design School, reaching for that trapeze handle.
That is the opportunity in front of us. For Brenna, that is the equation she wants us to come together and solve.
Categorized:

News

Tagged:

Anne Arundel County Public Schools, Baltimore City, Baltimore City Public Schools, Bloomberg Arts Internship, community, Femi the Drifish, fundraising, Impact Breakfast, Maryland Public Schools, North County High School, Stacie Sanders Evans, Summer Arts & Learning Academy, summer learning, Summer READS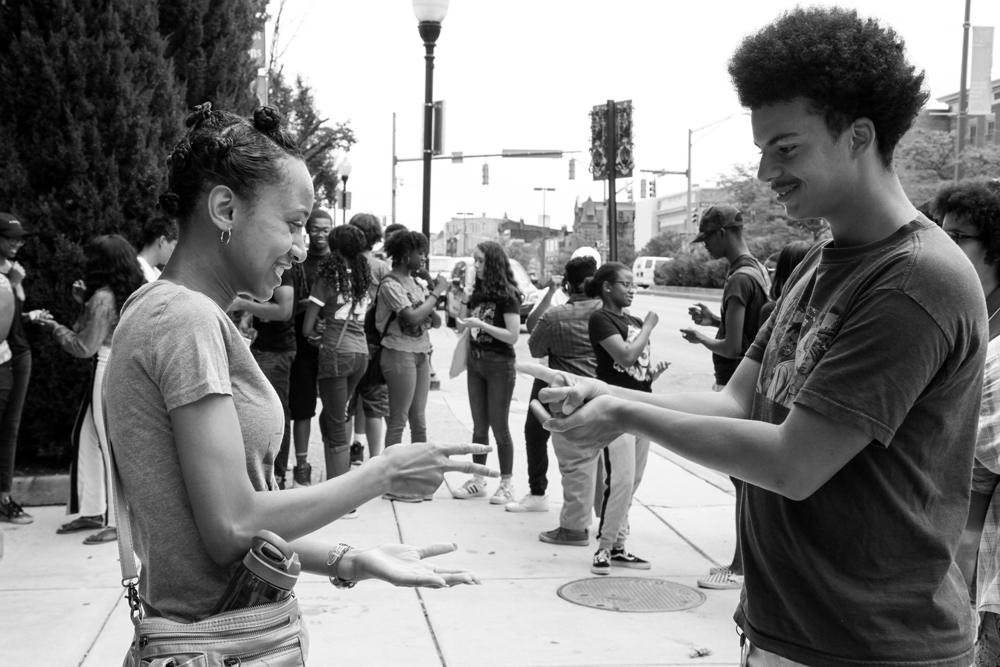 Written by Barbara Krebs,
Young Audiences volunteer and Sunburst Society member
Classes may be just about to wrap up, but for 33 Baltimore students who have accepted positions in the Bloomberg Arts Internship this summer, a different kind of learning experience is only beginning. Young Audiences, with funding from Bloomberg Philanthropies, established a now eight-week program three years ago to offer paid internships to rising high school seniors. Twenty local arts facilities and museums are currently providing jobs that offer a wide range of dance, music, art, theatre, cultural, and curatorial opportunities.
It's no great secret that internships are often viewed (and rightfully so) as stepping stones to higher education opportunities and greater career possibilities. Internships offer high school and college students crucial job skills and mentorship relationships that help them stand out in an often crowded job market. But paid internships can be few and far between.
The Bloomberg Arts Internship aims to make paid internships in the arts and culture field more inclusive and available to students who otherwise may not have the opportunity to network and build skills in that professional setting. 
An article–How Internships Are Changing the Art World–from Artsy.net has this to say about how intertwined the relationships and skill building are. "It's not only that your intern could be your successor, they might one day be your colleague," said Selene Preciado, program assistant for the Getty Marrow Undergraduate Internships in Los Angeles.
Indeed, they might! But these Bloomberg Arts internships go far beyond job training and networking, as important as these are. These students will gain familiarity and comfort with workplace etiquette, improve verbal and written communication skills, explore cultural assets in our city, develop critical life and work skills, and prepare to apply and transition into college. In addition, the program aims to encourage a more equitable and diverse range of staff and audiences among cultural institutions, while instilling in the students an understanding and appreciation of the important civic contributions of arts and culture.
That's a lot to learn in just eight weeks! And yet, these arts internships provide not just amazing arts education, the students also strengthen their:
computer capabilities (Center Stage – "how to use leading software for the industry")

 

research, interview, and publishing skills (Baltimore Office of Promotion & the Arts – "the student will research history, interview artists, and ultimately publish a youth-organized 'tour' of murals and sculptures")

proficiencies in following a project to completion (Maryland Film Festival – by curating and promoting short films, the student will "be involved in every aspect, from curation to marketing to execution.")

 
In short, skills to last a lifetime. In the Artsy article, Maxwell Anderson, president of the Souls Grown Deep Foundation in Atlanta said, "Museums desperately need talent in all sorts of positions–curators represent a fraction of the staff of museums. We'd be thrilled if an accountant emerges from [our program] and finds their way into the museum profession, but they're an accountant who has knowledge and experience in a particular cultural remit that otherwise they may not have."
In the short bios that the students provided, I noticed one recurring theme: learning. These are students who have a passion for learning, who will make the most of their internship, and who will carry what they learn with them into the future. I have no doubt that they will take this small stepping stone and use it to build a solid foundation in the years to come.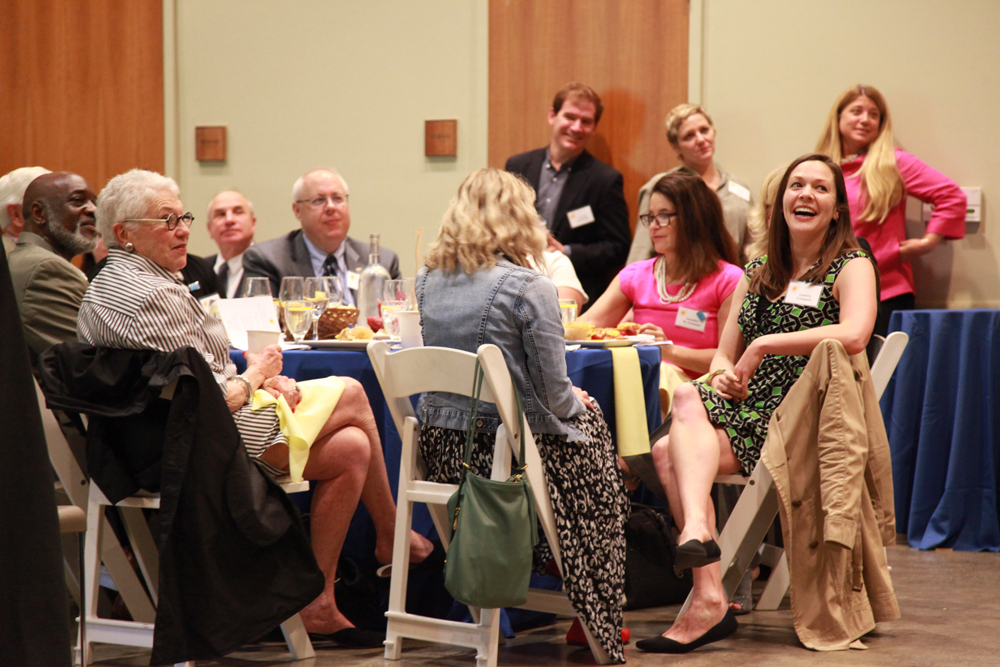 Written by Barbara Krebs,
Young Audiences volunteer and Sunburst Society member
The thing I like most about Young Audiences' Impact Breakfast is that I never know what new insight I will take away from it. Sometimes I go home and think about the things I heard and saw, and something takes root and grows from my pondering. Other years it hits me immediately with, um, impact. This year's Impact Breakfast was of the second variety.
It started with the music. Because the day began with rain, award-winning Folk singer and guitarist Letitia VanSant welcomed guests with her songs in the lobby of the Vollmer Center, and not outside, like planned. She played and sang softly, setting a mood of serenity. Ahh, yes, very pleasant as I sipped my coffee. And then as I started looking at Maura Dwyer's handmade crankie, a wooden box containing an illustrated scroll that reveals a moving picture story as it is slowly wound by the artist, a very different style of music was unleashed–ragtime! Now that gets the blood pumping!
The guitarist's intimate melodies were quickly drowned out. Assessing the situation–and the weather, YA staff and board members moved the duo's entire set-up where they belonged all along–just outside, at the entrance of the building. And that improvisation really worked, as Letitia's musical style and the moving panorama that accompanied her songs connected naturally to the park-like setting surrounding the Vollmer Center. You can't control the weather, but you can spring into action when it changes for the better!
After listening to her a while, I wandered back into the building to take in some more ragtime and to look over the student works displayed downstairs. And that's when one of the accompanying quotes struck me. Labeled "What Students Have to Say," a 6th-grade improvisational theatre major stated, "My favorite major is improv because of how we can laugh and be silly. We can be anything because it is based on your imagination. In your imagination you can be anything and see anything." Exactly!
More improvisation followed as Mama Rashida and WombWork Productions performed. With Virtues as the theme and a backdrop listing a huge variety of positive qualities, she prompted the audience to participate in a call-and-response activity, shouting out "gratitude" and "unity" and "creativity" as we swayed in our seats and responded, "yeah, yeah!"
When it was time to hear Femi "The Drifish" Lawal speak, I have to admit I was particularly happy to hear from him. That's because I have been fortunate enough to have had the opportunity to observe him in action in the classroom, at Art Crawl and at introductory "house" parties that showcase what YA does. In all of these settings, he's a master at getting both kids and adults involved.
So I was both surprised and amused to hear him admit to "winging it" before he began working with Young Audiences. But what did not surprise me was to learn how his involvement with Young Audiences helped him hone and master his teaching style. He knew he was already positively impacting young lives in the classroom, but with YA's assistance, he learned techniques that extended what he could offer and bring out in the kids.
As a person who enjoys contradictions, I thought about the nature of improvisation. Yes, it is about doing things without previous preparation. Yes, it is about responding to whatever circumstance comes your way. And yes, it is about reacting to your imagination as the 6th grader said.
But… it is also about the preparation, oddly enough. When you prepare fertile ground for your imagination to take you places, you become increasingly comfortable with the journey, and you find new and creative ways to respond to real-world situations. When you learn classroom techniques that allow children to explore their worlds in different ways, you discover the power of improv paired with preparation. How it helps them rap their way to mathematical formulas, dance their way to literature themes and draw their way to social justice.
So at this year's Impact Breakfast, I learned that preparing for improvisation is not quite the oxymoron it appears to be. Because no matter how prepared you are, you need to be able to improvise when the moment calls for it. And no matter how stellar you are at winging it, preparation makes it easier to soar on those improv wings.
Visit our Flickr page to see more images from Young Audiences' annual Impact Breakfast.