Articles by Month:
April 2019
An inaugural Arts Integration Conference held at the Chesapeake Arts Center (CAC) showcased the strength and excellence of the Arts Empowered Minds Initiative (AEMI)'s collective knowledge and resources. Over the course of the day, Anne Arundel County Public Schools (AACPS) educators and CAC artists participated together in classes, learning to integrate three different art forms into other academic areas.
"This was actually the first time we brought these two groups together and—WOW—what amazing things happened!"
"CAC is a fantastic arts hub next door to all 12 AEMI schools, but there isn't always time for teachers to experience all it has to offer," said Hana Morford, YA Education Director, Statewide Initiatives. "Our goal for the day was to create synergy between the amazing CAC artists and AACPS teachers—giving them space to work together and learn from one another through the arts. This was actually the first time we brought these two groups together and—WOW—what amazing things happened!"
The teachers and artists rotated in groups throughout the workshops, spending equal time weaving and stitching with Katherine Dilworth, a Young Audiences fiber artist; learning the elements of dance with Lacey Sheppard, Arts Integration Teacher Specialist; and forming clay vessels with CAC artist Cami Ascher. Then, in the afternoon, the teachers worked in their school teams to write an arts-integrated lesson plan that connected to one of the three art forms. During this time, CAC artists were able to get a taste of arts integration and develop ideas on how they might integrate their art form with some of the teachers' content areas.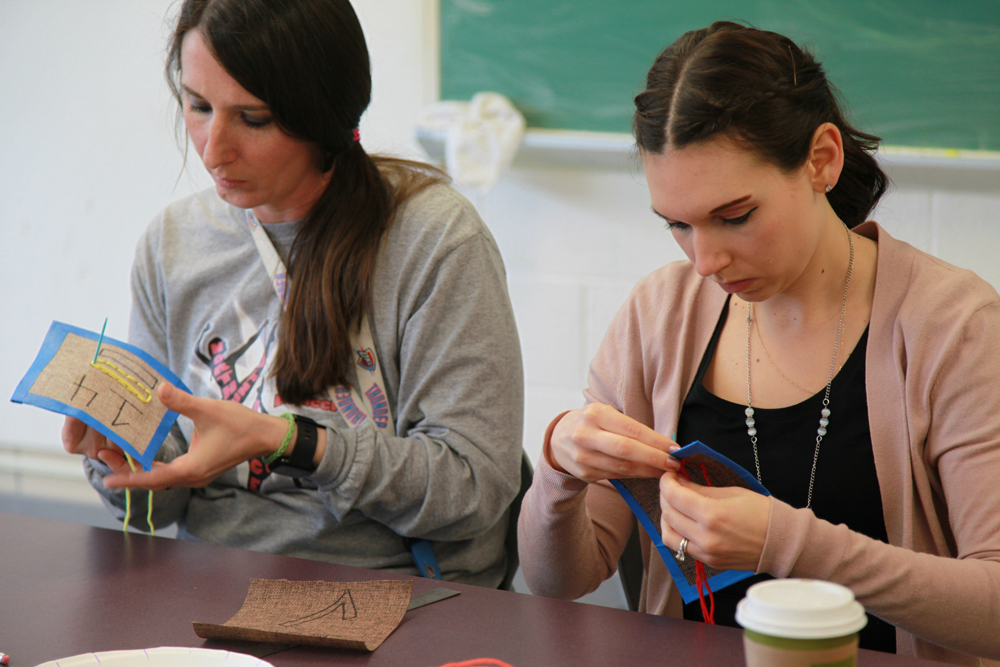 As they engaged in the various art forms, ah-has and ideas filled the classrooms. Katherine Dilworth guided participants first in a weaving project using sturdy paper plates and colorful yarn, and later, in stitching. She shared finished samples with the teachers that focused on math and on literacy—incorporating felt and even beads into the designs. Her excitement was contagious. Working with burlap, needle, and thread, one history teacher imagined the possibility of students stitching constitutional amendments.
Teachers got their hands messy learning clay building techniques with Cami Ascher in the CAC's ceramics studio. They rolled long snakes and coiled them into different shapes. They transformed balls of clay into pots and funny characters with big eyeballs. And they learned how to "scratch and attach" to create a strong bond between formed pieces of the material. Cami had lots of advice for the group: which clays to use if they have/don't have access to a kiln, how to minimize mess, and how to preserve a project if more than a class period is needed to complete it.
Lacey Sheppard divided participants into two groups for her workshop, each choreographing and performing an original dance for the other. They thought carefully about BEST: Body, Energy, Space, and Time—the elements of dance. Some stepped out of their comfort zones while others felt right at home in the limelight, but they all enjoyed the exercise in movement and the connections they could make through the art form to other classroom lessons.
One participant gained so much from the professional development workshops, she sent a note of appreciation the next day. "I just wanted to share that yesterday's PD was by far the best PD I have ever been to," she said. "I loved how you had us in groups that stayed together through the day. I am so excited to bring back new ideas to my school. Thank you so so much!"
Hana added, "It was so beautiful to see the AEMI community begin to take shape between teachers and artists!" And it is a community, we know, that will create so many opportunities in Northern Anne Arundel County. That is the power of the Arts Empowered Minds Initiative.
Learn more about the Arts Empowered Minds Initiative, its collective impact partners and the community it serves by visiting artsempoweredminds.org.
Categorized:

Arts Empowered Minds, News

Tagged:

AACPS, AEMI, Anne Arundel County, Anne Arundel County Public Schools, Arts Empowered Minds, Arts Empowered Minds Initiative, arts integration, CAC, Cami Ascher, ceramics, Chesapeake Arts Center, clay, community, dance, fiber, Katherine Dilworth, Lacey Sheppard, PD, professional development, visual arts
This summer, rising high school seniors in Baltimore City Public Schools will have the opportunity to work and learn in one of Maryland's stellar and well-respected arts and cultural organizations through the Bloomberg Arts Internship, a program designed to challenge and inspire students.
The 2019 Bloomberg Arts Internship worksites are:
Art with a Heart
Arts Education in Maryland Schools (AEMS) Alliance
Arts Every Day
Baltimore Clayworks
The Baltimore Museum of Art
The Baltimore Office of Promotion & the Arts
Center Stage Associates, Inc. (Baltimore Center Stage)
Dance & Bmore
Evergreen Museum and Library
Everyman Theatre
Homewood Museum
Maryland Film Festival / SNF Parkway Theatre
Maryland Historical Society
Maryland Institute College of Art, Young People's Studios
Peabody Preparatory
Port Discovery Children's Museum
Reginald F. Lewis Museum
Single Carrot Theatre
The Walters Art Museum
Wide Angle Youth Media
Students will get paid, hands-on, meaningful experience learning about the many roles played behind the scenes at these organizations. They'll also complete a special project unique to their worksite placement!
Collin Snow Stokes, a 2018 intern at the Reginald F. Lewis Musem, interviewed and documented the thoughts and feelings of Lewis staff, visitors, and volunteers evoked by objects reflecting Jim Crow era stereotypes from their exhibition "Hateful Things."
Bella Smith, a 2018 intern at Evergreen Museum and Library, curated the exhibition "New Acquisition – Works by Aaron Sopher." She cataloged 34 of the artist's drawings, then transferred the catalogs to a digital file before selecting which works to exhibit, and matting, framing, and labeling the pieces for the show.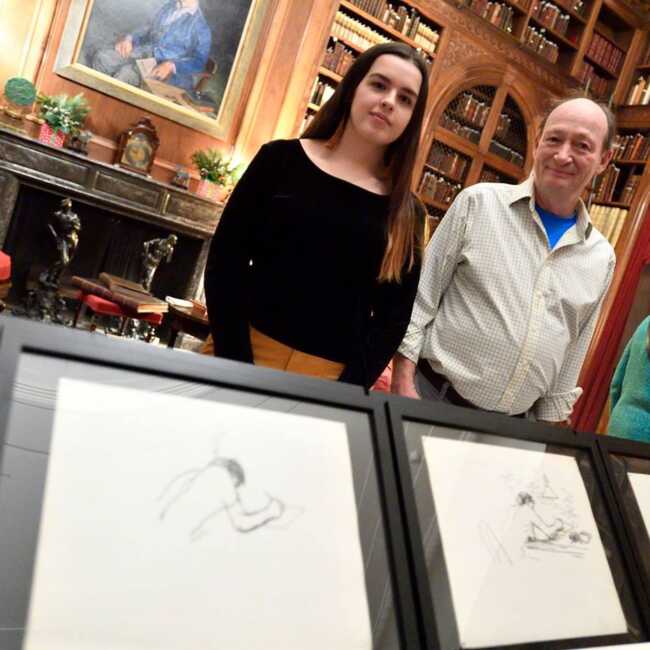 Internship projects vary among organizations to include production, education, development, community engagement, artist engagement, video, music, administration and more. At the end of the program, interns create final presentations highlighting their experiences, sharing with the community the new skills and interests that have developed over the course of their internships at each site.
In addition to gaining valuable work experience, Bloomberg Arts interns will be honing writing skills while preparing personal essays and receiving guidance in applying for colleges. They'll also have the chance to explore cultural institutions through field trips, and to see/hear/talk about works of art in various arts disciplines (visual art, music, theatre, dance, design, film/video, and technology).
The Bloomberg Arts Internship is managed by Young Audiences through the support of Bloomberg Philanthropies. There are only 35 spots available for rising seniors. Apply NOW!
Application Deadlines:
Early Bird: April 12, 2019
Final: May 6, 2019
Written by Barbara Krebs,
Young Audiences volunteer and Sunburst Society member
As a Young Audiences volunteer, I've been fortunate enough to watch a variety of artists at work in the classroom. And the results always amaze and humble me. Whether it's rapping the multiplication tables, or acting out a storyline, or drawing to illustrate a book's theme(s), I love how the arts grab kids' attention and not only hold it, but draw them out, asking questions, trying out new ideas, and expanding their horizons.
But it dawned on me that I had never watched a class in its entirety–had never witnessed the full lesson plan. I finally got a chance to do so recently when I visited Ms. Bradley's eighth-grade Honors English class at Chesapeake Science Point Charter School in Hanover, Maryland. Over the course of a week, Gayle Danley, an internationally recognized slam poet, was there to guide them in writing their own poems.
Full disclosure: Gayle is a personal friend of mine. I met her five years ago when she mentored my daughter, Colette, who had been asked to speak at Young Audiences' annual Impact Breakfast. And over the years, I have watched her perform at YA events and in her own shows. But I had not yet witnessed her in action in the classroom.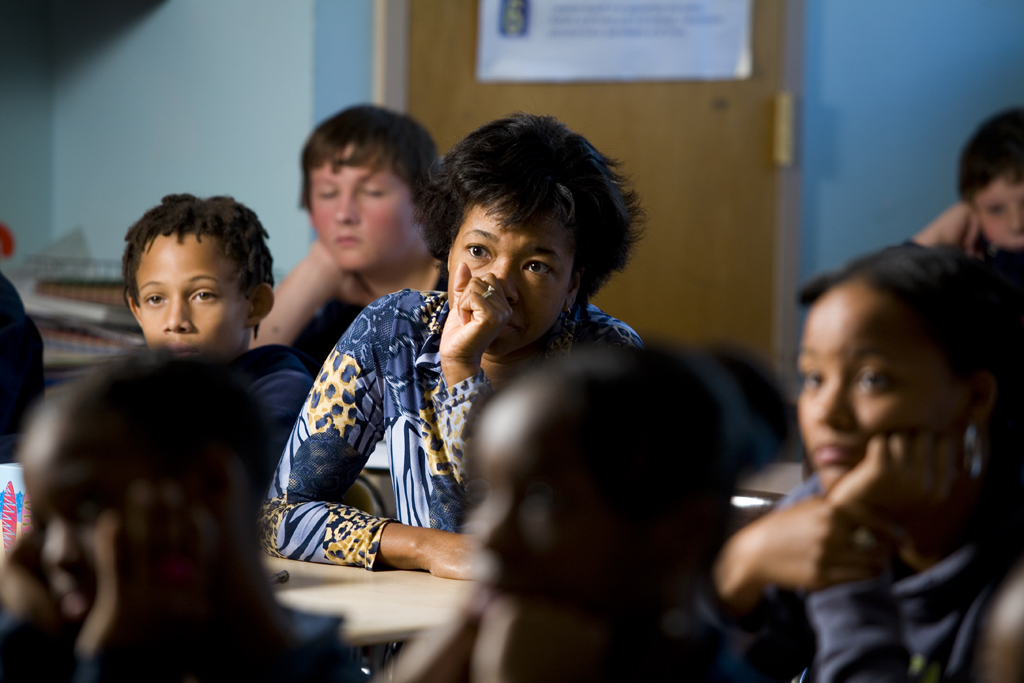 And so, I found an inconspicuous spot from which to observe. Gayle quickly got to the heart of the lesson. She had started working with the class on Monday, so she now asked for volunteers to read the poems they had written since then. She instructed them to listen carefully and write down two things: 1) a sentence or phrase they really liked; that they could truly identify with and 2) a sentence or phrase they didn't like or didn't understand.
"So, who wants to go first?" After a predictable silence, Gayle encouraged them, "Poets have to be afraid sometimes. I know you're afraid to share your work. But if you come up here, we'll support you."
After another quiet pause, one brave soul ventured forth. "Let's hear it for the poet!" Gayle shouted, and led the class in applause. Even so, the first girl almost returned to her seat. But by then, her classmates were shouting their own encouragement, "You got this!" "Own it–you're already up there!"  "You can do it!"
And so she read. Sometimes Gayle interrupted to ask her to slow down or to speak louder. Another time she stopped her to ask the class what they thought of one line, "how does that make you feel?" When the teenager had finished, Gayle again led the applause and praised her for being first.
Then she asked the class for their favorite and least favorite lines, and asked them to explain. At one point, Gayle focused on "f-a-i-t-h," which the young woman had spelled out rather than saying the word. She asked if that bothered anyone, threw them out of the poem temporarily because that's how Gayle had felt. And when there was no comment, she asked, "Ms. Barbara, what about you?"
And so, being honest, I answered that I had actually liked that because it made me truly pause on that word and think about it. Hopefully, that was a good teaching moment about how unique poetry is and that your own personal experience will guide your interpretation!
Back at the front of the classroom, Gayle pointed to words that were written on the board: Wring, Fling, Bling, Sing. "Let's talk about these for a while." And for the uninitiated (as I was), Gayle describes this as her writing process.
Wring: Wring the words out onto the paper like you're wringing out a washcloth. Just write it down!
Fling: Once it's on paper, fling out any words that aren't needed.
Bling: Now, add words that will really make your meaning stand out.
Sing: Finally, read it aloud and see how it sounds. Fling or Bling as needed.
As she described this, I laughed internally because I recognized my own writing process. Except I had always described it (skip this part if you're squeamish) as the vomit method. Throw it up on the paper and clean it up later. Leave it to a poet to be, well, more poetic about it!
And so it went. Kids coming to the front, reading their poems, a start-and-stop process to consider edits. "When you say 'ancestors,' I think it would be good to be more specific. What if you substituted 'Rosa Parks' for ancestors?"
"His color was dangerous," Gayle repeated from another poet. "What is dangerous?" she asked the teens. "A knife!" "A gun!" "A wild animal!" And with those words, she suggested illustrating the danger more concretely with a visual image that would strike the listener/reader.
As the lesson wound down, I gathered my things to leave. Did I mention there are no observers in this classroom? At the beginning of the lesson, the teacher had explained what she was looking for in an assignment that talked about regional differences and dialects in language. Before I could exit, I found myself surrounded by a group of three girls who asked me where I was from (North Carolina), how did I pronounce "pecan" (accent on the second syllable), what word do I use that generally isn't used in other parts of the country (y'all).
Signing off on their papers, I felt excited to be a part of their education even in such a small way, inspired to try this on my own, and happy to be a tiny part of Young Audiences' mission to reach kids through arts-integrated education. With Gayle's teaching style demonstrated, I am ready to Wring, Fling, Bling, and Sing on my own!