An inaugural Arts Integration Conference held at the Chesapeake Arts Center (CAC) showcased the strength and excellence of the Arts Empowered Minds Initiative (AEMI)'s collective knowledge and resources. Over the course of the day, Anne Arundel County Public Schools (AACPS) educators and CAC artists participated together in classes, learning to integrate three different art forms into other academic areas.
"This was actually the first time we brought these two groups together and—WOW—what amazing things happened!"
"CAC is a fantastic arts hub next door to all 12 AEMI schools, but there isn't always time for teachers to experience all it has to offer," said Hana Morford, YA Education Director, Statewide Initiatives. "Our goal for the day was to create synergy between the amazing CAC artists and AACPS teachers—giving them space to work together and learn from one another through the arts. This was actually the first time we brought these two groups together and—WOW—what amazing things happened!"
The teachers and artists rotated in groups throughout the workshops, spending equal time weaving and stitching with Katherine Dilworth, a Young Audiences fiber artist; learning the elements of dance with Lacey Sheppard, Arts Integration Teacher Specialist; and forming clay vessels with CAC artist Cami Ascher. Then, in the afternoon, the teachers worked in their school teams to write an arts-integrated lesson plan that connected to one of the three art forms. During this time, CAC artists were able to get a taste of arts integration and develop ideas on how they might integrate their art form with some of the teachers' content areas.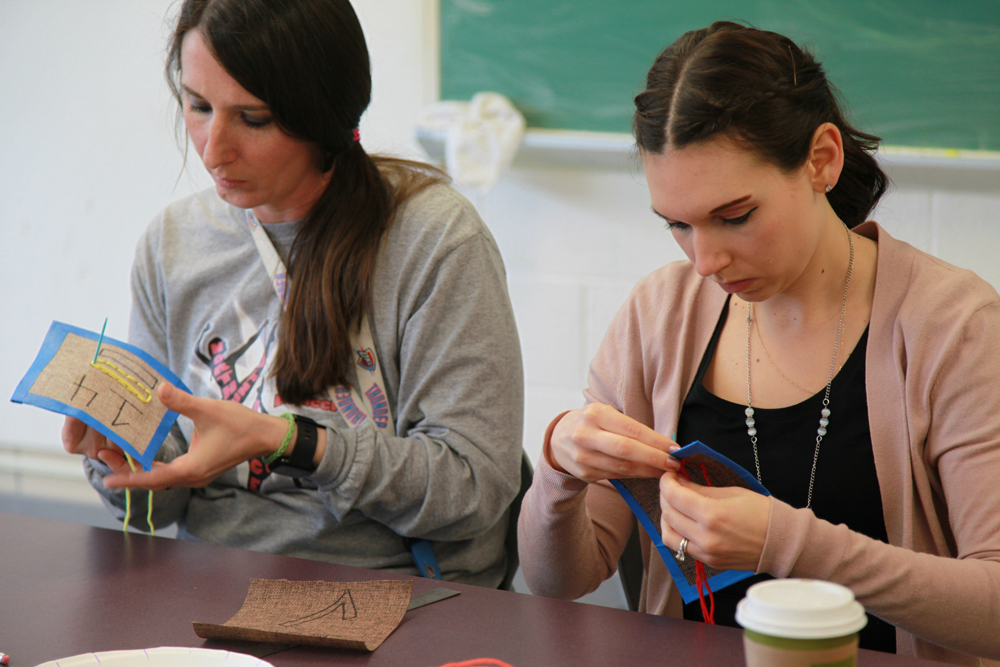 As they engaged in the various art forms, ah-has and ideas filled the classrooms. Katherine Dilworth guided participants first in a weaving project using sturdy paper plates and colorful yarn, and later, in stitching. She shared finished samples with the teachers that focused on math and on literacy—incorporating felt and even beads into the designs. Her excitement was contagious. Working with burlap, needle, and thread, one history teacher imagined the possibility of students stitching constitutional amendments.
Teachers got their hands messy learning clay building techniques with Cami Ascher in the CAC's ceramics studio. They rolled long snakes and coiled them into different shapes. They transformed balls of clay into pots and funny characters with big eyeballs. And they learned how to "scratch and attach" to create a strong bond between formed pieces of the material. Cami had lots of advice for the group: which clays to use if they have/don't have access to a kiln, how to minimize mess, and how to preserve a project if more than a class period is needed to complete it.
Lacey Sheppard divided participants into two groups for her workshop, each choreographing and performing an original dance for the other. They thought carefully about BEST: Body, Energy, Space, and Time—the elements of dance. Some stepped out of their comfort zones while others felt right at home in the limelight, but they all enjoyed the exercise in movement and the connections they could make through the art form to other classroom lessons.
One participant gained so much from the professional development workshops, she sent a note of appreciation the next day. "I just wanted to share that yesterday's PD was by far the best PD I have ever been to," she said. "I loved how you had us in groups that stayed together through the day. I am so excited to bring back new ideas to my school. Thank you so so much!"
Hana added, "It was so beautiful to see the AEMI community begin to take shape between teachers and artists!" And it is a community, we know, that will create so many opportunities in Northern Anne Arundel County. That is the power of the Arts Empowered Minds Initiative.
Learn more about the Arts Empowered Minds Initiative, its collective impact partners and the community it serves by visiting artsempoweredminds.org.
Categorized:

Arts Empowered Minds, News

Tagged:

AACPS, AEMI, Anne Arundel County, Anne Arundel County Public Schools, Arts Empowered Minds, Arts Empowered Minds Initiative, arts integration, CAC, Cami Ascher, ceramics, Chesapeake Arts Center, clay, community, dance, fiber, Katherine Dilworth, Lacey Sheppard, PD, professional development, visual arts
This summer, rising high school seniors in Baltimore City Public Schools will have the opportunity to work and learn in one of Maryland's stellar and well-respected arts and cultural organizations through the Bloomberg Arts Internship, a program designed to challenge and inspire students.
The 2019 Bloomberg Arts Internship worksites are:
Art with a Heart
Arts Education in Maryland Schools (AEMS) Alliance
Arts Every Day
Baltimore Clayworks
The Baltimore Museum of Art
The Baltimore Office of Promotion & the Arts
Baltimore Symphony Orchestra
Center Stage Associates, Inc. (Baltimore Center Stage)
Dance & Bmore
Evergreen Museum and Library
Everyman Theatre
Homewood Museum
Maryland Film Festival / SNF Parkway Theatre
Maryland Historical Society
Maryland Institute College of Art, Young People's Studios
Peabody Preparatory
Port Discovery Children's Museum
Reginald F. Lewis Museum
Single Carrot Theatre
The Walters Art Museum
Wide Angle Youth Media
Students will get paid, hands-on, meaningful experience learning about the many roles played behind the scenes at these organizations. They'll also complete a special project unique to their worksite placement!
Collin Snow Stokes, a 2018 intern at the Reginald F. Lewis Musem, interviewed and documented the thoughts and feelings of Lewis staff, visitors, and volunteers evoked by objects reflecting Jim Crow era stereotypes from their exhibition "Hateful Things."
Bella Smith, a 2018 intern at Evergreen Museum and Library, curated the exhibition "New Acquisition – Works by Aaron Sopher." She cataloged 34 of the artist's drawings, then transferred the catalogs to a digital file before selecting which works to exhibit, and matting, framing, and labeling the pieces for the show.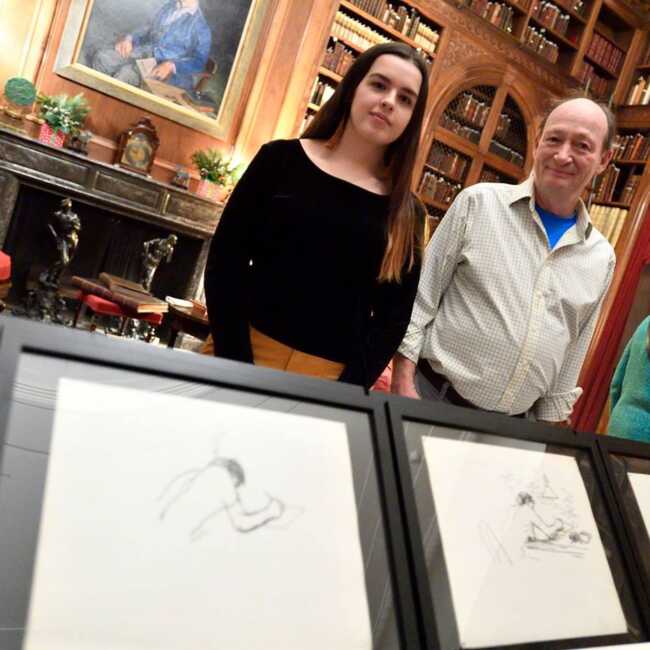 Internship projects vary among organizations to include production, education, development, community engagement, artist engagement, video, music, administration and more. At the end of the program, interns create final presentations highlighting their experiences, sharing with the community the new skills and interests that have developed over the course of their internships at each site.
In addition to gaining valuable work experience, Bloomberg Arts interns will be honing writing skills while preparing personal essays and receiving guidance in applying for colleges. They'll also have the chance to explore cultural institutions through field trips, and to see/hear/talk about works of art in various arts disciplines (visual art, music, theatre, dance, design, film/video, and technology).
The Bloomberg Arts Internship is managed by Young Audiences through the support of Bloomberg Philanthropies. There are only 35 spots available for rising seniors. Apply NOW!
Application Deadlines:
Early Bird: April 12, 2019
Final: April 26, 2019
Written by Barbara Krebs,
Young Audiences volunteer and Sunburst Society member
As a Young Audiences volunteer, I've been fortunate enough to watch a variety of artists at work in the classroom. And the results always amaze and humble me. Whether it's rapping the multiplication tables, or acting out a storyline, or drawing to illustrate a book's theme(s), I love how the arts grab kids' attention and not only hold it, but draw them out, asking questions, trying out new ideas, and expanding their horizons.
But it dawned on me that I had never watched a class in its entirety–had never witnessed the full lesson plan. I finally got a chance to do so recently when I visited Ms. Bradley's eighth-grade Honors English class at Chesapeake Science Point Charter School in Hanover, Maryland. Over the course of a week, Gayle Danley, an internationally recognized slam poet, was there to guide them in writing their own poems.
Full disclosure: Gayle is a personal friend of mine. I met her five years ago when she mentored my daughter, Colette, who had been asked to speak at Young Audiences' annual Impact Breakfast. And over the years, I have watched her perform at YA events and in her own shows. But I had not yet witnessed her in action in the classroom.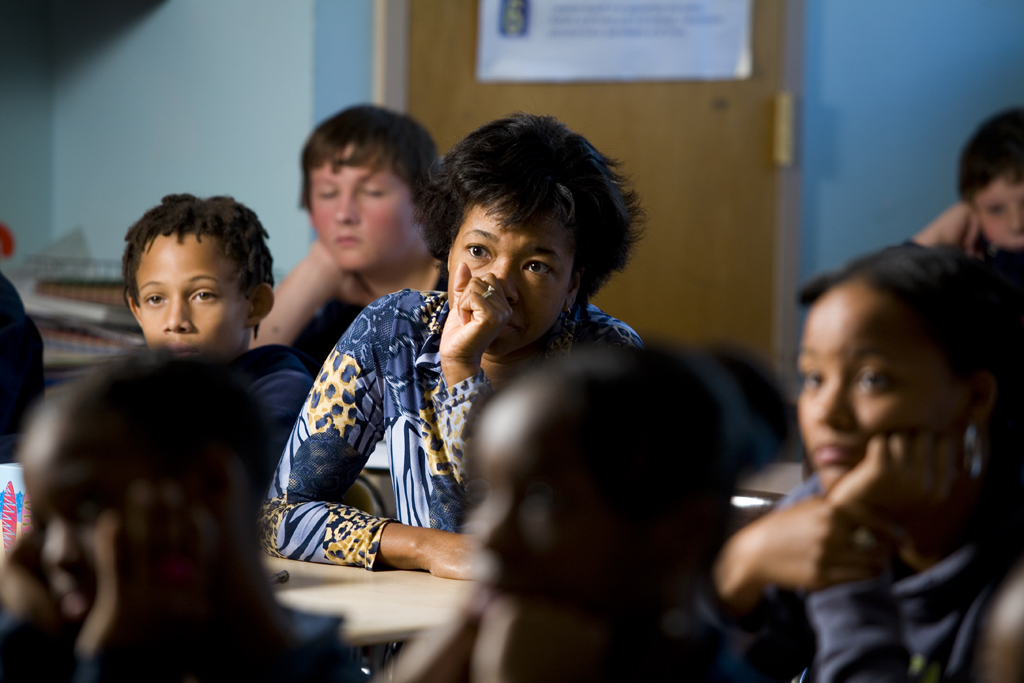 And so, I found an inconspicuous spot from which to observe. Gayle quickly got to the heart of the lesson. She had started working with the class on Monday, so she now asked for volunteers to read the poems they had written since then. She instructed them to listen carefully and write down two things: 1) a sentence or phrase they really liked; that they could truly identify with and 2) a sentence or phrase they didn't like or didn't understand.
"So, who wants to go first?" After a predictable silence, Gayle encouraged them, "Poets have to be afraid sometimes. I know you're afraid to share your work. But if you come up here, we'll support you."
After another quiet pause, one brave soul ventured forth. "Let's hear it for the poet!" Gayle shouted, and led the class in applause. Even so, the first girl almost returned to her seat. But by then, her classmates were shouting their own encouragement, "You got this!" "Own it–you're already up there!"  "You can do it!"
And so she read. Sometimes Gayle interrupted to ask her to slow down or to speak louder. Another time she stopped her to ask the class what they thought of one line, "how does that make you feel?" When the teenager had finished, Gayle again led the applause and praised her for being first.
Then she asked the class for their favorite and least favorite lines, and asked them to explain. At one point, Gayle focused on "f-a-i-t-h," which the young woman had spelled out rather than saying the word. She asked if that bothered anyone, threw them out of the poem temporarily because that's how Gayle had felt. And when there was no comment, she asked, "Ms. Barbara, what about you?"
And so, being honest, I answered that I had actually liked that because it made me truly pause on that word and think about it. Hopefully, that was a good teaching moment about how unique poetry is and that your own personal experience will guide your interpretation!
Back at the front of the classroom, Gayle pointed to words that were written on the board: Wring, Fling, Bling, Sing. "Let's talk about these for a while." And for the uninitiated (as I was), Gayle describes this as her writing process.
Wring: Wring the words out onto the paper like you're wringing out a washcloth. Just write it down!
Fling: Once it's on paper, fling out any words that aren't needed.
Bling: Now, add words that will really make your meaning stand out.
Sing: Finally, read it aloud and see how it sounds. Fling or Bling as needed.
As she described this, I laughed internally because I recognized my own writing process. Except I had always described it (skip this part if you're squeamish) as the vomit method. Throw it up on the paper and clean it up later. Leave it to a poet to be, well, more poetic about it!
And so it went. Kids coming to the front, reading their poems, a start-and-stop process to consider edits. "When you say 'ancestors,' I think it would be good to be more specific. What if you substituted 'Rosa Parks' for ancestors?"
"His color was dangerous," Gayle repeated from another poet. "What is dangerous?" she asked the teens. "A knife!" "A gun!" "A wild animal!" And with those words, she suggested illustrating the danger more concretely with a visual image that would strike the listener/reader.
As the lesson wound down, I gathered my things to leave. Did I mention there are no observers in this classroom? At the beginning of the lesson, the teacher had explained what she was looking for in an assignment that talked about regional differences and dialects in language. Before I could exit, I found myself surrounded by a group of three girls who asked me where I was from (North Carolina), how did I pronounce "pecan" (accent on the second syllable), what word do I use that generally isn't used in other parts of the country (y'all).
Signing off on their papers, I felt excited to be a part of their education even in such a small way, inspired to try this on my own, and happy to be a tiny part of Young Audiences' mission to reach kids through arts-integrated education. With Gayle's teaching style demonstrated, I am ready to Wring, Fling, Bling, and Sing on my own!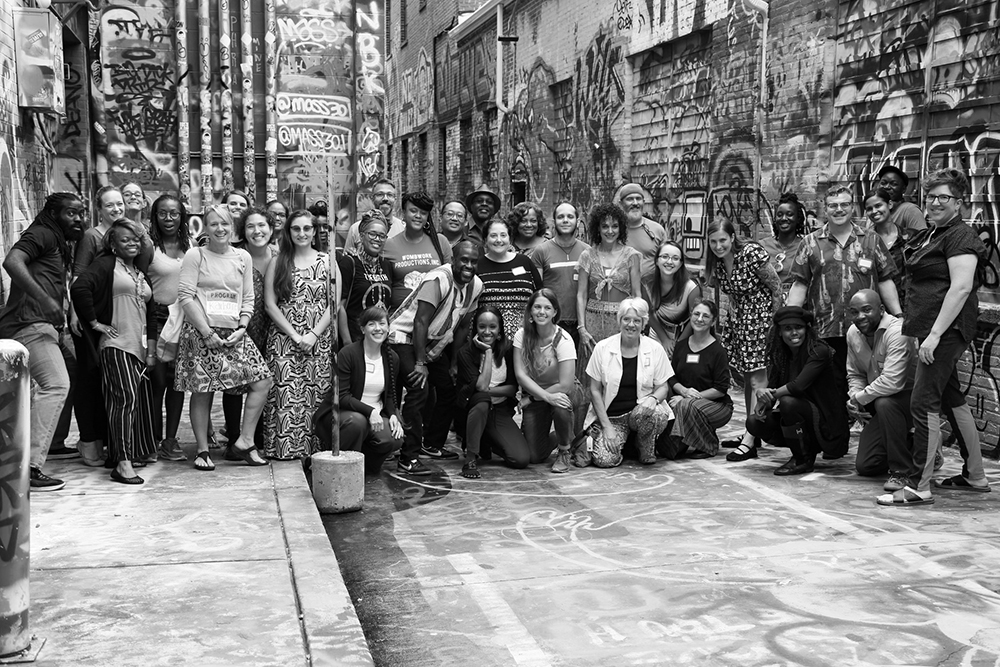 Written by Stacie Sanders Evans,
Chair, Young Audiences' National Residency Teaching Artist Credential
President & CEO, Young Audiences of Maryland
One of the things I admire about many of the artists I encounter is their ability to envision and create without constraint. Most of the time, I feel my ability to dream is tethered to my day to day constraints. Fortunately, I have the rare board of directors at Young Audiences of Maryland (YAMD) that isn't asking me why our copying budget is over by 10%. Instead, they are encouraging me to dream bigger dreams and actually discouraging me from worrying about how to pay for it. They want to help shoulder the burden of these constraints so I have enough moments to live in the delicious "what if" space.
"What if" moments have gotten Young Audiences to where it is today both locally and nationally. One "what if" moment just recently led to a successful pilot of the Young Audiences National Residency Teaching Artist Credential for exceptional teaching artists. Up until this pilot, unlike almost all other professions within education, there has been no nationally recognized credential for the field of teaching artistry. 
Twelve artists (featured below) from seven different states have completed a very rigorous application process and earned the National Residency Teaching Artist Credential to date. Let's applaud these amazing artists who took a chance with us and contributed to the larger idea of "what if" in an effort to help us test and refine a credentialing system.
Young Audiences formed in 1950 in Baltimore because of our founder, Nina Collier's, "what if" moment. Nina's question, "What if we bring musicians into our schools to perform?" ultimately led to the movement that created 32 Young Audiences affiliates across the United States and now benefits five million students annually. She had no idea the impact that question would have on children and artists.
In the '90s, YAMD's first paid executive director, Patricia Thomas, had another important "what if" moment: "What if artists are no longer limited to the auditoriums of our schools? What if they go into classrooms to give kids a chance to create in an art form?" Today, artists in partnership with Young Audiences, impact 230,000 hours of classroom learning in the arts every year, creating powerful moments for Maryland's young people. Thank goodness there were Nina Colliers in communities across our country who were creating the same kind of opportunities for more children.
Once Young Audiences saw the transformative power of our artists in classroom settings to inspire kids and we saw how high stakes testing was narrowing the curriculum and negatively impacting student engagement in the classroom, we asked another "what if."
"What if Young Audiences played a larger role in education and in our communities to bridge the gap between what we know the best conditions are for learning and what children actually receive in school? I call this the inspiration gap.
This "what if" led us to invest heavily in artist training (far beyond even our own roster of artists) and to create many more opportunities for artists to partner with academic teachers to use their art form to draw kids into learning in literacy, math, social studies, and science classes. This is known as arts integration, which could be learning fractions through the steel drum or about figurative language through writing and performing their own poems, or about the scientific method by writing rap songs.
Using the arts helps students connect to the academic content in meaningful ways–so the learning "sticks." Young Audiences' arts integration approach also requires students to "show what they know" through the arts by either performing or exhibiting. Students become more visible in this kind of classroom and it nurtures the sense that they matter. When you make the learning matter and students know that they matter–that is the secret sauce to bridging the inspiration gap.
Now school districts and foundations see us in a broader light, as an organization that can help improve educational outcomes for kids. These groups are investing nearly three million dollars in YAMD this year so we can address stubborn problems in education: preventing summer learning loss, increasing school readiness, and improving teacher practice.
Across the country, we have artists who are ready to bridge the inspiration gap, and there are even more who, with the right training and support, will soon be ready to join them. We believe the National Residency Teaching Artist Credential, along with a network of coordinated, affordable professional development opportunities, could lead to kids in all communities having greater access to a quality education–one that includes arts education and opportunities to learn in, through, and about the arts from the best professional artists in their community (even where there is no local Young Audiences affiliate).
Imagine a society where teaching artists are recognized for the valuable role they play in breathing creativity and possibility into our schools. Work which, in turn, draws kids back into learning. Imagine how many more kids would benefit if artists were able to choose teaching artistry as a profession because it was treated like other professions.
Many, many things are needed to realize this vision, and I believe a credentialing system–one that is developed in partnership with artists and educators with students at the center–is one important component in a larger ecosystem that needs attention. And I'm not alone. A national survey revealed that 94% of teaching artists want a credential like the one we are designing for the field. One reason artists support this idea is that, currently, since our field lacks a credential, there is no unified way for that expertise to be recognized or validated.
For example, dance and teaching artist Valerie Branch has performed with over 10 dance companies, choreographed over 100 dance works, has a Bachelors degree in Dance (Magna Cum Laude), and has led artist-in-residence programs in 150 schools. But as a teaching artist, she had no signifier of her expertise, excellence, or the value she brings to the classroom. The National Residency Teaching Artist Credential solves this problem.
We are still early in this "What if we created a National Residency Teaching Artist Credential?" moment. And we hope one day, after thoughtful adjustment and many discussions with different stakeholders (that includes you!), and in partnership with the many other national and local organizations that care about education, this credential could be something that the broader field will welcome.
Was there ever a time an artist closed the "inspiration gap" for you or a young person you love?  Let's make more moments like that for our young people. Wanna "what if" with Young Audiences around this idea? Let me know because it will take all of us–you, me, our friends, and our friends' friends–to turn this new"what if" into a reality.
2018 Young Audiences' National Residency Teaching Artist Credential Recipients
Valerie Branch, Young Audiences of Maryland
Melli Hoppe, Arts for Learning, the Indiana Affiliate of Young Audiences
Molly Johnson, Young Audiences of New Jersey and Eastern Pennsylvania
Laura Marchese, Young Audiences of New Jersey and Eastern Pennsylvania
Ray McNiece, Center for Arts-Inspired Learning, the NE Ohio Affiliate of Young Audiences
Emma Parker, Center for Arts-Inspired Learning, the NE Ohio Affiliate of Young Audiences
Malke Rosenfeld, Arts for Learning, the Indiana Affiliate of Young Audiences
Chris Sheard, Young Audiences of Louisiana
2019 Young Audiences' National Residency Teaching Artist Credential Recipients:
Carrie Sue Ayvar, Arts for Learning / Miami
Harlan Brownlee, Kansas City Young Audiences
Quynn Johnson, Young Audiences of Maryland
Brittany Roger, Young Audiences of Maryland
Written by Barbara Krebs,
Young Audiences volunteer and Sunburst Society member
As a pair of dancers performed, a group of elementary school children sat, crisscross applesauce, watching their every move. Valerie Branch, a dancer and choreographer with Young Audiences had been working with the Belle Grove Elementary students in an artist residency made possible through the Arts Empowered Minds Initiative (AEMI). When the last notes faded away, Valerie asked the children what they had observed.
"They love each other," one child offered.
"They share," another chimed in.
Then she asked the kids to explain what dancing techniques they had witnessed. "Negative space," "weight sharing," and "weight bearing" were some of the answers shouted out.
Next, she gathered a group of her second-grade students to pair off with each other to demonstrate some of those concepts. Once the children had done so, half of the students were instructed to use a frozen pose in a high, medium, or low position. The rest were to react to whatever their partner had created. With the new poses in place, she asked the other children in the assembly to discuss what they saw and how the partners had related to one another.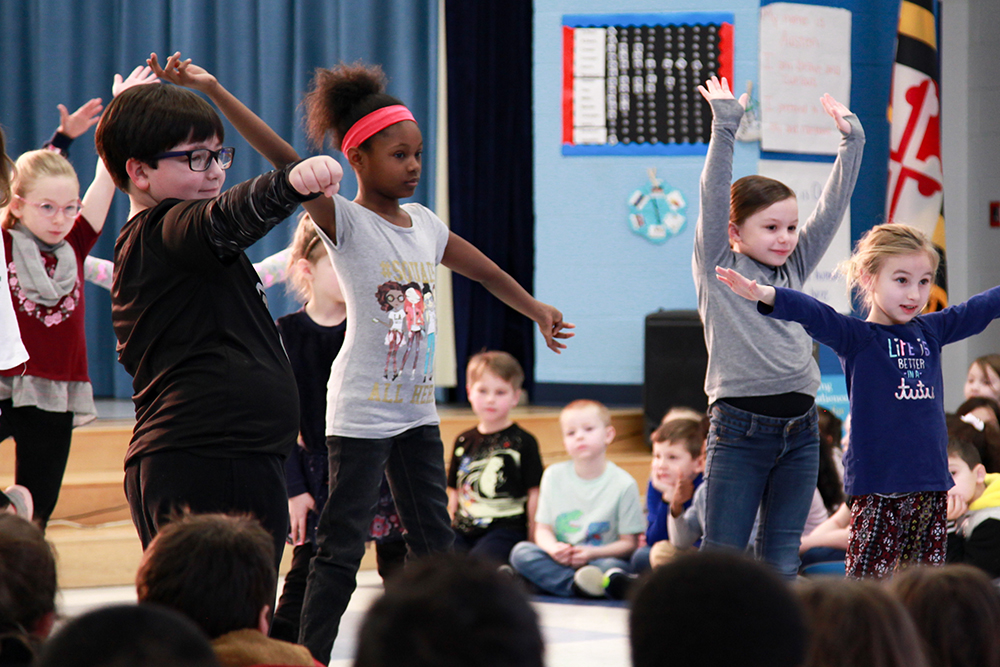 And, in true arts integration form, this exercise was not just about learning dance terminology and positions, but was tied to lessons at the school. This particular one was used in conjunction with a poetry-writing assignment in which the children described themselves through the creation of "I am" poems. Later, choreography was added to illustrate their autobiographical poetry.
Such was the back-and-forth learning that observers witnessed at the Arts Empowered Minds Announcement Event and Celebration on Friday, March 8. The group of educators, politicians, state and local arts administrators, and volunteers gathered at the school was celebrating a $100,000 grant from the National Endowment for the Arts (NEA), which will be used to expand arts integration and teacher professional development in Northern Anne Arundel County.
This is the third time that the NEA has awarded Young Audiences, the program's managing partner, a grant for AEMI. This collaborative partnership between a wide array of arts and education organizations throughout Anne Arundel County seeks to "address the disparity in arts access–and associated gaps in student achievement–between students in Northern Anne Arundel County and the rest of the county."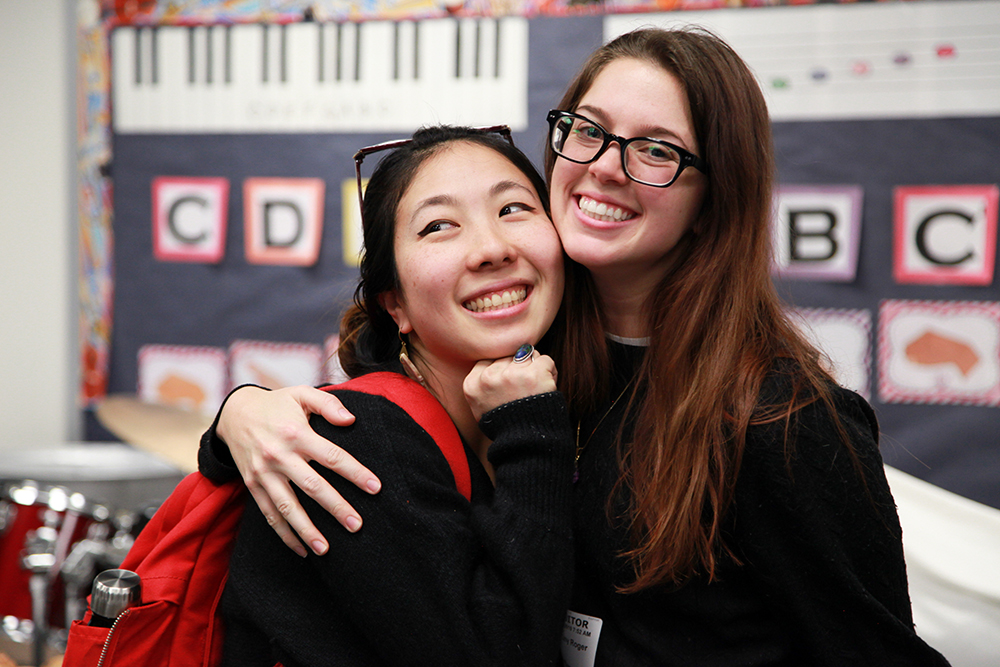 Now in its third year, AEMI has already racked up an impressive set of statistics. But even better than the numbers are the inspiring stories that teachers and administrators had to share during the event. Brittany Roger, a teaching artist with a scientific illustration background, spoke of bringing exotic animals (Madagascar hissing cockroaches, iguanas, corn snakes) to the classroom and allowing children to explore the creatures through sight, sound, touch, and smell. Afterward, the students draw and sketch the animals based on their observations.
Amy Goodman, who heads the math department at North County High School, told of her department's initial skepticism about linking arts and math together. But as the teachers learned arts integration techniques and applied them in the classroom, they began to see students who had been turned off or struggling with math begin to make connections that helped them grasp the concepts they needed to learn.
And so, step by step, AEMI partners create opportunities for children to learn through the arts. Step by step, the Initiative changes minds about the importance of integrating the arts with reading, 'riting and 'rithmetic. And, step by step, it makes converts of those who witness how the arts engage young minds and help them stay, not only focused on their education, but truly inspired to learn.
Learn more about the Arts Empowered Minds Initiative, its collective impact partners and the community it serves by visiting artsempoweredminds.org.
Categorized:

Arts Empowered Minds

Tagged:

AACPS, AEMI, Anne Arundel County, Anne Arundel County Public Schools, arts ed, arts education, Arts Empowered Minds, Arts Empowered Minds Initiative, arts integration, Belle Grove Elementary, Brittany Roger, dance, FutureMakers, Matt Barinholtz, Modern Dance, National Endowment for the Arts, NEA, Northern Anne Arundel County, poetry, The Drawing Zoo, Valerie Branch, Valerie Branch Dance Ensemble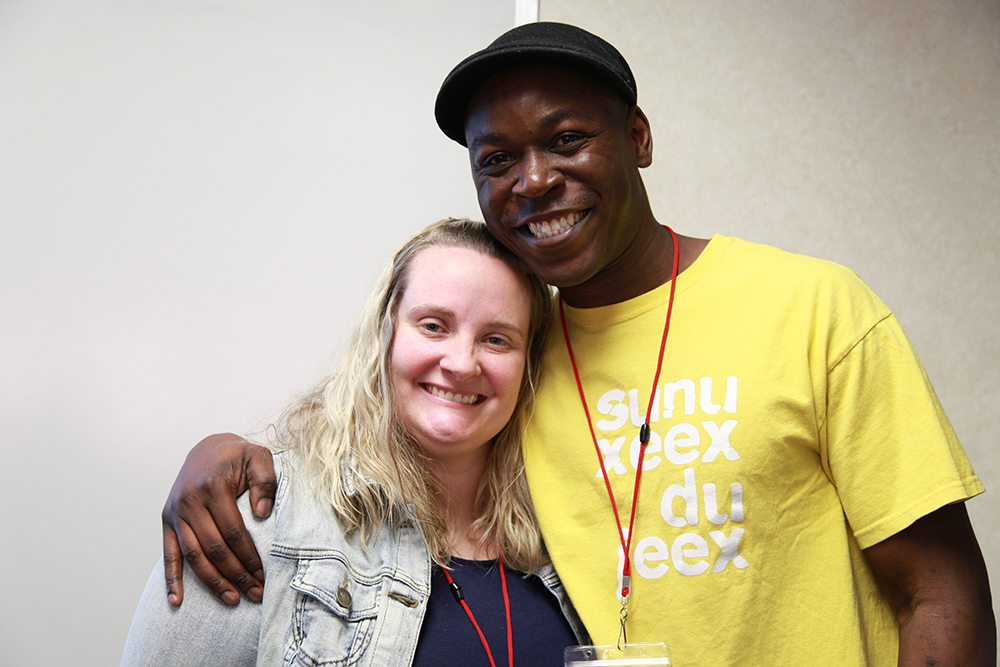 Teaching a subject through a new art form feels less daunting after not only seeing a successful idea modeled in a classroom setting, but actually participating in the learning as a student. At Community Arts: Connecting Neighborhoods and Classrooms, the 13th Annual Arts Integration Conference at UMBC, academic teachers were given the opportunity to see and do in a number of classrooms on campus.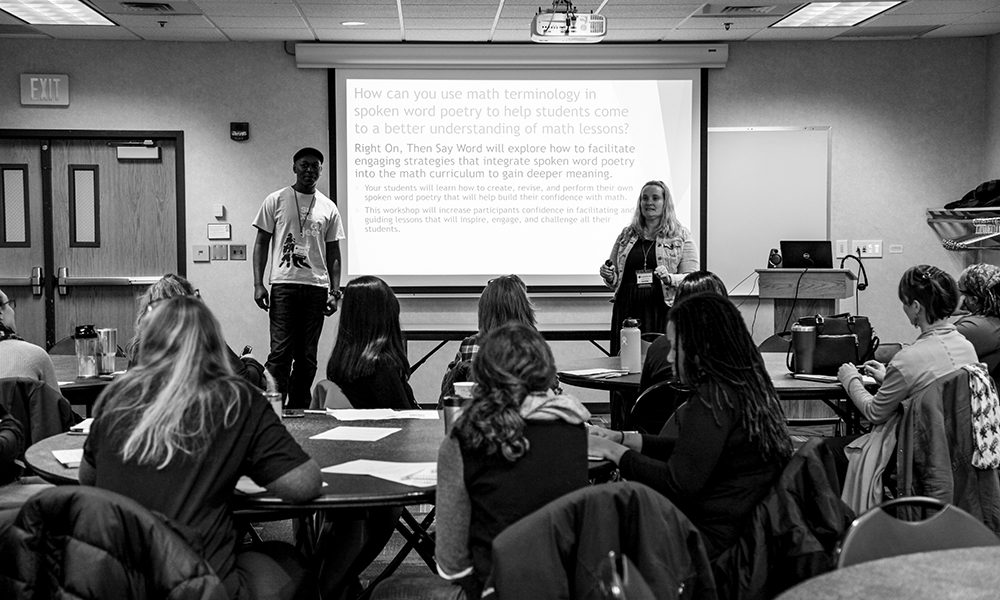 Workshop participants learned, for example, the art storytelling with Laura Wexler of  The Stoop Storytelling Series, how to connect ELA and STEAM with designing and building kinetic sculptures with FutureMakers, and ways to integrate theatre standards with language arts standards.
Participants in one class learned how to teach mathematics through wring poetry. Teachers of grade levels ranging from Pre-K through adult learners convened to learn from North County High School (NCHS) Algebra teacher Ashley Russell and Young Audiences roster artist and spoken word poet Femi the Drifish. Their workshop Right On, Then Say Word: Poetic Mathematics was developed through a lesson they have been successfully co-teaching since the 2017-18 school year.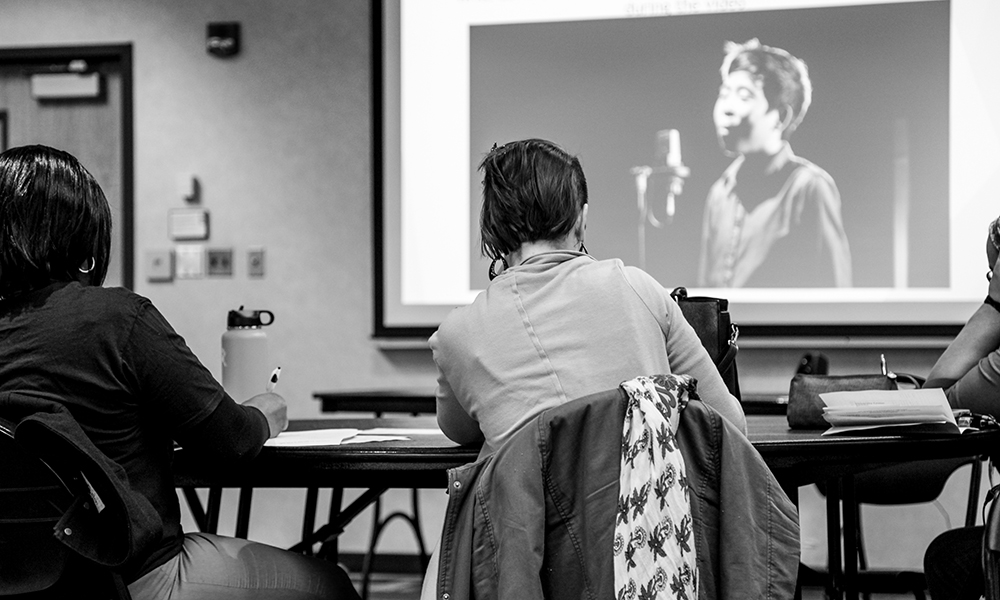 The pair shared their collective experience working with students and showed examples of student work and performances. Femi (his students address him as Mr. Fish) gave the teachers a small taste of his signature style and shared other arts-integrated lessons he's taught over the years, encouraging them to think about the intersection of language and math in word problems and popular mnemonic devices like PEMDAS (Please Excuse My Dear Aunt Sally).
At the end of the hour, the teachers had not only enjoyed their time, they learned to create, revise, and perform their own spoken word poetry using mathematical terms. They felt confident that they could use poetry to teach material in their own classrooms. And their students will most certainly enjoy the challenge, pride, creative thinking, and accomplishment that comes from learning through this art form.
You can read more about their partnership in the classroom and how students learn Algebra through the practice of writing and performing slam poetry here.
In 2017, North County High School Math Department Chair Amy Goodman began working to bring arts integration to all of the school's 9th grade Algebra 1 classes. Thanks to the Arts Empowered Minds Initiative, these students have studied with a variety of professional teaching artists. In addition to Femi the DriFish, Algebra 1 students have worked with TAHIRA, Skher Brown, and Kevin Martin. Since beginning this effort, the school's Algebra I PARCC scores have shown double-digit gains (not to mention, students nurtured their creative sides exploring storytelling, learning to play steel drums, expressing themselves through poetry, and practicing the art of Capoeira Angola).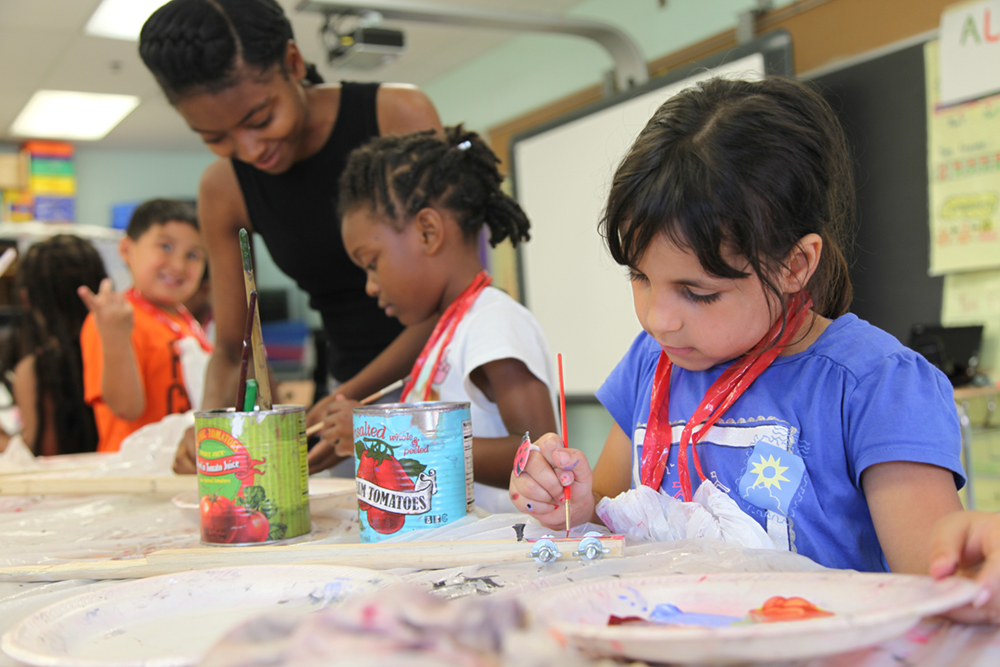 Students in free arts-integrated program for City Schools realize growth in math, reading, writing, and social-emotional learning – especially for those behind academically.
BALTIMORE, (February 18, 2019) – A new study shows that students who participate in Baltimore City Public Schools' Summer Arts & Learning Academy (SALA), operated by Young Audiences, realize positive academic growth and improved social-emotional skills. The research indicates that when compared to the rest of the students in the program, students with special needs saw significantly more growth in writing and in some social emotional domains. Similarly, students that started the summer program behind in math saw significantly more growth over the summer than their peers who began the program on grade level.
The 2018 Summer Arts & Learning Academy, a free five week arts integration program for Baltimore City Schools students, was held from July 9 to August 10 at eight sites across Baltimore City. Through hands-on activities co-taught by professional artists and classroom teachers, nearly 2,200 Pre–K-5th grade students engaged in painting, songwriting, poetry, dance, music, photography, playwriting, filmmaking while learning math and literacy.
SALA students' test scores at the beginning and end of the program were analyzed by WolfBrown, a national leader in research on arts education and children's academic, social, and emotional development. WolfBrown's analyses revealed increases in students' math, reading comprehension and writing scores that were not only statistically significant, but large. On average, students' math scores increased by 15 percentage points, their reading comprehension scores increased by 11 percentage points, and their writing scores increased by 14 to 16 percentage points.
Of particular interest in the study was the growth seen among students who were behind academically or who were at risk of falling behind. Students further behind in math at the beginning of SALA showed the largest growth in math – their test scores grew nearly 1.5 times the rate of their peers. Similar results were observed among students with IEPs. An IEP is an individualized educational plan given to students who demonstrate at least one of 13 special factors, all of which are considered to impede learning. Students with IEPs out-paced their peers in writing content score-growth by nearly 1.24 times. Students with IEPs also showed growth in self control as reported by parents.
Dr. Sonja Santelises, Baltimore City Schools CEO, said,
"We believe in educating the whole child and this summer program does just that. We are thrilled that this investment is resulting in student gains in literacy and math. Just as important, this program gives young people an opportunity to learn about and express themselves through different art forms, which ultimately strengthens empathy and other social-emotional skills in our young people."
The Baltimore City Schools Office of Achievement and Accountability conducted its own evaluation of the program, comparing scores from end-of-academic-year standardized assessments (iReady and DIBELS) to the beginning of the year in order to measure summer learning loss and the impact of SALA in mitigating that loss. In three of the four comparisons, SALA students program showed lower rates of summer learning loss than students who were not in a summer program.
"Young Audiences' evaluation contributes to the body of national research showing that when children have sustained opportunities to learn in and through the arts, they have greater rates of academic success," said Stacie Sanders Evans, Young Audiences President & CEO.
"The Every Student Succeeds Act, the law that governs US public education policy, calls for greater attention on the whole child and specifically social-emotional learning, while requiring schools to adopt evidence-based practices. We hope this evidence will lead more Maryland schools to consider the arts as a vehicle for building student empathy and other life skills such as cooperation and self-management."
As a result of the program's continued success, Baltimore City Schools and Young Audiences will expand SALA in 2019 to Pre-K, reaching more than 230 of our City's youngest learners across all 8 sites.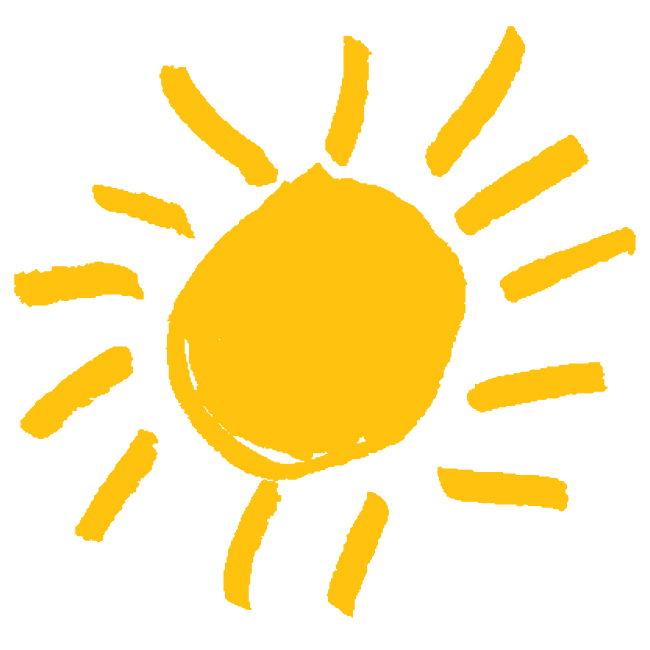 About Young Audiences/Arts for Learning
Started in Baltimore in 1950, Young Audiences is the nation's largest arts-in- education provider. As the Maryland affiliate, Young Audiences/Arts for Learning (YA) is devoted to enriching the lives and education of Maryland's youth through educational and culturally diverse arts programs. Through Young Audiences, professional artists from all disciplines partner with leaders and schools for nearly 10,000 hands on arts learning experiences that reach more than 190,000 Maryland students. Young Audiences envisions a Maryland where the arts are valued for their capacity to transform lives, and where every student is immersed in opportunities to imagine, to create, and to realize their full potential.
In January, the sun disappears so quickly—its absence makes the air that much colder. It feels funny to reflect on my youngest daughter's first experience at Summer Arts & Learning Academy (SALA) when, outside, it feels like it just might snow.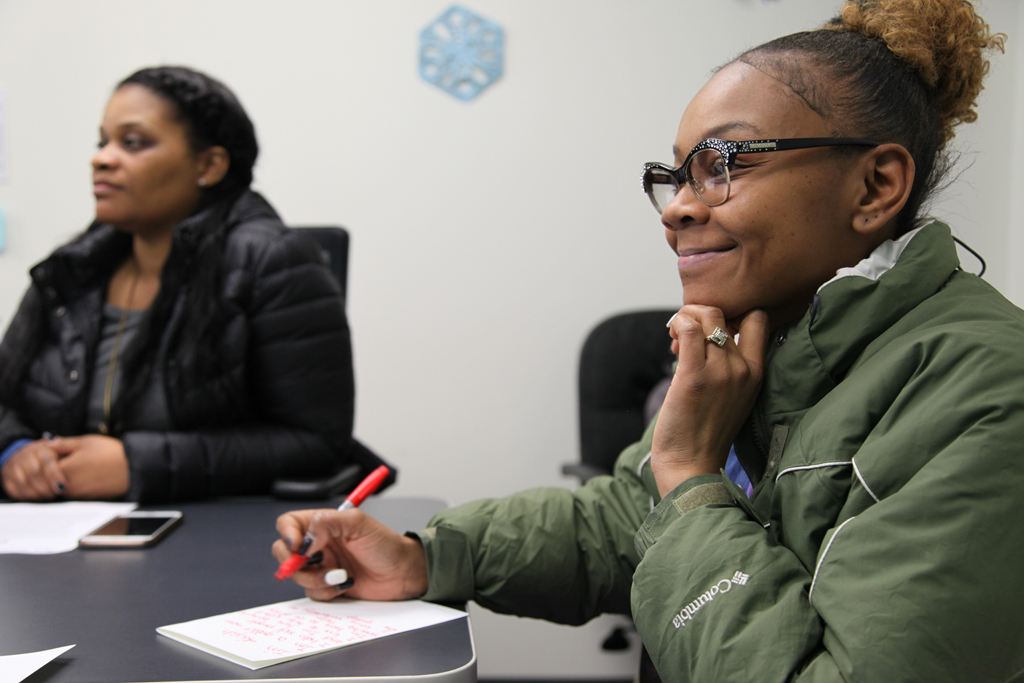 Kiyah and I, both of us parents of children who attended SALA 2018, were asked to meet at Young Audiences a couple of weeks ago. A teacher, Jesika Paige, was here, too. She wasn't at my child's SALA site last year, but I remember meeting her once. And I recognize her from our How We Do Summer video. Her smile is warm and her energy is radiant and it was so nice to be sitting at the table with her. Joining us were five teaching artists: Katherine Dilworth, Jamaal "Mr. Root" Collier, Vonnya Pettigrew, and Mama Kay and Mama Rashida of WombWork Productions, along with staff members Michael Brush, Monique Cox, Kurtis Donnelly, and Kristina Berdan.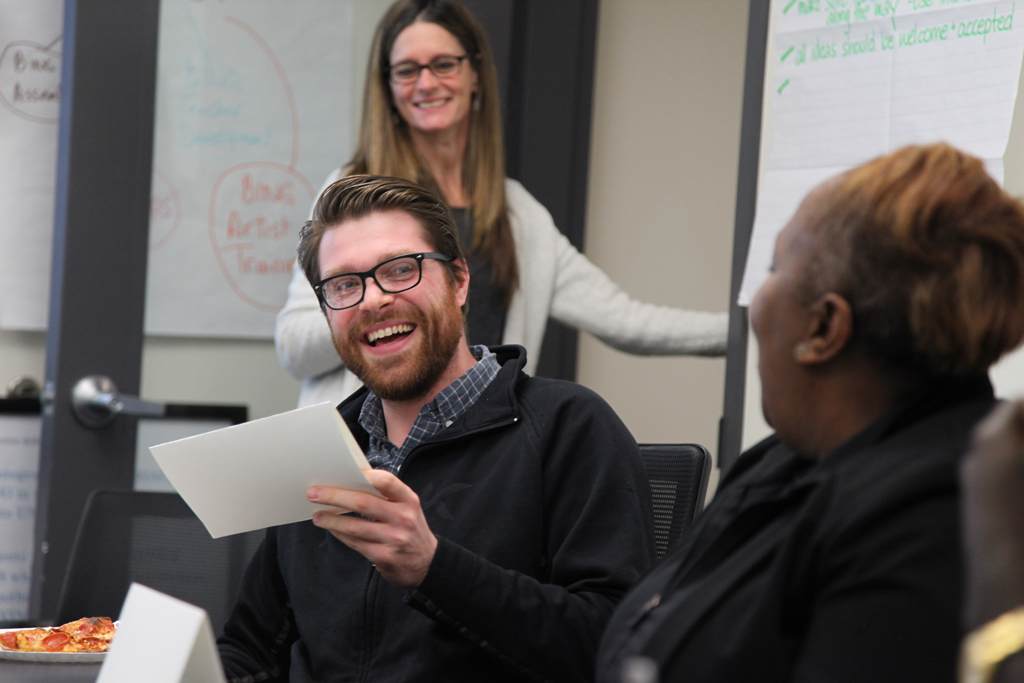 Parents love SALA for a multitude of reasons. For one, Baltimore City Public Schools students participating in SALA have not only avoided summer learning loss but, in many cases, gained ground on their national peers in standardized testing. Between this and the fact that kids in SALA are immersed in meaningful art projects every single day, enrolling my 6-year-old was an easy decision. And as Ms. Paige noted in How We Do Summer, "for children who suppress their art during the school year, this was a time for them to actually show up and show out and show their artistic ability." So, how can we take this amazing and enriching educational experience and make it even better? This is what we are here to find out.
Something that Young Audiences always makes sure to do is collect and evaluate feedback from all of a program's stakeholders. If you are ever asked to fill out a survey regarding one of YA's programs, know that your comments are read, your answers to questions are carefully considered, and your voice matters. The idea to form a community advisory for SALA was brought about in the feedback we collected from parents, and from students, teachers, and artists. Our mission is to ensure that SALA (an incredible, free, arts-filled, and academically excellent program) is student-centered and to identify program changes and improvements to implement during SALA 2019.
Coming together with other stakeholders for the SALA Community Advisory's inaugural meeting reiterated to me the desire of everyone involved to improve, and to be wise, and strong. The group committed to making sure all families are involved all along the way and that all ideas are welcome. We look forward to sharing and listening with open hearts and open minds, reflecting on what we did well in 2018, what we can do better, on ideas for the future, and welcoming the unexpected. We cannot wait for another summer of SALA, each one better than the last—in the meantime, let it snow. Written by Shannon Kline, parent and Young Audiences Communications Associate.
If you would like to be a part of the Summer Arts & Learning Academy (SALA) Community Advisory, we invite you to contact Kurtis Donnelly at kurtis@yamd.org. Your thoughtful input helps to make our programs the very best for students and we appreciate your time and dedication.
Thanks to our smARTbeats partners, WTMD, we have five Family Four-Packs for the Saturday Morning Tunes Grateful Dead tribute show with Ed Hough's Dead Collective to give away! That means five of our lucky Facebook followers will receive four tickets each to the SOLD-OUT 9:30 a.m. show at the American Visionary Art Museum on Saturday, February 2, 2019!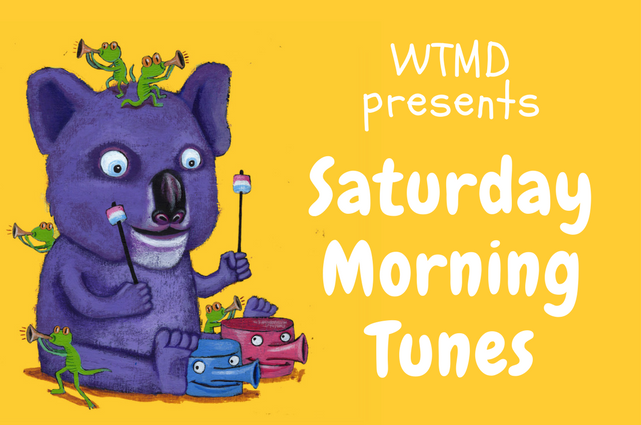 Grateful Dead fans with young kids won't want to miss out on the chance to attend this sold-out event! Ed Hough's Dead Collective, who are some of Baltimore's best roots and Americana musicians, will be channelling the music of the Grateful Dead in AVAM's banquet hall among the museum's renowned colorful and engaging artwork. Tickets also include organic snacks and juice for kids and coffee for adults. Doors open at 9 a.m., and the show runs 9:30 a.m.-10:30 a.m.
Many thanks to WTMD for sharing this amazing opportunity! This contest is now closed.