Articles by Month:
July 2018
smARTbeats returns to WTMD on Saturday, June 14 during the weekly children's program Young At Heart! On this month's segment, host Lisa Mathews talks with the multi-talented Khaleshia Thorpe-Price. Khaleshia is a musician, actor, and Young Audiences teaching artist with a contagious and explosive energy for the arts that fills students with creativity and excitement.
For over 15 years, she has facilitated residencies and workshops for children and adults for many arts organizations including Wolf Trap, Arena Stage, Young Playwrights' Theater, Young Audiences of Maryland, Folger Shakespeare Library, Shakespeare Theater Company, and M-NCPP. In classrooms across Maryland, DC, and Virginia, Khaleshia helps students create and perform original plays with props and visual aids.  In addition to teaching, you can find Khaleshia directing performances in the Folger Shakespeare Children's Festival and serving as a dramaturge for the Young Playwrights Theater Festival.
The artist not only co-wrote A Journey with Jazz, an interactive performance experience for young audiences, for the Wolf Trap Institute for Early Learning through the Arts, she performs in the production with the Wolf Trap Jazz Trio. "In my classes I love to use music to unify my students, to build ensemble and community," Khaleshia said. "The language of music has a way of speaking to my students and pulling us all together. I begin and end all of my classes with some type of music."
Young At Heart airs weekly on 89.7 WTMD from 7 to 8 am on Saturdays, featuring music that appeals to parents and children alike. Previous shows have featured music by Wilco, David Bowie, Andrew & Polly, Weezer, and others.
Tune into 89.7 WTMD this Saturday at 7 am as YA teaching artist, actor and musician Khaleshia Thorpe-Price joins host Lisa Mathews in the studio!
Categorized:

Artist Spotlight, smARTbeats on WTMD, Spotlight

Tagged:

actor, arts integration, drama, Music, radio, smARTbeats, teaching artist, theatre, Wolf Trap, WTMD, Young At Heart
The school year may only have just ended, but this year's cohort of Bloomberg Arts Interns have already been hard at work for three weeks now. They attended a week of rigorous orientation and participated in behind-the-scenes tours and presentations at arts organizations. And perhaps most significantly, interns have gotten their feet through the doors of a number of reputable arts and culture organizations and have begun weaving themselves into passionate and supportive arts and education networks.
Outside of their internships, the students participate in professional development, college prep workshops, and writing coaching sessions. On these days, students receive guidance and support with completing college applications and build strong career skills with mentors and writing coaches. They create personal essays, write responses to art and performances, and work not just on college applications, but prepare for the bills, the challenges, and the change that comes along with transitioning to a college or university.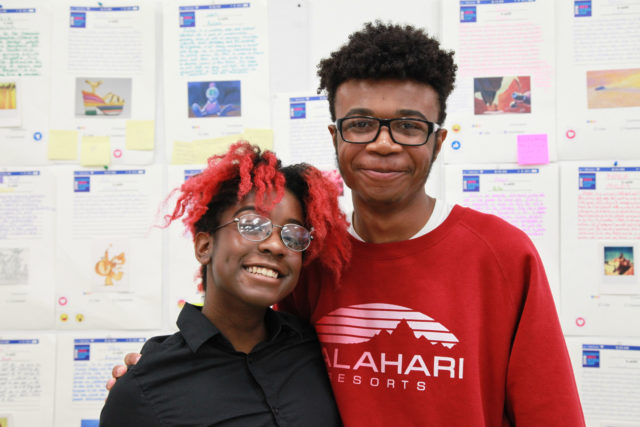 Two of last summer's Bloomberg Arts Interns, Jahsol and Sequoia, will be headed to Bard College at Simon's Rock and the Arts Institute of Chicago, respectively, in the fall. But first, the pair visited students at OpenWorks to answer questions and give them insight into their own internship experiences last summer. The questions poured in. While just a year older than the 2018 interns, Jahsol and Sequoia had so much knowledge, experience, and wisdom to impart, getting this year's cohort excited about the possibilities to come.
A college panel brought together three community members to talk about first-hand challenges, solutions, and to provide conversation and guidance in applying and adjusting to college life: Danielle Staton, Program Manager of Fund for Educational Excellence; De'asia Ellis, a Frederick Douglass High School graduate and current Goucher College student; and Ruben Ramirez Jr., a graduate of Digital Harbor High School and restaurant entrepreneur.
From practical advice, like applying to more than one school and developing a plan for time management, to being prepared to handle rejection, facing culture shock and loneliness away from home, or confronting ignorance and discrimination, the panellists shared valuable online resources and their honest experiences to help prepare the interns for what may come in the next year, not to mention all the steps required just to apply. "It's hard when families don't know how to get there," said Ms. Ellis. She advises students who may not have family to support them through the daunting application process to find a mentor to help guide them.
As the summer progresses, this year's cohort will continue to be afforded the chance to explore art of every discipline, and to meet and learn from artists, curators, and everyone else who works so hard to keep local institutions dynamic, engaging, up, and running. And while they are busy working on projects for their worksites, they will be networking. They will be making lasting connections, opening themselves up to all that is possible in a career in the arts, and forging their futures.
The Bloomberg Arts Internship is managed by Young Audiences through the support of Bloomberg Philanthropies. Learn more about the program here.