Articles by Day:
April 26, 2018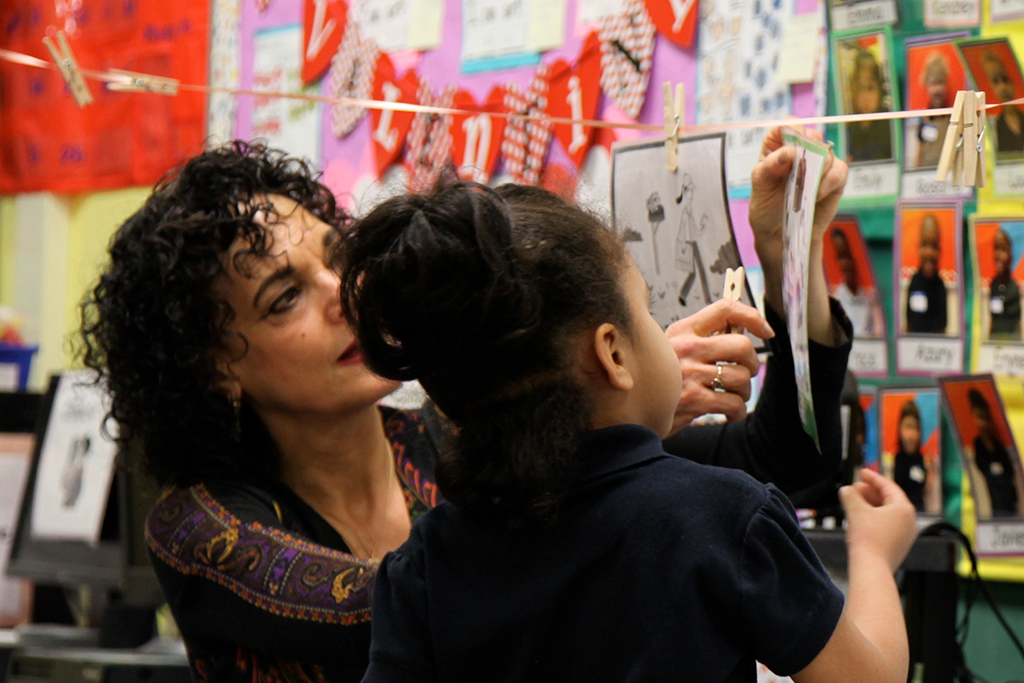 Young Audiences of Maryland (YA) believes that every student – even the smallest ones – should have the opportunity to imagine, create, and realize their full potential through the arts. That is why YA serves as the Maryland affiliate of the Wolf Trap Institute for Early Learning Through the Arts. Through this 16-session residency program, YA pairs trained teaching artists with classroom teachers to provide young learners with literacy and STEM skills through an arts-based lens.
This investment in developing learning opportunities for pre-K students is one that YA shares with the PNC Foundation. PNC Grow Up Great® is a $350 million, multi-year, bilingual initiative that began in 2004 to help prepare children from birth to age 5 for success in school and life. To date, the program has served 4 million children. With the generous support of the PNC Foundation, YA will reach 30 Baltimore City pre-K classrooms and 600 pre-K students with Wolf Trap residencies in the 2017-2018 school year.
These residencies have consistently shown improvement in student attention span, self-regulation, and the ability to connect new information with prior knowledge. Teachers also report that through these residencies, they develop valuable skills and techniques that they utilize in their classroom long after the artist has left. 
PNC recognizes the importance of training teachers to use arts-integrated approaches that have been shown to result in better academic outcomes for young learners. In 2018, in collaboration with Baltimore City Public Schools and with the support of the PNC Foundation, YA is, in addition to the Wolf Trap residencies, providing professional development for pre-K teachers in the use of arts-integration.
"PNC recognizes the role kindergarten readiness plays in the wellbeing of local children, their families and ultimately, our economy," said Laura Gamble, PNC regional president for Greater Maryland. "By preparing our youngest citizens for educational success, we help build a solid foundation for the future of this region."
Together, YA and the PNC Foundation are providing engaging learning environments for pre-K students and strengthening Baltimore's pre-K teachers so that our students' first experiences in schools prepare them to succeed for years to come. 
Learn more about how YA is creating new learning experiences for pre-K students and their teachers through our Wolf Trap classroom residencies!
For more information about the PNC Foundation, please visit their website. 
For 58 years, Young Audiences of Maryland (YA) has been combining arts and education to create inventive and exciting learning experiences for children across the state. We believe that these experiences shouldn't stop when the school year does, so we created the Summer Arts & Learning Academy – a five-week summer program that provides an opportunity for Baltimore City students who are behind in math or literacy to improve their skills through an arts-integrated curriculum. Through high-quality, engaging lessons, the Academy not only decreases summer learning loss in reading, but also eliminates summer learning loss in math, helping our students to return to school ahead of their peers.
With the help of M&T Bank Corporation, YA is working to expand this transformative summer program. Founded in 1856, M&T Bank is a regional financial services company that provides banking, insurance, investments, mortgage and commercial financial services in New York, Maryland, New Jersey, Pennsylvania, Delaware, Connecticut, Virginia, West Virginia and Washington, DC. It has been recognized for its financial strength and sound management, and is proud to continue its tradition of reliability in the way it serves customers and supports the communities where they live and work.
M&T Bank is supporting students in the Baltimore community by partnering with Young Audiences as a sponsor of our 2018 Impact Breakfast. This year's event will raise funds for the Bridging the Inspiration Gap Campaign, which will double the number of students served by the Summer Arts & Learning Academy.
YA knows that there is a space between the best conditions for learning and what our students in Baltimore City receive in school. We are grateful to M&T Bank for helping us to close this gap and give students the opportunity thrive in the summer and achieve year-round.
Learn about how Young Audiences is transforming summer experiences for Baltimore students through our Summer Arts & Learning Academy!
For more information about M&T Bank's charitable giving, please visit their website.