Articles by Month:
April 2018
Written by Barbara Krebs,
Young Audiences volunteer and Sunburst Society member
Excited. Proud. Love. These are the three words that I heard repeatedly as I attended the unveiling of the mural that sixth-grade students from Brooklyn Park Middle School created. Though these are not words typically linked with a middle school science project, they help illustrate the magic that is produced when you combine science education with an arts-integrated approach to learning.
The collaboration between their science class and a professional teaching artist from Young Audiences, in partnership with Arts Empowered Minds Initiative (AEMI), resulted in a 10-foot science-themed mural, titled "Brooklyn Park Middle Students Research Cells and Viruses." As explained in the program, the mural "illustrates the dynamic, multifaceted interactions occurring thousands of times a day between cells, viruses, and living things."
I wasn't sure what to expect as I entered MedStar Harbor Hospital's Baum Auditorium in South Baltimore, but I immediately felt welcomed as a saxophone quartet from Brooklyn Park Middle played classical music. Their melodies formed a soothing backdrop to the animated conversations between medical personnel, artists, educators, politicians, parents, students, and others who had gathered for the event. A delightful spread of food – chicken satay, veggie trays, fruit and cheese platters, and even cupcakes for the kids – provided by the catering arm of the hospital, Morrison Healthcare, ensured that no one would walk away without all their senses satisfied.
But I digress.  As the reception wound to a close, the formal program began. First up, Stacie Sanders Evans, the President and CEO of Young Audiences. Reaching for a hospital analogy, she spoke of Young Audiences' facilitating role behind the scenes as the "spinal cord" or "backbone" that makes the arts-integrated learning possible in area schools. She described how Young Audiences partners with schools and other organizations like AEMI and the Arts Council of Anne Arundel County (who helped fund this project) to pair core curriculum teachers with professional teaching artists to enhance learning experiences in Maryland classrooms. Rather than rote learning, students explore academic subjects in any number of hands-on, arts-oriented ways.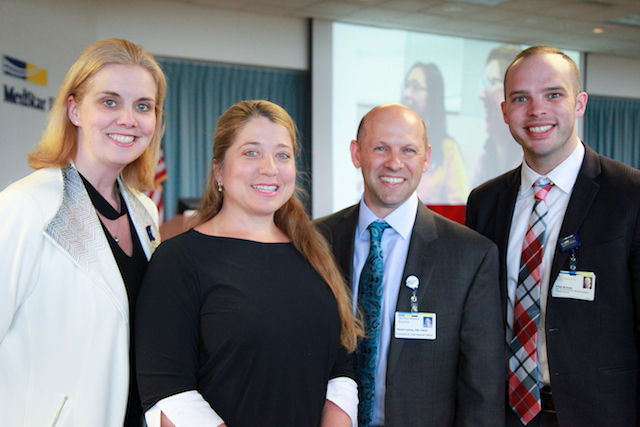 Next was Dr. Stuart Levine, President and Chief Medical Officer of MedStar Harbor Hospital. He told the young student artists just how meaningful their creation would be to the hospital, saying that it would be proudly displayed in MedStar's Emergency Department lobby. He talked about the VIPs in the room – the sixth graders – who had created this mural. He told them, "When community members come in for care, when they're sick, when they are at their moment of need, they're going to come into a place that has this incredibly hopeful work on the wall that's made with love by the kids of their community."
Then Dr. George Arlotto, Superintendent of Anne Arundel County Public Schools, spoke, stressing, "People who don't even know you love you; people who don't know you are proud of you." This was the legacy that, even as young tweens, they were creating for their community.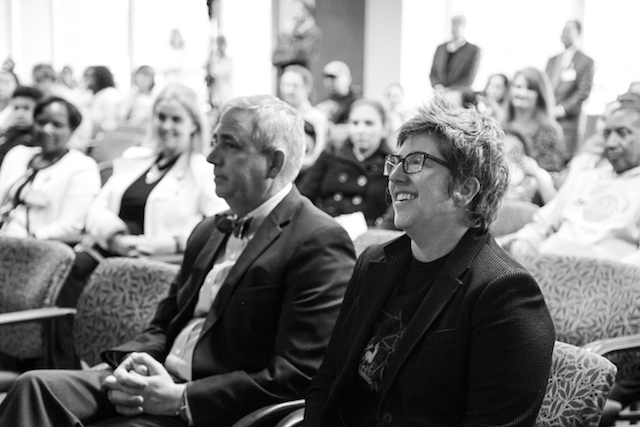 Following Dr. Arlotto, the two teachers who guided the kids through the process spoke. Lisa Radike, the Brooklyn Park Middle school science teacher, recalled that this process helped the kids learn more than just the science of cells, it also helped them "learn how to get along, how to work together." Amanda Pellerin is the Young Audiences artist who taught them to mold clay, shape it into the cells and viruses they were studying, and then assemble an entire mural from all the different parts they had imagined and created. As she looked proudly onto the students, she made sure they understood the significance of what they had done. "You now have artwork that is on permanent display– and you're not even out of sixth-grade yet!"
Finally, it was time for the unveiling of the mural. As the students and their teachers surrounded the mural, people leaned forward in their seats, many creeping to the front with cell phones to capture the much-anticipated moment. After a few more remarks from one of the students who reiterated the theme of how creating the artwork had required them to put aside differences and work together, the veil was cast off and everyone could finally see the finished artwork.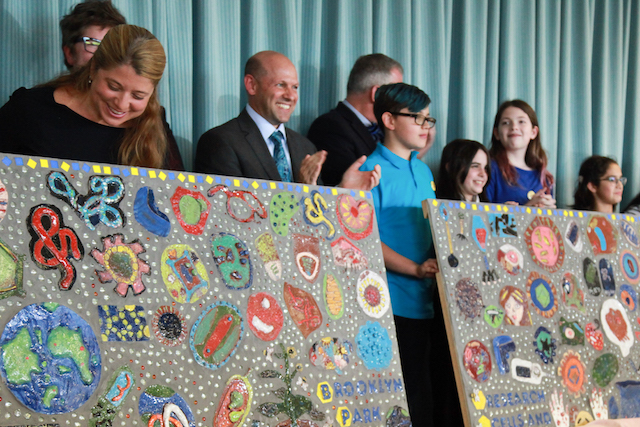 Brightly colored cells wiggled and squirmed their way across the surface. And like a visiting rock star, the mural sat "patiently" as a host of people came up to be photographed with it.
As the event wound down, I finally managed to talk to one of the students, asking simply, "How long did it take all of you to create this?" His answer pulled me out of my adult world of man-hours and Outlook schedules. "About 10 classes."
There it is simply. It's about the classes. It's about what you learn in the classes. It's about how the classes are taught. It's about the knowledge you retain from the classes. And though my own knowledge of sixth-grade biology is but a dim memory, it didn't take a Jonas Salk knowledge of cells to clearly see how wonderful this evening was. That these kids were excited about science. That the folks in attendance were proud of what the middle schoolers had learned and created. And that everyone loved the intersection of science and art.
Young Audiences of Maryland (YA) believes that every student – even the smallest ones – should have the opportunity to imagine, create, and realize their full potential through the arts. That is why YA serves as the Maryland affiliate of the Wolf Trap Institute for Early Learning Through the Arts. Through this 16-session residency program, YA pairs trained teaching artists with classroom teachers to provide young learners with literacy and STEM skills through an arts-based lens.
This investment in developing learning opportunities for pre-K students is one that YA shares with the PNC Foundation. PNC Grow Up Great® is a $350 million, multi-year, bilingual initiative that began in 2004 to help prepare children from birth to age 5 for success in school and life. To date, the program has served 4 million children. With the generous support of the PNC Foundation, YA will reach 30 Baltimore City pre-K classrooms and 600 pre-K students with Wolf Trap residencies in the 2017-2018 school year.
These residencies have consistently shown improvement in student attention span, self-regulation, and the ability to connect new information with prior knowledge. Teachers also report that through these residencies, they develop valuable skills and techniques that they utilize in their classroom long after the artist has left. 
PNC recognizes the importance of training teachers to use arts-integrated approaches that have been shown to result in better academic outcomes for young learners. In 2018, in collaboration with Baltimore City Public Schools and with the support of the PNC Foundation, YA is, in addition to the Wolf Trap residencies, providing professional development for pre-K teachers in the use of arts-integration.
"PNC recognizes the role kindergarten readiness plays in the wellbeing of local children, their families and ultimately, our economy," said Laura Gamble, PNC regional president for Greater Maryland. "By preparing our youngest citizens for educational success, we help build a solid foundation for the future of this region."
Together, YA and the PNC Foundation are providing engaging learning environments for pre-K students and strengthening Baltimore's pre-K teachers so that our students' first experiences in schools prepare them to succeed for years to come. 
Learn more about how YA is creating new learning experiences for pre-K students and their teachers through our Wolf Trap classroom residencies!
For more information about the PNC Foundation, please visit their website.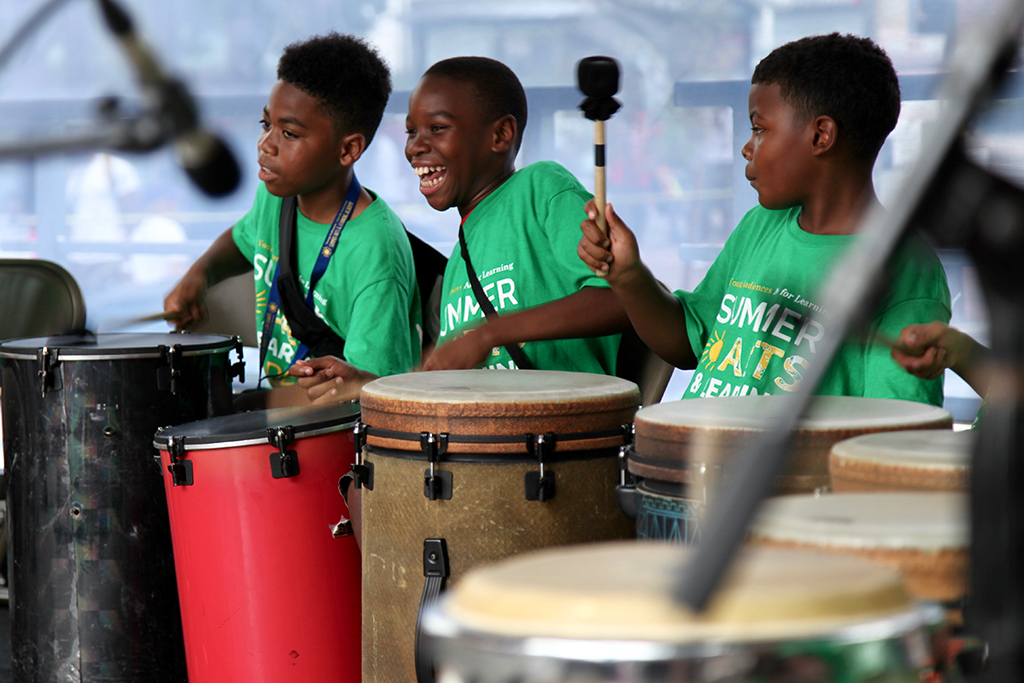 For 58 years, Young Audiences of Maryland (YA) has been combining arts and education to create inventive and exciting learning experiences for children across the state. We believe that these experiences shouldn't stop when the school year does, so we created the Summer Arts & Learning Academy – a five-week summer program that provides an opportunity for Baltimore City students who are behind in math or literacy to improve their skills through an arts-integrated curriculum. Through high-quality, engaging lessons, the Academy not only decreases summer learning loss in reading, but also eliminates summer learning loss in math, helping our students to return to school ahead of their peers.
With the help of M&T Bank Corporation, YA is working to expand this transformative summer program. Founded in 1856, M&T Bank is a regional financial services company that provides banking, insurance, investments, mortgage and commercial financial services in New York, Maryland, New Jersey, Pennsylvania, Delaware, Connecticut, Virginia, West Virginia and Washington, DC. It has been recognized for its financial strength and sound management, and is proud to continue its tradition of reliability in the way it serves customers and supports the communities where they live and work.
M&T Bank is supporting students in the Baltimore community by partnering with Young Audiences as a sponsor of our 2018 Impact Breakfast. This year's event will raise funds for the Bridging the Inspiration Gap Campaign, which will double the number of students served by the Summer Arts & Learning Academy.
YA knows that there is a space between the best conditions for learning and what our students in Baltimore City receive in school. We are grateful to M&T Bank for helping us to close this gap and give students the opportunity thrive in the summer and achieve year-round.
Learn about how Young Audiences is transforming summer experiences for Baltimore students through our Summer Arts & Learning Academy!
For more information about M&T Bank's charitable giving, please visit their website.
Children have a lot to say. Slam Poet and YA teaching artist Femi the Drifish worked with students in last year's Summer Arts & Learning Academy to help them get their poem to the stage for all of Artscape to hear. We are proud to share this light, energy, and love for our city, straight from the mouths, hearts, and minds of the future of our nation.
Baltimore
We live
Baltimore
We wise
Baltimore
We Lit
Baltimore
We live [2X]
Don't try to fit me in, your equation
I'm not a part of your, situation
We repping Baltimore real hard
Doing it real big, World Star
We eating chicken boxes, half N half
At the harbor, eating crabs
Repping Baltimore, since I was five
They don't know me, I ain't gotta lie
Baltimore
We live
Baltimore
We wise
Baltimore
We Lit
Baltimore
We live [2X]
We love this city, all heart
Always loved it, from the start
No more murders, more hugs
Stop the drug dealing, no more thugs
We don't need to be, from the hood
What we need is, more brotherhood
We from Coldstream, getting an education
Cause we the future, of this nation
Baltimore
We live
Baltimore
We wise
Baltimore
We Lit
Baltimore
We live [2X]
Young Audiences is excited to announce the arts and culture worksite partners for the 2018 Bloomberg Arts Internship in Baltimore. This year's expansion of the program meant that we needed to partner with even more of Baltimore's high-quality, renown institutions than we did last year. In order to fully serve the needs of the incoming cohort of interns, we increased the total number of worksite partners from 14 to 20. Bloomberg Arts interns will be gaining tremendously valuable experience working and learning three days a week at one of the following 20 local arts and cultural organizations this summer:
Internship projects vary among organizations to include production, education, development, community engagement, artist engagement, video, music, administration and more. Last year's interns worked on everything from curating museum exhibits, to integrating technology into museum experiences, to engaging young children in arts activities. At the end of the program, interns create final presentations highlighting their experiences, sharing with the community the new skills and interests that have developed over the course of their internships at each site.
"I love being at the Bloomberg Arts Internship. You guys have helped me grow in the working field and I would not trade out the people I have met for anything in the world." –Triaje Eaddy, 2017 BAI intern
A large network of community partners are working to prepare 35 hard-working and motivated Baltimore City Public High School students for higher education and careers in the arts. Baltimore is rich with not only excellent arts and cultural institutions, but with the phenomenal people whose contributions and passion make those very same organizations so great. "I love being at the Bloomberg Arts Internship," said 2017 BAI intern Triaje Eaddy. "You guys have helped me grow in the working field and I would not trade out the people I have met for anything in the world." Introducing young minds to the people, all of the incredible possibilities, and the many opportunities open to them in a career in the arts is a great gift to us all.
The Bloomberg Arts Internship is managed by Young Audiences through the support of Bloomberg Philanthropies. Learn more about the program here.
Categorized:

Bloomberg Arts Internship, News, Summer Learning

Tagged:

Art With a Heart, Arts Every Day, Baltimore Center Stage, Baltimore City Public Schools, Baltimore Creatives Acceleration Network, Baltimore Museum of Art, Baltimore Symphony Orchestra, Bloomberg Arts Internship, Bloomberg Philanthropies, Creative Alliance, Dance and BMore, Everyman Theatre, Maryland Film Festival, Maryland Historical Society, Maryland Institute College of Art, Maryland Public Television, Port Discovery Children's Museum, Reginald F Lewis Museum, Sheridan Libraries, Single Carrot Theatre, summer internship, The Peabody Institute, The Walters Art Museum, Wide Angle Youth Media, Worksite Partners
You can feel a good story in your core- the sadness, the suspense, the bitterness, and the beauty. We are good at registering and reacting to all of the characters, events, and plot twists a story throws at us, but have you ever tried to look at one through the eyes of a mathematician? What would a story look like without words, without pictures, its content plotted on a graph?
YA teaching artist and storyteller TAHIRA and Amy Goodman, Math Department Chair at North County High School (NCHS), collaborated in the development of a unique residency through the Teaching Artist Institute (TAI) to show just that. NCHS is one of 12 in Northern Anne Arundel County benefiting from professional development like TAI, in-school arts integration, and out-of-school arts programming as part of the Arts Empowered Minds Initiative (AEMI), a partnership aimed at ensuring equitable access to the arts for Northern Anne Arundel County Public Schools.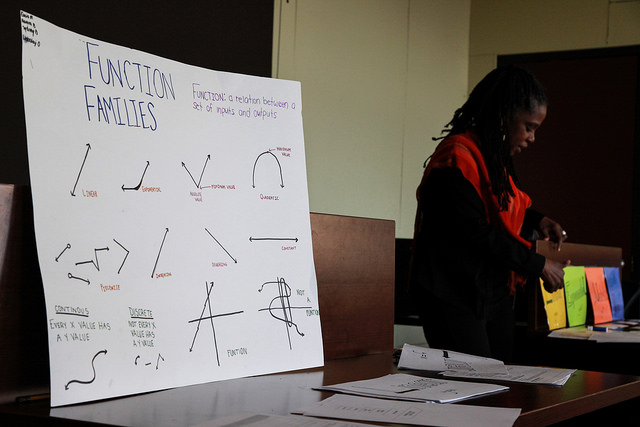 TAHIRA: What happened that surprised you?
Student: As you were telling the story, the story was compared to math- because events were escalating like in a graph. And then when events took a downfall in the story, the graph started decreasing.
TAHIRA: Then the class had to describe what function the story plotted out, right?
Student: Exponential.
TAHIRA: Yeah, it was exponential. And you had a reaction to all that. What did you say? Do you remember what you said?
Student: I was surprised at how the story could be compared to math.
Each student was asked to illustrate why they chose a particular function over another to describe the characteristics of the story. Could there be more than one answer? Two students each shared their understanding of how a story unfolded by taking turns plotting it out on the same graph, compared and contrasted their unique perspectives, then decided if both functions made sense or if one more accurately described the story than the other.
TAHIRA: Did it make you look at storytelling differently? Or math differently- or help you understand the math?
Student: Yeah, it helped me understand how the graph can be compared to anything such as… in the story, when everything goes wrong, the graph decreases and it shows how it takes a negative effect.
TAHIRA: Exactly. And then?
Student: And then everything comes back together and that creates a positive effect.
TAHIRA: And we talked about the parts of a story: There's a beginning…
Student: A middle and an end… when there's a conflict, the two forces, the positive and the negative collide and whoever wins- that's how the story plays out.
TAHIRA: Exactly, how it plays out- that's right, it's called a resolution.
The Arts Empowered Minds Initiative is the combined effort of many groups and individuals seeking to build a movement for increased equity through the arts in their community. With funding from the NEA in 2016, we built partnerships with Anne Arundel County Public Schools (AACPS), Chesapeake Arts Center (CAC), Arts Education in Maryland Schools Alliance (AEMS), Arts Council of Anne Arundel County, and University of Maryland – Baltimore County (UMBC).