Articles by Month:
March 2018
Young Audiences' Summer Arts & Learning Academy (SALA), the innovative, free, five-week arts-integration program for Baltimore City Public Schools students, will double in size this summer, expanding to eight sites and serving nearly 2,200 students across Baltimore City.
New data show that arts integration at SALA reduces summer learning loss and improves academic performance.
The Academy will be held July 9 to August 10, 2018, at eight sites: Commodore John Rodgers Elementary, Lakeland Elementary/Middle, Steuart Hill Academic Academy, Lyndhurst Elementary, Sinclair Lane Elementary, Gardenville Elementary, Edgecombe Circle Elementary and the newly renovated and expanded Dorothy I. Height Elementary. Now in its fourth year, the program engages students in hands-on creativity while exploring math and literacy with local teaching artists and teachers.
Students will participate directly with 86 teaching artists (local, working artists trained for classroom instruction) – twice as many artists as last year – working in a variety of mediums including painting, songwriting, poetry, illustration, dance, music, photography, playwriting, and filmmaking. Students might find themselves writing songs to summarize main ideas in a story with musician Lisa Mathews, or creating dance sequences to remember the steps in solving math word problems with dancer Cynthia Chavez.
Other local artists teaching at the Academy include Valerie Branch (dance), Scott Paynter (reggae musician), Mama Sallah (ceramics), Femi the Drifish (slam poetry), and Marian McLaughlin (guitar).
Along with the Academy's expansion this year comes new opportunities for students through various partnerships, including athletics with Morgan State University and one on one reading tutoring with Reading Partners. These expanded offerings will be available to all students, with opportunities to participate in sports, to learn to code, and to have one-on-one literacy tutoring. Students will also perform at Artscape in July, Baltimore's largest arts festival, and at pop-up performances around the city. SALA applications opened March 1.
"Every single day, I see how infusing creativity into learning transforms classrooms and children," said Young Audiences President and CEO Stacie Sanders Evans. "We're overjoyed to know that the Summer Arts & Learning Academy's expansion this summer will help us reach twice as many students with arts integration—an approach that research shows works, especially in summer months."
Data released in January 2018 by City Schools and Young Audiences show that students in 2017's Summer Arts & Learning Academy significantly reduced summer learning loss in reading and math, and improved writing skills. Summer learning loss—when students lose academic ground over the summer months—is among the most difficult challenges facing the Baltimore school district and many others across the country.
"Young Audiences' summer program gives students the chance to express themselves creatively, pursue their interests, and be inspired to reach their potential, things that we've also been focusing on this school year as part of our blueprint for success," said Dr. Sonja Brookins Santelises, CEO of Baltimore City Public Schools. "We're excited by our partnership with Young Audiences and the positive results our students have seen in the program in past years. By expanding the program this coming summer, more students can enroll and will start next school year off stronger."
City Schools study shows that in reading, third through fifth grade SALA attendees experienced negligible summer learning loss (less than one percentile point) in i-Ready standardized testing compared with more than three percentile points lost by all other students in the district. In math, third through fifth graders regularly attending SALA lost only 3.77 percentile points in i-Ready standardized testing. City Schools students with no summer activities lost nearly twice that, at an average of 5.77 percentile points.
According to an analysis by Young Audiences, all third through fifth grade SALA attendees improved their writing content and structure in pre to post testing. Particularly strong improvements came from students furthest behind their grade level. In addition to the academics, SALA experienced the highest rate of attendance of any elementary summer programming in the district.
Click here for more information on Young Audiences Summer Arts & Learning Academy.
Links to complete Young Audiences and City Schools evaluations:
It's been almost a year since we announced our partnership with WTMD to feature YA teaching artists on their family-favorite Saturday morning radio show Young At Heart! Since May 6, 2017, host Lisa Mathews—YA teaching artist and lead singer of Grammy-nominated children's band Milkshake—has invited eleven top-notch, talented YA roster musicians to date into the studio to chat on a monthly segment called smARTbeats. Listeners have learned about the artists' professional work outside of schools, arts integration, and heard how they've reached students through art in the classroom.
"Listening to music is great, but making music is transformative." –Alden Phelps
Some of the featured artists have talked about the guidance they've received and diligence and artistic discipline they learned from parents, peers, or mentors. Some have revealed the inspiration they've found through their own small children. All have shared with listeners the energy, kindness, and expertise that they bring into every Maryland classroom they visit.
"If we never spoke a word, we could communicate through music." –Devin Walker
From memories of touring with the one-and-only Mr. Ray Charles, reaching audiences around the world in Spanish, English, and through poetry, taking a musical journey to outer space, to finding out not just how artists inspire children every day in Maryland classrooms, but hearing what motivates, energizes, and inspires them, getting to know these fantastic teaching artists has been a real treat for Saturday mornings!
"There's power in words, build or destroy, so watch what you say." –Femi the Drifish
And just in case you prefer to sleep in on the weekends, we've compiled WTMD's Soundcloud links here for you to enjoy any time of day or night!
Young At Heart airs weekly from 7 to 8 am on Saturdays, featuring music that appeals to parents and children alike. Previous shows have featured music by Wilco, David Bowie, Andrew & Polly, Weezer, and others.
smARTbeats returns to WTMD this Saturday, March 10 during the weekly children's program Young At Heart! On this month's segment, host Lisa Mathews sits down for a chat with Young Audiences teaching artist and internationally renowned resident rock and roll drummer Elias Schutzman!
For over five years, Elias has been performing interactive story-telling assemblies in public schools throughout Maryland, and in 2016, began enchanting Maryland's youngest students and enriching learning in Pre-K and kindergarten classrooms through his work with Wolf Trap Institute for Early Learning Through the Arts. Last summer, he joined the ranks of teaching artists in YA's groundbreaking Summer Arts & Learning Academy, immersing Baltimore City children from Title 1 schools in an engaging arts-rich program that sends children back to school in the fall ahead, inspired, and ready to learn.
"Music is a universal language that touches us all. It's food for the soul," says the artist. "Through song, rhythm, and storytelling, I hope to release the young imagination to explore here, there and everywhere."
When not in the classroom, you can find Elias playing drums in venues all over the world with The Flying Eyes and Black Lung. The Baltimore native attended the Baltimore School for the Arts and went on to receive a BA in Theatre from the University of Maryland, College Park, leading him to work with local theatre companies such as Center Stage, Everyman Theatre and most recently the Baltimore Rock Opera Society.
Young At Heart airs weekly from 7 to 8 am on Saturdays, featuring music that appeals to parents and children alike. Previous shows have featured music by Wilco, David Bowie, Andrew & Polly, Weezer, and others.
Listen to YA teaching artist and musician Elias Schutzman online now!
What do you call a collection of two or more equations using the same set of unknowns? Can you identify the variables and constants in a mathematic expression? Why would a person ever use the Method of Matrices? If you were an Algebra student, you'd be committing these definitions, methods, and terms to memory, filling your lexicon with the language of math.
"If you don't use it, you'll lose it." Any veteran language learner will tell you that old adage. Being challenged to use their new vocabulary in a different context is one way to help students become (and remain) fluent. To encourage this, Amy Goodman, Math Department Chair of North County High School (NCHS) in Northern Anne Arundel County, coordinated an artist residency developed by YA artist and spoken word poet Femi the DriFish in collaboration with the school's Algebra 1 team. Artist residencies, like this one, came to the school thanks to the Arts Empowered Minds Initiative.
Through the initiative, schools in Northern Anne Arundel County are learning to use arts integration as a strategy for boosting student achievement and engagement. Classroom teachers and school administrators are building sustainable partnerships with teaching artists and arts organizations that inspire students and use the creative process to make meaningful, real-world connections to the curriculum.
"Mr. Fish!" NCHS students announced Femi the DriFish's arrival. The artist is a master of illustrating the meaning of words through poetry and, through literary guidance, builds a strong rapport with the young scholars. For this residency, Femi worked with students to write poems within small groups on the topic where I'm from.
The 9th graders brainstormed over how to use the algebraic vocabulary words scribed onto the backs of index cards to convey their thoughts: function, common difference, output, relation. The language usually reserved for Algebra class became double entendres in lyrics carrying messages of citizenship, diversity, and pride. "If you use the terms correctly," Femi said, "you remember the definition. You retain it and can access it later."
"Like parallel lines, some soulmates never meet," one student revealed in his group's performance. Some soloists represented their classmates. "Word pairs are like the relation to life, we are all like terms so we don't have to fight."
NCHS Algebra teacher Mrs. Russell was pleasantly surprised by the outpouring of creativity. "I'm seeing different things and personalities from kids that I don't normally see," the teacher said. "They're a lot more excited than I thought they'd be!"
As they industriously crafted metaphors and similes, cleverly using their new vocabulary as figurative language, debate arose over whether or not the verses should rhyme. "It never has to rhyme," Femi advised. "It's how you perform it that gives it flavor." He taught the children to confidently use body language by analyzing performing techniques and discussing what is needed to relay a message. "It's all about how to effectively communicate with your audience," Femi said. Scholars rehearsed the delivery of their collaborative poetry to truly express their emotions, communicate their history, and challenge the audience to walk in their shoes.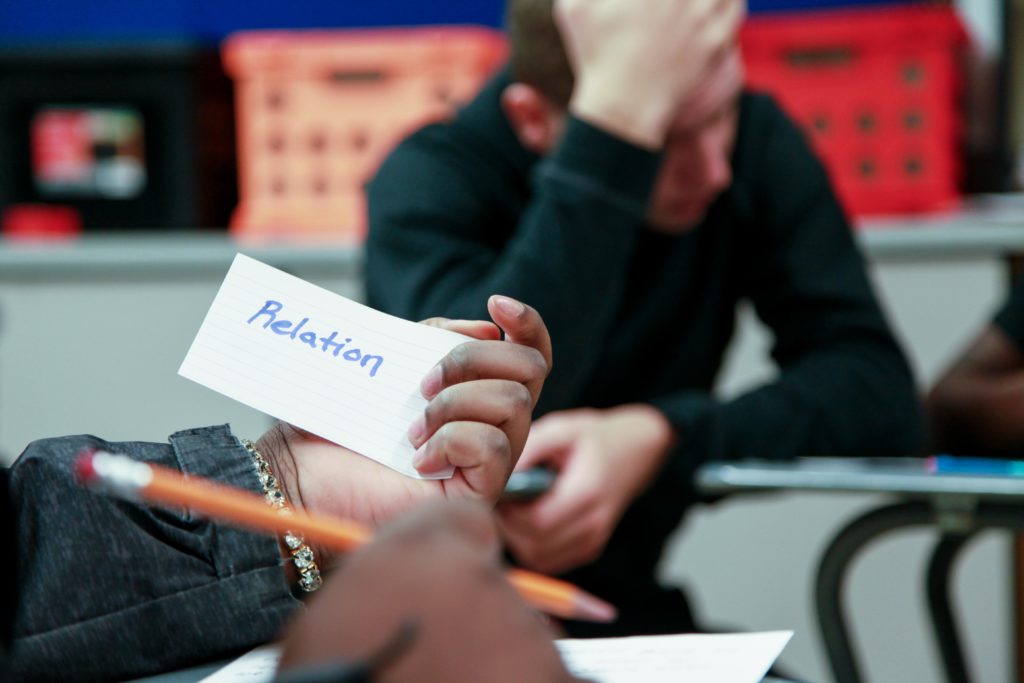 The students did not disappoint. "Like parallel lines, some soulmates never meet," one student revealed in his group's performance. Most groups selected just a few students to deliver their words in the culminating performance. Some soloists represented their classmates. "Word pairs are like the relation to life, we are all like terms so we don't have to fight." Performers garnered many cheers and rousing support from the teachers and peers populating the auditorium. And everyone involved in the residency left with a much stronger understanding of algebraic vocabulary and a knowledge of terms they won't soon forget.
So, what do you call a collection of two or more equations with the same set of unknowns? A system. You call it a system.
The Arts Empowered Minds Initiative is the combined effort of many groups and individuals seeking to build a movement for increased equity through the arts in their community. With funding from the NEA in 2016, we built partnerships with Anne Arundel County Public Schools (AACPS), Chesapeake Arts Center (CAC), Arts Education in Maryland Schools Alliance (AEMS), Arts Council of Anne Arundel County, and University of Maryland – Baltimore County (UMBC).