Articles by Month:
February 2018
smARTbeats returns to WTMD this Saturday, February 10 during the weekly children's program Young At Heart! On this month's segment, hostLisa Mathews sits down for a chat with the original "Drumcussionist," Young Audiences teaching artist Uncle Devin. Tune in and you'll hear why The Uncle Devin Show has been called "pure edutainment at its finest."
Devin Walker has been playing percussion for more than 25 years with groups ranging from Fertile Ground to the Great Dizzie Gillespie, and has gained national acclaim as a leader in the children's music industry with his unique musical style, real percussion instruments, and the latest in electronic drums.
"I realized I wasn't just there to perform music, I was there to teach."
In schools, the artist teaches children that percussion instruments are an essential part of history and the human experience. He uses different musical instruments, along with his award-winning book, "The ABC's of Percussion with Music CD," to help students understand how sounds made by percussion instruments were used to communicate. "If we never spoke a word, we could communicate through music," said Devin.
The musician didn't begin his career performing for children, but spending time with the young kids in his life certainly helped to steer him on that course. Devin's niece loved his music so much that she once took recordings of her uncle reciting stories along with music to school so she could share them with her class. The children loved listening to their friend's 'Uncle Devin.' "Soon enough, people began to refer to me with that title and that's how the name came about."
They weren't the only kids that his music and stories stuck with. After performing in a school in Baltimore, he received a phone call from a friend. He suddenly heard his friend's daughter on the line, reciting some of the same concepts he had shared with the school children earlier that day. She had been in the audience! "I thought, she's got it! That was a wonderful moment because I realized I wasn't just there to perform music, I was there to teach."
Young At Heart airs weekly from 7 to 8 am on Saturdays, featuring music that appeals to parents and children alike. Previous shows have featured music by Wilco, David Bowie, Andrew & Polly, Weezer, and others.
Listen to Uncle Devin online now!
The Bloomberg Arts Internship program is returning to Baltimore this summer, expanding to 35 paid, six-week internships for Baltimore City rising seniors at local arts and cultural institutions. Running June 18 to August 3, students will participate in college and career readiness preparation through hands-on, real work experiences in the arts and engaging professional development.
Applications are now being accepted for interns and host organizations. Rising high school seniors may apply until March 30, 2018. The deadline for Baltimore area arts organizations interested in hosting interns is March 2, 2018. Both applications can be found here.
The internship program is managed by Young Audiences through the support of Bloomberg Philanthropies. Bloomberg Philanthropies increased its support from 25 students last year.
The 35 Bloomberg Arts Internships interns, selected through a multi-step application and interview process, will work with arts organizations three days a week, visit cultural institutions once a week, and engage in professional development trainings once a week. Students will develop organizational work plans, start college applications, analyze art, and complete final presentations highlighting their experiences to be shared with the community on the last day of the program. Internship focuses vary among organizations to include production, education, development, community engagement, artist engagement, video, music, administration and more. Host organizations will include performing arts centers focusing on dance and music, art museums, libraries, theatres and television studios.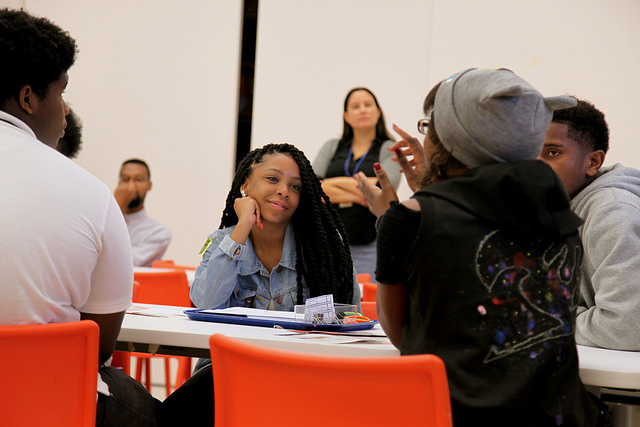 "The Bloomberg Arts Internship program creates wonderful opportunities for young people in Baltimore while expanding the impact and engagement of our vibrant arts community," said Mayor Catherine E. Pugh. "It's so rewarding to witness talented students learning, developing their potential and becoming leaders. We need to do everything we can to support them. I am continuously thankful for Bloomberg's on-going commitment to improving the lives of people in Baltimore."
"Bloomberg Philanthropies' generous commitment to not only return the program to Baltimore, but to expand it, is a testament to the power of this program and the incredible students and arts organizations in Baltimore," said Stacie Sanders, Young Audiences President & CEO. "We're overjoyed for the opportunity to manage a program making such an impact—showing the arts as a viable career path."