Articles by Month:
August 2017
Over the summer, Baltimore City Public School principals convened for the third time to attend a professional development course unlike any other. The first session was held in May at the Baltimore Museum of Industry where they explored the many ways arts and creativity intertwine with local industry of both the past and the future. The second, at Creative Alliance, where the group attended a workshop and lunch with Artesanas Mexicanas, a group of talented Mexican women, now residents of Southeast Baltimore, who share their rich cultures and folkloric traditions through art.
On this third session, principals gathered on a stage where so many critically acclaimed actors and singers have stood before. Looking out into the house of the Hippodrome Theatre, one could only imagine the thrill a performer might feel standing before a crowd of fans.
But how does an actor get to the stage? And what needs to happen for a show to go on? What can Baltimore City Public Schools do to prepare students for careers in theatre? These are some of the questions local principals explored in Creative Collaborations for School Improvement, a leadership course designed for principals to experience first-hand the many facets of Baltimore arts and cultural organizations, as well as how innovative partnerships with area cultural resources can help schools prepare their students for careers in fields related to the industry.
Throughout the course, principals have the opportunity to build strong relationships with not only engaged cultural organizations, but with expert teaching artists, like YA roster artists Matt Barinholtz of FutureMakers and internationally acclaimed slam poet Gayle Danley, as well as guest speakers including arts integration advocates.
"I do think that in my 31 years in City Schools that the Creative Collaborations for School Improvement course is among the most beneficial professional developments in which I have participated," said Sinclair Lane Elementary School principal Roxanne Thorn-Lumpkins.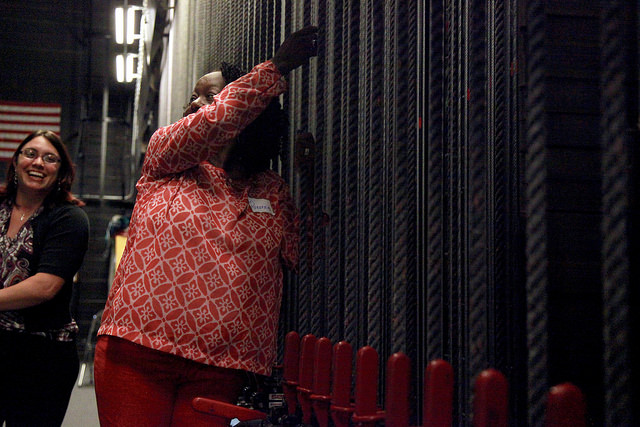 The principals were briefed on the history of the renowned theatre, then were led on a tech tour of the space by assistant electrician Danyela Marks. High above the stage is home to the control center of all of a production's moving parts: the fly system. Thick, strong ropes, levers, weights and counterweights are all strung taut, connected precisely and purposefully, reminiscent of the inside of a piano. Any movement on the set during a production: a wall sliding, scenes changing, or an actor flying, is made from here. To work on this side of the curtain, they discover, a person needs a solid foundation in math and physics.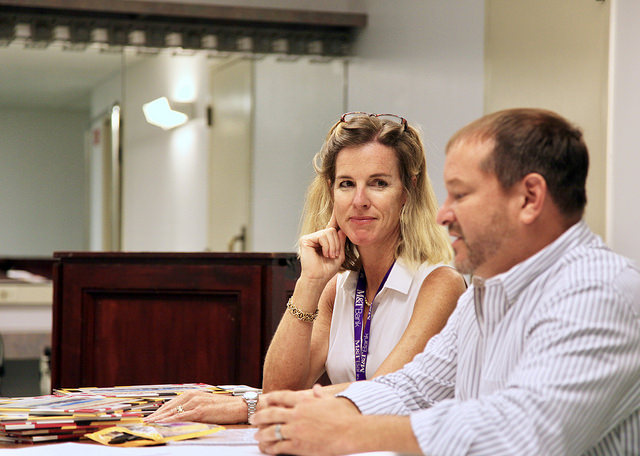 The group descended from the tech booth to the dressing rooms, located one level beneath the stage. Here, among the bright lights and mirrors, they learned about the Hippodrome Foundation (HFI), its mission & educational outreach programs, and how their schools can take advantage of them. They spoke with Olive Waxter, Director of the Hippodrome Foundation and Ron Legler, President of the France-Merrick Performing Arts Center about their institutions' commitment to providing opportunity in the community.
Former long-time Baltimore Sun critic and current WYPR theatre critic Judy Wynn Rousuck met principals for a fun written exercise. Part of Judy's work with HFI centers on enhancing written communication skills with young people. On this day, she challenged the educators to write a short descriptive piece using just one of their fives senses to illustrate their subject. It is easy to imagine the excitement young people must feel in Judy's classes when they see their words come alive and work together to paint a vivid picture.
Of course, no visit to the theatre is complete without getting a taste of the performers' experience. So here, on the Hippodrome Stage, principals stepped into students' shoes to work with co-director of the Hippodrome Foundation's summer theatre camp, Becky Mossing, education director Barb Wirsing, and Markia Smith, a former camper, now a counselor to learn a number from the musical 70, Girls, 70. At the piano, they worked on vocals. The group then moved on to blocking (the movements and positions actors are assigned on stage), and after some practice, revealed their grand performance of "Coffee (In a Cardboard Cup)." And they did a pretty great job.
The next Creative Collaborations for School Improvement course will be held at Center Stage on October 7, 2017. Principals and assistant principals who would like to register for the course should contact Valeriya Nakshun for more information.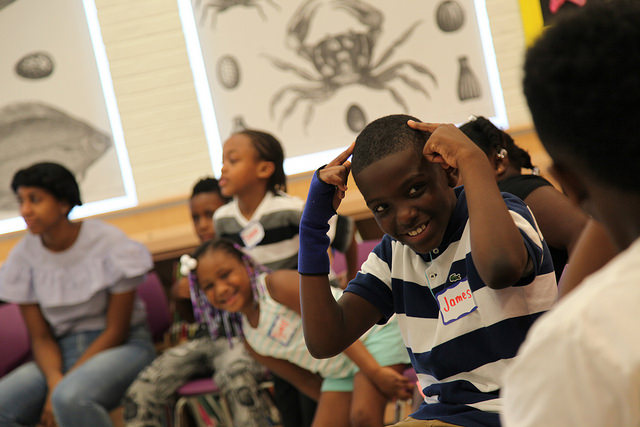 All summer long, kids and families made their way to one of seven city school libraries, each one beautifully renovated as part of The Weinberg Foundation's Library Project to take part in SummerREADS, a free literacy initiative that provides six weeks of drop-in programming for Baltimore City students, grades K through 8.
The host schools and libraries offered safe and welcoming spaces where students participated in literacy workshops and arts enrichment with teaching artists as well as enrichment activities with special guests including Art with a Heart, Maryland SPCA, The Maryland Zoo in Baltimore, and The National Aquarium.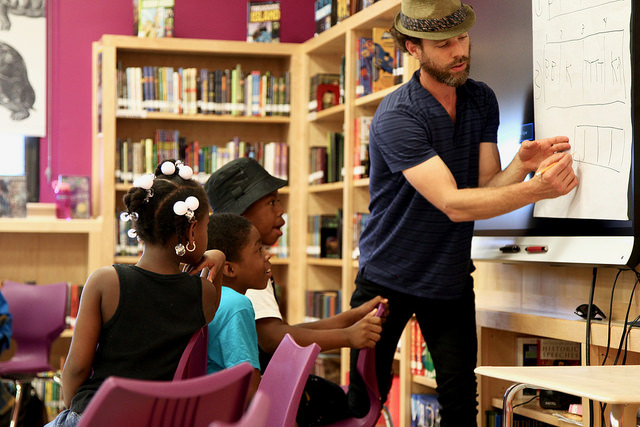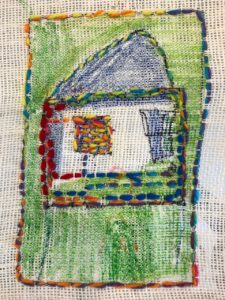 Every week, YA teaching artists introduced students to new experiences. Some learned to make music using their bodies with beatboxer Max Bent while others used lines, shapes, and shading to draw bunnies, snakes, and slugs with Brittany Roger of The Drawing Zoo. From jazz vocalist Renèe Georges, they learned about braille and how the late, great Ray Charles overcame adversity. They stitched colorful portraits of home with textile artist Pam Negrin and used what they learned about composition and digital photography from artist Christina Delgado to capture images of their library, teachers, and classmates. Actor Katherine Lyons gave students the tools, space, and permission to pretend, allowing even older children to travel wherever their imaginations would take them.
And through all of these art activities, young students strengthened their literacy skills, their vocabularies, and even their math skills. As they wrote songs, they considered the division of time when deciding how beats would fill their measures. Students explored new adjectives to best describe the textures and patterns they set out to draw, and they learned many many new ways of communicating- through art, through song, through dance, and through touch by learning the braille alphabet.
Perhaps most of all, students in SummerREADS learned that the library is a space for them. The library is open for them to use, to learn in, to explore, and to grow in. It's a place where magic happens, not only in books, but in minds and hearts. It's a place that challenges your ideas and is as good at surprising you with facts as it is at mesmerizing you with fiction. They learned that the library is a place where they want to be and even in summer, its doors are open.
Registration for SummerREADS 2018 is now open! This year, the program will expand to nine school library sites and operate Monday through Friday. SummerREADS programs are geared toward students in grades K-3 and their families, although the library is open to all Baltimore City School students in current Pre-K-8th grades. Learn more and register today at yamd.org/summerreads.
Written by Stacie Sanders Evans
President and CEO, Young Audiences / Arts for Learning
I love watching students memorize fractions by performing a dance routine or recall math facts through a song. Or marveling at a mural created by students to honor the important women and their contributions to science that they studied. I smile from ear to ear watching students in our Summer Arts & Learning Academy light up after making new connections using illustration, music, or poetry.
Every day across Maryland, I am reminded how arts-integrated educational experiences help students understand academic content. The joy and excitement that comes from not just seeing and hearing but by creating and doing, makes content interesting, relevant, and easier to understand.
Arts integration extends that joy and excitement beyond the classroom and into students' lives. The arts help them see the world differently through new experiences, expanding their perspectives while testing new approaches.
That's why this summer I was inspired to watch a group of rising high-school seniors grow and learn through arts opportunities outside of the school year. The Bloomberg Arts Internship Program just completed its inaugural summer in Baltimore, graduating 25 Baltimore City Public School students from the program.
The interns each completed six-week paid internships at 14 of the city's leading arts and cultural organizations, including:
Baltimore Center Stage
Baltimore Museum of Art
Baltimore Symphony Orchestra
Center for Innovation, Research and Creativity in the Arts (CIRCA) – UMBC
Dance & BMore
Everyman Theatre
Hippodrome Foundation, Inc.
Maryland Film Festival
Maryland Institute College of Art (MICA)
Maryland Public Television
Peabody Institute of The Johns Hopkins University
Port Discovery Children's Museum
The Reginald F. Lewis Museum of Maryland African American History & Culture
Sheridan Libraries and University Museums, Johns Hopkins University
Interns worked hands-on, three days a week at cultural organizations and participated in field trips and professional development on the other two. Young Audiences had the honor of managing the program, the rigorous application/selection process, and professional development along with our partner, the Greater Baltimore Cultural Alliance (GBCA).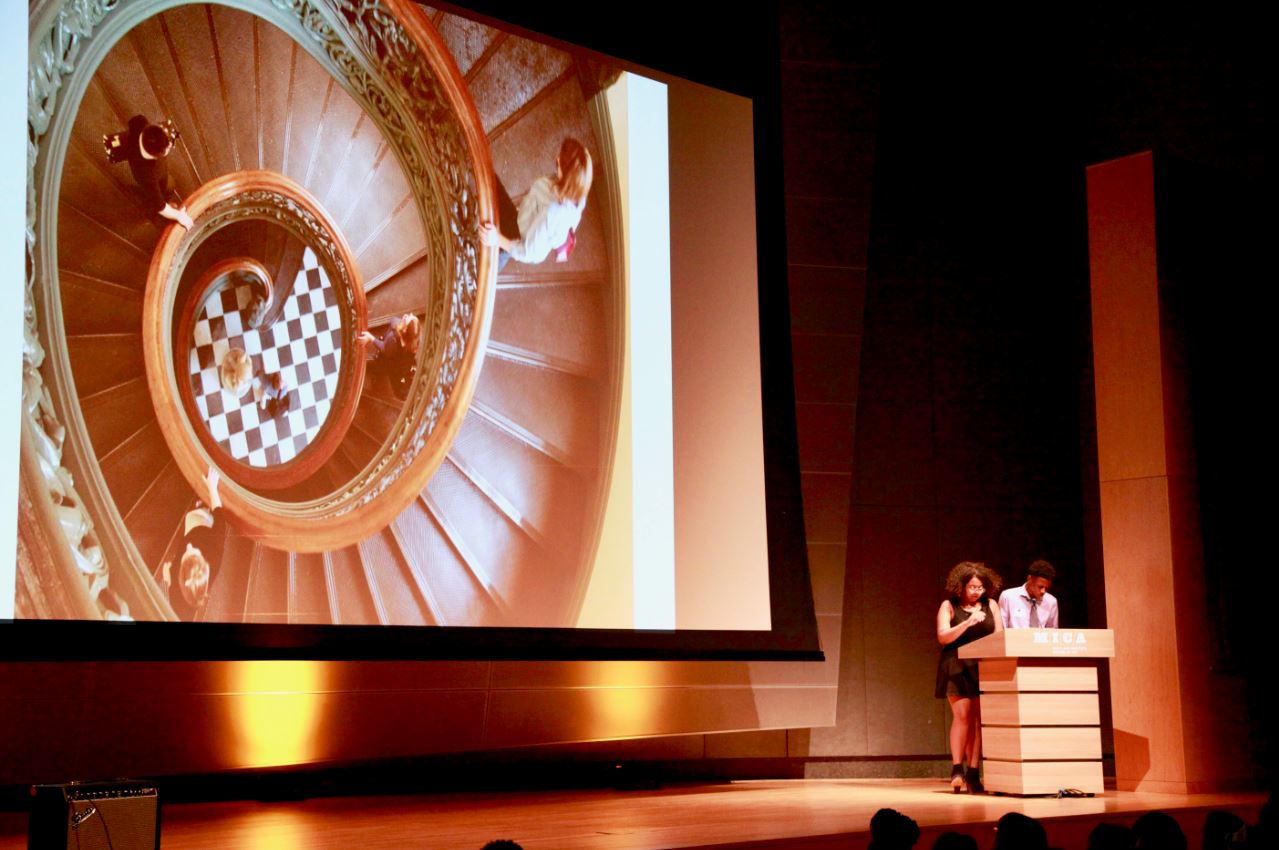 Excitement, pride, and curiosity filled the faces of 25 rising Baltimore City high school seniors earlier this month as they graduated from the program. The feeling was contagious. Parents, friends, teachers, and mentors looked on as interns told stories of their experiences, described projects and tasks they were assigned, and the impact it all had on their plans for the future. Some found passions they didn't know they had. Others refined interests and built skills that will help prepare them to reach goals already set. All of them built important connections and relationships in the arts and cultural community.
The Bloomberg Arts Internship program is a reminder of so many things we learn through our work: that education extends beyond the classroom, that learning can (and must) happen year round, not just between September and June, and that we need to create these non-traditional opportunities for students to grow academically and personally. The arts open minds and inspire passions that last lifetimes. These programs plant those seeds for our children.
Just as I see the powerful impact of arts integration activities in school settings, I saw it this summer throughout Baltimore, as Baltimore's Bloomberg Arts Interns discovered the world – and themselves- through their experience.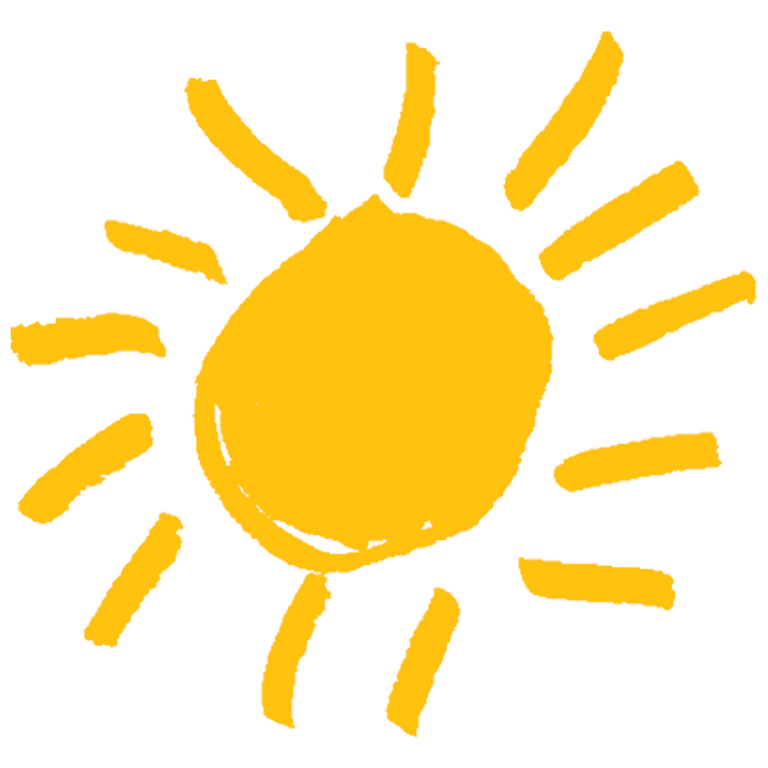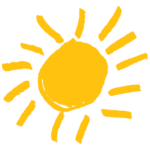 See more images from throughout the program on our Flickr page.
Baltimore City School students closed out a summer of creativity and arts-integrated education with performances and visual art exhibitions at Young Audiences Summer Arts and Learning Academy. The academy's culmination events were an opportunity for students to showcase their art forms and what they learned to family and friends. 
The Summer Arts and Learning Academy took place over five weeks, giving students from Title 1 schools in Baltimore City a free, daily opportunity to explore art forms with teaching artists while improving literacy and math using hands-on, arts-integrated learning techniques. They wrote songs to memorize grammar rules, learned dances to recall fractions, and immersed themselves in a multitude of art forms, making literacy and math concepts stick. The third annual academy had children and staff laughing, learning, and inspired.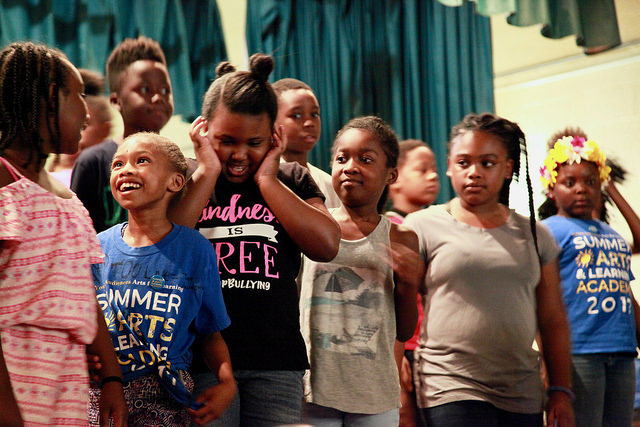 This kind of summer engagement with the arts is proven to have a significant impact on kids' education. In Summer Arts and Learning Academy, classroom teachers and teaching artists work together to continue to build momentum while stemming summer learning loss, or the loss of academic knowledge over the summer months. According to a study last year by Baltimore City Schools, students in 3rd-5th grade attending the Summer Arts and Learning Academy avoided summer learning loss, and in many cases, gained ground on their national peers in literacy and math.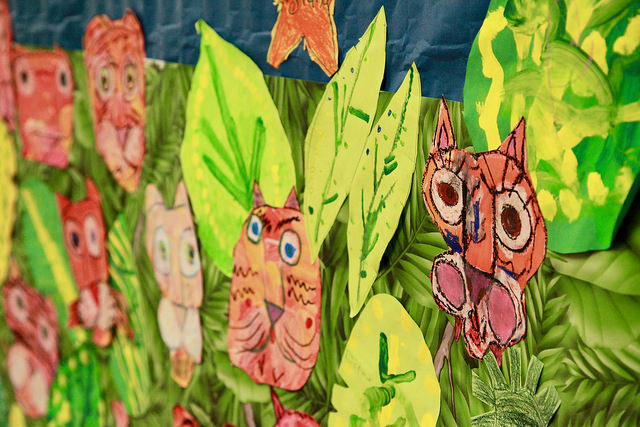 The culmination events, held at Thomas Jefferson Elementary/Middle, Coldstream Park Elementary/Middle, James Mosher Elementary, and Gardenville Elementary, put students on stage to showcase the art they created at the academy for parents, teachers, friends and family. Here is some of what we saw.
Two students from YA roster artist Femi theDrifish's spoken word poetry class read aloud their own inspiring words. They expressed the challenges caused by bullying through their writing, moving the audience with their heartfelt performance.

A larger group of students performed African dance on stage as their teacher, YA roster artist Ssuuna, led an accompanying rhythm section. A dance circle broke out at the end as students entered and showed the audience their skills. Cheers, laughs and applause filled the auditorium.
Music, poetry, and theater graced the stage as another group performed a chapter from a short story they read during the Academy. Kids performed as trolls and goats while their teacher, YA roster artist Drew Anderson narrated. Positive energy filled the room.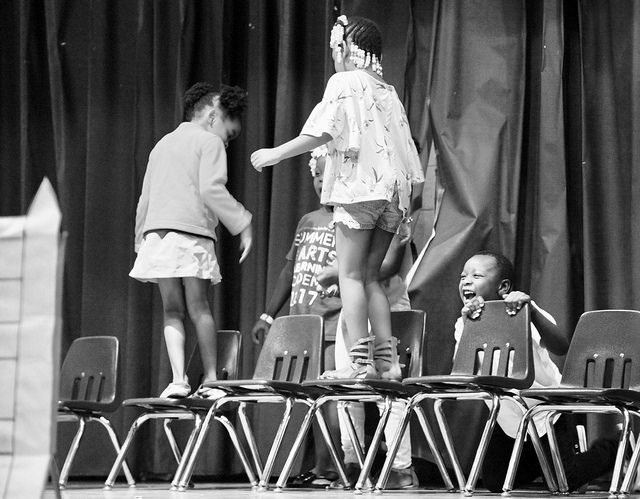 And that's only a taste of the dozens of performances that took place at culmination events around the city. Watching students light up and enjoy learning with the infusion of arts experiences is remarkable. We can't wait for next summer.
You can view images from all four of our summer sites by visiting our Flickr page. More information about Summer Arts and Learning Academy can be found on our website.
In 2016, Baltimore Gas and Electric Company (BGE) celebrated its 200th anniversary as the nation's first gas utility in the country. With such deep roots in Maryland, BGE invests in organizations that support education, the environment, arts and culture, and community development programs. BGE has expanded its efforts in Carroll and Harford counties by partnering with organizations and programs that focus on children and education.
Young Audiences of Maryland is a natural partner for BGE. As Maryland's leading arts-in-education organization, we are devoted to enriching the lives of Maryland's youth through curriculum-aligned and culturally diverse arts programs. Young Audiences of Maryland is dedicated to ensuring that all communities, regardless of available resources or funding, have access to quality arts programs. In fact, with the support of public, private and individual sponsors, Young Audiences of Maryland is able to provide programs to hundreds of schools and community organizations throughout Maryland to ensure that all students have access to the arts. In 2016, with the support of BGE, we reached 11,711 students through 47 live performances and 185 in-depth workshops in underserviced communities in Carroll, Frederick, and Harford counties.
"BGE is proud to support Young Audiences of Maryland and its commitment to exposing children of all backgrounds to art, and using artistic expression as a means to promote diversity and inclusion," said Denise D. Galambos, vice president of human resources for BGE and Young Audiences of Maryland board member. The great work that Young Audiences of Maryland is doing to help lift up our communities is extremely important and BGE is pleased to partner with such an organization.
Young Audiences of Maryland is grateful for BGE's contribution to our work and for its commitment to the arts and education.
Learn more about how YA brings arts programs to rural communities. For more information about BGE's charitable giving, please visit their website.
Written by Barbara Krebs,
Young Audiences volunteer and Sunburst Society member
Seedfolks. Bizz Buzz. These are just a couple of the new things I learned about when I visited the Summer Arts and Learning Academy at Thomas Jefferson Elementary/Middle School in Baltimore.
And learning through the arts is the whole point of this summer academy, now in its third year of operation. Young Audiences/Arts for Learning, in partnership with Baltimore City Public Schools, operates four of these academies at schools throughout the district as part of a system-wide arts-integrated strategy to reduce summer learning loss in literacy and math. Approximately 1,144 kindergartners through fifth graders take advantage of this free, fun-filled educational opportunity. 
My first stop was to meet Site Director Kristin Taylor who manages the program at Thomas Jefferson. As we headed to the first classroom of fifth graders, she enthusiastically filled me in on the size of this particular academy (280 students), its average daily attendance (250 students), and the benefits provided at every site to help parents and kids (after-school care until 6:00 pm and free breakfasts and lunches served every day to each student).
As we walked through the halls, student-created posters, snippets of conversations, and the sounds of music offered glimpses of the learning that was taking place.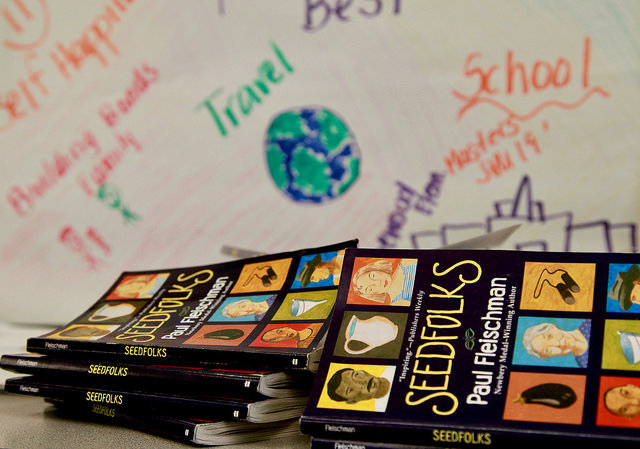 I entered the fifth-grade classroom of Ms. Paige and visual artist Mama Sallah just in time to watch a production of a chapter from Seedfolks, a book that shows how a neighborhood is transformed as people from different cultures interact in a garden. After the first group performed, I got a chance to ask Kenaya, one of the student actresses, about the book.  She explained to me that each chapter of the book focused on a different character. The classroom had been divided into groups, each assigned to act out a different chapter of the book. These groups were to then silently act out what the narrator was reading.  
Kenaya's group focused on Kim, a Vietnamese girl from the first chapter. The story starts with the girl staring at a portrait of her father. While one student narrated, others acted out the parts of Kim, the father's portrait, and even more characters as the action moved into the garden Kim had planted.
I enjoyed watching their attention to the story and how each child handled their role, whether it was bending down to dig in the "dirt" or, like the young man playing the role of the portrait, staring silently into space, giving no indication that he was anything other than a photograph frozen in time. These were serious actors, hard at work.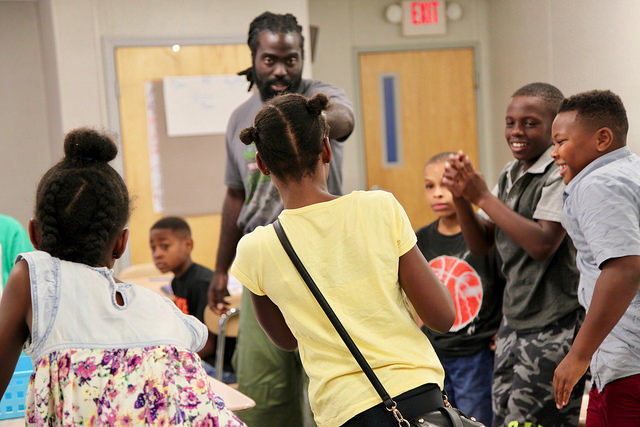 The next classroom was quite a contrast. Ms. Chase and hip hop musician Jamaal "Mr. Root" Collier were teaching math to a mixed classroom of fourth and fifth graders, and I had arrived in time to witness a game of Bizz Buzz. The children formed a large circle in the room, then took turns doing math calculations in their heads, making sure their answer was either a multiple of three or five. Emotional sounds quickly filled the room: Squeals of excitement for the game, celebratory cheers as someone answered correctly, silence filled with tension and pressure as someone struggled to find the right number, and supportive classmates whispering, "You can do it!" and "You got this!"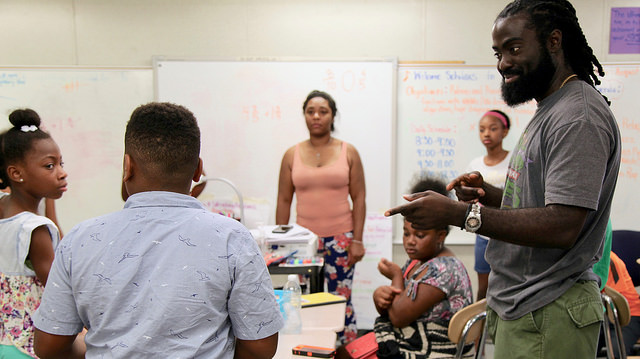 I have to admit I never did quite get the idea of when you yelled, "Buzz!" or "Bizz!" instead of a number, so I guess I'm going to have to admit that I am NOT as smart as a fifth grader. Luckily, they are!
The next classroom was filled with third graders who were also working on math. However this time the class focused on word problems and measurements. Without the drama of Bizz Buzz, this classroom was much quieter with children working at their desks. As I wandered around the room, one outgoing and cheerful girl, Mikhia, came up to me.  I probably looked a little lost because she explained to me what was going on – how they were learning about different cultures.  I asked her if she liked the Academy, and she grinned broadly and nodded her head, yes.  
"What do you like about it?"
"The teachers," she answered without hesitation.
"What do you like about them?"
"They are nice, loving, and helpful.  I'm learning so much this summer!"
The last classroom I visited was composed of first graders.  I noticed a colorful picture on one boy's desk of a volcano with a person going up the side of it and asked him about it.  "Who's that?" I asked, pointing to the person.  
"That's me," Donald answered.
At that point, we were interrupted as it was time to line up for lunch.  But before he left, I got another opportunity to ask him about his work. "Why are you walking up the side of the volcano?" I asked. He seemed a little confused but answered gamely, "I'm not walking, I'm flying."  
"Oh," and now it was my turn to be a little confused.  "You must be very powerful to fly."  
By now the girl in line behind him decided she had to help this poor confused person. Explaining patiently but emphatically, she corrected me. "It's not powerful. It's imagination!" At which point, I learned that their classroom was focusing on stories that dealt with imagination. So, yes, flying makes perfect sense. I'd rather fly over a volcano than walk up it, too!
As the children headed off to lunch, I thought about my first morning at Young Audience's Summer Arts and Learning Academy and all the kindergarten through fifth-grade pros who had guided me through the learning process. I realized I had learned a lot, too.  
For example, I learned that reading and acting out the story is a powerful way to concentrate on both the characters and the narration. I learned that math can be extremely riveting and exciting. I learned that different cultures can guide your math skills. And I learned that I need to let my imagination soar. But most importantly, I learned that combining arts with learning is fun – and effective – and that's why the kids love it.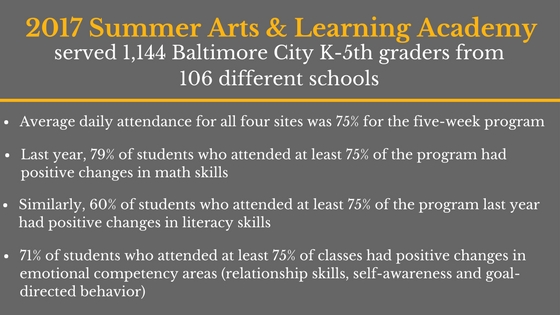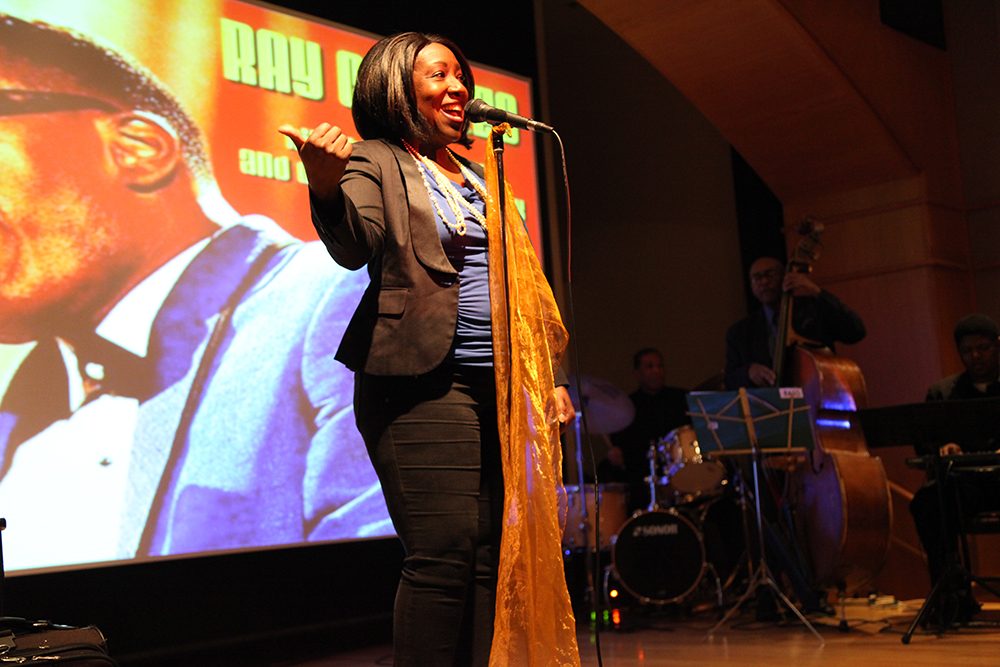 On this month's smARTbeats segment, Young At Heart host Lisa Mathews sits down with jazz vocalist, songwriter, and YA teaching artist Renée Georges. You'll hear about the artist's experience as a Raelette traveling the globe with Ray Charles and His Orchestra, as well as her work in schools where she shares her powerful voice and perspective with Maryland's children, and guides them on a journey through the history of Jazz.
Renèe's love of Jazz and interest in learning through music developed into a small family collaboration known as Kidz MusiQ Club. She had begun writing educational songs after her son was born to help kids have fun with essential concepts, such as reading, listening, and retention skills. The program she and her family created introduces kids to acoustic music and furthers an appreciation for jazz, all while learning about cool things like making healthy food choices and counting in Spanish. Renèe said, "When I was young, I used music methods, like making up songs about content, to help me study and remember things. Music is a great tool for retention. It improved my confidence and helped me become a better student."
"The arts are a great way to cultivate excellence, for the beauty that is found through the arts, translates into life."

In classrooms, Renée Georges unfolds the many facets of the music industry, presenting the field as a career option when it might not have been considered before. "For me, music was my path out of poverty. It also became a pathway for me to see the world since I was fortunate to sing and tour for six years with the late Ray Charles," the artist explained. "Now more than ever, students have broader opportunities to forge careers as entertainers, arts educators, or even in sound engineering and physics." Talking with Renée, kids realize that there are many paths related to music and the arts that are available to them.
She routinely advises students to be vigilant about copyrighting the work they create and to recognize that their work has value- a principle, she says, that would provide Ray Charles with a lucrative career for more than 50 years. "I first learned the value of copyrighting from my mother, who is also a singer/songwriter. She taught me the importance of protecting your work. My mother struggled as a single parent, but ownership fosters independence and can serve as a means to creating wealth. I like to help kids see that a little planning now can go a long way in setting up a career in the arts."
During a question and answer period after her assembly at the Mann Residential School earlier this year, Renèe told students that music was her way to deal with hardship and adversity. "Along with learning to play the piano, reading books, and reading and writing poetry, the arts provided a way to cope with challenges like poverty, discrimination, and tragedy." Moreover, she said, "The arts are a great way to cultivate excellence, for the beauty that is found through the arts, translates into life."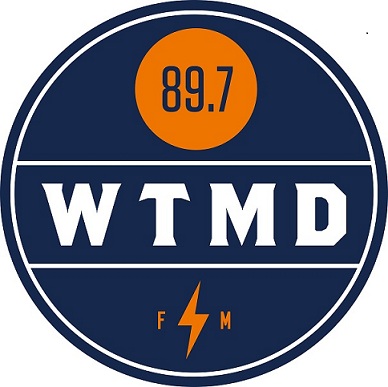 Young At Heart airs weekly from 7 to 8 am on Saturdays, featuring music that appeals to parents and children alike. Previous shows have featured music by Wilco, David Bowie, Andrew & Polly, Weezer, and others.
Hear YA teaching artist and vocalist Renèe Georges online now!
Categorized:

News, smARTbeats on WTMD

Tagged:

Jazz, Lisa Mathews, Maryland, Maryland Public Schools, Music, radio, Renee Georges, smARTbeats, teaching artists, WTMD