Articles by Month:
April 2017
Children in Prince George's County Public Schools know how to celebrate Earth Day! Through Growing Up Green, a PGCPS arts integration initiative, children in kindergarten classrooms learn environmental stewardship by experiencing nature first-hand, marveling in the wonders of our natural world, and nurturing a passion within themselves to respect and preserve it. Funded in part by a BGE Green Grant and the Chesapeake Bay Trust, the program engages kindergarteners in meaningful and authentic outdoor experiences that help connect them to their local ecosystems and inspire them to learn more about protecting our environment. The arts provide the vehicle that the students use to demonstrate and communicate their understanding to the greater learning community of their school.
At Mount Rainier Elementary School recently, YA roster artist Pam Negrin worked with young students to record their own observations of plant life over the course of her residency, The Life Cycle of Plants. On outdoor adventures, the class immersed themselves in the drama of nature. They set out to identify and explore the many characteristics of plant life in all of its forms: seeds, seedlings, mature plants, flowers, and fruit. Their drawings and observations were then rendered in colorful yarn, stitch by stitch into one large-scale embroidered mural for their entire school community to learn from and enjoy.
The children's work serves as a reminder of one of the biggest lessons even our smallest students can teach us. Just as this kindergarten class' finished mural is a collaborative effort, so is making our world a safe, strong, and healthy one for every living being. Happy Earth Day to all.
Pam Negrin's artwork includes embroidery, appliqué, drawing, collage, improvisational quilting, printmaking and sculpture. Her residencies transform classrooms into creative and collaborative handwork studios where students create something beautiful together. Schedule one of Pam's residencies for your classroom.
Before there is art, there is planning- lots of planning. This is something that 7th graders at the Baltimore Design School know all too well. Without it, the mural that these students created under the guidance of YA roster artist Amanda Pellerin and art teacher Stephanie Cafaro would not be the magnificent work that it is.
The class began with brainstorming and list-making. "We asked the students, "What's important to you?" Amanda Pellerin explained, "And we had different posters that asked, "What's important to you at home? What's important to you at school? What's important to you in your city? What's important to you in the world?"
From these ideas, Miss Cafaro had the students narrow down what they believed to be most important into one list of possible mural themes. Some suggested a tribute to President Obama or a better Baltimore. Others wanted to illustrate the power of protesting or important issues in the world today. "When I looked at this, I didn't see 10 different murals," Pellerin said. So, the artist proposed combining each idea into one single, powerful mural, and the students were all for it.
Before they could get to work on cutting and etching and glazing their tiles, however, the group first had to decide what the project was going to actually look like. After discussing composition and scale, and considering how the piece would flow visually, the group decided that the mural would feature three "larger than life" role models among a crowd of protesters. The class felt that President Obama, Harriet Tubman and a native American should stand out. The choices that the class made in the design process were purposeful. Role models weren't chosen randomly, they were justified and carried significance for each student.
Small teams of students worked together to create each larger than life figure, then reunited to complete the picture and piece the mural together. In their finished artwork, historic role models protest alongside important figures of the present. The figures carry protest signs that reflect current issues with sentiments that students imagined each role model might express if given the chance today.
"We're trying to help them understand that designers work as teams."
From conception to execution, the class was instrumental in seeing the project to completion. Directing the vision of the finished piece allowed the students to take ownership of the artwork and truly see it as their project. "I love that they had to come up with a concept and work together," noted Miss Cafaro. Every material that needed to be prepped and every decision that needed to be made happened because the class took charge, collaborated, and cooperated. "We're trying to help them understand that designers work as teams," Miss Cafaro said. "Even if it's not their favorite idea, they're part of a team and still need to contribute."
Amanda Pellerin specializes in handmade tile murals and clay sculptures and has 20 years of experience in teaching both children and adults. Learn how to bring Amanda's residency, Handmade Tile and Mosaic Murals, into your school.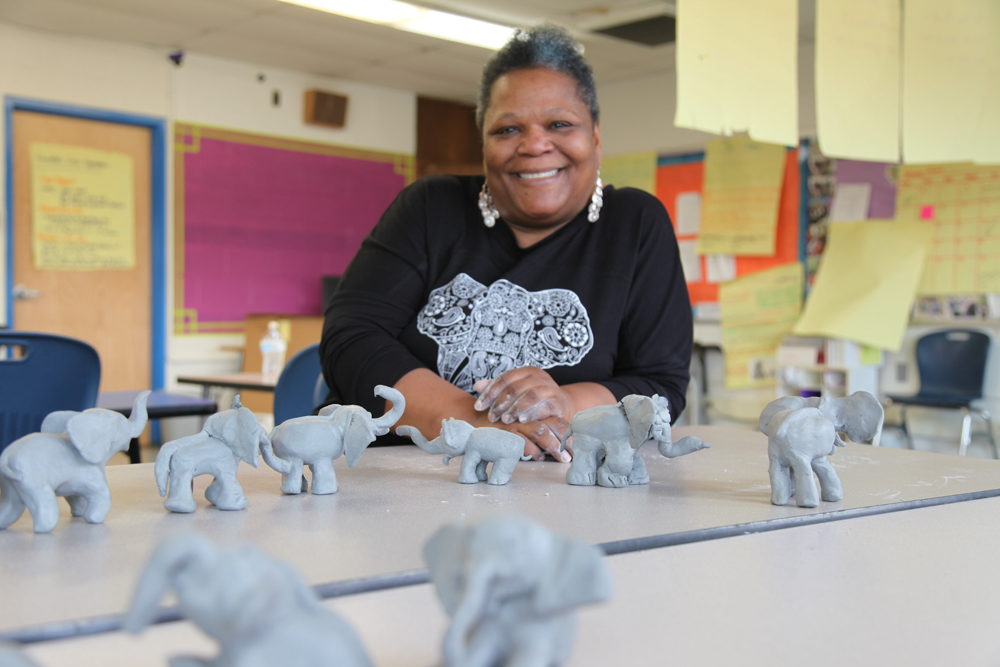 Teaching artists are expertly trained to deliver and coordinate unique, age-appropriate, and high-quality lessons alongside classroom teachers at the Teaching Artist Institute (TAI). The program is a partnership between Young Audiences, the Arts Education in Maryland Schools Alliance (AEMS), and the Maryland State Arts Council (MSAC) that turns professional artists into teaching artists and offers experienced teaching artists new strategies for everything from classroom management to designing artist-in-residence lessons.
"You might find yourself 'shocked' at how much electricity comes from the marriage of art and education!"
The positive effects of arts-integrated curricula in individual classrooms, and on teachers, students, and families are numerous and extraordinary. Teaching core subjects through the arts can increase student engagement and understanding. It can direct a classroom culture toward tolerance and empathy and it can even rejuvenate teachers and bring joy and anticipation to the faculty!

"Through its audacity, its abstractions, its "aliveness," art activates parts of the brain that any teacher or employer should want to turn on," notes Drew Anderson, a veteran school teacher and YA roster artist. "You might find yourself "shocked" at how much electricity comes from the marriage of art and education!"

Teachers, families, and artists of all ages got a small taste of several teaching artists' lessons during an afternoon at Southwest Baltimore Charter School. Participants spent their time exploring new skills and practicing old ones with: Performing artist and YA roster artist, Drew Anderson; Illustrator and new YA roster artist, Maura Dwyer; Illustrator, animal rescuer and new YA roster artist, Brittany Roger; Actor, Michael Hartwell; Actor, Tori Bertocci; Actor, Dave LaSalle; Actor, Cori Daniel; and Ceramicist and new YA roster artist, Mama Sallah.
They sculpted clay, interpreted music through movement and acting, sketched and learned about reptiles with a live chameleon, created collage utilizing different design elements, and learned awesome animal facts through improvisational theatre. One young participant was overheard telling her friend about Cori Daniel's acting workshop, "It was so cool! We told stories with Ms. Cori without actually saying any words!" We can't wait to hear about the wonderful classroom experiences and learning opportunities these teaching artists help to create!

TAI is proud to be helping build a community of artists, teachers, and leaders who are committed to transforming education through the arts. Artists interested in designing lesson plans or teaching artist-in-residence programs should apply to this rigorous and renowned program. There are many things about TAI that make this professional development course unlike any other including mentorship from a designated teacher partner and from a master teaching artist in your art form. Not to mention, graduates of TAI have the opportunity to be considered for both the Maryland State Arts Council Artist in Residence Roster, and the Young Audiences/Arts for Learning Teaching Artist Roster!
For more information about the Teaching Artist Institute including videos, pricing and how to apply, click here. Read what artists are saying about the program on our testimonials page.
Categorized:

News

Tagged:

Arts Education in Maryland Schools Alliance, Brittany Roger, Cori Daniel, Dave LaSalle, Drew Anderson, Mama Sallah, Maryland State Arts Council, Maura Dwyer, Michael Hartwell, professional development, professional development for artists, Southwest Baltimore Charter school, TAI, TAI Seminar, The Drawing Zoo, Tori Bertocci, workshops