Articles by Day:
March 23, 2017
Unique and innovative arts-based strategies are captivating young audiences in Maryland classrooms. At Margaret Brent Elementary/Middle School in Baltimore City, the very youngest students are excited to connect to literature with actress and master teaching artist Katherine Lyons through movement and theater as part of a Maryland Wolf Trap residency.
Katherine creates what she describes as "hands-on, multi-sensory story experiences" by having children actively participate in the telling of the story. Physical motions are assigned to important objects and costumes help illustrate characters. To prepare for Katherine's arrival on this day, Pre-K teacher Mrs. Lee asked her students to draw what they think will happen in the story. They hung one prediction on a clothesline.
Now, at the front of the room, between Katherine and Mrs. Lee sits a 'story box' filled with clues describing the characters in the story. One by one, a student pulls from the box a tool or an article of clothing, then the class takes turns guessing who the clues belong to.
As each character is identified, one student hangs a picture representing the character on the clothesline and another student becomes the character. The students use each of their senses to connect to the story, made ever more lively through the introduction of gestures, chants, and props. "Costumes help bring the story to life," Mrs. Lee said. "The class is more interested and invested in story time when they get to use props and act it out."
Once story time is completed, Katherine and Mrs. Lee begin planning lessons that they will co-teach. Every Wolf Trap program includes embedded professional development to build teachers' skills and confidence in arts integration techniques. Teaching artists work with classroom teachers to learn effective ways to engage students in participatory activities that involve all the senses and encourage critical thinking, creativity, communication, and collaboration. This ensures that the arts remain a strong part of the classroom teachers' lessons long after the residency ends.
Mrs. Lee plans to continue to use these new strategies during an instruction block that includes literacy, social studies and science, but she's excited to try them out in other areas of the curriculum as well. "I may use the story box with some counting stories and to help illustrate word problems in math!"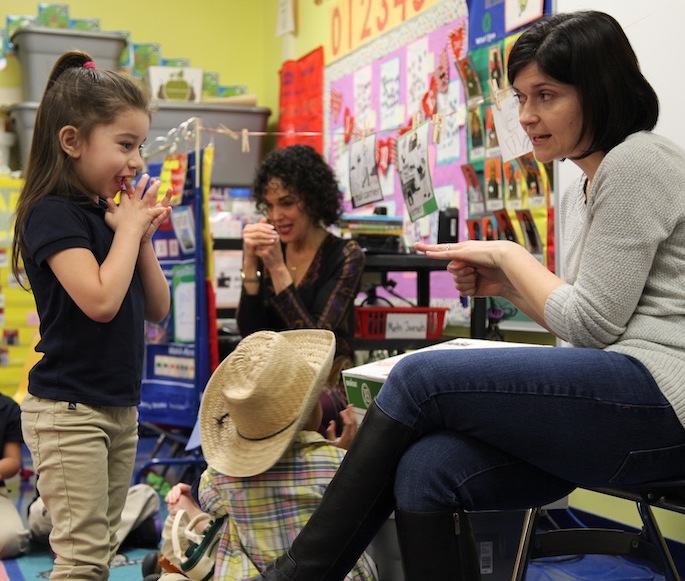 Eighty-five percent of brain development occurs during the first five years of a child's life. Participation in the arts encourages positive growth in a child's emotional, physical, intellectual, creative, and social development. As the Maryland affiliate of the Wolf Trap Institute for Early Learning Through the Arts, Young Audiences expands access to the arts for Maryland's youngest students during the critical early learning years. Bring a Maryland Wolf Trap 16-Session Residency into your school.

Categorized:

News

Tagged:

artist-in-residence, arts integration, arts-in-education, Baltimore City, Baltimore City Public Schools, creative learning, early learning, Katherine Lyons, Margaret Brent Elementary Middle School, Maryland Wolf Trap, movement, professional development, storytelling, teaching artists, theatre
Young Audiences of Maryland and the Greater Baltimore Cultural Alliance are searching for 25 rising Baltimore City public high school seniors for a six-week paid summer internship!
In 2012, Bloomberg Philanthropies created the Bloomberg Arts Internship program in New York City as a pipeline for public school students to college and careers. It is a rigorous program with three major elements: a six-week placement and project working day-to-day in an arts organization; visits to arts/cultural organizations; and professional development. This program's success led the foundation to expand its reach, first to students in Philadelphia, and in 2017, to Baltimore City. Young Audiences and GBCA are thrilled to be able to offer this opportunity to Baltimore City School students as well as Baltimore's arts and cultural institutions.
This is so much more than a summer job, it is a chance for young scholars to be challenged and inspired while getting meaningful, real-world experience. This phenomenal opportunity is made possible through the Bloomberg Arts Internship program which places qualified students at arts and cultural institutions across Baltimore City. This summer, 25 students will participate in a rich, immersive, and dynamic learning environment in which they will build career skills and plan for their futures. Baltimore's renowned and reputable arts and cultural organizations will guide interns through both creative and administrative projects, offering a unique perspective of  day-to-day operations within the art world.
STUDENTS
Interns are paid $9.25 per hour for 35 hours per week for the six-week internship, and an additional 20 hours during the orientation week—a total of 230 hours from June 20 – August 4, 2017. To apply, students must be enrolled in a Baltimore City public high school and:
Successfully complete junior year in 2016-17
Be 16 years of age or above by June 15, 2017
Have a passion for the arts
Commit to attend the 35-hour/week internship plus 20 hours of orientation  (June 20-23)
Commit to working full-time for 6 weeks  from June 26-August 4
Be able to work legally in the U.S.
Applications are due March 31, 2017
Submit an Application  |  Learn More
ARTS & CULTURAL ORGANIZATIONS
Arts and Cultural organizations play a critical role in The Bloomberg Arts Internship. We are looking for 12-15 partners with the capacity to provide a rich, quality experience for the interns and meet the necessary Bloomberg guidelines. Worksite partners will be paid $750 per intern to help offset the costs of staff time in supervising and guiding the intern(s). Although only 12 to 15 organizations will be selected as worksite partners, there will be other ways to collaborate with us on BAI, such as hosting visits as part of the cultural field trip days or participating as a presenter/panel member as part of the professional development curriculum.
The YA/GBCA team comprises members with expertise in arts leadership and management, curriculum development, and arts education. Partners can expect consistent support from the YA/GBCA staff throughout the program.
Applications are due April 14, 2017
Apply to Become a Worksite Partner |  Learn More
For more information
contact Chaz Walters, Bloomberg Program Coordinator
chaz@yamd.org or call 410-837-7577